I love creating free content full of tips for my readers, you. I don't accept paid sponsorships, my opinion is my own, but if you find my recommendations helpful and you end up buying something you like through one of my links, I could earn a commission at no extra cost to you.
Learn more
Maybe you are at the end of your rope looking for a compatible hammer tacker amidst all those cheap advertisements. Or maybe you have never used a tacker before and feeling puzzled out. Another possibility could be that you might've been duped with defective products. The fact doesn't change that you are in need of a hammer tacker befitting for the field of your work.
Well, we have come to your rescue! Things will now be a tad easier for you as we will show you the best hammer tacker you can fetch from the market with total quality assurance.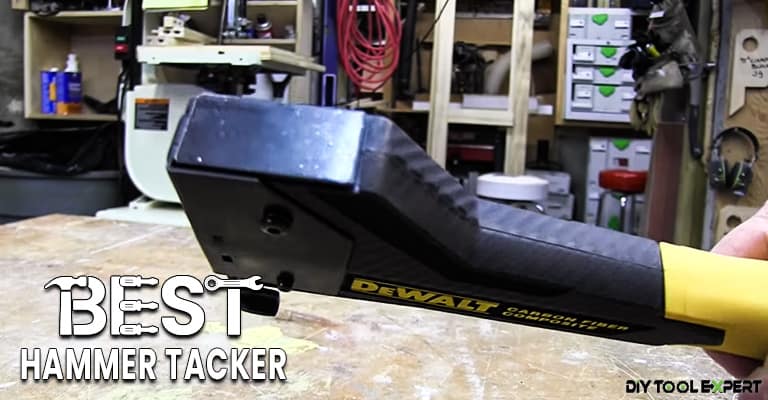 Hammer Tacker buying guide
Dots connecting to the top tier hammer tacker can be a bit hazy. But you can rest assured and read along as we have sorted out all the things that you need to keep into consideration while purchasing a hammer tacker.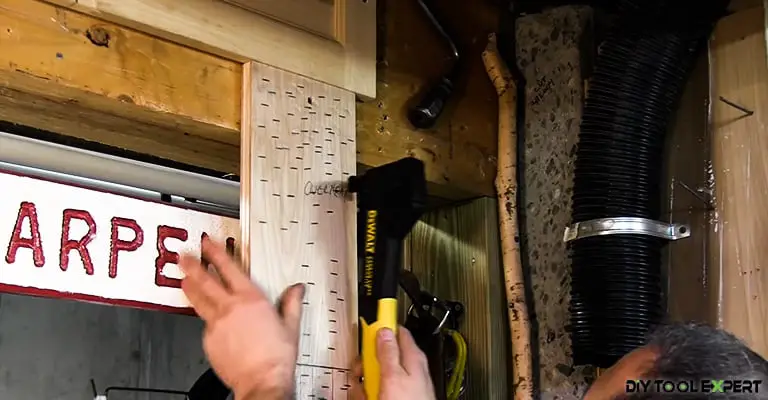 Staples and Sizes
The staples loaded in a hammer tacker comes with different types and sizes. T50, SharpShooter TRA700, R19 are some of the commonly used staples. There are different sizes for staples such as 3/8″, 1/2″, 5/16″ or 1/4″. The sizes a tacker can load differs from the models.
Do make sure that the model you are attempting to buy has just the right staple size capacity you need or else you're up for a bummer.
Magazine Capacity
Hammer tackers of different models have different magazine capacities for staples that can be loaded at a time. The range can be from 80 to 150. Higher magazine capacity gives you a long duration of working but increases the chance of jamming and makes unloading a bit hard. So you have to keep that in mind.
Magazine Design
The rear load magazine allows you to load or unload staples according to your needs. There's a spring mechanism that you have to release at first to load staples. The quality of a hammer tacker heavily depends on how easily you can load or unload rear magazine without jamming issues. So you must make sure that the hammer tacker you're buying has a magazine mechanism that is efficient and quick.
Chassis
Some of the hammer tacker models are made with an aluminum body to make it lightweight and easy to operate. Steel body construction of hammer tackers can also be found to make the product corrosion resistant and low effort hammering. If your work involves heavy duties, then you have to put an extra eye out for this feature.
Surface Finish
Some of the most valued hammer tacker models utilize chromium coating for better surface finish and corrosion resistance. This makes the product shiny and easier to clean. Such a feature will help you operate the hammer tacker of your choice with more proficiency.
Durability
Durability is an important field of consideration when it comes to products like hammer tacker. The hammer tacker you are looking for must be durable and lightweight. Some of the best ones are made of steel with a higher carbon rate to increase durability. Some are made of die-cast aluminum for the same purpose and to increase precision and handling easiness.
Warranty
Lifetime warranty is available for some of the top-notch hammer tackers. In the case of the rest, you'll see limited or no warranty features. It is always better to buy a tacker with a warranty if your product is to be imported.
Best Hammer Tackers reviewed
Hammer tackers come with different shapes and features. But the best ones have a unique vibe and excellence to them. To lessen your troubles, we have picked out seven high-end hammer tackers for you to choose from and let yourself decide which one to purchase.
1. Arrow Fastener HT50P Heavy Duty Hammer Tacker
Assets
Arrow's hammer tacker is a versatile one that can be used starting from roofing and flooring to installing insulation and fixing carpets. The body is of steel construction with high carbon density which gives strength and sustainability to it.
The simple yet elegant construction adds a certain charm to it. The rear magazine can be easily loaded with precision. The striking edge gives you a foot and half extra reach which can be really beneficial. You will be able to smoothly penetrate any surface given the large force it exerts with less effort.
Heavy-duty uses demand it to be more durable and compact which it certainly is. The chromium coating of the product makes it corrosion resistant as well as easy to clean. The rubber grip handle doesn't let you slip itself from your hands.
This 6x8x1 inch product allows you to load T50 staples in 3 different sizes: 5/16" 3/8" 1/2". This makes it easier for you to operate with the staples according to your needed size. The hammer tacker has a jam-proof mechanism which ensures that loading and unloading are devoid of internal congestion.
Drawbacks
There have been several complaints about poor spring design. You might also have to face frequent jamming problems.
2. BOSTITCH H30-8 Hammer Tacker Manual Stapler
Assets
Bostitch hammer tacker has a body frame constructed Through die casting which offers you accurate dimensions with sharp and smooth handling. This manual stapler is extremely durable, wear-resistant and easy for rapid stapling.
You will be amazed to see the variety of ranges of staples it can load. The quickly loadable magazine allows you to load up to 3/8″ staples with ease. The internal jam can be cleared without the help of any tool. In fact, you yourself can unjam it. For your convenience, the extra reach it provides makes your work effortless and efficient.
84 staples magazine capacity lets you concentrate on your work without having to worry about frequent loading and unloading. This unique tacker is pretty light and brilliant for use in sheeting, wrapping, carpeting or roofing.
For fast operations like tacking or light nailing where good driving power is required, this product will produce excellent results. If you are looking for a tacker with good durability and power as well as decent efficiency, this is undoubtedly your choice.
Drawbacks
Stapler size has to be proper to appropriately fit. The jamming issue is more frequent than some of the other hammers in the market.
3. Stanley Tools PHT150C SharpShooter Heavy-Duty Hammer Tacker
Assets
The basic features stay almost the same for this one except for some additional features. If you are a professional mechanic, a long period of working won't be straining your palms as the grip of Stanley's hammer tacker is rubberized and shockproof. Your work proficiency thus will increase several times than normal.
The steel construction of the body parts makes the product durable enabling it for heavy-duty uses. The applicable aspects are just the same as preceding ones- roofing, carpeting, insulating and other fast installation activities.
The design is aesthetic and standardized. The magazine is loadable with two full sticks of Arrow T50 heavy-duty staples or SharpShooter TRA700. Staples ranging from 1/4″ to 3/8″ in sizes can be loaded.
The product dimension is a fitting 1.5×3.8×13.8 inch. The large handle enlarges your reach and increases work proficiency. Loading and unloading are made easy, the staples can be hammered perfectly with low effort.
The product comes with a limited lifetime warranty. You'll be contented with the services and excellency it delivers.
Drawbacks
The spring-clip design has some issues regarding it, like flipping out. So this problem needs to be addressed and some redesigning.
4. Rapid 20726010 R19 Fine Wire Hammer Tacker
Assets
R19 hammer tacker is a smartly engineered and developed product suitable for fast stapling operations. Steel is the product material in this case providing higher strength thus enabling it for heavy-duty operations.
The construction has fewer variabilities thus lesser cost. Whether you are a professional or a trade user, you can use it for wrapping, posters, labels or insulating materials with much comfort.
Rapid's hammer tacker is lightweight and easy to handle. Its efficient handle and non-slip grip allow you to work with ease and reliability. The product is also shock-resistant and dustproof. As a result, cleaning is not really an issue for most cases.
R19, in addition, comes with a chrome finish to resist corrosion and smooth surfacing. The shiny glow it produces adds to its aesthetics.
The loading system is jam-free and convenient. You will have almost no trouble with loading or unloading the magazine with staples. The No19 staples that are used are fine wired giving you a decent stapling experience.
Drawbacks
There are some jamming issues which were complained about by the customers. Also, defected products are reported to be delivered in some cases.
5. Tacwise 1221 A54 Hammer Tacker Plus 5000 140-Series Stainless Steel Staples
Assets
A54 hammer tacker has a relatively large magazine capacity compared to the other ones in the market. The magazine can be loaded with 150 of 140 series 1/4″ to 1/2″ sized staples. The wide range of capacity and sizes allows it to be versatile and can be alluring for any customer.
This unique tacker has a buffer plate that surrounds the nose thus protecting the surfaces involved. The magazine system for this one is the bottom loading magazine. It can take flat wire staples convenient for a variety of purposes.
Tacwise's hammer tacker of this kind is lightweight, easy to carry around and efficient for any kind of uses all dag long. Especially convenient for use in roofing industries, carpeting, insulation, underlay or sheeting purposes.
The set of hammer tacker comes with stainless steel staples from your choice. Usually, 5000 of free 140 series 3/8″ steel staples are provided along with the hammer tacker. The durability and sublime design of this product will make you want to give it a try.
Drawbacks
The 5000 steel staples are found to be galvanized instead of being stainless steel in some cases reported. Defective product reports are also a cause of headache for the manufacturer.
6. DEWALT DWHTHT450 Dewalt Heavy-Duty Hammer Tacker
Assets
The hammer tacker of DEWALT is a joy to use, be it for heavy-duty or small household uses. The 12x4x1 inch product has a die-cast aluminum body frame thus making it lightweight and highly durable.
You will not have to face the magazine jamming problem due to its anti-jamming system preventing misfires as well. The effective design of the product is weighted for satisfiable use.
The product has a surface guard mechanism preventing damage to application materials. If your work involves heavy duties, the heavy-duty mechanism of the product helps itself maintain durability. Starting from flooring, carpet backing, roofing paper or installing insulation-you can do these all without a hitch.
The tacker can be loaded with 5/16″, 3/8″, & 1/2″ staples. The hammer style grip absorbs vibration and makes your work easy with less force exertion. Your operation will be effortless and reliable.
The weight of the product is only 2.4 pounds enabling easy handling. Long hours of usage will not make you ache. It provides a really great service considering the price you have to pay. Lifetime warranty will be like a cherry on top for you.
Drawbacks
There's a safety warning which might throw off the customers at first glance. Jamming issues need to be addressed as well.
7. ARROW Hammer Tracker Kit, HT50 with 1250 Staples
Assets
Arrow comes with its another aesthetic hammer tacker with convincing service and features. The HT50 model gives you a unique experience with operations involving cumbersome duties.
The chromium plating of the product increases surface hardness thus unlocking higher durability. Corrosion resistance coupled with easy cleaning adds charm to it.
You will not be facing any particular jamming issues due to its smooth mechanism and adaptability. The body of the product is steel hardened providing compactness and stability. The power grip handle also acts as a perk of interest.
The designing intelligence is portrayed as the rear load magazine can subsist two full strips of T50 staples. This reduces loading time. It can work with three sizes of staples 5/6″, 3/8″, and 1/2″.
The staples are really easy to implant into the stapler. Typical hammer tacker works such as roofing, carpeting, insulating, etc can be done with more ease and comfort. The unique design and efficient mechanism allow HT50 to penetrate into drywalls, softwoods, fabric and many more.
Drawbacks
There are some complaints about conned products such as not specifying the size of the staples, providing unmountable sizes, etc. Jamming issues are also reported in some cases.
Frequently Asked Questions
Here are some frequently asked questions and their answers.
What is a hammer tacker used for?
A hammer tacker is a type of staple gun that inserts a staple whenever the head of the tool quickly strikes a hard object. A hammer tacker can be used for many purposes, such as: installing roofing paper, carpet backing or even installing insulation.
How do you load arrow ht50 Staples?
Can you hammer in Staples?
When you hammer in fence staples without any other tools, it is very hard to hold without hammering your finger. Holding staples in place with needle-nose pliers is a good idea. If you had a big project using staples, wire fence stapler is the best tool for you.
How do you use a tacker?
How do you unjam a stapler?
Paper Clips
A paper clip is the perfect size for picking at a jammed stapler. The method is the same as above, using the loop of the paperclip to try to loosen the jammed staple up so it falls out of the magazine. You can also try to pick out the jammed staple with the point of the paperclip, gliding it out.
How do you unjam a Bostitch?
Put several drops of oil directly on the pin and slide channel. Remove all nails, reassemble the nose and see if the gun will dry fire against a scrap piece of wood. the gun should fire and leave a dent from the push rod in your wood if it is working. If the gun still does not fire, then the pin may be damaged or bent.
How do you load a hammer tacker?
How do you load a duo fast hammer stapler?
How do you load a Bostitch hammer stapler?
According to the instructions from Bostitch, hold down the bottom of the stapler with your free hand. Pull the arm upward to open the hinge that holds it over the carrying tray. Push the arm back until the tension on the hinge is relieved and the carrying tray is fully exposed.
How do you fix a hammer stapler?
How do you disassemble a Bostitch stapler?
Grasp the top arm of the stapler which is situated over the metal carrying tray. Hold down the bottom of the stapler with your free hand. Pull the arm upward to open the hinge that holds it over the carrying tray. Push the arm back until the tension on the hinge is relieved and the carrying tray is fully exposed.
Are staples galvanized?
Galvanized steel staples are made of steel and then coated with a layer of zinc to help guard against general corrosion. Galvanized steel staples are less expensive than stainless steel and are great for indoor projects where there will be no contact with moisture or other debris.
Q: Is it possible to unjam tackers by myself?
Ans: Yes, it is possible. You just have to release the tacker and slide the track out to see if there's any residual staple.
Q: Can wood be stapled into?
Ans: Yes, softwoods are the best choice of surfaces to work on.
Q: Do the hammer tackers come with staples?
Ans: Some of the models do come with specified staples. For the rest, you have to purchase them.
Q: How is it different from a staple gun?
Ans: Hammer tackers are more versatile. You can staple by just hitting the tip of the tacker onto the work surface. Stapling is done more quickly and aptly than staple guns.
Q: How to pull up the stapes if I need to do so?
Ans: You can easily pull off the staples with a nail pullers.
Conclusion
Whether you are a professional mechanic or planning to buy one for your casual day to day use, you will definitely need to fetch the appropriate hammer tacker. Nothing beats the smooth and effortless feeling of hammering staples into surfaces. This guide will eventually and surely lead you to your preferred one fitting for your work area.
Among all the products that have been discussed, Tackwise 1221 A54 hammer tacker is recommended by us. The reasoning behind this is that it has a larger magazine capacity for long use. In addition, the buffer plate provided really gives you a good feel while hammering. Other than that, Arrow's HT50 and Bostitch H30-8 also caught our attention with their elegance and efficiency.
If you have come across this article, you already know why you are here, that is to get your hands on the best hammer tacker. This will certainly help you get around all the odds and find the best product.
Joost Nusselder, the founder of Tools Doctor is a content marketer, dad and loves trying out new equipment, and together with his team he's been creating in-depth blog articles since 2016 to help loyal readers with tools & crafting tips.
Product prices and availability are accurate as of the date/time indicated and are subject to change. Any price and availability information displayed on Amazon.com at the time of purchase will apply to the purchase of this product.