I love creating free content full of tips for my readers, you. I don't accept paid sponsorships, my opinion is my own, but if you find my recommendations helpful and you end up buying something you like through one of my links, I could earn a commission at no extra cost to you.
Learn more
If you are interested in any DIY works, you should be pretty familiar with a staple gun. Unlike traditional office staplers, these products do not limit you to just stapling papers. The best staple guns do not need to be very expensive, either.
A good quality product can be used to staple different fabrics or woods to fasten the joint, increasing its sturdiness. They are one of the most versatile tools in the hand of an expert and a good starting point for any beginner. 
This article will help you find the perfect staple gun that you need to get started on your next big project.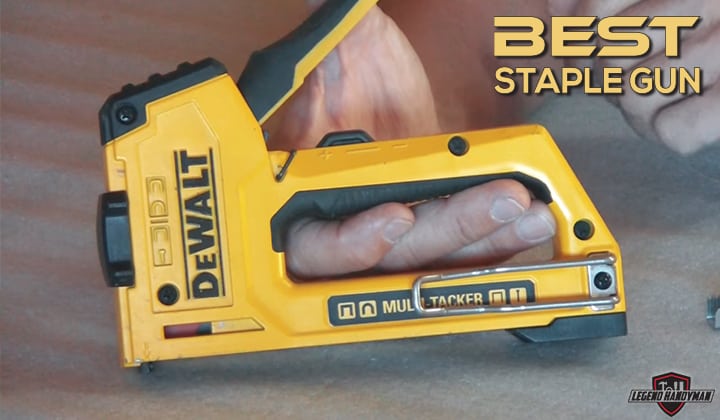 Best Staple Guns Reviewed 
If you want a comprehensive breakdown of the best equipment for your project, have a quick look at our top picks. 
1. Stanley TR150HL Sharpshooter Heavy Duty Staple Gun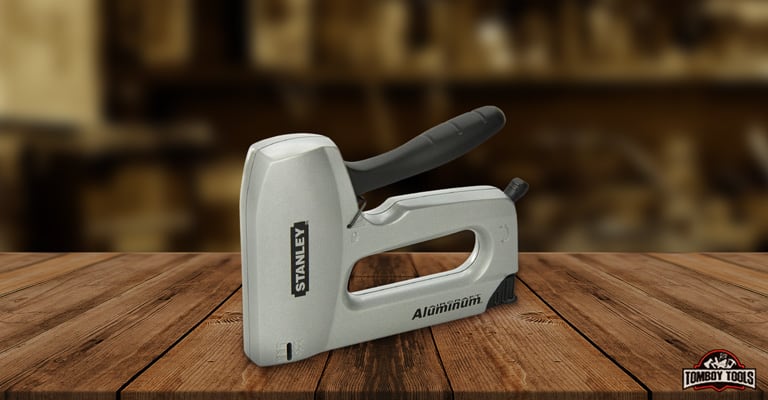 This heavy-duty staple from Stanley is just the thing for jobs like roofing paper, flooring underlay, attaching cardboard, attaching upholstery and all kinds of other fixing works around the home. It is easier to reload than other equipment. 
It is an excellent piece of kit because it is made up of aircraft aluminum. Moreover, the staple gun can take in heavy-duty staples of six millimeters up to fourteen millimeters. Also, this one features high power and deep penetration and comes with an anti-jam mechanism which saves time on the work. 
There is a locking catch on the handle so that it can engage to de-press the lever which is under the clasp. For other products, the staples usually get jammed in the hole, and then the anvil gets stuck; however, this product's design is incredible for avoiding the jamming problem. 
Furthermore, it can contain a considerable number of staples due to its high-grade build. The gun can comfortably staple many different surfaces such as wood and plastic, which is why we consider this product as a professional-grade stapler. 
The item is easy to rebuild and repair because the front halves are held in by pins and eclipse. As a result, you don't need any screwdrivers to open it, and you need only a pick to pull out the eclipse and disassemble it. 
Nevertheless, it is easy to use, powerful and light enough to carry around a tactical bag. Moreover, it has a good grip so anyone can apply good pressure to a surface to ensure even stapling and good penetration. 
Pros 
Body with aircraft aluminum
High-low power lever for hard and soft materials
It contains a considerable amount of staples
Light enough to carry anywhere 
Cons 
The stapler is loud and needs a little bit of strength
2. Arrow Fastener T50 Heavy Duty Staple Gun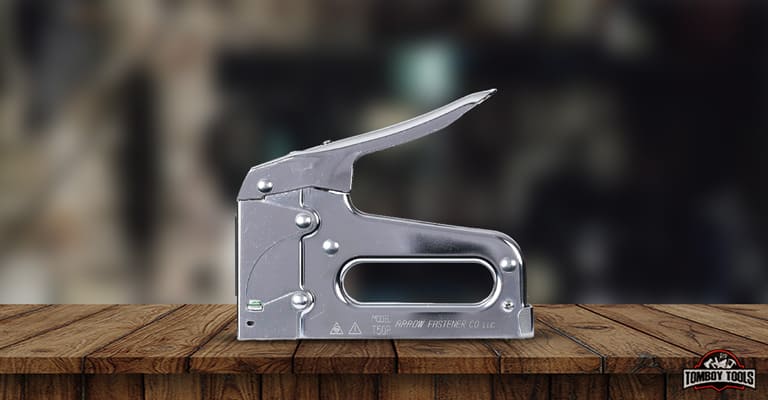 Are you tired of using old school big staple guns which make your hands throbbing? Well, you should be because in this era people prefer something smaller and a labor-saving device such as Heavy-Duty Staple Guns. 
So, we believe it is time to change your old staplers to something new such as the Arrow Fastener T50 Heavy Duty Staple Gun. Initially, this product features 100% steel body with a chrome finish. 
Besides, it is reliable and simple because this item is specially designed to resist jamming issues. As a result, you can work for hours without any break. Moreover, the chrome finish makes it aesthetically appealing and adds durability. On the other hand, this item is easy to carry because it weighs only 1.4 pounds. 
Also, all the professional construction workers carry this product so that they can do their job as fast as possible. This product's time-tested design provides top performing driving power. 
Additionally, the available color-coding system guides you through the staple selection. The product can take steel staples; ranging from a quarter to 9/16 of an inch. It also comes with a staple viewing window. 
You can use the equipment for stapling cardboard backing boards to wood strips for target shooting as well as doing an occasional repair to items around the house. In other words, it's a general-purpose tool for general use around the home. 
The most significant advantage of the product is its steel-body, which is far better than aluminum. 
Nevertheless, this product is safe and well designed for the customers because its working parts are hardened in a 1500-degree furnace. It is the best choice for generations of professionals and homeowners. So, you do not have to go for other items except for this one. 
Pros 
Chromed steel housing for appeal and durability
Powerful coil spring provides extensive utility
Staple viewing window adds convenience
A jam-resistant mechanism for user comfort 
Cons 
The reloading process is a bit complicated without accurate instructions
3. Topec Manual Nail Gun with 1800 Staples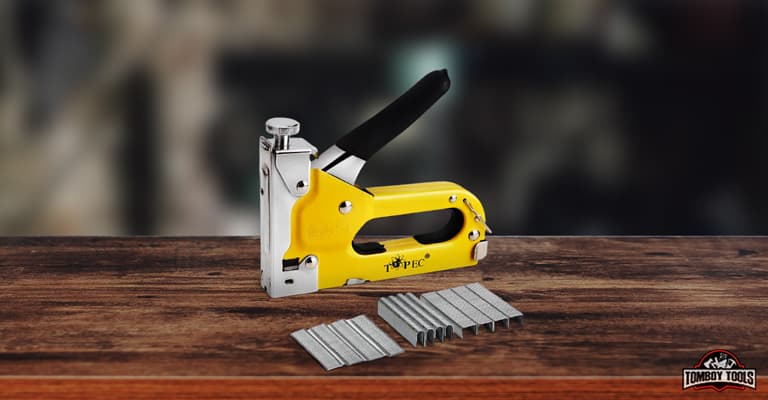 Make your surroundings more decorative with the brand new 3 in 1 Topec Staple Gun. Comparing to ordinary traditional nail guns, using it is simpler and more convenient. 
If you get stuck with the nail, you can easily pull the binding down to remove them to ensure that the equipment is working correctly. It is also very light in weight which makes it easy to hold and carry around with you while you are doing your work. 
Firstly, along with the package, you will get 1800 staples. The 3-in-1 standard staples are perfect for repairing, decorating, and also fastening. You can use this product with a variety of staples to make your home more decorative and ideal. 
You can also use the different types of staples to help you with different kinds of projects with ease. In addition to all that, the item also has an easy to adjust knob. By using it, you can adjust the pressure according to the thickness of the material. 
This feature will help you to use it more appropriately and also to make your decoration work easier. The product is made out of thick carbon steel, which makes it long-lasting and extremely durable. 
Last but not least, the tool comes in handy for any carpentry work. It can be used for numerous odd jobs. Whether it is fixing material, carpentry, or upholstery, the product can do it all without a single complaint. 
Pros 
Effortless to install and use
It can use 3-way staples such as D-types, U-types, and also T-types
The knob of the hardware can be used to adjust the pressure
You can use the heavy-duty staple gun against thick fabric or wood 
Cons 
This is not suitable for soft or delicate equipment
4. Arrow Fastener T25 Wire Staple Gun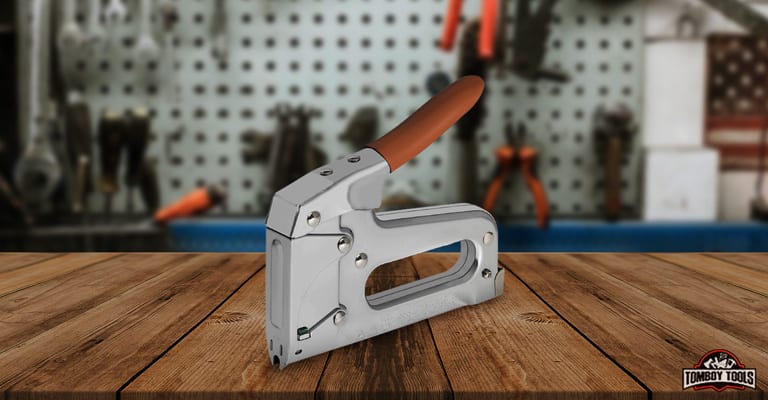 This is a powerful wire staple gun that is simply perfect for any heavy-duty work. Firstly, the product comes with a cushioned grip that is easy and comfortable to hold when working for long hours. You can use it with 3/8", 7/16", and 9/16" staples. 
It has an easy squeeze double-leverage operation to make fastening more convenient. The grooved driving blade stops the staple at the right height to prevent damage to wire and also avert short circuits. 
Secondly, the electric staple gun features a durable chrome finish. The equipment can be used effectively against all types of steel construction work. It has a robust coil spring and to protect wires there is a grooved wire guide. The item features all-steel construction, so it does not break easily and will last for an extended period. 
Thirdly, the staple gun also comes with a jam-proof mechanism, so you do not have to worry about clearing jams all day. Being jam-resistant also means you can get your work done without any halt. It is perfect for low voltage corded appliances, including garage doors, alarm systems, thermostats, and more. 
Finally, the equipment is entirely safe, fast, and efficient for low-voltage wire fastening. The curved blade helps you to give a consistent flow of stapling performance with less effort. 
Its tapered hitting frame gets into difficult bends with ease. Unlike other products of this kind, our heavy-duty staple gun can get the job done much more quickly and safely. 
Pros 
It is comfortable to hold when working for a long time
It is very durable
Built with a jam-proof mechanism
Safe, fast and efficient for a low-voltage wire fastening 
Cons 
The tool may require a bit of workforce and effort to use
5. AECCN Heavy Duty Staple Nail Steel Gun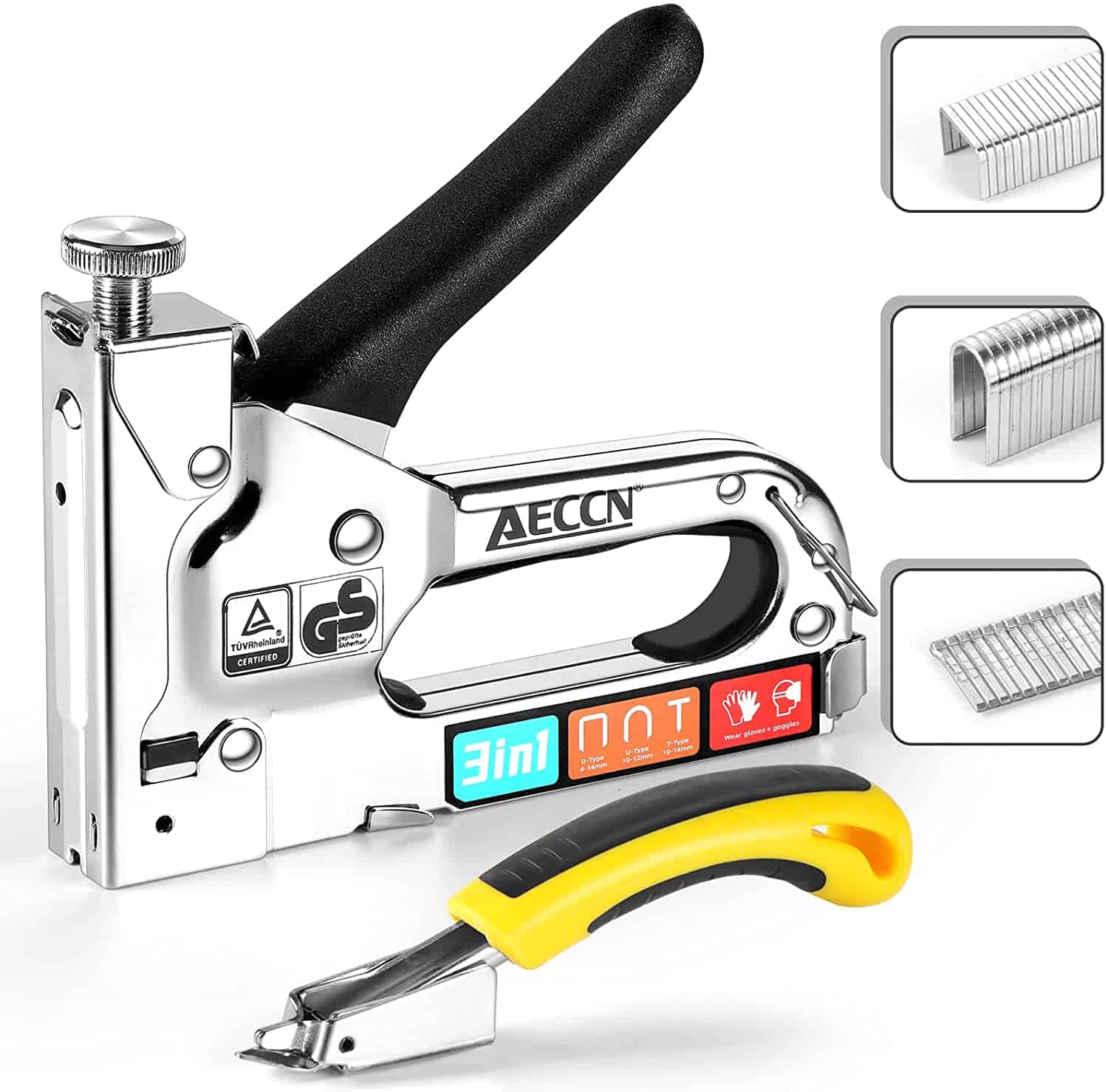 The AECCN stapler is a 3 in 1 heavy duty staple gun that comes along with 1800 staples. First of all, it is GS certified and compared to the traditional nail gun, operating it is much simpler and more convenient. 
You can seamlessly use the knob to adjust the pressure accordingly to match the thickness of the material. No matter how tough the content is, the equipment is sure to get your work done. 
Furthermore, you can use the product for a variety of decorating and repairing work. It can use three different kinds of nails that come along with the set. 
In the package, you will get 600 x Door-type Staples, 600 x T-type Staples, and 600 x U-type Staples. It is perfect for securing insulation plastic sheeting, carpets, and other fastening appliances. 
After that, the stapler is very comfortable to hold as well as slip-proof. With this product, you can say goodbye to hammers, screws, glues, and pushpins. It is also labor-saving and effortless to use. Use this heavy-duty staple gun to improve your work efficiency and even save you time. 
On top of all these, this equipment is made up of stainless steel, so it is resistant to damage and does not rust. Its high-strength stainless steel body guarantees longevity and toughness. We believe in the quality of these products, and you will be satisfied when using them in your workplace or home. 
Pros 
The pressure of the equipment can be adjusted accordingly using the knob
It comes with T-type, U-type and also Door-type Staples
Using it is very easy and secure
The product is rugged and durable 
Cons 
It takes some time to get the hang of how to use it properly
6. BOSTITCH T6-8 Heavy Duty Staple Gun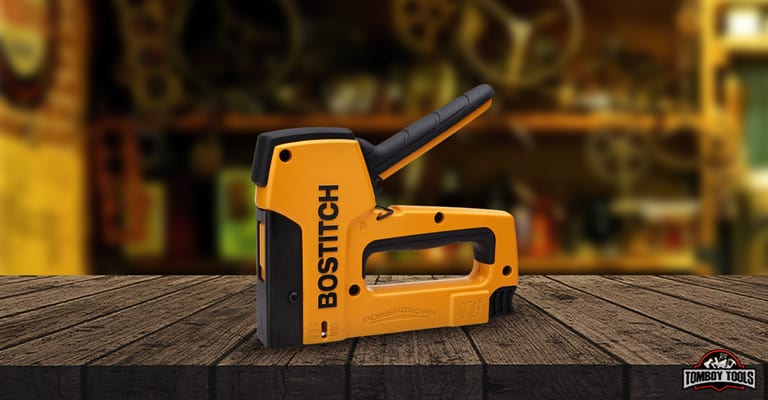 Say goodbye to traditional staplers with the new heavy-duty BOSTITCH staple gun. This product is made of lightweight diecast aluminum. It also has a convenient bottom loading for quick and easy reloading. 
There is also no trouble facing jamming issues with the equipment. Unlike other staple guns which jams a lot and are difficult to reload, the product provides a smoother and more elegant performance. 
Moreover, unlike most of the items of this sort, it has a comfortable squeeze mechanism that you can use with less effort. It is also lightweight, which makes it easy to carry around while working. 
The steel handle is also molded over with rubber grip that makes it more comfortable to hold when working for a long time. 
However, other standard guns can reverberate and cause pain in your hand. It requires less effort to shoot, and it also absorbs most of the recoil; thus, it does not cause you any discomfort while using it. 
Besides all these, the staple gun is exceptionally durable and long-lasting. The steel magazine is nickel chrome plated that provides a durable and smooth sliding surface for nails. 
In conclusion, this package comes with eight heavy-duty PowerCrown Breathable Antijam magazines to help you work effortlessly. You can use this industrial grade stapler against wood and fabric. It allows the user to work perfectly in every situation without any impediments. 
Pros 
Extremely lightweight as well as can be loaded seamlessly and fast
Has a comfortable squeeze mechanism
It is very durable and is guaranteed to last for a very long time
Can be used effortlessly against even the sturdiest materials 
Cons 
The product works better with crowned staples
7. Rapid – R353 PRO All Steel Tacker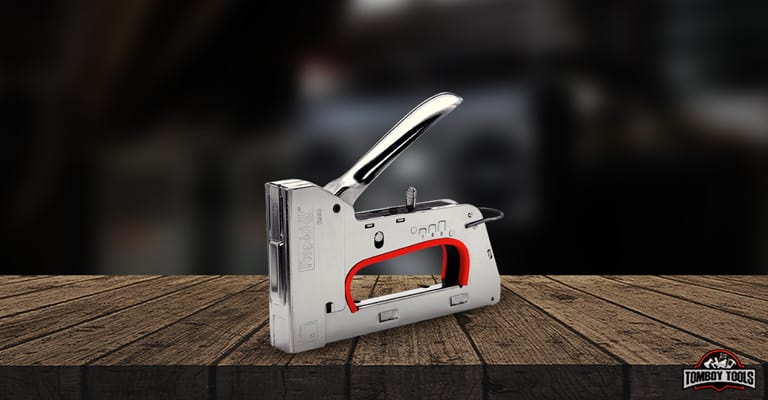 The Rapid Steel Tacker is a powerful, uncompromising staple gun, designed for professional appliances and precision operations. The product has been made for doing demanding tasks. 
Like most other staple guns, you can use it for all sorts of tough jobs.  Unlike most staplers that have the problem of jamming, you can use this heavy-duty stapler for hours and hours without facing any issues. 
Next, the staple gun has a color-coded system to make it easy for staple selection. It uses 53/6, 53/8, 53/10, 53/12, and 53/14 mm staples and also has a substantial loading capacity. 
The item has a bottom loading system, so filling it with staples is comfortable and more seamless. This equipment provides 40% easier stapling because it does not require much pressure to operate. 
As well as all these, it went through the test of 100000 fixings. It is made of stainless steel and is also very durable. The handle is ergonomic; thus, it is safe to catch. The flexibility of the trackless staple holder allows different widths in addition to different lengths. 
Finally, the Tacker has a patented easy-to-squeeze trigger with 3-step force adjuster which you can modify according to personal preference. Additionally, this product is made with recoilless stapling for long term usage. 
You can use the equipment for long periods without any difficulty. Unlike other staple guns, working for long hours with this product will not cause any pain in your hands or any other sort of discomfort. 
Pros 
It is Jam proof
Easy to load and effortless to use
It is exceptionally durable
Built with an easy-to-squeeze trigger along with 3-step force adjuster 
Cons 
You have to buy the staples separately to use with the gun
What Makes a Good Staple Gun? 
Since there are so many staplers out there, it's kind of hard to pick the right one. Well, there are some features that you can look out for to distinguish the good ones from the bad ones, and this following section can help you with that. 
Comfort 
Staple guns come in a variety of shapes and sizes. If you are a heavy user, you need to give some long hard thought to which product will provide you with the most comfort. 
For a light user, though, this might not be a deal-breaker. The support of the device dictates how long you can use it without feeling any discomfort. 
Staple guns featuring ergonomic designs should be your go-to options in this case. Some devices even feature rubberized grips. If your hand sweats a lot, this feature might help you with stability. 
There are also some units with extended handles to allow a comfortable grip with both hands. 
Staple Size  
Depending on the material that you are working with, the staple size can matter a lot. However, with manual staple guns, it becomes a non-factor since they usually work with ½ inch staples. But with pneumatic and electric ones, this is something that you should check before committing. 
Most modern staple guns come with dials nowadays that allow you to change the size of the staples. They can accommodate several sizes and types of staples. 
Additionally, some tools even feature control that will enable you to adjust the shooting depth. If you are planning to work with sensitive materials, this is worth considering. 
Balance 
This factor is directly related to comfort, and features like grips and the shape of the device can affect it. On top of that, the weight and balance also contribute to the ease of use of the equipment. Some tools weigh only a couple of pounds whereas some larger units weigh more. 
There should be enough space on the handle to place both of your hands. It can make the device more controllable and give you a better balance. Also, make sure that the gun is not heavier on one side than the other. A well-balanced stapler gun is vital for you to do your work accurately. 
Durability 
The durability of the device is the final determining factor in what makes a good staple gun. If your product breaks down after a couple of use, it is not worth buying. All the products featured in our list are made of high-grade, durable materials. 
If you do not want to get ripped off on your new staple gun, be sure to check the components used in its construction. 
Types of Staple Guns 
The staple gun is one of these essential construction tools. It helps you to put things together with ease. There are three types of staple guns based on the power source; Manual, Pneumatic, and Electric. There are three different ways to load a staple gun; rear loading, front loading, and bottom loading. The way you need to follow will be decided by the type of gun you have in your toolbox.
But before that, we must talk about the three different types of staple guns. Let's begin.
Manual Staple Gun
Let's start with a manual staple gun. A manual staple gun is the most common type. It comes in very handy and at a cheap price. It requires the force of your hand to staple into something like small home repairs or hanging up flyers. It is used for small projects where heavy-duty stapling is not needed. Since it doesn't need electricity or a battery, it ensures easy portability and ultimate convenience in use. It's an ideal option for small projects at home or daily casual work. Manual guns are pretty simple and straightforward to use. You pull the trigger and the staple fires out using the energy from an internal spring. They are portable and safe to use. 
The rate of fire depends on how frequently you squeeze the trigger. They are relatively lightweight and compact on top of being quite affordable.
Electric Staple Gun
As the name suggests, an electric staple gun requires electricity and a battery to power it up. It will insert a staple automatically with a soft press on the trigger. As it runs with the power of electricity, your efforts will get minimized for a long time.
The main and best use of an electric staple gun can be during any wiring projects where it is being mostly used. For stapling any thin and fragile item, an electric staple gun is always recommended. But in terms of efficiency, this staple gun is far ahead of the manual staple gun. It can insert staples more than the manual one and like your hands, it doesn't get tired. Electric staple guns can come in either corded or cordless format. They do not require your finger strength to function, unlike a manual staple gun. 
The trigger of this type of device needs minimal force which results in less fatigue and long work hours. However, you need a constant source of power for the tool, whether from a power outlet or a battery cell.
Pneumatic Staple Gun
Lastly, we have the most sturdy staple gun that is used for all heavy-duty projects like woodworking or construction. The performance intensity of this staple gun is way ahead of any type of staple gun in the market. The built-in air-filled nozzle on the top of the staple gun ensures easy and convenient stapling into any hard surface without much effort from the user. For its variety of usability indoor and outdoor and low maintenance pushed it to the top chart of the popularity list. Pneumatic staple guns are the best way to go for some quick and precise work. This high-performance tool can work better than both its manual and electric variants. 
They also require lower maintenance. But the main problem with these units is that they can be noisy. Pneumatic guns make use of air compressor for power supply and are generally more expensive than other types. 
Frequently Asked Questions 
Q: What are the uses of a staple gun? 
Ans: A staple gun is mainly used to fasten one end of the material to another in various projects. The materials can range from fabric, ceiling tiles, carpets, foams, or wood. 
Q: Can I use the staple gun to staple into drywall? 
Ans: Staple guns are mainly used to staple into softer materials. Anything other than that might mostly result in bent staples. So, drywall is not a viable material for a staple gun. Use other drywall tools 
Q: Can I use a regular staple in my staple gun for upholstery? 
Ans: Depending on the fabric you can use just about any fine wire or medium wire staples. The most common are 20- and 22-gauge staples for this type of application. 
Q: How many staples come in a staple gun Strip? 
Ans: Staple strips come in either full 210 staple strips or half 105 staple strips. 
Q: How do I load a Pneumatic staple gun? 
Ans: The steps for loading a pneumatic gun are pretty simple. 
First, you turn off the compressor and detach the stapler
Disconnect the follower by pushing the front lever
Then with the legs facing downwards, place a strip of staples on the magazine rail
Release the front bar to allow the follower to fall into place
Test it out in a scrap of wood 
Final Thoughts 
A staple gun is a very versatile tool that can be used in a vast number of applications. Whether you want to fix a picture to a frame or take on some lightweight carpentry projects, a good staple gun should always be in your inventory. 
All the products on our list are handpicked based on their affordability, usability, and durability to make it easier for you to pick the perfect one. After reading this guide, you should have an easy task of finding the best staple gun for you. 
I'm Joost Nusselder, the founder of Tools Doctor, content marketer, and dad. I love trying out new equipment, and together with my team I've been creating in-depth blog articles since 2016 to help loyal readers with tools & crafting tips.