I love creating free content full of tips for my readers, you. I don't accept paid sponsorships, my opinion is my own, but if you find my recommendations helpful and you end up buying something you like through one of my links, I could earn a commission at no extra cost to you.
Learn more
Hand saws are a must for any woodworker. These tools have been in use for centuries, and they are so efficient that no one can really replace them. Whether you want to cut a piece of wood or resize the piece you've cut, you will need this irreplaceable tool.
Looking for the best hand saw? We have reviewed some of the best products for you below. The tools we have listed here come from different price ranges and brands.
But one thing is assured; they are all very durable and reliable. An insightful buying guide is also attached after the reviews to help you pick the best product and widen your knowledge on hand saws.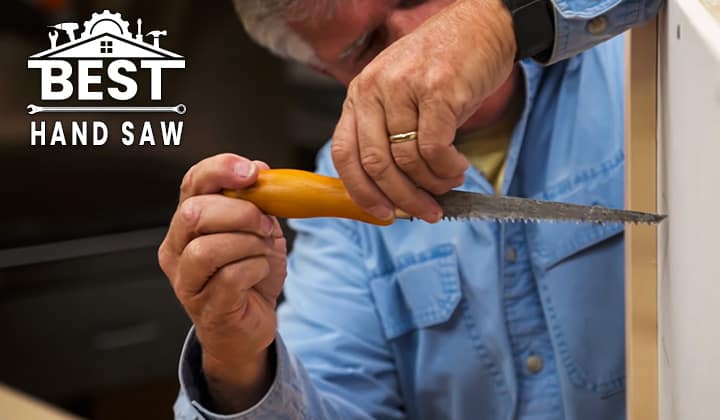 There are hundreds of brands offering thousands of different features in the market. But not all of them are not necessarily of great quality or standard. We have sifted through them to pick the most excellent one's for you.
So, what's the wait? Read on to check out our list.
Top 10 Best Hand Saws
As we have mentioned earlier, there are hundreds of brands offering great quality hand saws in the market. It's not possible for a user to browse through all of them to pick the best tool. That is why we have reviewed the top 10 products below to give you the best options.
BLACK+DECKER PHS550B 3.4 Amp Powered Handsaw with Storage Bag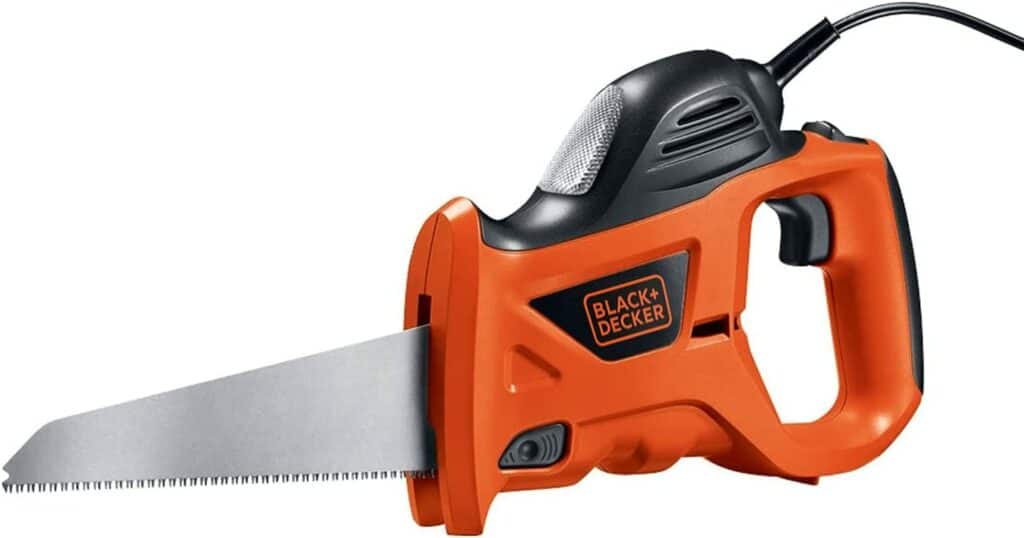 Our first pick is this high-performance hand saw that runs on 3.4A power motor. The motor provides 4600 SPM, which ensures more control and flexibility.
This tool can be used on every type of material, including wood, plastic, and metal. Yes, the saw is powerful enough to cut through metal and doesn't really melt metal as to retain its shape. This means that you can use the saw for cutting metal pipes, plastic boxes, and even small trees. It's the perfect hand saw to have around the house.
As the tool is versatile, it needs different blades for different purposes as well. You won't need any extra equipment for changing its blades; it can be done with bare hands. The procedure is completely safe; it just requires users to be a bit careful.
The cord is long enough to reach a different place in your home. It's 6 feet long, so you can use it in every room as long as you have a power source there. With a large handle in the back, the tool is compact and light enough to be used by everyone. It doesn't vibrate much while cutting smooth things either, so you won't have issues controlling it.
It comes with two blades for a wide range of use and a storage bag that can perfectly hold this saw so that you don't have to carry it with bare hands.
Highlighted Features
Suitable for cutting metal, plastic, and wood
6-foot-long cord makes it more flexible to use
Blades can be changed without the help of any tool
The motor provides 4600 SPM
Powerful, lightweight, and compact saw
Eversaw Folding Hand Saw Wood Saw Multi-Purpose 8″ Triple Cut Carbon Steel Blade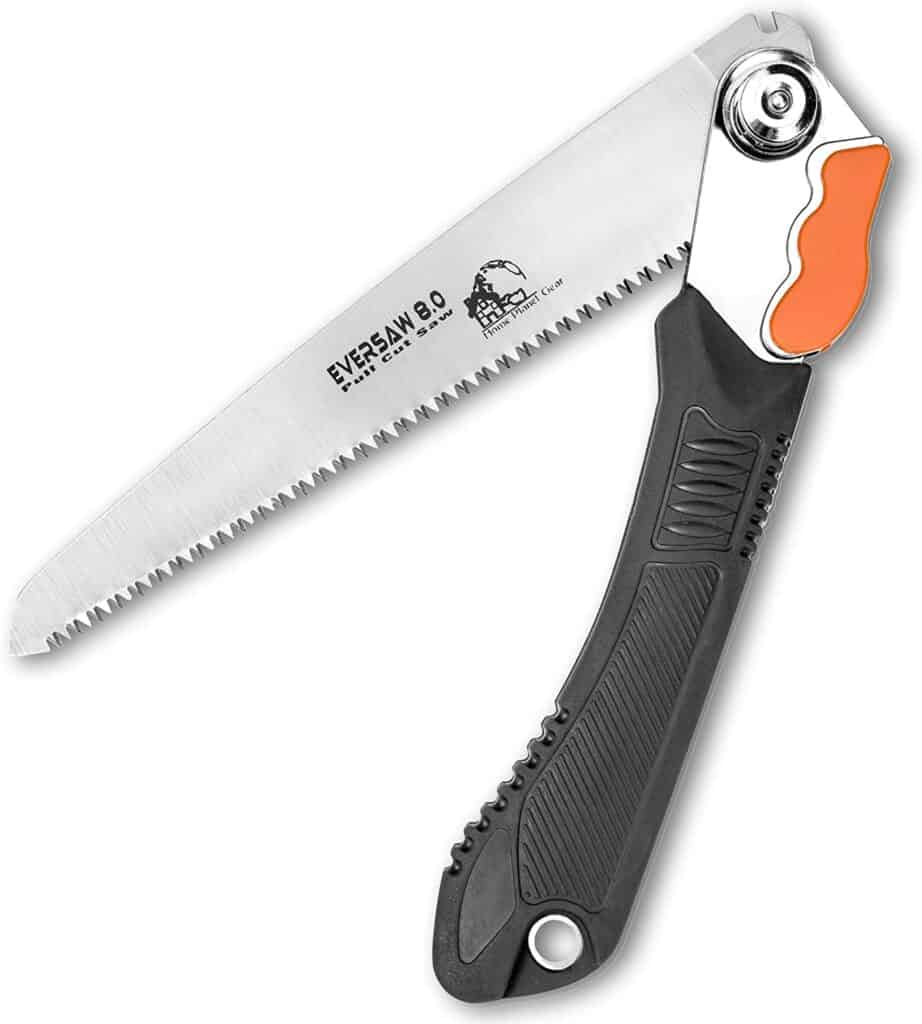 Manufactured by the Home planet gear, these hand saws are the perfect tool to fit in your palm. The tool is foldable and folding it hides the blade which eliminates the need for any extra coverage.
Its blade is 8 inches long and suitable for cutting things around the house. Although small, the blade is sharp enough to go through almost anything. So, use it carefully. It has rugged teeth, which allows the blade to cut bone, wood, and plastic of 4 inches diameter maximum.
This handsaw can be the perfect replacement of your pocketknife. As its blade is made of SK5 carbon steel, you can completely rely on the toughness and sharpness of this tool. The small size makes it more versatile. Whether you wanna cut vegetables or wood, you can use the same tool.
It's easy to have accidents with small knives like this one. That is why this one comes equipped with a gear lock that locks the blade in place. So even when you have the tool open, it holds a certain position and doesn't move. This lock makes the hand saw safer and easier to work with.
The rubber-coated handle provides extra comfort and a soft grip. You can even take this saw camping and hunting. It's like a small yet powerful tool to have in your bag.
Highlighted Features
Compact, light, and easy to use
Comes with rugged triple-cut razor teeth 
Precise and efficient
Comes with gear lock to prevent accidents
Rubber coated handle
FLORA GUARD Folding Hand Saw, Camping/Pruning Saw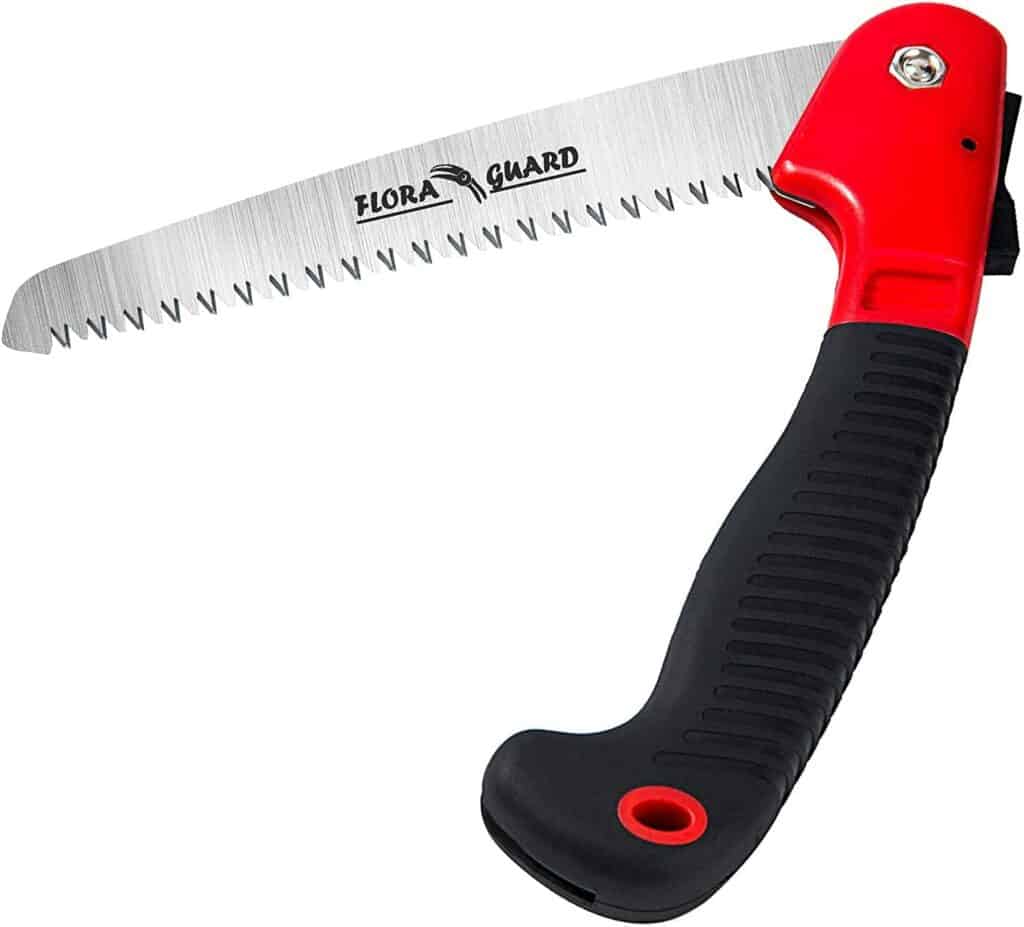 This attractive looking saw comes in a bright red color and is bound to brighten your toolbox. The saw is manufactured for cutting down large trees.
It's not that huge considering the capabilities of this saw. The tool is only 10.6 x 2.9 x 0.8 inches and weighs only 9.9 ounces. So, it's small equipment considerably, but you can definitely cut through even the most stubborn of branches.  The reason is that its blade is phenomenally powerful.
The saw comes with hardened triple-cut razor teeth that stay smooth and sharp for a long time. If you take this tool to the maintenance shop once every few months, the saw will perform consistently throughout years without any issues.
Blades of this tool are made of SK5 high carbons steel, which is known for its sharpness and smooth cutting. As any other sharp equipment, this one poses a threat to your safety as well. But don't worry, the 2-step safety lock can keep this hand saw in place so that it doesn't slip or move around in our hands accidentally.
If you are a gardener, you will love this 7.7inch saw blade. It can cut branches easily and will help you maintain your garden. The saw is foldable, so you can keep it in your pocket. It has an ergonomic design with a rubber-coated handle for better usage.
Highlighted Features:
Ergonomic design
Foldable and compact
The saw comes with hardened triple-cut razor teeth
2-step safety lock
Blades of this tool are made of SK5 high carbons steel
SUIZAN Japanese Pull Saw Hand Saw 9.5 Inch Ryoba Double Edge for Woodworking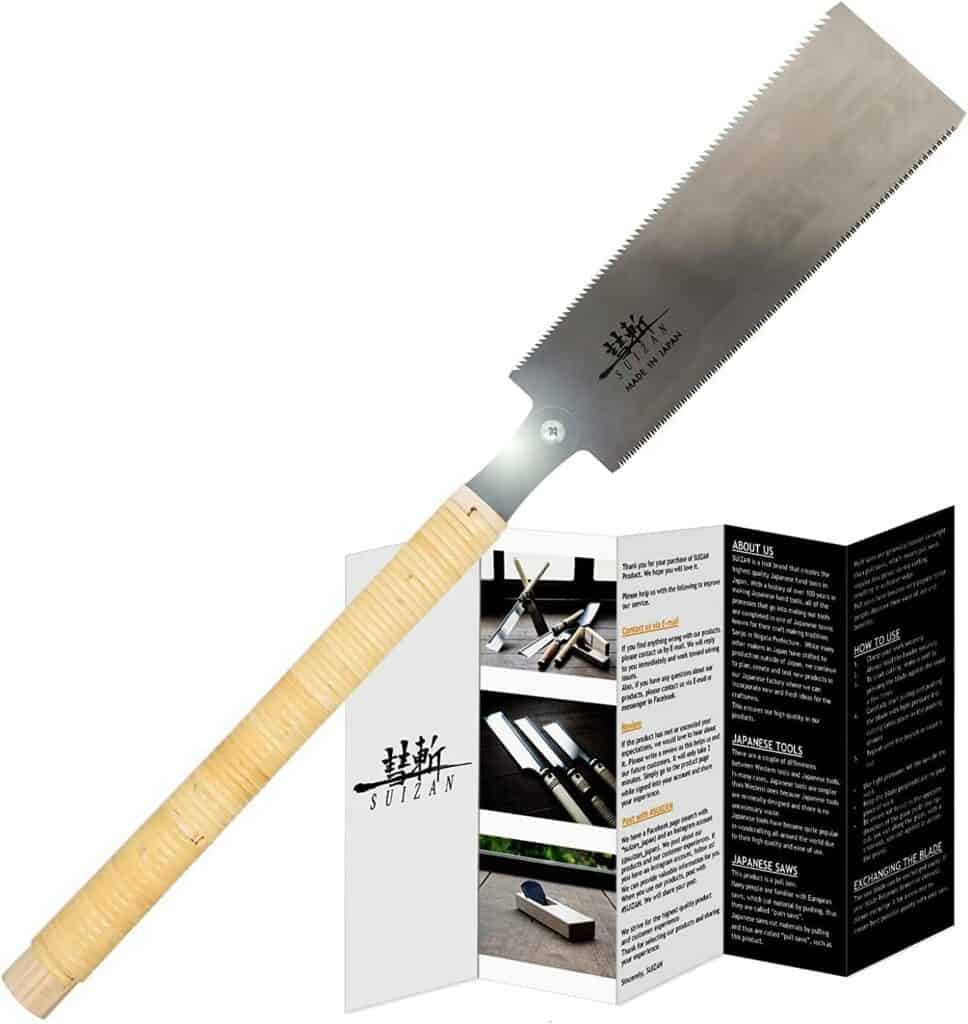 Are you into traditional tools that are designed for professionals? If yes, then this Japanese pull saw will fit perfectly in your toolbox. This tool is called a Japanese pull saw because it follows the mechanism of Japanese saws. The tool cuts things by pulling the blade through them. This ensures a clean and smooth cut.
These tools made by SUIZAN are actually made by Japanese craftsmen. That is why they are more precise, simpler, and sharper. Compared to push saws, these tools require less power and give a cleaner cut.
Blades of these saws are premium quality Japanese steel, which is considered to be more durable and powerful. The accuracy of these saws is excellent as they are made with the same formula followed for thousands of years.
With a narrow kerf and thin blade, these saws are perfect for a wide range of applications. You can use them to cut wood, plastic, metal, and even use them in the kitchen.
Total length of this saw is 24 inches, but the blade is only 9.5 inches. You can replace the blade with your hand and attach other blades manufactured by SUIZAN in the same handle. There is an option of purchasing the Ryoba saw or the blade only.
Highlighted Features:
Japanese pull saw
Lighter, easier to use, and more accurate
Very sharp thin blades
Total length of this saw is 24 inches
Blades of these saws are premium quality Japanese steel
Shark Corp 10-2312 12-Inch Carpentry Saw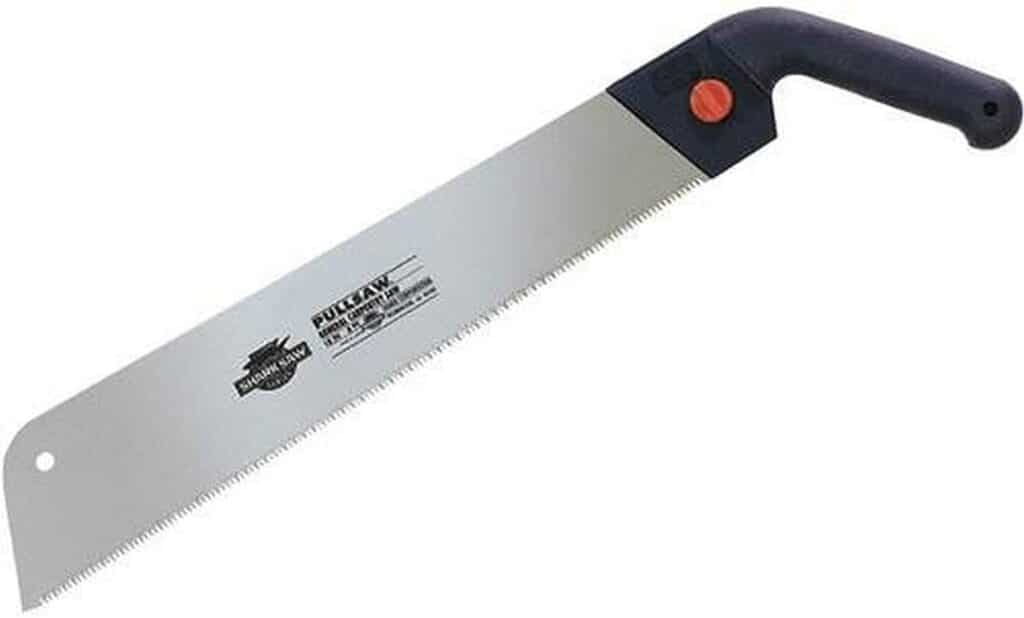 If you are a professional who is looking for an all-around saw, this one is the perfect product for you in our list. The saw comes in a simple design and has great maneuverability. You will be able to work with it on a wide range of projects, and the product is suitable for both amateurs and professionals.
Designed with the construction workers' needs in mind, this saw can easily cut through wood, plastic, PVC polymer, and ABC plastic. The tool is excellent if you work in a repair shop or work as a plumber. It's simple enough to be kept in the house as well.
Per inch of its blade have 14 teeth, which allows smooth and easy cutting of different materials. Unlike the other saws, you don't have to put much pressure on this one; just handle it carefully.
Dimensions of the equipment are 16. 5 inches x 3. 3 inches x 0. 4 inches. It weighs only 8 ounces and is excellent as a one-hand saw. This means you won't necessarily need both of your hands to operate this tool; that gives you an opportunity to work by yourself.
The blade is 12 inches long and suitable for cutting long logs of wood or pipes. You can definitely use it for remodeling a whole room or bathroom. The blade is replaceable, and other blades can be attached to the handle as long as it fits.
Highlighted Features:
12-inch long blade
An all-around saw
Weighs only 8 ounces and is excellent as a one-hand saw
Great maneuverability
Per inch of its blade have 14 teeth
WilFiks 16" Pro Hand Saw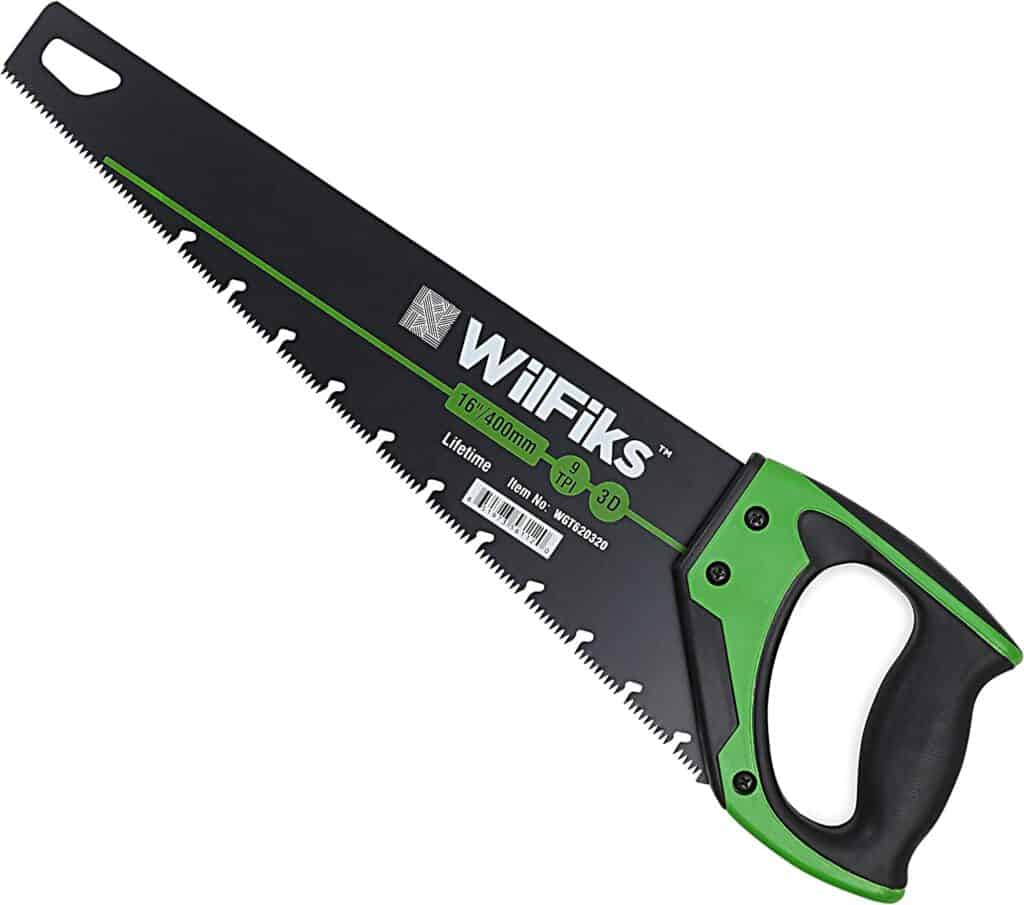 Excellent for sewing, gardening, trimming, pruning & cutting, plastic pipes, wood, drywall, and more, this saw comes with razor-sharp teeth and an ergonomic handle. The tool is engineered to be user-friendly and easy to operate.
This saw comes with all the features any woodworker is looking for and more. Its ergonomic design, along with super-grip anti-slip handle makes this tool easy to maneuver. The equipment also comes with a very thin and sharp blade with measurements cut into the blade. Three cutting surfaces make this blade more efficient and quicker to cut. The blade is 50% faster compared to the traditional hand saws.
With its 16-inch blade and miters, dovetails, tenons, this saw is the pro of all saws. The saw's blade is made of TPI high carbon steel, which makes it more durable and sharper. You also get better control and rigidity with this product compared to the others. Performance of this blade is consistently good, and it lasts a long time if maintained.
When it comes to construction, this tool beats all others. The durable saw comes with induction hardened teeth in its blade that can stay sharper up to 5X longer than that of the traditional blades.
As with any other sharp tools, this one comes with safety features. The handle of this saw is assembled in a way that keeps the blade away from your body. This handle doesn't easily slip either-even if your hands get sweaty.
Highlighted Features:
Excellent for sewing, gardening, trimming, pruning & cutting, plastic pipes, wood, drywall, and more
Ergonomic design
Induction-hardened teeth
50% faster
Comes with 16-inch blade and miters, dovetails, and tenons
Ryoba 9-1/2″ Double Edge Razor Saw for Hardwoods from Japan Woodworker 1.3mm Teeth Pitch

We have mentioned Ryoba saws once before on this list. These Japanese hand saws are outstanding when it comes to performance, durability, construction, and quality. The saws are so excellent that they have been in use for hundreds of years in Japan.
This one is specially designed to cut hardwoods like oak, teak, maple, and other exotic woods. The tool has one blade that has teeth on both sides. So, you need to be a little bit more careful while using this saw.
The set of teeth on both sides is not same; one side has crosscut teeth while the other side has rip teeth. This difference makes the saw versatile and usable on different projects. Blade of this saw is 9.4 inches long and has 1.3m teeth pitch.
For those who don't know, rip cut, and crosscut teeth have a significant difference. The former is used for cutting with the grain, which means you cut an object straightly. Crosscut, on the other hand, kind of works like mechanical saws; they are used for cutting against the grain.
Weight of this excellent tool is only 7.8 ounces, and its dimensions are 3.8 x 23.6 x 23.6 inches. The tool is completely safe to use, but it doesn't come with any extra safety features. We wouldn't recommend this for amateurs as it's sharp on both sides and doesn't have coverage.
Highlighted Features:
Japanese hand saw
Weight is only 7.8 ounces
Blade is 9.4 inches long
Blade has 1.3 teeth pitch
Specially designed to cut hardwoods
Vaughan BS240P Pull Stroke Handsaw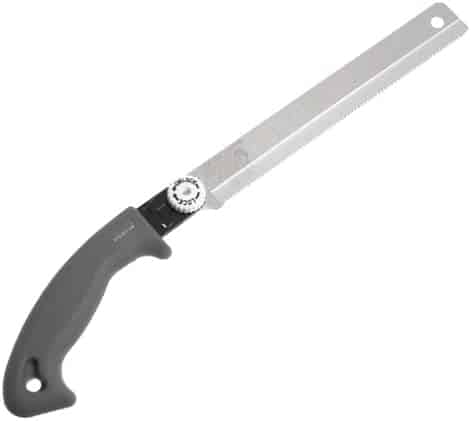 This tool is also manufactured in Japan, and like any other Japanese tool, this one is precise and durable. The tool is small and weighs only 8.2 ounces. We recommend this product for around the home woodworking projects or DIY and backyard projects.
An interesting feature of this tool is that it comes with a blade of 0.022 inches thick. The blade is long enough for most jobs; it's 8-3/8 inches long. Although the tool is sold with a covering for a blade that is just packaging and doesn't do much for covering up the blade later.
So, you have to be careful while using this tool as not to cut yourself or others.It's a pull stroke hand saw, otherwise known as the nokogiri (鋸) in Japan. The saw basically cuts in pull strokes, and it's believed to leave a smoother and narrower width. So, you are cutting more efficiently with this saw.
The tool comes with 17 TPI, which makes its work precise and leaves less marking on wood. You can judge the preciseness of this tool by its kerf; it leaves only 0.033 inches of kerf or cut width.
Overall length of this saw is 16-1/2 inches. The handle kind of resembles that of a knife, which makes it easier to hold as most of us are habituated using a knife.
Highlighted Features:
Precise and durable
Weighs only 8.2 ounces
Blade is 8-3/8 inches long and .022 inches thick
Pull stroke hand saw or nokogiri (鋸)
Comes with 17 tpi and leaves only 0.033 inches of kerf
CRAFTSMAN Hand Saw, 20-Inch, Fine Finish (CMHT20881)

Last but not least, this one will offer you the most excellent finish. The tool is 20 inches in length, so it's big enough for cutting down trees and professional use.
Blade teeth of the saw are induction hardened. This hardening system makes steel more durable and stronger. Premium quality steel is used for making this blade; you can completely rely on its longevity.
The saw is designed to be user-friendly. It comes with an ergonomically designed handle, which is made of two materials. The handle has enough open space to keep your hands away from the blade yet have control over the whole tool at the same time.
Square/mitre feature of the handle with 45 and 90 degrees makes this tool more versatile, and you won't need an extra tool for adjusting your angles either.  The tool weighs only 14.4 ounces, and its dimensions are 23 x 5.5 x 1.2 inches.
We recommend this tool for both professionals and learners. The tool has a simple design that attracted us in the first place. Using a hand saw becomes way simpler if the tool itself is easy to use.
Materials used for making this saw are of great quality as well. You will be able to use it for years without any major issues. The saw has a small round opening so that you can hang it from a hook in our workshop. As it doesn't have a covering, we liked the idea of hanging.
Highlighted Features:
Offers excellent finish
It's 20 inches in length
Can be hung from a hook
Comes with square/miter feature
Blade teeth are induction hardened
Buying Guide the Best Hand Saws
Buying a hand saw isn't cheap; you are definitely investing a good amount of money here. And before doing that, you should get a good idea about the saws first. Here we have listed 10 different products; some of them are manual, and some are electronically powered. But how do you know which one is good for you? Whichever you choose, the following things should be considered first: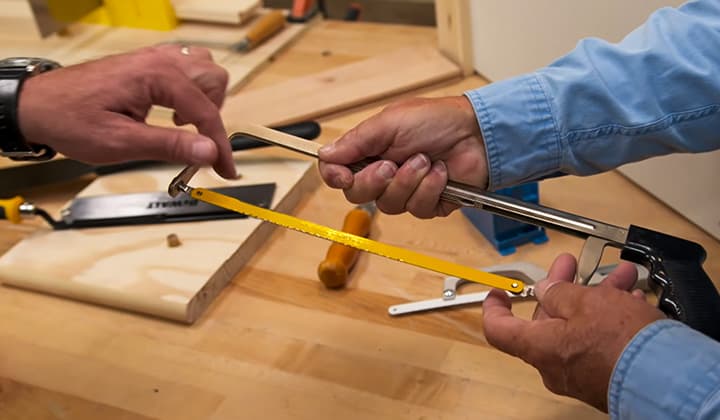 Your Work-type
Before you go for picking a hand saw, first decide what you are going to use it on specifically. Are you a woodworker who often cuts wood? Or are you a plumber who needs hand saw for cutting PVC and ABC plastic? If you are a construction worker who does remodeling work, you would need a different hand saw.
Every hand saw listed here is suitable for all this work. But each of them is best suited for one of the above-mentioned types of work. So, keep your work-type and environment in mind before picking a hand saw.
Tooth Shape of the Blade
There are rip toothed hand saws and crosscut toothed hand saws. The former one is used for cutting with the grain, which is easier, and the latter is used for cutting against the grain. Depending on your material and use, you should pick a blade.
Usually, crosscut teeth give better and smoother texture cuts in wood. If you are cutting wood perpendicularly, you should definitely use this one.
Tooth count per blade
If you want quick cutting, lesser tooth count or teeth per blade is good for you. But if you want more precision and smoothness, a higher tooth count is better.
Larger saw teeth will cut faster but will leave a rough and rugged surface for you. It'll leave a higher kerf as well. On the other hand, smaller saw teeth are excellent for smooth and lower kerf.
Blade Material
Some of the products mentioned here are made of Japanese steel, and some of them are made of high carbon steel. The first one is usually used for manufacturing Japanese hand saws. While many people love using these tools because they are precise and durable, but the material can be better, in our opinion.
The high carbon steel is basically steel with high carbon content. Carbon makes the steel more durable and less weldable, ductile. This increases the longevity and durability of a blade.
You can opt for any of them, depending on your preference.
Ergonomic Handle
This is the feature every single hand saw should have. Not only hand saws, but every tool you own and are operated by hand should also have an ergonomic design.
Almost all the products mentioned here have an ergonomic handle. Some of them even have a rubber coating so that your tool doesn't slip easily even if your hands get sweaty.
Believe it or not, handles are actually the most important part of a hand saw. It determines how easily you will be able to operate the saw and how much control you will have over it.
Foldable Small Hand Saw
If your hand saw is small and fits in your palm, it must be foldable. We have mentioned one or two products of this type, and they are both foldable.
This feature makes the saws safer to use and carry around. If a small knife-like thing doesn't have a covering, there is a high chance you will cut yourself with it accidentally. Worse, you can cut others.
Gear Lock Feature
This is another feature of small hand saw. The gear lock will lock it in place so that it doesn't move and makes working easier. Whenever you are using a small saw, it tends to move with the cover if not locked. A feature like gear lock makes these tools safer to use.
Easy to Store
A huge blade like that of a hand saw might not be so easy to store if it doesn't come with a storage bag or a cover for the blade. Some of the products we have mentioned here come with a hole on top for hanging. But if it falls on you or your pet/kid, that might be fatal.
We recommend choosing a saw that comes with a bag or just covering the blade with cloth or cardboard to create a DIY safety cover.
FAQs
Q: Are panel saws the same as hand saws?
Ans: Yes. In woodworking, hand saws are often called panel saws. They are used for cutting wood into little pieces so that you can stick them together easily.
Q: Would hand saw damage plywood if I cut it with this tool?
Ans: No. But you will have to use a strong and sharp hand saw to get this job done perfectly. We recommend using a power saw that has blade tipped with carbide for best results.
Q: Can I reset and sharpen teeth of my hand saw?
Ans: Yes. You will require some tools to do so, but it's doable. A set of teeth is usually reset with the help of a saw set and taper file.
Q: What are rip and crosscut hand saws?
Ans: These are two types of teeth in the blade of a hand saw. You use rip teeth to cut along the grain of a surface and crosscut teeth to cut against the grain.
Q: Can I use a hand saw for cutting melamine and veneer board?
Ans: Yes. But you will have to do it very carefully as to not damage the flimsy board. We recommend using a backing to support the plate and take more pressure so that your board doesn't break.
Conclusion
Hand saws are a must-have for so many workers that almost everyone already has one. People usually just buy need handsaws to replace their old ones.
But if you are new to it, you can start your journey of using these tools perfectly by choosing the best hand saw from our list. Yes, we are that confident about the products we have chosen.
All of them are from different price ranges so that you get a variety. Please keep your budget in mind before you order one. You can check out the products' prices on the company website. Good luck!
I'm Joost Nusselder, the founder of Tools Doctor, content marketer, and dad. I love trying out new equipment, and together with my team I've been creating in-depth blog articles since 2016 to help loyal readers with tools & crafting tips.