A key to the safety and efficiency of a chainsaw is the chainsaw bar. This is an elongated bar made out of heavy-duty material.
Moreover, chainsaw bars are useful and durable.
I have worked diligently to present chainsaw bar reviews to assist you in finding the best chainsaw bar suited to your needs.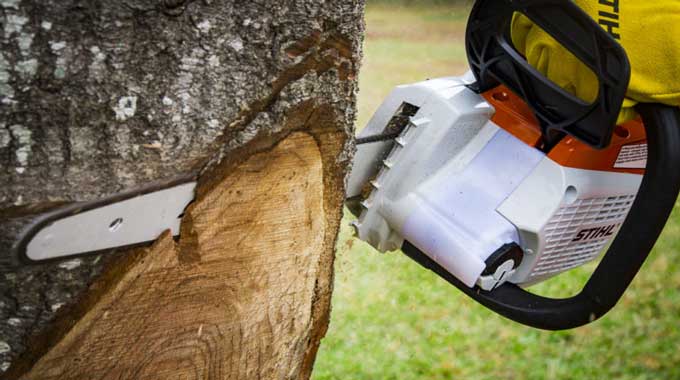 The overarching considerations in our examination of different chainsaw bars involved a focus on efficiency and safety.
| Chainsaw bar | Images |
| --- | --- |
| Best value for money: Husqvarna 20-Inch Chainsaw Bar | |
| Best cheap chainsaw bar: Oregon 20-Inch Advancedcut Guide bar | |
| Best lubrication: Oregon 20-Inch Chainsaw Bar | |
| Best 18-Inch Chainsaw Bar: Husqvarna | |
Best Chainsaw Bar Reviewed
Best value for money: Husqvarna 20-Inch Chainsaw Bar
Husqvarna is a highly-regarded name in the realm of power tools and equipment. As a result, it is no surprise that its chainsaw bar ended up on the list of the best products of its kind.

The Husqvarna 531300440 20-Inch Chainsaw Bar is a product that is well-suited to general consumer use as well as for professional projects.
As noted earlier, a consumer intent on undertaking do-it-yourself projects with a chainsaw should tend to stick to bars that do not exceed the 18" to 20" boundary.
This product is at the top end of that spectrum.
Despite is length, a key benefit of this chainsaw bar is that it is low vibration. This renders it easier to handle, more efficient, and safer than some other chainsaw bars of this length.
The bar has a notable heavy-duty construction. The durability of the product ensures that it has a longer life than other brands of the same size and design.
Pros:
This product is designed to fit a broad spectrum of Husqvarna chainsaws. It is also compatible with a number of other brands.
With that said, it is important to double-check compatibility when the objective is to use this rod with a product made by another manufacturer.
Cons:
There are no major negative aspects to this chainsaw bar.
With that said, because of its length, the Husqvarna 531300440 20-Inch Chainsaw Bar really is better suited to a consumer with a reasonable amount of experience using a chainsaw.
Product Specifications:
Item weight: 2.5 lbs.
Product dimensions: 24.8″ x 4.2″ x 0.5″
Manufacturer: Husqvarna
Best cheap chainsaw bar: Oregon 20-Inch Advancedcut Guide bar
This Oregon chainsaw bar model has a number of important benefits. These include its classification as one of the best lightweight chainsaw bars.

It receives this classification because it is a substantial bar that nonetheless has a relatively lower weight.
The weight of this chainsaw bar renders it a solid option for a person new to using this type of tool or a person who does not have a great deal of experience with a chainsaw.
Although a lightweight product, it is substantial enough to tackle any task a typical consumer is likely to confront.
Another positive aspect of the Oregon 27850 20-Inch Chainsaw Bar is that it is reversible. Reversibility extends the life of a chainsaw bar significantly, in many cases.
Pros:
It is highly regarded because it is sold with what is described as a low-kick premium chain.
The benefit of a low-kick chain is found in easier handling and enhanced safety than exists with a product that lacks this design feature.
In addition to the low-kick chain, safety is enhanced on this bar via a double guard on the chainsaw bar.
The double guard enhances safety by reducing potential kickback when a chainsaw is in operation.
Cons:
The primary downside to this model of chainsaw guard is found in the limitations of chainsaws with which it is compatible.
The limitation includes a smaller range of Oregon chainsaws that can accommodate this bar.
Product Specifications:
Item weight: 3.5 lbs.
Product dimensions: 29″ x 5″ x 1″
Manufacturer: Oregon
Best lubrication: Oregon 20-Inch Chainsaw Bar
The Oregon 105671 20-Inch Chainsaw Bar is a flexible product. It is meant that it fits not only Oregon brand chainsaws but also certain models from STIHL.
Of course, a person needs to confirm compatibility before making a purchase.

Another of the positive aspects of the brand and model of this chainsaw bar is the fact that it comes complete with the Lubricate system.
Lubricate is a system unique to some Oregon models that keeps a chain and chainsaw bar well-oiled.
​Pros:
The net effect of this process is that less friction is created when in use, a result that extends the life of both the chain and the bar.
Another advantage associated with this product is that it has a low-level kickback. Lower kickback renders the chainsaw itself easier to control and safer.
Finally, this chainsaw bar features what Oregon calls its Advance-cut Guide.
The Advance-cut Guide makes the product easier to maneuver and renders it ideal for people who like harvesting firewood and engaging in similar activities.
Cons:
Negative aspects associated with this product are not significant.
As is the case with other bars of this length, a person needs at least some chainsaw use experience in order to effectively utilize a chainsaw with this bar.
Product Specifications:
Item weight: 3.45 lbs.
Product dimensions: 29″ x 5″ x 0.2″
Manufacturer: Oregon
Check prices and availability here
Best 18-Inch Chainsaw Bar: Husqvarna
This is the second chainsaw bar model from Husqvarna. A number of important reasons exist for this Husqvarna Chainsaw Bar being listed is its design.

It is designed with high-performance features. The product includes some of the latest technological advances applied to chainsaw bars in recent times.
Pros:
These include design features that result in low-vibration when it use. The companion chain is also crafted in a manner to ensure low-vibration.
Because of the low-vibration of this bar and associated chain, the Husqvarna 531300438 Chainsaw Bar is easier to use than some other competing products on the market today.
Low-vibration also enhances the safety of the Husqvarna 531300438 18-Inch Chainsaw Bar. At 1.7 lbs., this chainsaw bar is the most lightweight among the all chainsaw bars.
That does render it a bit easier to operate.
Cons:
The primary con associated with this chainsaw bar is found in its accessibility to everyday consumers, people who only occasionally make use of a chainsaw.
This particular chainsaw bar has design features that favor professional users facing demanding job tasks.
Although these design features can be a plus to a mainstream consumer, there is a learning curve associated with better mastering this equipment.
Product specifications:
Item weight: 1.7 lbs.
Product dimensions: 22.2″ x 4.2″ x 0.5″
Manufacturer: Husqvarna​
When do you Replace a Chainsaw Bar?
There are two primary reasons why you must be proactive when it comes to replacing a chainsaw bar.
First, the timely replacement of a chainsaw ensures optimal operation. Second, timely replacement of the bar ensures the safest possible operation of a chainsaw.
As part of ascertaining if the time has arrived to replace a chainsaw bar you also need to examine its tail end. A worn bar will have a tail end that has narrowed.
In many instances this will prove the first indication that the time for bar replacement has arrived.
A key tactic to employ to determine if the time has arrived to replace a chainsaw bar begins with removing it from the device.
Once removed, hold up the bar and look down its length as if it was the barrel of a gun. The technique permits you to see if the bar is bent in one direction or another.
The manner in which a chainsaw cuts also provides evidence of the state of wear of the bar. A chainsaw with a bar in good condition produces a U shape when it cuts.
As the chainsaw bar wears it produces more a V shape when it cuts. When the cut appears to be more of a V shape the time replacement has arrived.
The efficiency of a chainsaw directly is impacted by making a timely replacement when this type of issue appears.
How do you Use a Chainsaw Bar?
Step 1: Familiarize yourself with the environment you will be working in. Take note of all the escape routes you will use when the tree starts to fall.
Step 2: Wear all the protective gear and check the working condition of the chainsaw. Ensure the chain is tightened to avoid injury.
Step 3: If you are using a gas machine, check its gas levels, and fill up the tank. Also, put chain oil in your chain lube reservoir.
Step 4: Set the machine on a flat surface with its bottom part facing down. Locate the chain brake that is positioned between the blade and the top handle of the chainsaw. Push it frontward until it locks.
Step 5: If you will be using a gas-powered saw, check if it has a choke and turn it on. Conversely, if it has a primer button, thrust it six times to pull the gas into the carburetor.
Afterward, switch on the power button. For an electric saw, you will only be required to depress the safety switch then turn on the power.
Step 6: If you are using a gas chainsaw, secure it by putting your right foot on the back handle, then put your weight on the handle. Hold the front handle in place using your left hand and then pull the starter rope to its full length using your right hand.
It takes a minimum of four pulls to start the engine. Adjust the choke to engage the engine. If you are using an electric chainsaw, skip this step.
Step 7: For the chain to start moving, press the throttle or the trigger. To minimize the severity of injury in case of kickback, always cut a log with the saw slightly angled away from you.
Step 8: Once you are ready to cut the wood, release the chain break then engage the throttle. Lay the saw in the region you want to cut but do not apply pressure on the chainsaw blade.
Step 9: Maintain a steady grip and keep the trigger or the throttle engaged when cutting. After you have finish cutting, release the trigger and switch off the power.
Ways of bucking or cutting down a log
1. Overcutting or overbucking
This is the process of cutting a log that is fully supported by the ground from its top part. When cutting such a log, make sure the chainsaw bar does not come into contact with any objects on the ground.
Nonetheless, if the guide bar gets caught in the wood, turn off the chainsaw then drive a wooden wedge in the cut using a hammer. This should remove the saw easily. For safety purposes, you should never try to restart the saw when it is pinched in the log.
2. Log Support
Log supported on both ends, and the middle isn't supported. The first step is to make a 1/3 cut from the top. Next, cut the remaining part from underbuck (underside) and only exert a little pressure upwards.
During the underbucking procedure, the saw will want to kick you back, therefore, be careful not to hit yourself.
3. Cutting a log on the hill
When cutting wood on a sloppy terrain, always stand on the upper side of the hill so that you can avoid any accidents in case the log roles over.
Other than how to operate a chainsaw, new chainsaw owners may have some concerns. Below are some of these concerns and how to deal with them.
Frequently Ask Questions around chain saw bars
How tight should a chainsaw chain be?
The tension of the chain should be slightly loose. Nonetheless, a very loose chain will pull the drive links off the bar nose. Tightening it, on the other hand, will break it during the cutting procedure.
Are chainsaw bars universal?
There is no definite answer to this. Chainsaw bars that can be used interchangeably should have the same features.
This means that if you want to purchase a new chainsaw bar, the measurements, size, and components of that bar should match your chainsaw.
How do you measure a chainsaw blade?
Ans. Mostly, the length of chainsaw bars ranges between 16 inches to 20 inches. To measure the length of your saw's blade, first measure the distance between chainsaw's bar tip and the region where the bar first emerges.
You can use a tape measure to get this measurement. If you get an uneven number or a fraction, round it off to the nearest even number.
Final Thought about Purchasing the Best Chainsaw Bar
Armed with this information about the best chainsaw bars, you can now explore that may be of interest to you.
Indeed, understanding what is available on the market in regard to replacement chainsaw bars is invaluable information when it comes to selecting a suitable chainsaw in the first instance.
There exists a wide spectrum of chainsaws marketed to consumers who have an occasional but not professional need for this type of tool.​