I love creating free content full of tips for my readers, you. I don't accept paid sponsorships, my opinion is my own, but if you find my recommendations helpful and you end up buying something you like through one of my links, I could earn a commission at no extra cost to you. Product prices and availability are subject to change. Any price and availability at the time of purchase will apply.
Learn more
Have you ever taken on a project that involves working at night? Is your workshop poorly lit? If the answer to both the questions is yes, then you already know how important the lighting condition is to have a proper workflow. Without adequate lighting in place, you will not be able to do anything.
But it is not possible to ensure proper lighting everywhere you go to work. In your workshop, you have somewhat of control, but when you are working outdoors, you need to make do with what you have. And trust us, a basic flashlight will not cut it when you want good vision,
If you had the best LED work lights in your arsenal, you do not have to worry about the lighting conditions. You can simply hook it up to a generator or any other power source and turn it on. In turn, you will get a bright work environment where visibility is not an issue.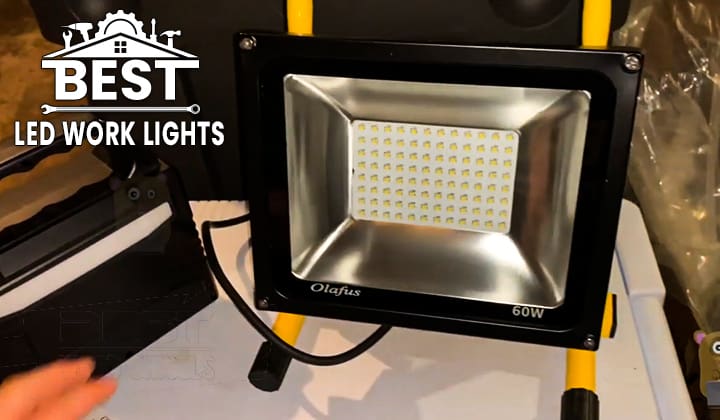 In this article, we will give you a complete rundown of some of the best devices you can buy to ensure your workplace is well lit, wherever it might be.
Top 7 Best LED Work Lights Reviewed
Finding the best unit that can sufficiently light up your workplace is not as easy as it might sound. For one thing, any item you see in the market will claim to do the trick. But in reality, only a handful of devices are powerful enough to give you a good vision without any irritation.
To that end, we are here to give you our picks for the seven best LED work lights that you can buy from the market, without any regrets.
[15W 24LED] Spotlights Work Lights Outdoor Camping Lights
First off, we are looking at a product that gives you amazing value because of its low cost and powerful design. This work light by the brand Hallomall is enough to light up any dark environment without hassle.
The unit has 15W of power and comes with 24 LEDs. It also comes with an SOS mode where the two blue and two red LEDs flashes alternately in case you get in an emergency situation.
Bear in mind, the unit does not go overboard on features but focuses on the essential sectors well. It comes with a high-quality lithium-ion battery that lasts a long time, even when you continuously use it.
Additionally, you get two USB ports in the unit if you want to charge your mobile devices. The unit can be rotated 360 degrees and comes with waterproof housing. Its smart set of features easily makes it one of the best rechargeable LED work lights in the market.
Pros:
Strong and durable construction
Bright output
SOS mode for emergencies
Two USB charging ports
Cons:
The adjustment screws get loose from time to time.
Snap-on 922261 LED Work Light, 2000 lm
The next product on our list is this corded LED work light by the brand Snap-on. It is a super low-profile unit that comes in a small form factor to make it more portable. However, do not let the size fool you; it can get very bright.
The device can output 2000 lumens of light that are enough to brighten up the darkest of places. But, since it requires a power connection, you will not be able to hook it up without a generator if you are working outdoors.
It is also a very energy-efficient model. You will not face any additional electricity cost if you hook it up to your dark basement workshop. The lights also stay quite cool and do not add any extra heat to the room.
To make moving it easier, the unit comes with a padded carry handle on the top. After placing it, you can fine-tune the angle knobs to adjust the tilt of the machine so that you can shine light wherever you want.
Pros:
Lightweight and durable
Bright light output
Energy efficient
Comes with a carry handle
Cons:
Could benefit from a longer power cord.
Ustellar 1600LM 20W LED Work Light (150W Equivalent)
The third product on our list is a high-performance work light for the budget spenders. This work light is one of the best choices you can make if you are looking for an indoor work light.
With a light output of 1600 lumens, you will never have to worry about dark workspaces. It offers the same level of brightness as a 150W bulb but does not cost as much in energy.
You can also rotate the unit any way you want to set how you want to set it up in your workshop according to your requirements. The 16.5 feet power chord also gives you enough length to set it up far from the power source.
It comes in a durable and robust aluminum housing with parallel stands at the bottom. The top of the unit features a padded handle to help carry it around. This machine comes with an IP65 waterproof rating, which means you do not need to worry about occasional splashes ruining it.
Pros:
Lightweight and compact structure
Durable enclosure
Long power chord
Good heat dissipation
Cons:
Not bright enough for outdoor use.
Olafus 60W LED Work Lights (400W Equivalent)
For people who need a high level of illumination, the Olafus work light offers the perfect solution. Considering the massive power output of the unit, the price is surprisingly reasonable.
It has a maximum output of 6000 lumens, which is capable of brightening up the darkest of the work environment. With this device, you get a wide area of coverage when you are working outdoors.
The unit also comes with two brightness modes. In high power mode, you get the full 6000 lumens output. If you want to tame the light to some extent, you can bring it down to 3000 lumens in low power mode.
The housing of the unit is compact and sturdy. It comes with tempered glass and aluminum finish that can survive the test of time. Additionally, the unit is also resistant to water with a rating of IP65.
Pros:
Extremely durable
Comes with carrying handles for easy transport
Two distinct power modes
High illumination
Cons:
Too bright for indoor use.
Tacklife 5000LM 50W LED Work Light [100LED,400W Equivalent]
Finding a quality work light in a small form factor is not easy. Typically, with more LEDs, the unit gets bigger and bulkier. However, this unit by Tacklife breaks free of that format and brings you a small led work light with excellent output.
It comes with 100 LEDs that can output a total of 5000 lumens of light. But thanks to new generation LEDs used in the device, it is almost 80% more energy-efficient than halogen bulbs.
The unit has two different brightness options. In high mode, you get 60W of output, and in the low mode, it comes down to 30W. So you have enough flexibility in choosing the brightness of the unit.
Durability-wise, it comes with a sturdy IP65 rated water-resistant aluminum housing that can withstand impact and abuse without breaking a sweat. The lights stay cool even after prolonged use.
Pros:
Durable constriction
Thin and low-profile design
Excellent heat management
Energy efficient
Cons:
LED Work Light, HOKOILN 2 COB 30W 1500LM Rechargeable Work Light
If you are looking to double the value from your purchase, you should strongly consider this two for one option by the brand Hokolin. Combining the power of these two cordless LED work lights, you will have no dark spots anywhere.
The unit comes with three distinct lighting modes, high, low, and strobe. The high and low mode lets you switch between higher and lower brightness while strobe mode comes in handy when you want help in case of an emergency.
With this device, you get a maximum brightness of up to 1500 lumens, which is similar to 150W light bulbs. But it consumes only around 70% of power, which makes it highly energy efficient.
It is a battery-powered unit. You can use four AA batteries, or the two included rechargeable lithium-ion batteries to power the unit. It also comes with a USB port to connect to your phone like a charger.
Pros:
Extremely lightweight
Highly portable
Durable, water-resistant construction
Comes with USB ports and strobe mode
Cons:
DEWALT 20V MAX LED Work Light, Tool Only (DCL074)
To wrap up our list of reviews, we will take a look at this unique LED work light by the powerhouse brand DEWALT. Although it costs a bit extra, the performance of the unit is unmatched when it comes to job site illumination.
The unit outputs a total of 5000 lumens, which is exceptional for such a small and portable unit. Because of the design, you can even hang it on the ceiling if you want.
It boasts an uptime of around 11 hours, which is enough for a full day of work. If you have a smartphone, you can control the brightness of the unit with an app that you can download for free.
The machine comes with durable construction and features an impact-resistant design. So you can be sure that this unit will be able to survive the abuse it must face during any heavy-duty project.
Pros:
Excellent brightness
Versatile control using the smartphone app
Long uptime
Extremely durable
Cons:
Things to Consider When Buying the Best LED Work Lights
Now that you have gone through our list of recommended products, it is time to look at a few features that you should look at before making your final decision. It would help ensure that you understand your requirements thoroughly, and can pick out the perfect product without too much hassle.
So without further ado, here are a few things that you should consider when buying the best LED work lights.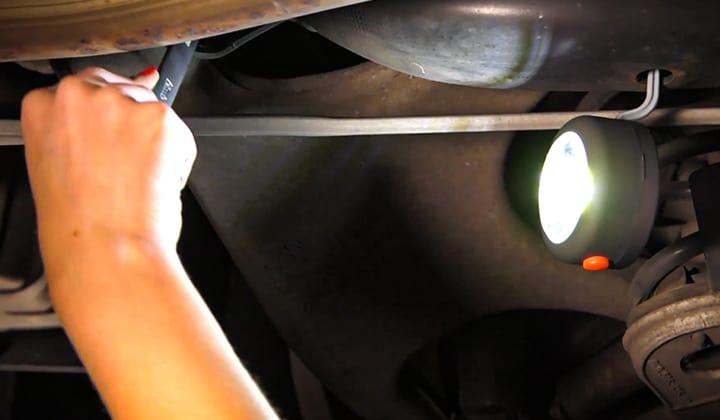 Purpose
Your choice of LED work light largely depends on why you are buying it. Carefully consider the types of projects where you want to use this machine. Is it a large construction site? A small workshop? Or maybe while fixing the plumbing?
The answer to this question would help you determine how bright you want the LED work light to be. You can also safely understand whether you want a handheld model, a corded one, or a wall-mounted unit. So before anything, figure out why you want to buy your LED work lights.
Brightness
Next, you need to check the brightness of the model that you are willing to buy. Typically, the intensity of an LED light is determined using lumens. The higher the lumens value, the brighter the output of the unit. But too much of lumens is not a good thing.
If you are working on a small scale project like fixing a dashboard, you do not want a unit with three or five thousand lumens capacity. The last thing you want is to feel blinded by your work light. But for people who work in dark open areas, it is better to buy a unit with higher lumens value.
Corded vs. Cordless
LED work lights can be either corded or cordless. The cordless models, as you might expect, offer much higher portability than the corded variants. But theoretically, corded work lights will give you unlimited hours of output as long as it is connected to a power source.
When buying cordless, you also have the option to choose between units that use rechargeable batteries and units that use normal batteries. Rechargeable batteries are the better option since you will not have to keep spending money on new batteries every time you want to work on your project.
If you do buy a cordless unit, you also need to make sure how long the battery lasts. Some models consume more power, which means you will be quickly going through batteries. You will not get a good uptime with those units. When buying a cordless LED work light, you need to pay attention to the battery life.
Heat management
Light produces heat, that much is common knowledge. If your work light does not come with a solution to prevent overheating, it will not last very long. Thankfully, LED lights generally have a much lower heat output than halogen bulbs, so you can be somewhat lenient on this factor.
However, if you see your device becomes exceptionally hot after prolonged use, then you have something to worry about. Although it is natural for a work light to get heated after use, too high of a temperature can cause a severe problem. So, you must make sure that your device comes with a good heat dissipation system.
Anchoring system
There are multiple ways to set up an LED work light. Some units come with stands to set them up on the ground, while others may feature hooks or mounting mechanisms to hang them on walls or ceiling. But very rarely will you see a single model featuring multiple anchoring systems.
If you prefer to buy a device that you can hang on the wall, by all means, go for it. This factor most always comes down to personal preference. But in our experience, if you are working outdoors, buying a work light with a stand is the way to go as you can just keep it on the ground.
Portability
Portability is a must when you buy an LED work light unless you want to keep it as a stationary light in the workshop. With stationary units, you will not get to use the light to its fullest potential. Whenever you have to step outside for a project, you will be left without your LED work light.
Make sure to buy a compact, lightweight model if you want to get the most out of your purchase. Additionally, you should make sure your unit comes with a comfortable carrying handle to help you move it around. If you can find a unit with wheels, it would be an added bonus.
Durability
Whenever you are buying anything, you want it to be durable; otherwise, there really is no point buying it. Nothing hurts more than buying a device only to have it break down on you after a few months. So you need to ensure that you end up with a durable LED work light.
You need to check the overall construction quality of the unit. Additionally, you should check its water-resistance rating. Without water-resistance, you will not be able to use your device in bad weather. Do not make the mistake of buying a unit that comes with a plastic body.
Budget limitations
The final limiting factor in any investment is your budget. If you are in the market without a fixed budget, chances are you will overspend, which will eventually lead to regret at a later period. If you want to make the most out of your purchase, you must have a fixed budget in mind.
These days, you can find LED work lights in all price ranges. So having a lower budget does not necessarily mean you will end up with an inferior product. Sure, you might be making some compromise on a few extra features, but you will be happy knowing that you are getting a product that you will utilize to its fullest potential.
Frequently Asked Questions
Q: Do I need to buy a second work light?
Ans: Buying multiple work lights is something you might consider if you are having difficulty with shadows. One issue you might face when working with a single work light is that when you are standing between the light source and your project, your body will cast a big shadow.
The workaround to that issue is using a second work light and placing it at a different angle. That way, the two light sources would help eliminate your shadow or any other dark spots in your vicinity.
Q: Where can I use my LED work light?
Ans: An LED work light has a lot of different uses. If you have a dark basement or attic in your house, you can keep it there to light it up when you want to go there.
If you have a dimly lit workshop or take part in different outdoor projects at night, this machine offers a reliable light source. Apart from that, you can also use it on outdoor camping trips, or as emergency lights.
Q: Are there any safety tips I should be aware of when using my LED work light?
Ans: Typically, an LED work light is not a very dangerous tool. There are very few ways it can actually harm you. For one thing, you should never stare at it directly, especially in high power mode. It could even cause long term damage to your eyes if you are not careful.
Furthermore, if you see your device becoming hotter than usual, you should turn it off and give it some time to cool down. Even though LED work lights get warm, they should not feel too hot.
Q: Are LED work lights waterproof?
Ans: It depends on the model. Typically, LED work lights to feature some form of water resistance, even if they are not entirely waterproof. These devices usually come with a secure enclosure that does not let water inside easily. If water does get inside the unit, that would be bad news for your machine.
Final Thoughts
An LED work light is a versatile tool that can be used in any way you wish. Whether you are a DIY craftsman, a professional contractor, or even just a homeowner, you can find ways to use them. For example- if you have a wonderful gazebo or free-standing DIY deck at your house you can use these LED to enlighten these areas.
We hope our guide on the best LED work lights could give you enough information to make the correct choice. If you are still unsure, any one of our recommended products should give you a pleasant experience the next time you are out in the dark.
Joost Nusselder, the founder of Tools Doctor is a content marketer, dad and loves trying out new equipment, and together with his team he's been creating in-depth blog articles since 2016 to help loyal readers with tools & crafting tips.
Product prices and availability are accurate as of the date/time indicated and are subject to change. Any price and availability information displayed on Amazon.com at the time of purchase will apply to the purchase of this product.