I love creating free content full of tips for my readers, you. I don't accept paid sponsorships, my opinion is my own, but if you find my recommendations helpful and you end up buying something you like through one of my links, I could earn a commission at no extra cost to you.
Learn more
Whether you are a professional electrician or a DIY enthusiast who likes to fix electrical appliances on his own, you know how important a lineman plier is. In case you don't recognize this name, this tool is also known as a cutting plier. And we all have seen one of these once in our life.
It is mainly used to deal with different issues relating to electricity, installation of appliances, and repair work. Using this tool, you can grip, twist, bend, or straighten wires as you like.
Therefore, the tool is extremely useful. However, there are different types and designs of lineman pliers available in the market. In order to help you choose one, we have picked the 7 best Lineman Pliers of 2020. You can find a detailed review of these products in the article.
7 Best Lineman Pliers Reviews
Our review contains a comprehensive description of each product with its pros and cons. The list has been provided below:
VAMPLIERS 8″ Pro VT-001-8 Lineman Screw Extraction Pliers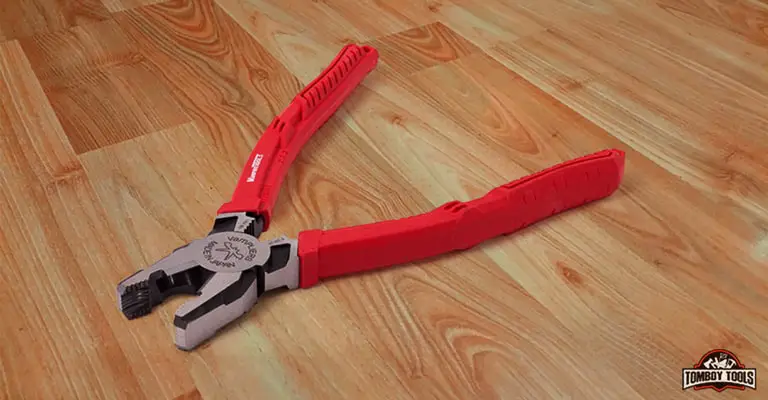 | | |
| --- | --- |
| Weight | 10.2 ounces |
| Dimensions | 7.87 x 2.09 x 0.75 inches |
| Material | Elastomer |
| Grip Type | Ergonomic |
Comfort is a must necessity when it comes to working on a difficult job. Fatigue can cause unwanted mishaps, and no one would wish for that while fixing an electrical appliance. To ensure such comfort,
VAMPLIERS has brought forth its 8-inch pro Lineman Screw Extraction Plier. It is designed in such a way that it fits the ergonomic criteria needed to ensure maximum comfort while working.
Its handles are fitted with elastomers that enhances its flexibility and grip control. Moreover, it meets a Rockwell standard of HRC60±2 that lets you extract and manage difficult screws with ease.
Not only this, but it also does the job of taking out and hauling rusted and damaged screws, along with corroded nuts and bolts. Expert electricians are amongst the minds that have put together this amazing plier. Therefore, it ensures great durability and functionality.
Pros
Teeth are durable and strong
Innovative design
Comfortable grip
Ability to pull out and install tough screws and bolts
Cons
Expensive
First-timers might find it a bit complex to use due to its tightness
IRWIN VISE-GRIP Lineman Pliers, 9-1/2-Inch (2078209)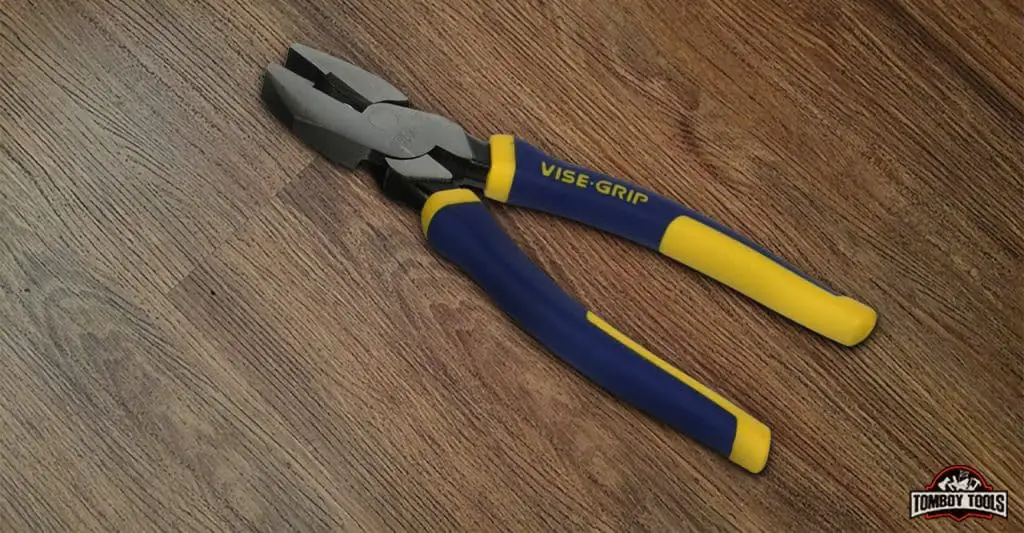 | | |
| --- | --- |
| Weight | 1.2 Pounds |
| Dimensions | 12.28 x 4.17 x 1.05 inches |
| Material | Steel |
| Warranty | Customer Satisfaction |
Made with an extremely long-lasting and strong nickel-chromium steel construction, the GRIP Lineman Plier from IRWIN is one of the best lineman cutting pliers. The manufacturers have designed this product with great detailing in mind and ensured a high standard of quality.
As a matter of fact, this is famous as one of the most durable pliers out there. Moreover, it complies with the ANSI specifications and is therefore safe to use.
The best feature of this plier is its ProTouch grip, which has a 3-component molded construction to provide the best comfort to the user. Your hands won't go soar out of fatigue for using this tool. In addition, it contains machined jaws that are able to pick out difficult screws and bolts.
Its special hook system lets you fix the plier with the system in order to save the equipment from dropping during crucial moments. And its cutting edge is smooth and hard and is treated with induction to make the smoothness last for a long time.
Pros
Made with the best materials
Sharp and induction treated cutting edges
Has a special coating to prevent rusting
High-quality design
Cons
Wideness is not enough during cutting
Tires out the user quicker compared to some other pliers
Channellock 369CRFT Linemen Plier, Hi-Leverage with Crimper/Cutter and Fish Tape Puller, 9.5-Inch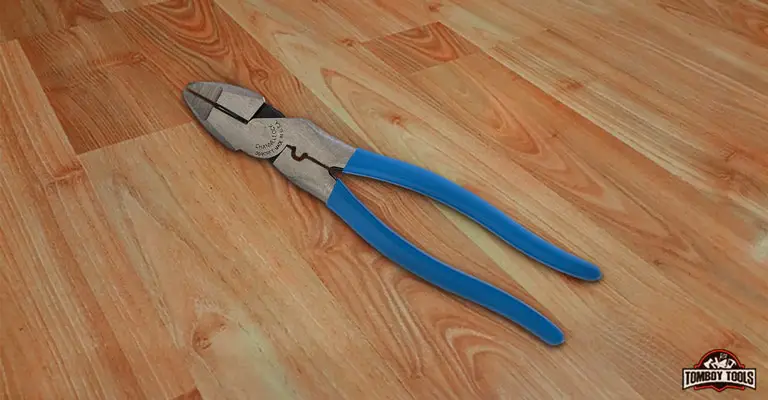 | | |
| --- | --- |
| Weight | 16 Ounces |
| Dimensions | 4 x 3.5 x 12.5 inches |
| Material | Steel |
| Color | High carbon steel |
The third pick on our list is one of the best lineman pliers for electricians. It is manufactured by Channellock and is compatible with both insulated and non-insulated terminals.
Therefore, it can crimp both these two types of wires. In addition, Channellock is well-known for producing high-quality pliers at a convenient price. The service it provides is on par with many expensive branded Lineman pliers.
You don't have to worry about the lifespan of this plier as it is made up of carbon C 1080 steel. As a result, the cutting edges of this tool are smooth and perfect for superior performance.
On top of this, the plier is equipped with a special type of technology known as the XLT Xtreme Leverage that allows you to work more with a comparatively less amount of force applied. This protects your hands from fatigue.
Pros
Compatible with insulated and non-insulated terminals
Edges are treated with a laser which enhances their lifespan
Superior cutting performance
Affordable
Cons
Heavier than its contemporaries
Does not have a separate crimper
Channellock 369 9.5-Inch Lineman Pliers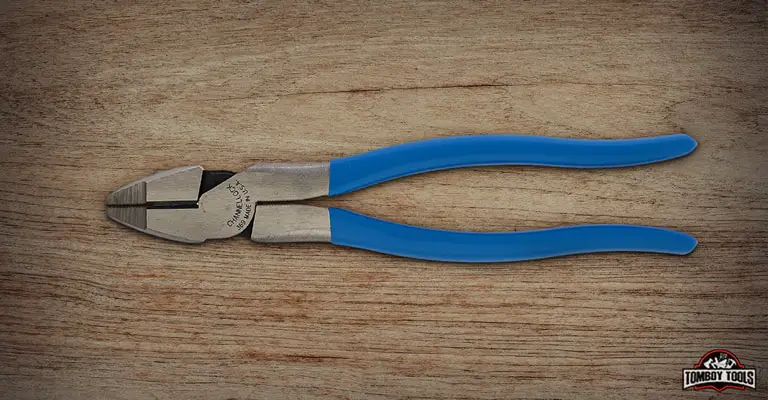 | | |
| --- | --- |
| Weight | 8 Ounces |
| Dimensions | 11.5 x 2.88 x 0.75 inches |
| Material | High carbon steel |
| Color | Blue Handle |
Another version of the Channellock 369 series is this 9.5 inch, Lineman plier. It is made with the same care and precision as the rest of the well-known Channellock products.
In fact, it also contains some added benefits in comparison to the previous model from the same manufacturer mentioned before. For example, it comes with a rounded nose design which enhances your comfort while working with this tool.
Channellock's pliers are famous for using the XL Extreme leverage technology, and this model is no exception to that. This refined mechanism allows one to cut wires and other materials with less effort in comparison to other pliers.
This saves the user's hands from sores and fatigue. Moreover, this plier is also able to cut arcs. Its jaws are equipped with a crosshatch pattern that offers you a better grip.
Pros
Smooth edges due to laser treatment
Ability to cut arcs
Jaws have a strong grip
Requires less force to press
Cons
Does not contain a crimper
Might be a bit heavy for some
Klein Tools J2000-9NECRTP Side Cutter Linemans Pliers with Tape Pulling and Wire Crimping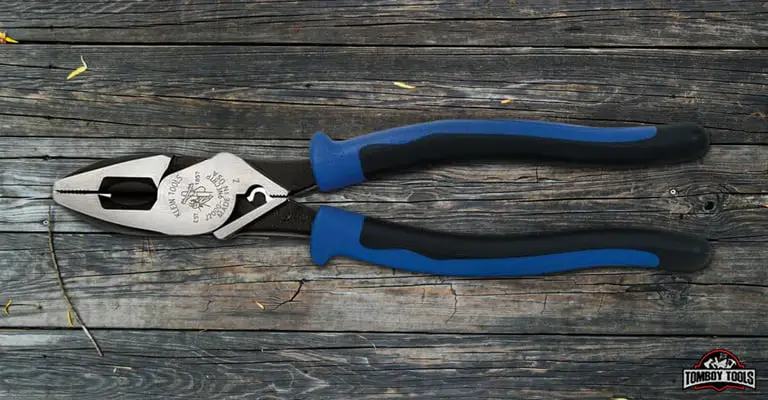 | | |
| --- | --- |
| Weight | 1.1 Pounds |
| Dimensions | 10 x 10 x 10 inches |
| Material | Steel |
| Color | Blue/Black |
| Warranty | 1 year manufacturer |
Klein is a name to reckon with when it comes to considering some of the best manufacturers of machine tools and equipment. Their Lineman plier does not fall short of the manufacturer's reputation and is designed precisely to deliver smooth and comfortable performance.
In order to ensure user comfort, it is equipped with a high-leverage design where the rivet is put closer to the cutting edge. As a result, this ensures greater cutting power.
In terms of its power, it is able to cut through ACSR, screws, nails, and even the most hardened wires. Moreover, it also comes with a built-in crimper that is compatible with non-insulated terminals as well as the insulated ones.
This offers you greater flexibility while working. And its built-in channel is capable of pulling the steel fish tape without causing any significant harm to the tape.
Pros
Knife edges are treated with induction
Jaws are lined with cross-hatched patterns
Built-in crimper provided
A smooth joint which prevents any sort of wobbling
Cons
Metal on the stripper has the tendency to crumble
Length of the jaw is not long enough
Knipex 09 12 240 SBA 9.5-Inch Ultra-High Leverage Lineman Pliers with Fish Tape Puller and Crimper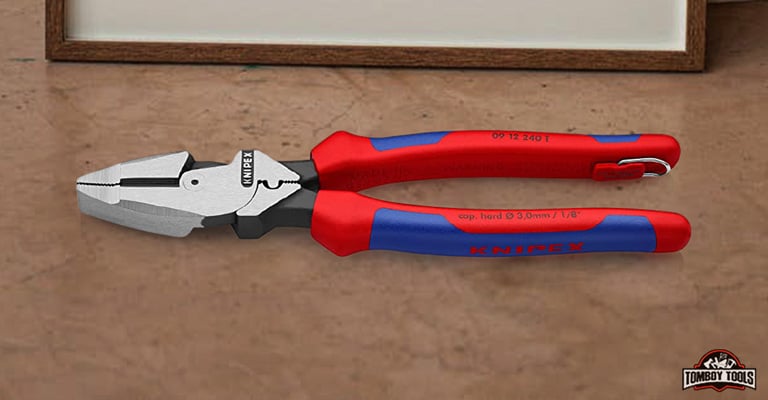 | | |
| --- | --- |
| Weight | 15.9 ounces |
| Dimensions | 9.35 x 2.15 x 0.95 inches |
| Material | Stainless Steel |
| Style | Comfort Grip |
Knipex introduced the SBA 9.5 inch Lineman Plier in the market by redesigning it to get rid of its flaws. The previous version did not have adequate leverage, which was fixed by moving the rivet closer to the jaw and thus ensuring a higher amount of cutting power.
As a result, cutting becomes 25% easier with this model. In addition, the plier is also capable of performing heavy-duty tasks.
Its jaws are lined with cross-hatched patterns to give it a better and enhanced pulling and gripping power. Moreover, the cutting edges are sharp and hard due to the induction treatment provided over it.
This increases the lifespan of the tool and makes it more convenient to use to cut both hard and soft ACSR wires. in order to make the pulling of wires even easier, it also features a gripping zone right underneath its joint. Its universal terminal crimper allows you to work on different types of terminals as well.
Pros
Enhanced cutting power
Equipped with a fish tape puller
Easy to use
Lightweight and easy to hold
Cons
Costs more
Edges of the knife wear out over prolonged use
Lineman Pliers, Combination Pliers with Wire Stripper/Crimper/Cutter Function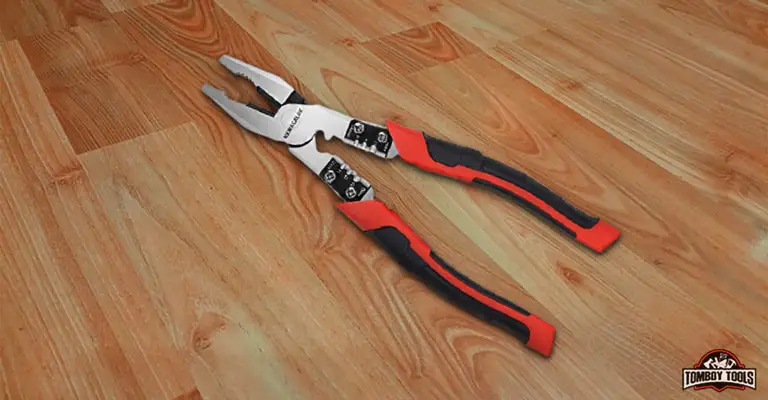 | | |
| --- | --- |
| Weight | 10.5 ounces |
| Dimensions | 8.27 x 2.17 x 0.79 inches |
| Material | Heat-Treated |
| Color | Silver |
If you are looking for a multi-functional plier that can do stripping, crimping, cutting, and bending wires all at once, then you have come to the right place. Our last pick is adorned with multi-functionality, which serves all these purposes. Its wire stripper (so you don't need a separate one of these) offers flexibility as well.
You can loosen its joints with a screwdriver and then adjust it accordingly to fit with your hands to ensure ease while working. Moreover, the plier also comes with a pro touch grip handle, which saves you from hand sores and fatigue.
Its jaws are made with nickel chrome, and it also features a thickened metal portion that allows you to extract more work from applying a lesser amount of force. In fact, its joints are equipped with reserved reasonable gaps that prevents friction and offers smooth operation.
In addition, its cutting edges are treated with induction treatment, which makes them sharp and long-lasting. You can also remove screws and bolts of larger sizes with this plier.
Pros
Very easy to use
Serves multiple purposes
Sharp cutting edges
Affordable pricing
Cons
Gap between the jaws when it opens is not wide enough
Difficult to close perfectly
What to Look for Before Buying?
If you have confusion regarding whether a lineman plier is the same as a traditional plier, then let us clarify it for you. Although both of these tools are quite similar, the Lineman version is more enhanced in terms of their capabilities and works best for fixing electrical issues.
They can cut, grip, bend, straighten and even crimp wires and cables. But how do you find out what is a good Lineman plier to purchase? To make things convenient for you, we have listed down the features to look for before buying this tool. You can also apply this buying guide while purchasing a traditional plier.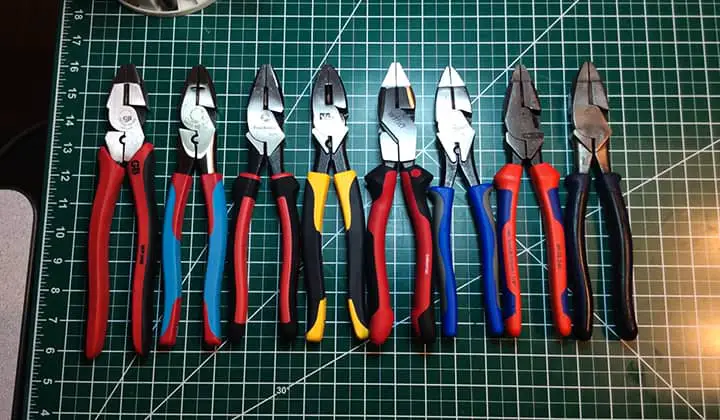 Size Specifications of the Plier
Pliers of different sizes are available in the market. Some have a longer handle while some come with a smaller jaw. Depending on the purpose you want to use the plier for, you should make your pick.
For example, if you need to work in congested spaces, you will require a plier that has a long handle to provide you with maximum reach and flexibility.
On the other hand, if you are interested in achieving perfect results with utmost precision, the pliers with small jaws are more suitable.
Therefore, at first, you need to find out the situations you need the plier for and then make your call.
What the Plier Is Made Up of?
Most good quality pliers are made up of nickel, chromium, and steel. Some are also made up of vanadium. All these metals are good components that offer durability and does not allow the plier to corrode too early.
However, make sure that the plier you are going for is not made up of too hard on metal as it may make the jaws brittle and cause inflexibility. So look for the ones that have been made with any of the above-mentioned materials.
Lifespan of the Cutting Edges
Cutting edges are one of the most crucial parts of a Lineman plier. Using this, you can cut off a wire or bend it. Therefore, this specific part needs to be durable. Usually, to elongate the lifespan of the cutting edges, it needs to be treated with induction. It also should be able to offer a tiny pinch on the apex of a trimmed wire.
Leverage of the Plier
The plier should be able to offer maximum utility and output with minimal effort. In order to prevent fatigue and hand sore, it is best to buy a plier than can offer that.
Comfortable Use
The handle of the plier needs to be designed ergonomically in order to ensure maximum comfort. This will enable the user to work comfortably without getting a hand sore.
Furthermore, the handle should also be coated with rubber to ensure a safe grip. And a cushion coating overall prevents electrostatic discharge from hampering the crucial parts of the plier.
Price
Price is a very crucial factor that comes into play when you want to purchase something. If the item you are intending to buy exceeds your budget, then it might be difficult for you to get it. Therefore, go through our review to see which one meets your budget specifications.
However, keep in mind that the ones that are too cheap are made poorly with simple metals, and their jaws tend to dysfunction. The handles also don't provide a comfortable grip, which can result in more effort to obtain the desired outputs.
What Are Lineman Pliers Used for?
A Lineman plier is used for various activities such as bending, twisting or gripping wires to repair and maintenance works. Besides these, there are several other functions it can do. Some of these are mentioned below:
Slitting Metallic Nails and Screws
A Lineman plier has enough strength to cut nails and screws. In fact, even when you encounter a threaded screw, you can easily slit through it using a Lineman plier. You can also use this to clip drywall screws.
Straightening Soft Metals
Soft metals such as lead or brass can sometimes be bent and need to be straightened. You can do this job simply by first heating the desired spot with an acetylene torch. Then by covering the area with asbestos cloth, you can use the plier to set straight the bent area by applying pressure.
Bending Cables, Wires and Sheet Metals
You can also use a lineman plier to bend soft metals and cables. All you need to do is place a piece of cloth over the metal sheet and then use the square nose of the plier on the spot you desire to make a right angle.
Smoothening Rough Edges
A Lineman plier has a flat nose part that can be used to smoothen any rough metal edges.
Frequently Asked Questions
Q: What are some of the most common types of Lineman pliers?
Ans: Some of the most frequently used Lineman pliers are: Insulated Lineman Pliers, Snap-on Lineman Pliers, Lineman Pliers with Crimp, and lastly, Lineman Pliers with spring. Each is specialized in a specific function.
Q: What are the uses of a lineman Plier?
Ans: A lineman plier can be used for different purposes, starting from straightening, bending, cutting, crimping to smoothening wires, and cables. It can also be used to pull out screws and nuts. This tool is mostly used for working with different types of electronic appliances.
Q: What safety measures do I need to follow to use a lineman plier?
Ans: If you use a plier that is not insulated, you might receive an electric shock, which might prove to be fatal. So we recommend you to make sure that the one you are purchasing is completely insulated in order to prevent accidents.
Q: Is a traditional plier and a lineman plier the same?
Ans: No, they are not. Although they are quite similar, a lineman plier is more advanced and works more efficiently.
Q: What aspect is the most important when purchasing a lineman plier?
Ans: There are multiple factors that make good pliers. You should check its handle, cutting edges, size, and lastly, its price before purchasing one.
Conclusion
We tried our best to guide you through the steps of buying a good quality lineman plier by providing the criteria for choosing one and a detailed review of our top 7 picks. And we hope that this list of the 7 best lineman pliers will be helpful to you and you will be able to make a good purchase.
Lineman is a renowned brand- no doubt but other renowned plier manufacturers produce good quality pliers too. You also can review the best plier set of those brands.
I'm Joost Nusselder, the founder of Tools Doctor, content marketer, and dad. I love trying out new equipment, and together with my team I've been creating in-depth blog articles since 2016 to help loyal readers with tools & crafting tips.