I love creating free content full of tips for my readers, you. I don't accept paid sponsorships, my opinion is my own, but if you find my recommendations helpful and you end up buying something you like through one of my links, I could earn a commission at no extra cost to you.
Learn more
Whether you are a carpenter, a woodworker, a construction worker, or a plumber, you definitely need pliers for your work. And what is better than the best pliers set to make your work easier?
There are hundreds of options when it comes to pliers sets, but definitely, not all of them are up to the mark. A good quality set should have all the pliers of same standard and quality but of different sizes and purposes. Sometimes, you will see sets of many pliers with an affordable price tag; even though they seem appealing, they aren't great products.
Here, we have listed the seven most amazing products that will blow your mind. All the products listed here are made of excellent quality materials and are very easy to handle as well.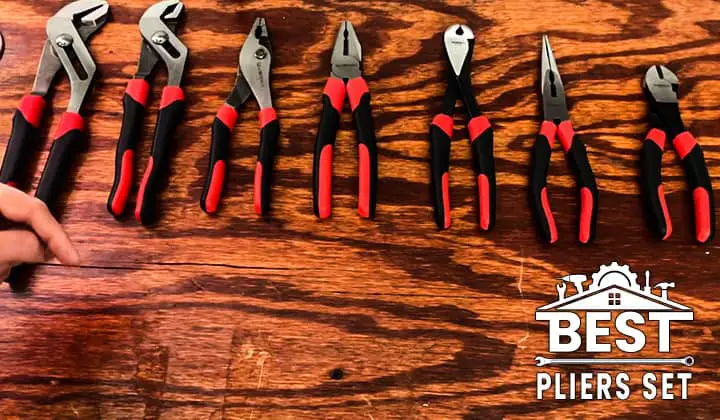 We have also attached a buying guide and an FAQ section along with our reviews to help you out. Read on to find the pliers set you are looking for.
Top 7 Best Pliers Set
Below we have seven products reviewed thoroughly so that you are knowledgeable about all their features and offerings. All of them are of great standards and bound to perform amazingly. Check them out before you make your purchase.
WORKPRO 7-piece Pliers Set (8-inch Groove Joint Pliers, 6-inch Long Nose)
| | |
| --- | --- |
| Weight | 2.33 pounds |
| Dimensions | 7.87 x 0.59 x 1.97 inches |
| Material | Steel |
| Color | Red, Blue |
Our first pick is a set of 7 pliers. The set contains 8-inch groove joint pliers, an 8-inch slip joint, a 6-inch, and 4-1/2-inch-long nose, a 6-inch diagonal, a 6-inch slip joint, and a 7-inch linesman. You can work on any project with these pliers.
All the tools in this set are made of forged steel; the steel is polished as well so that you get a nice shiny finish on your tool. Heat-treated construction means that these pliers are highly durable and won't break easily.
We all have worked with pliers that do not cut wires easily; sometimes, you need to put so much pressure that your fingers turn red. But this one comes with hardened edges, which are great for cutting anything thick or thin. You will be able to cut wires like butter using these pliers. Minimum pressure is required, but that doesn't hurt fingers as the handles are rubber coated.
The handles in these pliers are also non-slip, which means that even if your hand is sweaty, you can hold onto the handles easily without the tool slipping from your hands.
Rusty pliers are any user's nightmare as rust isn't easy to remove. All the pliers in this set are covered with grease so that rust doesn't form on them.
Highlighted Features
Seven pliers in one set
All the pliers are made of forged steel
Easily cuts with hardened edges
Rubber coated non-slip handle
Rust-resistant and durable
IRWIN VISE-GRIP GrooveLock Pliers Set, 8-Piece (2078712)
| | |
| --- | --- |
| Weight | 7.4 pounds |
| Dimensions | 6 x 13 x 5 inches |
| Material | Metal |
| Color | Blue/Yellow |
Affordable and efficient, this pliers set is the best product for value in our list. The set comes with eight different pliers with sizes of 8 inches, 10 inches, and 12 inches.
It also contains GrooveLock pliers, 8 inches long nose pliers, a 10 inches adjustable wrench, an 8 inches linesman's pliers, 6 inches slip joint pliers, a 6 inches diagonal cutting, and one kitbag.
Along with all the options, these pliers are amazingly designed and very user-friendly. The tools feature a press & slide button, which gives users the opportunity to make adjustments quickly. You can switch positions in seconds using these buttons.
The GrooveLock features a ratcheting action that allows users to adjust it from the open position. The set is very versatile to use. It is suitable for all kinds of surfaces. Whether you are working on helix, round, elliptical, square, or flat surface, you can use these pliers.
Handling the pliers is easy; all of them have anti-pinch and anti-slip grip. It is designed in such a way that you can use it easily and safely.  Suitable for a range of applications, including electric work and vehicle repair, this set is one of the most useful tools you can have in your kit. It comes with a bag, so keeping things organized won't be an issue for you.
Highlighted Features
Comes in a set of 8
Press & slide button for quick adjustment
Ratcheting action of groove lock
Suitable for all kinds of surfaces
Kitbag to keep pliers organized
Craftsman 6 Piece Pliers Set, 9-10047
| | |
| --- | --- |
| Weight | 2.6 Pounds |
| Dimensions | 14 x 12.1 x 1 inches |
| Material | Rust-resistant durable metal |
| Grip Type | Ergonomic |
This one might be the most affordable, yet good quality pliers set you will find in the market. The set comes with 5 pliers; it contains one 6″ diagonal pliers, a 7″ lineman pliers, a 6″ long-nosed pliers, an 8″ groove joint pliers, and a 6″ slip joint pliers. All of these tools are deemed necessary for professionals.
Handles are an important part of any tool. The handles in these pliers are designed ergonomically so that you can hold them with ease and not feel uncomfortable while working with them. All the pliers have curved handles, which lessens the strain on fingers and palm of users.
The pliers are very lightweight and can be carried around for a long time. They are also small in size compared to the other plier's sets. All of the pliers are made of rust-resistant materials and do not require much maintenance.
If you are an electrician, you will need a plier that don't conduct electricity. All the tools in this set have a rubber-coated handle, which makes them ideal for electricians. Although the product is cheap, it's promised to last a long time. The set isn't suitable for heavy-duty work, but you can use it efficiently for household and light projects.
Highlighted Features
Excellent for household jobs
Rubber-coated handles
Affordable and durable
Ergonomically designed handles which do not conduct electricity
Small and user-friendly
Stanley 84-058 4-Piece Pliers Set
| | |
| --- | --- |
| weight | 2.8 Pounds |
| Dimensions  | 11.8 x 11.2 x 1.1 inches |
| Material | Metal |
| Handle Material | Rubber |
Looking for affordable pliers set to do the handyman job around your home? This is the perfect product for you. The set comes with four pliers that are suitable for any hobbyist who works around their house or builds things. It contains a 7-inch diagonal, an 8-inch long nose, an 8-inch lineman, and an 8-inch slip joint.
The set contains pliers you need for different purposes. It can be used for removing nuts and bolts, cutting wires, and many other things. All the pliers come with a beautifully designed and sturdy machined jaw that holds things in place and firmly grips small objects like nuts.
Best thing about these pliers set is that it is suitable for both professionals and amateurs. So even if you have never worked with pliers, you can opt for this set to start your project.
Cutting edges of this set are induction-hardened, which gives them a long life and also makes wire cutting smooth and quick. The pliers are made of carbon and iron, so they don't break or bend easily either.
You can rely on these pliers while you are working with electric wires. The handles are insulated with rubber, so it doesn't conduct electricity. You won't have to care for the tools much as they are rust resistant. It's actually one of the most inexpensive, low maintenance tools to have.
Highlighted Features
Rust-resistant
Made of carbon and iron
Doesn't conduct electricity
Cutting edges are induction-hardened
Beautifully designed and sturdy machined jaw
Channellock GS-3SA 3 Piece Straight Jaw Tongue and Groove Pliers Set
| | |
| --- | --- |
| Weight | 3 Pounds |
| Dimensions  | 15 x 9 x 1.65 inches |
| Material | Plastic |
| Color | Chrome |
This one from Channellock is actually a replacement for their GS-3S model. The set comes with three basic pliers of sizes 6.5 inches, 9.5 inches, and 12 inches. It also contains a bonus 6-n-1.
If you would like a basic set of tools for starting your project, this one is definitely ideal for you. The tools in this set don't require much maintenance and are great for first-time users. All the tools have a sturdy build, so even if they fall from your hands, they won't break.
Carbon steel is used for making all the equipment in this set. This is why they are supposed to last a long time and have great performance.
The tools are designed to be very precise and efficient, as well. Teeth of these tools are heat-treated with a laser at the right angle so that they can have a better grip on different small and large objects. You will be able to pick up even the smallest of nuts with this equipment.
Edges of these pliers are also designed to be precise and durable. They have a patented reinforcing design that eliminates the chances of breakage through stress.
Even if you have never held pliers in your life, these tools won't slip. They have an undercut design on groove and tongue, which makes the tools non-slip and easy to hold.
Highlighted Features
Patented reinforcing design on edges
Basic pliers. Great for beginners
Made of carbon steel
Precise and efficient
Affordable
GEARWRENCH 7 Pc. Mixed Dual Material Plier Set – 82108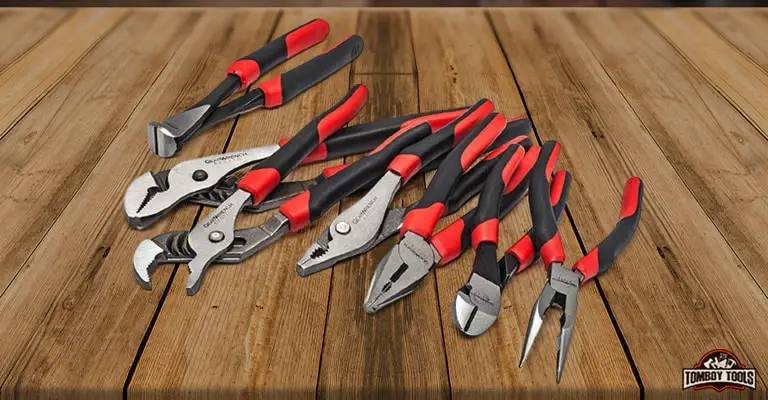 | | |
| --- | --- |
| Weight | 6 Pounds |
| Dimensions | 18.4 x 15.3 x 1.2 inches |
| Color | Black & Red |
| Grip Type | Ergonomic |
Perfect for an avid user and an enthusiast, this set comes with seven pliers that are all different in sizes and can be used in different contexts. The set also provides a box along with the tools to keep them in.
It's the perfect handyman set for any professional. The tools are all made of alloy steel and are highly durable. Machined jaws make these tools more precise, quick, and efficient.
The equipment of this particular set features a slimmer handle compared to the others. This design is engineered, keeping narrow areas in mind. With these tools, you will be able to reach the narrowest corners as their handles won't come in the way.
Handles are obviously very important when it comes to tools. These pliers have curved back handles that provide additional leverage so that you can have more control. The handles are rubber coated and have textured grip and finger tipping so that they can be non-slip even if your hand is slippery.
These handles are very comfortable as well; you can use the pliers for hours, and you won't feel any strain on your fingers or hands. The power source of the set is corded-electric, and these tools are safe enough to be used around the house.
Highlighted Features
7 pliers in one set
Made of alloy steel
Highly durable and long-lasting
The tools come with machined jaws
Slimmer, ergonomically designed, rubber-coated handle
MAXPOWER Wrench and Pliers Set, 6 Piece Kitbag Set
| | |
| --- | --- |
| Weight | 4.4 pounds |
| Dimensions | 11.22 x 4.37 x 3.62 inches |
| Material | Chrome Vanadium Steel |
| Batteries Included? | No |
These 6 pieces of pliers set comes with all the tools you need for a standard project. The set is ideal for both amateurs and professionals as it comes with versatile tools.
The set includes one 7-inch curved jaw locking pliers, an 8-inch adjustable wrench, an 8-inch lineman's pliers, 6-inch diagonal cutting pliers, 8-inch long nose pliers, a 10-inch groove joint pliers, and a kitbag pouch.
The kitbag and the tools have an attractive design; they'll definitely look classy in your toolbox. All the equipment in this set is made of alloy steel, and they are rust resistant as well. The tools are designed to be used in even adverse conditions. They have a corrosive-resistant cover for protection from corrosion.
If you often have to carry a set of pliers along with you for work, then you should definitely go for this one. The kit bag is a roll-up pouch that can hold all the tools at once. This means that you can just put the equipment in your bag and roll it out when you are working, then roll it close again when you are done.
Highlighted Features
All the tools are made of alloy steel and have a corrosion-resistant finish
Roll-up pouch for quick and easy transportation
Attractive design
Rubber-coated handles; great for electric work
All the tools in this set are designed to be user-friendly, durable and long-lasting
Choosing the Best Pliers Set
Now that you have gone through the reviews and know about all the plier's sets, you can check out our buying guide. This guide will provide you with ideas on what to look for in pliers set before buying one. You can check out the features great quality pliers set should definitely have here:
Fixed and Adjustable Pliers
Most users know about this, the fixed pliers are the ones that open up to a limited diameter, and the adjustable pliers are the ones that can be used freely.
Although it might seem that adjustable pliers are definitely better than the fixed ones, some users prefer the fixed pliers over adjustable ones. You can use any one of them based on your preference.
Material
For any tool, the material it is made of plays a major role in its performance and durability. Pliers are no different. Look for pliers that are made of durable and long-lasting materials.
In the above-listed products, we have tools made of steel, alloy steel, carbon and iron, and many different materials. All of them are of great quality, but their performance differs.
We recommend carbon and iron made pliers as they perform outstandingly and last longer as well.
Versatility in Use
The sole reason for buying pliers set is versatility. You can easily opt for only one plier if the set you are purchasing contains pliers of similar types. So, the set you are choosing should have a variety of tools, and each tool should be versatile.
You might think that these are hard to find, but they aren't. You will notice that the products we have reviewed all contain pliers of different sizes and use. Even the Channellock GS-3S, which has only three pliers, have different sized tools.
Ergonomically Designed and Rubber-coated Handle
Handles are an important part of any tool. And when it comes to pliers, handle design is very important because it's a handheld tool that is operated using fingers and palm.
For pliers, you should look for ergonomic design in handles. This will ensure that the tool isn't putting too much pressure on your fingers and deforming them or hurting them.
The rubber coating is also important as it makes the handles non-slip. It's normal that your hands will become sweaty and slippery after using the tools for hours. Rubber-coated handles will eliminate skidding even when your hands are sweaty. This way, you will be able to work for hours without any issues.
Ideal for Electricians
Most electricians need pliers set for their work. But the work becomes risky when these tools are conducting electricity. As pliers are often made of iron or steel, it's normal that they'll conduct electricity.
In these cases, look for rubber insulated pliers so that the handles never get electrocuted. Don't touch the jaw or head when you are working, and you'll be safe.
Sharp Jaws
A quick and user-friendly pliers set will have tools that are sharp. Oftentimes we are using pliers for cutting wires and other thick things while working. But some tools are just dull and need more pressure to cut even the thin wires.
With a sharp jaw, you won't face these problems. A good set will have tools that can cut through wires like water; invest your money on those.
Length and Size
Many users might overlook this feature, but it's actually important to consider the length and size of each tool before you purchase the set.
Your pliers should be maximum of 10 inches in length. Anything larger than that will make maneuverability difficult and also put a strain on your muscles.
Grip area should be a maximum of 5 inches in every plier. This will allow you to use the tools in a variety of ways and on different projects.
Durability
A set of pliers doesn't cost very less. Whether you are buying a cheap or an expensive one, consider it an investment. And your investment should last a long time. Make sure you are purchasing a set that performs well and has good construction.
Pliers will obviously fall from your hands once or twice, whether they are non-slip or not. But if they break easily, they are not of great quality.
Frequently Asked Questions
Q: Can I use pliers on polished surfaces?
Ans: No. Never use pliers on tiled or polished or marbled surfaces. Pliers may scratch the surface and cause damage to the property.
Q: Can I use my pliers for tightening nuts and bolts?
Ans: Yes. Pliers can be used for tightening nuts and bolts if you are skilled enough to do so. The tools can hold onto the nuts or bolts, and then you have to tighten them by rotating.
Q: What is the ideal length for pliers?
Ans: Pliers should be a maximum of 10 inches long; otherwise, they will be too long for the user's hands. Some users have longer hands, yes. But usually, nobody has a palm longer than 10 inches.
Q: I'm an electrician looking for pliers. Are insulated pliers necessary for an electrician?
Ans: Yes. It's extremely crucial that an electrician has an insulated plier set. Otherwise, he/she is risking the chance of getting electrocuted while working. So, if you are an electrician and don't want to die, use insulated pliers.
Q: Can I use my pliers for cutting wires?
Ans: Yes, if the set contains diagonal cutting pliers, you can use it for cutting wires. These tools perform outstandingly and don't require much pressure for cutting wires.
Final Thoughts
Finding the best pliers set isn't as hard as it seems to be. Yes, there are many options for you to choose from, but you can narrow them down easily when you start considering the important features. 
Please keep your budget and purpose of buying the set-in mind before you make your purchase. Don't rush the process; take your time in choosing the best pliers set. If you want to do more research, you can visit the websites of the respective companies whose products we have listed above.
We hope you find your pliers set and have fun with it! 
I'm Joost Nusselder, the founder of Tools Doctor, content marketer, and dad. I love trying out new equipment, and together with my team I've been creating in-depth blog articles since 2016 to help loyal readers with tools & crafting tips.