I love creating free content full of tips for my readers, you. I don't accept paid sponsorships, my opinion is my own, but if you find my recommendations helpful and you end up buying something you like through one of my links, I could earn a commission at no extra cost to you.
Learn more
The best log splitter with all the necessary power, safety, and portability features can make the work of wood splitting enjoyable and hassle-free. It saves your time and helps you to manage the volume of your wood in a smart way.
You are on the mission to find out the best log splitter and that is why you are here. It is a comprehensive guide with the best log splitters review. It also contains a buying guide with some effective instructions so that you can make the right decision quickly.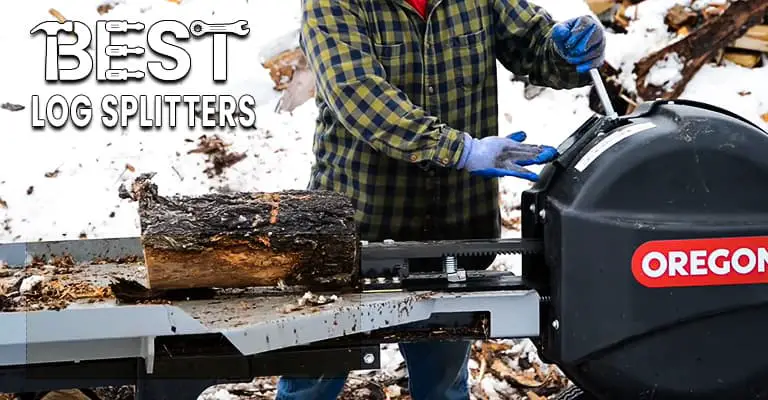 Log Splitter Buying Guide
To choose the best log splitter you should have a piece of good knowledge about the intricacies of the log splitter, its working principle and yes you should have a clear idea about your need. The following instructions will help you to get the most bang for your buck by choosing the best log splitter.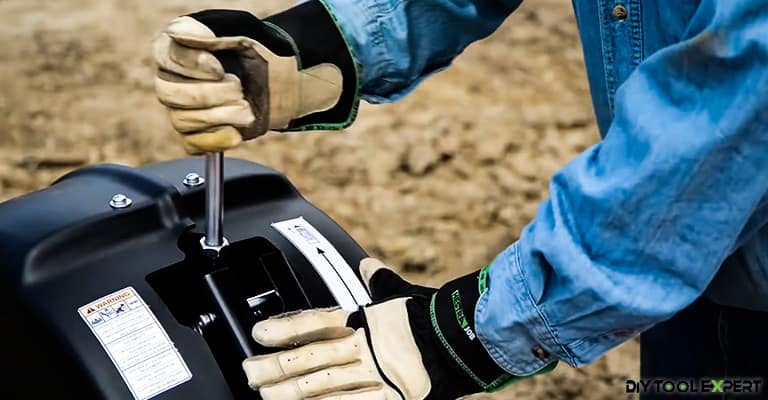 Do you have a good knowledge of different types of log splitter?
If your answer is yes, then you can skip this portion and go to the next step. But if you do not have a good knowledge of different types of log splitter you can know that from here.
There are basically 3 types of log splitter depending on the driving power.
Electric Log Splitter
Electric Log Splitter uses a wedge and a hydraulic piston to split the wood. The hydraulic pump actuates the piston by the power of electricity.
It is environment-friendly and does not emit smoke like a gas-powered splitter. It requires high electric power to operate.
You can use it both indoor and outdoor. If you use it outdoor you must make ensure the availability of electric power.
If you need an economic log splitter with a medium level of power and quickness of job you can visit the niche of the electric log splitter.
Gas Powered Log Splitter
Gas Powered Log Splitter also works in the same way as electric log splitter but instead of electricity here, gas is used to actuate the piston by the hydraulic pump.
It is more powerful compared to the electric splitter but it creates a lot of noise and also emits smoke. Since it emits smoke it is very tough to use this tool indoor.
If high power, mobility, and fast splitting are your main priority and you are looking for a log splitter for commercial use, I will recommend you to visit the niche of the gas-powered log splitter.
Manual Log Splitter
The manual log splitter is generally foot-powered or hand-powered.  They do not use electricity or gas but some manual log splitter uses hydraulic power to split log.
The hydraulic-powered manual log splitters are costlier than normal manual log splitter. If you do a little bit splitting every day you can go in the niche of the manual log splitter.
Each of the categories is subdivided into 2 more categories depending on the way it is positioned- one is horizontal and another is vertical.
Horizontal Log Splitter
Horizontal Log Splitter requires you to place the log on a flat surface.
Vertical Log Splitter
Vertical Log Splitter allows the logs to push in from the top down.
Some log splitters are horizontal, some are vertical and some have both functions.
When you will visit the niche of your chosen log splitter you will again become confused by looking at the variety. Well, to choose the best one from the variety you have to determine the following parameter that matches your need.
Cycle Time
Cycle time means the required time to complete one single operation. Less cycle time means more power, which means you can split more logs within a short time.
Auto-Return
Auto-return means bringing the piston back to the starting position without human involvement. The auto-return features help you to save your time and to complete the total work within a short time.
Two-Handed Operation
Log splitter with two-handed operation feature is safer than others because your both hands are on the controls. Some log splitters offer a one-handed operation. They are not as safe as the log splitters that offer two-handed operation but they are more comfortable to work with.
Motor and Hydraulic System
The power or the working capacity of the log splitter depends on the power of the motor and the hydraulic system. You can get a clear idea about the power of the motor from the specified horsepower (H.P) but at the same time, you should also check the manufacturers of the motor.
The same advice goes for the hydraulic system also. Also, do not forget to make sure a good warranty on the hydraulic system and the motor.
Do you have any idea about the average dimension (length and diameter) of the log you are going to split?
Each log splitter has a specified range of dimensions. If your log is bigger than this range the log splitter will not be able to split it.
To cut branches from the trees of your yard a 4-ton log splitter is enough but to cut larger and thicker log you will have to choose a log splitter of higher capacity that matches your requirement.
What kind of wood you are going to cut?
In this section we will categorize wood into 2 broad categories- one is hardwood and another is softwood.
If you are going to chop mostly softwood with your log splitter, you can choose a splitter with a hardness rating of 600 pounds. But for hardwood like elm, dogwood, and hickory you have to go for higher hardness rating. At present, log splitters with a hardness rating of maximum 2200 pounds are available.
Do you need to take your log splitter from one place to another?
If you need to take your log splitter from one place to another you have to check the features related to portability like the wheel attached to the splitter. The size and weight of the splitter also have a good impact on portability.
What is the range of your budget?
If you have a high budget you can buy gas log splitter. I would like to remind one more time here than the gas-powered log splitters are best for professional purposes.
If your budget is at the medium level you can go for the electric log splitter and if your budget is low and you do not need to split a lot of log at once you can choose manual log splitter.
Is there anything else you want to know?
Yes, there is something very important that you should check and that is the safety features of your log splitter.  As a part of the safety features, most of the log splitters have an automatic stop switch.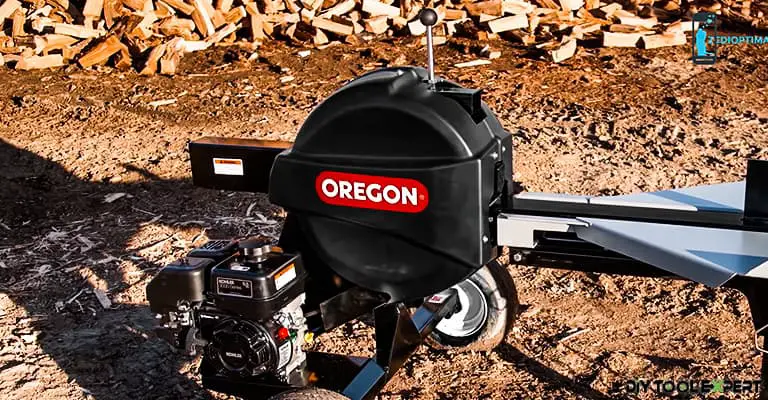 Best Log Splitters Reviewed
Long log splitter guide with a lot of reviews does not mean a good guide rather those are a time-consuming guide. In the end, you are going to buy one or a maximum of two products even from the review of a hundred products.
So, is not it wise to review only the top-ranked products and choose the best log splitter from that? I think it is a smart way to purchase any product. So, we have enlisted only the 6 best log splitter for your review.
1. WEN Electric Log Splitter with Stand
WEN Electric Log Splitter is a versatile, powerful, portable, adjustable and efficient log splitting tool with a removable stand. To transform your log into firewood within a short time WEN can play the role of your best friend. So, let's see the features, specifications, and benefits of your best friend.
The stand comes with the WEN log splitter is able to elevate the frame 34 inches off of the floor. You can also assemble the wheels directly to the cradle. This low-profile design will sit directly to the ground. You can handle logs of up to 10 inches in diameter and 20.5 inches in length with this tool.
Since it works through the power of electricity it is an environment-friendly device. A 15-amp 2.5 horsepower motor has been assembled with it for supplying power. It needs to be plugged into 110 volts to run.
You can split even the hardest wood easily with the 20-second cycle time, a 14.75-inch cylinder stroke, a 16-square-inch push plate, and a 5-inch wedge of this tool. There is no problem with carbon monoxide or other toxic elements. It also eliminates the problem of the clogged carburetor or cold starting problem that comes with a gasoline-powered log splitter.
The two-handed control feature ensures safety. It comes with a warranty period for a long time. It also does not need any maintenance like a gasoline log splitter.
Sometimes because of the negligence of the seller wrong products or broken or damaged products are sent to the customers. The user's manual provided with this log splitter lacks proper illustrations. Sometimes it cannot cut through an average log but if you rotate that log at an angle of 90 degrees you will find it working well.
Though WEN Electric Log Splitter is a nice log splitting tool there are several rooms for improvement in this tool.
2. Boss Industrial ES7T20 Electric Log Splitter
Among the electric log splitter, The Boss Industrial ES7T20 is the most popular. You can say it is the king of the field of the electric log splitter.
It comes with a 2 HP electric motor that is able to do fast chopping. You can run it on a circuit of 15 amperes. The auto-return option of this tool saves your time and gives you the opportunity to split more wood within less time.
It offers a one-handed operation. If you do not feel comfortable with the two-handed operation you can choose this one.
it is designed for horizontal use. If your logs are knotted you may feel disappointed with this tool. So before setting your log do not forget to check whether it is knotted.
You can use it both indoor and outdoor. Since it works through the power of electricity it does not emit any toxic fume. For easy portability in the outdoor, it features a pair of wheels and a handle at the front part.
To keep the log stable while splitting there are built-in side rails. It has a patented hydraulic system that is more reliable. It comes with hydraulic oil in it. You can fill it with any god quality hydraulic fluid but do not fill it completely with the fluid.
Boss Industrial also provides a warranty period for a long time. The customer service department of Boss Industrial is very responsive. So if you have any problem within the warranty period you will get good support from them.
The metallic body of this log splitter is not very strong. It works best for a small residential project.
3. Sun Joe Hydraulic Log Splitter
Sun Joe Hydraulic Log Splitter is a powerful, easy-to-use tool that you can use in all conditions of the weather, no matter whether the snow is falling or the sun is shining. It's your friend of all time, all season.
The hydraulic RAM building up to 10 Tons of driving force is able to split logs up to 18-inch length and 8-inch diameter. The frame is made of steel to provide good strength and durability.
Wheels are assembled with the frame so that you can take it anywhere you want. The compact size of the rear wheels makes it a cinch to store when you are not using it.
To ensure quick resets RAM return spring is added with the device. There is a knob to reset the RAM return spring. To provide maximum leverage the handle is kept longer.
Since it runs through the hydraulic power it is environment-friendly and cost-saving. You do not have to carry any wire or you do not need to take a generator with you when you are going to work outdoor.
If you face any problem with this product from the date of purchase within the warranty period they will replace your old product with a completely new one.
The most common problem experienced by the previous customers includes breaking down the handle after several uses or getting the RAM stuck in the wood.
4. Champion 90720 Gas Log Splitter
Champion is one of the leading power tool manufacturers. Their 90720 7 Gas Log Splitter is a horizontal and a compact tool but at the same time, it is powerful enough to split big log.
An 80 cc single-cylinder OHV engine has been used to run the engine. The engine features a cast-iron sleeve and a 0.4-gallon fuel tank. The tank has 0.4-quart oil capacity and for safety purposes, low oil shut off feature has been added.
You do not have to struggle to lift a large log onto the splitter because it is a low profile log splitter. The integrated log cradle helps to secure the log safely in position. You can split logs up to 19 inches length and 50 pounds weight.
To increase the splitting efficiency it is featured with a 20-second cycle time and a dependable auto-return valve. This auto-return valve is capable of 180 cycles per hour.
You can adjust the flow and pressure of a 2-stage gear pump according to your needs. When there is no resistance you can set it at a high flow/low-pressure stage and when you need to be increased productivity you can set it at a low flow/high-pressure stage.
It is easy to assemble and take from one place to another because it easily fits in any truck-bed. Because of maintaining the high quality it has been achieved EPA certification and it is also CARB compliant. It comes with a warranty period just like all other log splitter but unlike other log splitters, free lifetime technical support is provided by Champion.
If you cannot assemble the parts properly or if your ordered device comes with any of the parts missing your machine will not work.
5. Southland SELS60 Electric Log Splitter
The Southland SELS60 Electric Log Splitter works through the power of electricity. A 1.75 HP, 15 amp induction motor has been used in this device to split both hard and softwoods.
It is a heavy-duty log splitter. It is easy to use and you can split logs of 20 inches length and 12-15 inches diameter with this tool.
It features an integrated stroke limiter that has shortened the cycle time for smaller sized logs. To increase the productivity a heavy-duty 5″ steel wedge has been added to the device.
It is a compact log splitter that does not take much more space in your garage. It has a vertical storage option and that is why it takes less space in the garage or shop.
It has an auto-retract feature. It generally comes with low hydraulic fluid and in that case, you have to drain off the fluid and fill it with new fluid. You cannot fill it with any kind of fluid you want, you can fill it only with the specified hydraulic fluid.
Since you have to operate both the power switch and lever together you may feel a little uncomfortable to operate this device. The USA is the manufacturer country of the Southland SELS60 Electric Log Splitter. It comes with a particular warranty period.
6. Inertia Wood Splitter
Inertia Wood Splitter is designed focusing on the safety issue. If safety is your main priority you can consider Inertia wood splitter to buy.
Cast iron has been used as the construction material of this wood splitter. The outer coating protects this device from getting rust. Though it is made of cast iron it is not too heavy to carry from one place to another. You can use it comfortably in both indoor and outdoor.
There are mounting holes in this log splitter and so you can mount it securely anywhere you want. The manufacturer company of Inertia wood splitter is Inertia Gear. Inertia Gear is among those customer-friendly companies that give the highest priority to their customer's satisfaction.
If you are not acquainted with Inertia wood splitter it may become difficult for you to understand how to use it. Well, it is very simple to use Inertia. Place the log at the center position of the splitter and then hit it with a small hammer.
It is a Chinese product. You can split fireplace logs, camping firewood, bonfires, and meat smoking woods up to 6.5-inch diameter using Inertia Wood splitter. One problem you may face that the wood may get stuck in the base. It also needs pretty much physical strength to split wood.
Frequently Asked Questions
Here are some frequently asked questions and their answers.
How many ton log splitter do you really need?
The thicker a log is, the more wood there is to force apart on either side of the grain. Logs that are larger in diameter need more pressure to split. That's why a 4-ton log splitter will work well for 6″ branches, but a 24″ tree trunk will require at least the force of a 20-ton splitter.
Are log splitters worth it?
A Log Splitter Will Save You Lots of Time
Splitting logs is quite a difficult task that requires a long time to complete. You not only need to cut the wood into pieces that you can put in your fireplace but also cut them into manageable pieces. Ideally, this requires you to cut the same piece of wood multiple times.
Is a 22 ton log splitter enough?
If you're going to be splitting a lot of thick hard wood like oak, you may need a more powerful splitter but most people have no issue with the 22-tons. … Overall, the Champion 22-ton Hydraulic Log Splitter is a great machine for splitting wood. It's built tough, made from good quality materials.
Is a 25 ton log splitter big enough?
In these cases, more tonnage is necessary. So, gas-powered splitters that use a hydraulic system to provide the force can offer the necessary tonnage needed for more frequent, more-challenging tasks. "A 25-ton splitter will do the vast majority of jobs well," Baylor says.
What size log can a log splitter split?
Whether gas or electric, models producing 5 or 6 tons will generally handle logs up to 10 inches in diameter (provided the wood is not too hard and the grain is fairly straight). For larger logs with diameters up to 24 inches or so, you'll want a splitter that produces 20 to 25 tons of splitting force.
Are Black Diamond log splitters any good?
Its Black Diamond 25-tonne wood splitter is a mid-range model that's more than capable of splitting most kind of wood including white gum and other knotty timber. … Price wise, the Black Diamond 25-tonne unit has a RRP of $1950, which is good value for a machine of this size plus the engine upgrade.
Are log splitters dangerous?
Log splitters can be dangerous if not operated correctly. If an incompetent user operates this machine, flying debris and lose logs can result in serious injury.
Where are forest master splitters made?
North of England
The logs were almost impossible to split with an axe due to being quite knotty. I looked for a log splitter made in the UK, so I would be able to get spares if ever needed. The Forest Master is made in the North of England.
Can you hire a log splitter?
Using a wood splitter is simple and straightforward. … You can book a log splitter hire online or over the phone and then collect the machine from a store, or we can deliver it to you.
What does a log splitter do?
A log splitter is a piece of machinery or equipment used for splitting firewood from softwood or hardwood logs that have been pre-cut into sections (rounds), usually by chainsaw or on a saw bench.
How do you split wood without a log splitter?
If you don't have a log splitter, then try putting your table saw to work. Using your old table saw can make the whole log splitting business much easier. This is especially true if you have a big wood pile and you don't have access to a maul or axe.
What is the difference between a full beam and half beam log splitter?
The biggest difference between full beam and half beam log splitters is the one that gives half beam splitters their name. … On half beam splitters, the cylinder is mounted to the center of the beam. On full beam wood splitters, the cylinder is mounted to a connection point near the front or towing end of the machine.
Q: Is a 22-ton log splitter enough?
Ans: Most people do not have any issue with a 22-ton log splitter. You can split logs of up to 36 inches diameter with a 22-ton log splitter though it may take more than one try to split logs of 36 inches diameter.
If you need to split larger log than 36 inches diameter of hardwood you need to purchase a splitter of more than 22-ton.
Q: How can I calculate the tonnage of my log splitter?
Ans: Well, in many models the tonnage is specified. If it is not specified you can calculate it by 3 simple steps.
Firstly, you have to measure the diameter of the piston.
Secondly, you have to calculate its area by squaring the diameter and multiplying it with 3.14. Then you have to divide it by 4 and you will get the intended area of the piston.
Thirdly, you have to multiply the area with the pressure rating of the log splitter. The pressure rating is specified in the manual or in the package.
Q: What is the maximum warranty period log splitter manufacturers provide?
Ans: Most log splitters come with a warranty period of 2 years. Some companies offer to replace the old one with a new one and some offer free service to eliminate the problem you are facing within the warranty period.
Q: What are the famous brands of log splitter?
Ans: There are so many brands manufacturing log splitters with goodwill for a long time. Among those, WEN, Boss Industrial, Sun Joe, Champion, NorthStar, Southland Outdoor Power Equipment, etc. are thriving the market at present.
Conclusion
The first and foremost thing on which you have to make a decision is the type of the best log splitter you need. Then you have to look for other features like cycle time, auto return, motor and hydraulic system, portability, safety features, etc.
Since log splitter is a cutting tool, there are a lot of possibilities of injury. The safety features of the device are not enough to ensure safety. You also need to take protective measures like wearing safety wears.
Our today's top pick is Boss Industrial ES7T20 Electric Log Splitter for average user and Champion 90720 Gas Log Splitter for professional users. Both of these models are thriving in the market of log splitters.
I'm Joost Nusselder, the founder of Tools Doctor, content marketer, and dad. I love trying out new equipment, and together with my team I've been creating in-depth blog articles since 2016 to help loyal readers with tools & crafting tips.