I love creating free content full of tips for my readers, you. I don't accept paid sponsorships, my opinion is my own, but if you find my recommendations helpful and you end up buying something you like through one of my links, I could earn a commission at no extra cost to you.
Learn more
From DIY enthusiasts to framing contractors, table saws are central power tools for effortless and accurate wood cutting, among all craftsmen.
These saws can produce not only straight and smooth cuts but also beveled cuts – by tilting the blade at certain angles. Choosing the best table top saw for yourself, from the countless number of available choices, is not a piece of cake.
A good table top saw should last for (almost) a lifetime and hence before taking the plunge and buying one, it's always handy to check out, compare and contrast the available options.
After doing in-depth research, I have tried here to narrow down your confusingly long search list of table saws into 6 trending table saws available.
In this article, we cover the a-to-z of what to look for, when buying a table top saw, and review the top 5 best table top saws of 2021.
Let's start with my top pick, the DEWALT Table Saw, as the best top table saw overall. This heavy-duty table saw is powerful yet portable, easy to use, and can handle a majority of applications. It makes precise cuts every time and is easy to put into place because of its innovative rack-and-pinion fence adjustment, which gives a sturdy and stable working experience. Simply a great choice for every serious DIY-er as well as professionals.
There are other options though, with different features you might be after, so let's have a look at my top 5 for some great choices.    
What to look for when buying a table top saw
A table top saw can be an expensive purchase, but it need not be a discretionary expense. Here are some of the key points to consider, to get the best value for your money, when buying a table top saw.
Motor
Table saws have either a direct-drive motor or a belt-drive motor.
Direct drive motor: Direct drive motors can go up to 2 HP but they are quite noisy.
Belt-drive motor: Belt-drive motors are more powerful compared to direct drive motors. They range from 3 to 5 HP for single phase and 5 to 7.5 HP for 3-phase.
Also checking motors, we highly recommend looking out for soft start and variable speed control for knotty wood pieces.
Safety
When choosing a gigantic, hazardous electric equipment like a table top saw, safety is always a big concern. Keeping the full safety of your fingers in mind, many table top saws are now come equipped with blade guards or advanced patented safety systems. Some table top saws also include additional safety features like push sticks, goggles, riving knife, anti-kickback pawls, and so on, to ensure maximum safety.
Rip capacity
The rip capacity of a table saw is the distance between the saw blade and the fence. Greater the distance (i.e. greater the rip capacity), the larger the boards that can be cut. For heavy projects that require cutting large sheets of wood, 24-inch rip capacity is preferred, but otherwise, 20 inches or less works fine.
Blades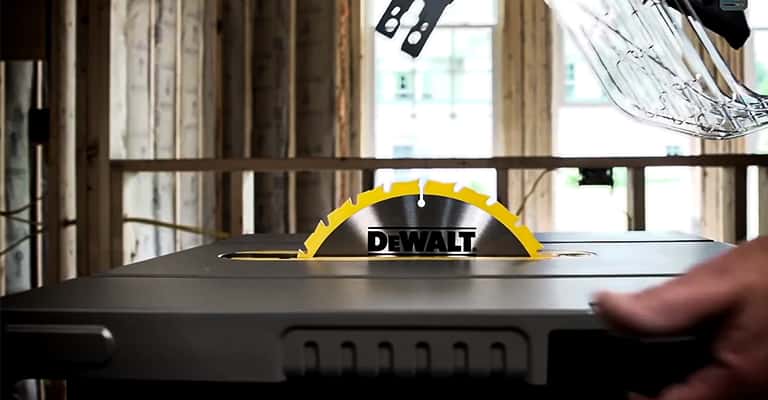 When checking blades, look into the number of teeth, diameter, material, kerf, and arbor size. Most table saws are designed with 10-inch circular blades like that of the circular saw. They have a 3-1/2-inch cut capacity at the right angle. 12-inch blades produce deeper cuts. You can use a blade smaller than what your saw is rated for but never bigger. For instance, if you have a 10-inch table saw, you can use an 8-inch blade but you cannot use a 12-inch blade. Normally, the blade teeth are made of carbide, carbon, or diamond-tip.
Fence system
The fence system is an incredibly important feature to consider when comparing table saws. The accuracy of the cutting depends by and large on the quality of the fence system. When comparing table saws, check if the fence has a parallel alignment with the blade. Aluminum fences are preferred for resilience and their light weight. The T-square fence is useful to produce accurate rip cuts.
Miter gauge
Miter gauge holds the wood pieces at a set angle and helps produce clean beveled cuts. When choosing a table saw, avoid proprietary miter slots.
Saw table
For extra stability, table saws with cast iron tops and trunnions are always recommended. Table saws come in three basic setups (tables):
Portable/benchtop: Portable table saws, like the ones for jobsites, are the cheapest and smallest of all three. They use aluminum table tops and can be picked up and carried around by the user.
Hybrid/contractor: These saws are larger than portable saws and can handle bigger cuts.
Stationary: These saws are difficult to move around, and would generally require more than one person to do so. They're good for heavy carpentry work.
In general, larger saw tables enhance your working area for larger stocks. But if you want a flexible table width that can cope with any level of task, an extended table is the best alternative.
Dust collection system
Most of the portable table saws overlook the dust collection system. Examine the diameter of the dust port which is better to be large. Also, check how cost-efficient the vacuum requirement is. Otherwise, you may need to use a dust extractor vacuum along with it.
Portability
Portable table saws are preferred for their job site applicabilities and easy storage. Many table saws are equipped with pneumatic wheels, foldable stands, and collapsible tables to provide better portability. However, if you are searching for something portable, also consider overall that the weight of a table saw can be anywhere between 52 to 130 pounds.
Storage
Some table saws feature dedicated storage space for fences, blades, gauges, and other accessories. This effectively helps to keep everything organized and get what you need instantly.
On/off switch
Last but not the least, the on/off switch should be large and accessible enough to shut down the machine instantly. Ideally, they should be positioned at knee level.
Top 5 table saws reviewed
Keeping all the parameters discussed above in mind, we've shortlisted the 5 best table top saws of 2021. Let's have a detailed look at the pros and cons of each so that ultimately, you can choose the one that suits your needs the best.
Best table top saw overall: DEWALT Compact 8-1/4-Inch Saw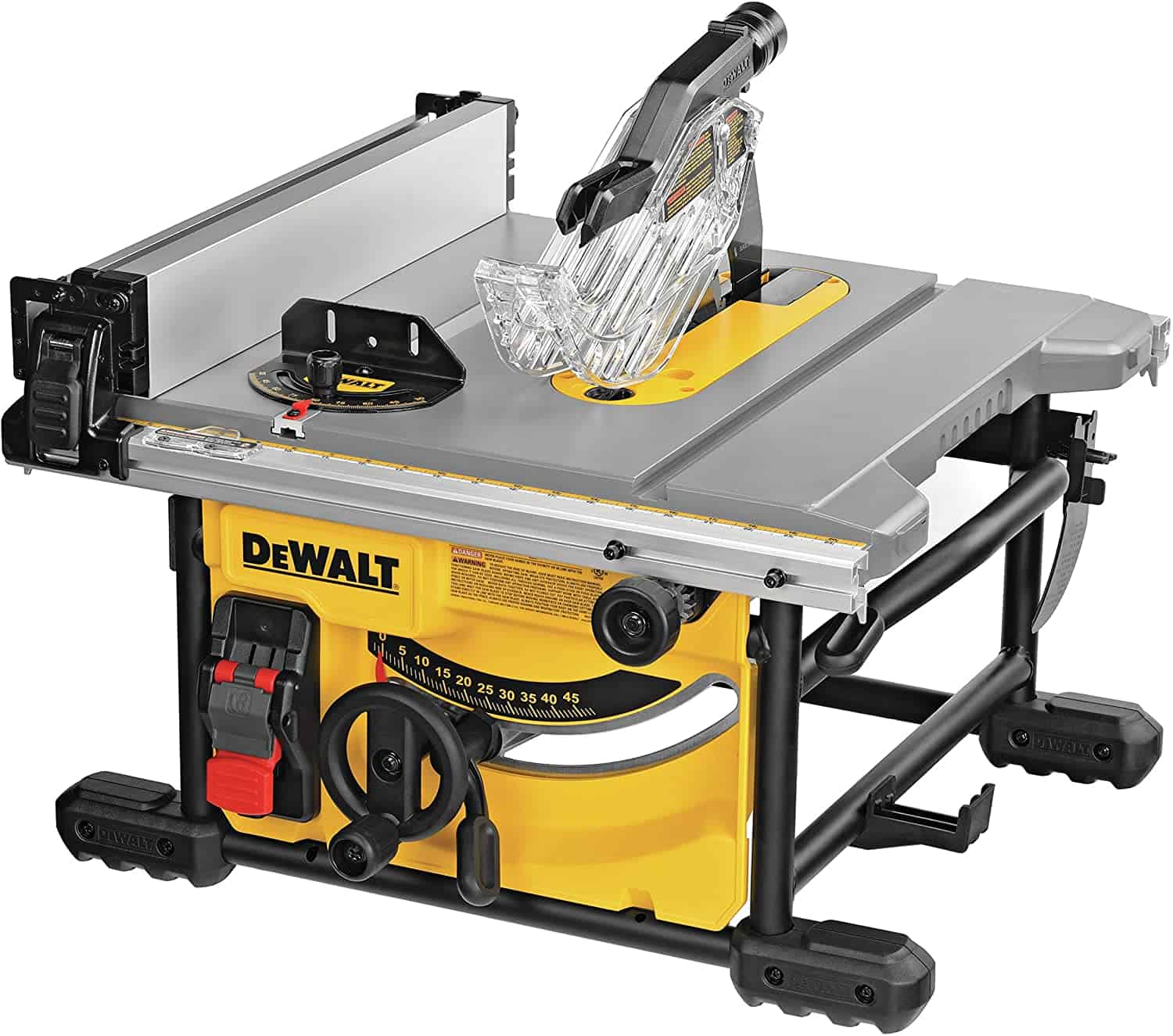 The first on our recommendation list is the DEWALT 8-¼-inch Table Saw. The total weight of this gadget is 54 pounds and the dimensions are (L x W x H) – 22.75 x 22.75 x 13 inches. It is designed with 24 tooth SERIES 30 saw blades. It comes equipped with an efficient 1800-watt and 15-amp motor with a no-load speed of 5800 rpm. It has an overload protection system to assure reliable performance for any type of wood. The unique feature of this gadget is the metal roll cage. This is designed to give extreme protection of the blade against heavy jobsite drops. The sound level is 109 DB. Also, the accurate scales, cast table top design, push stick, 2 blade spanner, front and rear fence lock with the rack and pinion fence system assists in producing professional ripping and tearing. The 2-1/2 inch dust collection port allows a Shop-vac to maintain a clean work area. The table top saw has a maximum rip capacity of 12-inch on the left and 24.5 inches on the right of the blade. This product has a cut depth capacity of 2- 9/16- inches at 90-degrees and 1-3/4-inch at 45-degree blade tilt. It is equipped with Dewalt's Modular Guard System that allows for hassle-free and tool-free adjustments. It also has a transparent blade guard so you can see the contact between the blade and your sheet.
Pros
Lightweight and portable
Finer blade, more accurate control
Powerful motor – 15amp 5800 rpm (no-load)
Cons
More expensive than similar products
Does not have a wheeled base
8 – ¼ – inch blade limits the depth of cutting
Check prices and availability here
Best table top saw with worm drive power: SKILSAW SPT99T-01 8-1/4 Inch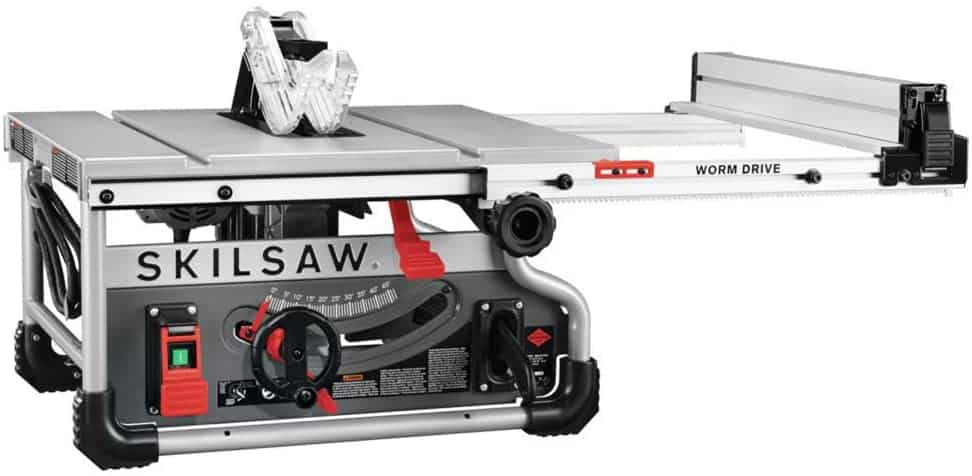 If you are looking for a table saw that has worm drive power in a compact design, crafted especially for ripping, then the SILKSAW SPT99T-01 is for you. The maximum torque is the result of worm drive gearing. This especially helps with ripping applications. Thanks to the rack and pinion system. This helps to make fence adjustments in a quick moment and helps to produce accurate cuts efficiently. This features 2-5/8 inches deep cuts and a rip capacity of 25 inch which is pretty admirable. So, it will seal the deal of tearing through and slicing up to 3x thick sheets of goods. Talking about the construction, the whole gadget is constructed with heavy material. As a result, the gadget is impressively durable and will serve long in job site productivity. It is designed with an efficient 24-tooth SKILSAW blade. The motor is patented, dual field, and also stays cool. These lead to the heavy-duty and long-lasting performance of the motor. Now let's talk about portability. The table saw weighs around 44 pounds and the dimension is 26 x 25 x 15 inches. The compact footprint and lightweight enable you to transport the saw frequently.
Pros
Excellent portability, lightweight
Worm drive gearing offers maximum torque for ripping
Impressive durability
Cons
The blade often retracts while working
The table top does not sit flat enough
The chord is a little short
Best professional table top saw: SAWSTOP 10-Inch PCS175-TGP252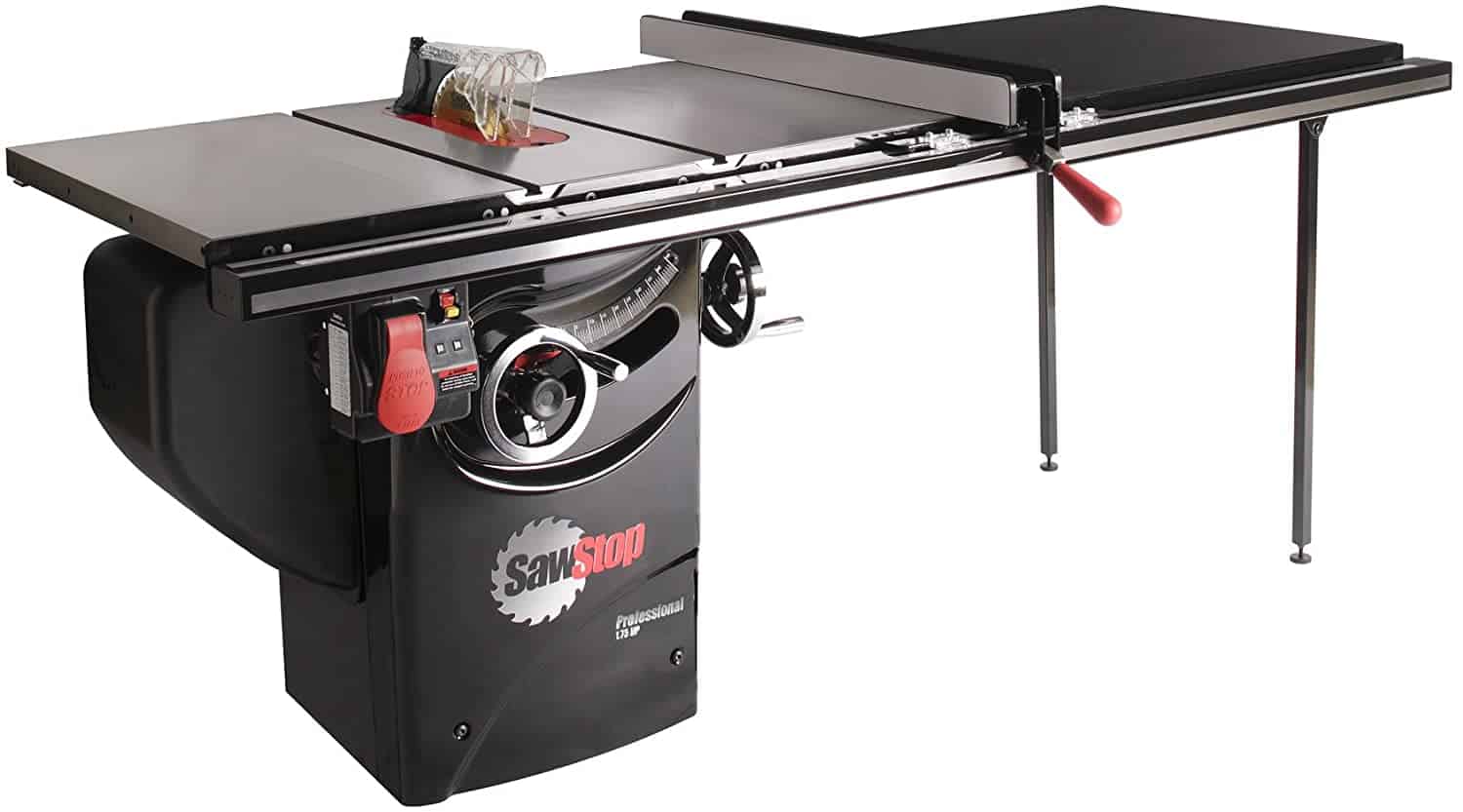 Next, we have SAWSTOP Professional Cabinet Saw. The 36-inch T-glide fence and guide rail are constructed of high-quality thick gauge steel to provide you reliable lockdown, ripping, and tearing. The motor has a rating of 1.75 HP, 120V, and 14A. The main thing that hooked my attention is the patented safety system that activates with an electric signal that is created when the blade is in touch with the conductive human body. The spinning blade stops in 5 milliseconds and then it goes below the table to avoid severe injuries. The on-off switch, on-board computer, power paddle is mounted in the control box which monitors the whole system. So, you can rely on this gadget. The arbor and trunnion are well designed to make the gadget durable, accurate, and stable. To produce precise and smooth adjustments, the gas piston elevation is provided. There is another thing to mention, that is the dust collection system. A dust collection blade guard above the table and an advanced shrouding around the blade below the table are provided for this purpose. An overarm dust collection guides the dust to the 4-inch port. This is featured with two fixed wheels, two casters of 360 degrees which makes it portable. A one-foot operation is featured to lift the saw mechanically with three quick pumps of foot petals.
Pros
Thick gauge steel ensures better lockdown, ripping, and tearing
Attached wheels which enhance portability
Foot-operation available to lift the saw
Comprehensive dust collection system
Comes installed with a patented safety system that ensures complete safety
Cons
Some of these table saws lack proper alignment of parts
Check prices and availability here
Best table top saw with foldable stand: SKIL 15 Amp 10 Inch TS6307-00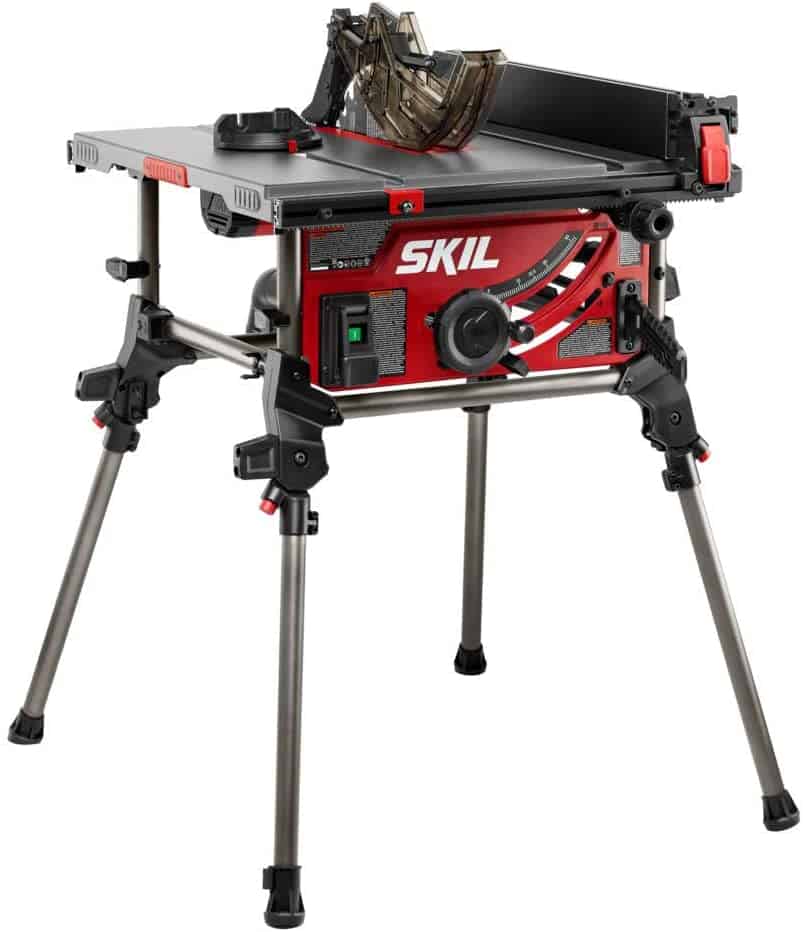 Skil 6307-00 Table Saw is a professional cutting gadget that is featured with an aluminum table and a foldable stand with a quick-mount feature. This greatly facilitates the storage and easy set-up of the machine. Overall, this table weighs 51 pounds and the tool dimension is 41 x 31.5 x 21.5 inches. Coming to the motor, the 15 AMP motor with a no-load speed of 4600rpm is enough to cut through a variety of materials As far as the quality of the blade is concerned, the 10-inch blade is carbide-tooth. This also includes blade wrenches. The cut height capacity is 3-1/2 inch for ripping and tearing 4x materials. The maximum cut depth at 45 degrees is 2.5 inches, and 90 degrees is 3.5 inches. Also, it is designed to provide a 0 to 47-degree tilting angle. The self-aligning Rip fence is offered dedicated to precise measurements. The cord length is 6 feet. It includes a meter gauge with the package.
Pros
Rack and pinion fence rails make fence adjustments easy
Inbuilt stand that folds into a tabletop version easily
Wide bevel range; from -2 to -47 degrees
Cons
The miter channels are non-standard
Stand doesn't have wheels
The blade angle adjuster guides and handles are made of plastic
It is not a slow starting table saw
Best table top saw with wheels: BOSCH 10 inch 4100XC-10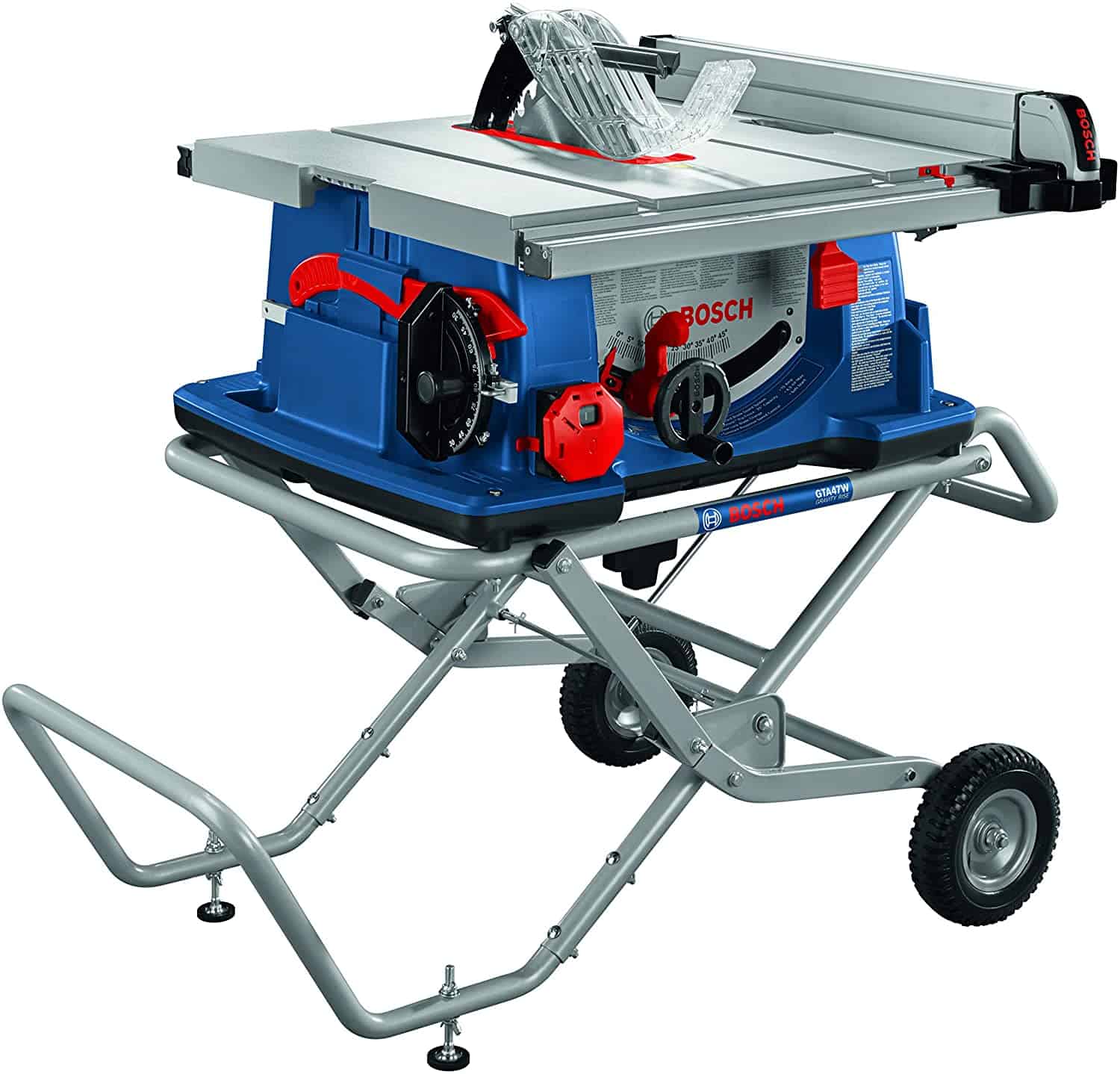 Finally, we have got Bosch Worksite Table Saw 4100XC-10 which is a collapsible table saw with two 8-inch treaded rubber composite rear wheels. That means you can transport it easily and adjust the height of the table according to your comfort. This table top saw is featured with a highly efficient 3650 no-load rpm motor. The motor has a rating of 15 Amp and 4 HP. So, there is no doubt about productivity. The most admirable thing is this is a smooth and quick ramp-up start machine. This is done with some soft-circuitry. There is also constant response circuitry included maintaining a consistent speed under various load conditions. Thanks to the SquareLock rip fence which is efficiently engineered to offer high accuracy of cutting. This allows you to work with one hand gliding while ensuring safety with the other one. So, there is no compromise made with precision. This professional gadget features a larger working area with a large saw table of 30 x 22- ½ inches with a ripping capacity of 30 inches so you can rip 4 inch wide sheets in half. The overall weight of this table saw is 109 pounds and the dimension is 27 x 32.5 x 13. This is featured with a 10 inch 40-tooth carbide-tipped saw blade, smart guard system, Miter gauge, push stick, blade and hex adjustment wrench, etc.
Pros
Gravity rise wheeled stand for easy mobility
Soft-start circuitry minimises possibility of tripping a circuit breaker
Smart guard system and restart protection
Cons
Lacks a dust collection system
The stand is difficult to assemble
Check prices and availability here
Rockwell BladeRunner X2 Portable Tabletop Saw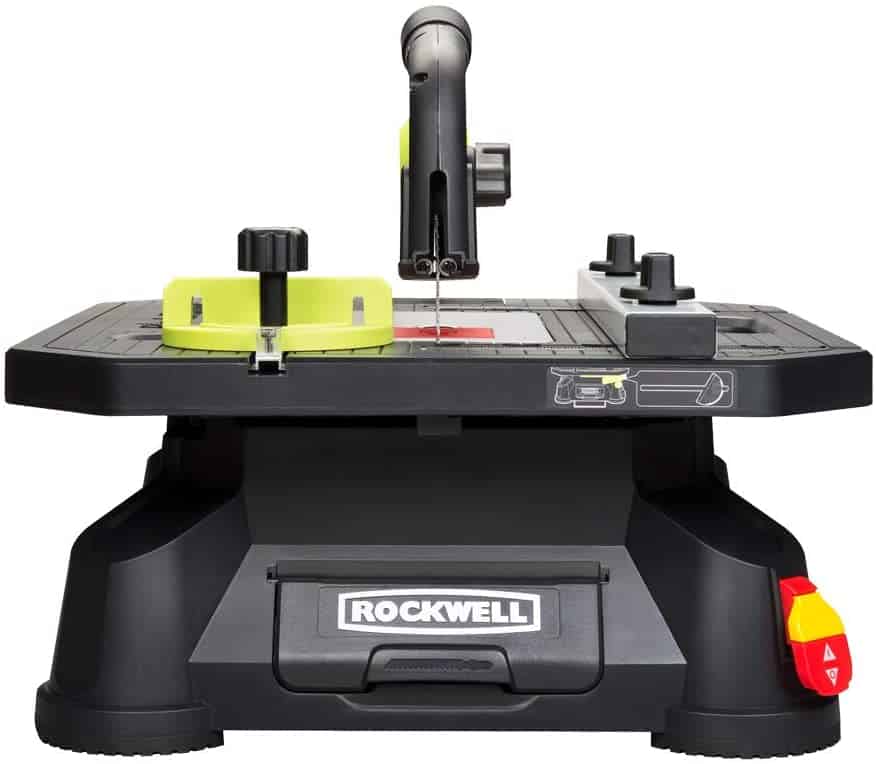 I'd like to start this list with a brand that is always coming out with inventive products that never disappoints; Rockwell. The scroll saw they are offering here is one of the most powerful yet easy to use saw machines in the market.
They win with their high quality as well as an amazing run of features. You can get all sorts of different projects done with this machine.
One of the most useful things about this device is that it is extremely lightweight. Being a tabletop saw, it needs to be lightweight to give you the highest level of comfort you deserve when you're working long hours on a particular project.
This machine is so versatile that it is able to cut a wide range of different materials besides just wood, such as plastic or even aluminum.
Since it is lightweight as well as pretty small in size, it's a great fit for people who like to work on DIY projects at home, but don't have enough space in their tool shed. The reason why it's great for amateurs is that it gives you high-quality performance for a small price.
Pros
It is able to cut a large variety of materials other than wood and is small in size. This thing is easy to stow away or carry. It's also very light in weight. You'll be glad to learn that changing blades don't require any extra tools.
Cons
Use a 24-tooth to the 30-tooth blade to rip strong wood. You may also use a multipurpose blade with 40 to 50 teeth, although it will take longer. Use a 40-tooth to the 80-tooth blade for sawing plywood or cross-cutting wood. You may also try using a general-purpose blade with 40 to 50 teeth.
Why are table saws used?
They are used to rip, cut or tear large panels and sheet goods like Plywood, timber, or MDF.
What is the general height of a table saw?
The standard height is around 34 inches.
What should be the standing position while working with a table saw?
It is recommended to stand left to the blade in a comfortable position.
Final note
In this article, we have discussed things to look for in a table saw and compiled a list of the 5 best table saws available out there based on the crucial facts. SAWSTOP Professional Cabinet saw is recommended for the patented safety system.
The steel roll cage of the blade is the uniqueness of DEWALT DWE7485 Table Saw. Keeping in mind the facts discussed above, pick out the table saw that suits your needs the best.
Happy cutting!
Also check out my review of the best drywall screw gun: Top 7 options for the job
It isn't recommended for contractors, or large projects and the finishing is not so good.
Types of Table Saws
Every woodworker's trusty tool is their table saw. It's used for almost every type of task, whether it be construction, shaping, or just simply fun DIY projects. However, not every table saw is the same.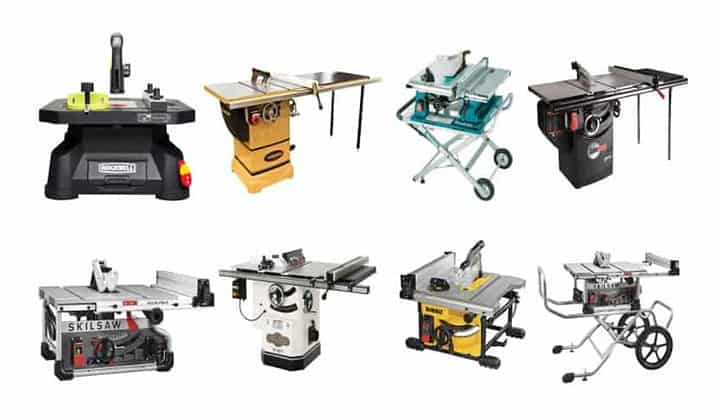 There are more than 7 different table saws, and it's every beginner carpenter's duty to know each of them to make their work easier. So, we've compiled the following list of the various types of table saw to get you familiar with the world of woodworking. 
Just because there's a wide range of table saws does not mean a woodworker needs to have all of them in their workspace. Your style of woodwork is unique, so the following list of table saws will help you find the one that fits your practice. 
1. Contractor Table Saw
Here's a fun fact about these saws — they were invented in the 18th century to be used as a portable saw on construction sites for contractors. 
This is why they're lightweight and don't have enclosed cabinets like other table saws. As the years passed and technology advanced, this saw could now handle heavy-duty work more diligently. 
At the back of the saw, you'll notice an exposed motor. This motor is highly robust and is the reason why the saw can perform various heavy tasks on large surfaces. The blade works at an incredible speed to be used for anything from construction work to small DIY tasks. 
2. Cabinet Table Saw
Unlike the contractor saw, the cabinet saw has a fully enclosed cabinet, which made them the most used table saw type in cabinet shops for years. Generally, a cabinet table saw surface would have cast iron with a fence on the machine. Most have dust containment compartments as well. 
A typical cabinet table saw has motors with 3hp or more that give the blade its heavy-duty qualities. This is also the reason why this saw can cut up to 500 pounds of lumber in various densities. Because of its highly efficient motor and strong blade, it has incredible rip capacity and accuracy. 
They are suitable for almost any woodworking task and have the best precision among other table saws. However, they're huge and heavy, so they aren't portable. 
3. Hybrid Table Saw
This next saw gets its "hybrid" title from essentially being a close mix of the technologies of a contractor and cabinet table saw. However, they're a heightened form of both, with high-powered belt-drive motors working at a low vibration and bringing out detailed cuts and precise rips. 
A hybrid saw comes with an enclosed housing with trunnions at the bottom of the table as a contractor saw.  However, the motor is also inside the housing, unlike in contractor saws, making it much easier to collect and remove dust. 
Motors of a hybrid saw can go up to 3-4 horsepower on regular 120V outlets, making them a powerful hobbyist cabinet maker saw. They're much less costly than an average cabinet table saw and are able to handle a variety of woodworking projects from construction to furniture making. 
4. Jobsite Table Saw
After leaps in technology, contractors started using jobsite table saws from the 1980s, as they found contractor saws difficult to carry around. So, if your woodwork projects include a lot of moving around, this table saw is built exactly for that. Professional construction workers often use it, even today. 
Other than construction and heavy-duty carpentry, this table saw is very versatile, making it useful for a number of different woodwork tasks. The hardworking blade can slice through dense hardwoods, metals, plastics, and more. Its machinery is robust and long-lasting, making it one of the most reliable saws on this list. 
5. Sliding Table Saw
A sliding table saw is similar to a cabinet saw in that it's a stationary, large-scale table saw. This model features a sliding, left-side blade that allows the entire thing to be moved.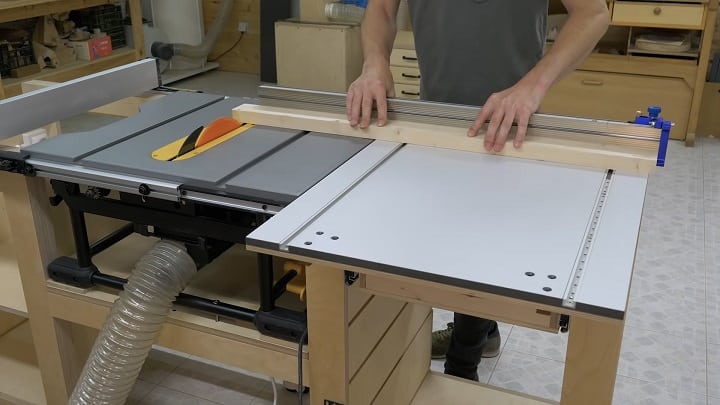 Woodworkers who frequently construct large, heavy items, such as tabletops and benches, will benefit from the smooth range of motion and stability, which will aid in making clean and precise cuts. 
Another advantage of the sliding table saw is its safety. Due to the position of the sliding table in relation to the saw, the user is kept to the side of the blade for the most part of the cutting process. Although it takes some getting accustomed to, placing oneself in this manner lowers the risk of accidental cuts and flying pieces of wood. 
6. Compact Table Saw
Just like its name suggests, this saw has most of the functionalities of traditional saw tables, just at a smaller scale. They're much easier to carry due to their relatively small and lightweight build. This makes them a great tool to have on job sites that require a lot of moving around. 
However, compact table saws are the largest among all portable table saws. This is mostly due to their high capacity belt drive motors and spacious iron tabletops. The machinery is hard-working to withstand the forces of construction and professional carpentry, and the blade performs the most accurate cuts. 
7. Mini Table Saw
This table saw fully lives up to its title by being the smallest of all table saws. An average mini saw comes with a 4 inch diameter blade that surprisingly brings out precise and quick cuts despite its size. Although this saw won't come of great use in professional woodwork, it's great for at-home DIYers and beginner carpenters. 
Due to its small build, it is easily portable, which in turn eliminates any issues surrounding storage and transport. They're by far the most affordable table saws for basic woodwork. 
8. Benchtop Table Saw
Another addition to the portable and lightweight table saw family, this saw takes up minimal space in a workplace and can be moved from station to station easily. This is a must-have saw in a DIYer's inventory or beginner carpenter's tool stash, as it can do almost any small-scale construction project with impressive precision. 
Although it's smaller than most table saws, it's able to provide the most linear and quick cuts on various materials, including plastics, metals, and of course, lumber. Its price is considerably less if you consider that it is ideal for constructing anything from tables and chairs to installing and sizing small pipes. 
Frequently Asked Questions
Can a 10 inch table saw cut a 4×4?
A 10-inch table saw will not be able to cut all the way through a 4×4 in one pass. 3-1/8 inch is the deepest cut a 10-inch blade can make. 
What is the best height for a table saw?
Within the range of 31 to 38 inches. 
Do you need a stand for a table saw?
It's best to use a stand to avoid the workpiece moving past the blade and off of the table. 
What are the three different types of table saws?
The three most popular types of table saws are compact, jobsite, and benchtop table saws. 
How many teeth should my table saw blade have?
Use a 24-tooth to the 30-tooth blade to rip strong wood. You may also use a multipurpose blade with 40 to 50 teeth, although it will take longer. Use a 40-tooth to the 80-tooth blade for sawing plywood or cross-cutting wood. You may also try using a general-purpose blade with 40 to 50 teeth.
Why are table saws used?
They are used to rip, cut or tear large panels and sheet goods like Plywood, timber, or MDF.
What is the general height of a table saw?
The standard height is around 34 inches.
What should be the standing position while working with a table saw?
It is recommended to stand left to the blade in a comfortable position.
Final note
In this article, we have discussed things to look for in a table saw and compiled a list of the 5 best table saws available out there based on the crucial facts. SAWSTOP Professional Cabinet saw is recommended for the patented safety system.
The steel roll cage of the blade is the uniqueness of DEWALT DWE7485 Table Saw. Keeping in mind the facts discussed above, pick out the table saw that suits your needs the best.
Happy cutting!
Also check out my review of the best drywall screw gun: Top 7 options for the job
I'm Joost Nusselder, the founder of Tools Doctor, content marketer, and dad. I love trying out new equipment, and together with my team I've been creating in-depth blog articles since 2016 to help loyal readers with tools & crafting tips.