I love creating free content full of tips for my readers, you. I don't accept paid sponsorships, my opinion is my own, but if you find my recommendations helpful and you end up buying something you like through one of my links, I could earn a commission at no extra cost to you.
Learn more
An impact driver is an equipment that is mainly used to drive screws into different surfaces and tightening or setting nuts. It is a preferred tool for professionals and homeowners due to their high torque output and versatile set of functions.
Makita is one of the most renowned names when it comes to producing high-quality power tools at an affordable price. They are exceptionally well in making impact drivers (here are some more brands) that satisfy consumer needs.
They have various models of this tool available in the market. To help you with this, we have picked out the seven best Makita Impact Driver in 2020. Read ahead to find out more!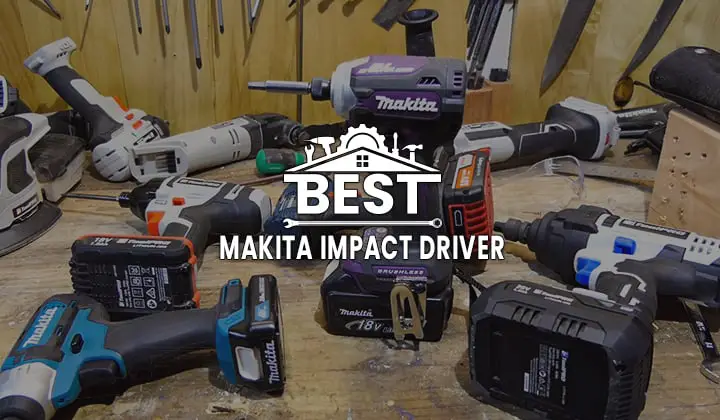 7 Best Makita Impact Driver Reviews
We have carefully selected our top 7 picks after thorough research. A comprehensive review of these  products are given below:
Makita XDT131 18V LXT Lithium-Ion Brushless Cordless Impact Driver Kit (3.0Ah)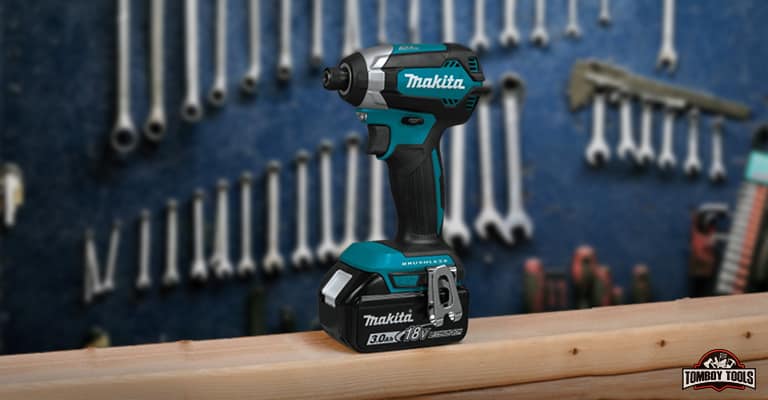 The first pick on our list is a special kind of impact driver from Makita under the model XDT131 18V. Just like any other Makita products, this is very affordable and filled with innovative features. Its weight is also light, making it easier for the user to hold it in their hands without much trouble.
Moreover, to ensure maximum user comfort, the design is fully ergonomic. It makes this a very convenient product to use.
Furthermore, it is run by an efficient motor that is brushless and runs without a hassle. It has a variable speed of 0-3400 rotations per minute. While delivering such a high rate of rotation, the machine is capable of providing 1500 inch-pounds of torque.
Besides, the motor is entirely carbon-free, which makes it more relaxed and prevents unwanted overheating. Thus, the lifespan of the motor increases.
Additionally, the motor runs with the help of a lithium-ion battery, which controls it electronically. The engine is very efficient when it comes to managing the utilization of battery energy. It is capable of saving 50% of the battery power, which results in a longer duration of run time under each unit of charge.
Lastly, the motor can also match the torque of the equipment. This is done with the rotations per minute according to the demand of the force required.
Pros
Extremely affordable
Efficient motor
Designed ergonomically
High torque power
Cons
Variable speed is difficult to control
 The packaging does not protect the battery's charger well
Makita XWT08Z LXT Lithium-Ion Brushless Cordless High Torque Square Drive Impact Wrench, 18V/1/2″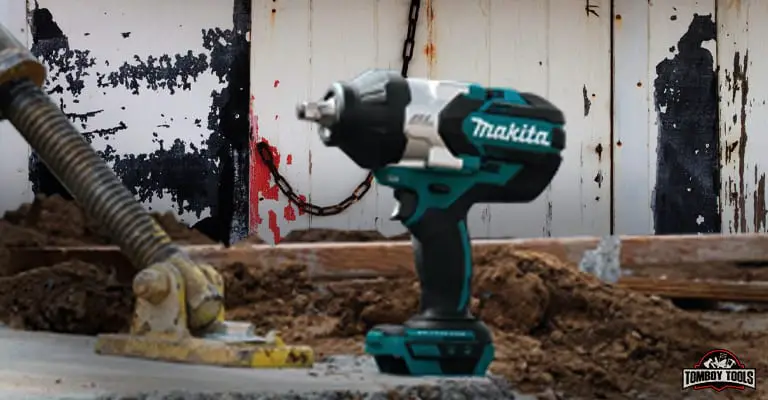 Another innovative product from Makita is our 2nd pick, under the model XWT08Z. Like the previous model, this one also comes with a highly useful motor which is run by a lithium-ion battery.
The engine also is completely brushless. And not to mention, the impact driver is entirely cordless, which saves you from the hassle of tangling cords and lack of flexible movement while doing your work.
Moreover, the design and features of this model are quite similar to the previous one. But there are a few differences in terms of precise specifications. For example, its motor delivers a maximum torque capacity of 740 feet pounds, while featuring a unique feature of breakaway torque. The capacity of this setting is 1180 feet pounds.
Along with this, the driver contains three power selection switches that let you control its speed.
The impact driver is capable of having rotations of 0-1800 and 0-2200 per minute. With the control switches provided, you can control these rotational speeds. On top of this, it is equipped with ½ inches of the anvil that enables easy socket changes.
A friction ring is also provided with the anvil. And by eliminating a carbon brush, the motor remains cold for a more extended period and thus has a better lifespan.
Pros
Motor is brushless
Highly effective motor
Good torque power
Three power control switches
Cons
Does not come with charger and battery
The bit is not provided
Makita XDT111 3.0 Ah 18V LXT Lithium-Ion Cordless Impact Driver Kit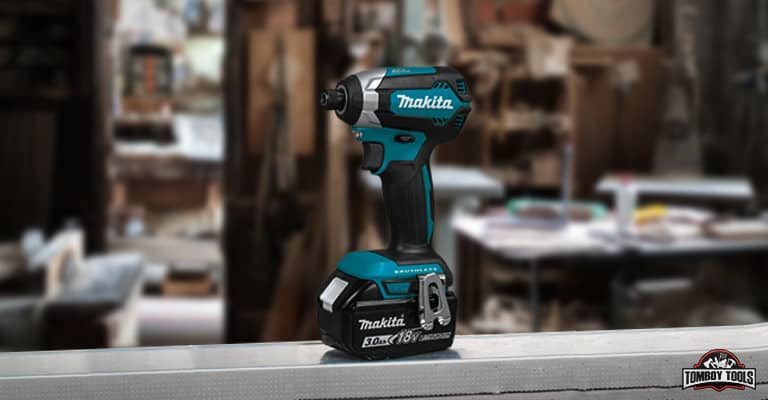 The most comprehensive set of kits manufactured by Makita is the XDT111. This contains a wide array of features and accessories to let you do a varied number of tasks.
To ensure maximum user satisfaction, the impact driver is extremely lightweight and easy to carry. It only weighs about 3.9 pounds. Moreover, the design is very ergonomic, which prevents the user from getting fatigued.
The motor is capable of providing a varied range of speed starting from 0-2900 RMP to 0-3500 IPM. Besides, the torque offered by the engine is also very impressive; having a power of 1460 inches pounds.
This allows you to use the driver for a variety of jobs at different speeds. And on top of this, the impact driver is also equipped with an LED light that lets you work in the dark.
Its motor is 4-poled and features 4 different types of brush designs. These are capable of providing 26% more rotations per minute without wasting any torque power.
This makes the motor highly efficient and saves the battery from draining out too quickly. It also increases the battery's lifespan. Lastly, the overall product has a metal gear housing for increased durability.
Pros
Features a hex shank of ¼ inches
Lightweight
Equipped with an LED light
Capable of performing a set of comprehensive tasks
Cons
Screws strip off easily
Tends to create a lot of smoke
Makita XDT13Z 18V LXT Lithium-Ion Brushless Cordless Impact Driver, Tool Only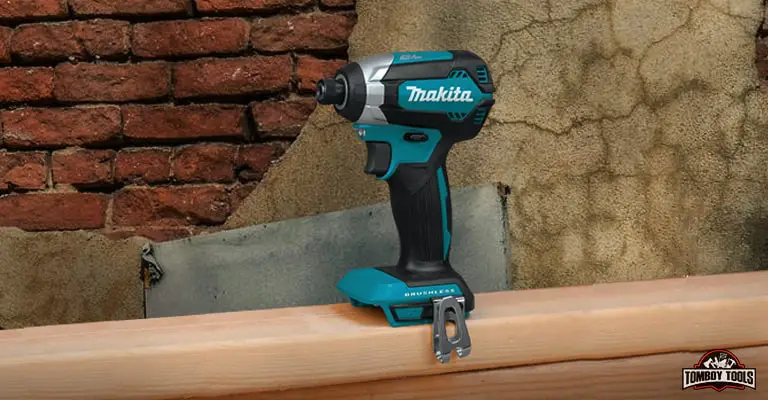 The main difference between our first pick and our fourth pick is, the first one comes as a kit, whereas if you purchase this one, you will only get the tool and no additional accessories.
Other than that, the features are quite similar to the first one. For example, this impact driver, too, is quite affordable and features a highly efficient motor.
The motor is completely brushless and free of carbon brushes. This frees it from the problem of overheating, resulting in an increased lifespan of the motor. On top of this, the motor is also capable of delivering a torque power of 1500 inch-pounds. The speed that accompanies this torque can be controlled, and it ranges from 0 to 3400 RPM and 0 to 3600 RPM.
The rotation speeds can be adjusted according to the torque power. Along with this, the motor is controlled electronically with the help of a battery. This makes it completely cordless and flexible. The motor uses the battery power in an optimum manner and consequently lets the battery provide a 50 percent longer run time per unit of charge.
Pros
Lightweight and easy to use
Affordable
Motor uses up battery well
High torque power
Cons
No accessories provided with the package
Carry case is absent
Makita XWT11Z 18V LXT Lithium-Ion Brushless Cordless 3-Speed 1/2″ Sq. Drive Impact Wrench, Tool Only
One of the most modern and innovative impact drivers that can be found on the market is the XWT11Z 18V by Makita. It can be used very conveniently owing to its lightweight and easy operability.
It weighs only 3.8 pounds, which reduces user fatigue and helps him work in narrow spaces. Moreover, there is an LED light provided with the driver that illuminates dark areas and allows the operator to work at night.
There is also an LED battery gauge on the equipment which is meant for showing the charge level of the battery. This alerts the operator about when to charge the motor.
In addition to this, the machine also takes care of user comfort and features an ergonomic design. Its grip area is rubberized, which provides an improved grip on the tool. The only downside is, the battery is not included in the package.
Just like the other Makita impact drivers, this one also comes with a brushless motor. The motor is free of carbon brushes, which keeps it cool even after prolonged duration of work.
On top of this, the motor is capable of providing 210 feet pounds of maximum torque. You can also control its speed through the three-speed power selection switches. A selection of variable speeds is provided from better functionality.
Pros
Capable of automatically stopping
Can rotate backwards to loosen screws
Motor saves battery power
Includes a speed control switch
Cons
Battery not included
Charger needs to be bought separately
Makita XDT16Z 18V LXT Lithium-Ion Brushless Cordless Quick-Shift Mode 4-Speed Impact Driver, Tool Only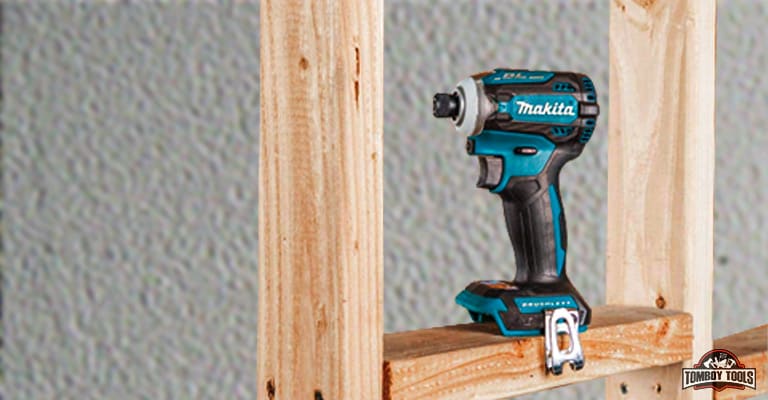 The sixth pick on our list is another state of the art impact driver from Makita. This item, under the model XDT16Z LXT has the same set of standard specifications like a regular Makita impact driver along with some additional enhancements.
It is extremely affordable and lightweight. The only downside is, this is a tool only product and therefore does not come with a kit.
In order to ensure the operator's maximum satisfaction, the tool features two different tightening modes and allows for faster tightening. This lets the user work on self-drilling screws on thin and thick gauge metals.
It also helps to keep at bay any imminent damages to the screw due to irregular speed. Apart from this, the driver is capable of stopping automatically when needed.
A built-in LED light is also included on both sides of the driver just like the other models of Makita. This light helps to illuminate dark areas and thus enhances the time flexibility of the operator.
Moreover, the motor can enable reverse rotation mode and help loosen screws. The brushless motor is equipped with a quick shift mode that lets you adjust between the speed and torque of it for better functionality.
Pros
LED lights included
Motor can deliver 1600 inches pounds of torque
Auto stop mode available
Motor can enable reverse rotation
Cons
No kit provided
Battery and charger not included
Makita XDT14Z 18V LXT Lithium-Ion Brushless Cordless Quick-Shift Mode 3-Speed Impact Driver, Tool Only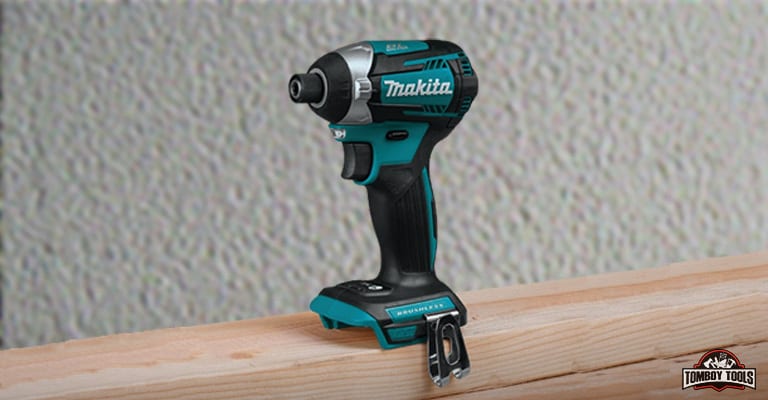 The seventh and last pick on our list is no less in terms of its features in comparison to the previously mentioned picks. It contains some unique features of its own, which can satisfy users.
Just like regular Makita products, this one is extremely lightweight and easy to afford. Despite an affordable price, the product is worth every penny and includes a set of features that makes it one of the best in the market.
The most unique feature of this particular model is the extreme protection technology, which prevents dust and water from spreading too much in the work site.
As a result, this is a good option for operators who have dust allergies and can't work in dusty environments. In addition, the tool is also provided with metal gear housing, which makes it endure harsh working conditions.
Two LED lights are included on both sides of the driver to enable the operator to work in darkness. Moreover, a one-touch ¼ inches hex chuck is also provided for easier and faster bit changes.
You can also quickly shift its modes by using the automatic electronic controller. Apart from this, you can make use of the tightening mode in order to control self-drilling screws. Last but not the least, its motor is brushless and highly efficient.
Pros
Dual LED lights included
Three power selection switches
Anti-dust and resistant to water
One-touch hex chuck included with the package
Cons
Tool only option
Battery and charger needs to be bought separately
What to Look for Before Buying?
Buying an impact driver for the first time can be quite hectic without having a checklist of the must-have factors to look for.
Even if you are experienced in this field, not having an organized list of required features can act as a hindrance. To solve this problem, we have listed down the criteria you need to look out for before making your purchase: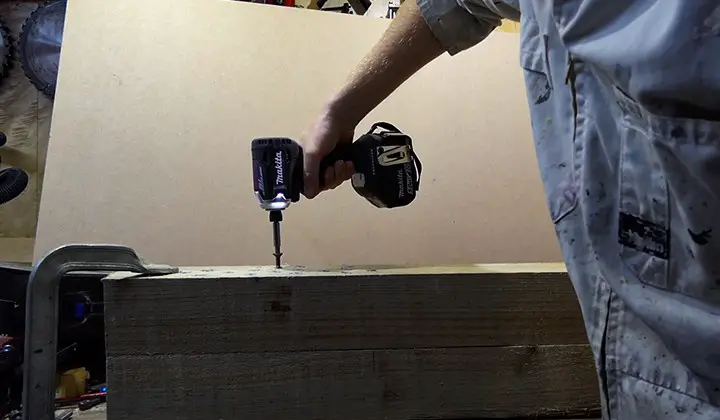 Compact Drivers
Usually, impact drivers are available in different sizes. Some are big and heavy, while some are compact and lightweight. It is best to purchase a driver that is as compact as possible.
This is because sometimes, you will need to access tight and confined spaces for drilling purposes. And a compact driver will easily fit into such spaces.
Another reason for choosing a compact driver is its lightweight. This helps to reduce the fatigue of work and thus increases your productivity.
Budget and the Price
Prices are a crucial factor to consider before purchasing anything. If something costs way more than what you can afford to pay, then it is not possible to get that item. Therefore, always look for options that are well within your budget.
Impact drivers aren't very expensive tools. Moreover, Makita offers a wide range of options, each of which is highly affordable. So check this list and find out which one fits your budget description. Also, check out what tasks you need to do accomplish with the driver.
Then make co-ordination between the price and the impact driver that comes with the required features.
For example, if you only want to carry out very basic functions, then you can find extremely affordable options well within your budget. But the fancier your needs are, the greater is the amount of cash needed to purchase.
So if you want something to use for the long term that can do a variety of tasks and comes with a kit, you can spend a little extra on it.
Additional Tools
Some impact drivers are only available as a tool and do not include a battery and a charger. On the other hand, some come with a full kit and contain additional accessories that accentuate your quality of work.
Usually, the ones with a kit cost more than the driver that only performs basic functions. However, the higher price is completely worth it. Buying a kit with additional tools benefits you in the long run. Therefore, if you want something that can serve you for a long time, go for the ones that come with accessories.
Frequently Asked Questions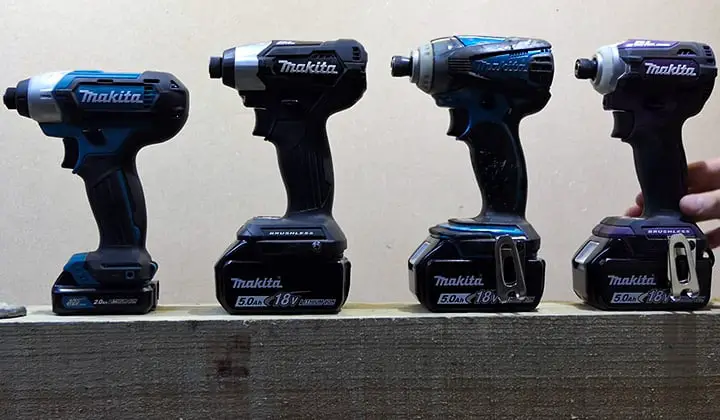 Q: What is the difference between a cordless drill and an impact driver?
Ans: A normal cordless driver runs by a battery and can be used to make holes and tighten screws and bolts. Makita drills are VERY high quality too.
Impact drivers also provide a similar function but has the ability to provide a higher torque. These are also very compact and light in comparison to cordless drivers.
Q: What are the uses of an impact driver?
Ans: Impact drivers can be used to drill holes into different kinds of hard surfaces and fastening screws and bolts. Some impact drivers come with the reverse rotation feature. You can use those to loosen screws and nuts.
Q: What is the specialty of a brushless impact driver?
Ans: The term brushless is used to indicate the type of motor used in the driver. In regular drivers, the brush helps to establish a connection between the electricity source and the running motor.
On the other hand, a brushless motors does not require brushes to do this job. This reduces the amount of friction and increases the lifespan of the motor.
Q: Why is a carbon brush harmful to the motor?
Ans: A carbon brush can cause a lot of friction and heat the motor which decreases its efficiency.
Q:  Can impact drivers work on concrete?
Ans: Yes, an 18 volt impact driver can be used to drill holes and fasten screws on concrete.
Final Words
Through careful research, we have picked the 7 best Makita impact driver on this list. We hope that the list will be a helpful guide to you, and you will be left fully satisfied after buying an impact driver following our recommendations.
I'm Joost Nusselder, the founder of Tools Doctor, content marketer, and dad. I love trying out new equipment, and together with my team I've been creating in-depth blog articles since 2016 to help loyal readers with tools & crafting tips.