I love creating free content full of tips for my readers, you. I don't accept paid sponsorships, my opinion is my own, but if you find my recommendations helpful and you end up buying something you like through one of my links, I could earn a commission at no extra cost to you.
Learn more
Impact drivers have concussive blows that push the screw in quite easily. Impact drivers have the most power when it comes to power tools.
You'll hear that "brrrr" sound with the impact driver that you won't see anywhere. And you won't have to put on the extra manual pressure either.
Drill drivers can house a screwdriver bit to technically do the same job as that of an impact driver. But as I've said before, you'll have to put in a lot of effort to drive the screws home.
But with the best 12V impact driver, it's like a knife through butter.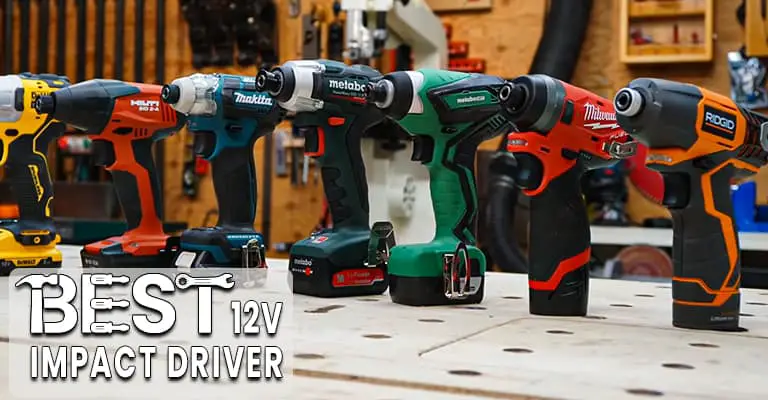 You will find it quite hard and puzzling to find out a top-notch impact driver from thousands of these as per your requirements.
I've handpicked some most valued and popular products from the market to reduce your hassle.
My top choice is  this BOSCH PS41-2A 12V Hex Impact Driver Kit. It's a great quality power tool that both professionals and home DIY-ers will love. Powerful enough for big projects, reliable enough for the odd job around the house. It has a great battery life and a comfortable compact design.
There are more options, however, from professional choices to complete combination kits. Let's have a look at my favorites:
Things you should look for in a 12v impact driver
An impact driver is nearly an indispensable gadget for both household and professional work.
In order to find the best impact driver for you, here are the things that you should consider.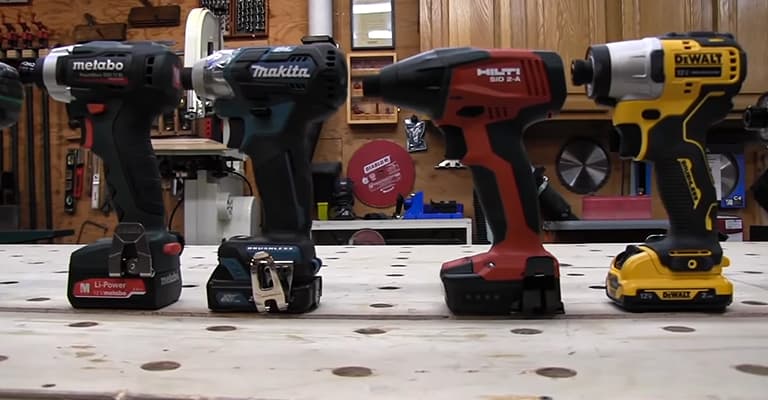 Motor
Generally, two types of motors are found in impact drivers: brushless motors and usual. Usual motors are cheaper but they easily heat up and have lower efficiency.
The brushless ones, on the other hand, have better efficiency and torque that do not produce high heat. For heavy works, a brushless motored one is preferable.
Battery type
Most of the impact drivers are powered by either lithium-ion or Ni-Cd batteries. Though Nickel-Cadmium batteries are slightly heavier and have less capacity, they are common and cheaper.
But Li-ion batteries have good capacity and are lightweight and smaller. For long battery life, lithium-ion batteries are highly preferred.
Capacity
Most impact driver batteries have 2-4 ah capacity. For household works, you can use a 2ah battery as they are lighter and rechargeable within a short time.
4 ah batteries are slightly heavier and bulky, but they are better for long-time usage without recharging too frequently.
Technology
Some batteries have intelligence systems that communicate with the rest of the devices such as RedLink intelligence.
This type of technology is highly recommended for heavy users and professional workers to maintain battery temperature.
Some batteries come with a battery level indicator which is a must for professional users.
LED lights
LED lights are used for lighting up the workpiece. These are either on the upper side of the trigger or surrounding the clamp.
The surrounding arrangement is better if you have a battery of good capacity as it produces better lighting.
Body material
There are two types of chassis of impact drivers that can be found in the market: One is the full plastic body and the other comes with metal parts or is partially metallic.
Full plastic ones are easy to carry and better for light works. The partially metallic body is slightly heavier but considerably durable which is suitable for heavy and professional work.
Power
An impact driver's motor torque lies within 100-200 nm or 1800 in.-lbs and the revolution rate of 1500-2700 rpm. Multiply the rated torque with its rev rate, and you'll get the output power.
An impact driver of greater power is better for heavy and professional works such as drilling through walls or fastening bolts.
Speed
Usually, impact drivers are used to fasten long screws and thin bolts. For this purpose, the better the revolution rate, the better it will serve you regardless of the torque.
Usually, an rpm between 2500-3000 with a small torque of 800-1000 in.-lbs is more than enough to perform these works perfectly.
Carrier
Impact drivers come with a plastic box or a clothed carry bag for carrying the impact driver kit around.
The advantage of clothed bags is that they are spacious and allow you to carry the whole kit along with the other tools.
Plastic boxes, on the other hand, ensure the safe storage of the kit. Though you cannot carry other related tools in the latter.
Warranty
Some brands offer a warranty for the whole kit while others only offer a warranty for the parts. It's best if you can find a brand that offers 2-3 years of warranty for the whole kit.
Best 12v impact drivers in the market
Now let's have a look at some of my favorite options. What makes these impact drivers so good?
Best overall 12v impact driver: BOSCH PS41-2A 12V Hex Impact Driver Kit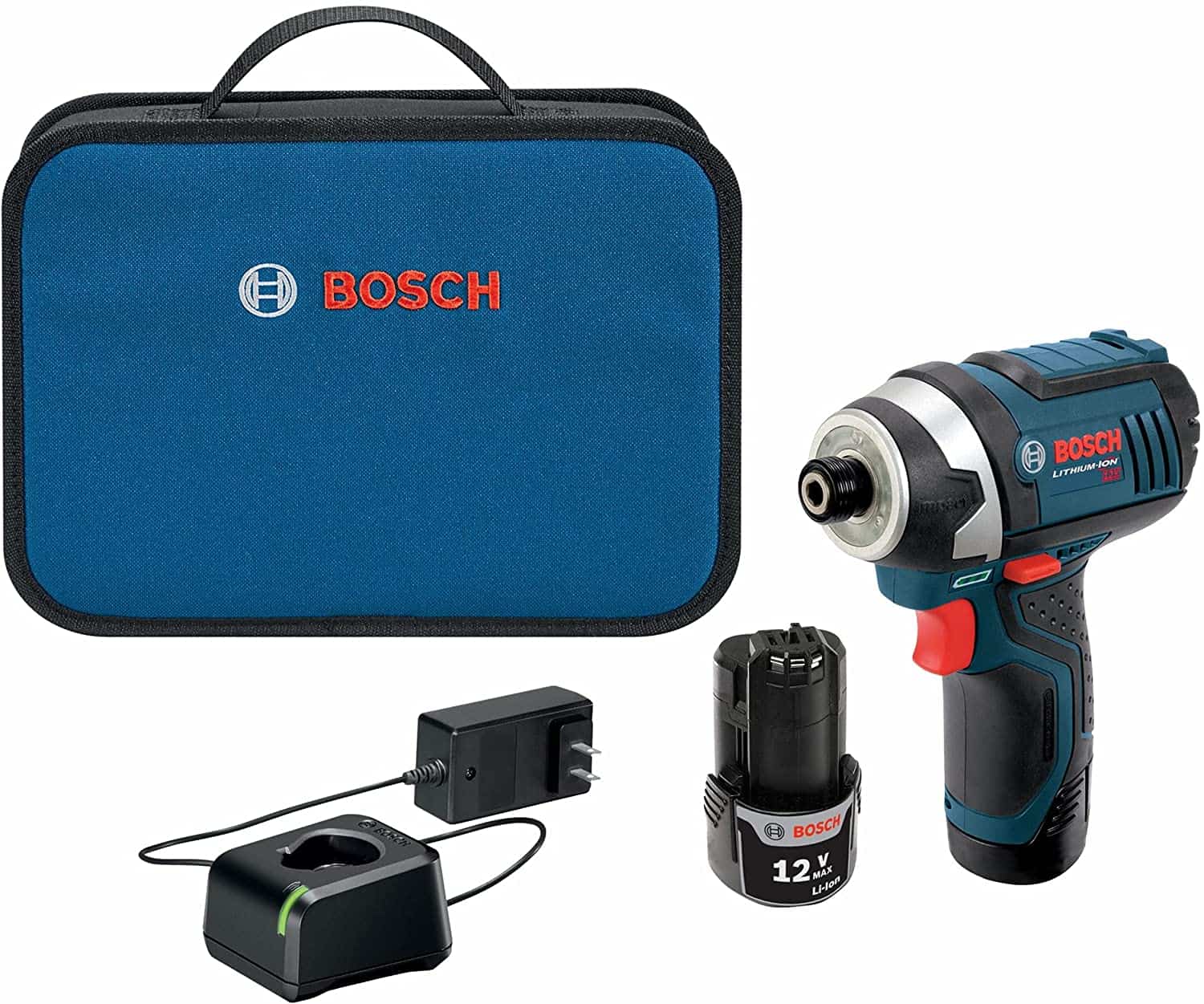 Best features
With a body weighing only 2.1 lbs along with the shortest head length, this Bosch PS41-2A impact driver is very popular in the market.
You can hold this product without having any fatigue because of the reduced weight. The incredibly slim body also lets you work in tight and congested areas.
Despite being a brushed motor, this motor can create 930 in.-lbs torque with a revolution rate of 2600 rpm.
For a greater impact force, Bosch included an anvil and hammer system which makes it easier to use for all kinds of household work like fastening screws, mild drilling, among others.
This impact driver comes with a built-in fuel gauge that makes the driver quite power-efficient. The kit comes with two compatible batteries as well.
Drawbacks
The build quality of the light ring is not very strong.
Best 12v impact driver for heavy-duty work: DEWALT 12V MAX Impact Driver
Best features
Though this DEWALT DCF815S2 impact driver is equipped with a brushed motor, it can provide 0-2450 RPM and 0-3400 IPM with 1400 in.-lbs of torque.
This huge output power will allow you to do almost any kind of work from lightweight to heavy such as drilling, fastening bolts, fastening screws, metal-works, wood-works, etc. Its performance puts the use of a drill guide out of the equation.
It also has a variable speed feature that suits both heavy and light work. The 1.1 Ah battery recharges within an hour and supports long hours of work which makes it the best device for professionals.
It is also equipped with strong radial LED lights which makes this the perfect device to use during low light conditions.
The strong, durable and lightweight metal-built body that only weighs 2.3 lbs makes this impact driver very convenient to use for both occasional and professional users.
The compact design and rugged look make it one of the most attractive products in the market.
Drawbacks
The battery doesn't include a fuel gauge.
Check prices and availability here
Most convenient and easy to use 12v impact driver: RIDGID R9000 12V Drill/Driver and Impact Kit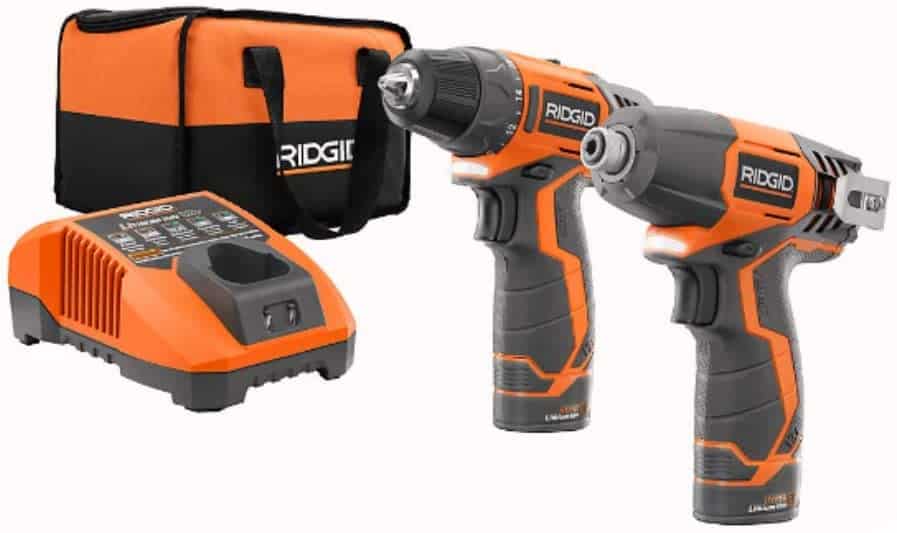 Best features
With a body of 6.69 lbs this Ridgid impact driver earned huge popularity in the market.
The motor is incredibly powerful and can generate 400 inch per pound torque that is perfect for professional works, car-works, metal-works, etc.
This impact driver works with a 1.5 Ah Lithium ion battery which is included in the kit. Proper venting prevents the motor and the battery from heating up.
This product is very easy to use as bits and parts can be changed with a simple ejecting feature. The Hex textured rubber handle lets you hold the driver firmly no matter how slippery or sweaty your hand is.
You can also keep this driver attached on either side of the belt using the reversible clip that reduces hassle during tough jobs.
Drawbacks
No warranty provided for the product.
Best budget option 12v impact driver: MILWAUKEE'S 2462-20 M12 Lithium-Ion Cordless Impact Driver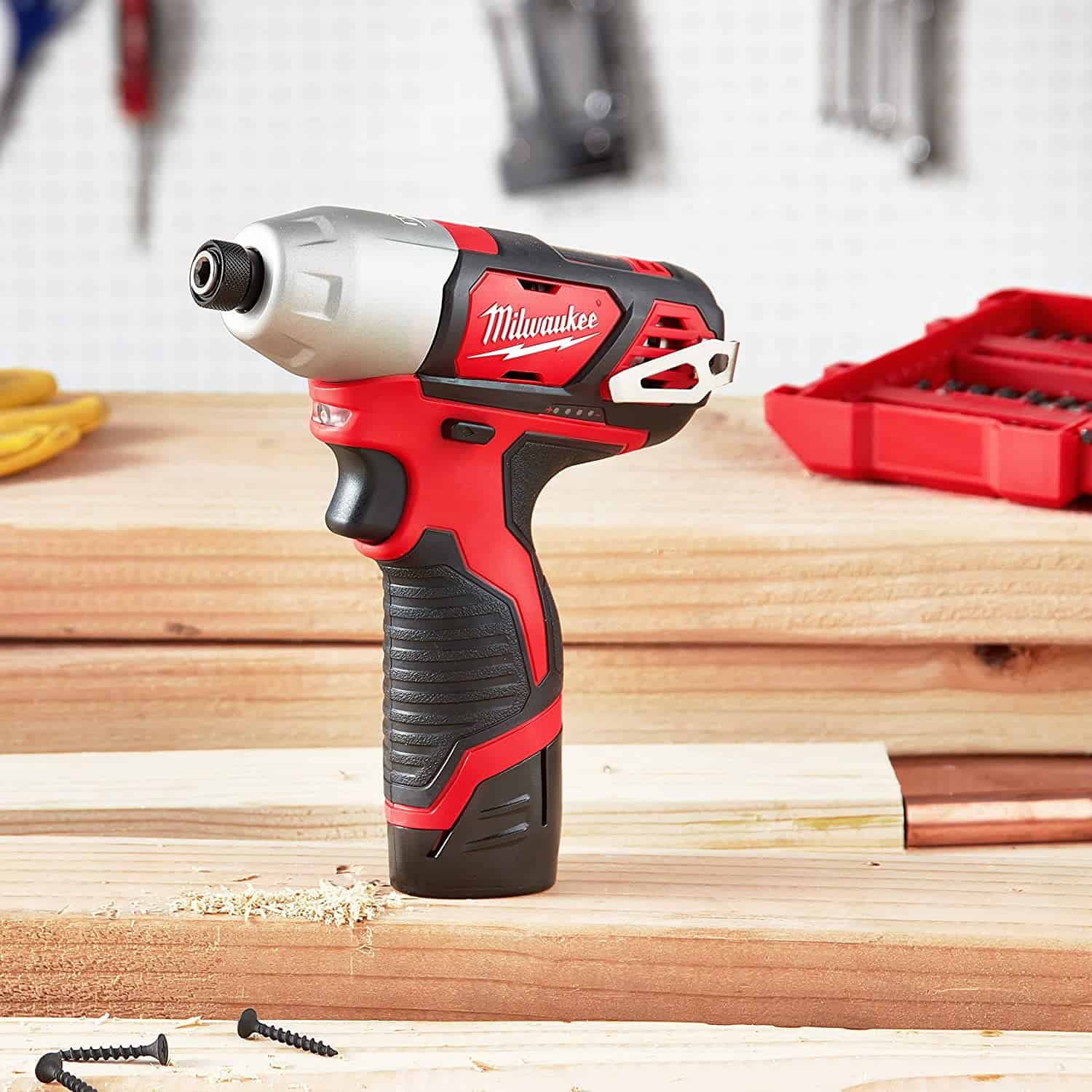 Best features
This Milwaukee 2462-20 M12 impact driver comes with a strong and slim brushed motor.
This motor can create a maximum of 2500 RPM and a torque of 1000 in.-lbs, which is perfect for both light and heavy works such as fastening screws, drilling through concrete, metal-works, car-works, etc.
The inclusion of the Redlithium battery maintenance system makes this one of the top-grade impact drivers in the market. This system maintains battery temperature by creating communication between the battery and the driver.
As a result, the battery remains healthy and lasts much longer.
High carbon steel-made body makes it surprisingly lightweight, rugged, and durable. You won't experience any fatigue or muscle pain holding it for a long time because the body weighs only 1.37 lbs.
You can also keep this machine attached to your belt using the ambidextrous belt clip which provides quick and easy access.
Drawbacks
No batteries provided in the kit.
The single LED light is not strong enough to illuminate the workspace properly.
No carrying bag provided.
Check prices and availability here
Best impact driver + drill combination package: MILWAUKEE'S 2494-22 M12 Cordless Combination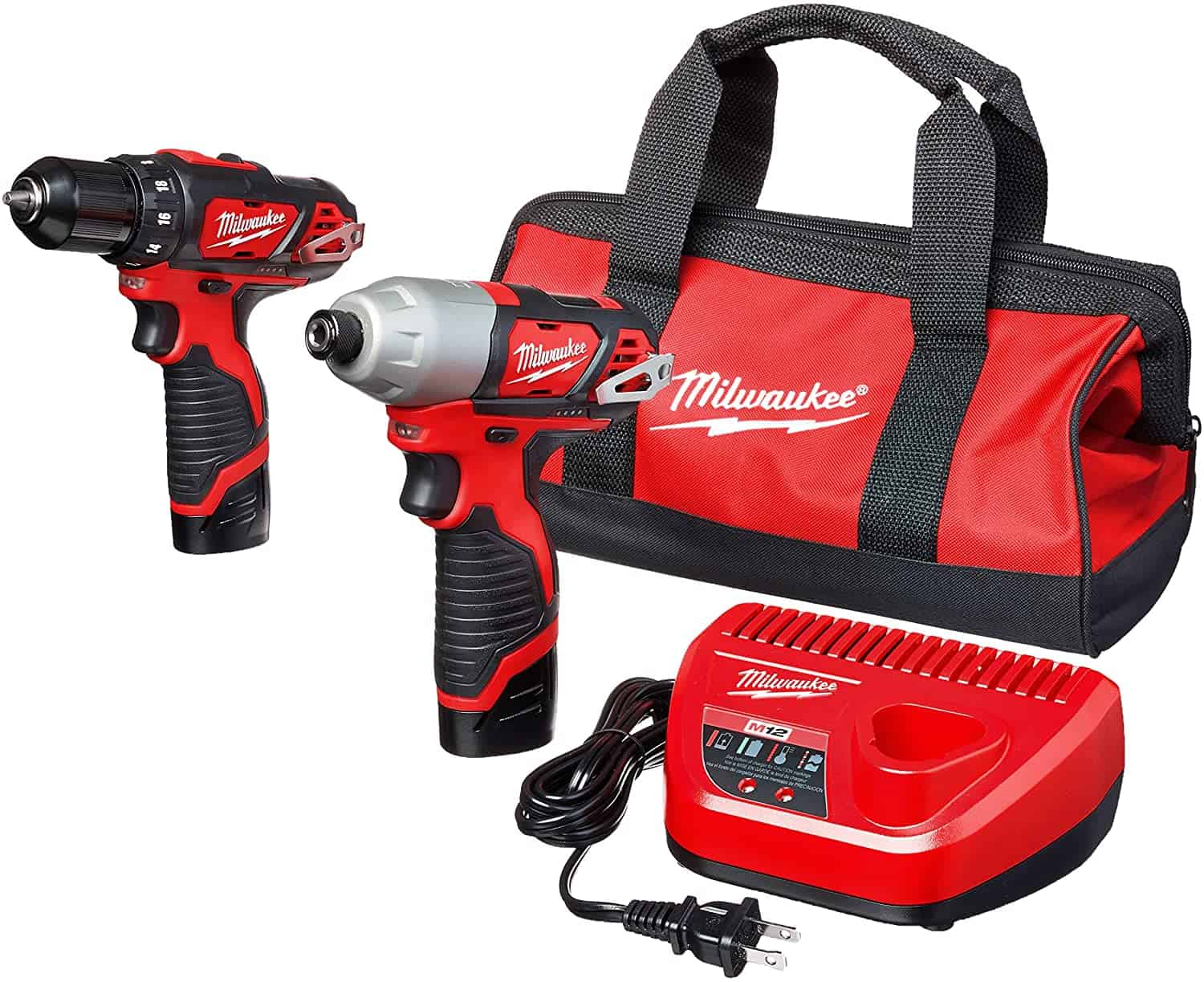 Best features
Very few products in the market have an intelligent battery maintenance system as this Milwaukee 2494-22 M12 impact driver.
RedLink li-ion intelligence system precisely controls the current flow from the battery which resists the impact driver from heating. These batteries also show the remaining power through a fuel gauge.
The powerful motor can generate 1000 in.-lbs torque with 2500 rpm revolving rate which is perfect for every kind of semi-heavy work such as mild drilling through concrete and stone, metal fastening, car-working, etc.
It also lets you control the speed in 20 clutch positions.
You don't have to worry about a slippery hand or palm-sweating either as the deeply textured handle helps you clutch the driver firmly. You can also hang this driver using the metal clip to get quick access.
It also comes with a big clothed carry bag which makes carrying it everywhere so much more convenient.
Drawbacks
This single LED light is not strong enough to illuminate perfectly.
The plastic body seems quite weak and fragile.
Best impact driver for home use: JCB Tools 12V Power Tool Kit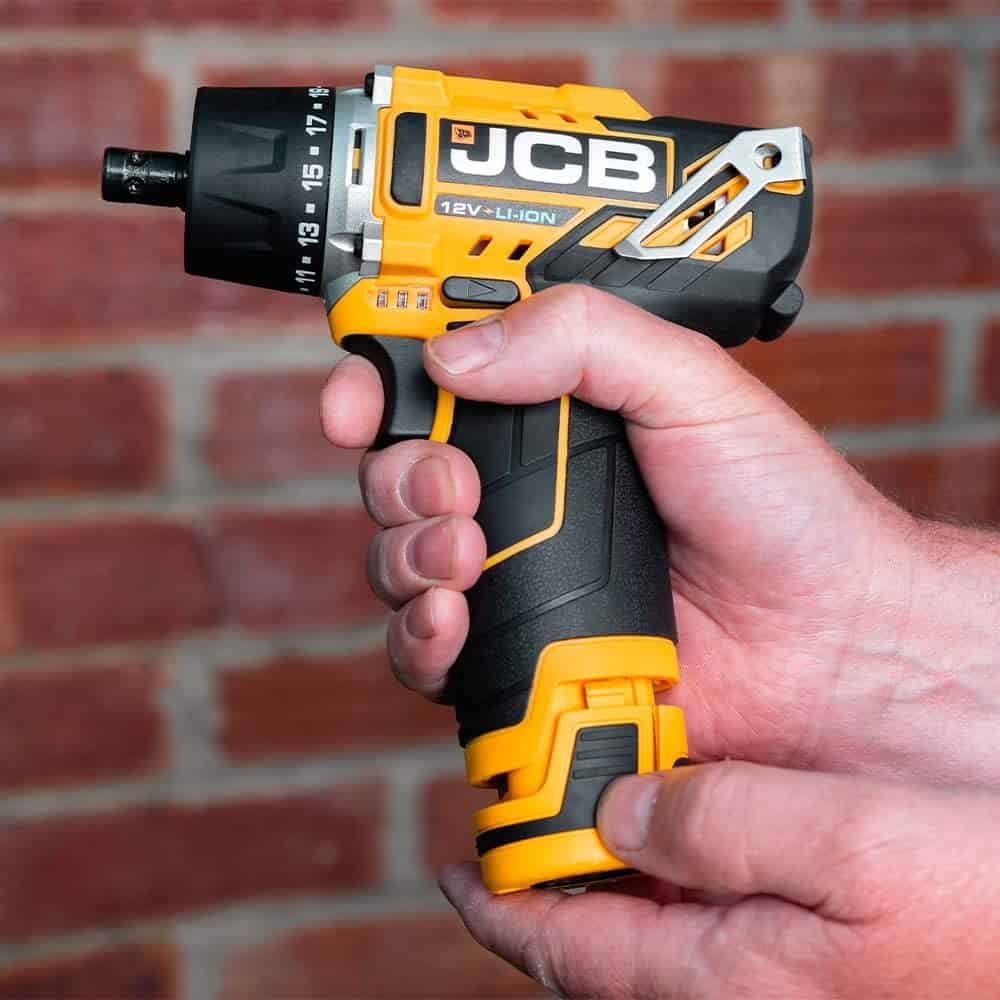 Best features
This JCB tools kit comes with a JCB-12TPK-15 drill driver and an impact driver with a 90Nm torque that works well on medium bolts, fasten metals, mild drilling, etc.
The item weighs only 5.49 pounds and comes with 1.5 Ah Li-ion batteries and a 12V battery charge. Li-ion batteries ensure a fade-free power supply with a fast charging feature for maximum efficiency.
This impact driver comes in a kit that includes a compatible charger, battery, and a removable chuck that can be replaced easily.
On top of all these features, JCB also provides a one year back to base guarantee to ensure proper service and a better experience in using the product.
Drawbacks
Heavier compared to other brands.
Check prices and availability here
Best lightweight 12v impact driver: Makita DT03R1 12V Max CXT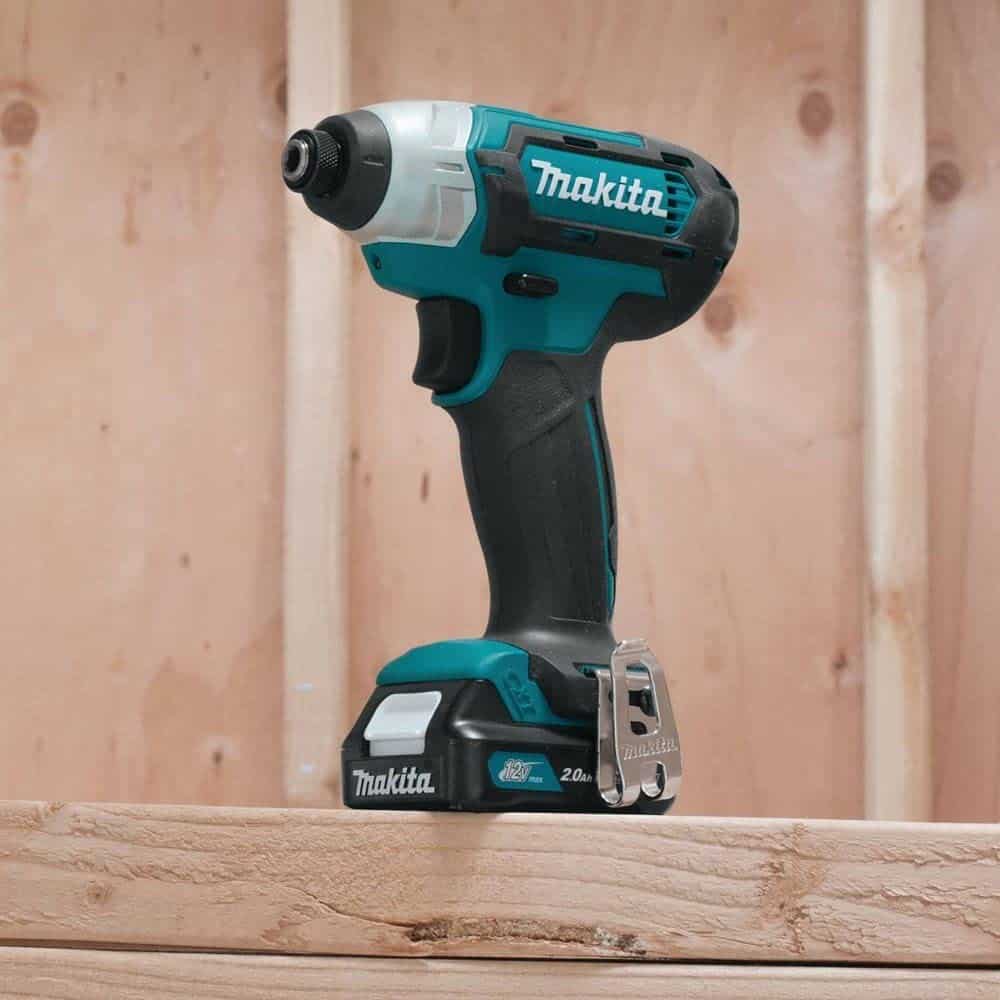 Best features
This Makita DT03Z cordless impact driver is empowered by a li-ion battery of a capacity of 2 Ah allows you to use the driver for more than an hour with a single charge.
Makita also has a 4 Ah battery variant for professional users. The inclusion of the battery protection circuit resists over current flow and saves both the battery and driver.
It has a revolution rate of 2600 rpm with a torque of 970 in.-lbs which is slightly low, but enough for twisting long screws, mild drilling, small bolt fastening, etc. It also offers a variable speed feature.
The batteries are incredibly small and lightweight which makes the whole device weigh only 2.3 lbs allowing for a long-time usage without causing any fatigue.
You can also keep this tool attached to your waist belt strongly using the metal clip.
Drawbacks
The handle is not quite suitable for sweaty or slippery hands.
Body build quality seems cheaper compared to its competitors.
The kit doesn't include a charger and batteries.
FAQs 12v impact drivers
Can drill bits be used with impact drivers?
No, impact driver bits are usually hex shank shaped and the diameter is certain. So, there are different bits for impact drivers in the market.
You can't use drill bits directly in impact drivers unless you use a proper adapter that accommodates both ends. A magnetic bit holder is the best solution.
Is the usual motor replaceable with a brushless motor?
It's impossible to replace the usual motor with a brushless one. This is because brushless motors have different sizes and battery requirements.
So, the impact driver may not accommodate the brushless one or match the requirements of the pre-installed motor.
Is the clamp of the shank changeable to accommodate different-sized shanks?
You can't change the clamp nor the size of the clamp.
But you can buy adapters from the market. With adapter sockets, you will be able to use a ¼ inch shank in a ½ inch clamp.
Can impact drivers be a replacement for electric drills?
Electric drills are specially designed to make holes in concrete walls, woods, non-iron metals, and other hard objects. While impact drivers are designed to fasten metal and wood objects.
Impact drivers can be used with slim drill bits but they won't work on hard objects as well as an electric drill would.
Final words
12V Impact drivers come with better portability, lightweight design, and admirable output power. But there are variations of design and features that fit different types of jobs.
Bosch PS41-2A and Ridgid R82230N Impact Drivers are best for lightweight professional works because of their better portability with a rugged and compact design.
They also include brushed motors and are perfect for all kinds of household work such as fastening screws, mild drilling, tightening bolts, etc.
If you need a compact, heavy-duty and professional impact driver, then DEWALT DCF815S2 is probably the best choice for you. The motor generates 1400 in.-lbs which is enough for metal, car, and concrete works.
Moreover, if you have greater torque and speed requirements, then a brushless motor impact may be the best fit for your job.
Also check out my post reviewing the top 7 best drywall screwguns on the market
I'm Joost Nusselder, the founder of Tools Doctor, content marketer, and dad. I love trying out new equipment, and together with my team I've been creating in-depth blog articles since 2016 to help loyal readers with tools & crafting tips.