I love creating free content full of tips for my readers, you. I don't accept paid sponsorships, my opinion is my own, but if you find my recommendations helpful and you end up buying something you like through one of my links, I could earn a commission at no extra cost to you.
Learn more
Not finding the right nut driver at the right moment will surely drive you nuts. It cages that tinker bell in you. The best nut driver sets are like the final piece of the puzzle for your workshop or array of tools you have in your garage.
Thickening that beeline between those claimed to be the best nut driver sets in the market is essential. It's essential since these lacks any complex mechanism or electronics. It all boils down to durability and more importantly ergonomics.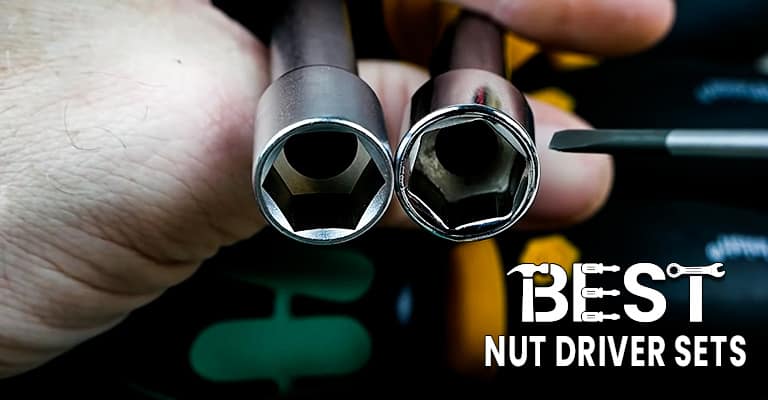 Nut Driver Set buying guide
Found out a handful of aspects you need to keep in mind as you look for the top nut driver set available in the market. Let's encounter them, shan't we?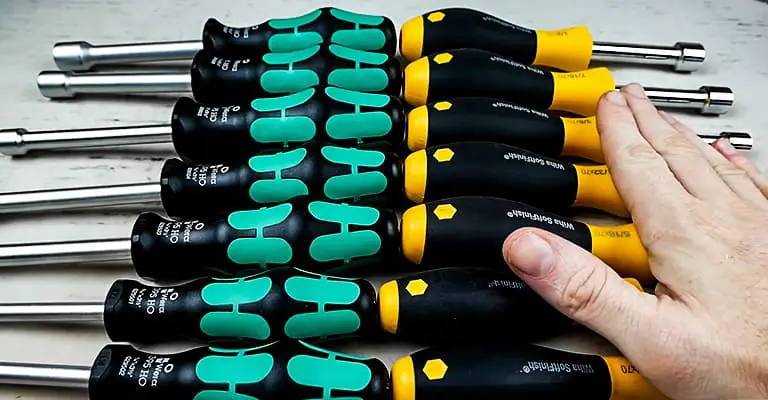 Build Quality
The ones you should be looking for are constructed with high-quality chrome vanadium or chrome molybdenum vanadium. All the nut drivers have a similar-looking face but they are different in build quality. You need to select the driver sets that are tough & provide heavy-duty performance. So be careful while choosing & always see the material first.
Corrosion-free
A little plating on the body of the nut driver set prevents any sort of corrosion on the body. This saves the whole nut driver from having to fall apart due to rusting and erode any portion. Chrome plating and phosphate coating offer good protection.
Hollow Shank
The shanks of the nut drivers these days are forged and come with full hollowness, from tip to butt. As they are forged steel, no compromisation with durability is there yet lowers the overall weight of the metal chunk. Plus the whole nut driver is a one-piece metal with least variation of homogeneity.
Handle
As far as nut driver handles are concerned, taking major concerns on grips, flanges and butts can lead you to a versatile product. And in the list, the aid of color-coding comes right next.
Grip
Among the grip handles available the vinyl ones are well eulogized. Ergonomically designed cushion grip handles have a good grip & will give you extra torque to work with. In their case, the ones whose shanks are well connected up to strongly built butts are really great for hammering purpose
Cellulose acetate handles are transparent and strong enough for almost all tasks. But they do not allow much hammering at buts if needed as the crystal handle would crack at excessive force impulse. But they come with ridges and furrows to offer nice control.
Flanges
Flanges are not always available but may mean a lot in terms of control and durability. They hold the handle and the shank firmly in place and tackle a good portion of torsion when tightening or loosening a tight nut. Cellulose acetate ones are better in action.
Color-Coded
It is not essential for your nut driver to be color-coded if you spend your effort with single or a few types of nuts. But often we deal with a large number of them and that's why we're here for nut driver sets. Colored codes are found both longitudinally on the surface of the handles, on the butts and/or often near the tip.
Magnetic Tip
This is not a necessity but it certainly is an advantage to your side. If you have a magnetic tip for your nut driver set, then you rest assured that the nuts are not going to go anywhere if you accidentally uproot them fast.
But this facilitation may not be available for all brands. If your choice of brand has this, then kudos to them but then you don't need to worry about it unless you need to deal with a lot of bits for tiny nuts. You can go for a magnetic bit holder separately.
Perfect Sizes
You can have 5 to 60 different sizes in your nut driver set and that's the scenario of the market, but the sizes are not matching your needs then it is of no use. covering a range from 3/16  inch to ½ inch or 5 mm to 12 mm would be a nice coverage
Look for the common, standard sizes in the industry level that you would be most likely working with. You may need a particular set for once in a while yet having bits of both inches and mm sized ones are the universal demand mitigation.
Case
Stackable cases are recommended for users having other such cases and boxes. You can carry them all together. But if the top cover is brittle there'll remain a threat to the smaller driver bits. Strong plastic straps to store driver bits is essential to look for.
Inner blow molded cases have no alternative when you are heading for nut driver bits set. You can even select the right sizes faster by just seeing the position in which it is put.
Best Nut Driver Sets reviewed
Here are some of the top branded nut driver sets available in the market for you to see through. Their pros & cons are organized in such a manner that you will find jolly.
1. DEWALT Screwdriver Bit Set with Nut Drivers
Stand out for
If you are looking for a complete nut driver set, then the DEWALT screwdriver set will be the grand choice for you. They have not skipped a single size & the whole unit is organized according to that.
High-quality Chore Vanadium gives the whole unit a sturdy feel as well as making it durable. Loosening of the head of nuts is not an issue for DEWALT as there is a quick-release action to completely insert the head.
You can loosen or tighten a nut quickly as the teeth of the driver click quickly & with minimal movement you can do your job.
The best feature of the whole unit would be the case that comes with the unit. All the pieces of the set are organized inside the case in orderly fashion & the lid of the case is only millimeters away from the top of the tools, so scattering of the pieces is avoided. The case can also be used for other tools & is very much secure.
The Driver is equipped with a vinyl multi-grip that gives you a better grip with your hand. The socket sizes are all metric standard & readable to recognize them.
Cons
There are a lot of sizes that you won't be needing for your job, so you are just carrying extra things for no reason.
The extension is also a bit short.
2. Klein Tools 646M Nut Driver Set
Stand out for
Whenever it comes to professional tools Klein is a household name in this regard. With over 160 years of tool making experience & customer satisfaction, their color code magnetic nut driver set is one of the best in the market. The whole unit includes two nut drivers Cat. No. 646-1/4M and 646-5/16M.
It has a hollow shaft design for various bolt applications & color-coded body for easy identification with your eyes.  There are internal flanges inside to provide a greater twist-resistant shank anchor. Only the most commonly used nut drivers are included here in the unit.
They have also given cushion grip handles for your satisfaction. It will allow you to apply greater torque with comfort. This one is perfect for a long bolt or remote applications for its lengthy body.
Metallic Tips on the head of the driver that gives a great touch to your workings. You won't lose a bolt at all.
Cons
Many have reported about the durability of the product. The manufacturer gives only a 1-year warranty that cannot give relief from this tension.
It is said to give out dents.
The handle is also a bit short for some users.
3. Tacklife Nut Driver Bit Sets
Stand out for
Tacklife leaves out no details when it comes to their professional-grade tools. Their 20 pc Nut Driver master kit is forged from high-quality chrome vanadium steel. High-temperature quenching & heat treatment gives it greater durability & high torque performance.
One of the top features is that the fast-changing, these hex shanks can quickly fit or release. Not only that but despite the quick-changing feature it also makes locking to ensure proper safety.
Universal ¼" Hex shank is the main reason for the nut drivers for a wide range of variations for quick change chucks & screwdrivers. 10 pc power nut drivers are enough for different DIY, automobile, woodworking & repairing jobs. The nut drivers are corrosion resistant so you won't need to worry about that.
Two plastic strips come along the kit. These strips are pocket-sized & can easily be carried around, even in a toolbox. With a wide range of applications, the Tacklife nut driver set is even applicable for mechanical maintenance & 3D printers.
Cons
The nut drivers do not have any size indication on them or the strip, so you need to try them on for being sure. This can be confusing & also annoying at times.
Metallic tips are absent from these drivers too.
No products found.
4. Neiko 10250A Magnetic Hex Nut Driver Master Kit
Stand out for
Neiko has introduced a 12 piece set for their Nut Driver set. Every piece is constructed from high-quality chrome vanadium steel that provides extra durability to its structure & a black phosphate coating prevents any sort of corrosion. So you can be assured about the build quality of this tool.
There is an option for the users to use Magnetic Nut setter with driver or hex socket so that you can grab those small nuts easily & even use it for easy installation.
The lobular design gives a better grab of the nuts by the edges for the head fasteners. This kind of design prevents any type of stripping. It is also equipped with a 1/4 inch hex shank that even fits drills. The magnetic base helps in quick installation.
Both metric & SAE sizes are introduced in the driver set. The engravings of the size are very easy to spot with the naked eye.
As a bonus, you will get heavy duty and a high quality molded case that will be a great relief to keep all the parts organized. This is also helpful to transport in between working areas keeping all the tools neat and uncluttered.
Cons
There are multiple reports that the magnets fall off after just using a few times.  Either then this is a neat set.
5. Klein Tools 647M Nut Driver Set
Stand out for
We have stumbled on to another Klein tool. The whole unit of the Klein 647M Nut driver set consists of 7 different pieces that are constructed of chrome plate & hollow shaft design helps prevent any sort of corrosion. The 3/16-Inch one is the only exception that is used in long bolt applications.
Hollow shank allows the drivers to be in full contact with the nuts. Internal flanges are also present that give you better torque as well as twist-resistant shaft anchors. The cushion grips are also offering the users greater comfort for handling nuts & greater torque too.
Users don't need to worry about any nuts getting as there are rare earth magnets present on the tips. Color-coded handles help you in identifying the right one in a quick time. Overall the Klein tools give a professional-grade performance to satisfy each and every user.
Cons
This nut driver is tough & has a nice build quality but the downside of these tools is that the magnet comes off very soon after just a few uses.
 Sometimes the magnet dust and particles stuck inside the driver set that creates resistance to the working flow.
6. Klein Tools 631 Nut Drivers Set
Stand out for
The Klein 631 Nut driver set consists of 7 pieces with a variety of common sizes that comes in handy. They have a 3-inch full hollow shaft too. These hollow shafts work on long bolts. The full driver set is corrosion resistant chrome plated.
There are internal flanges that allow an anti resistant blade anchor so that it doesn't break off. The comfortable cushion grip handles will provide greater torque in every use. You don't need to worry about any sort of slippage while working.
The whole unit is color-coded so that you can easily identify the nut drivers by just the tip ident. There is a version of this same model that comes with rare earth magnetic tips that come in very handy in some cases. Overall this is a reliable tool that comes in all common sizes.
The yellow and black combination will surely give you astonishing feelings. the manufacturers are giving a lifetime warranty that also reminds you how much they are confident about their product.
Cons
There should be some additional sizes as the smaller sizes of this tool is reported to be not as useful as they don't fit the nuts.
The magnetic tips also seem to come off.
7. KC PROFESSIONAL 97297 Hollow-shaft Nut Driver Set
Stand out for
KC Professional has an attractive nut driver set containing 7 pieces of nut drivers. They all have a metric system engraving on them for clear size identification. But that might not be an issue as all of the tools can be separable by just seeing their color codes.
They are constructed of strong and durable raw materials for ensuring superb build quality. Finest machining processes are used to ensure the best possible quality of the product.
State of the art forging techniques has been applied here for better performance. That is why there is a lifetime warranty coming with the product for the convenience of the users.
Cellulose acetate handle gripping is provided by the manufacturer. The diameter of the handle, as well as the length of the handle (4 inches), is decent, so any person can hold it comfortably. The manufacturer provides a hollow shaft that is ½ inch into the inner side.
Cons
The hollowness of the shaft is low, as a result, the user got a little trouble.
The grip seems to slip a lot from the hand. You need to be careful with the grip.
FAQ
Here are some frequently asked questions and their answers.
What is a 7/16 nut driver?
3-Inch hollow shaft works well on long bolts and studs. 7/16-Inch hex driver is premium chrome-plated to resist corrosion. Brown color-coded cushion grip handles for greater comfort. … Cushion-Grip handle allows for greater torque and comfort. Tip-Ident quickly identifies nut driver and size.
How do you clean a magnetic nut driver?
What is a drill nut driver?
BUY NOW. DeWalt. What it is: Often called a drill/driver. It's a battery-powered hole maker and a fastener driver for screws, nuts and small bolts. It's equipped with a clutch that disengages the drill's drivetrain when the tool reaches a specified amount of torque (turning force).
How do you use a nut driver?
Should I buy a drill or impact driver?
Do You Need an Impact Driver? If you need to drill holes and drive the occasional medium-sized screw, a regular drill will suit you fine. If you've got a deck to build, a plywood subfloor to install, a tree house to screw together or any other job involving lots of wood screws, consider investing in an impact driver.
What do you use a nut driver for?
A nut driver is a tool for tightening nuts and bolts. It essentially consists of a socket attached to a shaft and cylindrical handle and is similar in appearance and use to a screwdriver. They generally have a hollow shaft to accommodate a shank onto which a nut is threaded.
What can I use if I don't have a nut driver?
Two coins. Who would think that money can be used as a makeshift tool? Take two large coins (2 pence coins work perfectly for this) and place them on either side of the nut. Grip the coins between the knuckles of your index and middle fingers for extra grip and twist in the direction needed to loosen the nut.
Which hand tools are also known as nut drivers?
¡ Hex driver – sometimes called a nut driver, is used to tighten nuts in the same way that a screwdriver tightens screws.
What is a 1/4 inch hex driver?
They feature strong Rare Earth magnets that provide maximum holding power. … 1/4-Inch hex driver has strong rare-earth magnets for firm holding. Standard 1/4-Inch hex shank compatible with a variety of drills.
Who invented the nut driver?
When Kristin Ann Hrabar was just nine years old, she had a simple idea for a device that solved a common problem. Her father asked her to hold a flashlight over a tight space that he was working in while he fixed a household item with a screwdriver.
Can you sleep with magnetic eyelashes?
How Long Can You Leave Magnetic Eyelashes on? It's recommended to take off your magnetic lashes before you go to sleep. However, they can be worn for 10 hours. They're reusable, so they will last as long as you care for them properly.
Q; Are magnetic tipped nut drivers more expensive than the regular ones?
Ans: The value of the magnetic tip nut drivers does not differ that much from the regular nut drivers. But using magnetic ones has a lot of advantages. The main difference in the price constitutes in the build quality & material of the nut driver. Try to aim for magnetic tips as it gives you extra advantages.
Q: Do all nut drivers have hallowed shanks?
Ans: Almost all the nut drivers these days use hollow shank techniques to bring off nuts. This technique requires the head of the nut fitting the tip of the nut driver. Quite similar to tap and die sets.
Q: Is it necessary to have a lot of sizes for a nut driver set?
Ans: Not necessarily all kinds of sizes. There are common sizes for the nut around the machinery industry. You have to look for those common or standard sizes in your nut driver set. But if you are working with nuts that are uncommon, then you need to find the right-sized nut driver for them. In straight words, see what you are working with. Then determine what size nut driver you need.
Q: Are these nut drivers reason for any kind of danger?
Ans: If you are wondering if any danger is coming from a nut driver set, then there is a choking hazard warning for you. There are small nut drivers. Kids will pick one up & put them in their mouths. This may cause a huge choking accident.
Conclusion
You must be thinking right now how a tool so simple has such confusions coming with it when it comes to purchasing them. Well, without proper research you should never purchase anything. But having an expert opinion is always assuring for any buyer.
If you are doing some professional-level work, then the best tool for you is the DEWALT Nut Driver set. The level of variety it brings along with an organized case. Klein 647M might just be the next best thing as it covers all the standard sizes you may require with an excellent durability level.
The final verdict always goes to you as you will be needing to put your needs & priorities first. Having the proper knowledge of all the aspects of the tool is the key to choosing the best nut driver sets. Analyze all the sides for making a proper choice.
I'm Joost Nusselder, the founder of Tools Doctor, content marketer, and dad. I love trying out new equipment, and together with my team I've been creating in-depth blog articles since 2016 to help loyal readers with tools & crafting tips.