I love creating free content full of tips for my readers, you. I don't accept paid sponsorships, my opinion is my own, but if you find my recommendations helpful and you end up buying something you like through one of my links, I could earn a commission at no extra cost to you.
Learn more
Tools for professional woodworking are at an all-time high, and they're just going to become better. In fact, today's miter saw would have been a sight to see 50 years ago. Over the years, we've used a slew of different saw supports for perfect woodworking.
Miter saws don't require a stand, technically speaking. However, in the absence of a designated frame, you'll have to improvise, which may waste plenty of your time. Therefore, we're here with the five best portable miter saw stand that refuses to let you down.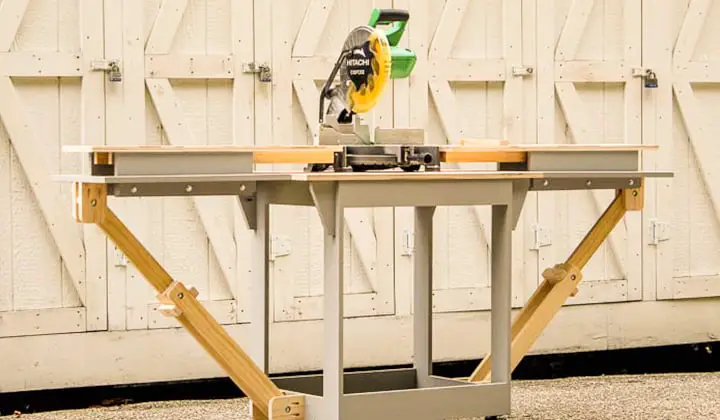 The challenges associated with the stand come with the setup. For example, finding the appropriate spot to put your saw is tricky. Hence, we have a few suggestions that may help curb your confusion.
5 Best Portable Miter Saw Stand Reviews
Making the search process simpler includes streamlining the choices and selecting the best product. If you want to save yourself time and work, here are five units you may want to look at while purchasing.
DEWALT Miter Saw Stand With Wheels (DWX726)
One of the most well-known developers on our list has created a stunning piece of industrial design that you cannot say no to. Here's a stand that's both inexpensive and sturdy enough to meet your needs.
Having a solid platform that can withstand a maximum weight capacity of 300lbs is possible by the tubular steel structure. While not a world record holder, this is a genuine heavy-duty saw stand worth considering.
Additionally, this is one of the finest miter saw stands featuring wheels, which ensures simple portability. Besides, moving it about your worksite is a breeze because of its large rubber grip wheels.
To top it all off, it's compatible with most current miter saws and comes equipped with pneumatic altitude adjustment. In terms of portability, this stand is the most convenient to assemble, fold, and transport. Moreover, to fit almost any miter saw, the mounting rails may be readily adjusted.
Furthermore, the compact vertical storage solution is incredibly handy to enhance workplace productivity and simplicity of transportation. In fact, if you are keen on making the purchase, the all-black outlook with an orange bottom is a striking contrast, mainly if you're working outdoors in a sunny location.
| | |
| --- | --- |
| Weight | 25 pounds |
| Dimensions | 60 x 17 x 10 |
| Color | Yellow |
| Power Source | Corded-electric |
| Warranty  | 3 Year |
Coming from one of the most sought-after brands in the power tools industry, DeWalt has successfully made a name for itself, known mainly for its reliability, durability, and performance, thus making this a purchase that you'd never go wrong on.
When focusing on the durability end, the stand use's some of the best materials instore, using a solid tubular steel structure to design the frame. So, the stand should handle a maximum load of 300lbs, although this weight is along with the milter saw itself, so you might expect a bit less material weight. 
The stand also provides some extreme level of convenience; the railings on the stand quite snugly fit into the required railing slots; once mounted, the miter saw can be simply slid from one end of the stand to another, letting you adjust the length to cut accordingly.
Moreover, the stand can slide into three positions, using a 3-position pneumatic bar assist, letting you to quickly set up the device, while it is easy to set up it is also easy to store, the machine can fold up vertically and barely take up any space at your garage.
You're also getting a set of really great rolling wheels, allowing you to move around the construction site, whereas you'd have to drag around the machine. All this, however, comes at a fairly steep price, which in this case is the only drawback in what could have been an exceptionally great product.
Highlighted Features
It can hold a maximum of 300lbs.
Wide flouring to better
The rugged design allowed for better durability
Comes with a fair set of wheels
Provides 8ft of material support
Pros
A robust tubular steel framework
It has a load capacity of 300 pounds
Assists in lifting and lowering using pneumatic assistance
Mounting rails are simple to modify
Wide, rubber-coated wheels that are easier to control
Cons
Trouble with folding the stand
Setting it up for the first time might be a little tricky
Verdict
Considering the portable feature of the stand, this one, in particular, is quite straightforward to work with. However, it may not be the ideal option for novices since it may be a little difficult to install at first. Check prices here
BORA Portamate PM-4000 – Heavy Duty Folding Miter Saw Stand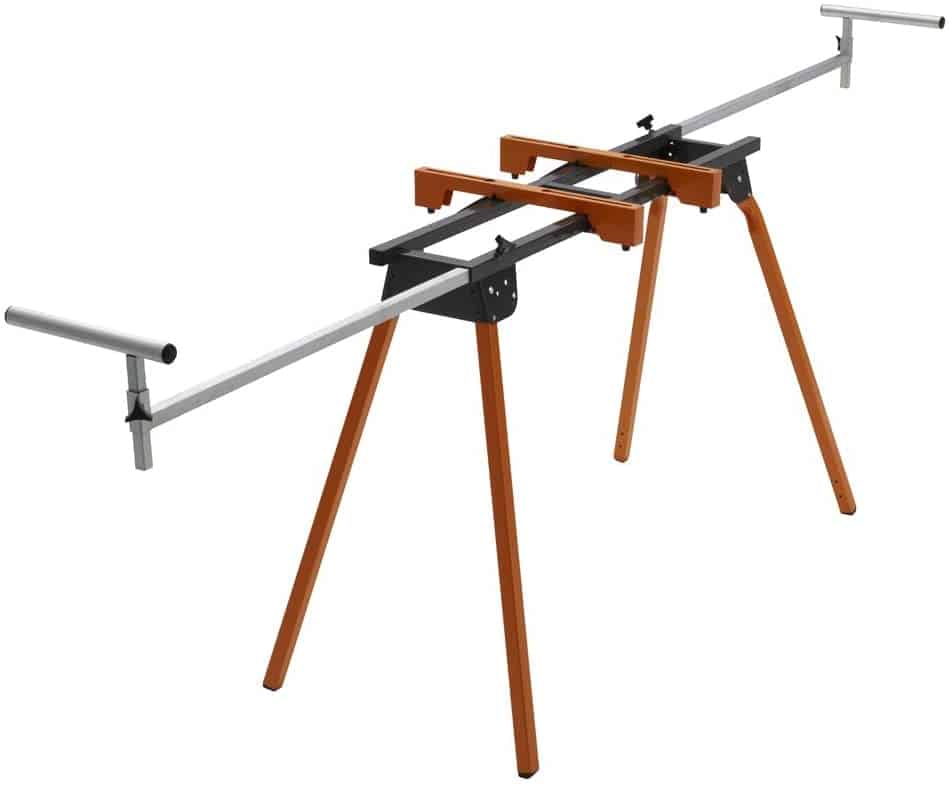 If you're looking for the most excellent portable miter saw stand, this is it! And speaking from a personal perspective, this option seems more straightforward to use than the prior one. Most importantly, this stand has a tubular steel frame that's built to withstand the weight of your saw.
A maximum weight capacity of 500 lbs. is supported by this sturdy piece of equipment. Any saw less than or equal to the length of 12 inches is perfectly compatible with this stand in question.
In addition, it has a powder-coated surface that protects it against water damage. Subsequently, with an overall weight of 30 pounds, carrying the equipment around is just a walk in the park!
The lightweight feature is much more critical since the stand is collapsible. And to put it simply, this portable stand gets you the bang for the buck as the legs fold rather easily. When it comes to versatility, we can't overlook the 116-inch-long material support capacity.
It doesn't have an extra degree of freedom, but 36 inches should be plenty for most people to work on with the stand comfortably. Despite the model's simplicity, additional mounting options are available to enhance its compatibility. In fact, swift-attach saw mounts allow you to attach your miter saw with ease quickly.
| | |
| --- | --- |
| Weight | 30.2 pounds |
| Dimensions | 44 x 10 x 6.5 |
| Color | Orange |
| Material | Steel |
| Warranty  | 1 YEAR |
If you're looking for something far sleeker and more convenient, you may want to take a glance at the PM-4000; a minimalistic concept focusing more on functionality and performance. So, you can get your job done just right, without having to pay a premium price, and also by getting the value for your money.
The Portamate PM-4000 is a device built on practicality, the frames of the device are created using tubular steel pipes, along with the rugged steel legs the equipment is designed to hold onto at least 500lbs. These frames are further finished with a powder coating, making them far more durable and resistant to scuffs and scratches.
One of the key features that help this device stand out is the convenience it allows; with an already lightweight frame, you can easily carry the frame from job to job. It's also fairly simple to set up and fold back the entire frame, using the folding legs and snap-in pins, with the added foldability feature to take up less space in storage.
While it is more convenient to use, the frame is also greatly compatible; with the frame, you're also getting a universal miter saw mount, allowing you to take up the biggest to the smallest of jobs. You can also find extra available tool mounts available at the store; these should give you the freedom to use the stand with most machines.
Moreover, the stand is ergonomically designed; with a 36inches of height, the frame of the device provides the perfect height for an average-sized worker, thus making them fairly comfortable. Also, the workers will be able to work more efficiently with better accuracy and stability.
Highlighted Features
Universal mount included 
Powder-coated tubular steel frame
500lbs weight limit 
Stable and sturdy design 
Lightweight and easy to store 
Pros
Durable despite the stand's lightweight construction
Weight capacity of up to 500 pounds
For storage and transit, it folds up conveniently
Sets of additional mounting hardware are available
Easily accessible 36-inch working height
Cons
There is no way to modify the height
As noted, alignments aren't quite what you'd expect
Verdict
If you're looking for a lightweight stand that can hold a hefty saw, this guy is here to do that for you. Even without wheels, transportation is a piece of cake! Overall, it's quite a handy stand to work with. Check prices here
WEN MSA330 Collapsible Rolling Miter Saw Stand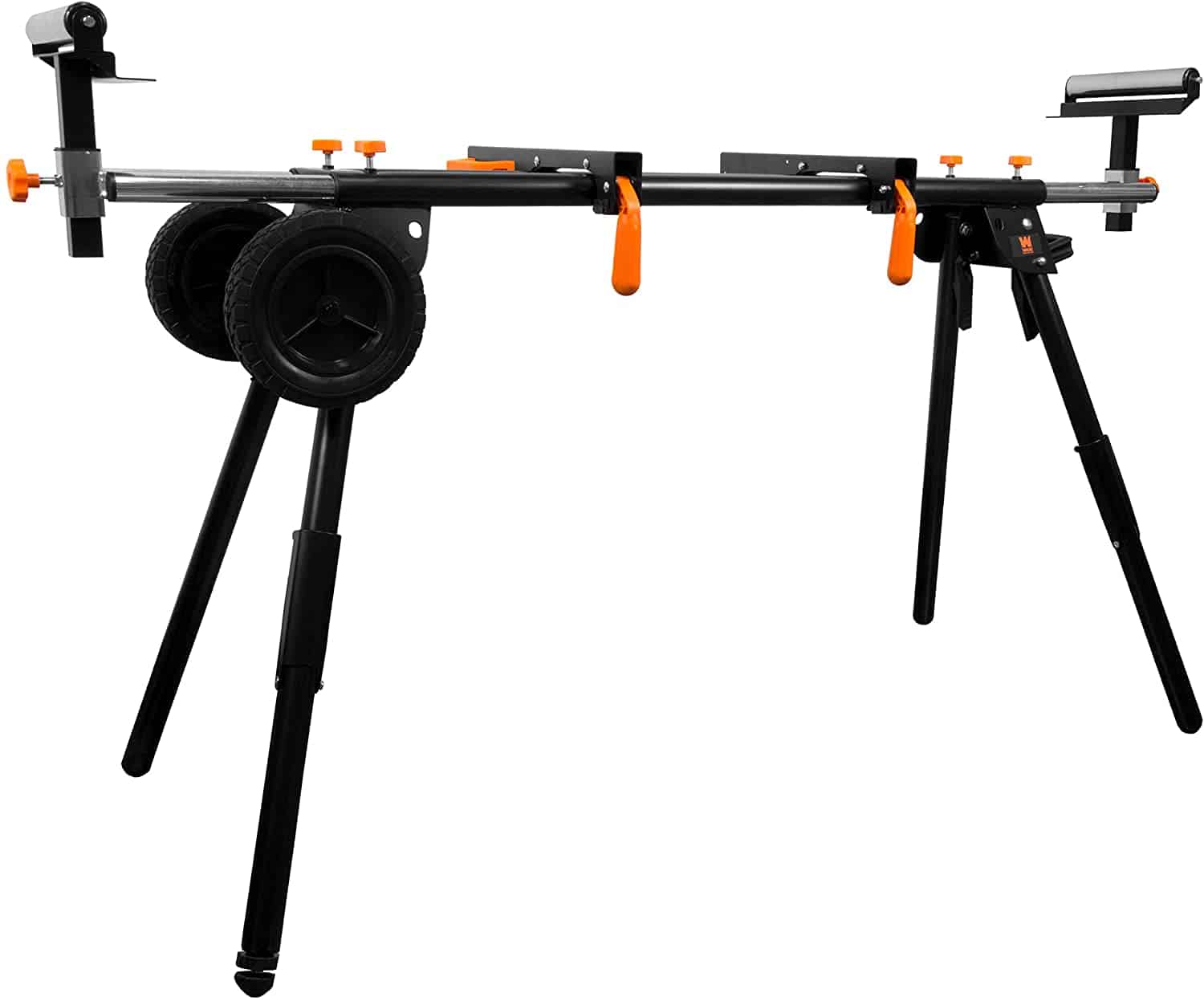 This option, in specific, is a whole workstation, not simply a display stand. At the price this equipment is available, you get more than you bargained for. You can effortlessly move the frame on the floor with the help of the two 8-inch wheels.
If anything, the foldable feature makes the equipment much easier to transport and carry around. More significantly, we could utilize miter saws that other stands failed to be compatible with, making this option a universal fit for all saws.
Predominantly, the powder-coating over the steel frame assures durability. Why is this option optimal for a workstation? Well, above all, the robust 1.5-inch steel frame raises your miter saw 33-inches, which is enough and to spare.
On top of that, this collapsible rolling miter saw stand allows you to hold planks up to 10.5 feet in length by extending the support arms from 32 to 79 inches. The inclusion of three onboard electrical outlets makes it a convenient choice.
Conversely, the stand looks quite fancy. Perhaps it is, but the equipment has all it takes a pair of height-adjustable rollers, a couple of brackets with an easy-to-use releasing mechanism, and an extension for two tables.
Pros
Three standard plugs are provided as an added convenience
In lieu of inferior ways, the wheels are secured to the solid shaft
Assembling the miter saw is straightforward and fast
Extension of the support arm is very convenient
Fits with virtually all miter saws
Cons
Extension bar makes it difficult to hold the stand's handle
Less than ideal for larger saws
Verdict
Please do not feel pressured to tell us that this is the finest rolling miter stand ever. It has a lot of great attributes and features at a reasonable price; thus, it works well. However, bigger saws may take a break with this one.
Makita WST06 Compact Folding Miter Saw Stand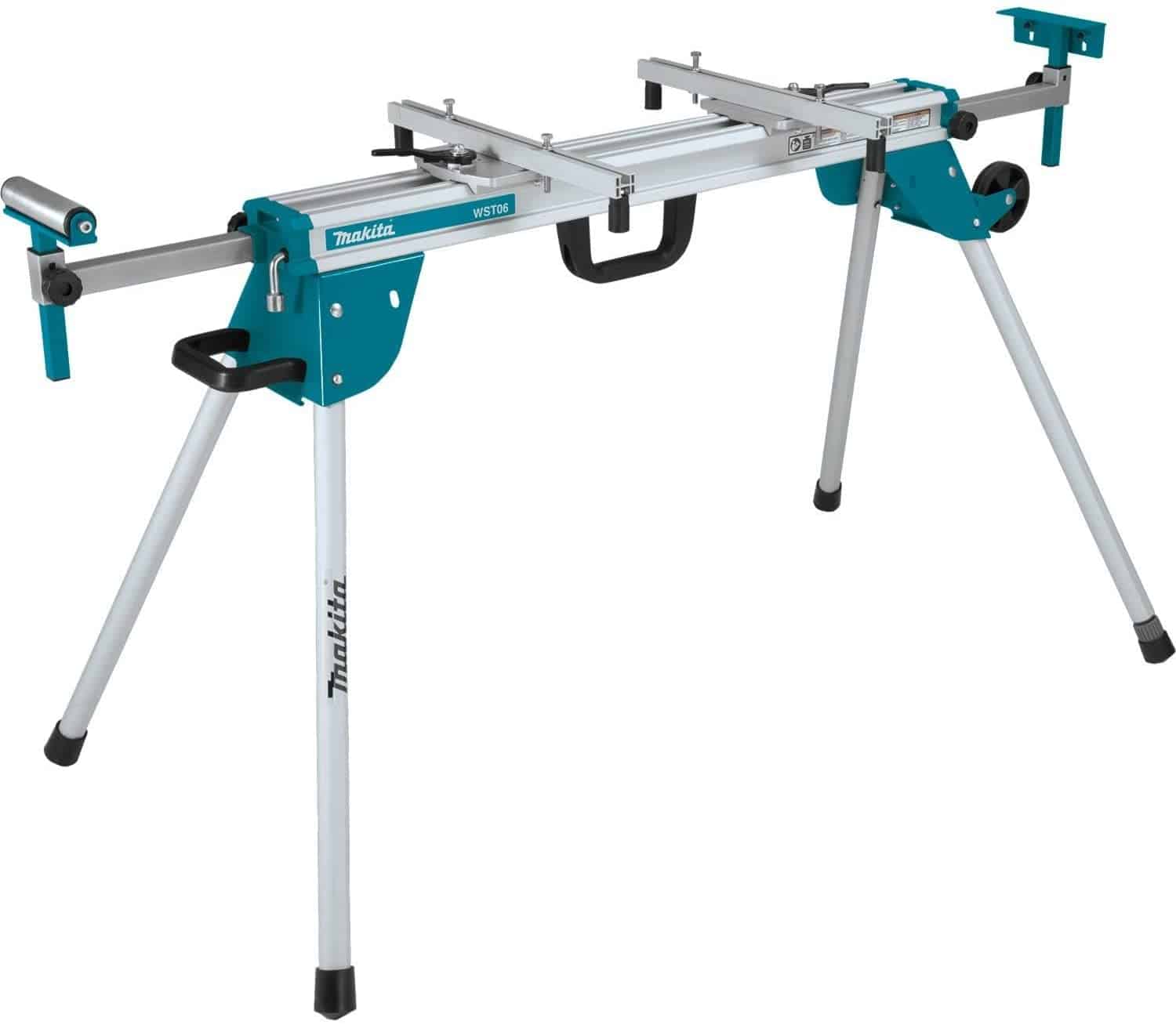 There is a fun tidbit about miter saws; they don't come with support. As it happens, this stand particularly gets the best result out of your cutting tool. This model is compact and lightweight, owing to its aluminum tubular structure, weighing just 33.7 lbs.
On the other hand, the saw and stand may be moved about the worksite thanks to the tool's wheels and a side handle. Additionally, this specific feature gives adaptability and a portable solution to allow for greater mobility.
Likewise, the stand has material extensions that may stretch up to 100.5 inches and hold a maximum weight of 500 pounds. One of the best features of this product is the robust aluminum feed roller and adjustable material stop.
As a result, you will have accelerated cutting speed. Moreover, the folding legs make this instrument simple to store and travel. You don't even need a tool to install or uninstall the saw from the miter saw bracket levers!
Most importantly, using the non-marring rubber foot gives a steady platform while you work. Not only that, the equipment's ergonomic grip makes it easy to grasp. A stand is an extra investment, but if you use your miter saw often, particularly on different job sites, it's an investment in your safety, dependability, and speed.
| | |
| --- | --- |
| Weight | 33 pounds |
| Dimensions | 45.28 x 29.53 x 33.46 |
| Color | Silver |
| Measurement  | Metric |
| Batteries | 1 A battery |
The Japanese have always had a knack for quality, by being one of the most disciplined and quality-focused countries in the world, they've been able to develop a good name for themselves for producing a durable and reliable product. In this case, Makita's WST06 takes a worthy advantage of this title.
While most stands feature a steel body, Makita has one-upped them, by using a tubular aluminum frame, the stand provides a higher support capacity than most other compact miter saw stands. With a weight limit of 500lbs, you'll be able to complete the heaviest amount of work without a hitch.
Moreover, the aluminum body also provides lightness to the stand, moreover, the compact size of it makes the stand a go-to device for working at varying locations. You're also getting a set of large solid rubber wheels; these can be used to transport the entire stand with the miter saw attached. 
Since we are on the topic of convenience, it's also necessary that we mention the "tool-less" system on the device, allowing you to adjust the rollers, install the legs, or even mount on or off the miter Saw without having to use a single tool.
Furthermore, the large miter saw mount allows the stand compatible with most saws; however, the company highly recommends you pair a Makita miter saw with the stand. Although, the price they're charging may seem a bit too much compared to the other products available in the market.
Highlighted Features
"Tool-less" adjustment and mounting system 
Can hold up to 500lbs
Aluminum Body 
Lightweight 
Compatible with most Miter Saws
Pros
Features a simple and compact construction
Effective repeating cuts are made possible by the tool's design
Instrument features large solid rubber wheels
Can withstand weights of up to 500 pounds
Miter saw is simple to install, adjust, and remove
Cons
There are limitations in the compatibility aspect
Absence of onboard electrical outlet
Verdict
Without a doubt, we can definitely shower this foldable stand with great feedback, considering the features associated with it. Because of its customizable structure and aluminum feed roller, it is possible to accomplish accurate cutting jobs.
BOSCH Portable Gravity-Rise Wheeled Miter Saw Stand T4B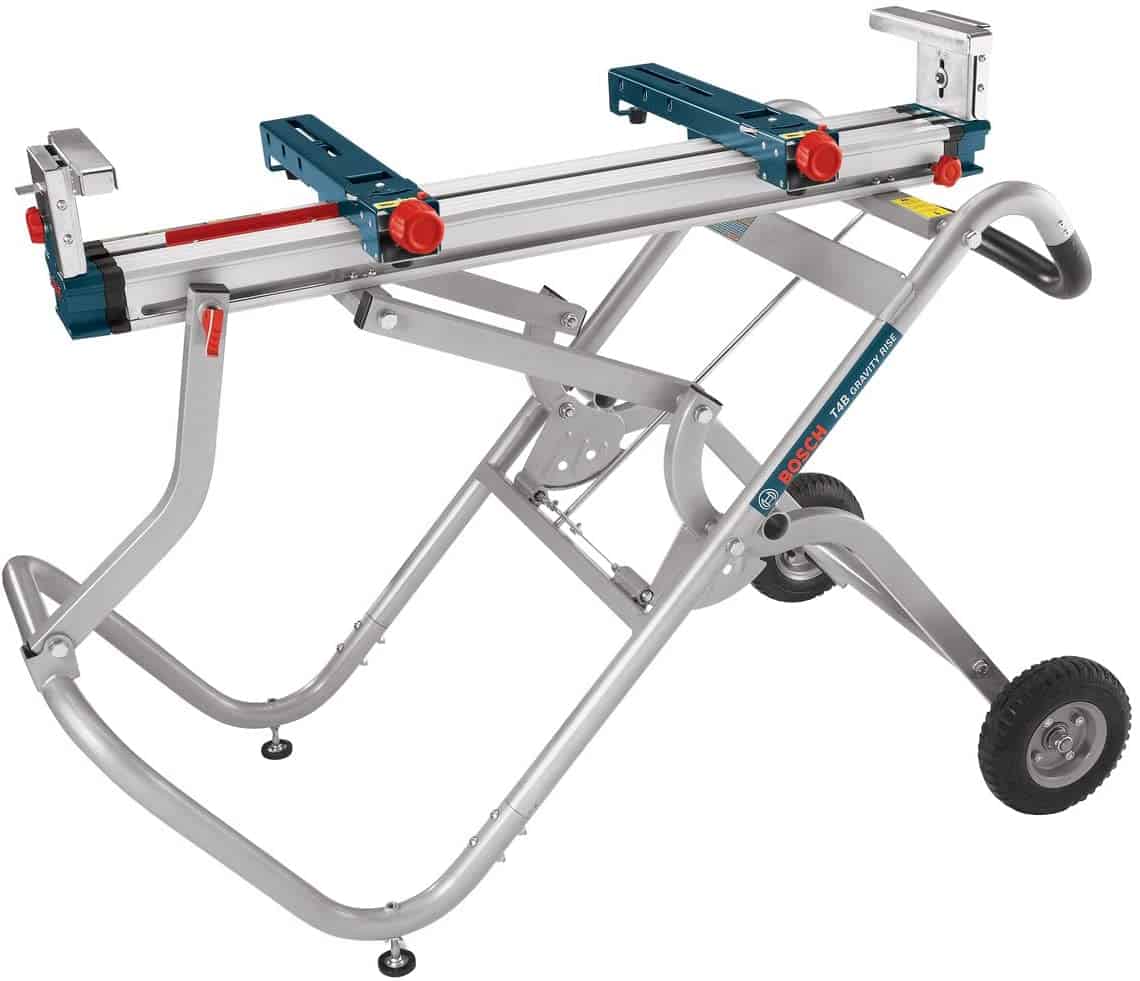 User feedback on this stand is overwhelmingly positive, with just a few minor gripes. Just like us, most users extolled the virtues of this option's durability, reliability, and craftsmanship.
First and foremost, high-quality steel construction and leveling feet ensure the stand's solidity and long-term use. Furthermore, because of its versatility, this stand is suitable for any kind of work environment. It's easy to transport, but its strong, heavy-duty design means it isn't one of the lightest stands on the market.
Additionally, the instrument is equipped with a manufacturer-patented Gravity-Rise System, which allows the user to fine-tune the saw's height. Assembling and dismantling this system is supposed to be quick and straightforward. Moreover, you will save both time and work.
In terms of material capacity, the stand has a maximum of 18ft, which happens to be the foremost capacity available on the market. Also included are eight-inch pneumatic wheels to ensure that you have no difficulty transporting it across uneven terrain on the work site if necessary.
With the fast-release tool mounts that come with this stand, you can use it with almost any miter saw on the market today. Consequently, there's also a 12-inch-high adjustable outfeed on this machine. We were especially impressed by its simple setup and wide compatibility.
| | |
| --- | --- |
| Weight | 76.7 pounds |
| Dimensions | 51.5 x 27.75 x 48.42 |
| Color | Gray |
| Power Source | Corded-electric |
| Warranty  | 1 year |
For those who've been fans of German engineering, Bosch isn't a name they'd be hearing for the first time. Bosch is one of the most prominent brands in the power tools industry makes the highest-grade equipment that performs at a level that is almost unattainable by others; in this case, the T4B is no stranger to these standards.
What stands out for the T4B is the patented Gravity-Rise system, the stand features, an exclusive system designed for quick setup, and even quicker and easy fold down. The gravity raise allows, cuts off excess setup times, and with the additional ability have the saw fitted at all times, so you're always ready to start working.
Made using some of the toughest materials, allows the stand to be able to hold up to 300lbs of material. Moreover, the extendable arms allow for a material capacity of 18ft to be fit onto the stand, so cutting up large wooden bars shouldn't be an issue. The adjustable leveling feet additionally provide an extra bump of stability and sturdiness.
The T4B is also equipped with a universal mount, contributing to the compatibility of the stand, it allows you to attach any miter saw onto the stand regardless of its origin. So, you have a wider palate available when it comes to choosing the saw you'll want to use.
In the scale of convenience, Bosch has not left any trick untouched; the 8″ pneumatic wheels allow you to carry the entire stand with the saw to any location. However, the only problem we can point at is the price; at over $300, the device fails to give you that bang for the buck experience.
Highlighted Features
Patented Gravity rise technology
Comes with a universal mount 
Includes 8" Pneumatic wheels 
Holds up to 18ft of material length
Adjustable leveling feet for greater stability 
Pros
A sturdy steel frame
A universal mounting system is included
Adjustable balancing foot for added stability on rough terrain
Gravity Rise System engineered for ease of installation
Rubber wheels incorporated into the frame
Cons
Compared to other stands, this one weighs more
Not an inexpensive option
Verdict 
Because it's heavy-duty, has features that make it simple to operate your miter saw, and requires an investment, we would classify this as a premium stand for your portable miter saw. Don't hesitate to get the stand if you don't mind paying a few hundred more.
Evolution Power Tools EVOMS1 Compact Folding Miter Saw Stand
| | |
| --- | --- |
| Weight | 34 pounds |
| Dimensions | 70.87 x 43.31 x 29.53 |
| Color | Black |
| Measurement | Metric |
| Warranty  | 3 Year |
In the market for a compact fix, or something that fits into the trunk of your car? If that is what you need, then the EVOMS1 is the perfect fit for you. It may be shorter than most other stands. However, the company in no way compromises the quality and reliability of the device.
Made using the best in the class material, the stand features tubular steel frames; these are graded to be able to hold up about 330lbs, giving you enough freedom to place the heaviest of wooden pieces. The legs of the stand are also designed with similar material, thus, keeping the stand firm and locked in one place.
With the sturdiness provided by the stand, it becomes key to the accuracy with which workers can cut with; to further strengthen your accuracy, the company has included height adjustable arms with rollers and end stops—allowing you to measure up a certain length and make repeat cuts of the same length.
Compatibility is a key feature that must be supported by such stands; the EVOMS1 is great for power tools coming from Evolution itself; however, it supports only a few other brands. So, if you're planning to make the purchase make sure the mount supports your machine.
What the brand lacks for compatibility it makes up with convenience, with a lightweight and compact stand such as this, you can take it with you to any job site with the greatest of ease. Overall, we can confirm that the device goes above and beyond the requirements for the price that is being paid, making it a bang for the buck scheme.
Highlighted Features
Compact and lightweight
Supports up to 330lbs 
Quick-release Mounts 
Compatible with all evolution products
Tubular steel frames for sturdiness  
Tough built TB-S550 Gravity Miter Saw Stand

| | |
| --- | --- |
| Weight | 68 pounds |
| Dimensions | 10.23 x 56.49 x 23.03 |
| Color | Yellow&black |
| Batteries Included | No |
| Batteries Required | No |
If you're out looking for an innovative company with competitive pricing, then ToughBuilt sends off great strength, towards the market leaders. The TB-S550 is a product that has helped introduce convenience and efficiency in the lives of many of its customers.
Built using only the toughest of materials, the device is meant to handle Heavy Duty construction work, with 2.4" box tube framing, the device seems to handle any work gracefully. The material used plus the gravity stand system allows the device to provide up to 10ft of material support. 
For better compatibility, the device comes with a universal mount system, thus, supporting any miter saw that ranges up to 12". Allowing you to choose from a wide variety of equipment, thus not limiting you to buying a saw that you aren't comfortable with.
If you're looking for convenience, the features one of the quickest and most efficient fold up service, regardless of you having the miter saw on it or not. You'll also be getting tough 8.8″ wheels; these should let you move the device from one location to another with minimum hassle.
Lastly, for greater convenience, you're also getting a foot pedal lock system, allowing you to use the stand even while your hands are busy. While prices are already affordable, the extra features that are allotted with the device measure up to give better returns on your investment.
Highlighted Features
Gravity tech for extra stability and effortless folding
10ft material holding capacity
8" wheels for better transport
Universal mount for the miter saw ranging up to 12."
Box tuber framing for extra stability.
POWERTEC MT4000 Deluxe Portable Miter Saw Stand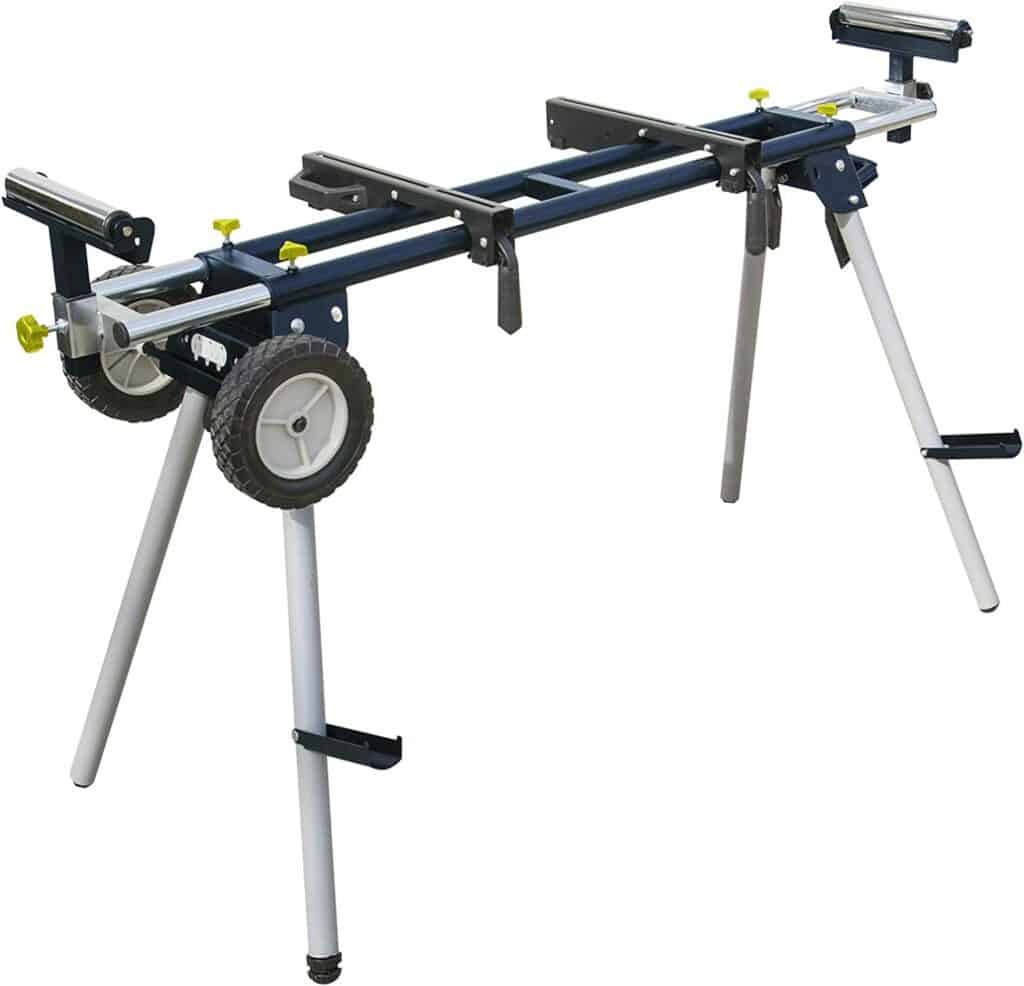 | | |
| --- | --- |
| Weight | 37 pounds |
| Dimensions | 49 x 16.25 x 8.25 |
| Color | Silver |
| Components | Miter Saw Stand |
| Batteries Required | No |
For people that involve themselves in DIY activity, while also having to complete some heavy-duty projects require something sturdy and reliable. This is why the MT-4000 makes the perfect match for the working-class men, a strong, sturdy frame that's ready to take on almost any challenge.
Having one of the most premia of builds, the MT4000 features high grade round steel tubing, which allows the stand to have a superior structure, being able to hold up to 330lbs easily. However, it still manages to keep a lightweight frame, weighing in at only 37lbs allowing you to carry it anywhere.
To make things even more convenient, the stand supports a 110v 3-3 power supply strip on the lower base of the stand, thus, you won't have to find an extension cord to power up your power tools. On the convenience end, you're also getting quick-release mounts that allow for quick installation.
And if you find having to install the power tool frequently troublesome, you can easily keep it attached to the mount; the large super grip rubber wheels will allow you to move the entire frame around, without the mounted device being of any issue.
The device is fairly compatible, with a mount that supports most 10" to 12" miter saws you won't have a problem having your machine fit on. Overall, the frame provides quite a good return for the money you're spending, making the device a great addition to your power tool collection.
Highlighted Features
Maximum weight capacity 330lbs
110V 3-3 power supply strip
Compatible with most miter saws
Quick-release mount 
High grip rubber wheels.
Choosing the Best Miter Saw Stand | A Buying Guide
There isn't fairly much involved when buying a miter saw stand, however, its good to have abundant knowledge about the device before you go out to make the purchase, there are a few simple things to keep in mind, these should help with better decision making.
Compatibility
A large number of companies make the Miter Saw Stand as an accessory to their saws, regardless of the stand's importance. Being treated like just an accessory usually means the accessory is only compatible with a device made by them; make sure you check the mounts compatibility to make sure they support the miter Saw you use.
We'd rather recommend you pick an option that supports a wide variety of saws; few stands come with a universal mount, these mounts do not only allow you to fit in any type of saw, they also let you mount on other types. Thus, you'll be able to get the complete value for your money.
Capacity
Having to support the weight of your material and the saw itself, make capacity a huge factor when considering which stand to buy. The capacity that you'll need will, however, depend on the type of work you're planning to do, if you're mainly into small DIY jobs, a large capacity won't be needed.
However, construction is more demanding. Most good stands start their range from 330lbs. This is more than enough for DIY jobs and small-scale construction ones. However, if you want to go big, you may have to consider ones that range over 500lbs.
Another factor that falls under capacity is the length of the wooden bar the stand can hold, the higher the number the better, in this case, you might want to look for a bar that extends over 12ft. However, Bosch produces a stand that ranges a maximum of 18ft, one of the highest in the market.
Sturdiness
A strong build is essential; when you're handling a Miter saw, the slightest wobble could cause you to make the wrong cut, which is why the stand must be made of sturdy and rigid material.
Most stands come with a steel made tubular design; these usually handle well with the power tool running. However, the steel tends to make the stand heavier, interfering with carrying and moving the stand from one place to another.
In this case, if you're able to spend the extra cash, you might want to invest in a stand that's made using aluminum, it is fairly stronger and more durable than the steel, and it also is lighter in weight due to the lower density—making it the perfect match for those looking for accuracy in their cutting.
Ease of Use
Having to set up your entire workstation, again and again, every time you move to a different location can be a monotonous and time-consuming process; these work stands are designed to help you cut off time wastage.
To make sure the one you buy is designed in such a way, check for the mounting clasps required, if they require to be tightened on using a tool then you won't be able to save time, look for stands that come with clamp-on style clasps, these are easier to use and quicker to lock or unlock.
Another factor that will help provide ease of use is a pair off wheels, having a pair of wheels attached to your stands allows you to move the entire stand from one place to another without having to manually carry it. You can also do this with the Miter Saw attached.
Additional Features
Most stands have a basic number of features installed onto them, however, making choosing even more difficult, so having an extra feature should help make the decision process easier. 
Some stands come with a power supply strip attached with them, taking away the need to have to buy an extension cord or set up near a power supply port. Having something like this attached will help to wire up your machine easier and quicker.
Price
When dealing with price, the factor is mainly subjective on what you can afford to spend on a miter saw stand. However, we'll help give you an exact idea of how much should be spent; most stands come within $100.
These are fairly good and get the job done. However, those that cost over $100 must be carefully evaluated before you agree on making the purchase.
Frequently Asked Questions
Q: How do I use the stand for repeat cuts?
Ans: It's a fairly simple process, extend the arm out to the length of the wood you want to cut and lock it into place. Move-in the wooden plank so that it touches the end stop, then just keeping making the cuts without having to measure up the wood every time. 
Q: Will I be able to mount other tools?
Ans: Mounting different tools shouldn't be a problem if you're using a universal mount if you need to mount a band saw, scroll saw, or a bench grinder just adjusts the amount and set it up.
Q: Is it necessary to use a miter saw stand?
Ans: It's not completely necessary. However, it does make your life vastly convenient and makes you more organized and productive.
Q: Are foldable saw stands less durable?
Ans: Most foldable saw stands should last you decades, and they're fairly more convenient than fixed ones. However, make sure the one you buy has durable hinges and clips.
Q: How is much handling capacity required?
Ans: Since you're having the saw placed with the material itself, you're going to need a sturdy stand with a fairly big capacity, so if you buy anything between 330lbs to 500lbs, you should be okay.
Is a miter saw safe to use on a table?
Because it is a portable gadget, you may use it on a table. In addition to that, if you like, you may use it on the floor as well.
Are all miter saws stand interchangeable with other types of saws?
Unfortunately no, not all stands are universally fit. Although some come with a universal mounting mechanism so you may use it with various saws.
Does a miter saw require a stand?
In an ideal world, the answer is yes. Without a stand, you may not obtain the perfect cuts you were eager for.
What is the recommended height of a stand?
Your comfort must determine the height of the stand. Using equipment that is too low or too high might cause discomfort in your back.
How to attach a saw to the stand?
You will notice mounting brackets attached to the stand, and using the instruction manual, you can easily mount a miter saw.
Final Word
We hope this guide has given you all the information you need to make an informed decision when purchasing the best portable miter saw stand. It's essential to keep in mind the stand's compatibility with your saw while buying.
I'm Joost Nusselder, the founder of Tools Doctor, content marketer, and dad. I love trying out new equipment, and together with my team I've been creating in-depth blog articles since 2016 to help loyal readers with tools & crafting tips.