I love creating free content full of tips for my readers, you. I don't accept paid sponsorships, my opinion is my own, but if you find my recommendations helpful and you end up buying something you like through one of my links, I could earn a commission at no extra cost to you.
Learn more
Woodworking has numerous layers to it. There's cutting, joining, sanding and all sorts of variations of steps.
There are special tools designed for specific purposes catered towards woodworking and scrolls saws are one of the unique ones. Scroll saws will allow you to achieve special cuts in your projects, so its performance is detail-oriented.
It could be a tedious task to look for a quality saw, so I've saved you your time and rounded about nine of the best scroll saws in the market. Keep reading to know more about them.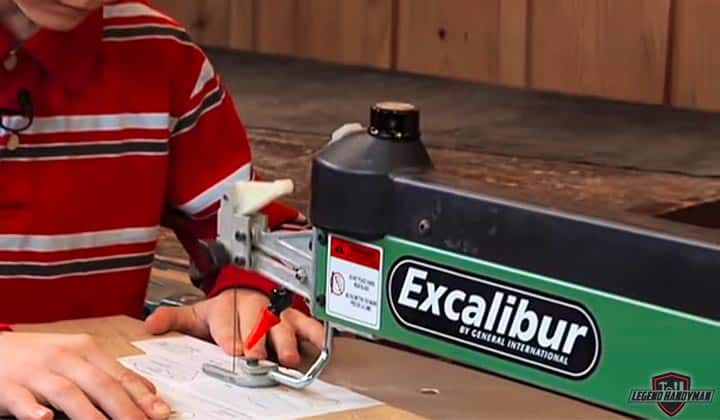 What is a Scroll Saw?
Scroll saws are usually involved in the process of woodworking only when fine and intricate work needs to be done. These special power tools are mainly used for precision cuts.
Precision and accuracy are only achieved through power tools with high speed and impressive strength, which is exactly what scroll saws offer.
The striking feature of this tool is that it works by the constant motion of a blade that runs with 1800 hits every minute. Besides wood, scroll saws can also cut through a variety of other materials.
Our Recommended Best Scroll Saws
All scroll saws might seem the same, but they vary immensely in terms of performance. The following are 9 of the finest scroll saws that I've reviewed for your benefit.
DEWALT DW788 1.3 Amp 20-Inch Variable-Speed Scroll Saw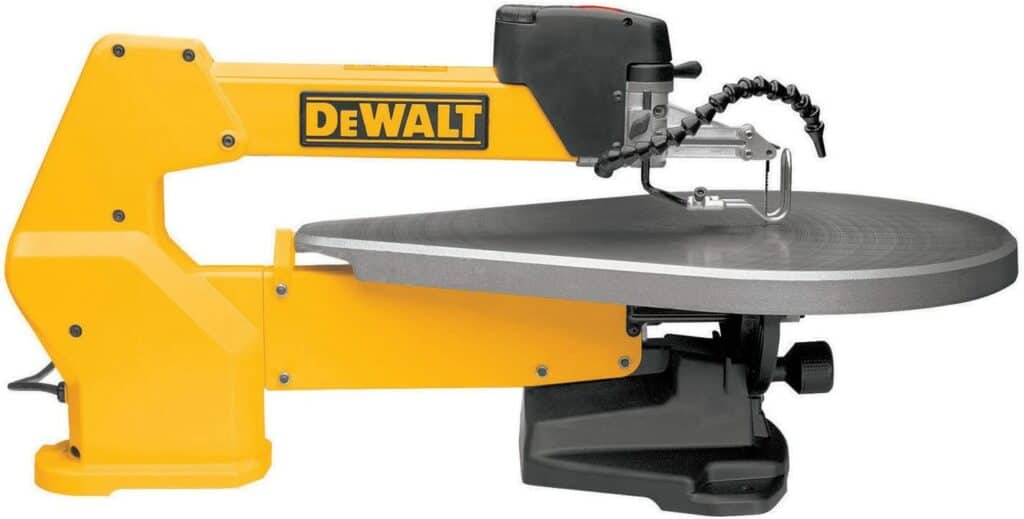 Here we have a special scroll saw that is a direct competitor to our previous contender mentioned on this list. DEWALT, known to always come out with the best hardware products, has come forward with the DW788, which is the quality machine that your toolshed is missing.
Even though it might be a little on the pricier end, but I can assure you that it is so worth the price with all the things that it can offer.
Most power tools have the problem of causing vibrations while they are running, which can be quite a nuisance or disturbance to your work and could even act as a major safety issue.
However, with this particular machine, there is a special feature known as the dual parallel arm which allows the minimization of any sort of unnecessary shaking. So you can be sure to work with full concentration.
Power tools require a lot of maintenance, especially if they are used frequently. But this one will save you big bucks on the repair since it barely requires maintenance. It is able to last a long time, and even if some issues come up, you can do it all by yourself at home with minimal tools.
Pros
It can produce smooth cuts from the inside, and the blades are easily changeable without extra tools. Also, there's no vibration, which is a great plus.
Cons
The blade tilts sometimes.
WEN 3921 16-inch Two-Direction Variable Speed Scroll Saw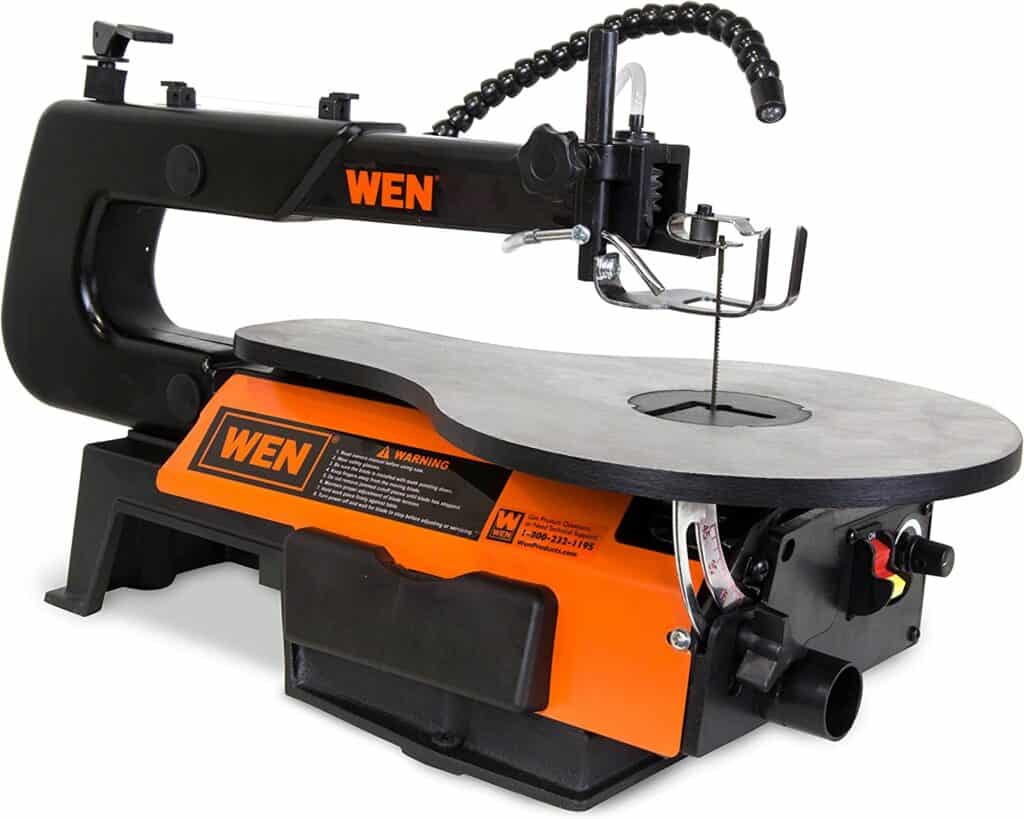 It wouldn't be a scroll saw review without mentioning one of the top brands of the market; WEN. They have a reputation for having great performance and many useful features. They have now come back better than ever with a product that can easily be claimed one of the best, the WEN 3921 Scroll Saw. 
The speed option is also quite high on this one, and it ranges from 550 SPM to 1650 SPM. This means it is able to take on even the most intricate of works as well as the most difficult and get the job done fast.
And with fast work, may come in with some mess but fear not because this device also comes with a dust port to collect unnecessary dust particles and debris that might get in your way.
This machine also doubles as a blower so you won't have to go out to get yourself a separate leaf blower when you have this thing in your hands. Lastly, the most striking and attractive feature of this model is that has the option for the blade to cut in two different directions.
The machine gives you the option to stick with the standard cutting or change it completely to 90 degrees. It's all up to your preference.
Pros
It comes with a dust port and can run on high speed. This one also works as a blower and comes at a reasonable price.
Cons
It's a little on the heavy side.
Dremel MS20-01 Moto-Saw Scroll Saw Kit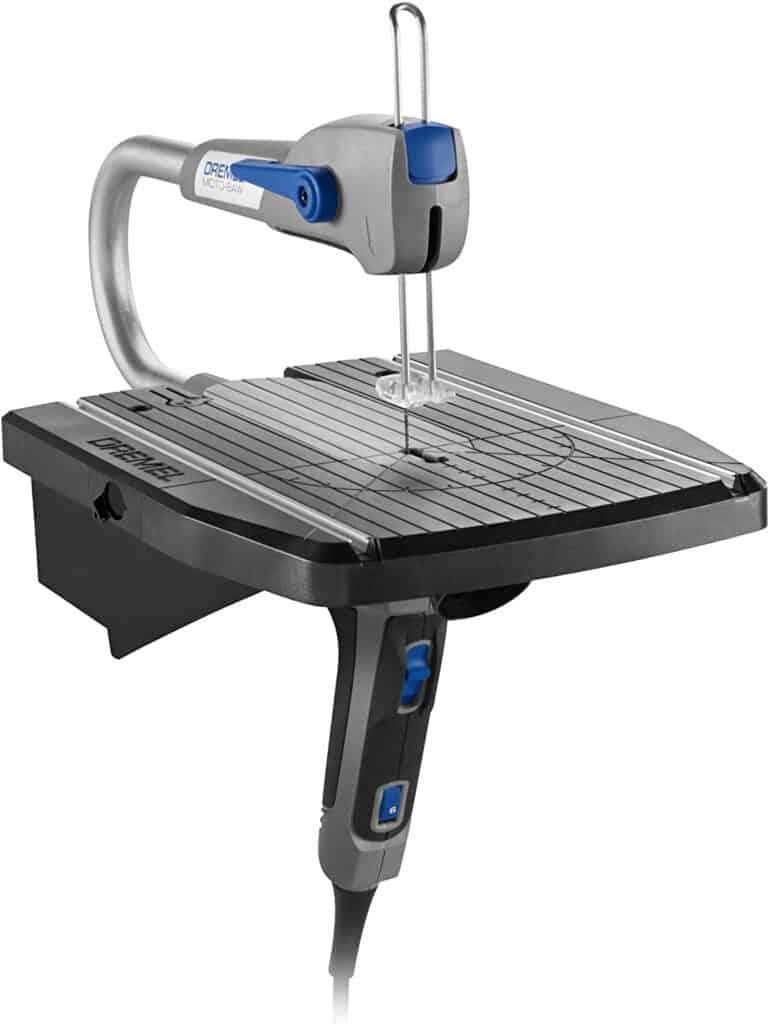 If you're looking for a modern looking saw that would not only look great sitting on your toolshed but will also do jobs more than well done? Then the Dremel MS20-01 scroll saw is for you.
Not only does it look cool, but it is the perfect tool for those who don't want to spend too much on one power tool but still want something good enough to rely on to achieve a finished product.
Sometimes, when something is "too affordable," it might bring doubts with their quality, but not with this thing. Because this guy has enough features to get beginners started with as well as to impress professionals.
It is extremely easy to use, which is one of the biggest reasons why it attracts amateurs. The device is also able to collect dust while you're working so that you can work in a clean workspace.
The auto-tension part of the device, which is another one of its cool features, is the reason for the simple blade change if you need one. Also, the motor is very smooth running and doesn't make much noise. So, you'll have your undivided attention on your work as well as giving peace to your neighbors.
Pros
It is very cost-efficient and has a modern design. This thing works smoothly, and the blades can be changed easily. The motor works quietly.
Cons
It doesn't work well on thick or hardwood and doesn't have sufficient power. Also, it's not very precise.
Shop Fox W1872 16-Inch Variable Speed Scroll Saw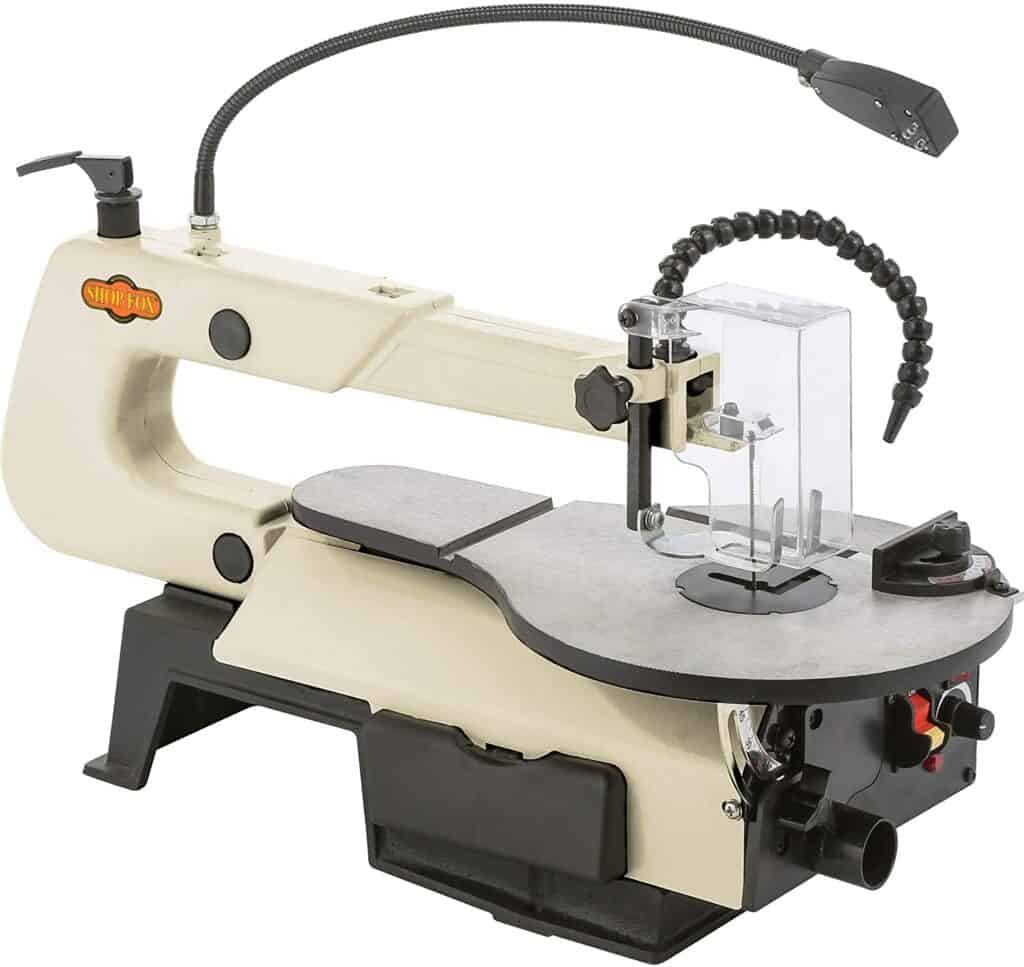 Power tools can be quite confusing to operate, especially if you're fresh into the hobby. It might take you some time to get used to the controls and the settings.
However, with this device, you'll have the easiest time with the settings, and in no time, you'll be producing works with the greatest of qualities. This simple to use tool has just enough features to make complete products.
If you're looking to do more intricate works, then this saw can handle pinned blades. Also, if you're more into working with standard projects, then plain blades also work just as fine with this machine.
Moreover, it also comes with a light that brightens up your work area so you can be sure to work safely and with full focus on your material.
In terms of dust, this machine has two options. You can use the blower to blow away dust when the workplace becomes filled with it. Or you can use the dust compartment it comes with to pile up dust, preventing it from splattering across your face while you work.
This device also has an option to change up its speed of the blade, so you can work with different types of projects.
Pros
It comes with a dust port and has a blower option. Moreover, this one has a simple set up and is easy to use. The speed can be varied according to the user's preference. It works with both plain and pinned blades. Plus, it's lightweight.
Cons
It doesn't work well with thick wood.
Delta Power Tools 40-694 20 In. Variable Speed Scroll Saw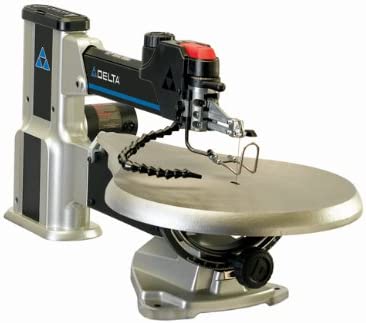 This model has a lot of impressive features for a price that is sure to make your wallet smile. The features are so versatile that they will not only save you time in completing a certain project, but it will also prevent you from rummaging through your toolbox for extra tools because this thing has it all.
One of the most useful features of this machine includes the ability to replace the blades with ease. Another feature is the dual parallel arm that comes with the machine to prevent any sort of shaking or vibration, so you are ensured with maximum stability.
Also, the speed is also variable, giving you options between 400 to 1750 SPM. This allows you to have the freedom to work according to your own pace as well as have the option to experiment with different types of projects.
And if all these incredible features aren't enough for you, then if you're okay with paying a little bit more money, you can get yourself a light to increase accuracy in your work.
And you can also get a stand to keep it upright and in place. The precision that you achieve with this product is high, so do not let its steep price put you off because its quality is well worth the money.
Pros
It has no vibration and comes with variable speed options. You'll like the fact that the blades are easily replaceable.
Cons
This one is a bit expensive.
Scroll Saw Safety
Any sort of power tools that work with wood is sure to let off some heat as well as unnecessary dust particles. They can also be very dangerous as they are designed to do heavy-duty things.
Therefore, it is important to protect yourself when using such tools. The safety measures that you can take is wearing safety goggles, protective masks, and cut resistant gloves.
Since you're working with a tool that produces intricate works, it's also important that you use enough light in your workspace so that you are left with a clear view of the area you're working on.
Best Scroll Saw Buying Guide
Scroll saws might seem like the least important tool needed in your woodworking projects; however, they are actually the most useful tools you could have.
Nevertheless, it is important to know whether you are purchasing the right one for you. Read on to find out what to look out for when buying a scroll saw.
Worktable
One of the most important things to look out for is a flat, wide, and strong workspace, or in other words, a platform. Since scroll saws run with a continuous motion of a blade, it is guaranteed to cause vibrations. This is why a strong worktable is needed, one that could withstand the vibrations and keep it stable. 
A big work table is also convenient for a whole lot of other things such as enabling you to keep multiple items related to the project at bay, so you won't have to keep reaching out far for them every now and then.
Link Arm
Vibrations are a major issue when working with heavy-duty power tools. Another way to tackle them is a great link arm. There are a variety of link arms to choose from in the market.
However, the one that is most recommended by professionals is the double parallel link arm as it is known to be the best at giving you full control of the machine.
More control means better results achieved from your projects. Link arms that have the option to be adjusted are also a very useful thing to look for. Link arms can really affect the wood you are working on as well as the vibrations produced by the machine, thus giving you great results.
Different Throat Measurements
The length of the blade, or more accurately the length in between the front and back of the blade, is known more commonly in the woodshop as throat size. The bigger the throat size, the more power the tool has in a whole because it will be able to take on projects that are larger in magnitude.
You can usually find the size of the throat of a specific scroll saw mentioned on the box of the tool. It all depends on the type of projects you will be undertaking, which will determine the throat size perfectly suited for your needs.
Type of Blades
There are two different types of blades to choose from when purchasing a scroll saw. One of them is a pinned blade, and the other is an unpinned blade. If you're working on projects of relatively larger size, pinned blades will work the best on those.
However, if you're working on a project that is of smaller stature, unpinned blades are better suited.
Tools need maintenance, repair, and replacements every now and then. The easier the tool is to repair, the more valuable it will be to you.
Therefore, look out for scroll saws with which you can easily change the blades without the hassle of using extra tools as well as scroll saws that have storage systems to keep blades organized.
What Can You Do with a Scroll Saw?
Scroll saw is one of the most useful tools you can have for wood crafts. There are lots of things you can do with it. Its performance is so meticulous that you could use it to work on delicate designs that require a lot of attention to detail and precision.
Besides designs, you can create smooth edges like curves or hard edges like sharp angles. Various sorts of useful joints such as dovetail joints can be made with a scroll saw like a dovetail jig. In short, the possibilities are endless.
Frequently Asked Questions
Q: What sizes of scroll saw blades are available?
Ans: You can find blades of different sizes, starting from five inches in length. It all depends on the kind of work you'll be using with it.
Q: What is the maximum thickness that a scroll saw can handle?
Ans: The maximum thickness that a regular scroll saw can handle is ¾ of an inch of wood.
Q: How are scroll saws different from jigsaws?
Ans: The common ground between scroll saws and jigsaws is that they can both be used to cut organic shapes such as curves. The difference between them is that scroll saws are more delicate and precise than jigsaws.
Q: Other than wood, what other materials can scroll saws cut?
Ans: Beside wooden materials, scroll saws are also efficient at cutting materials like metal, acrylic, plastic, rubber, and even bone.
Q. How scroll saw is different from band saw?
Ans: Scroll saw is significantly different from the band saw, we talked here in the scroll saw vs band saw post.
Q: What kind of wood is best suited for scroll saws?
Ans: The best-suited wood for scroll saws is the wood from cherry trees, according to professionals. Cherry trees have the softest fiber so delicate work can be done on them.
Final Words
I tried to cover as much as possible in order to give you the broadest outlook to help you make the best decision for you. I hope my scroll saw reviews help you find the best scroll saw for you.  
Let me know your thoughts on my recommendations in the comments section.
Also read: this is how you use a scroll saw safely
I'm Joost Nusselder, the founder of Tools Doctor, content marketer, and dad. I love trying out new equipment, and together with my team I've been creating in-depth blog articles since 2016 to help loyal readers with tools & crafting tips.