I love creating free content full of tips for my readers, you. I don't accept paid sponsorships, my opinion is my own, but if you find my recommendations helpful and you end up buying something you like through one of my links, I could earn a commission at no extra cost to you.
Learn more
There will come a time when the normal tools just won't cut it anymore. At this juncture, you will require some special tools and only the best right angle drill can save the day.
If you are a professional contractor or a hobbyist, right angle drills are tools that you need to have in your kit. Simply put, you can't just do without them.
They would help you when it comes to time to reach those tight spaces and awkward angles that normal drills cannot reach. 
This guide will give you an overview of everything there is to know about right angle drills as well as the best and top quality brands in the market.
At the end of this guide, you will be able to ascertain the things to look out for and get the best value for your money.
Best Right Angle Drill Reviews
Milwaukee 49-22-8510 Right Angle Drill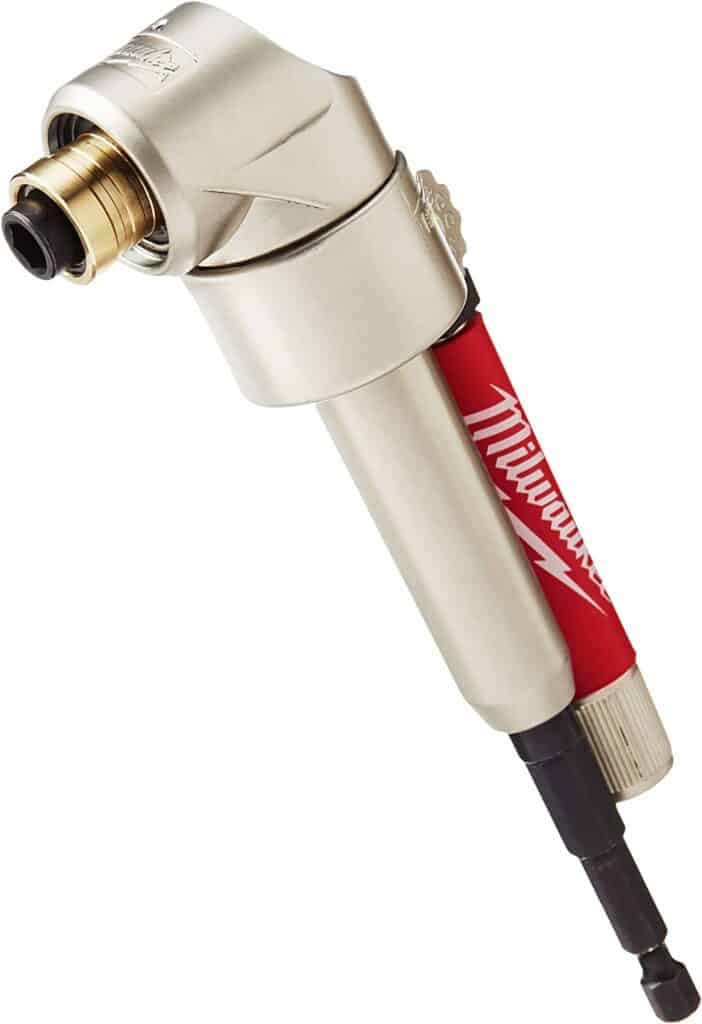 | | |
| --- | --- |
| Weight | 1.05 pounds |
| Dimensions | 10 x 2 x 6 inches |
| Color | As Pictured |
| Material | Metal |
| Voltage | 110 |
| Power Source | Corded Electric |
| Included Components | Bare-Tool |
| Warranty | MFG Defects |
This popular and effective tool is often referred to as the Milwaukee's Right Angle Attachment, and it is definitely an angle drill of high quality. If you are a contractor, it is very important for you to anticipate the tightest work areas.
The ball-bearing construction of the tool makes it perfect for work that requires high torque. You will be doing yourself a huge favor by getting this beautifully designed right angle drill attachment.
Milwaukee Tools is one of the most respected names in the tool industry and they delivered the goods with this particular tool. It also comes with a 5-year warranty package that makes it extra reliable.
One more thing that you will love about this product is the fact that it can work in reverse. If the angle in which the operation is to be done calls for you to work in reverse, this fine tool will be there to save the day.
It has been observed by many users of this product that it makes for great tool to have especially in running conduit and wiring. For people who are likely to engage in a lot of renovations and new constructions, you will do well to have this beast of a tool.
Some users have noted that this product can be quite heavier than what was described in the box and this would be its biggest downside.
Neiko 10529A 3/8″ Close Quarter Power Drill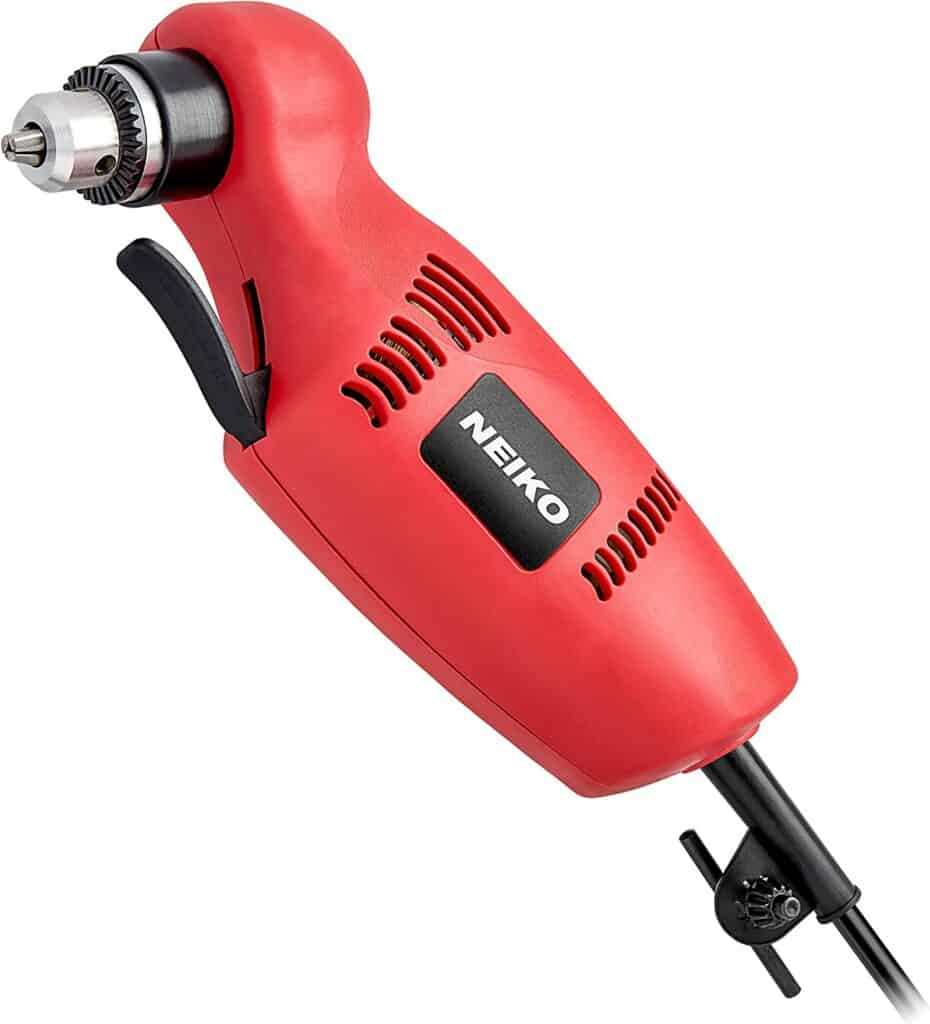 | | |
| --- | --- |
| Weight | 3.25 pounds |
| Dimensions | 12 x 2.9 x 4.9 in |
| Power Source | Corded Electric |
| Voltage | 110 |
| Wattage | 500 watts |
| Speed | 1400 RPM |
While this product review might be billed as for right angle drills, Neiko 10529A 3/8″ Close Quarter Power Drill actually offers 550 for contractors and hobbyist that choose to own it.
It has been described by many as one of the easily affordable angle drill to own – and this is definitely one of the reasons why it features on our list of best right angle drills.
For hobbyists and DIY lovers, this is definitely a tool to have. It is easy to use within the household and it is safe to say that every home should have a Neiko 10529A 3/8″ Close Quarter Power Drill.
The tool is perfect for use on a wide range of materials that are easily found around us. It is ideal for work on wood materials, plastics, masonries, as well as metal. One thing to know about this ergonomically designed tool is that it is not a cordless drill.
What this means is that for the use of the product, you will need to work near a power source.
DIY users are fascinated by the amount of power that this angle drill can provide. It is commonly regarded as one of the best power drills to use around the home or for operations that do not require much power.
Anyone looking to purchase this product needs to be aware of the reports of technical malfunction by customers. Some also report that there are issues with the internal design of this product that they purchased.
Another downside to using this product is that it gets kind of bulky after prolonged use. If you are a contractor that tends to use their power drill for long hours, we will not recommend this product for you.
DEWALT 20V MAX Right Angle Drill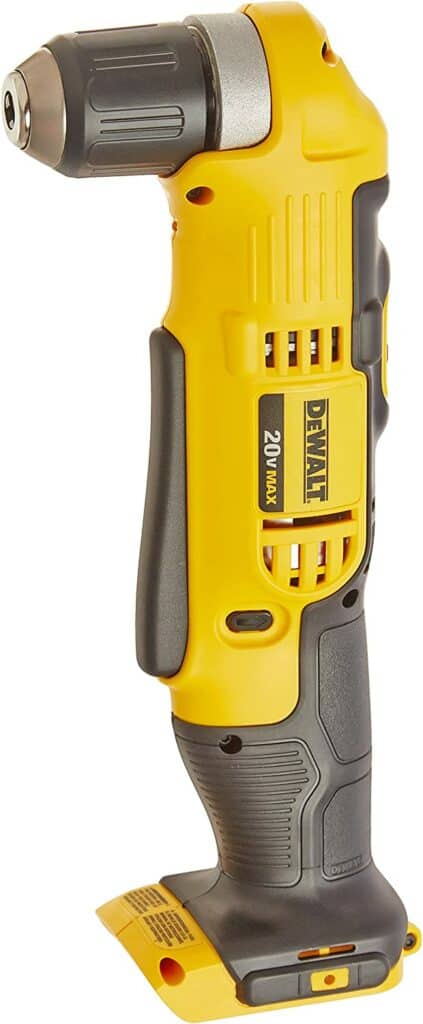 | | |
| --- | --- |
| Weight | 3.25 pounds |
| Dimensions | 4.5 x 12.38 x 2.38 in |
| Batteries | 1 Lithium ion batteries required |
| Color | Yellow |
| Voltage | 20 volts |
| Speed | 2000 RPM |
| Material | Steel |
| Warranty | 3 Year Limited |
DEWALT 20V MAX Right Angle Drill is the perfect solution to your difficulties in reaching tight angles and awkward positions. It is an affordable product that gives you a result that you can rely on.
If you are looking for a cheap option that still offers top quality, this is the product for you. Another feature this tool is praised for is its compactness – which as you can imagine allows it to get into tight spaces that a normal drill may find difficult to reach.
This is a well-balanced that offers stability whenever it is in use. The product is an all-round product that ticks all the boxes; from durability to affordability to a great design. It is quite easy to see why it is a feature on our best right angle product review.
The tool is a favorite of many because of its unusually long lasting battery – a typical DEWALT 20V MAX Right Angle Drill battery has the capability to last for up to 24 hours. This is quite remarkable and it is easy to see why many are rushing to get their hands on this product.
You can avoid arm fatigue that comes with some right angle drill due to the design of the vibration of this tool.
The weight of this product has proved to be its biggest downside. It is quite heavier than most right angle drills on this review.
Bosch PS11-102 12-Volt Lithium-Ion Max 3/8-Inch Right Angle Drill
| | |
| --- | --- |
| Weight | 2.4 pounds |
| Dimensions | 12.5 x 9.75 x 4.25 in |
| Color | Blue |
| Voltage | 12 volts |
| Battery Cell | Lithium Ion |
The Bosch PS11 is one of the most recommended product in this tool industry. Many DIY users and contractors alike have found many things to love about the product and it is easy to see why it is indeed one of the best right angle drill.
There are some right angle drills that have issues when it comes to prolonged use; the Bosch PS11 is not one of them. It has a lightweight that makes it ready-made and effective for prolonged use.
The variable speed trigger offers greater control of the tool – you can choose at what speed you want your drill to operate. This particular feature will be useful for contractors who need different speed for different operations.
You will love the fact that this tool can be adjusted into nothing less than five different positions! So when it comes to reaching tight and awkward spaces, this is certainly a right angle drill to look out for.
You will enjoy a firm and secure grip on the drill when it is use due to the ergonomically designed handle of the tool.
The biggest problem that users of this product face is that they find it difficult to remove the battery. This is definitely not something to look forward to in the situation where you need a replacement.
Makita Right Angle Drill, 3/8 In, 2400 RPM, 4.0 A

| | |
| --- | --- |
| Weight | 4.14 pounds |
| Color | Teal |
| Material | Metal |
Made by illustrious tool brand, Makita, this has all the makings of a great product. There are so many reasons why this right angle drill can be your favorite.
It has a built in shock-proof white LED light of high output that will come in handy in the dark corners of your house/work area.  
It has been designed to be compact – making it easy to fit into tight and difficult spaces that many professionals face quite often. It possesses a reduced head height will helps in the lightweight design of the tool.
The tool comes with a side handle that allows for greater leverage when using the drill. It gives you the edge you need to reach those tight corners. You will definitely enjoy the easy one handed-operation that this tool offers.    
Get yourself a Right Angle Drill. The durability of this product has made it a favorite of many. It comes with an all-metal housing which is responsible for the durability.
Some users have reported that the variable speed setting of the tool can be a little too sensitive and this would be the only downside to using the product.
Ryobi P241 One+ 18 Volt Lithium Ion Right Angle Drill
| | |
| --- | --- |
| Weight | 2.13 pounds |
| Dimensions | 12.99 x 3.19 x 5.12 in |
| Material | Plastic |
| Voltage | 18 volts |
| Battery Cell | Lithium Ion |
| Special Features | Compact |
Ryobi P241 is the type of tool that every household needs. There are many features to love about the product and the fact that it was manufactured by a respected brand only helps its popularity among contractors and enthusiasts.
This product has an extra bit of feature that makes it unique among other right angle drill featured on this review – the onboard magnetic tray will help you keep all the metallic parts close. It is not comfortable putting so many screws in your mouth, so this feature offers greater ease.
There is no fear of losing your grip on the drill in areas that are either hot or damp. With the rubber overmold that has been added to the design of the handle, your grip on the handle is secure and firm in all environments.
It come with a LED light that will help to lighten up the area where operation is to be carried out. This feature will definitely come in handy in dark areas.
With the Ryobi P241, you will get enough torque you need to carry out operations in the all the tight areas in your household. It also offers a rotational speed that makes it suitable for use in many household jobs.
The tool also has a long neck that gives you extra leverage that you need to carry out the work without difficulties.
The biggest downside of this product is the fact that it doesn't come with batteries. You will have to spend extra bucks on getting batteries.
Makita XAD02Z 18V LXT Lithium-Ion Cordless 3/8″ Angle Drill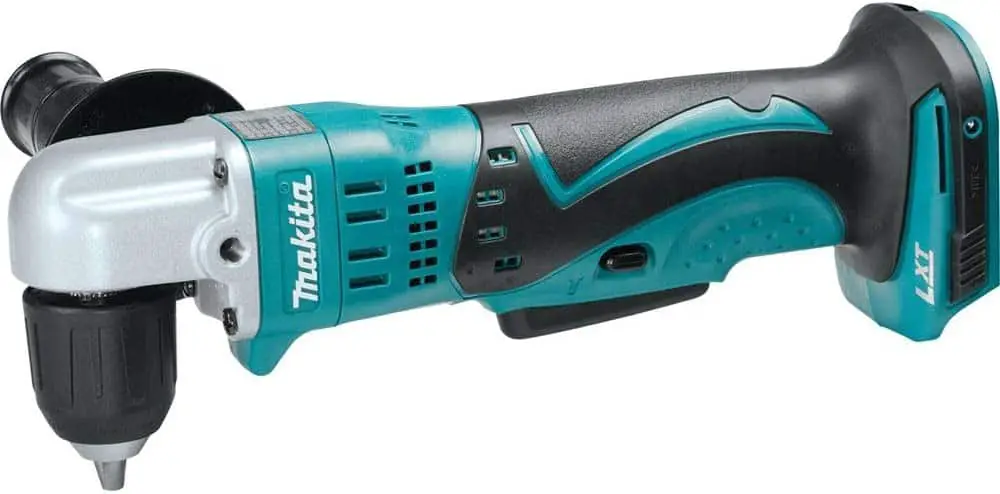 | | |
| --- | --- |
| Weight | 3 pounds |
| Dimensions | 3.39 x 11.7 x 6.89 in |
| Material | TOOLS |
| Power Source | Battery |
| Voltage | 18 volts |
| Battery Cell | Lithium Ion |
The Makita XAD02Z is one of the tools where the emphasis is on the torque. It possesses a lot of torque while still having the immense ability to fit into tight spaces.
Makita tools have been known to possess the fastest charging time and this particular feature is also found in the XAD02Z. If you are looking for a tool that offers more working time and less charging time, this is one to go for.
It is designed to be lightweight which makes it perfect for prolonged use. You don't have to worry about this tool becoming less compact when the battery is placed inside – it has been designed to remain compact with batteries inserted.
This tool has the capability to go at a variable speed which makes it quite useful for the in many drilling operations within the household. You can make use of this for a door installation to plumbing to repairs and replacement of fittings.
MAKITA XAD02Z has an in-built LED light that creates a lamination during use – and particular feature that makes it perfect for tight spaces.
If you are someone that has old batteries and you are looking to use them with your new right angle drill, you might be disappointed with this tool. This is the biggest downside to using the right angle drill.   
Guide to Buy the Best Right Angle Drill
The following are the features to look out for when you are looking to but the best right angle drill. It is basically impossible to make a right decision without having a full purview of all these factors.
Here are the factors to consider before buying a right angle drill.
Battery
There is no way to ignore something that basically determines the life of your tool. Before you go ahead to make a purchase check for right angle drills that come with batteries.
We have taken the above into consideration when putting together this guide (you can notice the mention of drills that don't come with batteries). For people who already possess a compatible battery, this may not be quite as frustrating.
Others who don't have will definitely not enjoy a situation like this.
Weight
The size of the areas that you are most likely to encounter should determine the weight or size of the angle drill to purchase. It is obviously a very pointless endeavor to have a right angle drill that is not compact enough to fit into majority of the spaces you need the tool for.
If you are shopping for a tool to that will be utilized for prolonged use, it is very important that it is lightweight.
Another thing to note when it comes to weight is that for angle drills that come without batteries, you need to make provision for batteries in your calculations. The batteries will certainly add some weight once they are inserted into the tool.
Speed
Power will definitely make the third of there is ever a right angle drill trinity (along with weight and battery). Simply put, the higher the power, the more the speed. Therefore, it always better to have more power.
Don't be tempted to go for an option that is just too cheap to offer enough power. It is during use that you will discover that quality does really matter.
Ease of Use
It is important to consider the ease of use because this directly affects you. Do the logical thing by going for the product that ensures the greatest ease when it comes to use.
Type of Drill
Ease of use will take us directly to the next factor to consider before buying a new right angle drill. There are majorly two types of right angle drills and they are; corded and cordless drills.
Cordless right angle drills offer the greatest convenience in use. You don't have to worry about wires and cords when they are in use. The use of cordless drills also come with increased flexibility.
This is because they are not bounded by the confines of a cord, making them easy to move about. The flexibility of cordless product makes them highly recommendable for contractors who work in different locations and positions.
Cordless also do not require the unnecessary search for a power source before use. They are usually designed to be lightweight and this gives them capability for prolonged use.
 So, yes, cordless right angle drills is our recommendation as to the type of drill to purchase.
Compatibility
 This factor is quite important for people who go for right-angle attachments. Before you choose to make a purchase, check to see if the attachment is compatible with other components of the drill.
This will ensure that you don't buy an unnecessary tool that is ineffective.
Value for Money/Price
This is one factor that needs to be considered even before any other factor. Recognize the budget you have and know the extent at which you can go. There is no point reading and accessing the specification of a product that you can't afford.
There are various right angle drills that come at pretty affordable prices – this right angle drills have the quality to give you the best value for money.
Nevertheless, premium tools require a few extra bucks than what you'd use to get a cheaper one. They usually with extra features that will increase speed, generate more power and ease of use.
Torque
 This is one feature that goes hand in hand with speed. If you are getting increased speed, then you will be getting lesser torque. There are different drills including the best right angle drills that put emphasis on either of the two.
Our recommendation is to go for right angle drills that offer variable speed settings – this would allow for you to choose which of speed and torque you will be increasing for a specific use.
Other factors such as LED light (which is an extra feature that makes the tool even more worthwhile), ergonomic design of handles, chuck size etc. When all of these have been carefully examined, only then can you make an informed purchase.
FAQs
Q: What are the benefits of using a right angle drill?
 A: there are many benefits that come with using of a tool such as a right angle drill. After all, a person shouldn't just buy a tool that offers no benefit or purpose. It gives you the ability to work in tight spaces, ease in use, comfort and versatility.
Q: How does I use a right angle drill?
A: if you have handled a conventional drill before, then you can easily get your way around the use of a right angle grill. 
The head of a right angle drill is designed to be at 900, which is then either pressed with one hand or two (depending on the type of drill). A right angle drill also takes drill bits like a normal drill when it gets triggered.
Some are corded while others are cordless, and their use will depend on the type too.
Conclusion
Here are our final picks which will serve as our ultimate recommendations as to the best right angle drills to buy.
Best Overall
We have featured the best the tool industry has to offer in this review, which is why it is difficult picking the top one. However, our top pick in this guide is the Makita XAD02Z.
It has a lot of features that are impressive and 18V Lithium ion slide battery it carries is just push it ahead of others. It is compact, lightweight, has a great amount of torque as well as speed and has no genuine downside.    
Best Value for Money
If you are on a tight budget and you are looking for the product that will give you the quality results, choose the DEWALT 20V MAX Right Angle Drill. It is cordless tool that can give you enough power and speed to do a lot of drilling work within the household.
I'm Joost Nusselder, the founder of Tools Doctor, content marketer, and dad. I love trying out new equipment, and together with my team I've been creating in-depth blog articles since 2016 to help loyal readers with tools & crafting tips.