I love creating free content full of tips for my readers, you. I don't accept paid sponsorships, my opinion is my own, but if you find my recommendations helpful and you end up buying something you like through one of my links, I could earn a commission at no extra cost to you.
Learn more
The best sawhorses have a long life expectancy, good working capacity, strong and sturdy construction, innovative features and inertness to the rigorous environment. You will not get all these things in a crummy model of the sawhorse, only choosing the best model can help you to get all of these characteristics.
When the market of any product is smaller it is easy to research the market within a short time. But unfortunately or fortunately the market of sawhorse is too large to research within a short time.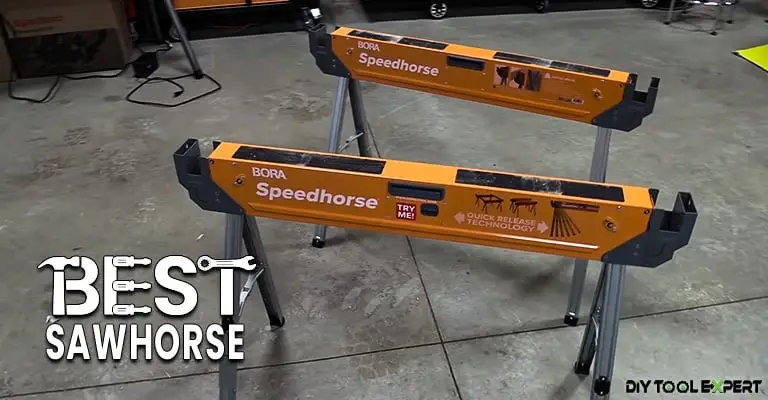 So we have employed a market research team to research the market of the sawhorse and identify the best sawhorses from those to make a list for potential buyers.
Sawhorse buying guide
In previous years sawhorses were made from wood but nowadays companies are switching to plastic from wood. Switching to plastic from wood letting them add innovative features in their product.  You should have a good idea about all those innovative features to identify the premium quality sawhorse that suits your needs.
In this buying guide to buy the best sawhorse, we will give you a clear idea about all the essential characteristics along with the innovative features of the sawhorses thriving the market.
There are basically 9 important factors on which you should focus on identifying the best sawhorse from its huge variety, brand, and model.
Construction Material
3 types of materials are generally used to make sawhorses. They are plastic, metal, and wood. Plastics are widely used construction material of sawhorse and after plastic the most widely used construction material of sawhorse is metal and the use of wood is the least used construction material for the sawhorse.
Strength and Sturdiness
How well the sawhorse holds the material for repeated use determines the strength and sturdiness of the sawhorse.
There is an easy technique to check the strength and sturdiness of the sawhorse. But it works for only those sawhorses that are made with plastic. If the plastic is reinforced with metal then it has high strength and sturdiness than others.
Now the question arises that how you will measure the strength and sturdiness of metallic or wooden sawhorse. You can know it from its weight capacity; higher weight capacity means higher strength and sturdiness.
Portability
Sawhorse made with plastic is the most lightweight sawhorse compared to a metallic or wooden sawhorse. Metallic sawhorses are also lightweight but they are heavier than plastic made one. And, wooden sawhorses are heavier compared to others.
The sawhorse manufacturers always try to keep the weight of the sawhorse low enough to carry easily. So a sawhorse made of a particular material can be heavier than others but not too heavy to transport.
For the ease of portability, it is not wise to choose a very lightweight sawhorse because sometimes too much lightweight means flimsy construction.
Weight Capacity
Price varies with the weight capacity. A sawhorse with a large weight capacity has a higher price than the others.
You may think that it is better to choose a sawhorse with a higher weight capacity. But, choosing a sawhorse with a higher weight capacity than you need is a wastage of money. It is better to choose a sawhorse in which weight capacity matches your work.
Dimension
The most important dimension of sawhorse you should check is its height. Most of the sawhorses come with a fixed height. If it does not match with your height you will not feel comfortable working with it.
Some sawhorses are also available with adjustable legs. You can choose those items too if your height does not match with the fixed height sawhorse.
Ease of Use
Some sawhorses are ready to use and some need to be assembled. My personal opinion is it is better to choose a ready to use sawhorse rather than one that requires to assemble.
Sometimes the components that require to assemble come with faults which creates a problem to assemble. So, I prefer to purchase a sawhorse that does not require any assembly and ready to use.
Coating
The coating is very important for the metallic sawhorse. It protects the body from being corroded by reacting with the moisture. A metallic sawhorse with good coating has a greater life expectancy than others. The coating has also a significant effect on the outer beauty and strength of the product.
Brand
If you do not want to take any risk with the product you are searching for you should go for brands. It is a safe and quick zone to buy good quality products.
WORX, AmazonBasics, Bora, ToughBuilt, Metabo HPT, etc. are some of the famous brands of sawhorses that you can consider to review.
Customer Review
To get a realistic idea about the service quality of a sawhorse nothing is better than customer review. Sometimes people think that only the 1 or 2-star customer reviews show the real scenario but that is a wrong perception.
To get a real idea about the quality of the service provided by the product you have to work a little more smartly. My policy is to check both the 1 or 2-star customer reviews and 4 or 5-star customer reviews. And then make a decision that is middle of these two.
Best Sawhorses reviewed
After thorough market research for several hours we have enlisted only the best sawhorse in our list. It is a short but effective list ideal for potential buyers. You can acquire good knowledge about the features and specifications of sawhorse even if you are not determined to buy a sawhorse this time.
The information provided in this list will help you to develop a good idea about the features of the best sawhorse. We have added both pros and cons in our review so that our visitors can get a realistic idea about the sawhorse.
1. WORX Pegasus Work Table and Sawhorse
A perfect example of strong and compact sawhorse that can be used both as worktable and sawhorse is WORX Pegasus Work Table and Sawhorse. It is a favorite worktable to crafter, woodworker or DIY lover for cutting, sanding, gluing, varnishing or so many tasks.
You can easily convert it into a worktable from sawhorse and from sawhorse to worktable. You just have to lower the hinge to convert the work table into the sawhorse.
High impact plastic has been used to manufacture the WORX Pegasus Work Table and Sawhorse. It is easy to use, has great aesthetic beauty and, durable. Since it is made of plastic it is waterproof and you can use it any weather.
It requires no assembly but if you need a larger work surface you can join it with other Pegasus tables and make the work surface larger.
It can endure a large amount of pressure and can hold heavier materials. But there is a difference in load-carrying capability between the worktable and the sawhorse.
It is able to hold any object securely in place with its dual clamping system. Two pairs of clamp dogs also come with this product. Using the clamp and the clamp dogs you can hold materials of any shape. To ensure high security there is a feature of locking the legs.
Since it is compact and lightweight you can take it anywhere you want.  There is a built-in lower shelf that you can use to hold or organize tools. When you are not using WORX Pegasus Work Table and Sawhorse you can fold it and store it in the storage.
The clamps that come with this product are not so good in quality. It has a fixed height and so you cannot adjust it according to your needs. The corners are weak and it creates lateral movement during work that makes the job uncomfortable to complete.
2. Tough built C700 Sawhorse
If you are looking for a sawhorse with the higher working capacity you can order the ToughBuilt C700 Sawhorse. It is made of high-grade steel.  Because of having metallic construction it can carry a significant amount of load.
Each pair of the arm of the ToughBuilt C700 Sawhorse can carry up to 2600lb weight. If you notice the load-bearing capacity of the other sawhorses you will find that the ToughBuilt C700 Sawhorse has a higher load-bearing capacity.
You can adjust the support arms to hold 2x4s or 4x4s lumber whereas most of the sawhorses can support either lumber of 2x4s or 4x4s.
The legs have a telescopic design that will allow you to work in any terrain.  They do not do any movement while working. So, they are comfortable to work.
The legs are easy to fold and also features an easy and fast mechanism for opening.
To protect the metal body from corrosion or any reaction related to weather the whole metal body is covered with powder coating. Moreover, the steel is plated with zinc to provide it luster and protect from rigorous environmental conditions.
The unit includes innovative material cutting & support pegs. It ensures safe and easy cutting of material. Its setup is simple and straightforward. It is lightweight and for the ease of transport, it includes a handle.
Unlike the other sawhorses it is not colored in one single color rather it is colored in two vibrant colors that gave it a professional look.  It does not easily break and has a good life expectancy. Since it is very sturdy and well-made its price is quite high.
3. 2x4basics 90196 Sawhorse
The design and the idea on the basis of which the 2x4basics 90196 Sawhorse has been made are appreciable. The 2x4basics Sawhorse of model 90196 is an economical product. If your budget is not so high you can choose this product for your DIY projects.
A total of 4 brackets and 8 stabilizing feet come with the product. You can make a total of 2 sawhorses with these elements. All the 4 brackets are made of heavy gauge structural resin. And the feet are made of wood.
It is a customizable sawhorse. You can change its size according to your needs. The lumber does not come with the sawhorse. So you have to purchase it separately.
The brackets are tight and sometimes the holes of the brackets are miscast that you may face difficulty to fit 2×4 lumber. You need a screwdriver and a rubber mallet to assemble this sawhorse. The process of assembly is easy and quick.
It can support up to 900 kg of weight per pair. Since it is a strong and sturdy sawhorse you can use it for both light-duty and heavy-duty jobs. Unlike factory sawhorse, you can repair the 2x4basics 90196 Sawhorse easily.
This sawhorse is not for use with pressure-treated wood. You must read the instruction manual properly before assembling the sawhorse.
Most of us prefer to store the sawhorse by folding up when not in use. But it is not possible to fold 2x4basics 90196 Sawhorse. The pro-brackets provided with the sawhorse are very sturdy and so you cannot fold the sawhorse.
Since the 2x4basics 90196 Sawhorse is made of wood it is heavier than plastic or metallic sawhorse. But that is not a big issue for easy transportation of this sawhorse.
4. AmazonBasics Folding Sawhorse
For professional and home users, AmazonBasics Folding Sawhorse is a good choice. It comes with a pair of sawhorses. The total unit is fully assembled, so you do not have to do anything after receiving the product; just open the package and it is ready for work.
You can use it for both commercial and home-based projects. For any kind of project, safety is one of the main priorities. To ensure safety it includes non-slip feet, locking braces and fold-out stoppers.
The non-slip feet and locking braces made AmazonBasics a super stable sawhorse. To give you comfort while working on the project the fold-out stoppers at either end prevent any kind of movement. It helps you to complete your project perfectly.
It is strong enough to withstand 900lbs. It is not so heavy and folds flat. So you can easily carry it or can store it when you are not using it.  Its height is not adjustable. But, for average tall people, its height is comfortable to work.
For the convenience of portability, it is made thin but no compromise was made with strength and durability. It is waterproof and you can use it any in weather condition because hard density plastic has been used to make this sawhorse.
The color combination of the AmazonBasics Folding Sawhorse is attractive. Its attractive color combination along with its innovative design has given it a professional look.
If you are an unlucky customer you may get your ordered item broken. Its construction is flimsy that it may break down if you use it for heavy-duty works.
5. Bora Portamate PM-3300 Sawhorse
Bora Portamate PM-3300 is a lightweight, foldable and easily portable sawhorse. A pair of sawhorse is provided in this package. You can use it for both professional and residential use to complete any project quickly and efficiently.
High-quality steel has been used to construct it. So, it is a strong, sturdy and durable product. Because of suing steel it was possible to make a strong sawhorse that is lightweight at the same time.
Though it is made of metal Bora Portamate has not kept any scope to worry about them rusting. The rust-resistant powder coat protects the steel body from being corroded. In this way, the life expectancy of the sawhorse increases.
It is ready to use since it comes fully assembled. All you have to do after receiving a Bora Portamate PM-3300 sawhorse is to open the box, unfold the legs, lock them into place and you can start your work.
The lightweight, compact design of Bora Portamate PM-3300 sawhorse along with the foldable legs is easy to transport and store. It has a stable stance and a comfortable work height.  It is able to support a total of 1, 000 lbs when both of the sawhorses are used together.
To hold the log securely upright in the positioning spring loaded quick-lock pin has been incorporated with the sawhorse. The center of balance of this tool is in a very narrow range that it easily tips.
It comes with a warranty period. If you find it bent or broken with this warranty period you can claim for repairing or you can claim a new one.
6. Metabo HPT 115445M Sawhorses
If you are not new in the market of sawhorse or cutting tools you must have heard about Hitachi Power Tools. The Metabo HPT 115445M Sawhorses are the new version of Hitachi Power Tools.  It comes with one pair of saw horses and 2 pairs of sawbucks.
Each pair of sawhorse has a capacity to withstand 1200lbs load. The sawbucks are able to hold 2×4 flat on its side.
If you are not satisfied with the existing worksurface of the  Metabo HPT 115445M Sawhorse you can solve this problem by utilizing the sawbucks come with the sawhorse. To extend the work surface area you can raise these sawbucks and the work surface area will increase.
The built-in shelf and cord hooks of Metabo HPT 115445M Sawhorses can be used to provide extra space for organizing tools. You can use quick clamp/bar clamp/even old-style pipe clamps with this sawhorse, but the clamps should be good in quality.
They come fully assembled and so ready to use the product. Plastic has been used to make this Metabo HPT 115445M Sawhorse.
They are waterproof and also not heavy in weight. You can transport these on your job site without any hassle. When not in use you can fold it and store it in your storeroom.
It is an economical product made by the USA.  It is not a sawhorse for professional users but good for the occasional users. You can buy it for small and light-duty residential projects.
The construction of Metabo HPT 115445M Sawhorse is flimsy and may break down if you use it for heavy-duty work or if you give it high load. It does not come with any warranty period. So if you received it broken or with junk hinge your money is wasted.
Frequently Asked Questions
Here are some frequently asked questions and their answers.
What angle do you cut sawhorse legs?
Cut the Legs
Set your circular saw to cut at a 13-degree bevel. Cut the legs to length at a 13-degree angle. Mark each piece as you cut it.
What are sawhorses used for?
A saw-horse or sawhorse (saw-buck, trestle, buck) is a beam with four legs used to support a board or plank for sawing. A pair of sawhorses can support a plank, forming a scaffold. In certain circles, it is also known as a mule and a short sawhorse is known as a pony.
How much weight can a wooden sawhorse hold?
1000 pounds
They can hold up to 1000 pounds and the legs are also adjustable so you can set them up at whatever height is comfortable for you. The downside is that the legs have to be retracted before you can fold them up into the "horse".
Do you need a sawhorse?
Everyone can benefit from them now and then, but when you're building a workbench they become much more than a support for sawing. … If you're in the process of building yourself a decent workbench then you don't need anything fancy for your saw horses, some plastic trestles will do.
What can I use instead of a saw horse?
Cardboard box sawhorses are collapsible and easy to store. They don't take up as much space as regular sawhorses. They're lightweight, yet strong enough for many workshop-type tasks. They'll hold items without wobbling or collapsing and fold flat in seconds.
How do you cut a sawhorse legs?
Do you need two sawhorses?
Get Yourself Two Sets of Sawhorses
You'll always need another set or at least half of another set. If, for example, you need a quick platform for cutting plywood, assemble two horses end to end with a third one in the middle, perpendicular to the first two.
How wide are sawhorses?
32 inches
These simple sawhorses consist of an I-beam and four legs, all made out of five 8-foot 2x4s. Don't make the mistake of buying precut studs because they're several inches shorter than 8 ft. The horses measure just under 32 inches high and 32 inches wide, but you can make yours any length or height you wish.
Q: What is the ideal height of a sawhorse that is comfortable to work?
Ans: Most saw horses are available with a height ranging from 24 to 27 inches. If you have an average height you will feel comfortable working with sawhorses of such height but if you are taller or shorter it is better to choose a sawhorse of adjustable height.
Q; What is the best working angle of the legs of sawhorse?
Ans: The best working angle is 90 degrees; the angle from the straight line should be 65 degrees or from the broad edge should be 25 degrees and the summation of both of these angles should be 90 degrees.
Q: Does a sawhorse come with a clamp holder or can I add a clamp holder with a sawhorse?
Ans: Most of the sawhorses come with clamp holders.  You can also add specific types of clamp holder with your chosen sawhorse.
Q: Do lumbers come with sawhorse?
Ans: Only the hardware components come with the sawhorse. The sawhorse manufacturers generally do not provide lumbers with the sawhorse. You have to buy lumbers separately.
Q: What are the renowned brands of sawhorse?
Ans: The WORX, AmazonBasics, Bora, ToughBuilt, Metabo HPT are some of the famous brands of sawhorses.
Conclusion
It is a good practice to read the manual thoroughly provided by the sawhorse company. If there are some restrictions to use the sawhorse you should always obey those restrictions. You should also not give workload to your sawhorse that exceeds its work capacity.
Our today's top pick is WORX Pegasus Work Table and Sawhorse. It is a 2 in 1 product that works both as a sawhorse and a worktable. The Toughbuilt C700 sawhorse is the second-best sawhorse according to our consideration. Though it is quite pricey it maintains high quality.