I love creating free content full of tips for my readers, you. I don't accept paid sponsorships, my opinion is my own, but if you find my recommendations helpful and you end up buying something you like through one of my links, I could earn a commission at no extra cost to you.
Learn more
Anyone who works in the construction industry knows that hammer drills are no ordinary drilling machine. You wanna drill into the thickest of materials; the best SDS hammer drills are for you.
Any standard drill will be able to hole through wood or cardboard. But when it comes to concrete and bricks, you need something powerful and stable; SDS hammer drills are just that.
These machines need to be long-lasting and durable so that users can drill holes into the hard materials safely and swiftly. The drills can be of many different types and come with many different features, which is why it might hard for you to decide which one is the best.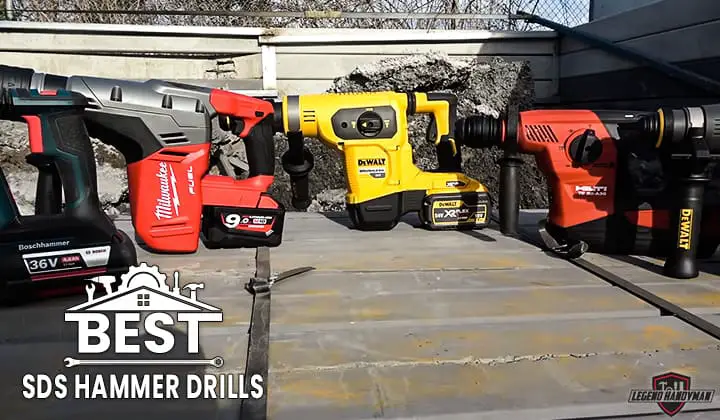 You will find hundreds of choices, offering thousands of different features, both online and in the market. But not all of them are of great quality. The wide array of products makes it difficult for buyers to pick a great hammer drill for themselves.
Here we have an insightful and thorough review to help you out. We have also attached a buying guide along with an FAQ section that'll help you make the best purchase. Check them out down below before you hit the mall.
Best SDS Hammer Drills Review
Are you looking for excellent quality SDS drills that'll drill through anything? Below we have listed the top seven with a thorough review to help you out. Check them out and pick the best one for you.
WegoodDLDER SDS Rotary Hammer Drill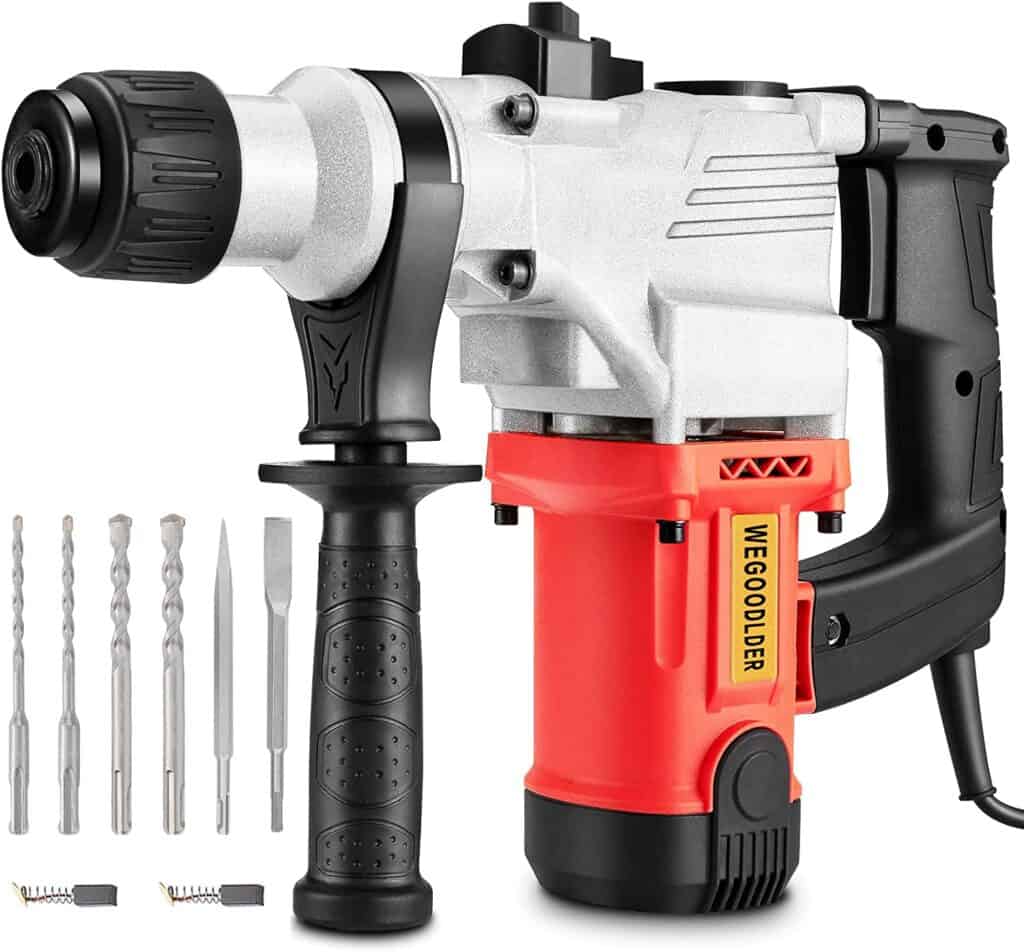 Our first pick is one of the most affordable hammer drills you will find in the market. The machine comes with a sturdy build and all the features you need for convenient drilling.
The equipment is run by a motor of 1,000 Watts, which gives it an impact energy of 5 ft-lb. This is suitable for heavy-duty works that are generally needed in construction work. You can use the machine in 3 different modes: hammer only, drill only, and hammer drill. When you just need chiseling, use the hammer only option; the drill only mode is for rotations, and the hammer drill is for hammering while rotating.
Along with its six different speed control options, 0-800 RPM, and 0-3500 BPM, this machine is very versatile. It can swivel in 360 degrees, and the ergonomic design of its handle makes it easier to hold. The grip of this machine's handle is textured so that you can work with it for long hours without developing muscle pain.
If you often have to travel for work, this one is the perfect SDS drill for you. It comes with a beautiful kit where you can keep all your tools organized. All the accessories you need are included in the box along with a universal chuck, a bottle of oil, a depth gauge, three 6inches SDS drills, 2 10 inches SDS chisels. This is the best set for people who are looking for affordable drills that are suitable for around the home jobs.
Highlighted Features: 
6-speed control options
Includes both point and flat SDS chisels
It can swivel in 360 degrees
Textured handle
Highly affordable
DEWALT 20V MAX SDS Rotary Hammer Drill, Tool Only (DCH273B)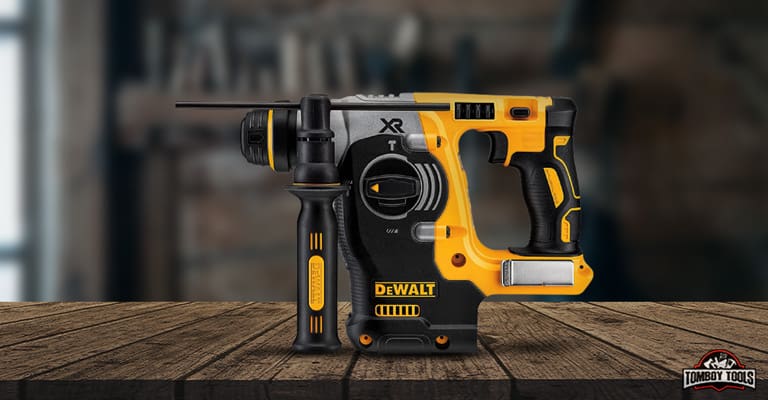 Have you ever dealt with an annoying drill that vibrates so much that it's hard to hold and control? If you are done with vibrating drills, then this product is just for you.
The machine comes with a unique feature of 'active vibration control.' This feature reduces vibrations and gives users more control over their work. The equipment has an impact energy of 2.1 Joules, which ensures that it has corded power even without any cords.
Many of us like to hang our drills from hooks, and this makes storing easier as well. This particular machine comes with a retractable hook, which can be used for hanging the equipment anywhere you'd like. It doesn't require any load speed and rotates 0 – 1,100 rpm.
When it comes to durability, this product tops all with its brushless motors. You will have the ultimate comfort using this drill as it doesn't torque suddenly, even when it's jammed. The machine is designed to be ergonomic and easy to handle. It has the perfect power-weight ratio, which makes balancing is way easier compared to other drills.
We recommend this product for its user convenience and durability.
Highlighted Features:
The equipment has an impact energy of 2.1 Joules
Active vibration control feature
Retractable hook for easy storage and hanging
It doesn't require any load speed
Excellent power-weight ratio, which makes balancing the machine easier.
Bosch 1-1/8-Inch SDS Rotary Hammer RH328VC with Vibration Control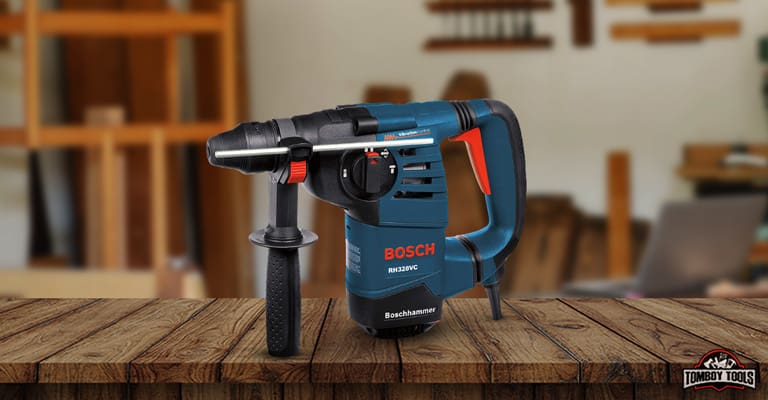 Our next pick is also a minimal vibration SDS hammer drill, and it's from none other than the reputed Bosch Company. 
The machine has a professional design and features three different modes of operation. It also has a vibration control feature, which reduces the vibrations of the drill and makes it easier to control. The impact energy of the drill is 2.4 Ft.lbs.
This machine has vibration control in two areas: the grip and the hammer. As neither of them vibrates much, users are able to drill exactly where they want to. The equipment is made of metal and plastic; it has a durable body that doesn't trust easily.
Nobody likes it when drills get jammed. You won't have to face that with this one. It features a clutch that detaches the torque transmission whenever it binds up. You can swivel the auxiliary handle in 360 degrees; this will give you more control over what you're doing.
You can opt for the neutral mode using Vario-Lock in this machine. With this feature, you will be able to choose any of the 12 positions for the perfect place to set your chisel.
A carrying case is included in the package, which makes this machine highly portable. We recommend it for convenient, easy work.
Highlighted Features:
Less vibration in grip and hammering area
Vario-Lock sets the machine in neutral mode
Auxiliary handle swivels in 360 degrees
three modes of operation
12 positions to set chisel
Makita HR2475 1″ Rotary Hammer, Accepts Sds-Plus Bits (D-Handle)
If you love aesthetic machines, then this is the perfect hammer drill for you. The machine has a motor of 7.0 AMP, and the drill rotates 0-1,100 RPM.
Sometimes bit binds, and the clutch instantly disengages gears when that happens in this machine. This prevents gear damage and makes the machine more durable. The feature also accelerates the drilling process. This machine also includes a sequential hammering system that eliminates overlapping bits and makes drilling 50% faster.
You can completely rely on this long-lasting equipment as it's engineered to be convenient and durable. The armature is a dual ball bearing, and the commutator bars are made of copper in this machine; these two together increase the transmission of energy.
There are 40 different angles to perfectly set your drill bit at any angle. Changing bit is also very simple with this equipment; all you have to do is touch its sliding chuck for changing the bits. The range of concrete drilling in this equipment is 3/16 inch- 1/2 inch. It has a capacity of drilling up to 1 inch.
The machine comes with a torque limiter that works as a controller to ensure stable torque. We highly recommend this convenient equipment for all professional and amateur workers.
Highlighted Features: 
It has a clutch that disengages gears
50% faster drilling
40 different angles for setting bit
It has a capacity of drilling up to 1 inch
It includes a torque limiter
Eneacro Electric Rotary Hammer Drill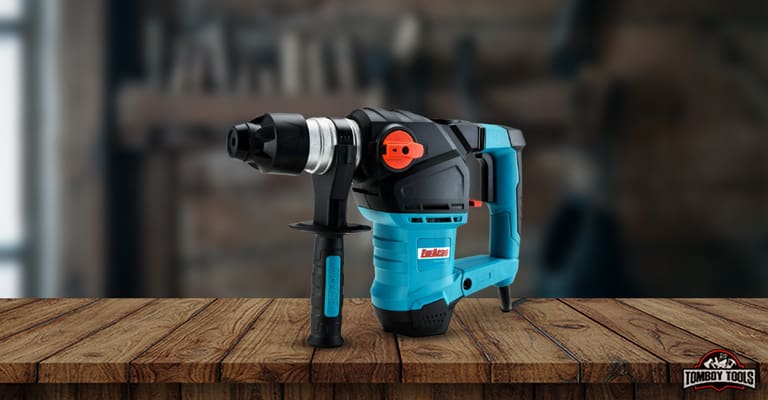 Last but not least, this rotary hammer drill from Enenacro is one of the most popular heavy-duty hammer drills in the market. It comes with an industry-standard motor of 12.5Amp. The motor has an impact energy of 7 joules and is great for heavy-duty construction work.
This machine comes with a heat dissipation design that enhances its performance and also makes it last longer. The anti-dust bottom feature also protects it from dust and debris, making it long-lasting.
Sometimes it's hard to handle drill machines because they vibrate so much with high force. This one comes with clutch protection that'll help you hold the machine steady during high torque. The 360 degrees swiveling handle, along with anti-vibration features, makes this machine more convenient to hold and use.
You can switch between the three functions: hammer, drill, and hammer-drill easily in this equipment. It comes with a double function switch design that extends service life by 100%.
Drilling capacity of this machine in concrete is 1-1/4 inch and in metal is 1/2 inch. It has SDS Plus chuck, which allows users to change bits safely while working. The whole package includes a rotary hammer, a point chisel, three drill bits, a flat chisel, a set of replaceable carbon brush, an auxiliary handle, a dustproof cap, a grease, and customer support.
Highlighted Features
Excellent vibration control
Heat exhaust eliminates overheating of the motor
360 degrees swiveling handle
SDS-Plus keyless chuck to change bits
Dustproof
Milwaukee 2715-20 M18 Fuel 1-1/8″ SDS Plus Rotary Hammer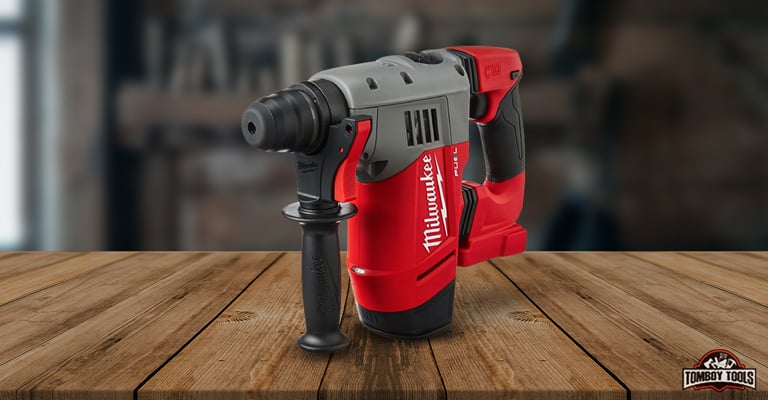 A highly durable product that runs on lithium-ion batteries. This machine is designed to be used by all construction workers regardless of their skill set and level of expertise.
Like all the other Milwaukee products, this one also comes in an attractive design with the company logo on it. The machine is bright red in color and has a sleek look to it.
Once your machine is fully charged, you will be able to drill with it for 24 hours. It comes with a 1-1/8 inches SDS plus rotary hammer that makes drilling faster and swifter. The impact energy of this machine is 3.3 ft-lbs, and it rotates 0-1,350 times every minute. The motor is brushless, and it provides 0-5,000 BPM.
The machine is highly durable. Although it runs on lithium-ion batteries, the battery life is lengthened by its mechanisms. The equipment is engineered to be energy-saving, and there is great communication between battery, charger, and tool. This eliminates energy loss through optimum drilling and charging.
A vibration eliminator called the Anti-Vibration System is installed into this machine that reduces vibrations while working and ensures that users have more control over drilling.
Highlighted Features:
Can work all day by charging once
It doesn't overcharge or overheats
Anti-Vibration System reduces vibrations
Drills faster compared to other SDS drills
There is communication between the battery, tool, and charger/
Buying Guide to Best SDS Hammer Drills
Now that you're familiar with the best products, we would like to provide a guide for you so that you know what you need to look for. Below we have listed all the important features a good quality SDS hammer drill should have: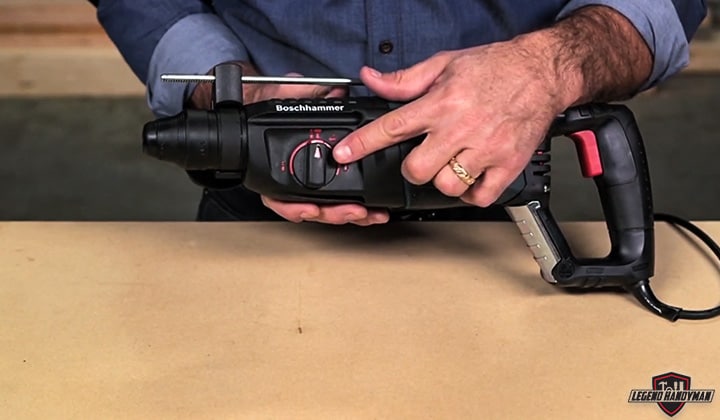 Ease of Use
Many might think that this heavy equipment must be very hard to use. But that is not the case. You will find many hammer drills in the market that are very simple to operate.
One of the many important features an easy to use drill has is tool-less chuck operation. We have mentioned products which can change bits without the help of any tools. This will not only save you time but also make drilling safer for you.
3 Functions for Operating
In the above list, you will see that most products can operate in 3 different modes. There is a hammer only drill, and hammer-drill mode. These three operating functions are always present in great quality hammer drills. The functions will also put less pressure on your hands and arms.
Well Designed Handle
Most SDS hammer drills are heavy. So, a good quality handle is important for using these machines. A handle should be able to swivel in 360 degrees and have a textured rubber grip. It should be sturdy as well because you will need this part to balance the equipment whenever you are working from a difficult angle.
Corded and Cordless
Although this is a personal preference, depending on your work, only one of them is the best. If you carry a battery, you can always go for the cordless hammer drills. We would recommend using the corded one whenever you are working near a power source.
Motor
The motor of hammer drills highly influences how much power it has and how long it can work without charging. A powerful motor also ensures more torque. Compare the size and weight-torque ratio to choose the perfect hammer drill for your work. It's wise to opt for the more powerful motors.
Versatile
Look for feature-filled tools that you will be able to use for other applications as well. We always recommend opting for versatile products as it widens your work and also saves money.
When it comes to SDS hammer drills, you will find different speed options, features like Vario-lock, and other unique features in different products. Pick one that compliments your line of work best.
FAQs
Q; Is hammer drill and regular drill different?
Ans: Yes. The hammer drills are stronger and faster compared to regular drills. You can use regular drills for drilling into wood or screwing bolts, but hammer drills are used for drilling into concrete and metal.
Q: Do I need to buy different bits for hammer drills?
Ans: Not necessarily. If you want more precision than you can buy appropriate bits for your hammer drills. In some cases, special bits are necessary for hammer drills.
Q: Is SDS plus compatible with SDS hammer drills?
Ans: Yes. You can use the SDS plus in these hammer drills without any issues. Their shanks are 10mm in diameter and interchangeable. You can put any bit you want in these hammer drills, and they'll perfectly fit.
Q: What does SDS mean on a hammer drill?
It means Slotted Drive System, but the name was actually a German invention called Steck-Dreh-Sitz which roughly translates to Insert Twist Stay. These hammer drills were invented when construction workers couldn't drill into bricks anymore. The special feature of these drills is that they can work on hard materials.
Q: Can I use these tools to remove tiles?
Ans: Yes. With the suitable bits, you can use these hammer drills to remove tiles. But you need to be careful not to damage the surface below tiles.

Outro
If you were looking for the best SDS hammer drills, we hope you have found it from the above-listed products. Please keep your budget and line of work in mind before you make your purchase.
All the drills listed in our review section are durable and long-lasting. They all are from different price ranges; you can look up their price on their respective websites. Good luck buying the perfect hammer drill for your work!
I'm Joost Nusselder, the founder of Tools Doctor, content marketer, and dad. I love trying out new equipment, and together with my team I've been creating in-depth blog articles since 2016 to help loyal readers with tools & crafting tips.