I love creating free content full of tips for my readers, you. I don't accept paid sponsorships, my opinion is my own, but if you find my recommendations helpful and you end up buying something you like through one of my links, I could earn a commission at no extra cost to you.
Learn more
Tape measure may sound like an insignificant tool, but it's one of the essential tools for woodworking. If you cannot measure whatever you are working on, then you can throw precision out of the window.
Not only precise finish but also a good build is ensured by accurate measurements. Tape measures are needed for any woodworking project, and obviously, you cannot work with a faulty one. We have listed the best tape measures for woodworking below so that you get the accurate measuring device you are looking for.
Measuring tapes need to be flexible and easy to use, as well. Being just accurate is not enough. We have considered flexibility, user convenience, and durability, along with other important features while making this list.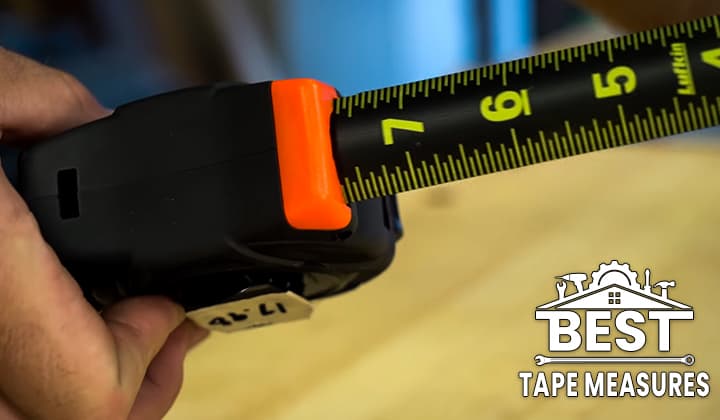 We have also included an in-depth buying guide along with an FAQ section after the reviews. Read on to check out our list of tape measures. The reviews will definitely help you find your own measuring tape for woodworking.
Best Tape Measures for Woodworking Review
Any avid woodworker or carpenter knows the importance of a tape measure in woodworking. Whether you are an amateur, a professional, or even a kid, you need a tape measure for your woodworking projects. We have reviewed some of the best ones in the list below:
Stanley 33-425 25-Foot by 1-Inch Measuring Tape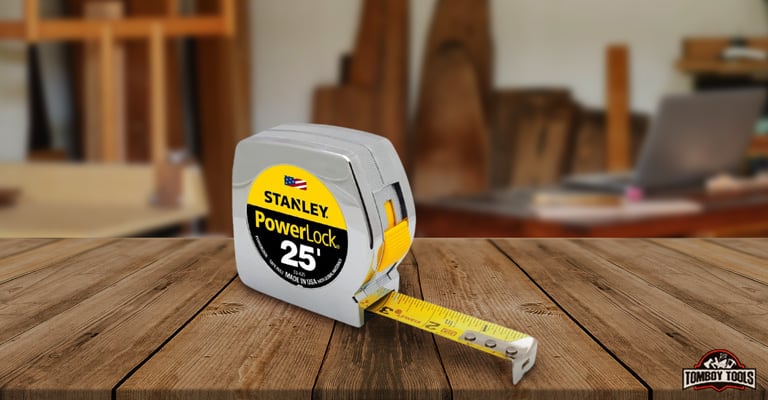 Made in the United States of America with global materials, this tape measure is highly durable and can be used for any projects.
This versatile tape measure is appropriate, even the smallest of woodworking projects like making cabinets to large projects like building a home. It comes with stud center markings of 19.2 Inch and 16 Inch.
Stud center markings are used for spacing studs away from walls. Usually, studs are spaced on center along walls at 16 inches or 24 inches. Studs provide support to the walls, so they're extremely important for building homes.
Two different center markings in a tape measure will help the woodworker be more flexible with his work. With this measuring tape from Stanley, you will be able to align studs according to your wishes.
If you often work alone, you will love the standout of this tape measure. The 7-foot standout of the measuring tape makes it an attractive option for many woodworkers.
The standout is also consistent with this measuring tape. It won't bend after continuous usage. If you opt for this product, you will have a rigid, non-bendable 7-foot long measuring tape for a long time.
A chrome ABS case that can withstand high impact is included in the package of this tape measure. The tape doesn't creep while you're measuring because of the lock. It is a corrosion-resistant tape with an end hook that ensures accurate measurement.
The total length of the tape is 25 foot, and it has a width of only 1 inch. Shorter width means that it can reach narrower spaces. The tape measure is great for professionals. If you are looking for an everyday-use tape measure, we highly recommend this one.
Highlighted Features
Chrome ABS case.
7-foot long standout.
Blade lock.
1-inch in width.
Corrosion-resistant.
General Tools LTM1 2-in-1 Laser Tape Measure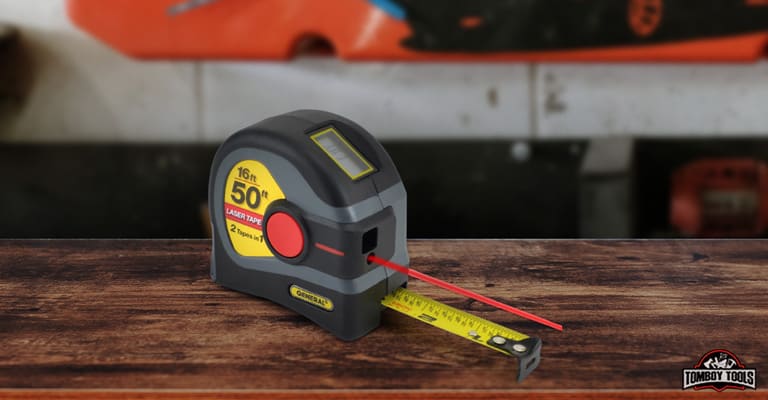 This is no ordinary tape measure with its laser pointer and digital display. The measuring is promised to blow your mind with its versatility and awesome features.
Unlike the conventional measuring tapes, this one has incorporated two different ways of measurement. The tape measure has a laser and a tape for measuring distances.
The laser can cover 50 feet distance while the tape is 16 feet long. This measuring tape is also great for operating by oneself. You won't need anyone else's help while measuring with this tape.
Usually, the laser is used for measuring long distances, and the tape is used for measuring shorter distances. The best thing about this measuring device is its precision and accuracy. The laser shows its highly accurate measurement in an LCD screen.
Using the tape measure is simple. All you have to do is push a red button for activating the laser. If you don't want the laser, you do not push the red button; the button is only used for laser.
Whenever you want to measure a longer distance, push the red button once for finding your target. Once you have found the target, push it again to measure it. the second push will display distance on the LCD screen.
It has a 16 feet tape measure, which is great for most small woodworking projects. There is a hook attached to the end of a tape measure, which helps the person using it keep the tape steady. The standout of the tape measure is 5 feet long. The tape measure has a blade of ¾ inches.
If you would like a versatile and tech-savvy tape measure, you can definitely opt for this product.
Highlighted Features
Compact.
Laser and tape measure.
Fifty feet laser and 16 feet tape.
Accurate.
The LCD screen displays the distance.
FastCap PSSR25 25-foot Lefty/Righty Measuring Tape
This cute and compact measuring tape is perfect for all the woodworkers out there. The measuring tape comes with an erasable notepad and a pencil sharpener.
Whenever you measure something, you obviously need to write down the measurements. If you are already working with heavy equipment, carrying an extra notebook can be difficult.
That is why; this measuring tape with an erasable notepad is simply a solution to all woodworkers' common problems. You just have to take the measurements and write them down. As the notepad is erasable, it's not adding any extra weight.
Length of this tape measure is 25 feet. The measuring tape has a standard reverse system where the tape is rolled back automatically. It also includes the easy-read fractions feature to 1/16".
You can use this tape measure for different projects, especially whenever you are working on the roof. The measuring tape is highly durable as well. It has a rubber coating around the body, which prevents wear and tear.
It is a very lightweight measuring tape; it weighs only 11.2 ounces. You can carry it around in your pocket. The tape measure comes with a belt clip so that you can hang it from your belt while you're working.
Both metric and standard units of measurement are applicable for this tape measure. This feature makes the measuring tape a global one.
We applaud the thoughtfulness of the manufacturers who have included small yet important features like an ergonomic belt, notepad, and sharpener in this tape measure. You can definitely work on different projects with this measuring device.
Highlighted Features
Compact and lightweight.
Includes a belt clip.
Includes both metric and standard units of measurement.
It comes with a notepad and a pencil sharpener.
It has a rubber covering.
Komelon PG85 8m by 25mm Metric Gripper Tape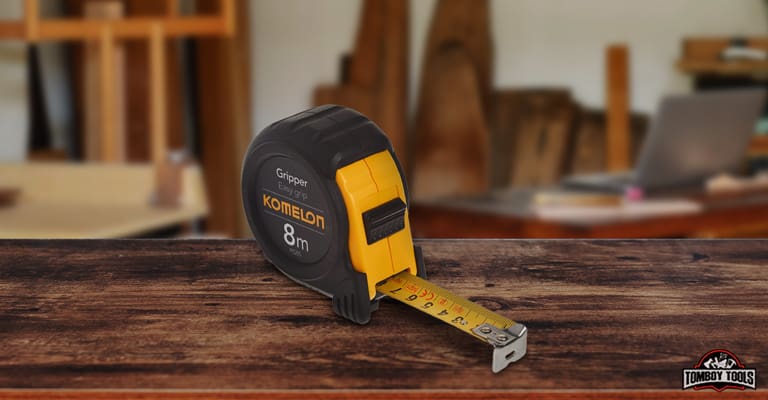 One of the easiest and most convenient tape measures you will find in the market. The tape is an 8m or 26 feet steel blade.
Body of the tape is coated with rubber, and the tape width is only 25mm. The acrylic coated blade of this tape measure is highly accurate. You can completely rely on the tape to provide you precise measurements.
Carrying a tape measure around is easy. Mostly because many of the tape measures are compact in size and come with a belt clip, this tape measure is also very compact and weighs only 1.06 pounds. It can go wherever you go.
Working with this tape measure is very satisfying. Its ergonomic design makes it easier to handle than many other measuring devices. Whether you are working on a backyard project or a professional woodworking project, this tape measure will come in handy.
We know that the metric scale is used in most states and countries today. This tape measure also measures distance in the metric scale. Although some of the measuring tapes in this list have standard units of measurement, we think that metric units are enough for measuring tapes.
The end hooks of this device are triple-riveted. This tape measure has an excellent belt clip that stays in place. You don't have to worry about the device moving or falling as long as the clip is attached to your belt.
If you like woodworking as a hobby, you can use this measuring tape. The tape measure is great for professional woodworkers as well.
Highlighted Features
The end hook is Triple riveted.
Compact and easy to carry around.
8m or 26 feet steel blade.
The steel blade is coated with acrylic.
Ergonomic design.
Highly accurate measurements.
Milwaukee Tool 48-22-7125 Magnetic Tape Measure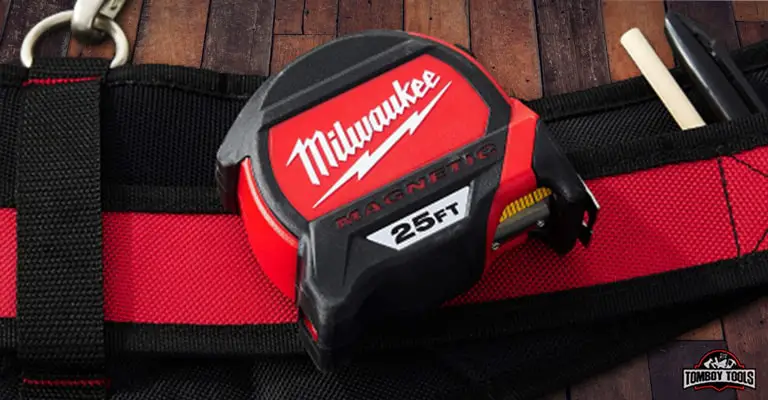 This unique measuring device is magnetic. This means that it's more accurate and easier to use compared to the other tape measures.
The length of this tape measure is 25 feet, which is considered a standard for measuring tapes used in woodworking. Many tape measures mentioned above are impact-resistant; this one is impact-resistant as well.
It has a reinforced frame with 5 points, which makes the measuring tape resistant to impacts. So even if something heavy falls on the device, it will be able to withstand the weight.
A strong, durable device is always handy for woodworkers. The nylon bond included in this measuring tape makes it stronger and more durable. Nylon bond actually protects the blade of the measuring tape.
These are heavy-duty tape measures; this means that professionals can use the measuring tape with ease. The blade and the device body have a protective coating on them to prevent wear and tear.
Magnetic tape measures aren't that common, but they are very accurate. This magnetic measuring tape from Milwaukee Tool has dual magnets.
The dual magnets used in this tape measure are one of the New-To-World products. Magnets of this device are attached to steel studs in the front, and EMT sticks are attached below.
An innovative feature of this tape measure is the finger stop. Have you ever cut yourself with a blade of measuring tape? Well, that won't happen with this one.
If you are an architect, you will be able to use this measuring tape as it can use the Blueprint scale. It calculates drawings of 1/4 and 1/8 inches.
Both sides of the blade have measurement units on them for user convenience. The standout of this tape is 9 feet. We highly recommend this heavy-duty, versatile tape measure for serious woodworkers.
Highlighted Features
Nylon bond.
9 feet standout.
Dual magnets.
Finger stop.
Blueprint scale.
5-point reinforced frame.
Prexiso 715-06 16′ Retractable Digital Measuring Tape with LCD Display
Last but definitely not the list, this digital tape measure is highly accurate and very easy to use. It comes with a casing for protecting the internal rewind and brake system.
The blade of this tape measure is made of carbon and steel. It is rust-resistant as well, which means that you will be able to work with it even in the rain.
When it comes to LCD displays, you want something that is clear. Sometimes the numbers tend to get blurry, which won't happen with this measuring tape. The LCD screen displays distance in both feet and inches.
You can switch between IMPERIAL and METRIC units while you are measuring with this device. Switching just requires pushing a button and takes only a moment.
Woodworkers often have to write down what they have measured in a notepad. But this unique measuring tape can record measurements. You can even turn the device off and retract the data later.
There are two features: the hold function and the memory function. The first one is used to display measured distance even when you are retracting the blade. On the other hand, memory function is used for recording the measurements. A maximum of 8 measurements can be recorded.
A wrist strap and a belt clip are attached to this measuring tape for carrying it around. Both the strap and clip are heavy duty.  The device turns off automatically if you haven't used it for 6 minutes straight. This saves battery life.
This measuring tape uses a CR2032 3V lithium battery. One battery is included in the package, which will last approximately a year.
We recommend this measuring tape for woodworking professionals who need heavy-duty and accurate measuring devices.
Highlighted Features
Includes a CR2032 3V lithium battery.
Heavy-duty.
Large LCD screen.
Uses IMPERIAL and METRIC units.
Records measurements.
Choosing the Best Tape Measures For Woodworking
Now that you have gone through all the reviews, we would like to provide with necessary information about tape measures. Before you make your purchase, make sure the tape measure meets the following standards: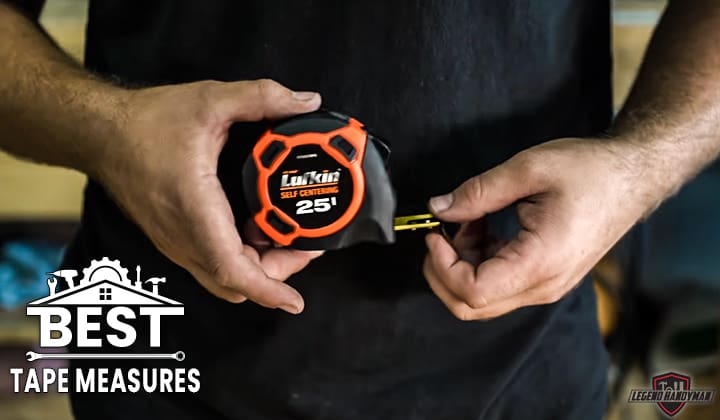 Length of the blade
Depending on your work, you need a shorter or longer tape measure. Usually, measuring tapes have 25 feet long, but it can vary as well. If you require a measuring tape for smaller projects and you have other teammates to help you measure, you can do with a shorter blade.
But if you are working alone, we recommend opting for longer blades. It is wise to choose blades of length 25 feet or higher.
Price
We highly recommend making a budget for all your purchases. Whether you are buying a measuring tape or a drill machine, a budget will narrow down your options.
The price of measuring tapes can vary based on their features. There are many expensive ones and many affordable ones available in the market. A basic measuring tape shouldn't cost more than $20. Don't invest in an expensive one if the basic, affordable measuring tape is enough for your work.
Clear and Readable Numbers
Measuring tapes should have numbers printed on both sides, and they should be readable. You measure something for noting down their accurate distance, length, or height. So, having clear numbers are very important for measuring tape.
Sometimes the numbers printed on a tape measure wears off. You will not be able to use that tape measure for a long time. Look for ones that have clear and big numbers with adequate space for reading.
Long-lasting and durable
Measuring tapes aren't that cheap, so you cannot just throw them away after a year or so. Whether your measuring tape is digital or analog, it needs to be durable and long-lasting.
Focus on the blade and case materials of a measuring tape to estimate its durability. If the blade and case are made of great quality material, your tape will last a long time. The rubber coating also makes these products more durable.
Locking Features
All measuring tapes should have some kind of mechanism for locking. It is hard to measure something if the blade keeps slipping. Locking features will also protect your finger whenever you are retracting the blade.
Many measuring tapes come with a self-locking mechanism. This is an attractive choice if you don't mind spending on the tape measure a little more. Locking the blade also helps to hold it steady, which helps in measuring something.
Measurement accuracy
This is the reason behind investing in a tape measure. If the measuring tape cannot ensure accuracy, then there is absolutely no point in buying it.
Digital tape measures are highly accurate, but if you don't want to invest in them, there are excellent analog ones. Marking quality and readability are also important for accurate measurement. You can use the calibration tools for checking whether or not your tape measure is accurate.
User convenience and ease
Nobody wants to purchase a product that is hard to use. Whether your tape measure is digital or analog, it should be easy to use and understand.
If you are not comfortable with using a digital tape measure, we recommend opting for an analog one. There is no point in investing in something that's uncomfortable. Pick the measuring device that you understand best; it will also help you work better.
Ergonomic design
Many of us are allergic to different materials. Make sure that the tape measure you are buying does not have materials you are allergic to in them.
The design of the tape measure is important because you will be working with it for a long time. The measuring tape should fit perfectly in your hand and should be comfortable to hold.
If your hand gets sweaty, you should opt for the rubber-coated tape measures.
Unit of Measurement
If you are a professional woodworker, we recommend purchasing a tape measure with a dual scale. This will give you an option of switching from imperial to a metric unit of measurement in seconds.
If you don't want to go for a dual scale, choose the unit of measurement you are familiar with. These units vary between countries, so it is best to look up which system your country follows; then follow that.
Additional features
Nylon bond, rubber coating, rust and impact resistance, measurement records are some of the additional features mentioned in the reviews. These features are always attractive, but you need to contemplate whether you need them or not before purchasing.
Do not purchase a measuring tape just because it comes with many features. Go for the one that is ideal for your work type. If something looks highly appealing to you, consider the price before investing in it.
Frequently Asked Questions
Q: Can I use stainless steel tape measures in the rain?
Ans: Yes, stainless steel is rust-resistant. Most tape measures made of stainless steel can be used in the rain. It is recommended to dry the blade of measuring tape after using it in the rain.
Q: Is the end hook required for one-person measurement? Are they supposed to be loose?
Ans: Yes. For one-person measurement, an end hook is necessary to keep the blade of a measuring tape stable.
Also, yes. The end hooks are supposed to be loose and not rigid. This is done so the hook can be used for both inside and outside measurements.
Q: Are all tape measures curved? Why?
Ans: Yes, all tape measures are a little curved. This concave design of the measuring tapes helps them to stay rigid even when there is no support.
Usually, both the digital and analog tape measures are concave in design.
Q; Is it dangerous to use a laser measuring tape?
Ans: Laser tape measures are not considered to be dangerous. As you are only pointing the laser to an object, it's not harming anyone. Do not point it to someone's eyes because that can cause serious harm.
Conclusion
We are at the end of our journey to find the best tape measures for woodworking. We recommend you go through all the reviews and the buying guide thoroughly before making your purchase.
The tape measure is not an optional tool; you will need it for all your woodworking projects. Pick one that fits your work type and your taste best. Keep in mind; the goal is to enjoy using the tool you are investing in.
I'm Joost Nusselder, the founder of Tools Doctor, content marketer, and dad. I love trying out new equipment, and together with my team I've been creating in-depth blog articles since 2016 to help loyal readers with tools & crafting tips.