I love creating free content full of tips for my readers, you. I don't accept paid sponsorships, my opinion is my own, but if you find my recommendations helpful and you end up buying something you like through one of my links, I could earn a commission at no extra cost to you.
Learn more
Chipping away from the edges is a usual phenomenon with subpar tile saw blades. It's not just about being subpar if you get the wrong blade for what you're getting the same thing will.
If the blade and the material don't pair perfectly the blade will vibrate like crazy. Thus the chippings.
Tiles being the fundamental of home decor, not a single client wants theirs being damaged in the littlest. Everything has to be perfect from those corner cuts to those holed-out tiles for the bathrooms taps.
So, let's find the best tile saw blade for the project at your hand.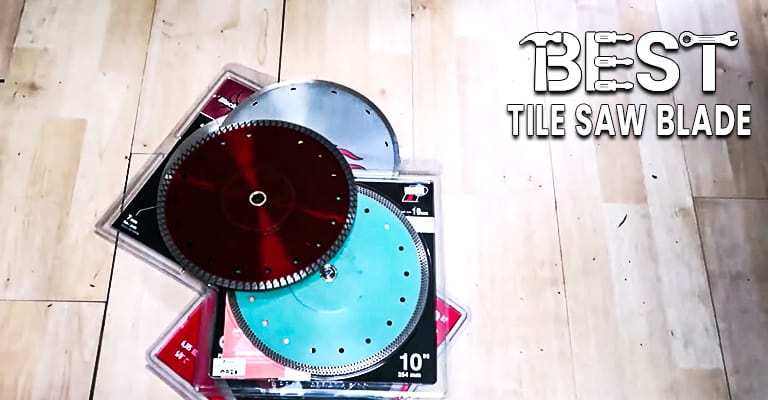 If you're planning on doing wet cutting, this Dewalt XP4 is the blade to get for most types of high-power tile saws and on most tile types. This blade won't warp under extreme heat due to its laser-cut slots, which allow it to expand instead of warping.
There are more types of blades for different situations though. Let's look at them real quick:
Tile Saw Blade buying guide
Tiles are the earnest alternatives of laminate floors and so has tile saws replaced laminate floor cutters.
So in the case of blades, price and brand are never the defining factors for the best one. Then what is? Scroll down.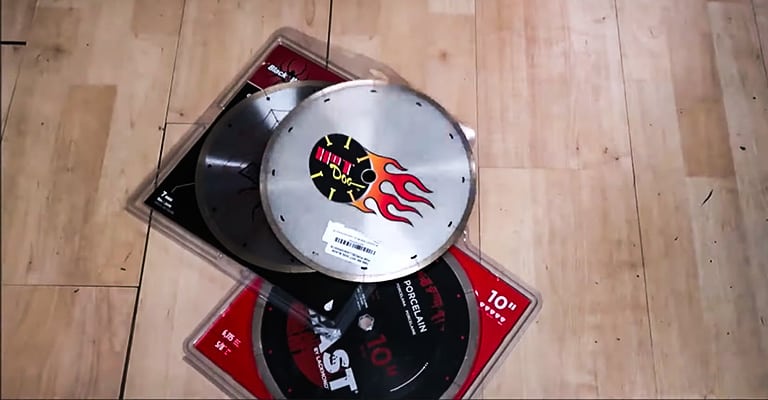 The Diameter of the Blade
As you can guess, blade diameter refers to the size of the blade attached. The greater the diameter is, the deeper the cut will be.
For instance, take a blade of 8-inch diameter. It'll leave a cut of 2-inch. Simply put, the cut will be ¼-times of the diameter. In general, diameters range from 4 to 12-inch.
Sometimes it is possible that you encounter a blade whose diameter is written in millimeters.
Maximum Speed
The max speed of the blade should match the maximum speed of your saw. Any dissimilarities can lead to a disaster.
Manufacturers of the tile saw make their machine fit for working in a certain speed range. Blade manufacturers then produce blades that can run in different speed ranges.
If we take the most common case, for instance, we see that the blades of longer diameters are slow runners. A blade having a 10-inch diameter can cope with 3600 to 6000-rpm.
On the other hand, blades that have an 8-inch diameter can handle 4500 to 7500-rpm.
Cut Depth
Yeah, it's important how deep a cut you want from your blade. But the max speed has the upper hand. Suppose, your tile saw can handle up to 6000-rpm. Then never go with a smaller-sized blade.
If you need a slightly less or deep cut, go for another tile saw that matches your criteria.
Long story short, never uses a tile saw that requires a 10-inch blade to cut less than 2.5-inch deep. Rather use another saw.
This strategy will help you to ensure the exact rpm necessary for the blade as well as the depth.
The Hardness of the Bonds
Actually, by bond hardness, we mean hardness of the matrix which keeps the diamond particles at place.
Whichever type you choose is fundamental to determine which material you can cut 'n which can't.
If you deal with porous tile (For example, terracotta tiles), you need a blade that is bounded strongly with its matrix. It's because the porous tiles don't require an exposed diamond edge.
But if you're dealing with porcelain tiles, you need a softly bound diamond edge to work with. This is a combination that helps the metal matrix to wear away and free the diamond edge.
Some things should be noted here. Firstly, the softly bound tile is for fast cutting. Besides, as you already know, it's designed to handle hard materials and lasts for a shorter period.
On the other hand, hardly bounds are meant for dealing with soft or say porous. Cutting speed is slow and that's why it lasts long.
Diamond Grit
As you can guess, the diamond grit (mesh size in other words) is referred to as diamond crystal grit size. Usually, the higher the grit number, the finer the cut. This has a range between 80 and 220.
Though the finer cut is given by the higher grit numbers, the slower cut you'll get. Blade life is also an affected parameter here.
You'll experience a shorter blade life for a few grits. And vice versa for a higher number.
Segment Thickness
Different variations of blades of various thicknesses are made to ensure a proper cut. Thickness is intentionally varied for the ease of cutting purposes.
Fragile materials are to be cut by the thinner blades whereas the thicker blades are for tough materials. Of course, the lifespan of the blade will also be varied.
Thin blades have a shorter lifespan but the thicker ones have a longer life span. Not rocket science, right?
Segment Height
After going through the earlier sections, don't you let yourself be misguided thinking that 'the taller the better.' Rather it's a parameter that should be considered at the end.
Once you have matched all the previously described parameters, you should check the height. In this scenario, the blade that has an extended height will be more durable.
Best Tile Saw Blades reviewed
Now with what you all wanted. A precise review of the most sold and popularly claimed to be the best in the market. Now you can be absolute about getting the best one for the job at hand.
Overall best tile saw blade for wet cutting: DEWALT XP4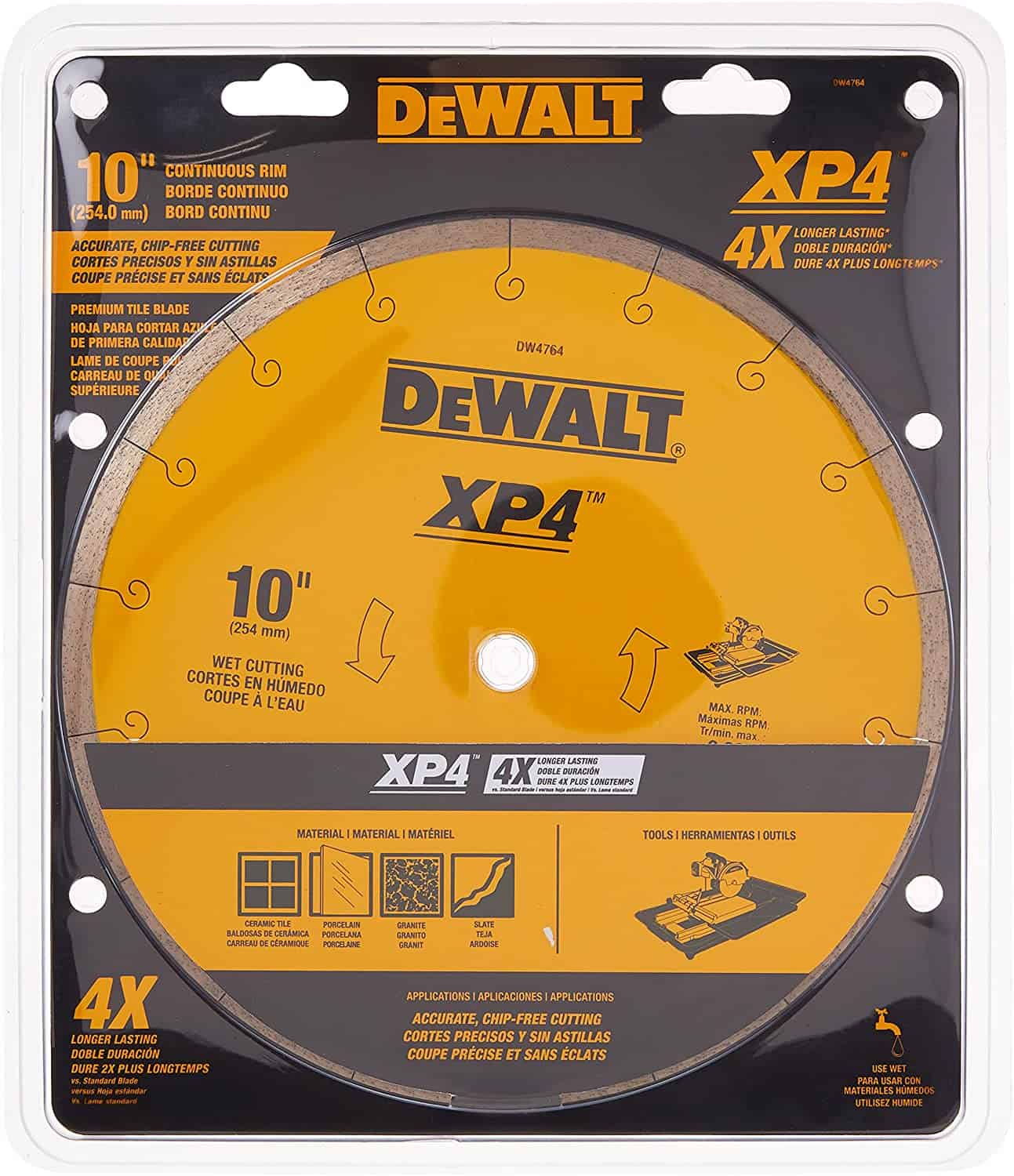 What did we like?
Here comes the pro in tool making. DEWALT is the name of trust 'and assurance over the years for workers over the years.
They do manufacture tile saw blades and of course, these blades meet the DEWALT quality. With its premium build quality, it's ready to serve your purpose for a long time.
Having a 10-inch diameter along with .06-inch thickness and thin kerf, this blade is ideal for dealing with hard materials like porcelain, ceramic, granite, or such surface.
This blade can rotate at a maximum speed of 6000-rpm which is similar to most tile saw available in the market. It has an arbor hole of 5/8-inch and a rim height of 8-inch.
It means you can easily match the criteria of your tile saw and fit this blade properly.
You can avail yourself with a 4, 4-1/2, 4-3/8-inch, or a 7-inch diameter of this model. Same quality in different tools! During the operation, you experience less noise for its better design.
As you're cutting hard materials, it's obvious that you have to wet the surface and cut through.
With this brilliantly crafted tool and your experience, you can have a wonderful cut with minimal chipping.  A 30-days money-back guarantee is also given by the manufacturer.
What we didn't like? 
You may experience flexes while cutting beveled edges.
Besides, the yellow paint of the blade disappears over time.
Check prices and availability here
Best cheap budget tile saw blade: ROK 4-1/2 inch Diamond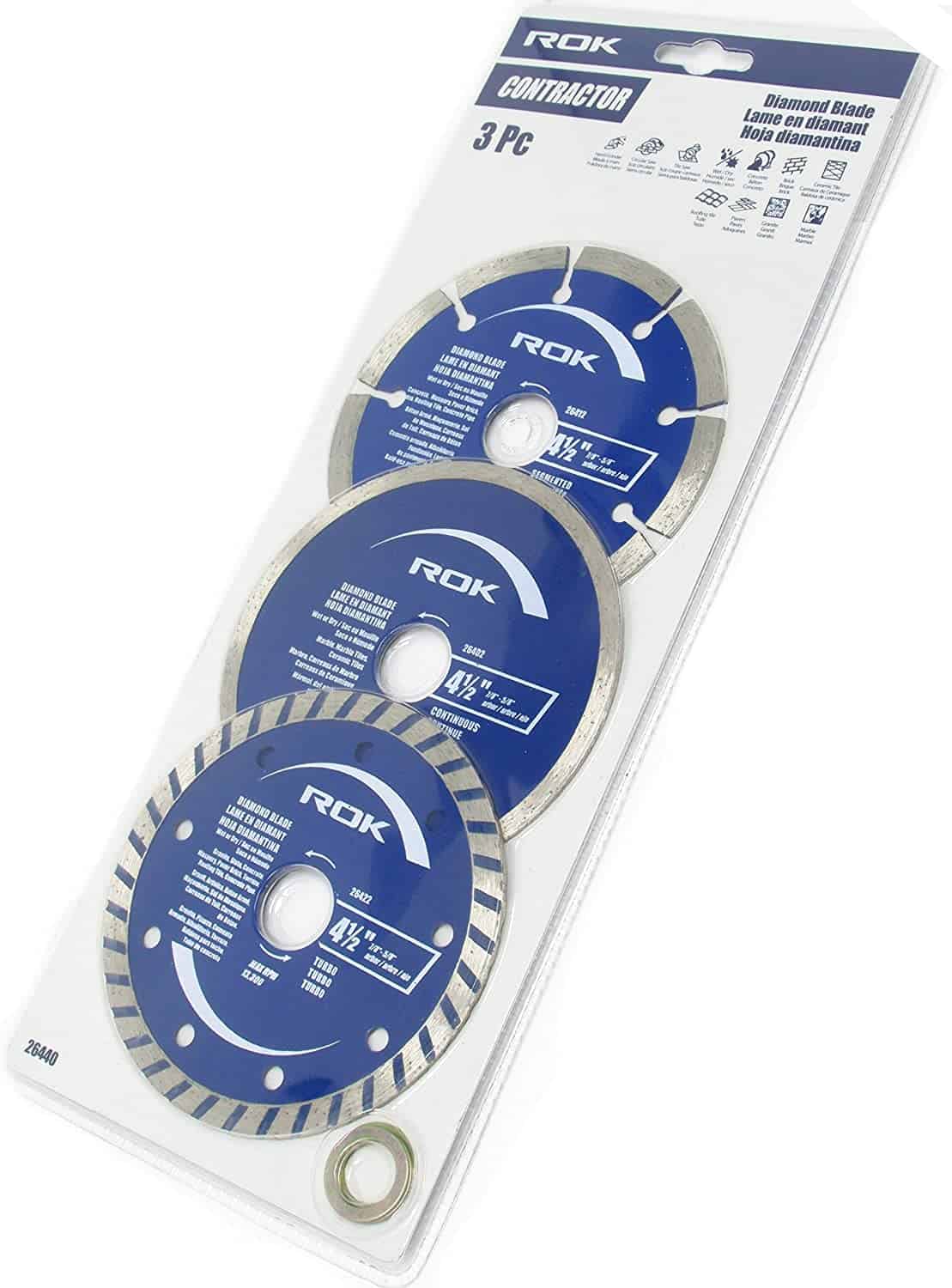 What did we like?
This is a 3 pcs set of the tile saw blade that is made to present some awesome blades before you. As you're buying this as a set, you're definitely going to save some bucks.
This set includes three very distinct types of blades for very distinct usages.
Okay, this pack includes a continuous rim blade, a segmented rim blade and a turbo rim one. As you can guess, this set obviously gives you the opportunity to deal with any kind of materials.
If you're dealing with different types of materials regularly, then it's a great idea for your purpose. Get a more precise cut in a comfortable and distinct way.
You're free to use this set as you want. You can go for a dry or wet cut according to your needs and comfort while cutting any particular material. Obviously, these blades come in standard configuration.
Like the industry standard, these blades have a 5/8-inch arbor hole with an angle grinder with 7/8-inch. For their solid design and rugged materials, these blades can satisfy you with increased durability.
What we didn't like? 
Not that premium blade you're looking for. They rather cut 'okay' for the rigid materials but can become dull over time.
Best tile saw for granite & marble: QEP 6-1008BW Black Widow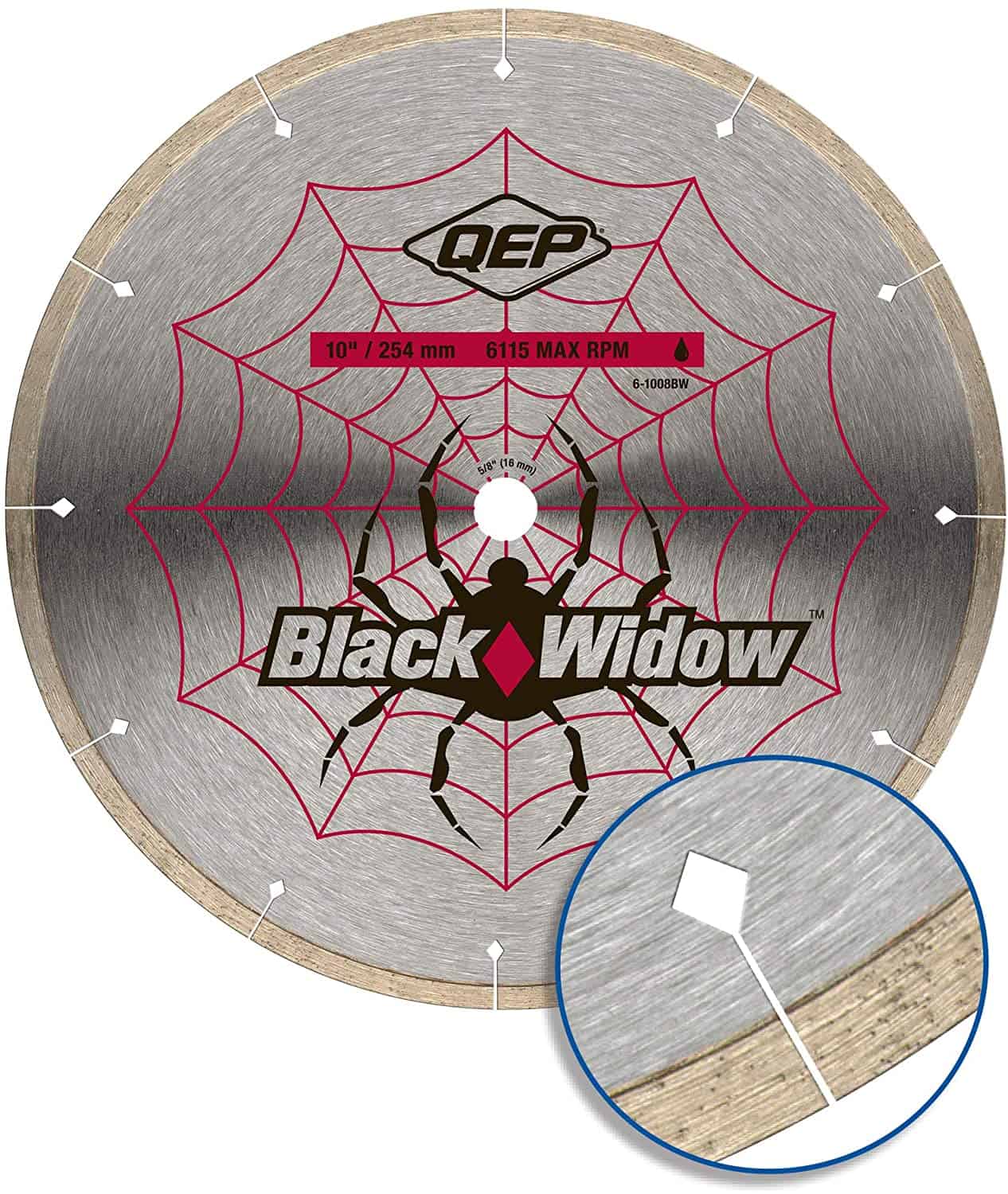 What Did We Like?
If you're a pro, I don't need to narrate the excellence of the black widow series of QEP. To date, they have manufactured four distinct models under the black widow series.
All of them do their respective duty in almost a flawless manner. Let's see what this particular model can do for you.
It's a blade of 10-inch diameter 'n .06-inch thickness. With its maximum rotation of 6115 rpm, it can cut through hard materials like porcelain, ceramic, granite, or marble.
You can use the blade for wet cutting, as the hard materials need to be done. With an arbor hole of 5/8-inch, this blade can be attached with most of the tile saws out there.
You can get the same quality in 4, 7, and 8-inch variations. That means the same premium quality and durability are available in all diameter variations.
When it comes down to design, this blade has a thin kerf. As you know, for the kerfs, the rule is the thinner the better. For this improved design, it cuts faster and is also cleaner.
The blade meets all of the necessary requirements for cutting hard materials, so it lasts simply longer. Minimal chipping and easy cutting are ensured by this design.
What We Didn't Like?
Some customers have noticed that the blade flexes while cutting near the edge of the tile.
If you cut too fast, the tile may chip near the end.
Glassy coating of glass mosaic tiles may be damaged as a result of harsh cutting.
Best tile saw blade for stone: Whirlwind USA LSS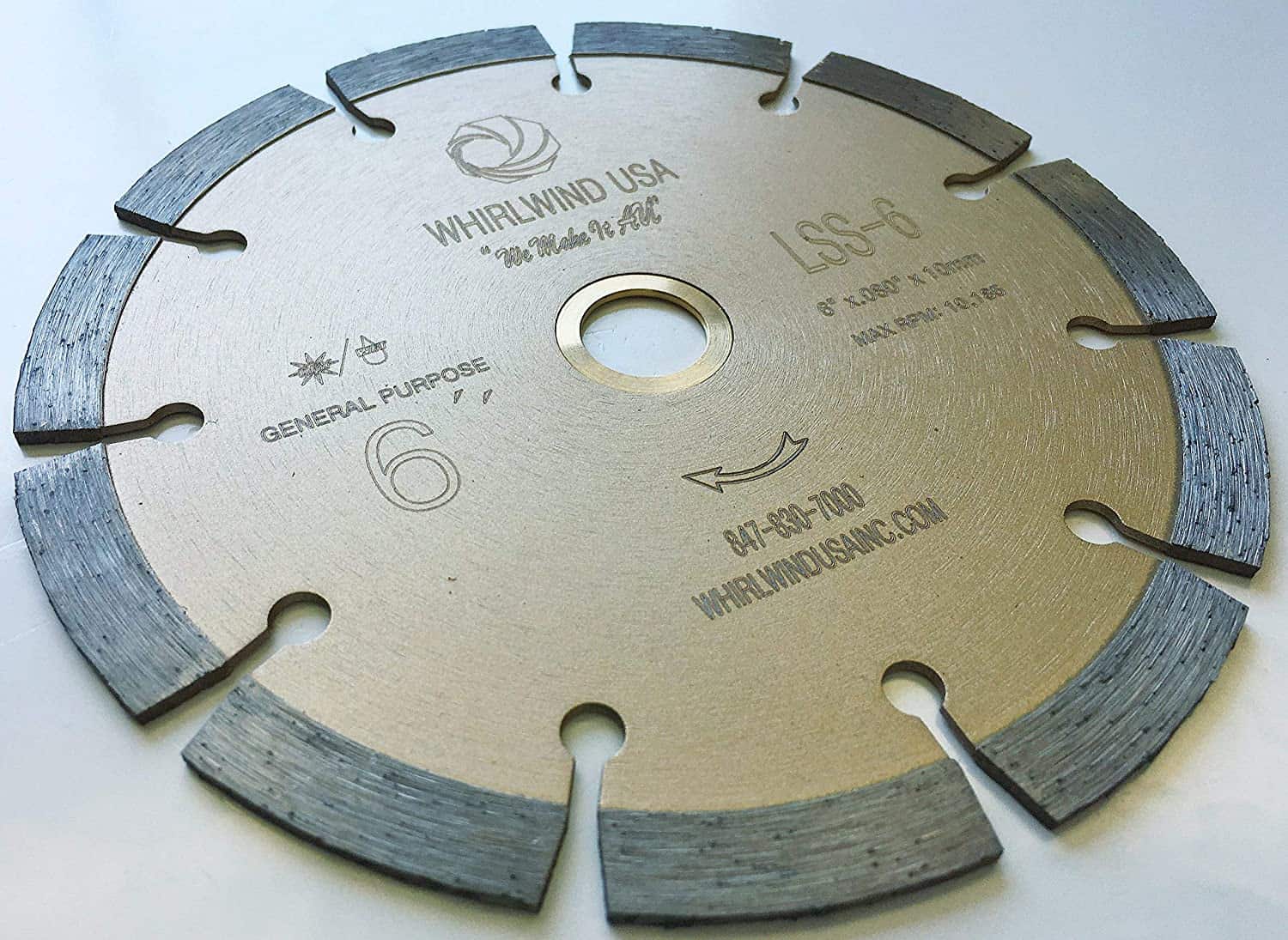 What did we like?
This is a tile saw blade with some different design aspects. It's designed in a way to render the best service possible during the operation.
With its unique design and tough construction, this blade can gladly serve your purpose. To delight you further, this tool has different variants for different-sized tile saws.
You can use this blade wet or dry, no matter! It means this tool has given you the flexibility to work at your own choice and at your own pace.
This blade is so accurate in cutting tiles that you can rely easily on it for a fine cut. Even you can cut bricks/blocks/pave or any solid material with this blade.
It's a mighty one, right?
The blade matches standard dimensions as many others do. But it has many more to give! This blade is thinner than many others in the market currently.
If you have a zeal for a thinner blade that appears as though it's a table saw blade, can run fast and is also durable, you can try this one.
The body is well constructed and rigidity is guaranteed. With all these specs, this blade is ready to roar!
What we didn't like?
You can't use the blade for long if you cut sturdy materials regularly.
The blade, eventually, will become dull.
Check prices and availability here
Best tile saw blade for glass: Super Thin Diamond Cutting Blade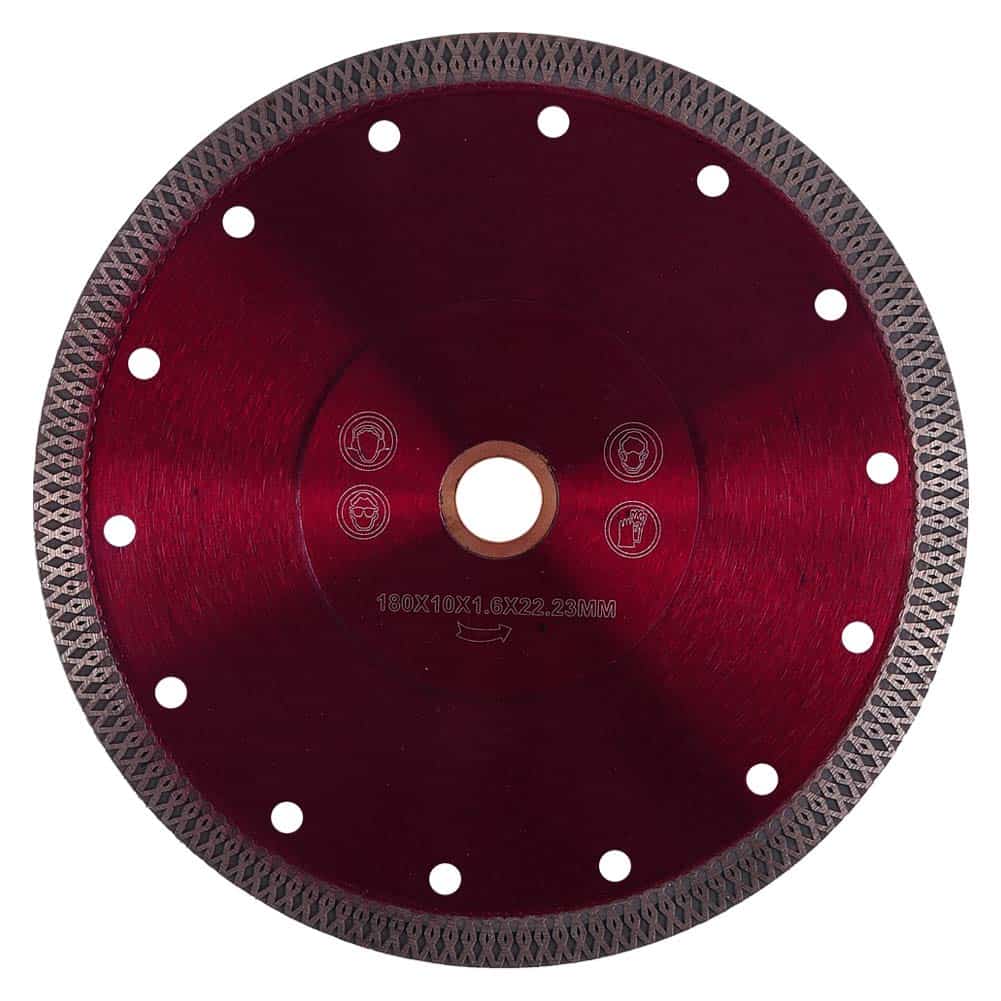 What did we like?
This is a thin blade that can be used to serve your cutting purpose. If you're a fan of thin blades, then this blade is here to amaze you. The obvious thing you'll notice first is its color.
This blade also serves an aesthetic purpose which is rare for this kind of tool.
This blade is available in different versions. These versions do include variations in diameter. Besides, you can have these blades in different packs and numbers.
Good for a user who wants to use the same quality tool for a long time. You can fit these blades for wet or dry cuts.
With its X teeth, the blade can offer you smooth and chip-free cutting. You can even fit it in a handheld machine. This blade is made to cut hard materials like porcelain, tile, granite, or such materials.
As you can get the same quality for different sizes, it's obvious that you don't need to be worried about different materials to be cut with a single saw and different blades.
What we didn't like? 
If you cut rugged materials regularly, you may notice tiny cracks in the disk as the time passes.
Besides, the blade may become dull over time.
Best tile saw blade with 1 arbor: MK Diamond MK-225 Hot Dog
What did we like?
Looking for a thinner blade for harder material? This blade can serve that purpose. This is the thinnest blade out there which you can use for harder surfaces like porcelain, marble, granite, travertine, etc.
As it is crafted especially, you can use it for a long time without any noticeable glitches.
This blade has a comparatively small diameter of 7-inch. It has the standard ratings of different parts so that you can fit it into your tile saw.
Likewise, it has an arbor hole of 5/8-inch and a rim height of 7-inch.
But amazingly, this blade is .05-inch thick. Yeah, you can cut through sturdy materials as we stated before. Of course, thanks to its improved and slick design.
Don't be afraid of cutting the thin edge. This blade can cut these edges with ease. As the manufacturer has put an extra effort to improve the build quality, you can see some extra improvements to the blade.
Like, the blade won't catch rust easily. Besides, it won't wobble during the operation. That means better control over the cut.
What we didn't like? 
This blade may prove unstable while cutting the long cut.
Besides, it has a longer break-in period.
Above all, because of its harshness, this blade is not suitable for glass tiles.
Check prices and availability here
FAQ
Here are some frequently asked questions and their answers.
What saw blade to cut ceramic tile?
diamond blade
You should only cut porcelain tiles using a diamond blade designed for extremely hard materials.
Which saw blade makes the smoothest cut?
Blades with densely packed teeth make the smoothest cuts. Typically, these blades are limited to cutting hardwoods 1-1/2 inches thick or less. With so many teeth engaged in a cut, there is a lot of friction. In addition, the small gullets of such closely-spaced teeth eject sawdust slowly.
How long should a tile blade last?
around 12 hours
If you are working with a low quality diamond blade, but you are cutting under an ideal circumstance, it can last around 12 hours. However, if you are cutting very heavy materials, you don't have a proper technique or you are dry cutting, the life expectancy can be half or less.
Can I put a wood blade on my tile saw?
You can use a wet tile saw to cut wood. However, there is an increased risk of injury with doing so as this is NOT what the tool is designed for. Substituting a wet tile saw for a circular or table saw is not recommended. … ALWAYS USE THE RIGHT TOOL FOR THE JOB!
Who makes Diamondback tile saw?
Harbor Freight's
Keeping up with the recent trend Harbor Freight has been introducing a number of new brands and products and one of the most recent is their 2 new tile saws under the name Diamondback. Both saws appear to be a step up from Harbor Freight's current offerings and have pricing to match.
How do you sharpen a wet tile saw blade?
Do you cut tile face up or face down?
If the blade lowers, the top of the tile should face up. If the saw blade is in the platform which cuts tiles from the bottom, the tile should be face down. … After making the cut, you can reset the blade to cut through the whole tile, or cut a notch into one end and then cut the whole tile.
Does Home Depot cut ceramic tile for you?
Whether you need a manual tile cutter or small tile saw for a smaller ceramic tile job or a medium to large tile saw to cut hard material like porcelain or natural stone quickly and efficiently, we'll have the right cutting tool on hand.
Can I cut ceramic tile with a hacksaw?
One alternative to cutting stone tile with a wet saw is to make cuts using a manual hacksaw. … Put on your safety glasses (or buy one of these) and use your hacksaw to slowly and carefully cut through the tile along the scored line. Use sandpaper or a sanding stone to smooth out rough edges after you've finished cutting through the tile.
Is more teeth on a saw blade better?
The number of teeth on the blade helps determine the speed, type and finish of the cut. Blades with fewer teeth cut faster, but those with more teeth create a finer finish. Gullets between the teeth remove chips from the work pieces.
How long does a diamond tile blade last?
around 12 hours
According to experts, a low-quality diamond blade can only last around 12 hours of non-stop cutting, while high-quality blades can cut materials up to 120 hours.
When should I change my wet tile saw blade?
Tough Cutting
A good tile wet saw blade should cut steadily and quickly through any material, no matter how dense or hard. If you find that over time your cuts are going more slowly, or that you are exerting more and more pressure on the tile to get it through the blade, the blade probably needs to be replaced.
How much does a tile saw cost?
Wet saws are specialty machines, and like table saws, they come in a range of qualities and prices. Some retailers offer wet tile saws for less than $200. Yet unlike a table saw, this is a one-use tool that you will only use when tiling.
Q: How to use the blade for long?
Ans: You need to clean the blade regularly to exact the best out of it. This cleaning also ensures that your blade is free from rust and is on the safe side for long. Certainly they're not reciprocating saw blades that they will wobble or snap all on a sudden.
Q: Can I return the blade I purchased?
Ans: It depends on the manufacturer's policy. You need to check the information provided by the manufacturer to be sure.
Wrapping Up
Don't get confused by the local seller! Hopefully, you've gathered the required knowledge to choose the best tile saw blade for you. But wait a minute!
I've something more for you. In the following section, I uphold those blades that have attracted me personally. Come on, check them out!
If you're looking for a set of blades in your budget, you can go for ROK 4-1/2 inch Diamond Saw Blade Set.
But if you have no problem with budget options and still want the premium quality, you can check DEWALT DW4764 10-Inch by .060-Inch Premium XP4 Tile Blade.
I'm Joost Nusselder, the founder of Tools Doctor, content marketer, and dad. I love trying out new equipment, and together with my team I've been creating in-depth blog articles since 2016 to help loyal readers with tools & crafting tips.