I love creating free content full of tips for my readers, you. I don't accept paid sponsorships, my opinion is my own, but if you find my recommendations helpful and you end up buying something you like through one of my links, I could earn a commission at no extra cost to you.
Learn more
When you're going to cut through metal sheets like bread you'd better have the best tin snips you can lay your hands. Crooked cuts will definitely make your welding a tough nut to crack. And if you're not welding it, the piece is nothing more than garbage now.
To have you focused on precision, to make everything match the blueprint tin snips are vital. Cheap ones go blunt in weeks and you're left with a sore thumb and swollen wrist. Make your life easier and take that toll off of your hands by knowing what needs to be known about these.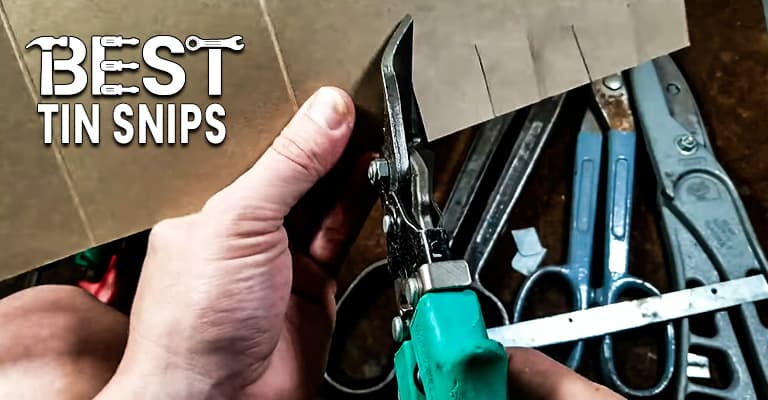 Tin Snips buying guide
In this section of the post, we're going over the qualitative aspects of tin snips. Now you can settle with nothing less than the best and you can be sure of it.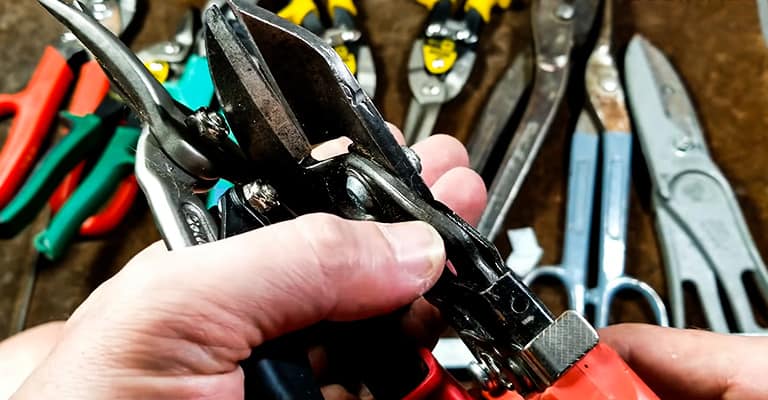 Material 
Mostly the blades are made of hot, drop-forged hardened steel or chrome-molybdenum steel. They are coated for extra durability and protection against rust and corrosion. The stronger the material of the snip is, the more workability it will have and give you better results.
As for thickness, most of the aviation snips can cut through 22-26 gauge stainless steel, 16-20 gauge aluminum steel and 18-22 gauge carbon steel. Make sure you buy the aviation snip that can thicker sheets comparing to others.
Snip Type and Cutting Orientation
You will find 3 types of snips on the market, those are straight cut, left cut and right cut snips with different cutting orientations. Almost all of the tools have color-coded handles to help the users choose the orientation he needs to use.
The color coding handle system is, for red handles, snips will cut straight and to the left and it is most comfortable for a right-handed user. For green handles, snips will cut straight and go to the right and it is most comfortable for the left-handed users. And lastly, the yellow handles are the tools that are designed for only straight cutting.
You should try to get the aviation snip that can cut in all three directions so that you don't need to buy 3 types of snips for different cutting orientations.
Cutting Edge and Blade Types
Without any doubt the cutting edge of the tool jaws must be sharp, otherwise, you won't be able to cut the metals precisely. Mostly the aviation snips have two types of blades or cutting edges, one is a serrated edge blade and another one is a smooth-edged blade.
Serrated
The tools have serrated edges that can be very helpful as they improve the cutting ability of the blades. Serrations also solidify the blade's grip on the metal sheet. If there are serrated edges present on your aviation snip, the entire cutting process will be easier, quick and more precise though it is not a must to have a serrated edge.
Smooth
Though smooth edge blades are less typical, they are very important when you are going to cut natural metals such as aluminum, copper, etc. Also, the tiny edges of the serrated blades can make the snip metal tear over years of usage. Whether you know or not, the snips will always cut a curve in the direction of the lower cutting blade.
Straight and OffSet Edge
Straight aviation snips usually have narrower blades and can manage to cut small cuts and tighter curves in a smaller area. And the blades that are slightly offset are better for long straight cuts. Though the offset blades are capable of making curved cuts, you need to do extra work like cutting upside down for reaching an odd angle. Buy the blades that suit your work best.
Hand Grips
Hand grips should be soft, sturdy and integrated intended ribs for a better gripping experience. You should check if the handle can be operated with one hand as it makes cutting easier. Many of the handles are not suitable for people with smaller hands, and some are not suitable for larger hands.
Many of the tools have a locking system on the handle to store the snip safely. Also, as the grip materials, rubber and plastic are often used. Plastic grips are not comfortable to use and they do not prevent slippage while working. So make sure you buy a snip that suits your hand, is made of better material and also has the feature of safety locking for better experiences.
Specialty Snips
You will find 2 types of specialty tools on the market, one of them is the pelican snip and another one is the circle snip. The pelican snips have long blades to cut long straight cuts and slightly offset. If you are a metal worker, the pelican snip is a useful tool for you.
As the name implies, circle snips are best for cutting any radius or circle in the metals. For any kind of project or crafting work, where you need to cut a lot of circle and curved shaped sheets, you need to use this type of tool for the best results.
Weight
To cut a metal sheet with snips, you are most likely to use the tool continuously for an extended period. If the product is heavy, it will be a drag to use it for a longer time for giving you fatigue. The weight of these tools usually varies from 4 ounces to 1 pound. If you struggle with working with a heavy tool, you should go for lighter products.
Warranty
There are loads of ways that you can damage these. But still, the manufacturers are providing a limited lifetime warranty. This allows you to go back to the shop and get a new one if there's damage to it, to begin with.
Best Tin Snips reviewed
You are probably here to find the product that suits you best as searching for the product is tiresome and time-consuming. For this reason, we have sorted out some of the best metal snips in this section.
1. Crescent Wiss Compound Action Cut Snips
Reasons to Support
Wiss manufacturer offers all 3 types of tin snips, where you can buy a set of all 3 of them, or the set of the left & right cut snips or just the straight cut snip. All 3 of them are color-coded for easy identification. The precision blades of the tools are made from cast molybdenum and polished for durability.
Ergonomic, single-handed latch operation offers you left or right-hand use while free float design on the pivot bolt provides a longer life of the products. The compound action snips feature serrated blades to grab hold and precisely and aggressively cut through materials while multiplying the hand's force by five times. Extended non-slip handle grips give users better control while cutting.
Fast, smooth low effort feed is done by the self-operation spring action of the stool and the superior design prevents tears at the end of cuts by controlling bypass and minimizes folding and burrs. This aviation product can cut over 8 miles of steel and feature up to 10 times longer cut life than traditional aviation tools.
Reasons to Oppose
If you use these grips of the snip for an extended period, you are most likely to experience hand fatigue.
There's no proper info about the product warranty.
2. Stanley Straight Cut Aviation Snip
Reasons to Support
Stanley producer offers an aviation snip that has forged chrome-molybdenum steel cutting blades for strength and durability. Serrated cutting blades of this straight-cut compound action aviation tool provide a sturdy bite and help prevent material from slipping during use. This imported aviation snip can cut up to 0.7mm stainless steel using high leverage.
For comfort and proper control, this product has a color-coded, slip-resistant bi-material palm cushion grip. The latch design of this product allows for a quick single-handed operation as an automatic latch release with the squeeze of the handle. This strong snip features a double overwind spring for longer life while this cheap snip exceeds ANSI standards for cutting performance and durability.
For cutting aluminum, vinyl, cardboard, leather, screening, and copper, this Aviation snip is an ideal tool to cut any of these thicker materials. The weight of this product is less than 4 ounces, so it's super easy to work with and to carry around. The manufacturer warrants this product to the original purchaser for useful life against deficiencies in material and workmanship.
Reasons to Oppose
You won't always find this product on the market.
3. Midwest Tool & Cutlery Tin Snip
Reasons to Support
Midwest Tool & Cutlery company offers an aviation tin snip that has longest lasting cutting edge blades that are hot drop-forged of molybdenum alloy steel and heat-treated for a seamless cutting job. The hot drop-forged process of the strongest blades uses the grain structure of the steel to produce maximum strength.
Being highly durable, this USA made product can cut even the toughest of materials. With extra-long cutting shears, easily cut and maneuver stools on difficult materials for reliable work on the job.
Compound leverage cutting action of this snip multiplies handle force by 8 times for easiest operations providing cleanest, fastest, most comfortable cuts.
To prevent hand and finger slippage, the handles are soft, sturdy and got intended ribs while the grips conform with the motion of the user's hand. As it is a straight cut snip, the handles are blue color-coded. Strongest handles high tensile steel will not bend from hand pressure and will not wear away.
Reasons to Oppose
No warranty is provided with this snip by the manufacturer.
The larger handle is not suitable for everyone.
You are likely to experience hand fatigue if you use the grips for a longer time.
4. TEKTON Straight Pattern Tin Snips
Reasons to Support
TECTON producer offers tin snips of two different sizes at lower prices that exceed all related ANSI standards and can cut straight cuts or in wide curves. These snips are made from high strength forged and heat-treated carbon steel and have precision-ground cutting edges that are treated by high frequency to increase hardness and durability.
Both of the snips can handle up to 22 gauge cold rolled steel or 24-26 gauge stainless steel. The weights of the products are around 1 pound, so they are not so hard to work with or carry around. You can also store it safely for the handle lock system.
For extra comfort, the handle grips are made soft, two-layered and non-slip that ease hand stress letting you comfortably exert more force and work longer without fatigue. You can use this tool with either right hand or left hand just like you use a scissor. This product is always guaranteed by this company.
Reasons to Oppose
Being more than 1 pound, the snip makes it harder to work with it continuously.
The blades are softer so it will need more work to give you optimal performance.
5. IRWIN Tin Snip
Reasons to Support
IRWIN manufacturer features a tin snip which is made with hot, drop-forged steel blades that provide maximum strength, longer life and can cut straight and curved and the blades don't dull quickly. The precision-ground edges on the tin snips ensure a tight grip on the material sheets for superior cutting quality.
Though other blades can cut through thicker materials, sometimes they are unable to glide through the thinner materials. But the product from this provider has no trouble at all with thinner surfaces. The durable spring washer of the tool holds the blade tightly against each other while cutting.
You can use the tools to cut 24 gauge cold rolled steel or 26 gauge stainless steel effortlessly. This imported snip can cut sheet metals, vinyl, plastic, rubber and so on. The weight of the product is 1 pound so it's not that hard to carry around or work with. You can also store the product anywhere easily.
Reasons to Oppose
Blades aren't as sharp as other snips and not suitable for thicker materials.
No warranty is provided and not always available on the market.
6. Performance Tool Aviation Tin Snip
Reasons to Support
Performance Tool company is the leading manufacturer of high-quality products who offer center-cut aviation tin snip and an aviation tin snip set that includes all 3 types of these tools. The products are made to withstand the most challenging jobs that are proven and tested for durability and function in real-world conditions.
Serrated chrome vanadium jaws help to firmly grip the materials and prevent slippage but they don't leave serrated edges on the material. The inside of the handle and the body of the blades are made from steel. This affordable snip is a nicely finished and quality tool that will last a longer life.
Ergonomics grips offer you safe, comfortable and easy use of the tool. The handles allow easy access to tight spaces and cut precisely. The weight of the product is less than 1 pound, so it is super easy and comfy to use continuously and to carry around places.
Reasons to Oppose
No proper information is given about the warranty for the product.
The handles are not slip-resistant and not suitable for smaller hands.
7. Malco Offset Snips
Reasons to Support
Malco manufacturer offers a durable tin snip that has a hot drop forged blades with hardened galvanized stainless-steel jaws for maximum cutting life. This superior material flow allows maximum maneuverability. The lower jaws are serrated for solid gripping power on sheet metals just like sheet metal seamers. No other tools can out cut, outmaneuvers, or outlasts this snip.
For straight cuts and curved cuts to the left angle, this aviation-style metal snip has versatile offset handles that also allow easy access when cutting in tight spaces. You can also cut 5 inches in diameter and circles with this product. The ambidextrous, one-hand-operation metal latch is accessible from top or side.
A narrower grip opening of this snip accommodates large or small hands. The weight of this red colored USA made snip is only 1 pound, so it's easy to carry around, work with as well as easy to store anywhere. An instruction guide is included with the product package.
Reasons to Oppose
Not always available on the market.
No info about the product warranty isn't provided.
The price of this product is so high compared to the other snips on this list.
FAQs
Here are some frequently asked questions and their answers.
What is the difference between left and right tin snips?
Each color signifies a different direction that the snips are made to cut. Red snips cut left. Yellow snips cut straight or left and right. Green snips cut right.
How do you sharpen a serrated tin snip?
What do aviation snips cut?
Aviation snips, also known as compound snips, are ideal for cutting aluminum and sheet metal. Their handles are color coded and it's not just for decoration. Here's how to choose the right snips for the job using the correct color designation. Cutting curves in sheet metal is difficult.
How thick can tin snips cut?
The gauge of sheet metal is related to its thickness. Typically, aviation snips can cut sheets of material up to 1.2mm (0.05 inch) thickness or up to 18 gauge. This measurement is usually based on mild steel being the toughest metal they can cut. The tougher the material – the thinner it will need to be.
Can you sharpen tin snips?
When a tin snip's blades begin to dull, they will need sharpening. The blades should be sharpened on a regular basis to keep them cutting efficiently. Unfortunately, only ground edged blades should be sharpened, as attempting to sharpen serrated edges will only damage the snips.
Will tin snips cut galvanized steel?
Cut along your measured line with tin snips.
The process of using tin snips is very similar to using scissors. … Red-handled tools are best for cutting curved edges, while green handles work well when cutting straight edges. However, if you only have red-handled snips, use those to cut straight edges.
How do you use left and right tin snips?
How thick can tin snips cut aluminum?
Tin snips, also known as aviation snips are basically highly leveraged and rugged scissors which can be used for cutting through aluminum. You will be limited to the gauge of aluminum which you can cut, anything above 18 gauge is going to be a challenge.
How do you maintain tin snips?
Like other snips and shears, aviation snips should be kept clean and dry as moisture and dirt on metal parts can cause corrosion. Wiping the blade with an oiled cloth after use should help clean them and keep them rust-free.
What type of file would you recommend for sharpening tin snips?
Re: How to sharpen tin snips.
Use a fine flat mill file and stroke along the cutting edge (not on the flat mating surface) and file down past any nicks (hopefully they were not used to cut wire which near ruins them for metal work).
What is the difference between tin snips and aviation snips?
Aviation snips have a compound action which gives them a mechanical advantage over standard tin snips. This is due to the double pivot and extra linkage in their design. This mechanical advantage means they should be more comfortable to use for longer periods than tin snips.
Can tin snips cut 22 gauge steel?
The Klein Tools Aviation Snips are used to cut 18 gauge cold rolled steel and 22 gauge stainless steel.
Can aviation snips cut plastic?
Tin snips. … Whatever you call them, a quality set of aviation snips are the single best way to cut thin and flexible materials like sheet metal, plastic, thick textiles, heavy-duty paper, and wire products like poultry netting (chicken wire), and the like.
Q: When should I not use tin snips to cut metal sheets?
Ans: You should not use the tin snips when the thickness of the metal sheet is 2 inches or more than that. Because if you force it to cut with the blades, the cuts will be uneven and rough or the blade will become dull. Besides, cutting perfect holes even in thin metal sheets isn't that easy with these snips. A perfect solution to that is an arch punch.
Q: Can I sharpen my tin snips?
Ans: Of course, you can. All the hand tools that have sharp blades, can be resharpened or polished. You can regularly maintain the sharpening process with the help of serrated edges or whetstones.
Q: Do I need safety while using a tin snip?
Ans: Indeed, you need to wear safety goggles so that the debris and particles can't harm your eyes. And you should also wear hand gloves to protect hands from sharp edges.
Final Statements
It's likely for you to make your mind after examining the bits and pieces of tin snips. But if you don't have the time to go through the article or you are still confused about which product you need to select from the list, then let's have a quick guide to the best tin snips.
You may go for the snip from the manufacturer Stanley. This brand offers a tool that is lightweight and durable as well as baked with a limited lifetime warranty just at a regular price.
After that, we are gonna recommend you buy the snips from the manufacturer Midwest Tool & Cutlery and Wiss. The former offers a more durable tool at an affordable price though it doesn't offer any warranty and the Wiss company offers cheap and durable products but got plastic handles and is a bit heavier than others.
I'm Joost Nusselder, the founder of Tools Doctor, content marketer, and dad. I love trying out new equipment, and together with my team I've been creating in-depth blog articles since 2016 to help loyal readers with tools & crafting tips.