I love creating free content full of tips for my readers, you. I don't accept paid sponsorships, my opinion is my own, but if you find my recommendations helpful and you end up buying something you like through one of my links, I could earn a commission at no extra cost to you.
Learn more
Files are used across a wide range of industries and crafts to shape and produce a smooth finish on metal or wooden objects.
Anyone who works with wood or metal, whether as a professional or a hobbyist will know the value of these simple, but indispensable tools.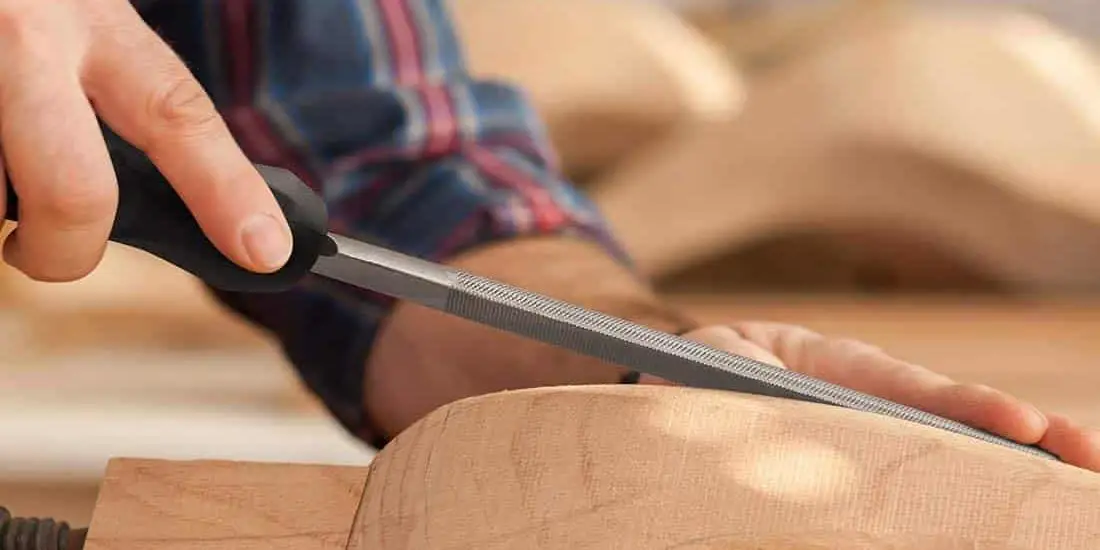 You'll also know the value of having more than one file in order to tackle different smoothing jobs on different materials. A single file is unlikely to suit every type of project.
For this reason, files are usually sold in sets.
After researching the various file sets available, I can recommend the Simonds 5-piece hand file set as the best for general use. They are tough, versatile files that are particularly suited to fast and efficient heavy material removal, and they are offered at a very competitive price.
I'll tell you more about this great set below, but let's look at my top 6 favorite file sets first.
Buyer's guide: how to pick a good file set
Files are simple tools, but they come in an enormous variety of sizes and shapes and differ widely when it comes to the quality of the product and the way it performs.
Hand files can vary greatly in size, from tiny diamond needle files about four inches long to big engineering files that can measure up 18 inches in size.
They can be used to shave tiny bits off fine jewelry or huge pieces off steel sheeting for shipbuilding. They can smooth out a shape in wood or plastic or deburr rough edges after drilling or machining processes.
Yet, for all their versatility, files remain an affordable tool.
What is a hand file?
A hand file is a simple tool that consists of a blade, with a tang at the end (steel point), which is embedded in the handle.
Handles are traditionally wooden, but nowadays many are made of composite plastic, which offers greater strength and durability.
Some hand file sets offer a single handle with interchangeable blades. Although this makes for a space-saving kit, it can be time-consuming to have to continually swap between files.
Filehandles, particularly wooden ones, can loosen over time and it is important to never use a file without a handle as the tang can cause serious injury to the palm.
When purchasing a set of hand files, it is important to look at certain features: the grade, the tooth pattern, the shape, and the material the files are made of.
Grade
How aggressively a file cuts will depend on the grade. Sets are usually all the same grade
Dead Smooth
Smooth
Second Cut (the most common type in general-purpose file sets)
Bastard
Rough
Tooth pattern
There are four main tooth patterns when it comes to hand files:
Single-cut: has single rows of teeth, either straight across the file or at 45° to it.
Double-cut: has two diagonal rows of cuts, producing a diamond or crisscross shape. These remove material more quickly.
Rasp-cut: also known as a rasp, has a series of individual teeth. A rasp produces a rough cut and can efficiently file away a lot of material. It is mostly used on soft materials such as wood, hooves, aluminum, and lead.
Curved-cut/milled: Here the teeth are arranged in curves across the file face (not to be confused with half-round files). Curved-cut tooth files are commonly used in automotive body shops for filing body panels.
Shape
There are five main shapes of the blade of the file:
Rectangular
Square
Half-round (very versatile because it has both curved and flat sides)
Round
Three square (triangle)
Which shape you need for the project depends on the surface you are filing, and the location of the surface.
Material
The material the blade is made of will affect the performance of the file. Blades are generally made of a steel alloy.
If you work with wood or plastic, you don't need very hard steel teeth but rather an open tooth pattern on the blade that doesn't get easily clogged with shavings.
However, if you work with metal, it is important that the teeth are harder than the material you are filing, and the blade should be made of tempered high carbon steel.
Case
It's always handy to have a case or tool roll to keep your hand files in. It protects the files and keeps them together. If a case is not included with the set, it's a good idea to purchase one.
Files should be cleaned regularly with a file card. A wire brush will do a reasonable job, but a file card has closer bristles that do the job more quickly and effectively.
Best file sets available today
As you can see, not every hand file is the same, there are many factors to keep in mind when selecting the perfect file set for your projects.
Let me show you some of the best options to make the choice a lot easier.
Best overall file set: SIMONDS 5-Piece Hand File Set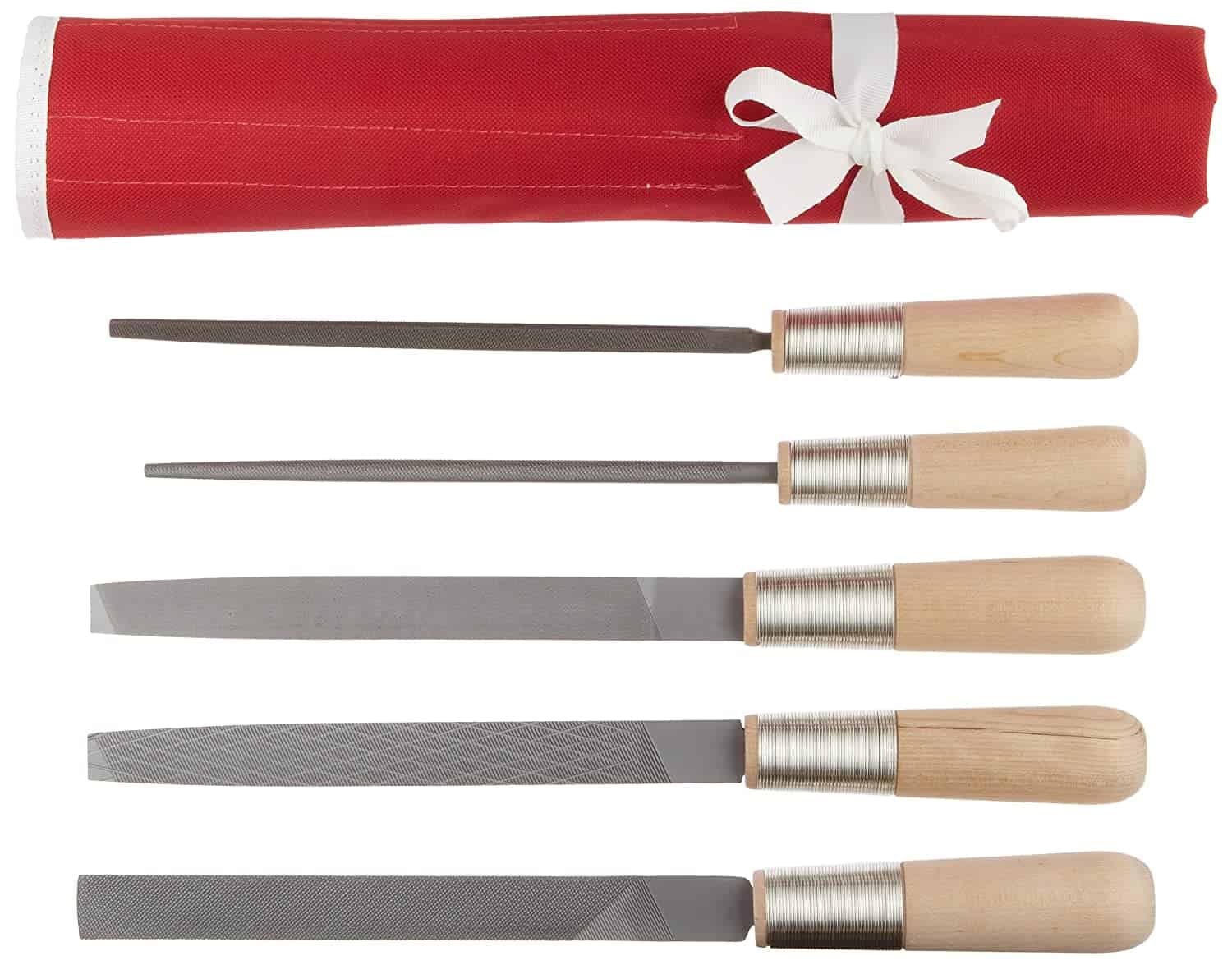 If you own or manage a workshop, an auto-repair business, or engineering works and need files for general purpose use, then this is the set to look at.
The course grade, bastard cut of these files is particularly suited to fast and efficient heavy material removal, where the finish is not important.
The set includes 5 differently shaped files: mill, square, half-round, round, and flat for tackling different workpiece contours.
The longer length (8 inches) makes these files ideal for finishing and deburring wider areas. The blades are coated in black oxide making them rust- and scratch-resistant.
The round wooden handles are ergonomically designed for comfort and safety and the set comes with a cloth roll pouch for storing and protecting the files.
Features
Coarse grade bastard cut for heavy material removal
Eight inches long – for wider areas
Five differently shaped files, for different applications
Ergonomic wooden handle for comfort
Cloth roll pouch for storage
Best file set for hobbyists: Topec 18Pcs File Set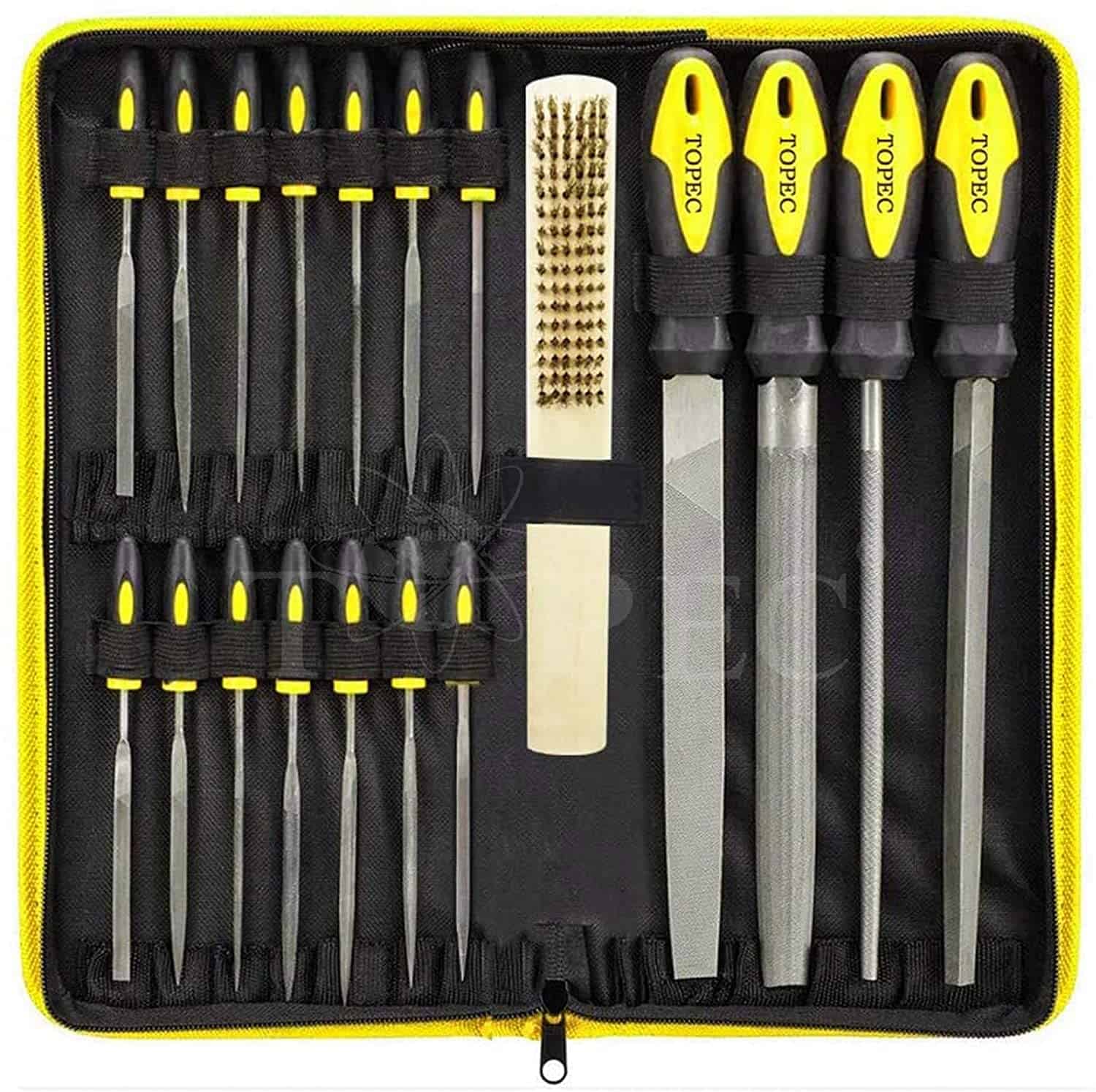 If you enjoy crafts and woodworking, the Topec 18 pcs is a good all-around file set, offered at a very competitive price.
These files are particularly suited to cutting and polishing a range of materials: wood, glass, ceramics, leather, plastic, and some softer metals.
This Topec file set includes 18 pieces -4 flat/triangle/half-round/round and 14 precise needle files.
The double-cut pattern of the files removes material more quickly and efficiently.
The files are made of high-carbon steel and are coated for durability and strength. The soft rubber handles offer a comfortable, non-slip grip.
The strong zippered storage case protects the files and makes them easy to carry. The set includes a file card, for cleaning.
Features
18 pieces, 14 precise needle files
Made of high carbon steel for strength durability
Ergonomically designed rubber handles for a safe and comfortable grip
Includes a file card for cleaning files
Includes Zippered storage case
Best budget starter file set: Stanley 22-314 5Piece File Set with Handle
If you are a home DIYer looking for a basic start-up set of files that is good quality but affordable then the Stanley 5-piece set is a winner.
The four files are made of carbon steel and are more than adequate for most sharpening or material removal needs.
The set includes an 8″ bastard file, a 6″ round file, a 6″ slim taper file, and an 8″ 4in1 file.
The set includes a single interchangeable soft-grip handle that cuts back on vibrations and reduces user fatigue. There is no storage wallet.
The handle is a push-fit to the files and can work loose when the file is drawn back.
Features
Very affordable
Files made of carbon steel
Single, interchangeable handle
Soft-grip, ergonomic handle for comfort
No storage wallet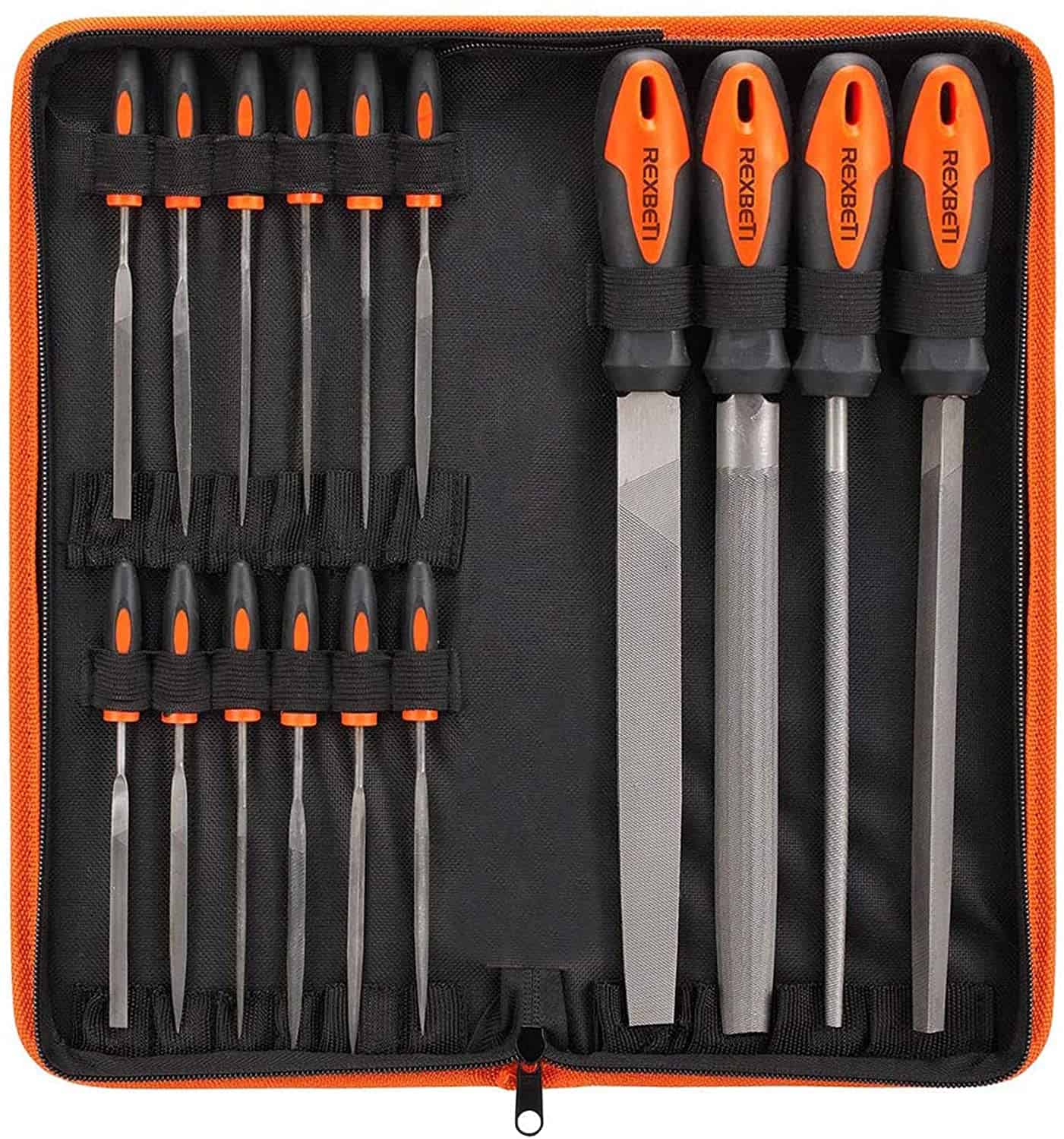 If you are looking for a high-quality file set, which offers a range of large files and needle files, the Rexbeti 16-piece file set is the one to look at.
This durable set includes 4 large files – flat/triangle/half-round/round and 12 precision needle files. All 16 pieces are made of tempered and coated drop forged alloy steel for strength and durability.
Each file has a long, soft handle for comfortable handling and minimum user fatigue.
The files are packed in a tough, compact carry case, each fitted into its own place, to prevent moving about and scratching.
These quality files are ideal for use around the home, garage, workshop, worksite, or on-the-job.
Features
Includes 16 files. Four large files and 12 precision needle files
Made from tempered steel, for added strength and durability
Each file has a long, soft handle for comfort of use
Files are packed in a tough, compact carry case
Best mini file set for precision work and jewelers: TARVOL Needle File Set Hardened alloy strength steel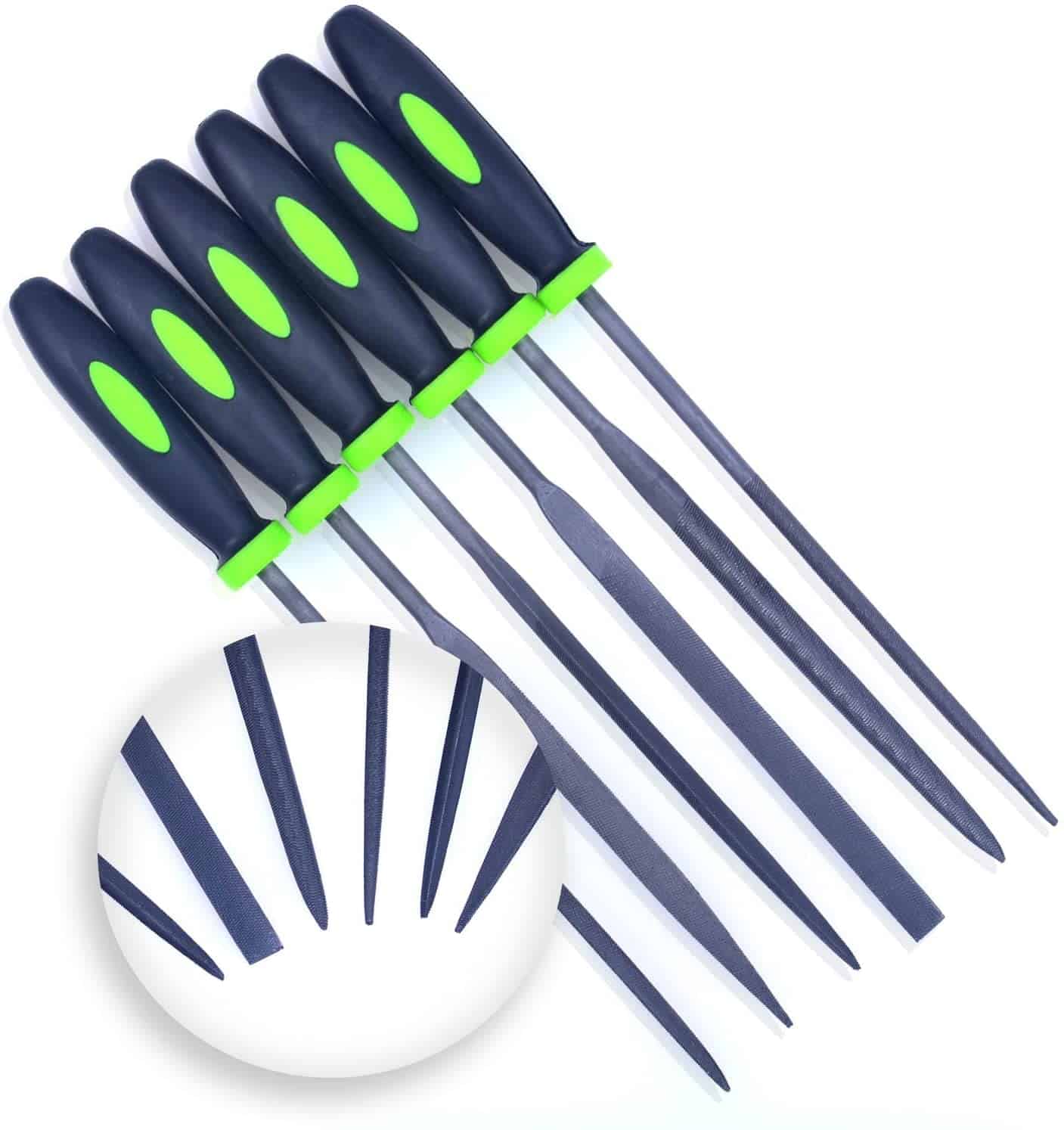 Made by Tarvol, this 6-piece needle file set is designed for fine, small-scale work. These very affordable files are ideal for working on plastic and wood and are excellent for cleaning up 3D models.
The set includes a flat-file, half-round file, flat warding file, triangular file, round file, and square file. Each file is made from high carbon steel, for strength and durability.
The soft, rubberized handles offer a comfortable, non-slip grip.
Although they do not come in a storage case, the files are packaged in a plastic sleeve with a cardboard backing that slides in and out of the plastic sleeve.
Features
Six-piece needle file set for small-scale work
Soft, rubberized handles for a comfortable grip
Designed for wood and plastic, some soft metals
No storage case included
Best heavy-duty, durable file set: Nicholson 5 Piece Hand File Set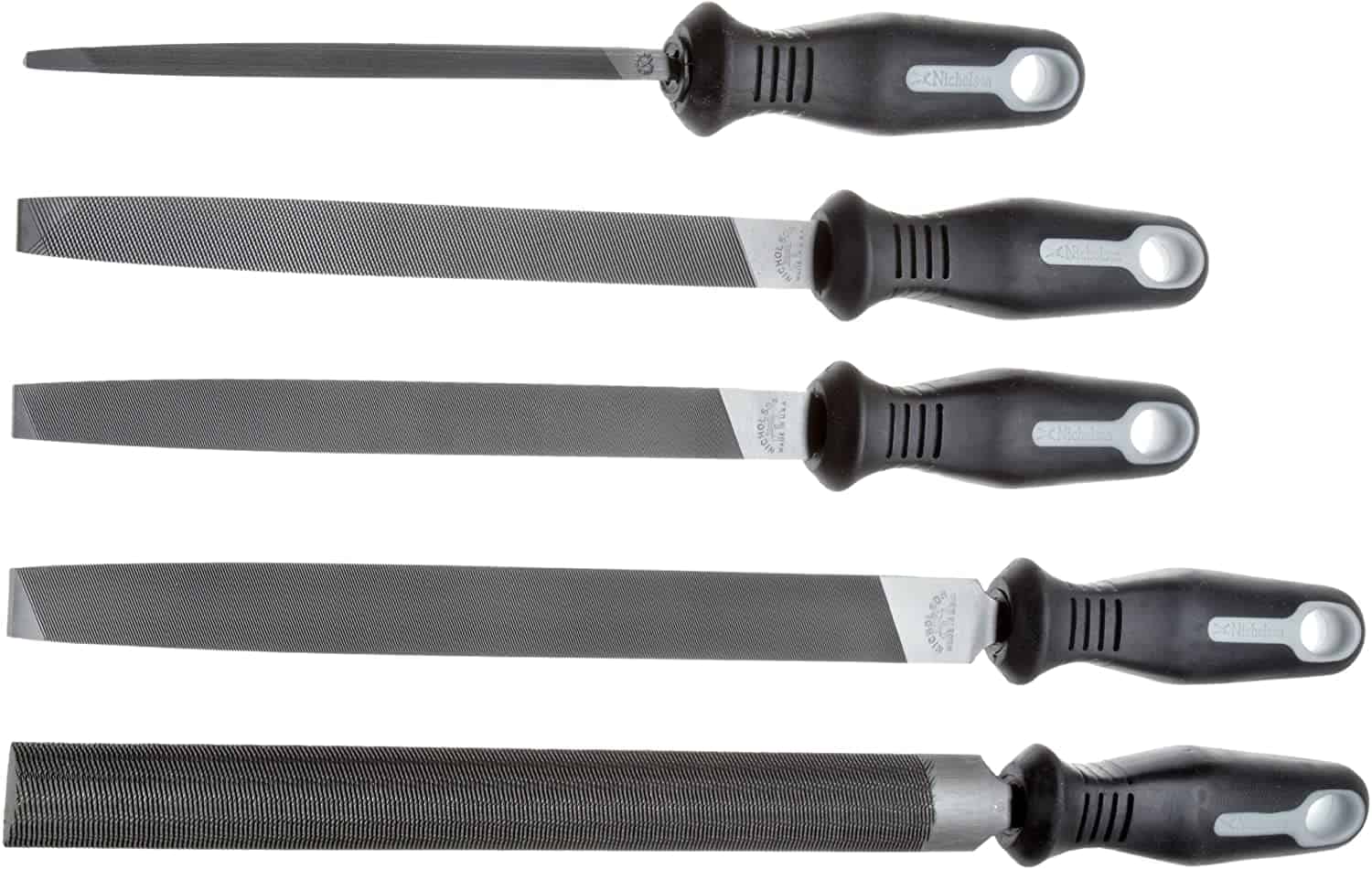 This Nicholson quality file set is heavier on the pocket than most of the other sets, but it is designed for heavy-duty applications and for durability.
These five long files are American pattern files for coarse cutting and non-precision material removal, where the finish is not a priority.
The Nicholson set is designed for big jobs like sharpening chain saw chains, cant hooks, tractor blades, axes, and shovels.
The set includes a 10-inch half-round bastard file, a 10-inch mill bastard file, an 8-inch mill bastard file, an 8-inch smooth file, and a 6-inch slim taper file.
Each file is made from tempered high carbon steel for strength and durability.
Each file has an ergonomically designed, rubber-coated handle that offers a comfortable, non-slip grip. The set comes in a compact, tough vinyl pouch for protection and easy storage.
Features
American pattern files for coarse cutting and non-precision material removal

10-Inch /250mm half-round bastard file
10-Inch /250mm mill bastard file
8-Inch /200mm mill bastard file
8-Inch /200mm mill smooth file
6-Inch /150mm slim taper file

Ergonomically designed, rubber-coated handles
Includes a tough vinyl pouch for easy storage and transport
FAQs
What are needle file sets used for?
Useful for a variety of purposes—including:
enlarging holes in beads
smoothing the edges of ceramic tiles and porcelain work
shaping wood, metal, and stone; puncturing metal
engraving details
A needle file is a necessary tool for all your jewelry-making, engraving, metalworking, and carpentry crafts.
Next to a good set of needle files, also make sure you have a decent flush cutter for your jewelry making
How do I use a hand file?
You should hold the hand file using the handle and push it forward instead of using it like a saw.
What are the types of hand files?
Single-cut file, double-cut file, curved-cut file, and rasp-cut file.
What is a mill file?
Mill files are similar to hand files in that they have one "safe" edge. They are always single-cut, and they are used primarily for finishing work and for draw filing.
They are also used to sharpen mill and circular saw blades and for sharpening knives and lawnmower blades. Round files have circular cross-sections.
How can I quickly file metal?
For fast removal of stock, choose a double-cut file. For finishing, use a single-cut file.
Choose a rasp-cut for rough cuts of soft materials, and a curved-cut file for automotive bodywork. Use a double-cut file to file brass, bronze, copper, and tin.
Why should you never use a file without a handle?
Files are sometimes produced and sold without handles. This is because handles can often outlast files.
Once a file is blunt, it's cheaper to replace it than it is to sharpen it or re-cut the teeth.
Some files have a handle fixed to it. These files are referred to as solid handle files and will not fit inside other handles.
Takeaway
Now that you know all about the various grades, shapes, and quality of file sets available on the market, you are in a better position to purchase the set most suited to your particular needs.
Next, find out what are the Best Needle Nose Pliers on the market today
I'm Joost Nusselder, the founder of Tools Doctor, content marketer, and dad. I love trying out new equipment, and together with my team I've been creating in-depth blog articles since 2016 to help loyal readers with tools & crafting tips.