I love creating free content full of tips for my readers, you. I don't accept paid sponsorships, my opinion is my own, but if you find my recommendations helpful and you end up buying something you like through one of my links, I could earn a commission at no extra cost to you.
Learn more
Good work exudes perfection. So imagine an unbalanced picture hanging on the wall. Doesn't seem nice, does it?
We like to see things leveled, balance in everything, and a satisfactory shape in objects.
Not everything has a reference point to straighten up designs and balance them. But torpedo levels have successfully undone this problem in the case of non-linear objects.
Torpedo levels are used to bring out a well-balanced and leveled structure both horizontally and vertically. This is done by the liquid in the tube.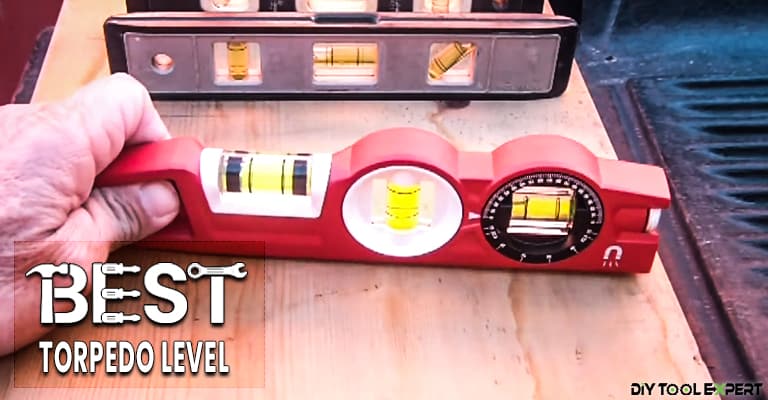 So if you're looking for the best torpedo levels in the market, you've indeed come to the right place. All you need to do is PICK!
Let's take a quick look at my top choices and I'll go into more detail later:
Torpedo level buying guide
The tool may be very simple to operate, but not all models will have your desired features. So in order to buy a torpedo level, you must know what you want and exactly what to look for.
That's why I thought it'd be better if at first, I take you through some delicate information that might help you to buy exactly what you need. Let's go!
Vials
Vials aren't the same in every torpedo level. So you need to choose what you want for the vials.
The material can be plastic, glass, or acrylic. Among these 3, I prefer glass since it's tough and won't leak, crack, or fog over like the others will.
There will be times when your torpedo level can fall from the surface. So if you're looking for something durable, glass does a lot better compared to the others.
But also try to look for shockproof vials that don't break from accidents or banging against anything. If you want a clear look at the readings even in the dark, look for those that glow in the dark.
How many vials does your level have? This is important!
Two vials are the minimum requirements to measure horizontally and vertically simultaneously. These are often called plumb and level. They're able to measure 0 and 180 degrees and 90 degrees. But there are also vials for 30 and 45 degrees to give a more exact reading.
Material
Torpedo levels are mostly designed and constructed to deal with arduous environments. So testing the durability is really important. Try to look for the most durable material for the frame for your torpedo level.
The most common materials used are ABS plastic and aluminum alloy. Both are comparatively lightweight for portability.
But there are differences; for example, plastic can be cast into any shape. Moreover, plastics aren't affected by heat or cold.
But on the other hand, aluminum doesn't have a bit of edge like plastic. It conducts electricity, which might be a danger if you're working in electric fields. So I'd advise you to look for a torpedo level that has plastic as the material.
Even the color choice is important. A bright yellow, blue, or red could be easier to spot on a cluttered table. It'll save a lot of time!
Magnets
Torpedo levels with magnets provide you with hands-free operation so you have the luxury of multitasking.
There are strip magnets and rare earth magnets. But in the case of efficiency, rare earth materials are comparatively more powerful than strip magnets. So it makes rare earth magnets a popular choice.
But you don't really need magnets if you're not working with metals. Magnets attract metallic dust when used in a workshop, which can create a problem, ending in small shards scratching and damaging the surface.
Also, don't forget to wipe away relics from a non-metal surface before getting started.
V-groove
A V-groove is basically a concept to make way for pipes and conduits to fit into places quickly and precisely.
It's very simple. A side of the torpedo level is designed like a V. This gives the material that fits into the groove more control.
Though I've only been talking about pipes and conduits, these also do with any round shapes. It stabilizes the material and does the job effortlessly, giving you more stabilization. The V-groove is a must-have feature if you're working with pipes and conduits.
Thumbscrew
Conduits require a V-groove. But besides that, thumbscrews are also a part of the performance-enhancing experience.
The thumbscrew fits the level to a piece of conduit to do good, even when bending. It really comes in handy for this specific job!
If you aren't into bending, then thumbscrews aren't a necessary feature.
But what's the problem if you get thumbscrews, even if you don't need them? Who knows when they'll come in handy!
Accuracy level
You can never compromise with the accuracy level. Maintaining straight lines and various angles requires preciseness. And that comes from a torpedo level that's made to assure success in projects!
Even a 0.01-inch failed measurement can ruin the entire structure. So invest in one after a thorough test. Make certain the readings are right on the spot from the start.
Visibility
Even if you get a tool with great accuracy, the question remains: can you read it clearly? 
The torpedo level's contrast to the bubble or the size of the bubble could make a huge difference.
Even the lighting situation can affect readings. Always check the standards of visibility whenever you choose a particular item.
You're going to have to use it vertically or horizontally, depending on your measuring project. This is why being able to read the bubble under any circumstance is of great importance.
Digital
If you find reading traditional torpedo levels difficult, then you can use digital ones if you want to avoid all the hassle.
Digital torpedo levels usually contain a screen that shows detailed measurements to almost every scale. It works exactly like a normal torpedo level with a little spice of tech.
So if you have a knack for buying cool tech gadgets, you can choose this one for your work. But traditional or digital, they're both quite the same, to be honest.
Ease of use
Most torpedo levels range from 6 to 9 inches in size. The nature of your work determines the size of the torpedo level you'll need.
Go for a level that's easy to control and maneuver. And don't forget to prioritize a lightweight tool too.
Suppose the job involves cramped spaces or unreachable spots. That's where a magnetic level would work its magic! The ease of operating it hands-free is beneficial in so many ways. 
A longer level is considered crucial for bigger construction purposes. But with a 6 or 7-inchs size, the level will perform an excellent job in any dimensional space.
Warranty
It's important to buy a tool with a warranty. The problem with torpedo levels is that the vials break or crack, and the fluids leak out. So try to look for a warranty that covers the vials.
The best thing about the warranty is you get to know what it covers and whatnot. You never know what's going to break. So why not have a warranty and replace or fix it without any expenses?
Best torpedo levels reviewed
After spending a lot of time with torpedo levels, I've picked out the ones with the best features and affordable prices.
1. Qooltek multipurpose laser level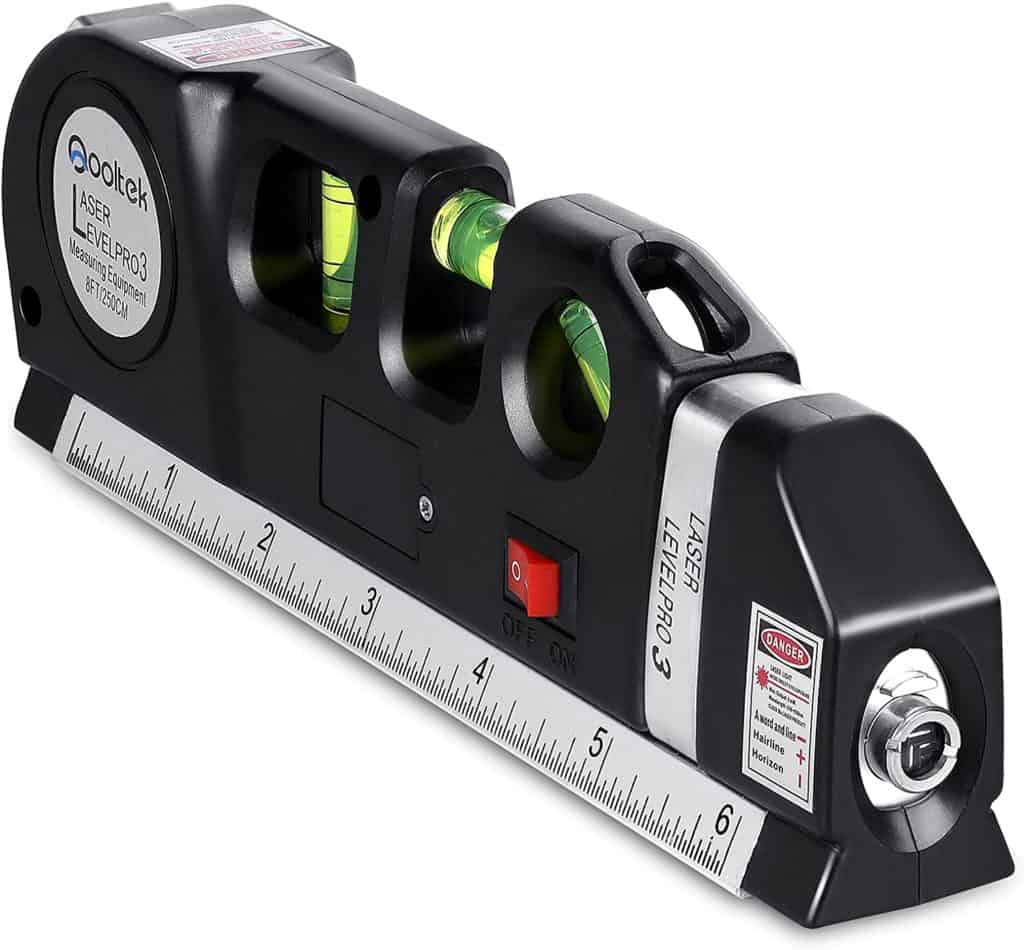 Assets
The Qooltek multipurpose laser level comes with an 8-foot measuring tape that takes readings in metric or imperial measurements and measures down to 1/32″ and 1mm. It has a 3-pronged approach that combines a tape measure, a triple-positioned leveling bubble, and a new laser level to provide excellent precision.
The 3 bubble levels let you take precise readings in vertical, horizontal, and diagonal lines. It has a laser ranging error that's given as ±2mm at 10m and 25m.
The laser comes in black and weighs almost 184g. The small size and triple measuring system make it more convenient.
The level is constructed with hard plastic material to ensure durability, preventing damage during falls. It can be fitted to a standard tripod.
It's equipped with a 3 x AG13 button cell and a backup battery to cut the expense of extra batteries, providing maximum convenience.
Drawbacks
The measuring tape isn't impressive, as you'll find high-quality laser tape measures out there. The level also seems cheap, as the bottom piece was put on unevenly.
Sometimes, you'll get different readings from the side and left and right. The level bubbles turn off quickly, according to some user experiences. Users have found difficulty in getting the laser accurate.
2. Swanson TL043M 9-inch savage magnetic torpedo level
Assets
Swanson brings you a well-designed level torpedo for heavy usage. The Swanson TL043M 9-inch savage magnetic torpedo level is equipped with 4 earth neodymium magnets for a firm and secure grip on metallic surfaces, giving you the advantage of hands-free operation. The sealed top and bottom vials are designed to provide great precision.
This tool has great construction design; the edges are adequately sharp and the surfaces are dead flat. The vial ports are engraved with a unique BrightView signature design and the surface is able to reflect light, so you won't have a problem getting readings, even on sunny days!
It can give reading up to 0.029 degrees and 0.0005 inches, and provide effortless performance in DIY and trade projects simultaneously. It has a long 7" laser-fitted SAE scale in addition to a metric scale that reads up to 18 inches. The 9-inch length of the unit easily accommodates the 2 scales.
It has good leverage for bending conduit and copper pipe, with vials for 45 and 90 degrees. It's also lightweight for easy portability.
Highlighted features
3 times stronger aluminum billet used
4 vials for leveling versatile projects
Vials are easy to read; visible in low light, thanks to the BrightView design
Accuracy level is 0.029 degrees and 0.0005 inches
4 powerful earth neodymium magnets for hands-free purposes
Drawbacks
It's a little expensive and on the heavier side. The fluid leaked for some users and the magnets fall out more often than they should.
3. Stanley 43-511 magnetic shock-resistant torpedo level
Assets
The Stanley 43-511 magnetic shock-resistant torpedo Level has a decent amount of features, making it easy to use. It comes in a heavy-duty, sturdy, and robust all-aluminum frame that ensures accuracy up to 0.002 inches.
It also has the capability to withstand heavy use on different job sites and rough conditions. The aluminum frame is water-resistant.
It features an open, top-read vial that can be seen at any angle. The torpedo level has 3 vials for 0, 45, and 90-degree measurements.
The bi-material body that features rubber ends for shock absorption is an impressive feature from Stanley. The non-marring feet can be used on finished surfaces without damage.
It features a pipe groove for leveling rounded pieces and dimensions of 10 x 3.9 x 0.8″. Plus, you get a limited lifetime warranty!
Drawbacks
The unit's deceptively sleek profile has shown some significant problems for users. It's a little bulky, so you can't fit it in a pocket.
Also, the magnet is weak. The plastic construction gives a cheap feel. It also has some accuracy problems, according to some users.
4. Stabila 25100 10-inch die-cast rare earth magnetic level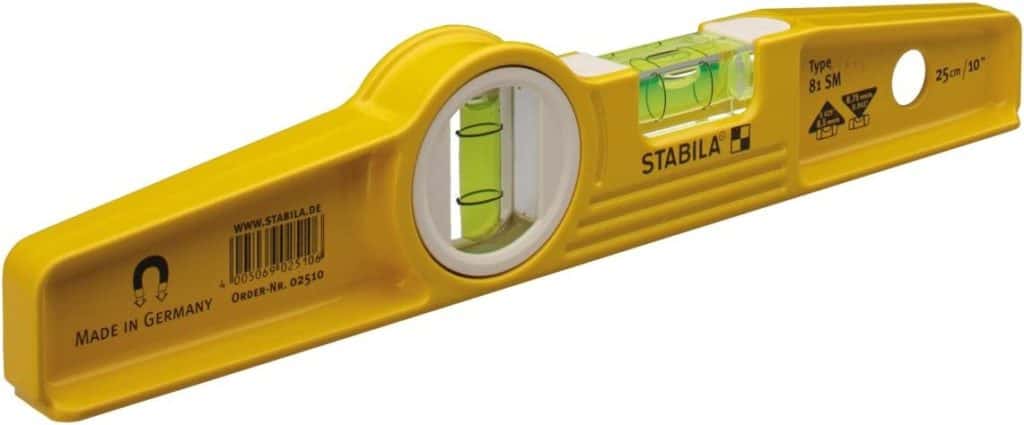 Assets
Targeting professional users working regularly, Stabila has presented a torpedo level that just can't get any better than it already is! With a sturdy die-cast, 10-inch metal frame, this torpedo level is certified to hold up well against drops from ladders and other accidents.
The 2 acrylic vials allow for very good and clear readings. The acrylic vials are also equipped with a limited lifetime warranty that provides you with a replacement if it breaks. That clearly shows that Stabila is willing to stand behind their products.
This torpedo level features 2 very strong flush-mounted rare earth magnets on the back, which allow the user to mount this level to a platform they're working on. This frees up both hands.
Readings are very accurate, within 0.029 degrees of the actual reading shown. That error is small enough for the user not to notice it, except for more nuanced jobs. If you want easy portability, then you'll be glad to know it can easily fit into a tool pouch holster.
Drawbacks
The magnets come loose and the price is a little high. Some users have complained about the bubble being too big. Other than that, this torpedo level doesn't seem to have many problems.
5. Johnson Level & Tool 5500M-GLO 9-inch magnetic Glo-View aluminum torpedo level
Assets
This particular Johnson Level torpedo level is equipped with a time-saving top read window and is constructed with industrial-grade full-length cast aluminum frame. This ensuries extreme durability and enhances its performance. The edges are CNC machined, which provide the level with strength.
The unit comes with 3 vials for reading plumb, level, and 45 degrees. The well-engraved vials have Surround View white polymer frames and feature 360-degree visibility for superior readings.
The patented Glo-View technology gives you a sleek experience. The 5500-Glo displays precision and versatility.
Get easy portability since it's lightweight. It's magnetic, so you can stick it to several metal surfaces to give you extra leverage. By simply facing it up against light, it'll give you enough visibility to go through extreme jobs without much stress.
The Glo-View technology can actually give you adequate light in the dark. The V-groove and 3 earth magnets are the reason that it fits and has a firm grip over pipes and metallic surfaces.
Highlighted features
Contains 4 vials: horizontal, vertical, 30-degree, and 45-degree
5 times stronger, thanks to the rare earth magnets and V-groove for better grip on any metal surface
Robust machined billet aluminum body to work against dust and falls
Machined vial openings to assure visibility and accuracy
Tool is only 9", making it easy to carry and utilize
Drawbacks
It can only measure 3 vials. The magnets aren't "worth every penny" ones because they fall off often.
The plumb level is big, making it difficult with plumbs. Some users have complained about different readings after a 180-degree rotation.
6. Empire Level EM81.9G 9-inch magnetic torpedo level w/ overhead viewing slot
Assets
This Empire Level torpedo level features a built-in overhead viewing slot that helps you analyze the situation in every position from above. The built-in rare earth neodymium magnetic edge is a handy feature that helps you to mount the level on a metal surface and gives you hands-free operation.
It comes in a heavy-duty thrust aluminum frame. It's constructed with shock-absorbing end plates to prevent damage from tough working situations.
Despite different pitches or surfaces, the level shows an accuracy of 0.0005 inches. The fact that it's made in the US is proof of its quality and durability.
The bright white circles surrounding the vials let you see in any condition. It consists of 3 true blue vials for easy estimations of level, plumb, and 45-degree readings at several levels. The pipe groove built into the edges lets you slide this level effortlessly underneath or on top.
The V-groove edge keeps the torpedo level in position when dealing with pipes and conduits. The dimensions of 9x1x2″ give it a low weight and small size, meaning it can fit in any storage space. You also get a lifetime warranty!
Drawbacks
There are different readings after a 180-degree rotation. The size is too small for some tasks and isn't for heavy usage.
The magnet isn't strong enough. Apparently, the magnetic strip on the bottom is comparable to a weak fridge magnet. It has a plastic plug in one of the holes and the hole gets scratched up.
7. Empire EM71.8 professional true blue magnetic box level
Assets
Empire has thought about almost every feature that can be put into a torpedo level. The Empire EM71.8 is a "worth every penny" tool! It's constructed with a Heavy-duty 6061 T5 aircraft aluminum chassis that clearly can withstand frequent falls.
This torpedo level is highly recommended for industrial use. The impact-resistant blue-banded vials are oddly attractive. They highlight the bubble edges and enhance readability, so readings are very easy to take.
The true blue solid block acrylic vials resist breaking, leaking, and fogging. They are 400% stronger than standard regular vials.
In an 8-inch frame, Empire has managed to fit 4 vials: a 90-degree, a 45-degree, a 0-degree offset, and a 0-degree flat.
The level of accuracy is set to almost .0005 inches by the patented true blue vials. They give you a 300-degree view and the top reading window is easy to read. It has 3 strong magnets: a flat edge on one side, a grooved edge on the other side and one flat end to stand upright, and one inclined end.
Drawbacks
Unless there's good lighting, it's difficult to see because of the light blue lines in the blue vials. There's a magnet positioned one in the center, which makes it hard to use.
There's no large central cut out for your hand. Plus, it's a bit heavy.
8. Klein Tools 935AB4V torpedo level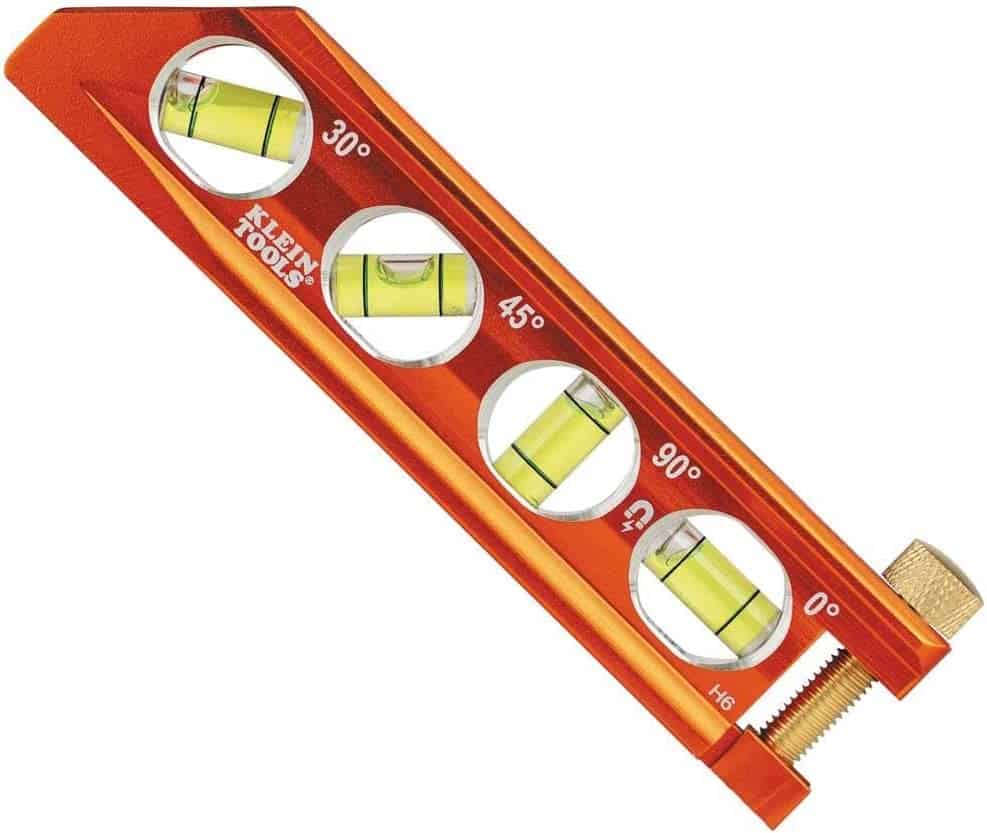 Assets
The Klein Tools 935AB4V torpedo level comes with a patented magnet track that prevents the powerful rare earth magnets from falling out. This means that it locks the magnets in place so the tool can be used with ease and confidence all the time.
For broader applications, the level comes with thumbscrews that let you attach the unit to a conduit to measure the angle while bending. The vials are very well designed and serve you with great visibility at 4 angles: level, 90, 45, and 30 degrees.
The large top-view vial windows do an outstanding job of enhancing visibility from just about any angle. The vials actually light up when you use the level in the dark.
This level features a true ground-level surface to increase precision. The lightweight aluminum frame is sturdy enough to last long and has a V-groove in case of use with conduits and pipes. The tapered nose allows the level to fit into tight spaces.
The bright orange color is really likable and makes it difficult to confuse with other tools. It also ensures that it's easy to see on conduits and at the job locations.
Highlighted features
3 angled vials with LED lights for easier reading under any condition
Powerful patented magnet track to prevent magnets from falling out
3-minute auto shut-off system to conserve the battery
Water and shock-resistant, making it last longer
Constructed from high-grade billet aluminum with a high-visibility orange tone
V-groove and tapered nose for further advantages when working
Drawbacks
Klein Tools actually didn't leave any room for complaints. But due to bad shipments, some users have received levels with the liquid leaking out. Also, it's not really built for heavy and long usage.
9. Bosch GIM 60 24-inch digital level
Assets
While ordinary torpedo levels are pretty accurate, the Bosch digital level is perfection! It's extremely convenient and reliable when in use.
There's no point in questioning the tool's durability, as it has IP54 protection. It prevents the level exterior from damage by dust found on job sites. 
The GIM 60 ensures readability when in difficult and dark areas. The digital display lights up when there's a hint of dimness in working sites. Additionally, the automatic rotation display helps in the most complex tasks.
Its ability to read an exact value in complicated areas makes it trustworthy to use on all sites. The Bosch digital levels comes with remarkably accurate measurements at both 0 degrees and 90 degrees.
The display provides measurements in degrees, percentages, inches, and feet. Another fascinating option is an audible indicator when the alignment is precisely horizontal.
Moreover, the precision level is 0.05 degrees, more or less. The tool's inclinometer even works as a holder and can copy certain target values with a button. It can then be transferred to other areas of the job site.
The product won't fail to provide accurate readings, no matter the condition of the site. It's an ideal tool to take along when you need both durability and accuracy.
Highlighted features
Clear and easy visibility due to illuminated display
Automatic rotating display for difficult tasks
Provides accuracy to ±0.05 degrees at 0 and 90 degrees
Hold/copy button includes work value transfers to other areas
IP54 housing protection against dust and other worksite conditions
10. Goldblatt lighted 9-in. aluminum verti. site torpedo level
Assets
A special feature added to this model is what brought it to my attention. This particular torpedo level includes a built-in night light with each vial.
So working in dark places will no longer be an issue! Many will be grateful to have this feature in a torpedo tool.
The product is constructed from tough aluminum alloy. So the tool will still be intact, even if you have a few accidental drops on hard floors.
The surface is designed with anodized grit blasting of die-cast aluminum. It allows the tool feel comfortable when held in your hand. The level is also packed with a ruler on one side, which is etched with a laser.
In addition to being durable, this level has a high level of angle accuracy. So both SAE and metric measurements are easily readable where the 3 angles are concerned.
The patented Verti-site vial design offers readability from any position in a confined place. So this compact tool can be used for industrial or domestic equipment, furniture, and other relevant jobs.
You'll notice the base of the tool has 4 magnets. The rare earth magnet provided here is quite strong; it's strong enough to secure the torpedo level to any metal surface.
One more advantage includes a hanger hole on the frame. This way, the tool can be hung for easy use or storage.
Highlighted features
It has a level of accuracy of 0.029 degrees at vertical, horizontal, and 45-degree angles
Constructed from machined billet aluminum
LED light with vials to work in the dark
Verti-site vial design allows easy readability from any angle
4-piece strong magnetic force placed on the base of the level
11. WORKPRO magnetic torpedo level, Verti. Site 4 Vial
Assets
This product has a unique feature that'll help with adjustments.
Most traditional levels offer only a magnetic base to keep the device attached to metal objects. But what happens when the magnetic force isn't the only solution?
This is where thumbscrew enter! Its job is to attach the level with conduits to measure angles; specifically, when the conduits are in a bending transition.
WORKPRO put a thumbscrew on one side of the level. It gives you secured and hands-free measuring adjustment that's faster than with other levels.
The level is reasonably comfortable, even as you hold it in your hands. This 6.5-inch tool has anodized grit blasts for its surface. This way, you'll have full concentration.
It also comes with 4 super strong magnets at the bottom for a firm hold on metal surfaces. Carrying or storing this little gadget hardly requires extra space. Its frame nonetheless comes with a hanger hole so you can store it somewhere that's easy to spot.
The entire structure has been made from a heavy-duty aluminum alloy that lengthens the product's lifespan. When it comes to the vials, Verti-site provides the best viewing and readability from multiple angles.
Highlighted features
Vial accuracy is 0.0029 inches in the front and 0.039 inches in the back
High visibility green bubbles at 4 angles: level, 90, 45, and 30 degrees
Anodized grit blasting surface with aluminum alloy body for strength and durability
Thumbscrew to attach the level with conduits or pipelines
Verti-site for maximum and easy readability from several directions
12. Greenlee L107 electrician's torpedo level
If you're looking for outstanding and reliable performance in any sort of electrical job, then this is it! The Greenlee L107 level has maximum accuracy and durability.
The L107 has 4 vials that vary in 0, 30, 45, and 90 degrees to allow for adaptable measuring. They can be applied to various tasks, such as alignments on conduits and fixtures, and so on.
The V-groove on the tool provides trouble-free mounts on curved surfaces. Each vial port has a cutout opening to get clear and easy visibility from all sides.
With its compact size of 8 inches in length, it's perfect in every way. You can put it in any tool pouch with no trouble. 
On top of it all, the offset calculation engraved onto the level totally simplifies work during bending. Most important is the tool's construction of the model; it's made with machined aluminum, which is anodized to aircraft material standards.
You'll get yourself a heavy-duty tool built to deliver optimum accuracy without any effort!
Your hands can rest while the 4 supreme magnets do the holding for you. They're so strong that they can attach to any metal surfaces.
Highlighted features
4 combinations of efficient vials for professional workers
4 rare earth magnets that provide more force than typical ones
Ideal size with multiple features, along with offset aid engravings
V-groove is included for complex curved surface mounts
Constructed from machined aluminum alloy and aircraft standard anodizing
FAQs
What's a torpedo level for?
A torpedo level is a type of spirit level that's an essential tool for any professional working in tight spaces.
The body of the level is made of either metal or plastic and contains 2 or 3 tube vials. These tubes (or vials) contain yellowish-green additives and are used to determine the surface level.
Are Goldblatt levels good?
The Goldblatt levels (both sizes) have an accuracy of 0.029 degrees in both directions, which is pretty good.
For comparison purposes, one of Johnson's 24-inch levels has an accuracy of 0.029 degrees in one direction, and 0.043 degrees in the other. This means you can read the Verti-site bubble from 3 sides of the level.
What are the 3 bubbles on a level?
Some levels also have a 3rd vial that allows you to find a 45-degree angle too.
On each vial, there are 2 marks that are spaced apart. When the bubble sits between them, it indicates a horizontal or vertical level (or 45 degrees if you're using the third diagonal vial).
Why do levels have 2 bubbles?
The bubble in the spirit level or bubble level is simply made of air. There are 2 vials so the level will work when lying on either its top or bottom edges.
Since air bubbles seek the highest point, the bottom vial (the one shaped like a rainbow) will be the working vial.
What length level should I buy?
Most pros start with a 48″ level for general work or a torpedo level for plumbers and electricians. Each job is different, and you'll notice that the more specific the job, the more specific the level lengths veterans will carry.
Which one should I buy?
It depends on what you work with. 2 vials would serve you great, and thumbscrews aren't necessary if you only occasionally use the tool.
What are the numbers under the line?
Those are the multipliers you need to use for specific angles.
Which one I should get: glass or plastic?
Glass is a better option if you're concerned about shock damage and durability.
Are longer levels more accurate?
Technically yes. A longer level provides better accuracy.
Nevertheless, it'd be useless in compact quarters. A tool of 7 or 9 inches is practical for all-purpose use.
What is a surface level?
A surface level is commonly used to see if a camper is level on the ground. It measures 360 degrees in a circular vial as you lay it flat. 
How do I know if the spirit level is accurate?
The best method is to check repeatedly on a flat wall vertically.
Take note of where the bubble position is. If it consistently appears between the lines, then you're good to go.
Similarly, you can try it on horizontal surfaces, like flooring areas.
Why is it called a spirit level?
At times, the bubble level is referred to as a spirit level due to the mineral inside the vial. This liquid is resistant to UV rays, fade-outs, and discoloring.
Pick the right torpedo level for your work
It's important that you understand the nature of your work and choose accordingly.
The reviewed torpedo levels here are the top among the best ones. Now all you need to do is look for your preferred features and pick one of the best torpedo levels.
If you want my verdict, I've come up with 2 torpedo levels that I think are slightly better when compared to the others (despite the fact that each and every model reviewed here is extremely good!).
The Stabila 25100 is a great package with its strong magnet, sturdy construction, and the vial warranty. The Johnson Level and Tool 5500M-GLO 9-inch with the unique Gio-View technology and the 3 magnets and V-groove make it a great package.
No matter which you choose, you're sure to have a fantastic torpedo level to last you for years.
I'm Joost Nusselder, the founder of Tools Doctor, content marketer, and dad. I love trying out new equipment, and together with my team I've been creating in-depth blog articles since 2016 to help loyal readers with tools & crafting tips.