I love creating free content full of tips for my readers, you. I don't accept paid sponsorships, my opinion is my own, but if you find my recommendations helpful and you end up buying something you like through one of my links, I could earn a commission at no extra cost to you.
Learn more
Any longer car journey builds up trash. Coffee cups, soft drink bottles, sandwich wrappings, candy bar covers, tissues, you name it – any time people live in a confined space for any amount of time, garbage piles up.
No problem, right? There are more trash cans for cars out there than minutes in a year – you pick one, fit it and go about your journey.
But you know it's not that simple, don't you? If your environment is stable, like a room in your home, then nothing that goes into the garbage is likely to tip, jolt, and shower the floor with increasingly questionable, stinky garbage.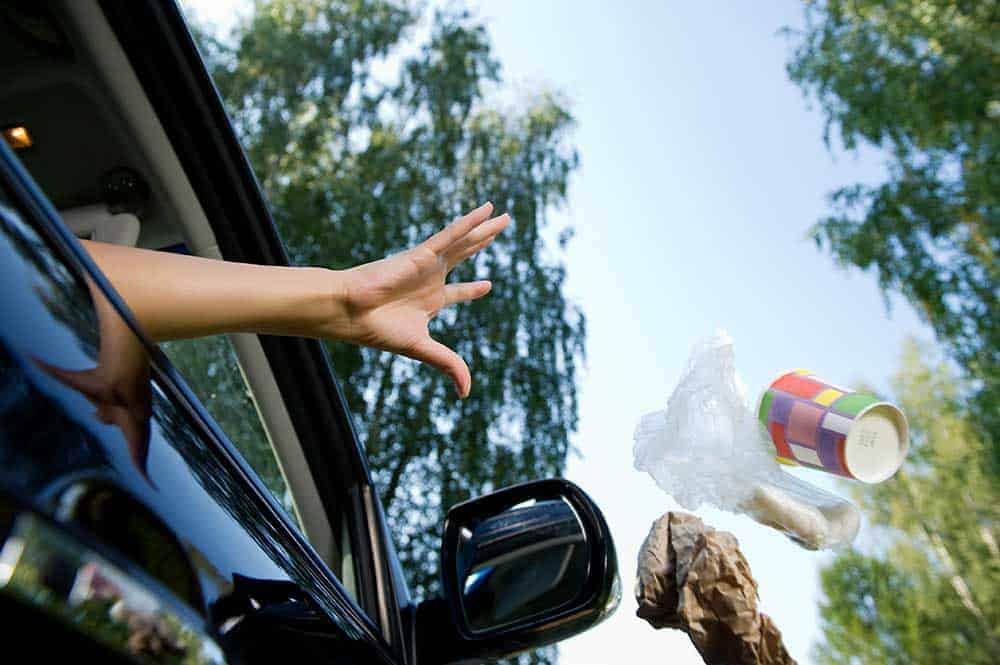 In a moving environment like a car though, anything goes. There will be jackasses who pull out ahead of you, requiring a slamming on of brakes and a good deal of self-censored language. There will be sudden bends that loom out of nowhere. There will be all kinds of driving conditions that affect your standard car trash can like it's been strapped into a rollercoaster.
That's why you need a weighted trash can for your car.
The weight helps counteract the pressures of the driving environment, to keep the garbage where it belongs, no matter who's driving or how… interesting the ride.
Want a quick way through the minefield of potential garbage hell?
We've got you covered – and your garbage safe.
In a hurry? Here's our top pick.
Also read: here are the best car trash cans for any category
Best Weighted Trash Cans for Cars
The Coli Alma garbage can combines everything you need in a weighted garbage can for your car.
In the first place, it's light when unloaded, coming in at just 1 pound. That means you're not going to strain something important when it's full and you need to empty it.
It's also made of plastic, rather than any of the lined material bins out there. That means if your kid throws away a juice carton because they're done with it, and it's still half-full, it can happily leak all the way to Grandma's house and you won't spray grape juice all over your car's floor – wet waste is no drama in a plastic bin.
It's especially no drama in a large capacity bin. The Coli Alma gives you a full gallon of capacity, so however many of you are travelling, or how long your journey, you're unlikely to fill the garbage can on a single trip.
All of which is fine and dandy, but when stability is the name of the game, you want a weighted trash can that's not going anywhere. The Coli Anna comes with heavy duty anti-slip arms, to reduce any sliding during your drive.
In short, the Coli Anna weighted car garbage can is not going to tip, slide, overturn or leak. It's everything you need in a weighted trash can for your car, and while it's the most expensive pick on our list, it's not going to break into your fuel budget in any serious way, either.
Pros:
Large capacity trash can means it's suitable for longer drives
Plastic construction makes it safe for wet waste
Heavy duty anti-slip arms give it extra stability
Cons:
While it's not a bank-breaker, it is the most expensive trash can on our list
The High Road TrashStand trash can has an effective weighted base, and doubles as both a trash can and a handy holder of useful things, with a mesh pocket completely separate from the inside of the can.
In terms of capacity, the TrashStand actually trumps the Coli Anna, giving you 2 gallons of space, more than enough for most journeys.
The TrashStand comes with a leakproof liner, so there's no need to buy extra liners, bags, or the like – just rinse out the liner once you get home, ideally with an antibacterial solution, and you're good to go.
The cover on the TrashStand is both hard, so no garbage will insinuate its way out (like the miraculous, ever-expanding potato chip packet), and hinged, so it's easy to access the can when you need it.
And for extra robustness, as well as the standard bean bag to add weighting to the can, there are extra Velcro grip-strips to secure the can to the carpeted floor of the car.
That said, if there's a weakness to the TrashStand, it's probably in those Velcro strips, which sometimes aren't as grippy as you'd like to think.
Also, beware – this is a trash can that, if empty, has a tendency to fall flat because it's less rigid than, say, the plastic Coli Anna. So while the weighting works well, you might want to start each journey with a little 'feeder trash' in the can, just to get it started.
Buy hey – that's just an excuse for drive-thru breakfast, right?
Priced lower than the Coli Anna, the TrashStand has double its capacity, if slightly less rugged certainty than our plastic list-leader. For bigger families or longer trips though, you'll appreciate the 2 gallon TrashStand. That said, if you get the chance to empty it, don't wait, simply because it's nowhere near full yet. Empty your car's trash can at the first responsible opportunity.
Pros:
A 2 gallon capacity means the TrashStand can take all the trash you throw in it – even on longer journeys
A handy mesh pocket turns the TrashStand into a double-purpose travel aid
The hinged, hard lid keeps the can firmly closed in transit, but allows it to open easily when you need it
Cons:
The Velcro grip-strips sometimes come loose
When it's empty, it has a tendency to fall down
Another 2 gallon car trash can, the Freesooth differs from our first two choices in that as well as being able to stand alone, it's also a strap-on, and so can be used wherever is most convenient in your car. Attach it to a seat arm, hang it over the back of a seat for extra height and stability, the strap can be fitted upto 14 inches.
The outside of the can is made of highly durable Oxford cloth, with a special PEVA leakproof lining for all those wetter garbage moments. Interestingly, the cloth extends all the way to the lid of the can, so you don't get the usual plastic trash can smells.
The Freesooth, like the TrashStand, uses mesh around the outside to double the can's usefulness when it comes to holding essential travel accessories. Where the TrashStand only gives you one pocket though, the Freesooth has three, so you can even compartmentalize your travel aid needs.
And for extra value in what is already the cheapest trash can on our list, if you don't need a garbage can straight away, you can fill the Freesooth with soft drinks, because it has an insulated layer that will keep your sodas cool until you need to drink them. Sodas on the way there, garbage on the way back. Everyone's a winner!
Pros:
The 2 gallon capacity gives the Freesooth enough room for longer trips
It can be used either freestanding or strapped on to wherever is most convenient
Three mesh pockets give it an extra use for storage
And an insulated layer means it can act as a cooler for food and drink if needed
Cons:
Cloth trash cans always feel more vulnerable to leaks than plastic ones
Buyer's Guide
If you're buying a weighted trash can for your car, keep a few things in mind.
Stability is king
The most important thing in a weighted trash can is that it helps to mitigate the swerves and brakes of any average drive. Make sure you get a weighted trash can that stays where it's put.
Capacity matters
If your weighted trash can is full to the brim before you're halfway to your destination, you're going to be looking around for extra plastic bags to help it do its job. Judge the number of your passengers and the length of your usual trips, and buy your weighted trash can accordingly.
Value for money
Mostly, this is a function of the price you pay for your weighted trash can. But it's also important to factor in any extra tricks the can does, like giving you extra storage space, or acting as a cooler.
Frequently Asked Questions
1. What are weighted trash cans weighted with?
It varies from brand to brand, but the easiest option is a bean bag in the base, to stop the trash can tipping or shifting unnecessarily during the drive.
2. Are weighted trash cans suitable for smaller cars?
This depends on the manufacturer, but on the whole, yes, weighted trash cans are suitable for both large and small cars.
3. Are weighted trash cans waterproof?
Yes – most weighted trash cans that are worth even looking at will either be made entirely of plastic, which is about as waterproof as it gets, or will have a leakproof liner fitted as standard, so you can put wet things – or sticky things, come to that – into them safely, without worrying about leakage for the course of the journey.
Also read: these trash cans fit easily on your car door
I'm Joost Nusselder, the founder of Tools Doctor, content marketer, and dad. I love trying out new equipment, and together with my team I've been creating in-depth blog articles since 2016 to help loyal readers with tools & crafting tips.