I love creating free content full of tips for my readers, you. I don't accept paid sponsorships, my opinion is my own, but if you find my recommendations helpful and you end up buying something you like through one of my links, I could earn a commission at no extra cost to you.
Learn more
You never know what you have laying around in your workshop, it might be a pint, some coffee you spilled, or some dry dust. So, it won't be a good idea to sucking all of those up with a normal everyday vacuum. The best wet/dry vac under $100 can take it with no issues.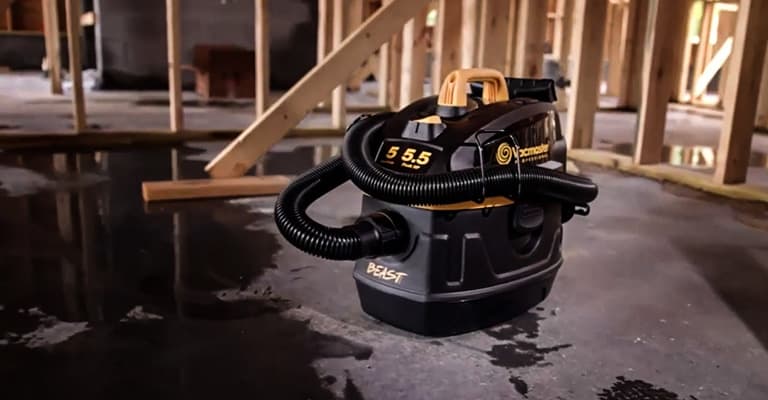 Wet/dry vacs are designed to handle disasters like after your kid's birthday. The everyday cleaning that you do around your house is a walk in the park for these psychos. Whatever the situation is, little effort with the broom can take care of it. So it's important to stay on a budget, like the ones below.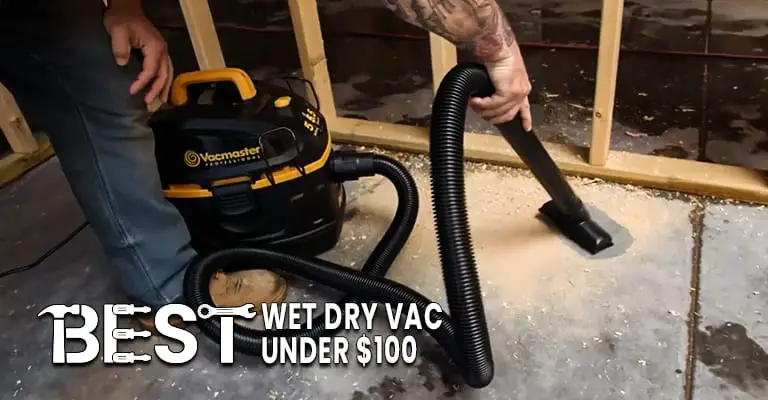 Best Wet Dry Vac reviewed
Getting a good product among the many others available in the market is not an easy job. And getting a quality vac in your budget is rather difficult. So to help you in your hunt, we have sorted out some of the best wet dry vacs under $100. And all you have to do is choose!
Armor All, AA255 , 2.5 Gallon 2 Peak HP Wet/Dry…
Aspects Of Interest
First, on the list, we have the incredibly light and compact one of the best wet/dry vacuum cleaner in the market, the Armor All, AA255. This multipurpose cleaner is designed to clean up both solids and liquids so you can easily use it for any kind of household cleaning chores.
The vacuum cleaner has a polypropylene tank with a capacity of 2.5 gallons. So it's moderately small and very lightweight which makes it easier to carry it around while working. There is a handle on top of it to move it easily. Also, its innovative design gives you the privilege to store all the accessories inside the unit.
The motor of the cleaner is powerful enough to clean even the harshest debris. It can reach up to 2 horsepower easily. Also, the blower function is very easy to convert whenever needed for convenient operation. And it features an automatic shutdown switch to stop the airflow when filling the limit.
The product comes with some additional parts including cord, hose, cloth filter, foam sleeve, crevice tool, utility nozzle, blower nozzle, and detains brush. The 10-foot long cord and 6-foot long hose provide easy reach to any rooms or corners. At the same time, it makes less noise than most other cleaners.
Pros
2.5-gallon tank
Made of polypropylene plastic
2 peak HP motor
Compact size
Cons
Comparatively less motor AMP
Pitfalls
It doesn't have enough room to keep all the attachments inside the unit.
The clams are a little difficult and annoying to align and affix together.
2. Vacmaster VBV1210
Aspects Of Interest
If you are looking for a vacuum cleaner from a reliable brand, then Vacmaster VBV1210 is a great option for you. This wet dry vacuum cleaner has gained much popularity for its large storage capacity and advanced functionality.
The most noticeable feature of the cleaner is its huge storage capacity of 12 gallons. Unlike other vacuum cleaners, it doesn't fill up quickly so you don't need to go through the hassle of dumping the waste out in every few minutes. Also, the 2 in 1 unit makes it very easy to switch between wet and dry cleaning function.
The cleaner makes cleaning easier than ever with the powerful motor with a peak of 5 horsepower. With a blowing speed of 210MPH, it can easily clean any kind of dust and debris. Also, it provides plenty of reach with a 12-foot long cord and a 7-foot long hose. So you can easily reach all the rooms and spaces to clean.
The manufacturers provide a number of accessories with the cleaner including extension wands, crevice tool, blower adapter, car nozzle, foam wet filter, cartridge filter, and more. It also has a noise diffuser so it produces less noise than a usual vacuum cleaner in the market.
Pros
12-gallon tank
Five peak HP motor
Detachable blower
Large drain for easy removal
Cons
Debris may spill out if dropped
Pitfalls
Quite difficult to remove fine dust or other material from an uneven surface.
The units don't move a lot of air.
Not portable.
3. Shop-Vac 5989300
Aspects Of Interest
Third, on the list, we have the Shop-Vac 5989300. This powerful yet lightweight wet dry vacuum is the ultimate combination of convenience and functionality. The vacuum comes with a tank capacity of 5 gallons. Also, a high-quality motor can reach up to 4.5 horsepower easily.
This wet dry vacuum is gaining much popularity for its convenient use. it is fully portable so you can easily drag it around to do chores. There are handles at the top and sides of the vacuum making it easier to move it from one place to another. Also, the wide-spaced wheels below prevent it from tipping during use.
The product comes with all the basic tools you need for cleaning all the surfaces in your home including a hose, extension wands, nozzle, etc. The 7-foot hose is long enough to reach even all the tight spaces between the furniture. Also, the motor is powerful enough to maintain the suction at a consistent level.
They also provide cartridge filter, foam sleeve, crevice tool, and filter bag. The hose is designed to be plugged into a port on the back so you don't need to go into the trouble of detaching the blower. On top of that, the durable stainless steel construction of the body makes it more desirable.
Pitfalls
Attachment caddy is a bit uncooperative.
Relatively small tank capacity.
The blower isn't as versatile.
4. Shop-Vac 2021000 Micro
Aspects Of Interest
Next on the list, we have the mini wet dry vacuum, Shop-Vac 2021000. This all-purpose micro vacuum comes with a tank capacity of 1 gallon. A powerful motor operates the vacuum which can reach up to 1 horsepower easily. Also, the brand provides additional accessories including a tool holder to organize the tools.
This compact micro vacuum is very easy and convenient to use. There is a handle mounted on the top of the vacuum to carry it from one place to another. Also, you can fold the handle easily for more space. Besides, it's very lightweight which makes it even easier to move it around.
The vacuum cleaner is perfect for any household cleanups. It comes with a 6-foot power cord for easier access. Also, they provide a 4-foot hose, gulper nozzle, crevice tool, foam sleeve, and disposable filter bag. Besides, the collapsible and wall-mounted bracket gives you the privilege to save more storage.
The vacuum is constructed out of strong and durable stainless steel to prevent wear and tear. So you can use it for a long time without having to replace it soon. Also, it comes with a 2-year warranty.
Pitfalls
Loses suction if the bag inside isn't placed perfectly inside the canister.
Shows very bad results without a bag.
5. DeWALT
Aspects Of Interest
Finally, we have one of the most popular products in the market, the DeWALT Portable wet dry vacuum cleaner. This portable cleaner is very easy and convenient to use in any cleaning job. Besides, it's very lightweight and compact making it even easier to move it around while cleaning.
The cleaner comes with a tank capacity of 4 gallons along with a powerful motor to provide enough suction to clean up even the tiniest dirt. The motor can produce a maximum of 5 horsepower. Besides, with the incredibly flexible 7-foot long hose and the 20-foot power cord, you can reach every turns and corner of the room.
The cleaner features onboard storage to dump all the accessories including the cords and extension wands into the unit. The airflow can reach up to 90 CFM picking up any kind of debris. Besides, the high-quality filter of the cleaner can clean up both dry and wet materials.
Made out of durable stainless steel the cleaner can sustain everyday heavy-duty work without any difficulties. So you don't need to worry about replacing it anytime soon.
Pitfalls
It comes with only two attachments.
It doesn't provide a brush.
Compatible brushes are a little difficult to find.
Shop-Vac 5979403 Stainless Wet Dry Vacuum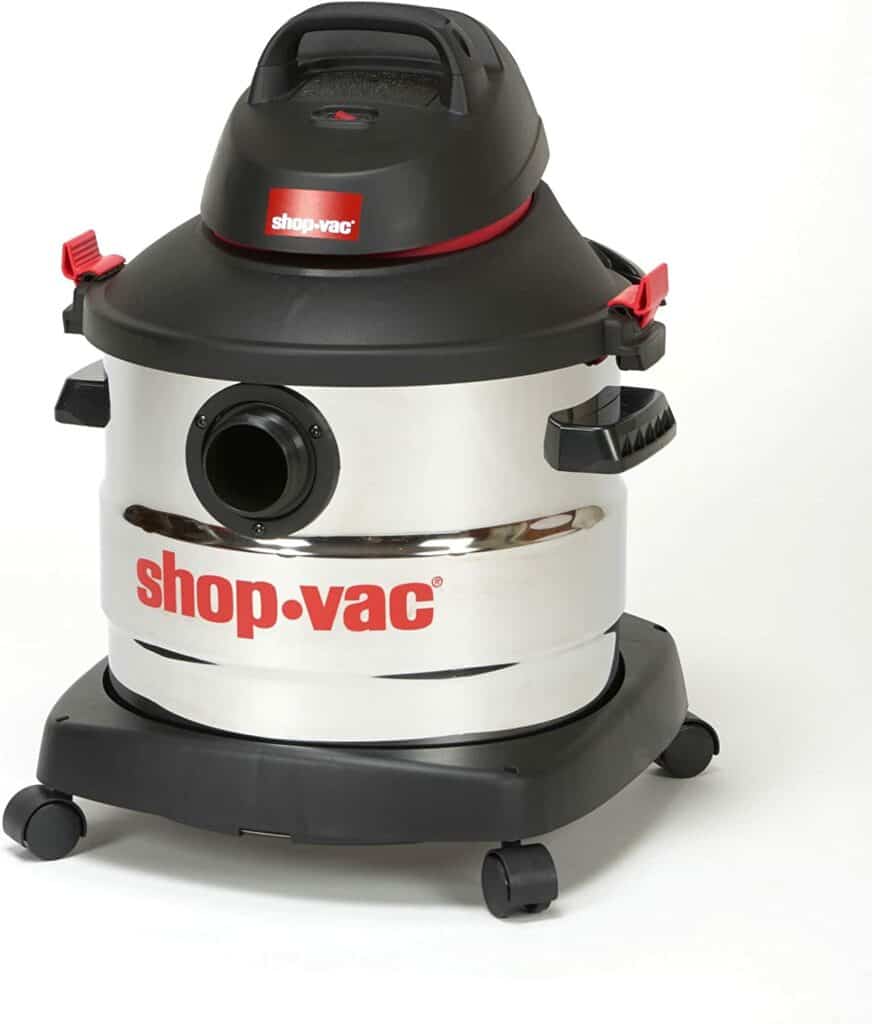 Third on this list is this amazing stainless wet dry vacuum. It has an impressive 8-gallon tank that stores debris with ease. A positive lid latch system ensures that the debris stays where they belong. Now, you don't have to worry about dropping the tank accidentally while using it.
For added convenience, this wet/dry shop vac allows you to store the cord and other accessories on it. You can always keep them on hand and use them whenever you need to. It also has a durable design reduces the possibility of replacing this shop vacuum in the near future.
This company has been manufacturing vacuums and other accessories since 1965, and all their products go through rigorous training. Hence, this is one of the most reliable shop vacuums on this list. On top of that, it can be easily transported due to the top and side carry handles.
This also has a relatively compact size, which offers convenient storage. On top of that, it's powered by a robust 6 HP motor. This makes it capable enough to carry out all the basic cleaning tasks around the house. It also includes a rear blower port, which allows you to attach an additional blower tool.
This feature makes this a multi-purpose vacuum for all cleaning purposes. Apart from being durable and powerful, its stainless-steel finish gives it an appealing look.
Pros
Store cord and accessories onboard
Durable design
6 HP motor
Rear blower port
Cons
Vacmaster Professional Wet Dry Vacuum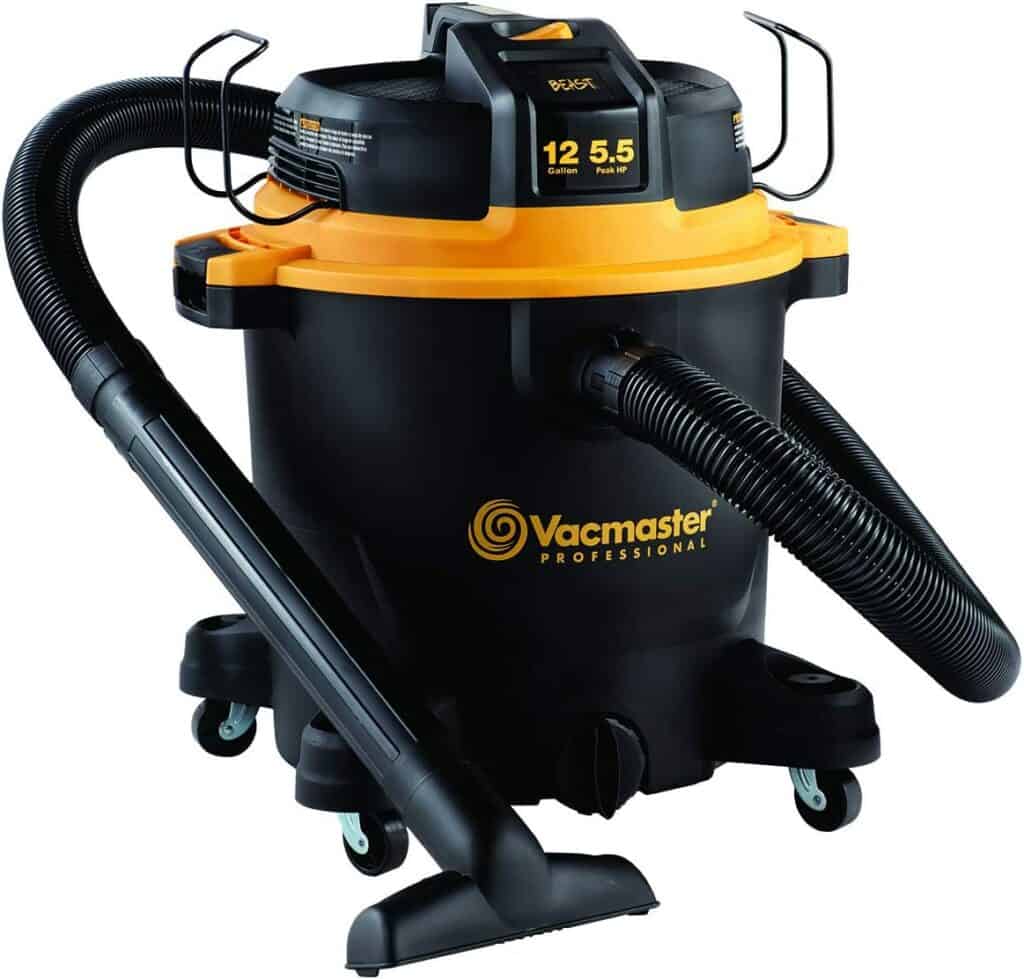 Next up is this highly efficient model of wet/dry shop vacuum. Powered by a unique 5.5 HP motor, this is a highly potent shop vac that can suck up dust and debris effortlessly. With this model at your disposal, you can finish your cleaning tasks within a matter of minutes.
The immense suction power allows you to get rid of tiniest debris from any surface. It's also equipped with a foam filter that makes it perfect for collecting large amounts of water as well. Apart from that, it has an 18-inch cord that offers you more freedom to move around while cleaning.
Now you can easily cover significant distances without having to carry it with you. It is aptly named "Beast" because of its ability to suck off dirt from all kinds of surfaces. For more efficient cleaning, it has a blower port that lets you use it as a blower as well.
With this attachment, you can blow dust and debris off your driveway in a short time. It even has some storage space on board so you can accessories and tools. On the other hand, it has integrated hose storage. You can just wrap the cord around and store it on board, so you don't have to trip on it.
The 5-gallon tank on this "beast" can safely store debris because it's made of polypropylene plastic.
Pros
5.5 peak HP motor
18-inch cord
Integrated hose storage
5-gallon polypropylene tank
Cons
Accessories storage need to be tuned
CRAFTSMAN CMXEVBE17595 Wet Dry Vacuum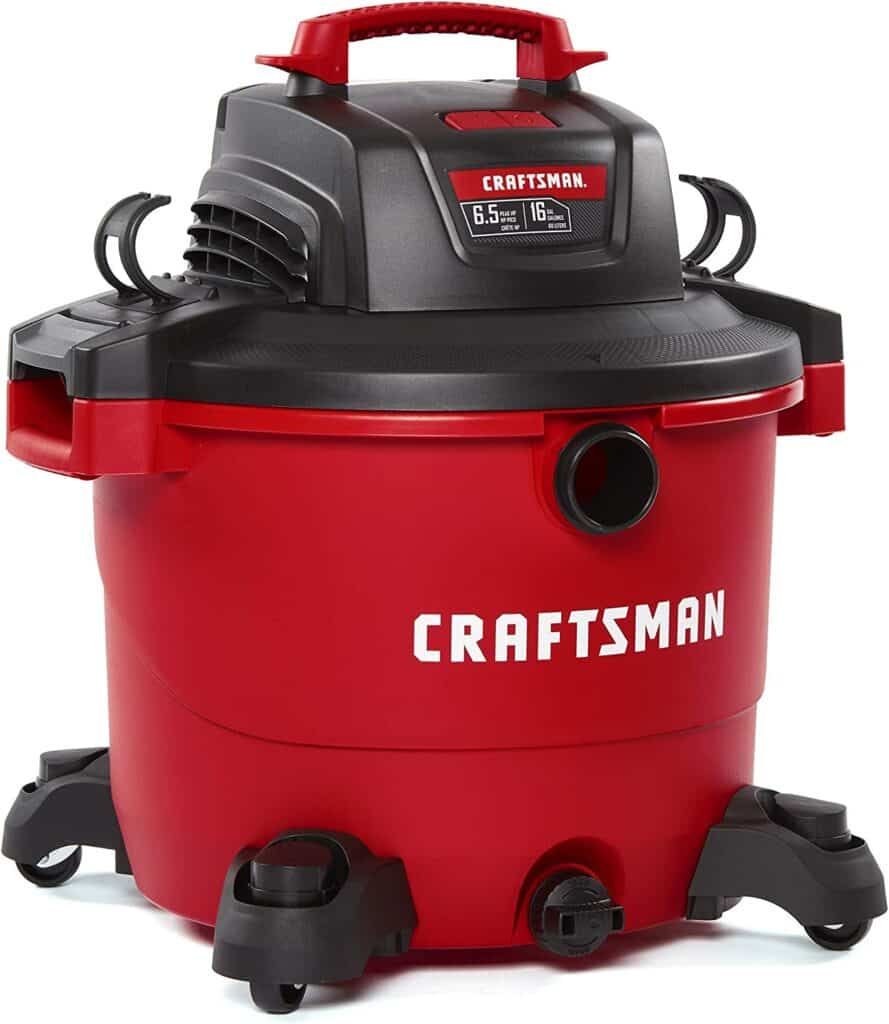 Built for heavy-duty operations, this model is one of the most powerful of them all. You won't believe how reasonably priced this shop vacuum is despite its durability. It's built to withstand regular use for an extended period. This little machine is suitable for both indoor and outdoor cleaning projects.
It is equipped with a robust 6.5 peak HP motor that can carry out cleaning tasks efficiently. With such intense power, you can clean an entire garage or a workshop with time left to spare. The suction power is extraordinary and will come in handy when you're trying to get rid of that stubborn little debris.
If that isn't enough, it comes with a specialized blower port that lets you convert it into a blower. With this feature, you don't even need to buy a blower for cleaning leaves and dust particles in your yard. Moreover, it's equally equipped for cleaning liquids with the same amount of power.
It also has an oversized drain at the bottom for removing liquids from the tank. You don't have to tilt it to get rid of it manually. Talk about user convenience! The hose on this heavy-duty wet/dry vacuum is based on an exceptional Dual-Flex technology.
This allows you better maneuverability when cleaning large areas. It's also resistant to kinking, so you don't have to worry about that either.
Pros
6.5 peak HP motor
Specialized blower port
Oversized drain
Hose with Dual-Flex technology
Cons
Has a comparatively bulky size
DeWALT DXVO9P Poly Wet Dry Vacuum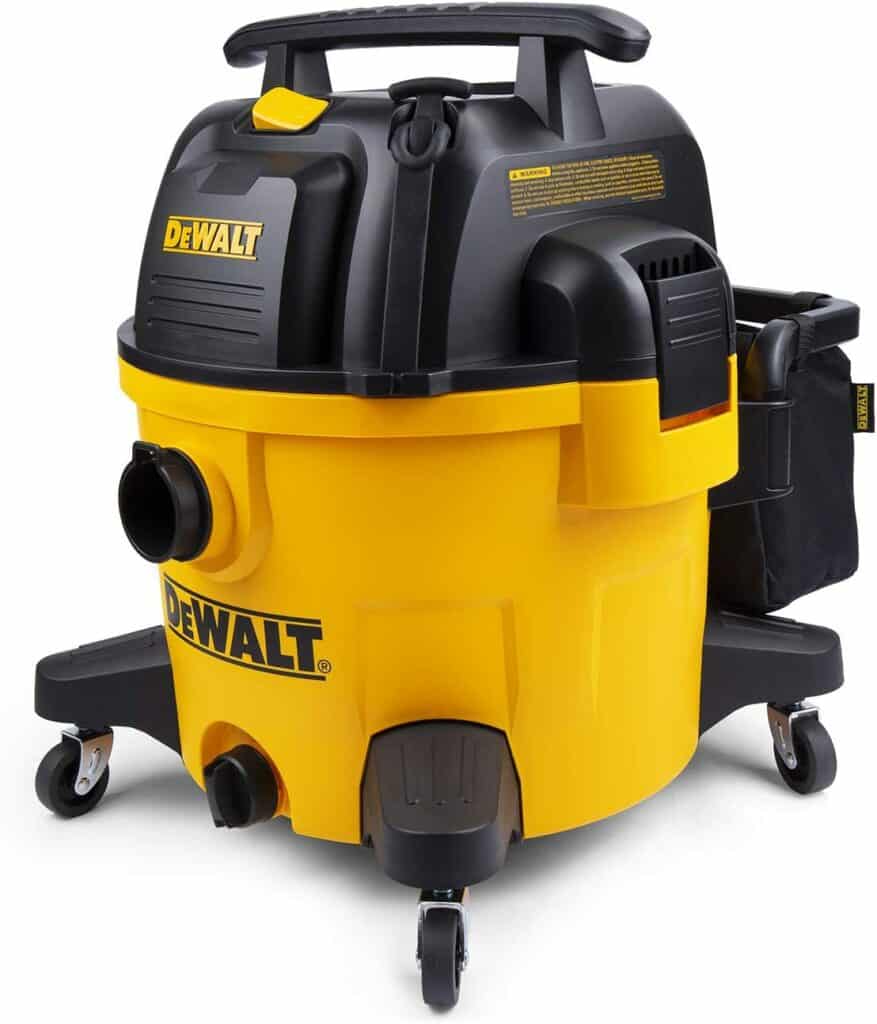 One of the best in the industry, the DXVO9P model, is equipped with a 9-gallon tank. The large storage space pairs up well with the five peak horsepower motor. This combination makes it a perfect wet/dry vacuum for cleaning workshops. It's also equipped with a storage bag in the rear, where you can store all the necessary tools.
Besides being so immensely powerful, this device is also highly portable. It's both lightweight and compact, which makes it easy to carry from one place to another. But who needs to carry it when you can just stroll it around? This shop vacuum rubberized caster at the bottom that makes it even easier to transport.
The swiveling motion of the casters also makes it easy to move in any direction. The amazing fact is, even though it's such a powerful machine, it still works ever so silently. And besides having excellent suction power, it also does the job of a regular leaf blower.
This wet/dry shop vac is not only powerful and portable but also elegant. In fact, it's so powerful that it can be used to suck water off wet carpets! That's an almost impossible task but still plausible for this highly efficient machine. To make your job even easier, it's equipped with a large drain at the bottom for liquid removal.
It's also as durable as it is efficient.
Pros
9-gallon tank
Rubberized casters for transport
Works in silence
Has a large drain
Cons
Screws for mounting accessories not provided
WORKSHOP Wet Dry Vac WS1600VA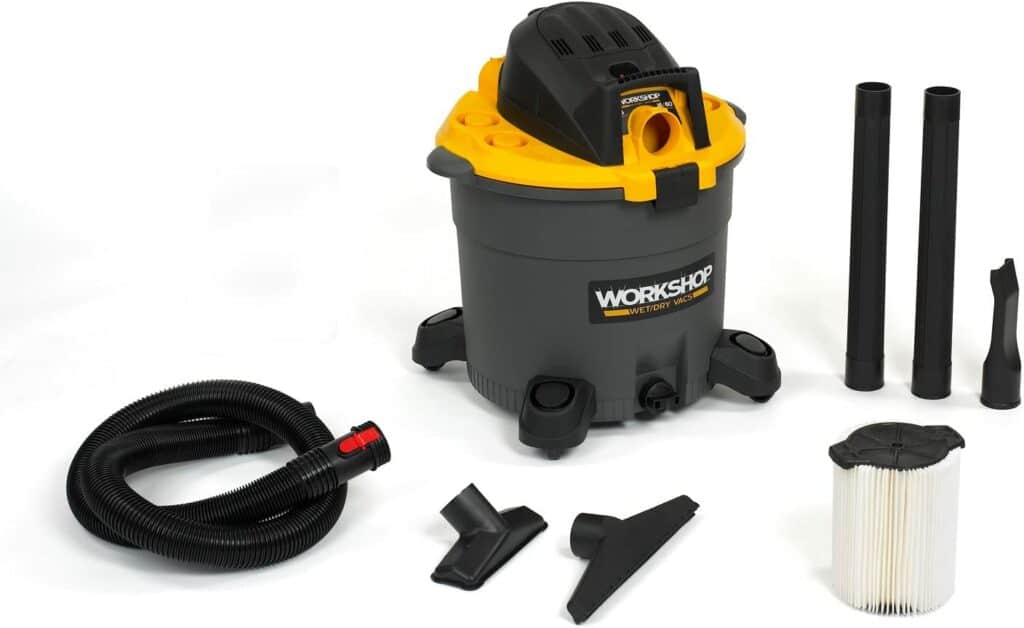 We end this list of wet/dry shop vacs with this WS1600VA model, which has pleased customers for years. This exclusive model comes with a 2-1/2-inch x 7-foot dual flex locking hose that allows you better maneuverability than any other. It is flexible up to 180 degrees on either end of the hose.
The hose stays securely attached to the vacuum cleaner while you're carrying out your task. This feature allows you to move freely without worrying about dislodging the hose. Besides that, it also implements a Quick-Lock fastening system, which lets you switch filters for different types of cleaning tasks.
This model also includes a clever safety feature that prevents liquid overflow. It has an auto shut off float mechanism that turns off the machine automatically when tank is all filled up. They are also equipped with a large drainage system that allows the stored liquid to flow freely out of the tank.
A strong copolymer drum also makes this machine more durable as it can resist dents. This also prevents it from rusting, making it a highly durable shop vac. The WS1600VA model has such powerful suction that it can effortlessly collect 1 gallon of water every minute!
It's also equipped with an integrated blower port, which noticeably adds to its versatility. The number of applications of this device will surely leave you admiring it.
Pros
Dual flex locking hose
Quick Lock fastening system
Auto shut off float mechanism
Can pull 1 gallon of water per minute
Cons
Isn't compatible with dust collection bags
Best Wet Dry Vac Buying Guide
Home, shop, and garage debris should find a great vac to rest. But unlike a dust extractor shop vacuum, the wet-dry ones add the liquid spills in the list too. So for an all informed choice, here we have discussed every possible feature and function that you might be looking for in a wet-dry vac not leaving budget aside.
Cord Length
Generally, most common brands provide a cord length of 10 to 20-foot. Cleaners with a longer cord can provide more reach to tight places. So the longer, the better. However, you can buy an external cord but that can pose security issues and incontinence.
When you're cleaning your garage or any ample space, you certainly need to avoid tugging on the power cord. So, keep the length of the cord in mind when shopping for a wet/dry shop vac, to avoid this problem beforehand. If you're cleaning around your apartment, then this might become a regular issue.
Only a vacuum equipped with retractable cords can solve this. However, storing such a long cord at the end of each task might prove to be troublesome. Also, make sure you consider the power consumption of your shop vac. A regular wall plug can only withstand certain amperage before breaking.
Hose Size
Like the cord sizes, hose length also differs a lot. For topmost brands, the hose length ranges around 5 to 10 feet. The longer hose allows you to reach more distance without having to move the cleaner.
Also, hoses with bigger diameters can produce more suction so they can easily pick up more dirt and debris. Hose diameters generally don't differ much. However, for most cleaners, it can reach up to 3″.
Suction Power
The suction level of a cleaner defines how well the cleaner can pick up the dirt and debris. Without sufficient suction, your cleaner can't clean up the tiny dust and dirt. Suction power varies a lot for different cleaners but the higher the better. Around 200-250 MPH of blowing speed should be enough for a 12 gallons cleaner.
Portability
Most of the well-valued vacs come with wheels and side handles to easily maneuver it. Besides, some brands also provide top handles to help move it around. A maintenance-free and portable cleaner gives you the privilege to carry it around without breaking a sweat.
Multiple Uses
No matter which model you choose, versatility is a key factor to take into account. For example, buying a wet/dry vac with an integrated blower port will be highly beneficial. Your shop vacuum can not only suck debris off the carpet but also blow leaves and dust off your driveway.
A good wet/dry vac can have numerous more applications than you can think of. So, it's better to choose a model that includes multiple features at the same time. These shop vacs are meant to last a long time, so make your decision with that in mind. Once you buy one, you're stuck with for years on end.
Tank Capacity
The tank capacity of a vacuum cleaner differs depending on the size of the cleaner. For bigger and heavy-duty cleaners, the tank capacity can range up to 16 gallons. On the other hand, for micro vacs, it generally ranges between 1to 4 gallons.
Bigger tank gives you the privilege to work for a long time without having to empty it in a few minutes. On the other hand, smaller tanks fill up very quickly while working so the users need to empty it in every few moments to be able to work with it again.
Filter
Filters prevent the dirt from leaving the vacuum while cleaning up. Also, they prevent the wet materials from leaking out of the tank. They are supposed to be replaced in a few days so an easily removable one is the best choice.
Top tier brands like Vacmaster, Shop-Vac, and others provide compatible filters with the cleaner. But if you want to go for a different one, make sure it properly fits the cleaner to prevent any leak.
Noise Level
Vacuum cleaners usually don't make much noise. But if you are sensitive to noise and prefer a quieter cleaner than I suggest you get a cleaner that has noise diffuser. Noise diffuser reduces the noise of the cleaner ensuring a quieter performance.
Types of Messes
When buying a shop vacuum cleaner, you first need to consider what type of mess you need to clean on a daily basis. If your job requires cleaning on a construction site, you should get a heavy-duty model that has excellent suction and a large tank for storing debris.
This will save you the hassle of repeatedly emptying the debris while cleaning. If you're cleaning after a pet animal, you should buy a vacuum cleaner that can not only suck minuscule debris off carpets but is also portable. It should also include a good filter.
If you have a large family and want to clean your household, you will need a proper combination of all the features above.
Dust and Allergens
Most wet/dry shop vacs aren't equipped to collect the finest particles, so it will be wise to get one with filters. These filters will prevent the allergens and other infectious particles from floating around in the air while vacuuming.
In case you want to clean up a baking soda mess, it should have the ability not to let it blow all over the place. Regular filters in a vacuum cleaner aren't powerful enough for this job. To collect fine particles such as flour, you will need an allergy specific HEPA filtering system.
Developing Smell
When you use a wet/dry vacuum repeatedly, there is no telling the types of things it sucks in. All the different substances can create a certain repulsive smell inside the machine. This is because the substances can get absorbed by the plastic or the filters over time.
To make sure you can get rid of this repulsive odor, you should consider buying a model that can be cleaned easily. Some wet/dry vac models come with debris tanks that can be easily detached and cleaned thoroughly.
To make sure no lingering smells persist, make sure you clean it regularly. You can even choose to replace the filter, which can't be cleaned otherwise.
What Is A Wet/Dry Shop Vac?
Wet dry shop vacs are powerful vacuum cleaners that can be used to clean both wet and dry messes. They usually have a large canister to store all the sucked-up debris. Some models are even equipped with a large drain in the tank, which helps you dump the liquids without having to tip it over.
Shop vac motor power usually ranges from 2 peak horsepower to 9 peak horsepower. They have immensely powerful suction capabilities, which enable them to suck up minuscule debris from the surface. They also consist of an integrated hose and a filter to avoid dust dispersion in the atmosphere.
Some top-rated models also include a blower attachment or an integrated blower port, to make them more versatile. The tanks are often made of polypropylene plastic for safe storage from debris. A lightweight and compact design is considered ideal as portability increases its efficiency.
Frequently Asked Questions
Q: How often should I replace the filter?
Ans: It depends on how often you are using the cleaner. Usually for everyday use, changing the filter once in a week should be okay.
Q: Can I use an additional blower with my cleaner?
Ans: If you have a detachable blower then it should be okay to use a different one as long as it fits. But it's not recommended.
Q: How do you use a wet vac on a shop vac?
Ans: First, you need to open up the shop vac from above by unlatching the lid. You will notice a cartridge filter that's shaped like a cake and a flat lid cage. Carefully slide the cartridge filter over the lid cage. Take out the vacuuming hose and push the power switch to turn it on.
Q: Can I use my shop vac for water?
Ans: Yes, you can. However, to use the shop vac to suck in water, you might need to adjust it first. If it already has a dust filter on, remove it using the foam sleeve provided.
Q: What happens when you use a wet/dry shop vac without a filter?
Ans: A shop vac is only operated without a filter when sucking up liquid substances. If you use the shop vac to suck up dust and debris without a filter, it won't as long as expected. It will also spread some of the debris into the atmosphere.
Q: Can you use a shop vac without a filter?
Ans: Yes, you can. Most models have a tank large enough to contain all the debris during the cleaning process.
Q: How long can you run a shop vac?
Ans: A regular shop vac can work up to 30 minutes consecutively.
Final Words
The first condition of keeping your house and workplace clean from the mess is a vacuum cleaner. Almost all of us own one or two vacuum cleaners. But getting a good one from the market at an affordable price is pretty difficult. So if you are also looking for one of the best wet dry vacs under $100, you are in the right place.
If you are looking for a heavy-duty cleaner with a large tank capacity then Vacmaster VBV1210 is a great option for you. with a tank capacity of 12 gallons, this cleaner can clean up even the messiest of mess and can deliver durable performance for a long time.
On the other hand, if you are looking for a small portable mini vacuum cleaner, then we have the Shop-Vac 2021000 micro vacuum cleaner which is just perfect for any small clean up around the house.  There's also a reliable option from DeWALT that is worth consideration.
I'm Joost Nusselder, the founder of Tools Doctor, content marketer, and dad. I love trying out new equipment, and together with my team I've been creating in-depth blog articles since 2016 to help loyal readers with tools & crafting tips.