I love creating free content full of tips for my readers, you. I don't accept paid sponsorships, my opinion is my own, but if you find my recommendations helpful and you end up buying something you like through one of my links, I could earn a commission at no extra cost to you.
Learn more
While there are different kinds of saws available out there, not all of them provide accuracy and precision. Moreover, it is not convenient to use them for diverse materials as well.
But, if you want a tool that can provide power, efficiency, and improved torque all at once, then here's the right kind of saw for you. That is, the worm drive saw!
It can not only be used for a variety of applications, but it can also be used for different kinds of cuts. Hence, let the best worm drive saw make your sawing experience better than ever!
What is Worm Drive Saw?
When you are looking to purchase a saw, you will find various types of saws available. So, it's quite reasonable to get confused about one particular kind.
Worm drive saws are not much different from the rest. Its primary purpose is to cut materials, especially wood and concrete.
However, what differentiates it from other saws is that at the front of the motor, it contains a threaded worm. This is used to turn the motor, which turns the blade to start working. This lets the tool cut with a higher intensity of torque than its counterparts.
Therefore, it is mostly used for heavier work than what other saws are capable of.
Best Worm Drive Saws Reviewed
You may have already picked your desired product. Or you may have little to no idea about which one you should purchase. Nevertheless, it is important to know more about the products available before concluding. Hence, from here, you can choose the best worm drive saw on the market for you.
Makita 5477NB 7-1/4″ Hypoid Saw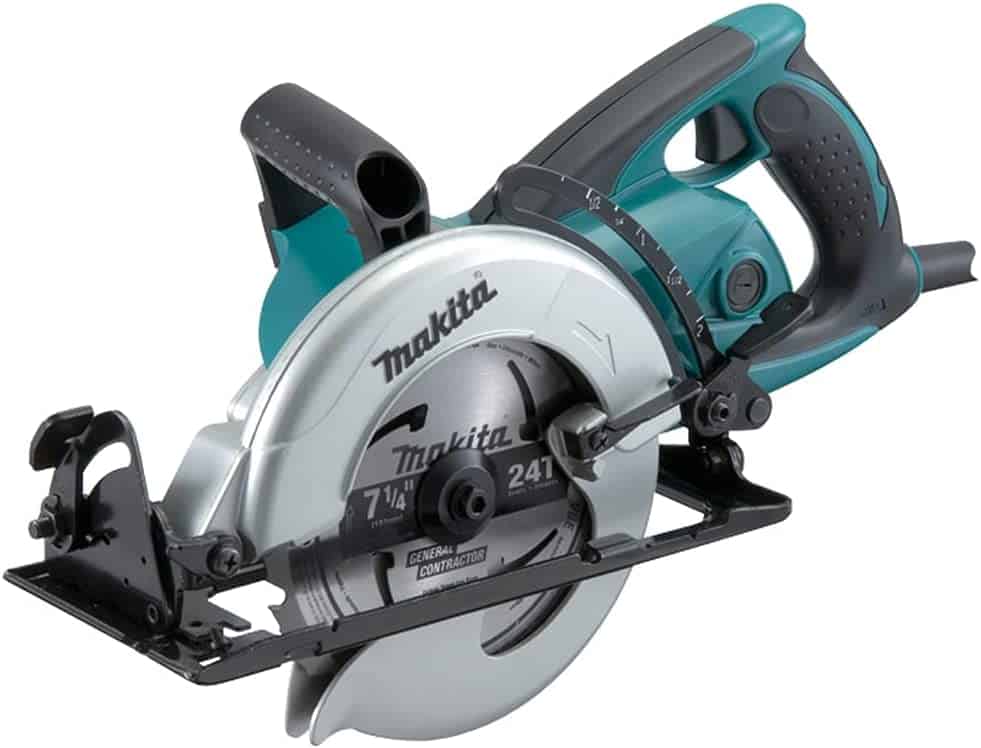 | | |
| --- | --- |
| Weight | 1 pounds |
| Dimensions | 21 x 9 x 12 |
| Color | Teal |
| Power Source | Corded-electric |
| Warranty  | 1 Year |
Efficiency and powerful cuts are two important aspects of any practical worm drive saw. Unfortunately, not all of them provide both simultaneously. But worry not, as the best corded worm drive saw, it offers both of these features, and much more.
First of all, it comes with features that make it very easy to use. Such as, it includes a large handle, which has an ergonomic rubber grip, for better comfort when using it. On the other hand, you can effortlessly and quickly change the blades whenever you feel the need, thanks to its pivot lock and wrench design.
You will be amazed by how well it can perform and how long it can last. Firstly, it is made with such materials and chemicals that make it resistant to rust. The tips of carbide are designed to survive the most strident conditions.
Secondly, the vents are placed in such a way that they will dissolve heat and improve performance.
Speaking of power, this equipment has plenty of it for increased productivity. It comes with a 15 Amp motor and gears that have a large surface touch to provide more stable power.
This low maintenance tool also includes high-quality hypoid gears for durable performance. Moreover, it provides cuts so deep and superior that you won't be disappointed even with dense materials.
If you are not a fan of heavyweight equipment, then this is not the one for you. It weighs a little more than its counterparts, so it may be a little tiresome to use. Plus, it doesn't include a safety switch, so be a little careful with it.
Pros
Large, ergonomic rubber grip handle
Quick blade change facility
Long-lasting
Improved performance with vents and hypoid gears
15 Amp motor providing stable power
Cons
Heavier than most other tools
It does not include a safety switch
SKILSAW SPT77WML-01 Worm Drive Circular Saw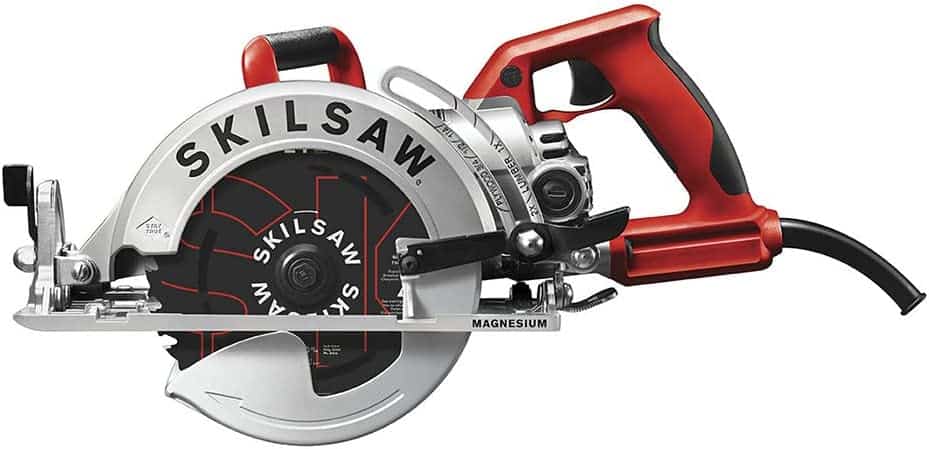 | | |
| --- | --- |
| Weight | 11.5 Pounds |
| Dimensions | 20.5 x 7.75 x 8.75 |
| Color | Silver |
| Material | Magnesium |
| Voltage | 120 Volts |
Cutting with saws can be quite tiresome. But, what if you came across a product that offers deep cuts without the cost of all your energy? Because this tool includes exactly that. With a comfortable handle and a lightweight body, you will be fatigue-free with constant satisfaction.
Speaking of light weightiness, its body is built with the lightest magnesium. Hence, you can work for long periods with this without feeling exhausted at all.
On the other hand, its ergonomic handle with a soft grip makes using it more convenient. And don't worry about the motor heating up, because it is constructed to stay cool even after lengthy usage.
You can try diverse cuts with this tool, thanks to its 53 degrees bevel. Scratches for 0 and 45 degrees angle in both front and rear blade help in executing the perfect cut. So, you can cut at any angle you want for your desired shape of the wood. Moreover, it comes with a 15 Amp motor for longer and more powerful operation.
The tool will remain protected and efficient even when not in use. Its lower guard includes anti-snag properties for convenient use, even with thinner cuts or smaller cut-offs. Moreover, it comes with the right depth for accurate and precise slash and measurements.
However, the base plate and the blade are not parallel in some of the products. That's not the case for all of them, but it's better to be safe than sorry. Moreover, this tool is not long-lasting. It may break down after a few uses.
Pros
Built using light magnesium and includes an ergonomic handle
15 Amp motor stays cool after lengthy usage
Powerful and a longer period of operation
Capacity up to 53 degrees bevel
Anti-snag lower guard
Cons
Base plate not parallel with the blade
Short lasting tool
DEWALT DCS577X1 FLEXVOLT 60V MAX Worm Style Saw Kit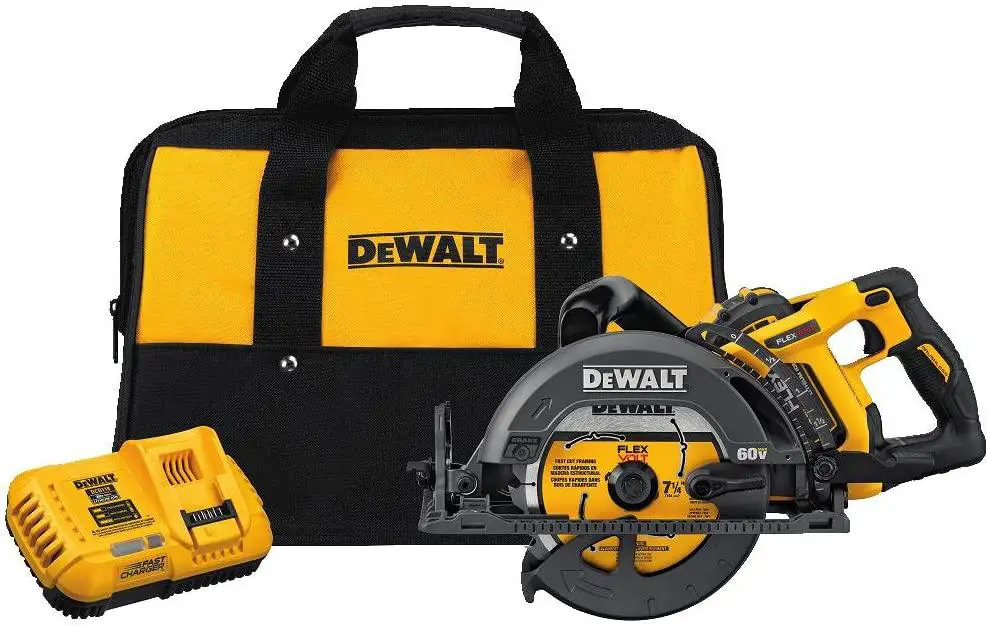 | | |
| --- | --- |
| Weight | 10.9 pounds |
| Dimensions | 18 x 9 x 8.2 |
| Color | Black/Yellow |
| Power Source | Battery-powered |
| Speed | 5800 RPM |
Looking for something convenient to operate as well as includes a long battery life? In that case, you are looking at the perfect product for you. Not only can you cut with it for hours at a time, but you will also always feel comfortable in the process.
It includes a DC brushless motor that provides optimum power for exact cuts and hours of operation. The high-quality magnesium shoe that comes with it ensures smooth slashes for more preciseness and ease of use. So, ultimately, this can be utilized continuously for a long time, and hence it makes the perfect tool for construction uses and such.
After each time the trigger is released, the blade needs to be stopped to avoid longer indents than necessary. For that purpose, an electronic brake is included with it. This not only puts a halt to the dagger but also ensures maximum safety.
Its capacity is up to 53 degrees. But it can make perfect stops at 22.5 and 45 degrees.
It's quite hassle-some when extra dust and particles are gathered on the object when cutting it. That is why, for convenience of use, a dust blower has been integrated into it. This allows the line of indent to be clear for its users for accurate cuts. After you are done, you can hang the tool with its hook.
The charger that is provided with it isn't up to the mark. So, it might stop charging the 9 Ah battery after some uses. Moreover, it may seem heavy to some of its customers. If you are one who finds dense tools intolerable, then this is not the one for you.
Pros
DC brushless motor and magnesium shoe
Electronic brake
Stops at 22.5 and 45 degrees bevel
Dust blower
Integrated rafter hook
Cons:
The charger may stop working
Heavy
Milwaukee Circular Saw, 7-1/4 In. Blade, 5800 RPM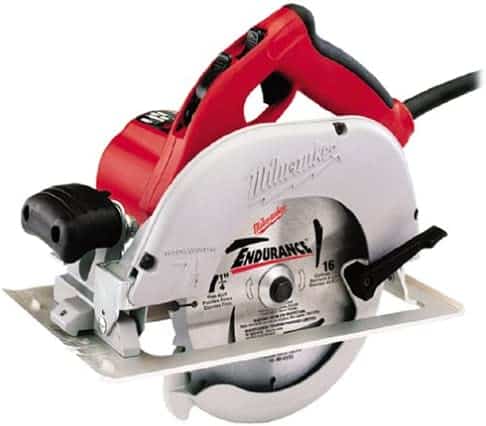 | | |
| --- | --- |
| Weight | 17.6 pounds |
| Size | 7-1/4″ |
| Color | Red |
| Power Source | Corded Electric |
| Voltage | 120 Volts |
If you want to go for one of the cheaper options that provide services up to the mark, then this is probably what you should take a look at. Not only will you be surprised at how much a lower-priced tool can offer, but you will also be accompanied by it for a very long time.
First of all, this heavy-duty equipment is not only comfortable to operate, but also quite trendy looking. It is made with materials that make it sturdy. So, you don't have to worry about a replacement any time soon. And you will be quite pleased with how pleasant it feels when using it.
On the other hand, it is a 7.25-inch circular saw. Hence, with this, you can look forward to deeper and smoother cuts without any trouble at all. Moreover, you can comfortably tilt the handle to the most suitable position according to your needs. Cutting couldn't get more hassle-free!
Its motor provides a current of 15 Amp along with 3.25 horsepower. Therefore, you can operate it fast and heavily without it shutting off out of nowhere.
On the other hand, it has a very thick aluminum shoe, which has a bevel capacity of 50 degrees. This and its left mount blade provides the most efficient slashes with better indent line visibility.
It's very nice equipment, except the base plate is quite disappointing. The aluminum plate has raw edges on the side that are not conditioned well. Moreover, it does not include a brake to stop the blade once you are done working with it. This could raise safety issues.
Pros
Durable
Deeper and smoother cuts
3.25 horsepower and 15 amp motor
A thick aluminum shoe with a bevel capacity of 50 degrees
Efficient cuts with better indent line visibility
Cons
Raw edges on the base plate
It does not include a brake
Bosch Worm Drive Circular Saw CSW41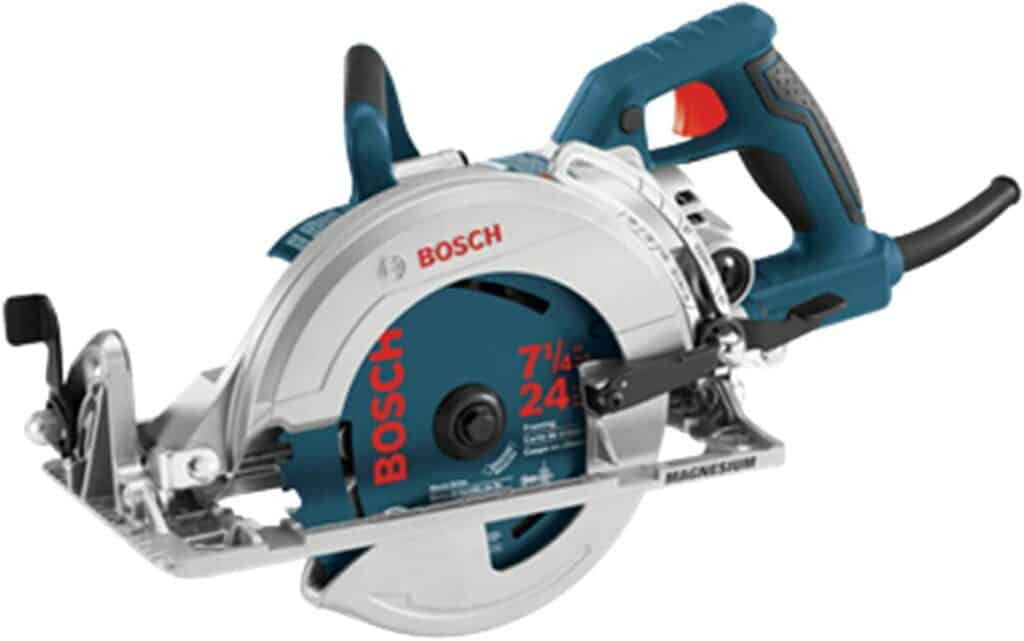 | | |
| --- | --- |
| Weight | 15 Pounds |
| Dimensions | 20.75 x 7.75 x 8.88 |
| Color | Blue |
| Power Source | Ac |
| Style | Circular Saw |
If you are familiar with the products of this brand, then you already know that it is not the one to disappoint. With a lightweight body and maximum accuracy, you can use it anywhere, anytime. This is the best worm drive circular saw you could get. 
You will systematically become more productive with this tool at hand. Its magnesium built, which makes it sufficiently lighter, lets you deal with less fatigue.
On the other hand, it includes a comfortable handle, with which you can conveniently tilt the blade. Its lower guard with anti-snag properties makes cutting smaller pieces easier.
With this, you can get 100% accurate cuts on your wood piece. Its left mount blade is designed in a certain way, which provides optimum visibility of the cut line. Hence, you can slash objects with higher precision. You don't have to worry about making your workpiece irregularly shaped anymore.
It comes with a high powered motor, which provides 5,300 rpm. This also delivers sufficient torque for various uses and applications. So, you can already tell that this tool is quite multi-functional.
Along with that, you can easily change the blades or brushes. You can also use different types of blades with it for distinct purposes and such.
However, it falls short on one of the sectors badly. That is, it is not long-lasting. The casing may break down after a few uses, so be a little cautious. Furthermore, it's not as robust as you would initially expect it to be. For the amount of power it offers, that is quite a downfall.
Pros
Lightweight with a comfortable handle
It can smoothly cut smaller pieces
Higher precision and accuracy
Delivers torque and 5,300 rpm
Easily replaceable blades and brushes
Cons
Metabo C3607DWA Worm Drive Circular Saw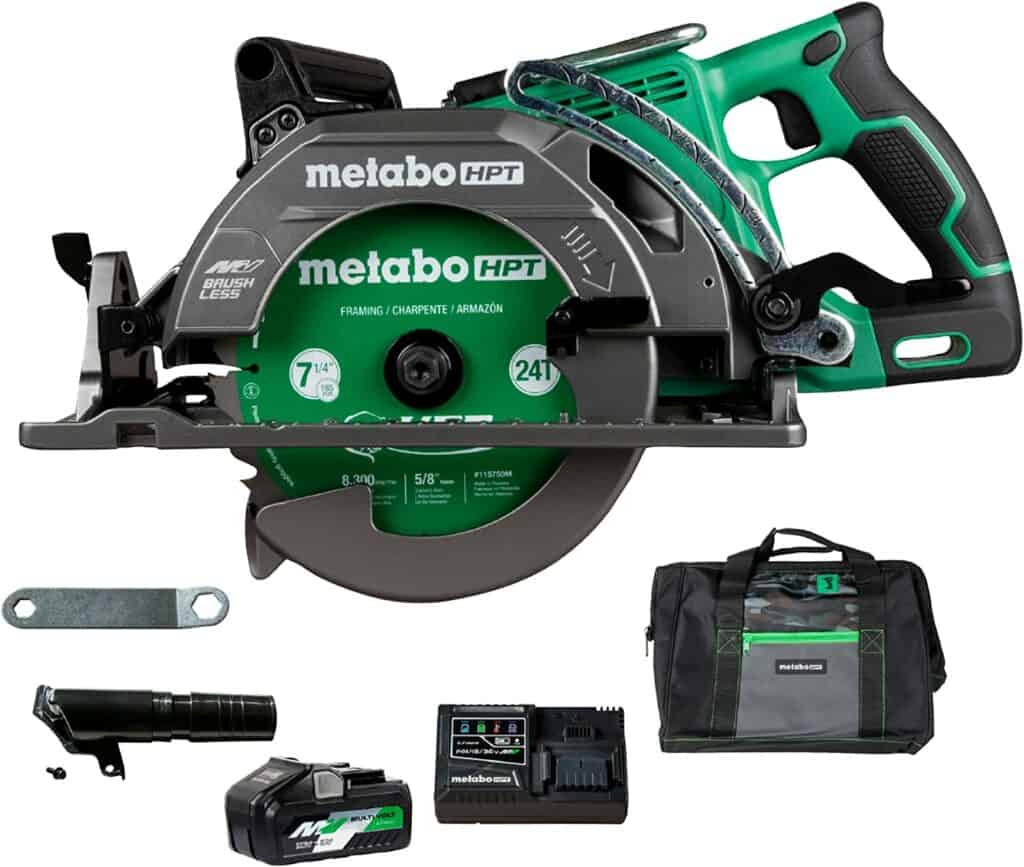 | | |
| --- | --- |
| Weight | 14.7 Pounds |
| Dimensions | 20 x 7 x 8 |
| Wattage | 1800 watts |
| Speed | 5000 RPM |
| Voltage  | 120 Volts |
Replacing tools from time to time is quite troublesome. A tool that can last longer as well as perform well is desirable to just about any professional worker. Therefore, here comes a product that will please both professionals and newbies alike.
It is quite dangerous and inconvenient to store saws just about anywhere. A safe place and a secure method of storing them are always required. Hence, this product comes with a rafter hook, which will let you store it in three positions.
Its extraordinary motor is not one to fall back when it comes to heavy cutting. With an output of 15 Amp, it produces 5,000 no-load rpm for the deepest and most superior slashes. Moreover, its depth adjustment levers will let you decide how huge you would like the cuts to be. This increases its usability.
It comes with a steel bevel that stops at both 45 degrees and 90 degrees. At 45 degrees, it can go about as deep as 1.75 inches. But at 90 degrees, it can reach the highest depth, 2.375 inches.
On the other hand, the gears that come with it are very sturdy. Not only do they deliver professional-level accuracy, but they can also go on for a long time.
However, it comes with an issue that a lot of its counterparts seem to have in common with it. That is its weight. Due to a heavy body, it can make its users exhausted after a short time of use.
Also, even though this tool is very powerful, it seems to lose power when cutting wood. So, make your decision based on what you will need it for.
Pros
Comes with a rafter hook
15 amp motor with 5000 no-load rpm
Bevel stops at 45 and 90 degrees
Sturdy gears
Depth adjustment levers increase usability
Cons
It makes users exhausted through its weight
Loses power when working with wood
Milwaukee 6477-20 Worm Drive Circular Saw
| | |
| --- | --- |
| Weight | 15 Pounds |
| Speed | 4400 RPM |
| Power Source | Corded |
| Voltage | 120 Volts |
| Warranty  | 5 Years  |
Equipment that will not break down under heavy conditions is necessary for wood cutting jobs. That is the kind of facility this product provides. Not just that, even though it is made to survive the harshest conditions, it is still very light!
Its worm gearing is made of hardened steel. This means that it can provide the utmost torque, even when using it for the hardest applications. So, using this, you can get through about anything with ease. The motor included provides 4,400 no-load rpm power. Therefore, it can perform very well, even under dense loads.
This equipment is made using magnesium. Now, magnesium is a metal that is lightweight but sturdy at the same time. So, you can expect the tool to last for a long period. And you can expect yourself to work for lengthier periods too!
It comes with a composite shoe that happens to be very hard-wearing. Therefore, neither will this tool bend nor will it warp. You can cut with maximum efficiency no matter how dense the object is. Moreover, you can keep a thorough eye on the oil level with its oil site glass, which is pretty convenient.
It includes a lower guard, which is not attached well. Hence, when working for a while, it jams up, and this requires the work to stop immediately. Moreover, it is difficult to adjust the angles with it. So, if you want to make cuts at your desired angle, you may face some trouble there.
Pros
Worm gearing made of hardened steel
4,400 no-load rpm motor
Constructed using magnesium
Hard-wearing composite shoe
Oil site glass
Cons
Improperly attached lower guard
Difficult to adjust angles
Things to Consider Before Buying
Whenever you are thinking of buying a tool, there are certainly some key traits that you should look for. Hence, here's a guide to all the characteristics that a good worm drive saw will have.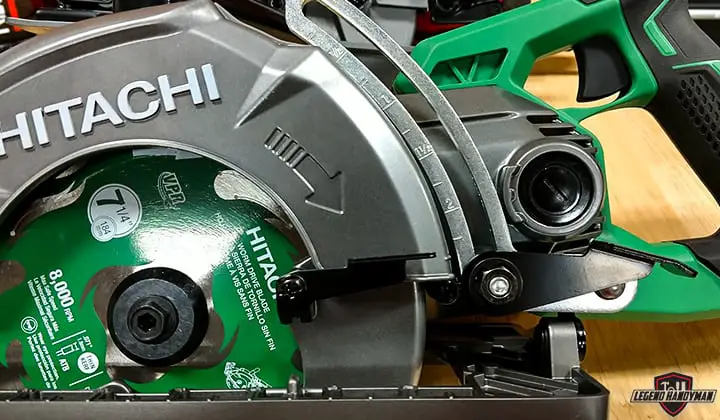 Depth of Saw
Saw depths are usually the same for most of these tools. However, it is still something you need to keep an eye on. It will determine how deep the cuts can get and how accurately shaped the objects are going to be.
Hence, it is not a sector to be negligent about. For dense materials and very deep slashes, go for the highest depths you can find.

How Much It Weighs
It might seem like an insignificant factor, but it holds more importance than you can imagine it to. It determines how long you can work with your tool. For small projects, it may not seem like a big deal. But if you are looking to do some very time-consuming work, then you should focus on getting something lightweight.
Motor Specifications
A motor determines how well your saw is going to operate. If you mess up on this sector, then you will end up with a motor that will not provide enough power to employ the tool. In short, it is technically the core of a saw, and it can either make or break it.
Most of them come with an output of 15 amp and 4,400-5,400 rpm. Anything less than that usually tends to be useless. Hence, make sure whatever you purchase either comes with this amount of power or more.
On the other hand, going for a brushless motor would be quite a smart move. They require no maintenance- hence, no hassle. The power output can easily be adjusted; in fact, they will provide more power if they detect higher resistance. Most importantly, they last longer than the conventional brushed ones.
Capacity of Bevel
If you are looking for something that will let you try out a variety of cuts, then you should go for something that comes with a higher bevel capacity. This will determine the type of cuts you can get as well as the angles you can get them at.
If your saw has a small bevel capacity, then you will not get much freedom when operating it at different angles. Hence, do consider this feature.
Dust Blower
For better visibility of cut lines, you should choose a tool that comes with an integrated dust blower. Usually, when working, there's dust and particles on the object, which makes it hard to keep an eye on the indent line. Hence, this feature is important if you want to have better control over the shapes of your workpieces.
How Much Should You Spend?
The best worm drive saws cost more than the ones that don't provide facilities just as good. Hence, if you want to purchase the best ones, you should spend a few extra bucks. But if you are looking for a generic saw for quick jobs, then there's no point in spending much.
Frequently Asked Questions
Q: Are worm drive saws better than sidewinders?
Ans: In some aspects, yes. For example, they provide more torque than sidewinders. Moreover, they are usually more durable and capable of working better with heavy applications.
Q: Are worm drive saws portable?
Ans: It depends on the brand and the model. Usually, if they are lightweight, then you can easily carry them. But if they are on the heavier side, then the task would be a bit more difficult.
Q: What are worm drive saws usually used for?
Ans: Since they are capable of heavy work and such, they are usually used for framework or renovation tasks. They can be used for simple tasks, such as woodcutting, as well. However, their uses depend on their specifications.
Q: Are dust blowers integrated into every worm drive saw?
Ans: Not necessarily. Most of them come with this feature, but not all. However, if it is included, then that would be mentioned in the specifications.
Q: What sets hypoid saws and worm drive saws apart?
Ans: Their core difference is power transmission. Worm drive saws technically transmit more power than their hypoid counterparts.
Final Words
It is often quite tough to find a saw that is just how you wanted it to be. But that doesn't mean it's impossible. With proper research and the right guidance, finding the best worm drive saw would be a piece of cake for you. Hence, don't give up before the right product for you shows up! 
I'm Joost Nusselder, the founder of Tools Doctor, content marketer, and dad. I love trying out new equipment, and together with my team I've been creating in-depth blog articles since 2016 to help loyal readers with tools & crafting tips.