I love creating free content full of tips for my readers, you. I don't accept paid sponsorships, my opinion is my own, but if you find my recommendations helpful and you end up buying something you like through one of my links, I could earn a commission at no extra cost to you.
Learn more
We all know how difficult it is to keep a carpeted floor neat and tidy. Even cleaning a bare floor can prove to be tiresome for some. However, we have come a long way from wiping the floor with mobs and dusting with fluffy rags.
We now have vacuum machines that do the job for us. This CRAFTSMAN CMXEVBE17656 Review is all about the new kid on the block. This machine is so full of features and attachments that even a person with OCD will approve of this device!
So, to know more about this trendy vacuum cleaner (or other types), keep scrolling.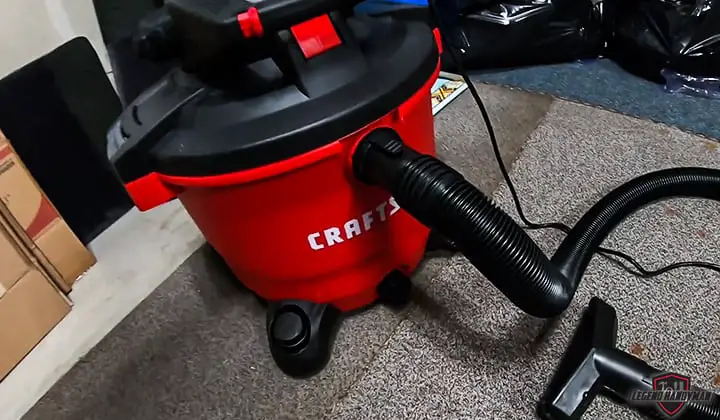 Highlighted Features
Can hold both wet and dry substances in the vacuum bag
Has enough capacity for being suitable in a job-site
A long hose for covering the entire room in one go
Long power cord for enabling less movement
A separate hanging cart for storing vacuum machine accessories
Easy drainage system for letting the liquid drain out
Large carrying wheels for easy movement
High horsepower for powerful blowing port action
CRAFTSMAN CMXEVBE17656 Review
There is a lot more to this vacuum machine than these features. So, to decide whether you want this machine, you need to uncover more about this product.
Mobility
The major appeal of this vacuum machine is its cart, like the design. It is moderate in size and length but has these long handles that make moving the machine from place to place very easy.
Moreover, the handles stay cool even when the machine has been running for a while. So, it will not be discomforting. The tool also has big rear wheels. So, you can tilt the device backward and push it effortlessly.
The wheels act as a fulcrum and enable the users to exert much less pressure than necessary to move. It gives the tool 360 mobility, and you can even carry it up and down the stairs. Thus, the device becomes mobile and suitable for big jobsites.
Capacity
If you want to use a vacuum machine in industrial sites, or if your floors have carpets, then the vacuum machine needs to have high capacity. That is why the CRAFTSMAN products pack a big dust collecting bag inside the machine.
It can hold up to 20 gallons of dust in both liquid and dry form. So, you do not have to separate rooms moisture wise. Since the garbage bag has a plastic lining, water cannot seep out.
The bag is also leak-proof. So, even if sharp substances enter the machine, the interior will stay safe. However, we would recommend not to vacuum shards of glass.
Power
Since the brand assures you that the product is industrial-site worthy, they also needed to up their game in terms of power generation. Otherwise, the tool would not have enough strength to suction through the dense carpet.
In the end, you would end up losing precious time and energy. So, the CMXEVBE17656 has a superior motor that can provide 6.5 HP power. This much power can activate the blowing port and enable you to use exhaust air to blow debris out of the way or suck inside the garbage bag.
Either way, you end up getting dust-free, shiny floors.
Attachments
Another reason why you should indulge in this model is because of the multiple attachments. This tool might be a vacuum machine, but the accessories can transform it into lots of other cleaning tools.
The blowing port, along with the 10 ft hose, turns the device into an air blower. So, you can use the tool in the lawn to blow leaves. Plus, it also has a 20 ft extension power cord. So, taking the device outside will not be a problem.
This machine also comes with two extension tubes, a crevice tool, a car nozzle, and a muffler diffuser. So, whether it is hard to reach a corner or the car seat and floor, these tubes can suck the debris right out.
For tackling wet floors, you also get a specialized flat-wet nozzle. It acts like a mob, but instead of having to discard the water, it flows to the garbage bag.
Finally, you also get a utility bag that hangs from the handle. So, you can store all your attachments there. 
User-friendly
No need to be overwhelmed with all the attachments, because the tool is very simple. After-all it is a classic vacuum machine with tons of features. The hose has one point of attachment, and you need to adjust it so that nothing leaks out.
Once the garbage bag is full, you will understand. So, there is no chance of the bag exploding inside and making a bigger mess. You need to switch the machine on after you plug it into the power source.
Then, according to your needs, place the attachment head and pull it off to change.
Maintenance
Since the garbage bag will be full of dirt, at one point, you need to clean all that up. Hence maintaining a vacuum cleaner is crucial. However, CRAFTSMAN makes it super easy for you by including a drainage system.
It is at the front of the machine and has a sturdy lock. Open the clamp and use a pipe to make a clean drain way. Reusing the garbage bag is not difficult either. Besides that, you also get a fine dust filter that traps the finest dust particle.
It would help if you changed it from time to time to let the machine work smoothly. After your work, you can wash the hoses and tubes and store them in the carry bag.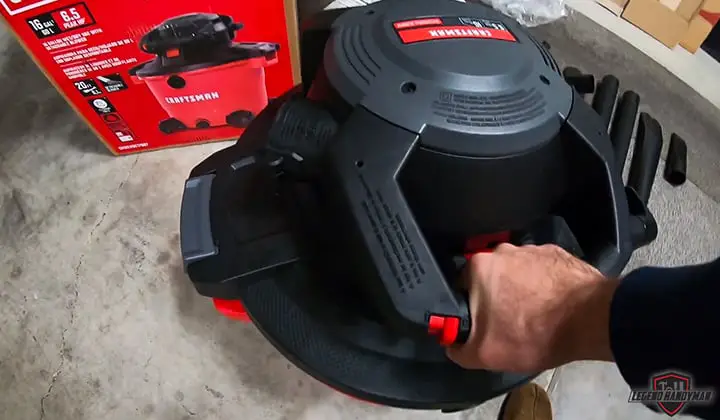 Pros
Powerful 6.5 HP motor
Two extension wands
A drainage system
A wet nozzle and a utility nozzle
Has a fine dust filter
10-ft hose
20-ft long power cord
Holds 20 gallons
360-degree mobility
Cons
Has chemical scent at the beginning
Final Word
Hopefully, this CRAFTSMAN CMXEVBE17656 Review has enough details to convince you that this tool is the future of vacuum machines. You cannot possibly get a better deal than this. So, chop-chop! It is time to clean those carpets and floors!
You May Also Review Stanley 6 Gallon Wet Dry Vacuum Review
I'm Joost Nusselder, the founder of Tools Doctor, content marketer, and dad. I love trying out new equipment, and together with my team I've been creating in-depth blog articles since 2016 to help loyal readers with tools & crafting tips.