I love creating free content full of tips for my readers, you. I don't accept paid sponsorships, my opinion is my own, but if you find my recommendations helpful and you end up buying something you like through one of my links, I could earn a commission at no extra cost to you.
Learn more
At the mention of stilts, the first picture that surfaces in our minds is of an acrobat or a circus performer. Well, as much fun as it is to watch acrobats performing with stilts, they have much more practical uses.
From installing drywall to pass through a flooded area, stilts can be pretty handy. As a safe and versatile alternative of ladders, stilts are pretty popular among professional users.
Dura-stilts has been the undisputed choice of professionals for over 40 years. The multifaceted features installed in their models have set the standard for comfort, reliability, and adaptability in the market.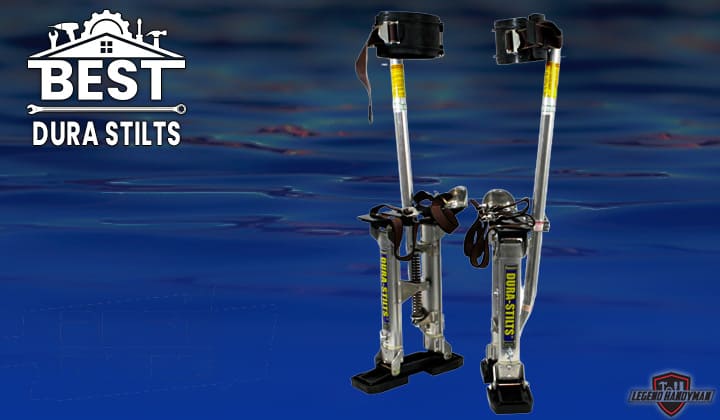 The drywall stilts can also be used for regular jobs that require reaching a high position. Slits are much safer and more multifunctional than ladders. Therefore, when it comes to buying stilts of the finest structure and quality, Dura-stilts should always be the first priority.
Best Dura Stilts Review
While all dura stilts are equipped with amazing features, some of them actually reached the pinnacle in terms of both technology and functionality. Here is a list of the best dura stilts and their description.
Dura-Stilt 2440 Deluxe Stilts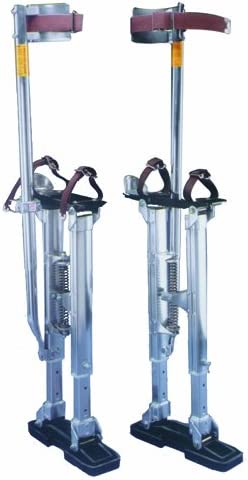 Are you frequently involved in construction projects? While at it, do you have to install a large number of drywalls? If so, then this pair of stilts is just the perfect thing for you.
Yes, it comes in a pair and makes your performance better, safer and more stable. Using these stilts will provide you with ample free movement and eliminate the risk of slipping and falling off.
A set of Dura-stilt 2440 deluxe stilts can be one of the best accessories for you for its sturdy built, adjustable height and adaptable straps. The solid aluminum alloy body has the capacity to carry up to 225 pounds of weight while having a weight of only 5 pounds. As you can see, it's extremely lightweight and durable for its construction material and process.
Three adjustable sizes are available in this stilt from 24 inches to 40 inches. So, you can reach up to 40-inches from your normal height which is a very convenient range for all types of drywall installation.
Plush straps come with both the stilts that can customize the fit and stability according to your ankle muscles. It also makes both forward and backward movement pretty convenient.
One of the significant factors is that these stilts can give a really long service given their built and resilience. Get one pair and you are good to go for years or maybe a lifetime depending on the frequency of usage.
Highlighted Features
Solid aluminum alloy made body
Durable yet lightweight
Attainable in three adjustable sizes
Straps to customize fit and stability
225 pounds weight capacity
Dura-Stilt Dura IV Drywall Stilts (24-40 Inch)
Dura IV Drywall stilts are called featherweight stilts because of its extraordinary weight. It is literally the lightest among all the stilts in the market right now. Constructed from aluminum, it is built and designed to carry large weight with significant ease. In fact, Dura IV is a one-pound lighter weight than the Dura-stilt III model.
These drywall stilts are designed to provide the utmost mobility, balance, and control. It features a clam-shell style leg strap that can be fastened and detached quickly and easily.
The leg band is made of space-age material which is extremely lightweight yet tough. Therefore, the entire leg attachment system becomes even lighter and more comfortable.
Anti-crush mechanism implemented in the stilts keeps the rotational and sidewise adaptation, and height adjustment separated. The ankle-muscle technology utilized in this particular model is also patented. As a result, the forward and backward movements can be adjusted separately and freely.
Moving around your worksite in a comfortable and confident manner is only a matter of fact with these stilts. They stay stable even when you are carrying bulky loads. For professional stilt users, there is no better option than this particular pair.
Highlighted Features
Constructed with strong aluminum alloy
Clam-shell style leg strap
Quick and easy mounting and dismounting
Adjustable rotational and lateral movement
Featherweight construction
Dura-Stilt 1422 Deluxe Stilts
If you are looking for a pair of stilts that provides better mobility and balance but lighter in weight, Dura-Stilt 1422 deluxe stilts are the right choice. This pair of stilts are made from aluminum which is much stronger than the magnesium ones. At the same time, it provides a lightweight feature as well.
To make the entire experience of using a stilt less tiresome and more comfortable, Dura-stilt added some exclusive features in this pair. It has a similar foot mounting strap of Dura III versions since it is preferred by experienced users.
With the same foot straps and the weight reduction attribute of Dura IV, the stilts give off the vibe of having all the qualities in one model. 6 different adjustable movements are possible in this model of stilts that includes height adaptation, lateral balance adjustment, and forward/backward movement adjustment.
The height can be customized from 14 inches to 22 inches. The anti-crush design and ankle-muscle technology keep all the multidirectional movement separated from each other.
The IV 14-22 model is ideal for working on high ceilings and walls. It is the smallest, lightest and most functional stilt and can provide you with the comfort of walking above the ground without any imbalance or fear of slipping.
Highlighted Features
Small and super lightweight
Strap-on adapter with anti-crush mechanism installed
Highest weight capacity of 225 pounds
Aluminum construction
Separated height, rotational and forward/backward movement adjustment
Dura-Stilt 2440 Deluxe Stilts (Renewed)
If you want a dura stilts for your regular high-mounting works but cannot afford a brand new one, you can always settle for the refurbished versions of them. Dura-stilts construct stilts that last more years than you can ever expect. Moreover, the refurbished ones are absolutely functional like a brand new with no flaws or shortcomings.
The renewed 2440 deluxe stilts feature all the good qualities of a brand new one. It has a strong solid aluminum alloy frame that beats the magnesium ones in the market in case of sturdiness or weight. It is extremely lightweight while having longevity better than any other stilts. So even a refurbished one can go a long way without needing to be replaced.
Three adjustable sizes from 24 inches to 40 inches are available in this stilt pair. Thus, it is a perfect substitute for medium to tall ladders. The height, swiveling and lateral movement can be adjusted separately. This way, walking on a stick becomes as smooth as walking on your own feet.
Weight capacity of 225 pounds ensures that you are good to go even while carrying heavy loads. The foot straps can customize the fit and stability of your stilts so that the room for your legs can be expanded if necessary. With the resilience of this Dura pair, buying a renewed version can prove to be an economic and smart decision.
Highlighted Features
Lightweight and long-wearing
Aluminum alloy frame for sturdiness
Highest weight capacity of 225 pounds
High-quality at an affordable price
Segregated rotational and edgewise motion adjustment
Dura Stilts, Drywall Stilts 24-40 Inch Aluminum Tool Stilt for Painting Painter Taping Blue
If you have a profession of a painter, an electrician, or a cosplayer, you must have frequent access to high walls, beams or places. This aluminum tool stilt will give you that reach in a very convenient manner. It is adjustable from 24 inches to 40 inches to accommodate different heights and can carry up to 102 kilograms.
Made of lightweight and strong aluminum alloy provides agile motion and better durability. With the adaptable height, it also comes with exclusive wing bolts. As a result, you can adjust different heights without any external tools.
Greater reliability is ensured through lock nuts in crucial pivots. For better flexibility, dual-action springs are attached in the middle. While walking in the air, nothing is as important as safety from imbalance or slippery floors.
The soles of the stilts are made of premium rubber with the anti-skid mechanism. For further security, metal buckle straps and heel plates are added. Thus, every last safety measure is taken in this pair of stilts to prevent any accident whatsoever.
The longevity of these stilts is already proven. However, the parts are easily replaceable in case of any questionable situation. Even if one part of your stilts breaks down or becomes unusable, you can always replace it with new parts for long and continuous use.
Highlighted Features
Adjustable from 24 inches to 40 inches
Premium rubber soles with anti-skid surface
Dual-action springs for flexibility
Lightweight and strong construction
Replaceable parts for longer, better use
FAQ
Some questions from users of Dura-stilts are answered here for better clarification and understanding of its undisputed quality.
Q: Where can I get parts replacement from?
Ans: You can buy the replacement parts directly from Dura-stilts as they stock all of them. You can get some of them from Amazon as well.
Q: What is the maximum load capacity?
Ans: Dura-stilts make stilts that can carry up to 225 pounds or 102 kilograms of load. Therefore, you can use them even if you want to carry heavy loads with you while working wearing stilts.
Q: What is the height range of the stilts?
Ans: The stilts come in three different size range, 14″ to 22″, 18″ to 30″, and 24″ to 40″. Different models can accommodate different sizes range. You can pick the one that suits your regular needs.
Q: How long will one pair last?
Ans: The stilts show amazing resilience with passing time. One pair can work fine a lifetime given that it is used and stored according to proper instructions. Also, you can always replace the damaged parts. They are stocked on the Dura-stilts website. 
Conclusion
Stilts can be an integrated part of your life when your work requires being in a high place most of the time. And when something is a part and parcel of your daily life, you should only settle for the best.
Dura stilts give you the best with its finest creation of high-quality stilts. They combine the best technology and unique design that serves your purpose and makes you feel good at the same time.
I'm Joost Nusselder, the founder of Tools Doctor, content marketer, and dad. I love trying out new equipment, and together with my team I've been creating in-depth blog articles since 2016 to help loyal readers with tools & crafting tips.