I love creating free content full of tips for my readers, you. I don't accept paid sponsorships, my opinion is my own, but if you find my recommendations helpful and you end up buying something you like through one of my links, I could earn a commission at no extra cost to you.
Learn more
When it comes to cleaning and tidying up, we often have many jobs that we need to take on that we wouldn't have normally considered.
Thanks to some smart and simple choices, we can make some big improvements in how we look after our property generally.
One of the best places to start with cleaning, though, stems from disinfecting floors.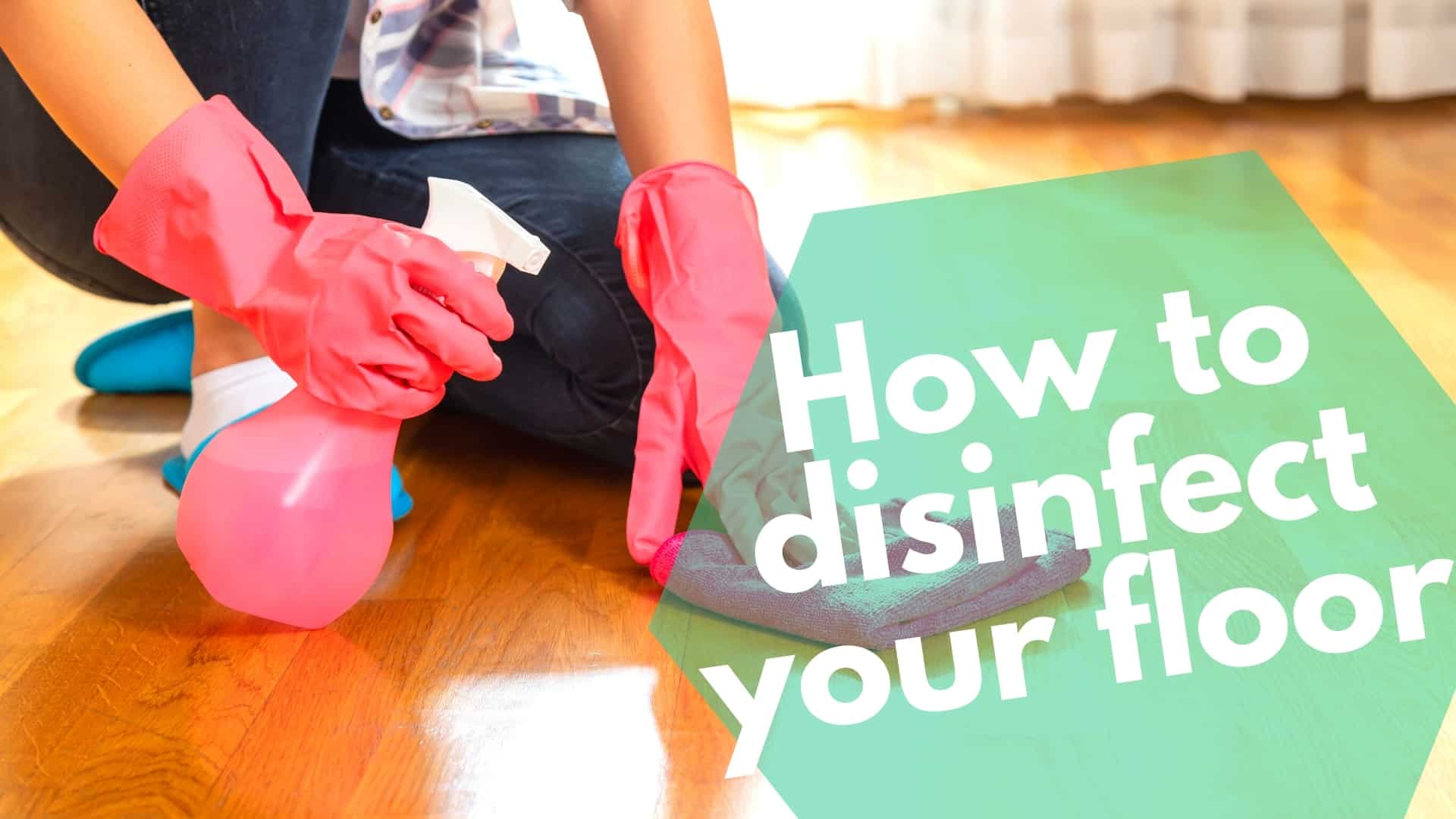 Floor Cleaning vs Floor Disinfecting
Before you get started, you need to know the difference between cleaning and disinfecting.
Unfortunately, you can only disinfect properly using chemical products. So, in this guide, we'll suggest great cleaning products even though they're technically not disinfectants.
Floor cleaning: the removal of any dirt, soil, debris from your floor. This is the first important step in the full disinfection process. You can use floor wipes or a mop and cleaning solution to clean the floors daily, or between disinfection.
Floor disinfection: this refers to using chemical solutions to remove pathogens and microorganisms like viruses that cause disease. Most chemical products require about 10 minutes to fully kill all the microorganisms.
Why Disinfect your Floors?
Floor disinfecting is not just a 'tip' – it's an obvious starting place for when you want to take cleaning as seriously as you can.
While we tend to consider the floors in our homes cleaner than the floors in a professional building – a restaurant, for example – that's not always the case.
For one, we tend to be far less liberal with things like disinfectant at home than they would be in a professional outlet!
Our floors are covered in bacteria, and most of the time we think a brush-up and a mopping are enough to keep our floors clean.
Bacteria follows us wherever we go, and sticks to everything from our shoes to our bags.
The longer we allow that bacteria to linger around the place, the less likely we are to be able to do something about it.
Bacteria causes many health problems, and we can contract such issues even from simply picking something up off the floor.
From finding small supplies of E-Coli on the floor' bacteria to things that we simply don't dare comment on, bacteria build-up on our floors at home is very common indeed.
For that reason, it's vital that we do as much as we can to disinfect our floors and keep them as safe as possible for our kids.
If we don't, the parents are the ones who will pay the price in the long-term with illness, etc.
Do floors need to be disinfected?
Of course, they do, although not as often as many people tell you. If you use a cleaning solution on a daily basis, you can use harsh disinfecting agents only once a week.
In case your floor suddenly becomes a very high-touch surface, then you need to make disinfection a part of your daily cleaning routine.
Wipes like the Swiffer mop wipes are an easy way to disinfect and keep the harmful bacteria and viruses out of your home.
Do we need to disinfect our floors all the time?
Again, if you want to keep your family completely safe, regular floor disinfection is the way to go. Experts recommend that people with weaker immune systems, families with small children, and pet owners spend more time cleaning the floors because there are chances that your floors are more full of germs.
This applies to people living in urban areas too because you're constantly exposed to all kinds of germs while walking around the city.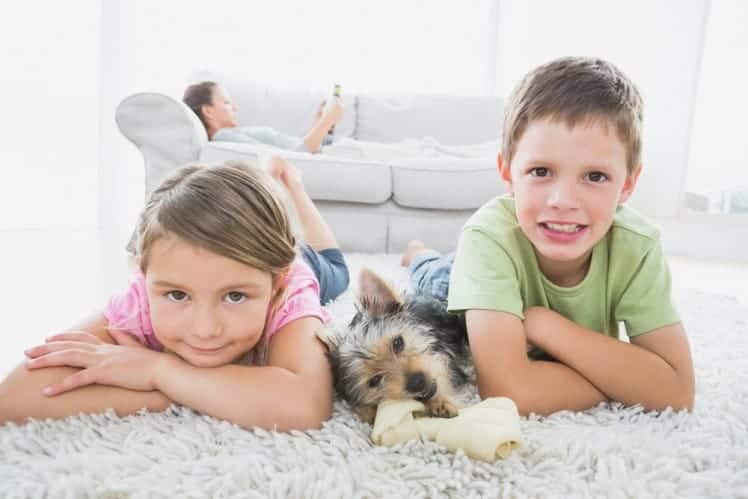 Keeping Floors Disinfected: Where to Start
While the problem sounds impossible to tackle fully, that isn't the case at all. Bacteria build-up can be dealt with using some very basic safety measures.
From basic stuff like leaving your shoes at the door instead of trekking all of that muck and bacteria through the home can help.
However, you should look to use a clean mop when cleaning the floor as often as you can. Experts recommend changing mop heads once every three months.
Use a disinfectant-based carpet cleaner on all carpets and rugs. This can lift up a lot of the less charming elements that find their way into our homes, too.
Get some blankets down on the floor for the kids to play on, too. The more you can stop them from coming into contact with the floor directly, the better.
Disinfecting the floor using a proper disinfectant (that is safe for the material you have i.e. wood) is very important, too.
Basically, stop seeing the idea of anything other than a warm water wash and a scrub with a brush down as enough to keep the floors at home clean.
Go the extra mile, though, and you can benefit from doing so for many more years to come.
Can I use a regular mop and bucket?
Sure, the classic mop and bucket combo is great for cleaning your floors. If you don't have a steam mop then a regular mop will do as long as you change the head regularly.
Dirty mop heads can become a bacteria breeding ground. A mop is effective at reducing the risk of germs but it doesn't fit the exact term of a 'disinfectant.'
However, when used with a good cleaning solution, the mop removes most germs. Regular floor cleaners loosen any germs on the floor surface, thus you eliminate potentially dangerous bacteria.
Disinfecting vs cleaning
Disinfecting refers to killing virtually everything on a surface.
Cleaning refers to reducing the number of germs like bacteria and viruses by 99%.
Check out the full EPA guide to disinfecting and sanitizing.
Disinfecting Floor Wipes
The best way to achieve clean floors is to use special floor wipes for your mop. A Swiffer mop is so easy to use, and all you need to do is change the disinfecting wipes. They are great at tackling tough messes. Plus, they kill 99.9% of viruses and bacteria.
Swiffer Sweeper Wet Mopping Pad Refills for Floor Mop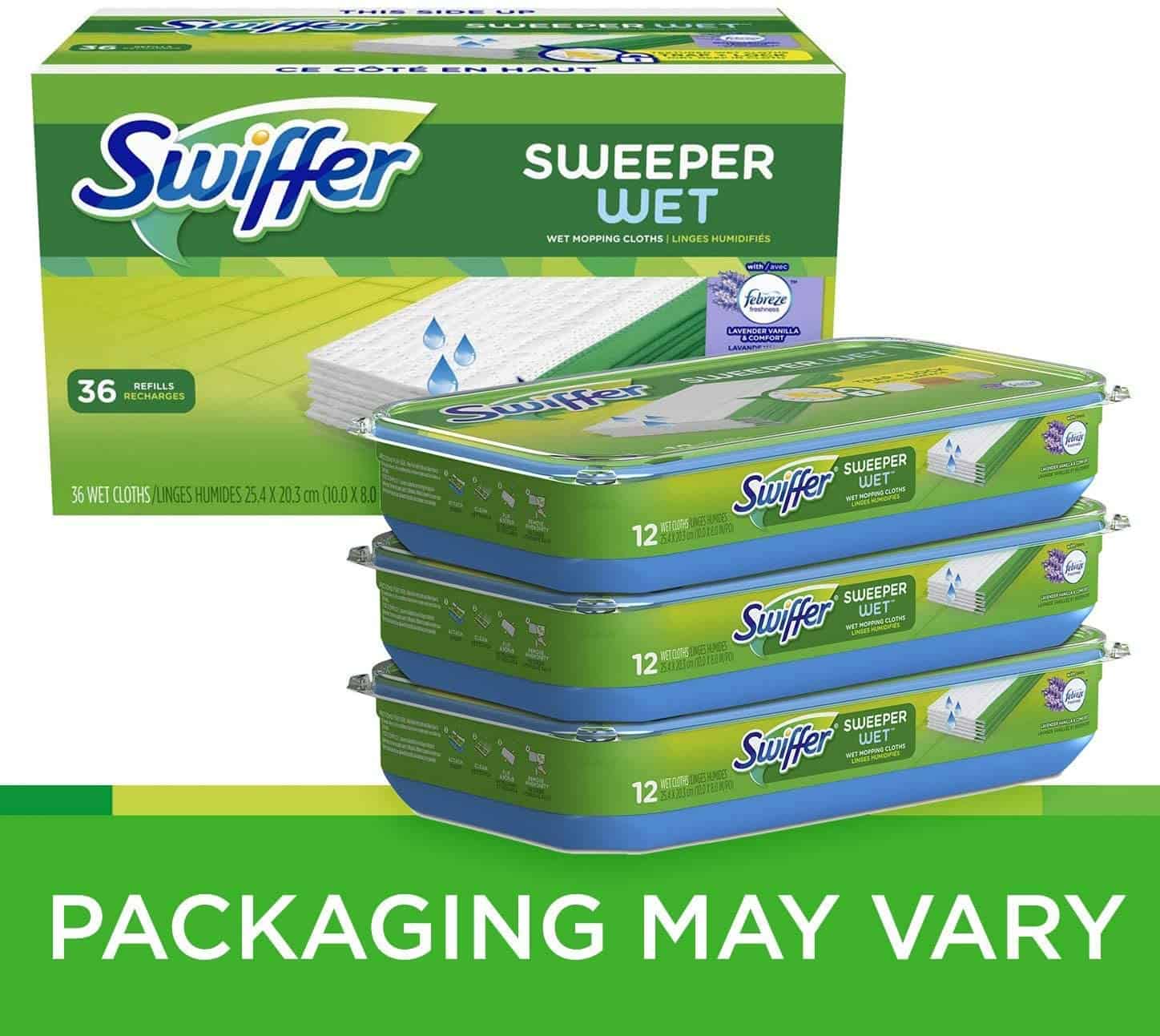 These types of disinfecting wipes are usually bleach-free textured cloth-like wipes that eliminate dirt, germs, and spots.
The wipes also come in a lot of fresh lovely scents, like the Clorox Scentive Coconut Disinfecting Wipes.
Check different ones out here on Amazon
Best disinfectant floor cleaner
Lysol Clean and Fresh Multi-Surface Cleaner, Lemon and Sunflower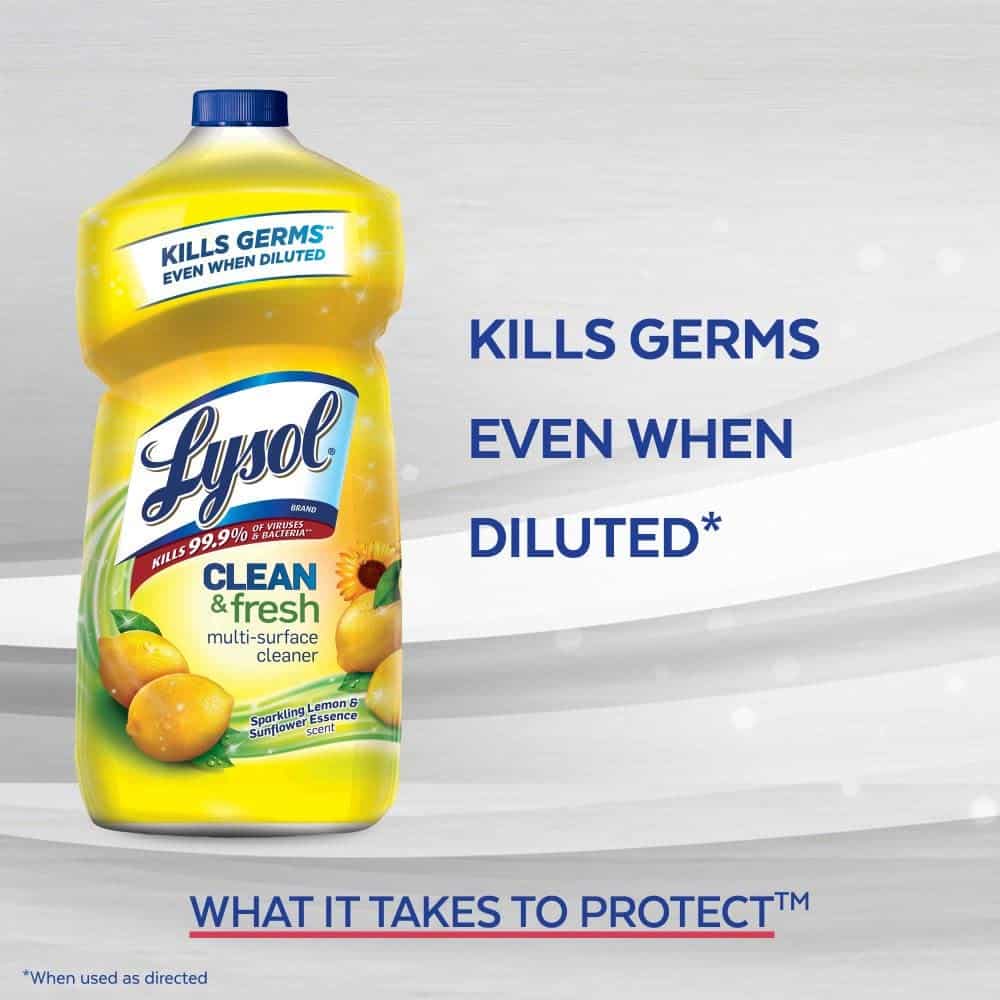 This type of multi-surface cleaning product is excellent for all-round cleaning. You can even dilute it in water and it's still very effective and eliminates 99.9% of dirt and germs.
As well, most floors, especially kitchen tiles become grimey and greasy but this product cleans that too. The lovely fresh lemon scent is going to make your whole house smell clean.
Disinfecting Hardwood Floor Cleaner
Bona Professional Series Hardwood Floor Cleaner Refill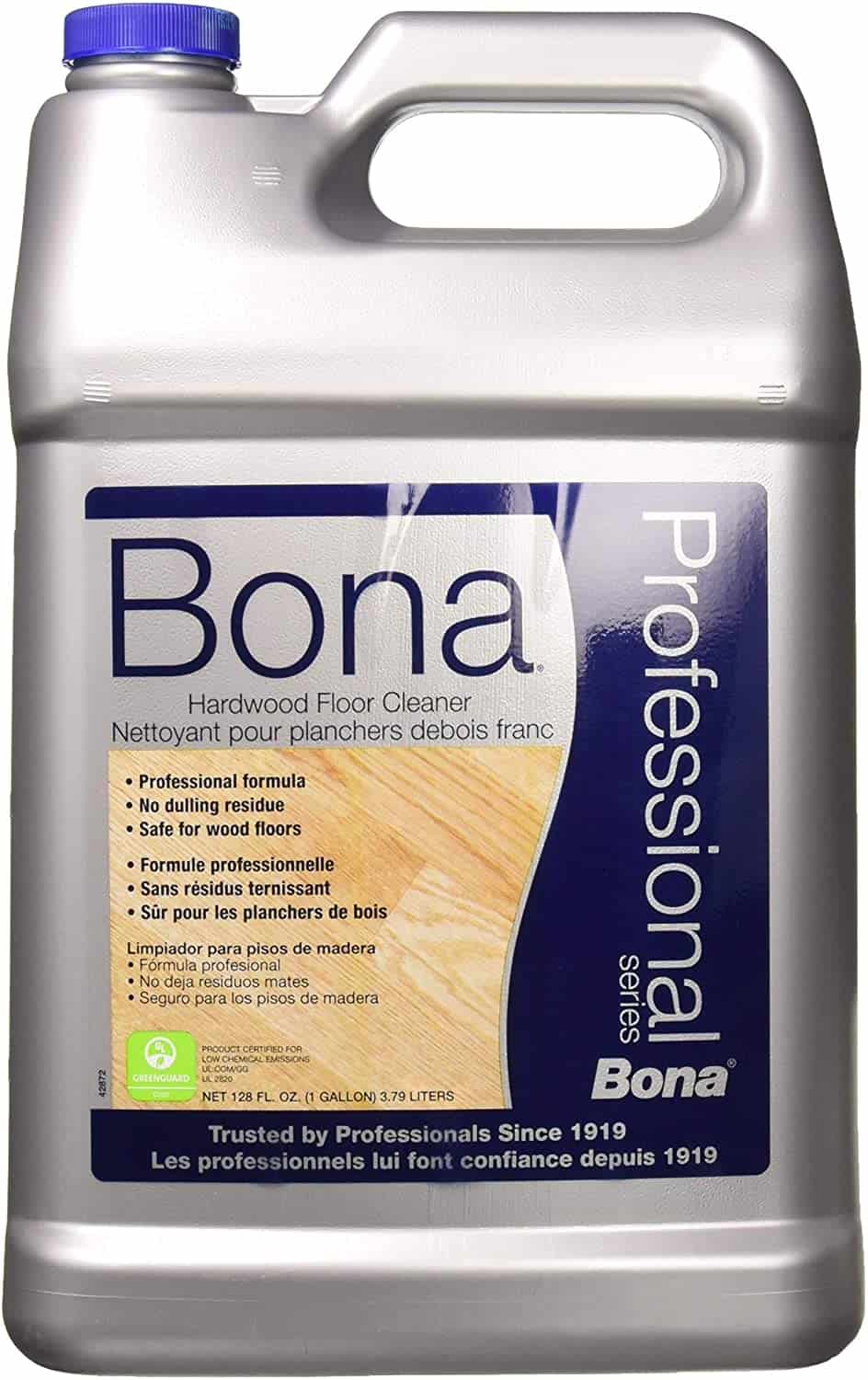 Bona products are specifically formulated for hardwood floors. They don't damage the wood and leave it sparkly clean.
This super-concentrated formula is good for residential and commercial use.
Since you only need a tiny amount to dilute in water, it's going to last you for a long time. It doesn't leave any residue behind so there's no need to worry about dulling the floors.
Disinfecting laminate floor cleaner
Bona Hard-Surface Floor Cleaner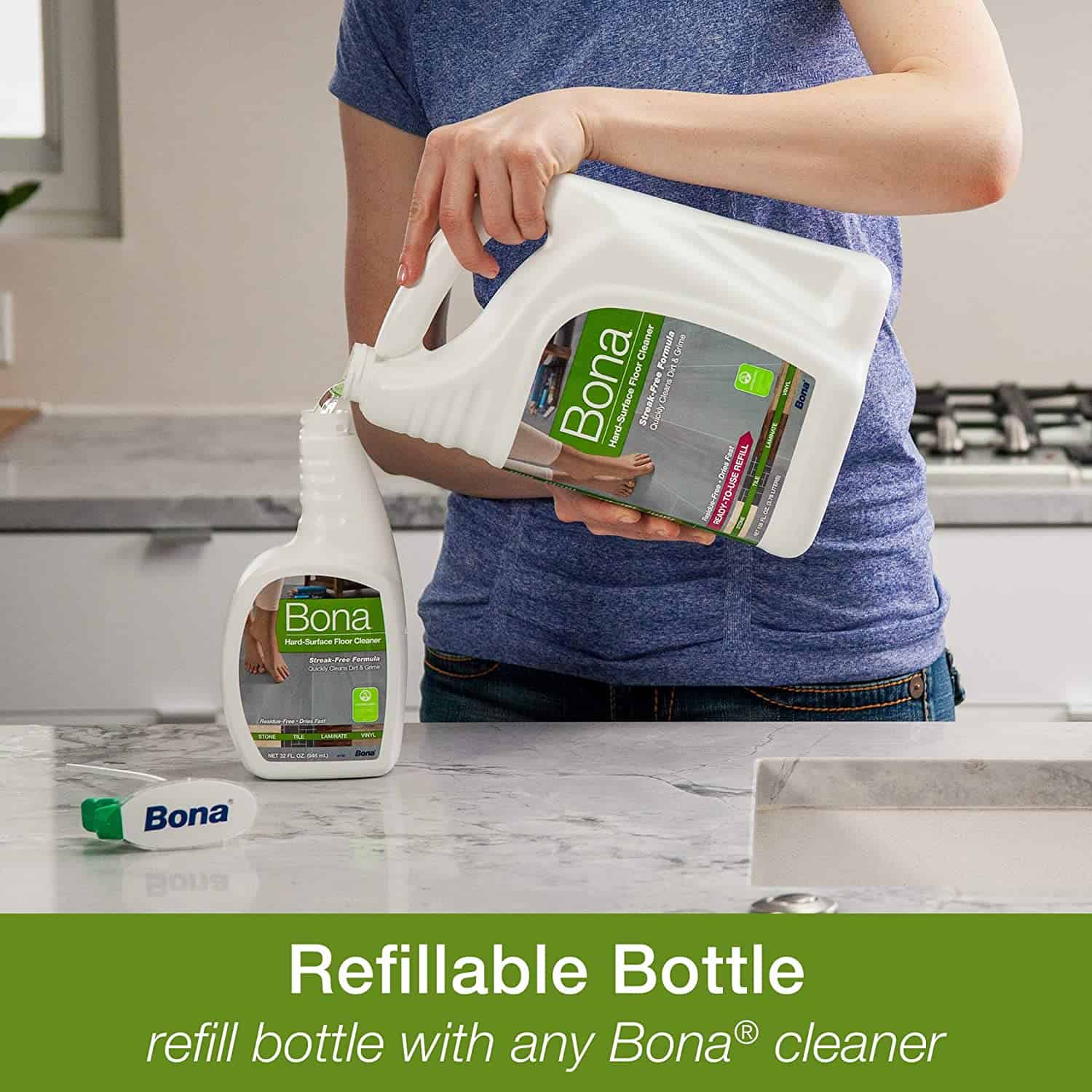 The spray formula by Bona is great for laminate type flooring. You simply spray a bit of product on the floor and clean it with a mop for a super clean and germ-free surface.
This is the product for those of you looking to skip the whole bucket and water step. It's so easy to clean the floor, you'll find it's not as much of a chore as you initially thought.
They are available here on Amazon
Disinfecting vinyl flooring
Vinyl flooring tends to become sticky and dirty rather quickly. Therefore, you need a special cleaning product to remove any dirt and grime and prevent the accumulation of germs.
A great product to clean vinyl is this Rejuvenate High Performance Luxury Vinyl Tile Plank Floor Cleaner: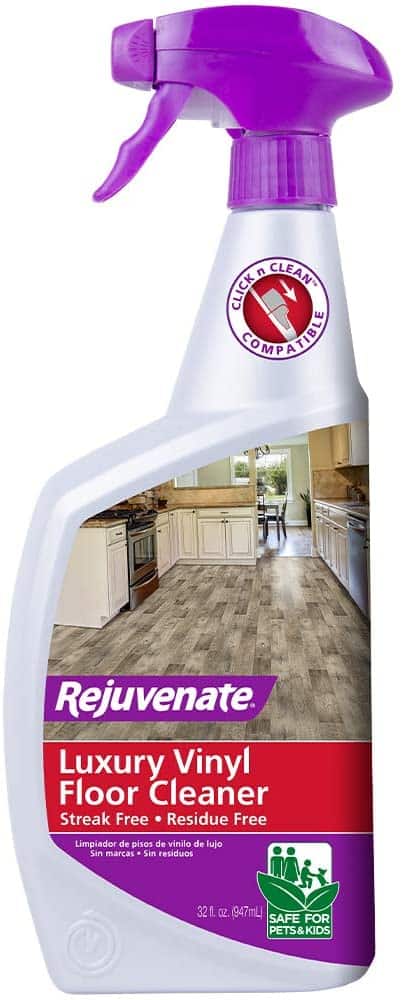 This pH neutral formula is a spray solution. It is streak-free and residue-free so your vinyl looks like new every time you clean it.
The product is safe for kids and pets, so you can clean with peace of mind knowing you're not filling your home with harsh chemicals.
Disinfecting floor cleaner that's safe for pets
EcoMe Concentrated Muli-Surface and Floor Cleaner, Fragrance-Free, 32 oz
If you have pets, you know those paw prints require some heavy scrubbing. But what's even more concerning is the germs your pets are bringing into the house from outside.
While you want to use good disinfectants, you also want to make sure the products are pet-friendly.
The best option is this EcoMe floor cleaner because it's made of natural plant extracts. It's a concentrated formula and you only need a small amount to achieve a shiny clean floor.
Plus this product is fragrance-free, so it won't trigger allergies in you or your animals.
Disinfectant for Tile & Marble Floor
Clorox Professional Floor Cleaner & Degreaser Concentrate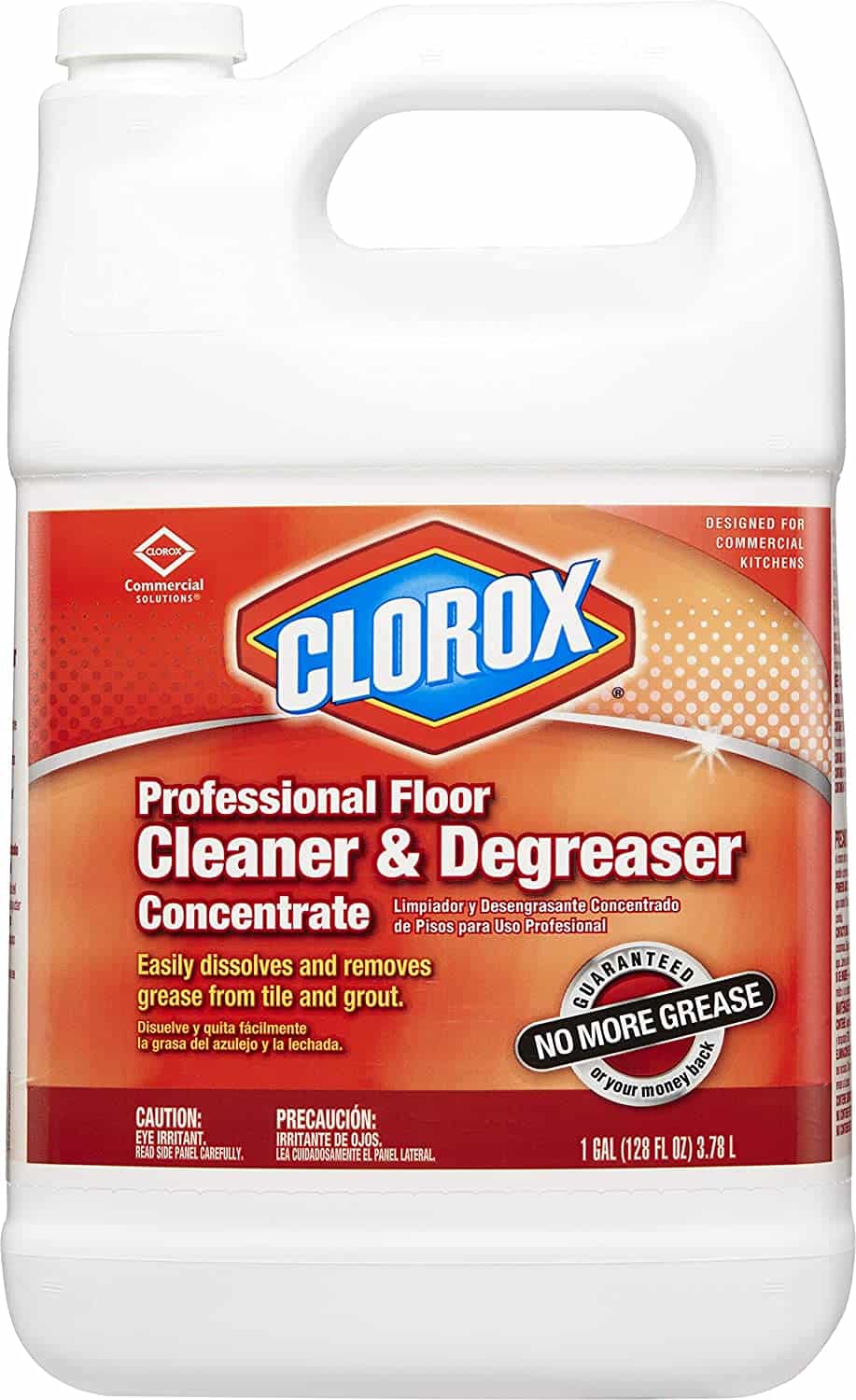 The kitchen tiles are especially susceptible to heavy-duty dirt, grime, and grease. Since you handle food in the kitchen, it's even more important to keep the floor disinfected.
With this Clorox product, you're eliminating all the bacteria and viruses plus removing grease and grout from the tiles or marble surfaces.
Homemade DIY disinfectant floor cleaner recipe
In this section, I am sharing two simple DIY floor cleaner recipes.
The first is this very easy to make formula with ingredients you already have around the house.
Simply combine 1/4 cup of white vinegar, 1/4 cup of baking soda, and 2 tablespoons of dish soap. Dilute in hot water and use it to clean your floors with a mop.
For a more natural version, just mix 1/2 cup of white vinegar, 1 gallon of warm water, and the juice of one lemon. This is going to give that fresh lemony scent.
Invest in a Steam Mop
If you haven't considered this yet, invest in a good quality steam mop. This type of device kills many forms of bacteria with high heat.
The steam that's hotter than 167 degrees can also kill harmful viruses like the flu virus. According to the CDC, the flu virus lives on surfaces for up to 2 days, so if you steam clean the floors, you can kill it.
What are the benefits of a steam mop?
If you're concerned about using harsh chemicals in your home, or if you have allergies, then the steam mop is the perfect solution for you.
A steam mop eliminates dirt and grime quickly from most surface types, including tiles and wood floors. Some mops even work on carpets, so they're very versatile.
As well, the steam cleans all the surfaces with hot steam so you don't need to use chemicals. This is especially handy if you have pets and you don't want to expose them to cleaning products. As well, steam doesn't trigger allergies.
Looking to get a steam mop? Check out this Dcenta Steam Mop Cleaner: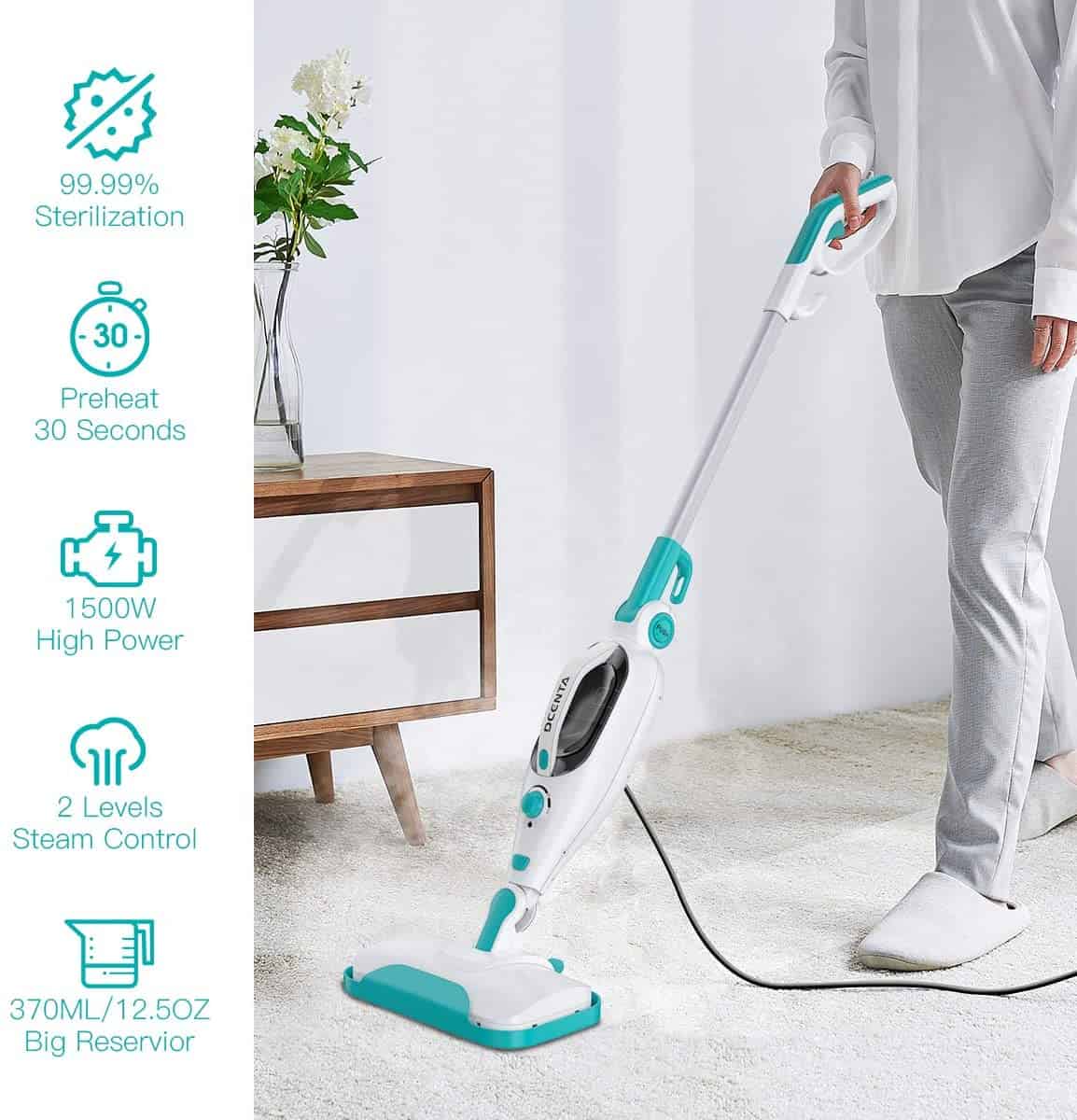 This mop is excellent because it works on all surfaces, even carpets. It heats up very quickly in about half a minute.
It has a large reservoir for up to 12.5 OZ of water for long cleaning time.
The best part is that it also comes with a scrubbing tool that makes deep cleaning and spot cleaning effortless.
There are 2 steam functions depending on how dirty your floor is. But you can also use this steam mop to clean upholstery, couches, carpets, kitchen, and more.
It comes with 12 separate accessories so you can really clean whatever you need to.
Plus, the steam kills almost all types of germs, including bacteria and viruses, so you don't need to worry about using harsh disinfecting solutions. It's a great little tool right?
FAQ's
How can I disinfect my floors naturally?
Chemicals are a serious concern for many people and it's understandable if you don't want to use a chemical disinfectant in your home. Although those are the most effective at cleaning your floors, there are some natural products that work very well.
As mentioned above, a homemade mixture of white vinegar, baking soda, and lemon juice is a great way to clean your floors and still get that "freshly cleaned" feel.
How can I disinfect my floors without bleach?
There are many bleach alternatives that are gentler and safer for kids and pets.
Here are our top recommendations:
Castile soap
Tea Tree Oil
White Vinegar
Baking Soda
Hydrogen Peroxide
Lemon Juice
Dish detergent
The best way to use those ingredients is to dilute them in water and clean using a mop.
Can you use Lysol Wipes on floors?
Yes, you can, there are special Lysol floor wipes specifically designed for that purpose. In fact, you can clean non-porous hardwood floors and polished floors with Lysol wipes.
Then, another option is the Lysol All-Purpose Cleaner, which cleans and disinfects your floors without causing any damage to hardwood.
Does vinegar kill germs on floors?
Vinegar is not like a hospital-grade cleaner or bleach. It doesn't kill all types of bacteria and viruses but it's still a pretty good all-purpose cleaner.
Vinegar kills some germs like Salmonella and E.Coli, but not all disease-causing germs. Therefore, if you want complete cleanliness, you need to use a cleaner that kills 99.9 percent of germs.
Conclusion
Whether you decide to opt for cleaning products from Amazon, or you choose some simple DIY white vinegar cleaners, it's essential to clean and disinfect your floor regularly.
Especially with COVID, you want to take all the precautions you can to ensure your family's health and safety at home.
Also read: these are the best handheld vacuum cleaners for your home
I'm Joost Nusselder, the founder of Tools Doctor, content marketer, and dad. I love trying out new equipment, and together with my team I've been creating in-depth blog articles since 2016 to help loyal readers with tools & crafting tips.