I love creating free content full of tips for my readers, you. I don't accept paid sponsorships, my opinion is my own, but if you find my recommendations helpful and you end up buying something you like through one of my links, I could earn a commission at no extra cost to you.
Learn more
You may have a blue-collar job and have to wear a hard hat every day, but you seldom feel comfortable wearing it.
Well, Joseph's here to walk you through a method that'll help you avoid these problems and make a hard hat more comfortable to wear. Making a hard hat comfortable for construction workers is fairly simple!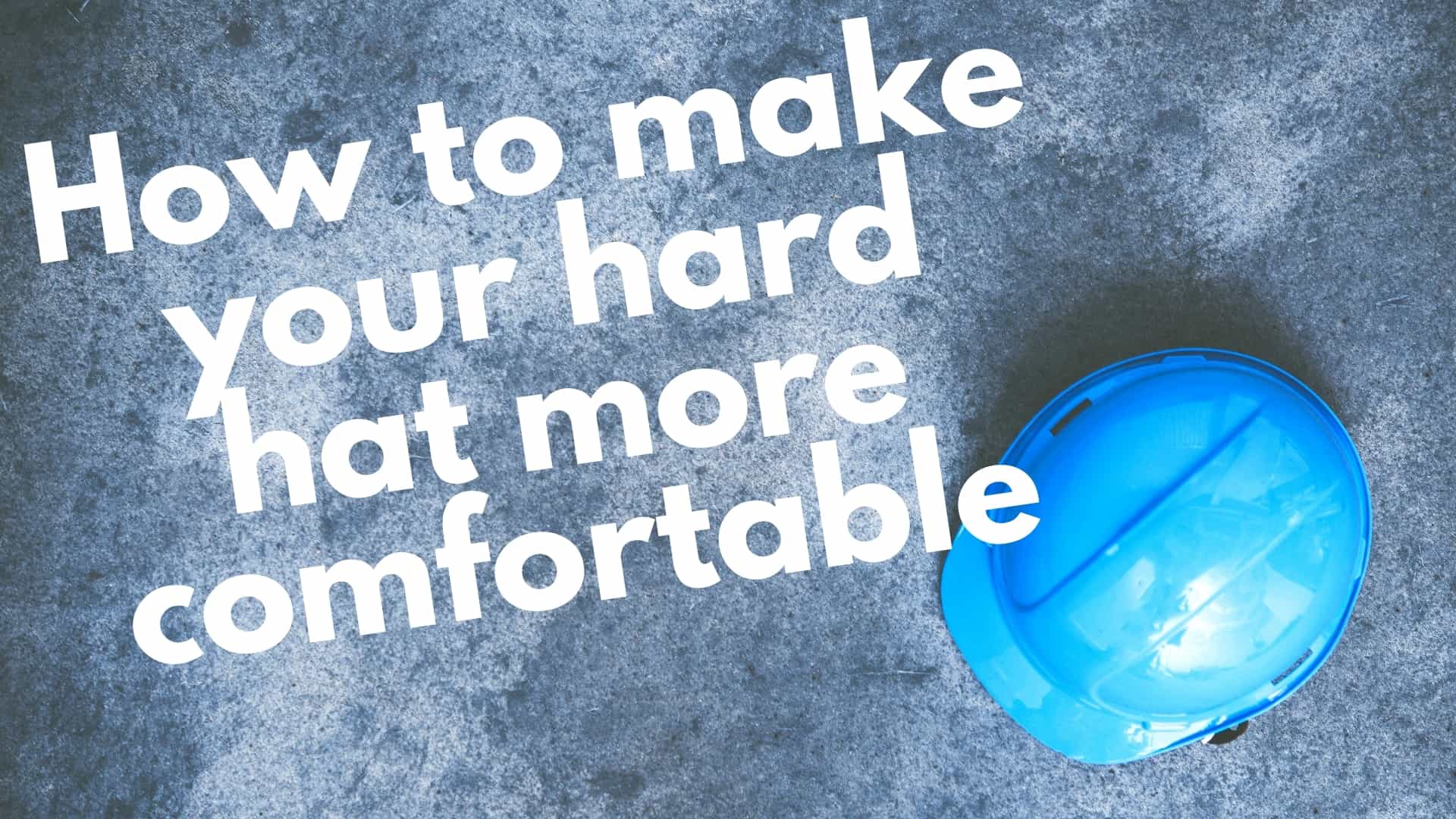 For this, you'll need a hard hat (these are great!) that has a knob-adjustable suspension system. You'll also need a bandana. Or you can buy accessories to make your hat more comfortable.
And in case you just don't like these methods, you can always buy a new and improved hard hat. Oh, and we have recommendations for those too!
The 7 ways to make a hard hat more comfortable
1. How to make a hard hat comfortable using a bandana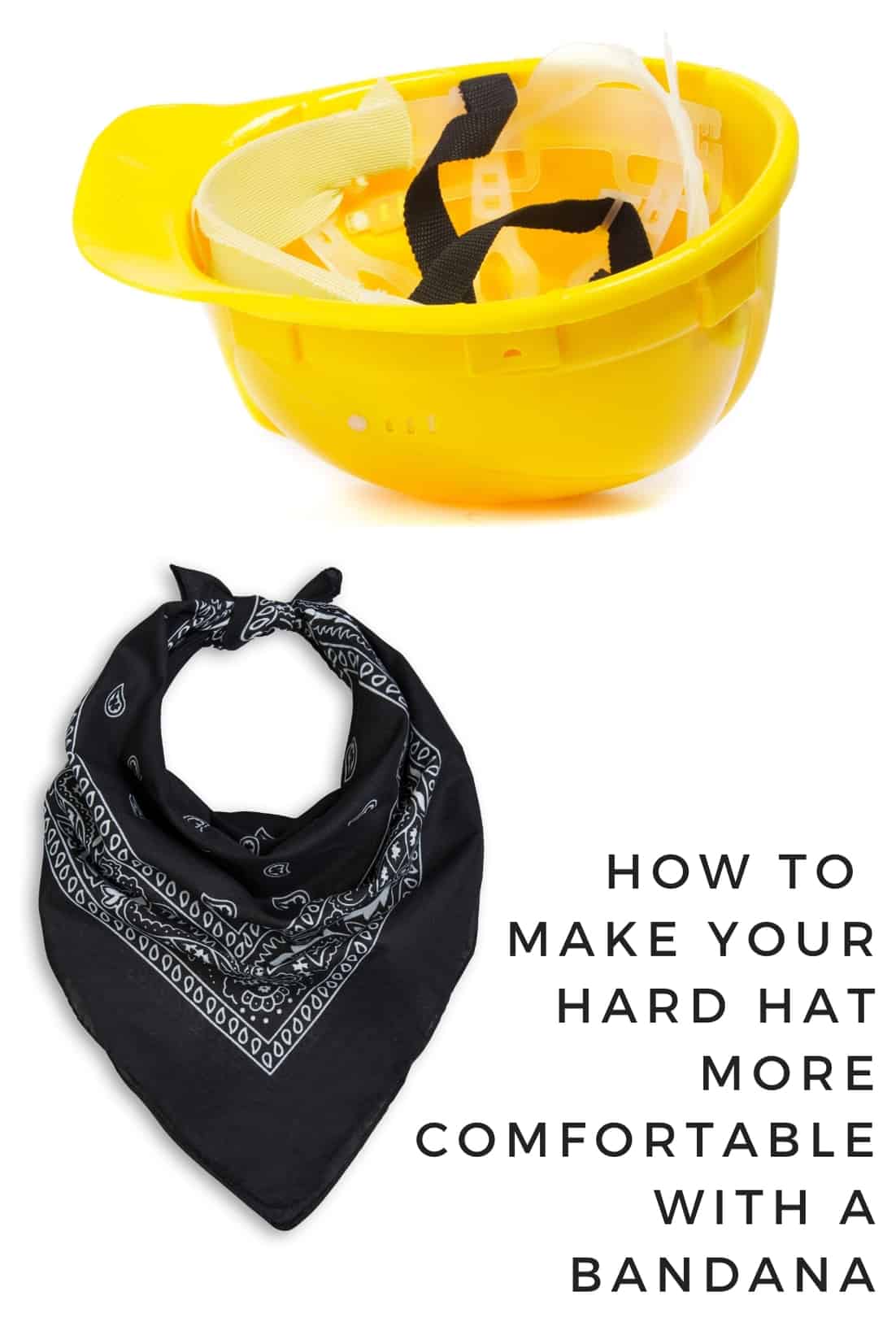 Fold the bandana
Fold the bandana from corner to corner to create a triangle. In case your head is massive, that's all for now; skip to the next step.
However, if you have a small or a normal-sized head, around 6 to 7½, fold the long side of the bandana over so you have a smaller triangle.
Put it in there
Place the folded cloth in the hard hat, sliding the longer side between the shell and the suspension at the front of the front attachment cleats.
Feed it
Pull the bandana's ends to the inside of the suspension at the back of the front cleats and the front of the rear braces, then out through the back of the hat.
Tie it
Once the 2 ends of your bandana are out of the hardhat, tie them with a double knot right beneath the adjustment knob.
Wear it
Push the bandana triangle in the middle up inside the hard hat. Now you have a bandana that always remains in there.
Your head will enjoy some warmth in cool weather, and during hot summer days, the cloth will soak up the extra sweat and cool your head.
The best part? No more cross marks on your hair and the headaches issue might go away, as the bandana acts as a cushion to make sure nothing's digging into your scalp.
Extra tips
Who doesn't like to wear a comfortable hard hat? If your hard hat is still too uncomfortable, consider getting a new one.
The good news is, new hard hats are built with improved features that make them lighter and more comfortable than previous versions.
2. Use hard hat pads
If you don't want to use a bandana, then you can always purchase some hard hat pads, which increase the comfort level of a hard hat significantly. These pads act as a cushion for your head.
The hard hat pads are easy to attach to the hat using the suspension system.
Check out this model from Klein Tools:
They're made of padded materials that prevent the hard hat straps from digging into your head. As well, these pads are soft and cushiony, so you'll always feel comfortable.
As a bonus feature, these hard hat pads also have odor-blocking and sweat-wicking properties to ensure your head doesn't overheat and cause you discomfort.
The pads are machine washable so you don't need to worry about them getting dirty and smelly. They're durable and easy to clean with mild soap.
3. Protection on a building site during the winter: Balaclava face mask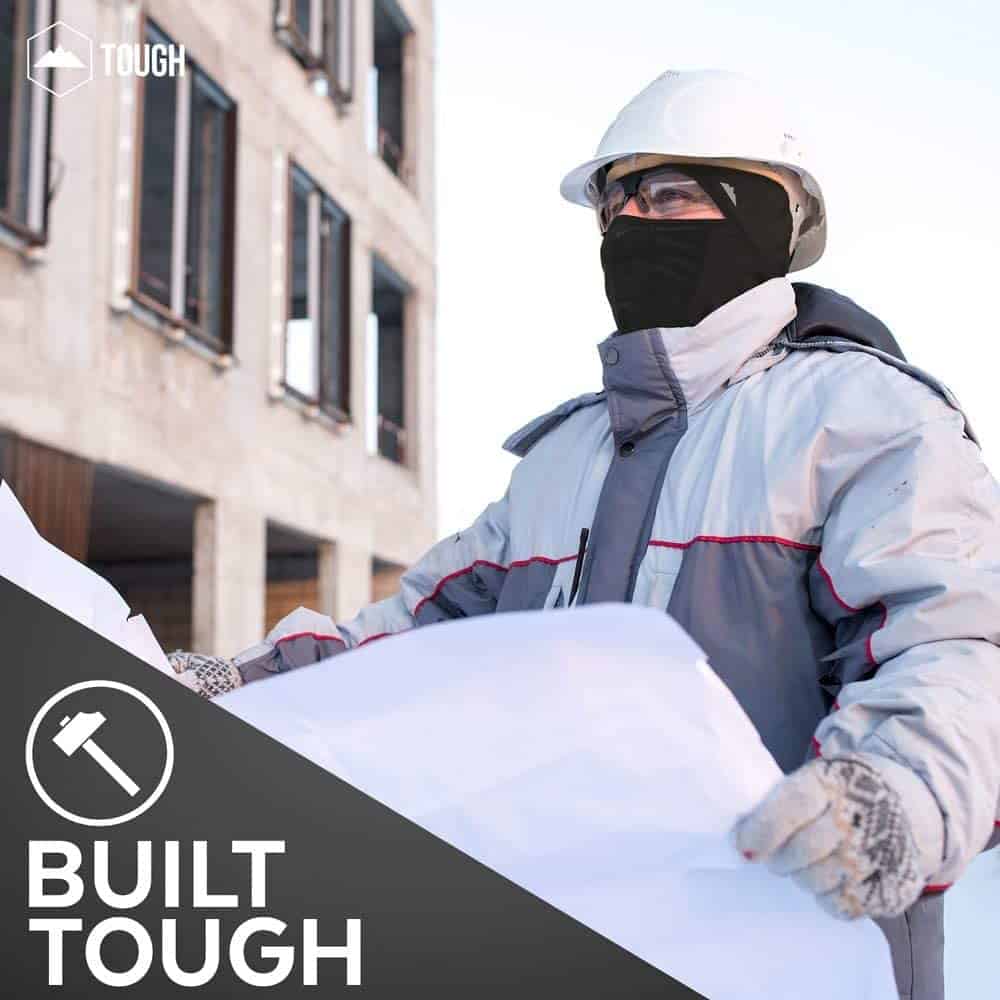 Ok, so it might seem odd to wear a balaclava winter face mask. Usually, these types of masks are used when you go snowboarding, skiing, or biking in the winter months.
But they're also a good way to protect your face from the cold, especially when you're working outdoors during cool weather. Since they cover your head like a hat, they also act as a barrier between your skin and the hard hat, creating a soft cushion.
This type of face mask is usually made of a thermal fleece material that's durable and comfortable to wear. Simply attach the material to the hard hat's suspension straps.
4. Hard hat cooling pads in the summer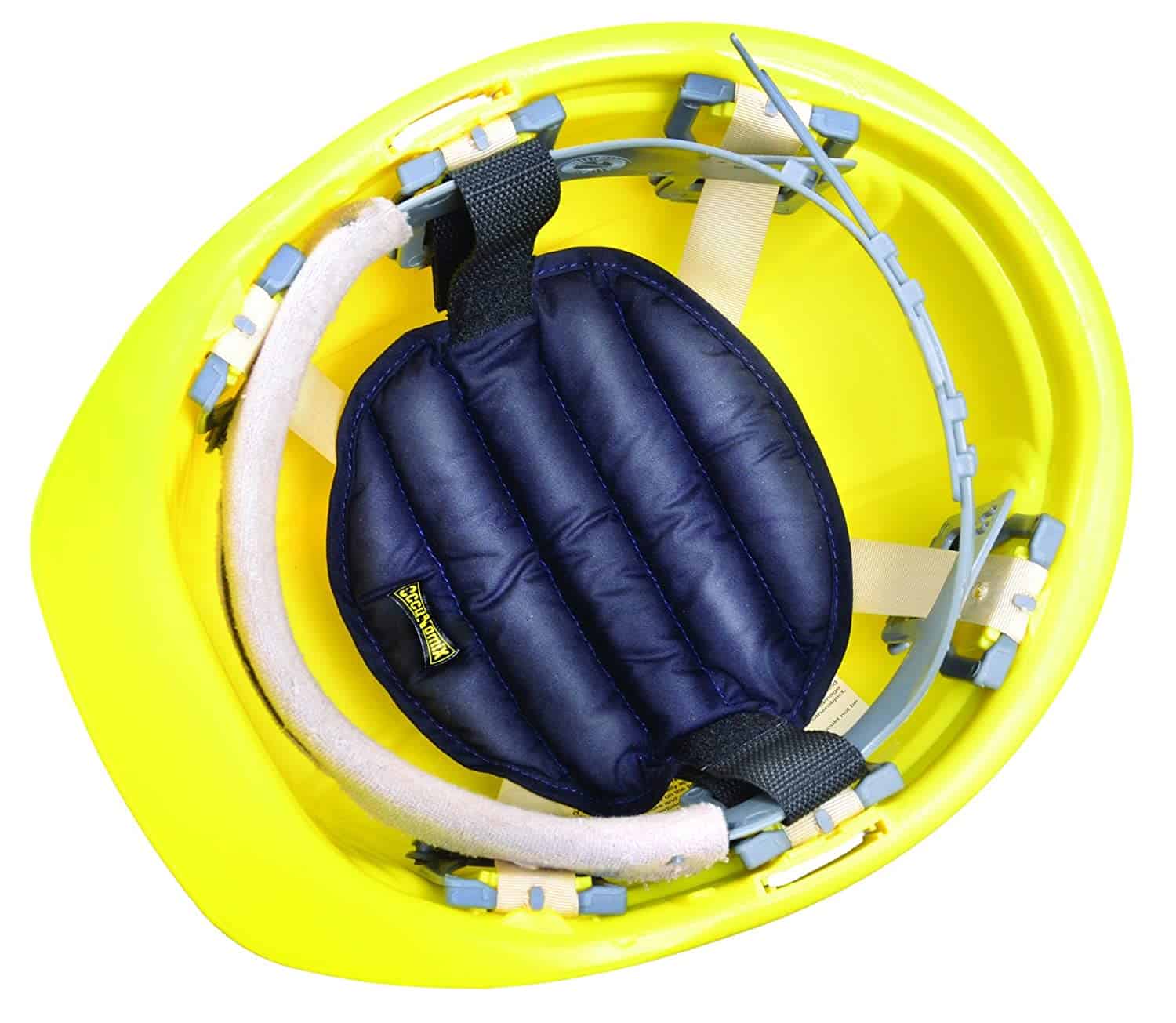 It's hard to work during the summer months, especially if you are on a worksite outdoors. Your head becomes very sweaty and the hard hat seems to slip around, causing pain and discomfort.
As well, we know how uncomfortable it is when the hat digs into the skin, leaving marks.
If you need extra cooling protection, we have an excellent solution. Hard hat cooling pads are the best way to keep cool under direct sunlight and wear the hard hat comfortably.
Here's the video from Occunomix where they talk about the advantages:
Most cooling pads are filled with super absorbent polymer crystals. These soak up cool water, so they provide a much-needed cooling effect all day long.
To use these pads, simply soak the pad in cold water for approximately 5 minutes until the pad is plump and full of water. Then hook it to the hard hat suspensions. Now, you can easily enjoy the benefits of the cooling crystals!
The pads sit at the top of the hard hat and cause no discomfort. They make the top area of the hard hat soft and comfy throughout the day.
But best of all, you can soak the pads as often as you like! Since the pads are reusable, you can use them for years.
5. hard hat liners
A hard hat liner is an extremely useful piece of equipment and if you wear a hard hat, you should own one.
The role of a hard hat liner is to keep you protected from the weather. So it keeps you cool in the summer and nice and warm during winter.
When it's very hot and humid outside, the hard hat liner soaks up the sweat and keeps your head cool, which protects you from a heat stroke.
In the cold winter months, the liner protects your head from extreme weather conditions and keeps you warm.
Another benefit of a hard hat liner is it's flame and arc-fire-resistant.
This type of product fits all hard hat sizes because it's stretchy.
Here's a budget pick from Amazon: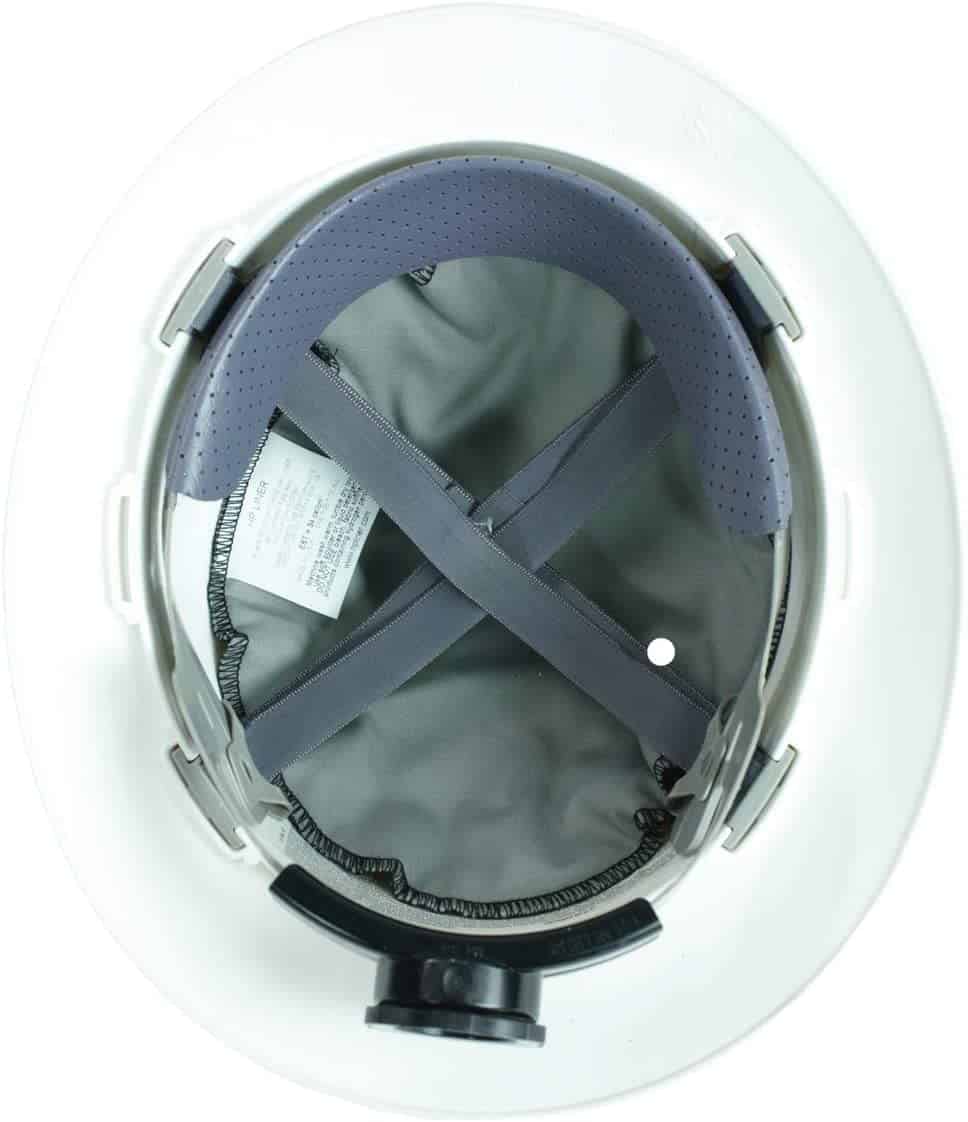 To use the liner, simply insert it between the hard hat and the sizing band.
Don't worry, the liner doesn't move around there and stays put to offer your comfort. It's so lightweight that you won't even feel that it's there!
6. Hard hat sweatbands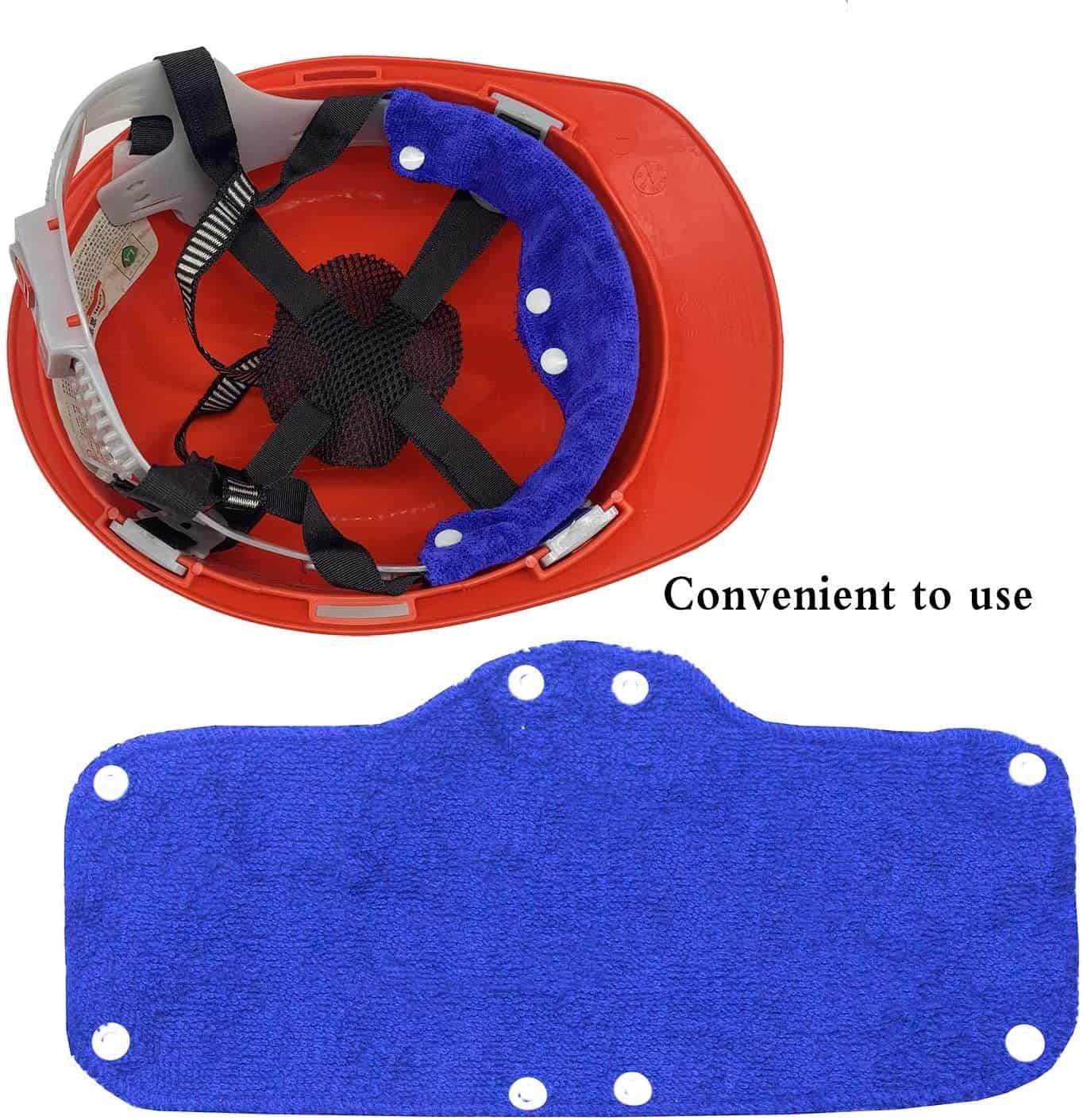 Hard hat sweatbands are small strips of material made out of 100% cotton and they make the hard hat more comfortable. The role of these sweatbands is to keep the sweat from dripping down your head and onto your face and neck.
They're small and easy to place in the hard hat. As well, they fit almost any sized hard hat.
These products are washable and reusable, so it means you can get lots of use out of this 10-pack.
7. A mesh cap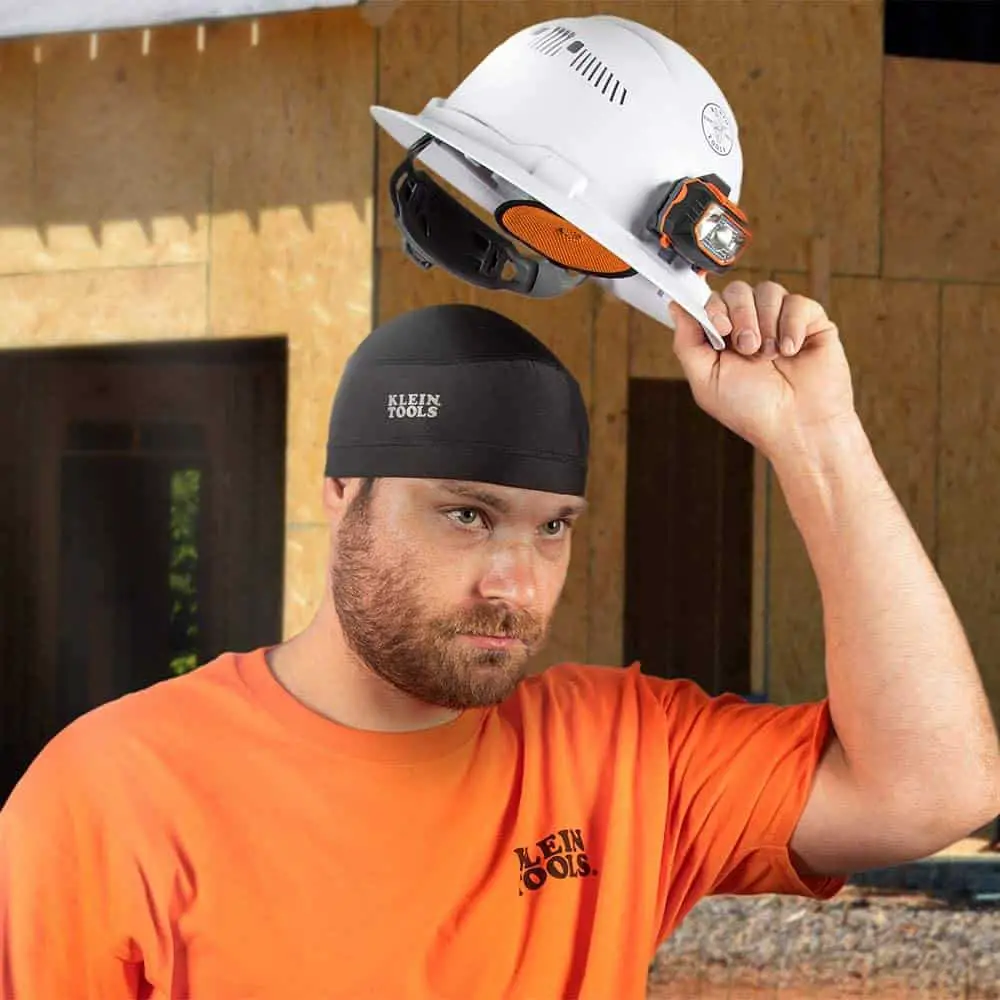 I'm sure you've thought about wearing a hat to keep the hard hat from causing you pain. But did you know that there are mesh caps that also provide a cooling effect?
These are ideal to use during the warmest months of the year. They provide up to 2 hours of a constant cooling effect.
A mesh cap can keep the head 30 degrees cooler than the normal body temperature. Also, they wick the sweat away from your skin and provide good airflow so your head feels nice.
Simply soak with some water for 20 minutes, wring it out, and snap it to activate the hat's effect.
You'll enjoy wearing the cap because it's so lightweight and fits perfectly under your hard hat so you don't even feel it's there!
FAQs about wearing a hard hat
How do I stop my hard hat from causing hair loss?
Many workers complain that wearing a hard hat all day long is causing bald patches and hair loss. The best way to prevent this is to wear a bandana, as I've suggested in tip number 1.
Change the bandana daily and only use it when it's clean. If it's an extremely hot and sweaty day, change it twice per day. If your head stays cool and the bandana prevents the hard hat from rubbing your hair, you're less likely to experience hair loss.
The bandana is the cheapest and easiest way to stop the hard hat from rubbing against your hair and skin.
How do I keep my hard hat from falling?
One of the main reasons why a hard hat feels uncomfortable is because it keeps falling or moving around.
If it's slipping from your head, it's either way too big or not fastened properly. You must wear a chin strap that's properly fastened for a proper fit.
The sweatbands we mentioned earlier can also prevent slipping, as they make the hard hat even more tight-fitting.
Can I wear a baseball cap under my hard hat?
Definitely NOT. If you want to wear a hat underneath your hard hat, wear a mesh cap.
But never wear a baseball cap underneath the hard hat! The cap prevents the hard hat from sitting level on your head and it won't offer the proper protection in case of an accident.
Keep your head comfortable under your hard hat
The hard hats we have today can be adjusted more easily than previous models.
That's because the suspension system inside employs ratcheting adjusters rather than pin-locks. That way, you can quickly adjust the size for a cozy fit.
In fact, some of today's models come with foam pieces on the ratchet and pads so that nothing digs into your skull. With a lower nape strap securing the hard hat around the back of your neck, the stress on pressure points will decrease significantly.
And when you've got all these other accessories, you can definitely wear your hard hat with no issues!
Also read: the best garage organizing tips on a budget
I'm Joost Nusselder, the founder of Tools Doctor, content marketer, and dad. I love trying out new equipment, and together with my team I've been creating in-depth blog articles since 2016 to help loyal readers with tools & crafting tips.