I love creating free content full of tips for my readers, you. I don't accept paid sponsorships, my opinion is my own, but if you find my recommendations helpful and you end up buying something you like through one of my links, I could earn a commission at no extra cost to you.
Learn more
Are you on a tight budget but need to organize your garage?
A garage is essential as it provides you with extra storage space for items like farm jacks, large cutting tools, cleaning tools, and offset smokers, which might not fit in your house.
Besides, if your garage is a mess, finding things becomes a nightmare. It needs to be organized so you can fit all your stuff properly.
It costs upwards of $1000 to organize a garage, but with simple tips and hacks, you can do it for less.
This post aims to help you to improve your garage organization. As you go through it, you'll gain insight into creating more usable space for your projects on a low budget.
How to Organize a Garage on a Budget?
Amazingly, you won't need to spend much money while implementing the strategies described here.
We've compiled a long list full of tips and tricks to organize your garage without overspending. Plus, you can find many of the items we recommend on Amazon!
1. Organize Before you Buy
Before you start to organize your garage, take inventory of what you have already.
Many people make the mistake of buying new things, especially baskets, hooks, and shelving units when they already have enough.
What tends to happen is that you forget about what you own already. So, the first step in any organizational task is to lay out everything you have and take inventory. 
6 Steps to Take Before you Start the Project
Plan your time and set aside enough time for the task. Think about taking an entire weekend or even a few weekends to give yourself enough time.
Get some help from other family members or friends. It is hard to lift and carry everything alone.
Use an App or pen and paper to categorize everything in the garage.
Make piles and groups of similar things.
Check each item and see if you need it, if it needs to go into the trash or if it's in good condition and you can donate it. We recommend you make 4 piles for your stuff.
    6. Make a garage layout plan and draw it out.
2. Design a Transition Zone
When most people are planning to organize their garages nowadays, they want to know how to set aside some space that will work as a mudroom.
Here's what you can do: install a cheap shelf next to the garage door for storing shoes and sports gear.
This is a win-win as your kids will access it quickly and conveniently, and you'll have spared the space you'd have assigned to the mudroom in your garage.
3. Use Storage Bags
One of the best means of keeping bulky items neat and visible is to put them in sizeable transparent storage bags like the ones from IKEA. 
Some folks have tried garbage bags, but it's easy to forget what you placed in there. Moreover, you might be tempted to rip into them when untying them gets complicated.
IKEA's storage bags are not just transparent; they also come with a zipper for smooth opening/closing and handles for convenient transportation.
4. Create Wire Shelves
A garage loft is an excellent way of increasing the storage space, but it can be a little too expensive for someone on a budget.
As an alternative, you can run wire shelves along the walls, high up near the ceiling.
The wire shelves can be pretty useful for storing lighter items like your storage bags and small DIY products. You could even keep your blow-up mattresses up there.
Got things that you don't want your kids or pets to reach like poisonous solutions? The wire shelves are a great place to keep them.
You can place your shoe shelves and extra refrigerators underneath the wire shelves.
5. Employ Your Hampers
Got some bulky items in your garage that you need to contain? Keep them in large laundry hampers.
Check out this set of 2 laundry hampers: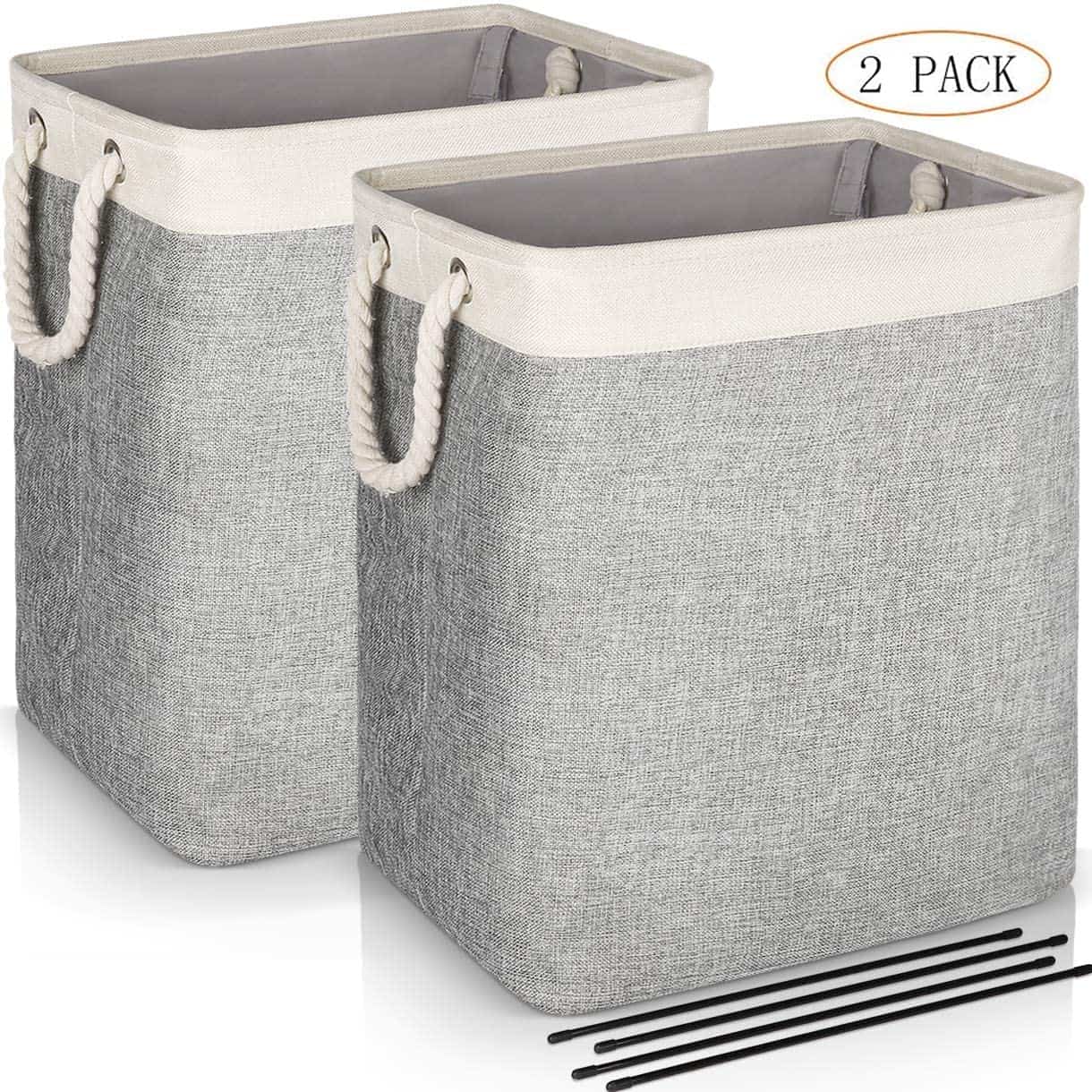 A clean garbage can will work too, although it will take more space due to its rounded nature.
Nonetheless, in case you have lots of folding chairs or balls, garbage cans would be a perfect solution.
You will find laundry hampers very helpful for garage organizing items like garden equipment, umbrellas, and wood pieces.
The best thing about hampers is that they're rectangular, and thus you can arrange them in rows.
6. Make Use of Portable Buckets
Garden gloves, utensils, and cleaning products are all items that get moved to use frequently. Therefore, it's best to keep them in buckets.
Feel free to label these buckets, so you know what's contained in there comfortably.
For instance, you can keep a drill along with its parts and extension cords in one bucket and label it "DRILL." That way, you won't struggle to find it each time you need it.
You could also use these kinds of buckets for storing and sorting out your kids' hats and gloves.
7. Plan around your Car
One of the main things to consider is the size of your car (s) and plan around them.
Make sure you allocate enough space to your cars and leave room beside the car in all directions in the event that you need to perform repairs in the garage. 
When you are planning to reorganize a one-car garage, we recommend you take measurements first and leave 60 cm of space around it. You need to have maneuvering room. 
8. Think Vertical Storage
Vertical storage is a great way to keep your bicycles hanged out. You can also hang your fishing rods and keep them positioned vertically so they stay safe and don't take up too much space.
It's easy to mount some lumber racks for vertical storage. When you use space this way, you are using every inch of the grade space.
You can also hang ladders vertically by adding a utility hook to the wall. 
9. Pegboards and hooks
Install pegboards and hooks so you have more space to hang things. This is especially helpful if you have many hand tools to store.
Install pegboards along the walls and then hang the hand tools on hooks.
How to DIY pegboard storage
First, you need to buy a pegboard that fits your garage walls. Most hardware stores will cut the board to the size you need.
Second, buy some woodscrews, frame boards, and pegboard accessories. Now, here is how to install the boards.
Find stud marks on the garage wall and mark them.
Measure the space and leave room for frame boards that are shorter than the pegboards.
Drill 3 holes in the wall horizontally for the frame board pieces then drill them into the stud that is already in the wall. At this point, you'll have 3 horizontal spaced out frame boards which are long pieces of wood.
Next, mount the pegboard to the frame and make sure the holes line up.
To secure the board, make sure you pre-drill holes in the frame then secure the pegboard with wood screws.
Now, you can start hanging up your hand tools and other accessories.
10. Utilize Overhead Storage Space
This is also known as ceiling storage, but it refers to using the ceiling and overhead space to create storage. You can even add overhead racks.
These are excellent because they help you keep things out of the way and off the floor.
Ceiling racks are available on Amazon for under $70: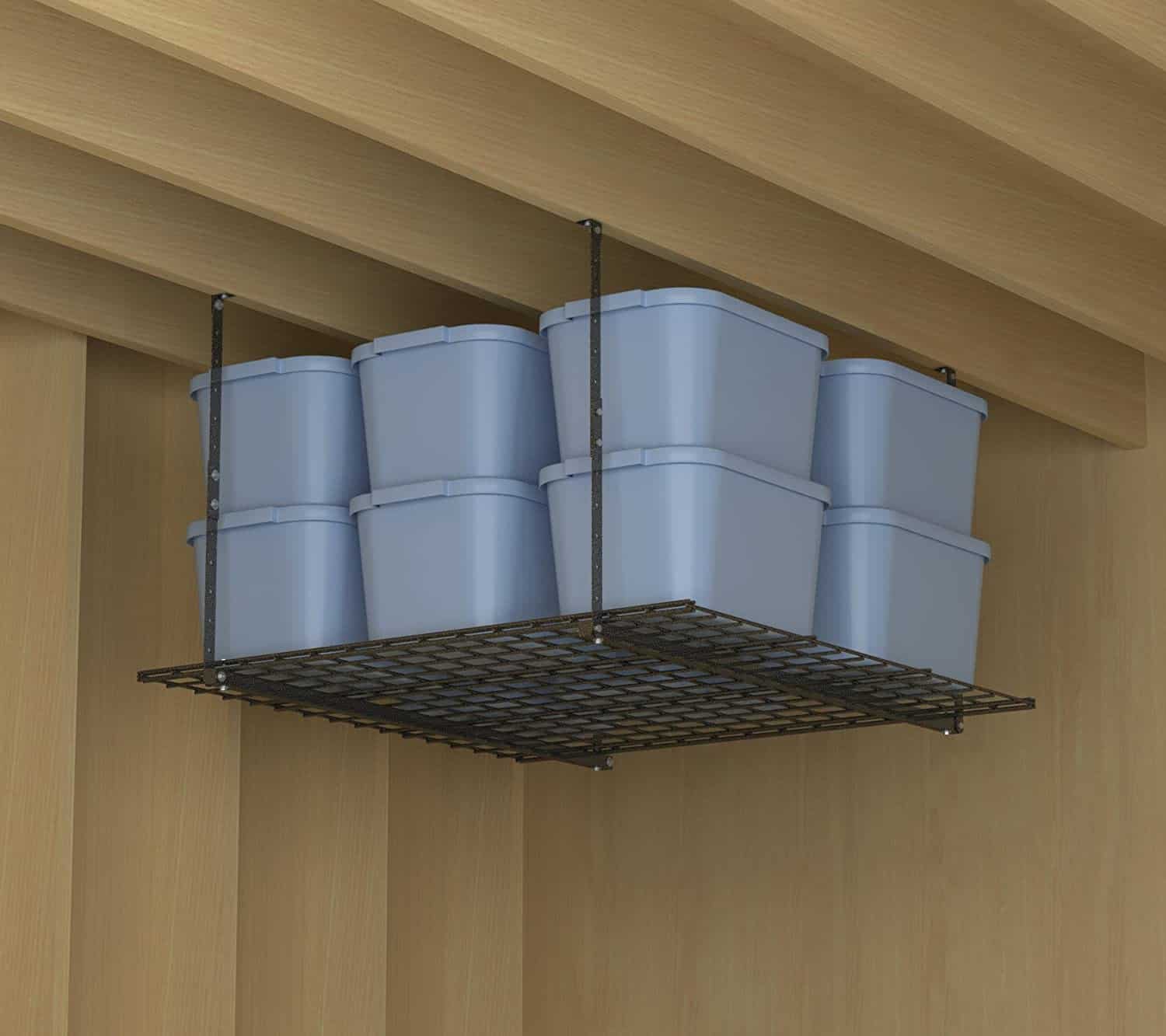 We recommend you install this type of storage system because you can place small bins with all your stuff up top. 
11. Magnetic Boards 
Place some magnetic boards along the walls and even on the sides of cabinets. This is the best way to store all the metallic things that are magnetic.
For example, you can store screwdrivers by sticking them to the magnetic board. You can easily DIY magnetic bulletin boards.
All you need is some sheets of metal and industrial velcro, which you can find at hardware stores.
Just attach the velcro to the back of the metal sheets by adding a strip at the top and one at the bottom. Then, place the sheet on the side or front of a cabinet.
That's all you need to do. 
12. Corner Shelves
I'm sure your garage has unused corners. That's where you can add extra space by adding some corner shelves.
To keep it cheap, use some plywood or any cheap wood to make some shelves. 
Make the shelves fit between the corner studs and secure them with 1×1 cleats. You can place smaller items, and bottles of liquids such as oils, sprays, polishes, waxes, and paints. 
13. Repurpose Jars and Cans
One of the most annoying things in the garage is having all kinds of screws, nails, nuts, and bolts just lying around in random places. They keep falling down and they get lost. 
So, to avoid this problem, use old coffee cans, glass jars, and even old mugs to store all the small metal bits and bobs.
You can easily label each can or jar and you'll be super organized without spending a dime. 
14. Foldable Workbench
Having a foldable workbench or worktable is the most useful thing you can have in the garage. When you need to get a project done, you can pull it out and get to work right away. 
The best thing to do is to install a wall-mounted worktable than fold down against the wall. 
To do this, you need to buy cheap pieces of 2×4 wood. These will become the legs. Then you build the legs and secure them to the bench part.
You can use gate hinges to attach them. So basically, you need a tabletop, legs, and wall mounts. There are many tutorial videos that show you how to make the foldable workbench. 
Inexpensive Garage Organizers:
Our goal is to help you find the cheap garage organizer for your garage organization on a tight budget.​
Seville Ultra-Durable 5-tier garage rack
This Seville shelving unit is made of industrial-strength steel wire to hold up to 300 pounds per shelf:
It is also made with UltraZinc plating to bring you a shiny, corrosion-resistant product. The base sits on leveling feet to create a sturdy structure.
There is a lot of flexibility that comes with this five-tier shelving unit. It features casters that measure at 1.5 inches in diameter for mobility.
When you want to keep your shelving unit in place, you can easily lock two of the casters. You can also adjust the shelves at 1-inch increments to fit larger tools or storage bins.
The package includes four .75-inch poles, five 14-inch by 30-inch shelves, four 1.5-inch casters, four leveling feet, and 20 slip sleeves.
​Brand Info:
Name of Founder: Jackson Yang
Year It Was Created: 1979
Country of Origin: United States
Specialization: Innovative houseware, hardware products
Famous For: Garage organizers, wire shelving, and closet organizers
Finnhomy 8-Tier Wire Shelving Unit
The shelving of this storage system is finished with platinum powder-coated epoxy to create a corrosion-resistant product.
If you are planning to create an extra pantry in your garage, you can rest assured that the bins have been certified by the NSF to NSF/ANSI Standard.
Fleximounts Overhead Garage Storage Rack
If you are looking for a garage tool organizer for your ceiling, the Fleximounts Overhead Garage Storage Rack is a great choice.
The rack is made with an integrated wire grid design, and it is this patented structure that creates a stable overhead rack.
You can install the racks into wood joists and concrete ceilings. However, the racks are not designed for metal joists.
If safety is your concern, you can rest assured that this rack is made with high-quality screws and cold-rolled steel construction.
It has gone through a series of strict tests to ensure it is a safe product.
This includes testing the rack using items with three times the breaking strength. It is strong enough to hold up to 600 pounds.
You can also adjust the height from 22 to 40 inches to load and store your items safely. The package includes M8 screws and bolts and the assembly instructions.
​Name of Founder: Lane Shaw
Year It Was Created: 2013
Country of Origin: USA
Specialization: Storage racks, mounts, carts
Famous For: Garage storage, TV mounts, monitor mounts
Check the latest prices and availability here
Ultrawall Garage Wall Organizer
If you are looking for a low budget garage organizer, the Omni Tool Storage Rack is a customizable solution without the complicated instructions.
All you have to do is attach the mounts to your wall. The next step is to insert the track through the wall mounts.
Use the rack to store tools such as hammers, shovels, rakes, and ladders without taking up too much floor space.
This storage rack from StoreYourBoard is made of heavy-duty steel construction to hold up to 200 pounds.
It can be used to store anything from garden tools to outdoor gear, which is great for organizing the odds and ends in your garage.
The package includes one wall-mounted track, two wall mounts, six storage attachments, and four heavy-duty bolts.
You can order this storage rack in a compact or large design, and each design includes six long storage attachments.
​Brand Info:
Name of Founder: Josh Gordon
Year It Was Created: 2009
Country of Origin: USA
Specialization: Racks, storage solutions, travel protectors
Famous For: Board racks, wall-mounted racks, outdoor gear storage
What kind of items should you NOT store in the garage?
People tend to throw random things they have no space for in the garage. Some even stockpile all kinds of goods in the garage for later use. However, you should know that there are some things you should never store in your garage. 
Here is a list:
propane tanks because they are an explosion risk
bedding
clothing because it will start to smell musty
paper products
vinyl records, film, and old DVD's that can get damaged
refrigerators
canned food 
fresh food
anything that is temperature-sensitive
How do I organize my power tools?
Power tools need to be stored properly to protect them from rust and damage. There are several ways you can store your power tools in the garage, even if you are on a tight budget.
Storage Rack – if you hang your power tools on a rack, they are easy to see you don't have to waste time looking for them when you need them.
Tool Shed/Cabinet – you can find cheap plastic cabinets online but you can also use an old drawer or cabinet.
Tool Drawers – placing your power tools in drawers keeps them neat and tidy. Don't overstuff the drawer as you don't want to get the cables tangled.
Bins – plastic bins are a good way to store power tools. Label each bin with the type of tool. 
What is the best garage shelving?
The shelves in your garage need to be durable and sturdy because you don't want to risk them falling down and injuring someone or destroying your stuff. 
Our recommendation is one of the two free-standing metallic racks above, those are inexpensive and very handy!
Conclusion
As you organize your garage on a low budget, consider the visual appeal. Items like house paint might store better under tables rather than just lying around and getting in the way all the time.
You can spread a tablecloth over the table and have it drape down to hide the paint and any other containers you might have kept down there.​
The thing to keep in mind is that you can probably already use things you have around the house to organize your garage for a very low price!
I'm Joost Nusselder, the founder of Tools Doctor, content marketer, and dad. I love trying out new equipment, and together with my team I've been creating in-depth blog articles since 2016 to help loyal readers with tools & crafting tips.