I love creating free content full of tips for my readers, you. I don't accept paid sponsorships, my opinion is my own, but if you find my recommendations helpful and you end up buying something you like through one of my links, I could earn a commission at no extra cost to you.
Learn more
Painting a plasterboard is not a difficult job and with plasterboard painting you can finish the wall and make it tight.
Drywall has many advantages.
A plasterboard wall is not difficult to install and goes quite quickly.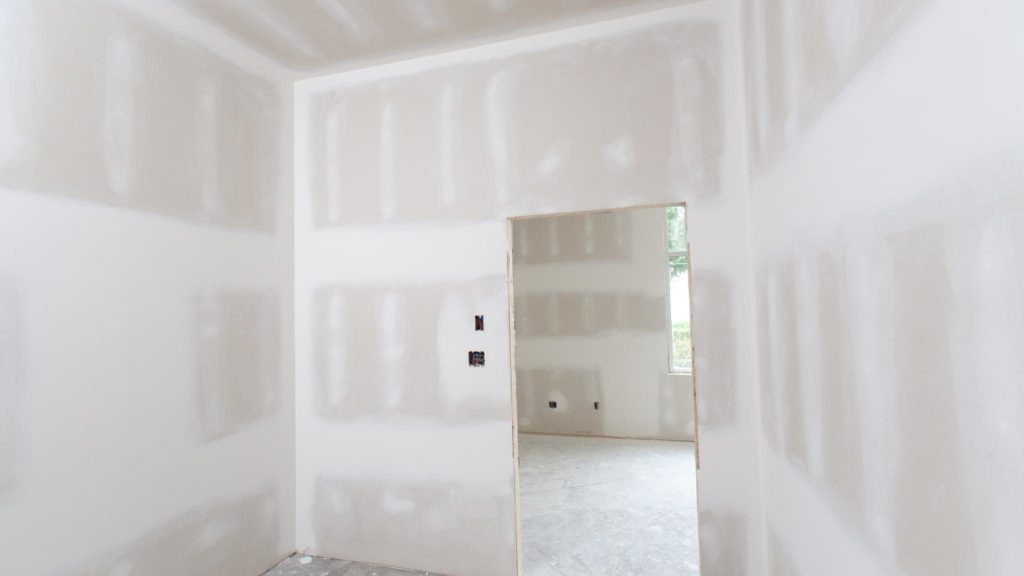 You don't have to wait for a drying process, which you do if you are going to build a wall.
In addition, drywall is fire retardant.
Depending on the thickness, this is indicated in minutes.
Then you can finish it with different materials.
You can read about which materials you can use for this in the next paragraph.
Painting drywall in multiple ways
Painting drywall is one of the alternatives that you can do after they are installed.
In addition to painting, there are of course other options for finishing a plaster wall.
First, you can also go wallpaper.
This creates a certain atmosphere in that room.
You can then choose from the different patterns.
It depends on the destination of such a room or room.
A second option is to apply textured paint to the wall.
If you want to know how to apply this, you can read the article about applying textured paint here.
A third option is to finish the wall with glass fabric wallpaper.
Read the article about glass fiber wallpaper here.
You can also finish painting drywall with a latex paint.
Click here to buy latex online
Finishing pieces or seams
Painting drywall also requires preparatory work and you have to know how you want to do it.
By that I mean how you want to finish the drywall.
There are two methods.
You can have a plasterer come and he will then finish it smooth so that you can apply a latex yourself.
I made painting fun to carry out work myself and that is why I choose to do this myself.
Because the plasterboards are secured with screws, you have to close these holes.
You will also have to smooth the seams.
Finishing seams and holes
It is best to fill seams and holes with a drywall filler.
When purchasing, make sure that you buy a filler that does not require a gauze band.
Normally you have to apply a mesh tape or seam tape first.
This is unnecessary with this filler.
Fill the holes with a putty knife and the seams with a trowel that is suitable for this.
Make sure that you remove the excess filling immediately.
Then let it dry.
Read on the packaging when it is exactly dry.
If you then see that the seams or holes are not properly filled, repeat the filling again.
When it's dry, sand it lightly with sanding gauze.
Just make sure you open doors and windows because that sanding creates a lot of dust.
Acrylic sealant is also an option.
When painting drywall, you can also choose to finish the seams with a sealant.
In that case, you should opt for acrylic sealant.
This can be painted over.
Read the article about acrylic sealant here.
Take a caulking gun and put the caulk in the container.
Spray sealant from top to bottom at a 90 degree angle into the seam.
Then dip your finger in a mixture of soap and water and run that finger over the seam.
This will give you a tight sealant seam.
Do not forget to seal the corners with acrylic sealant.
And that way you get a tight whole.
Prime with a primer.
When painting drywall, you also have to make sure that you apply the right agents beforehand.
If you do not do this, you will get poor adhesion of the finishing layer.
When you have finished sanding, you must first make everything dust-free.
If necessary, use a vacuum cleaner to make sure all your dust has been removed.
Then apply the primer latex with a brush and a fur roller.
This has a suction effect and ensures that the wall is impregnated.
Allow this primer to dry for at least 24 hours before continuing.
After this you can apply the finishing layer.
You have to choose a wall paint that is suitable for that.
If it concerns a room that quickly causes stains, it is better to use a washable paint.
If you want to know how to paint drywall, read the article about it here: painting the wall.
Do you have any questions about this article?
Or do you have a nice suggestion or experience on this subject?
You can also post a comment.
Then leave a comment below this article.
I would really love this!
We can share this with everyone so that everyone can benefit from it.
Greeting
Piet
I'm Joost Nusselder, the founder of Tools Doctor, content marketer, and dad. I love trying out new equipment, and together with my team I've been creating in-depth blog articles since 2016 to help loyal readers with tools & crafting tips.