I love creating free content full of tips for my readers, you. I don't accept paid sponsorships, my opinion is my own, but if you find my recommendations helpful and you end up buying something you like through one of my links, I could earn a commission at no extra cost to you.
Learn more
Learning to paint is just doing and learning to paint can be mastered by putting it into practice.
Learning to paint houses really doesn't have to be difficult. Just don't be afraid and try.
We are not talking about making a painting here, but purely about learning to paint, for example, walls, ceilings, doors and frames.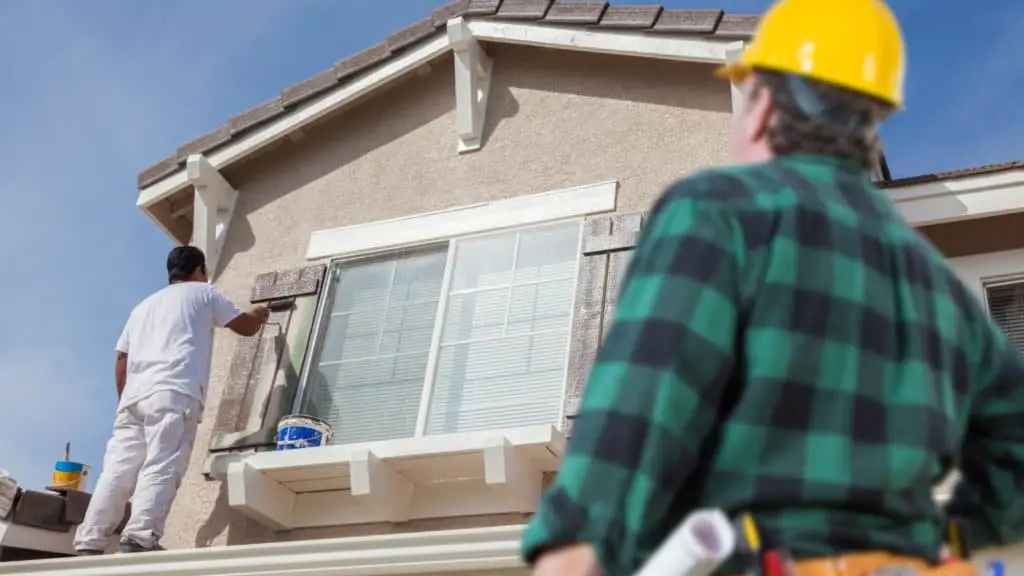 The only thing you have to follow are certain procedures. When you want to paint a complete room, you first do the woodwork. A golden rule is that you should always degrease first and then sand! Only then will you finish. Only when the paint has cured properly do you start applying latex paint to walls and ceilings. Many people usually think the other way around. First the ceilings and walls and then the frames. The order I give you is that after that time you will no longer get dust on the walls and you can better contrast with the woodwork with a latex. If you can't do this freehand, you will cover everything with a tesa tape, so that you get a tight paint job.
Anyone can learn to paint houses
Anyone can learn to paint. It's a matter of trying and practicing. Everything goes hand in hand with good preparation. Firstly, you will buy materials such as paint rollers, a brush, paint tray, tape, plastic foil, latex, primer, lacquer, tools such as putty and sealant, putty knife and caulking gun. Before painting, make sure the space is empty. Then you cover the floor with, for example, a plaster runner. Then you remove locks and fittings from the doors. Then you start cleaning and sanding. After that it is really important that you make everything dust-free. Do this with a slightly damp cloth in combination with a vacuum cleaner. The next step is that you will seal all seams and seal holes in order to get a tight result. When you have done this you can start painting. Learning to paint is a challenge. That's how you should see it. We are always afraid of making mistakes. Of course you can make mistakes. You learn a lot from this. This is the best method. Is the painting done and it's not to your liking? Just try again. That is the best learning method. After all, you do it yourself at home. Nobody sees it anyway. Practice and practice some more. That's how I started. Just keep going. You will notice that you get a better feel for it. When the painting is finished, this gives you a kick. That's what you do it for. If you really can't figure it out, I recommend that you download the free E-book Painting techniques in your home. This book gives a lot of information about what to do and what not to do. It also contains many clever tricks. Really worth a recommendation!
What painting can do to your home and interior
Paint
You do painting for 2 reasons: you like it or you want to save costs by doing it yourself.
There are more reasons to think of: it gives you satisfaction, you see that it improves and I could go on and on.
I paint myself because I like it, of course also to provide for my income.
Believe it or not, you have to have fun painting it otherwise you will never get a good result!
Otherwise I would never have started it myself!
This is how you paint
Painting is not for everyone and that is why you can certainly use a number of practical tips. For example, you need to know what type of paint to use, which brush or roller to use, and whether you need to add an undercoat before painting. You can find all this in the article below.
Use of paint
There are two types of paint available, namely alkyd paint and acrylic paint. The former is turpentine based and is generally only used outdoors. Because it is full of solvents, there are few suitable jobs to use for an indoor job. This variant is also available in a high gloss and satin gloss. High gloss is generally easier to clean, but the imperfections are more visible here.
Acrylic paint is water-based and is used for indoor jobs. Because the paint is water-based, it is also less harmful to health. It also dries a lot faster than alkyd paint and the smell is also more manageable. However, when using acrylic paint you have to process the surface a lot better, because it will cover less than alkyd paint.
Brush and/or roller
The choice of a particular brush or roller depends on the surface to be painted. When you have to paint small surfaces or decoration, we recommend that you use a small and fine brush. You should also take the type of paint into account, because not every brush and/or roller is suitable for all types of paint. Are you going to paint a ceiling? Then we recommend that you also purchase an extension for a roller. This allows you to simply remain on the ground and you will not be bothered by moving your ladders.
Do you have enough space in your home? Then installing a workbench is certainly not an unnecessary luxury. This means you have everything at hand at all times and you do not always have to walk to the garage to store or pack things.
Painting, what does it actually mean
You can give many meanings to paints.
If you translate it literally, you can describe painting as: covering an object with paint.
Another meaning, and I think it is just as important, is that with painting you protect the surfaces, be it wood, metal, concrete, etc. against weather influences from outside and against the preservation of objects (windows, etc.) inside.
You can also make a work of art with paint, so you can also translate painting.
In addition, you can think of many synonyms: painting, painting, painting over, etc.
What is the purpose of lacquering
Painting is one of the most important activities in your home, especially your exterior painting.
If you regularly paint your house, you create a certain value to your house.
I always say paint your house every six or seven years, and you know for sure that your house will retain value.
It is of course not only about the value but also about the protection of your windows and doors.
Of course also for embellishment.
Keeping your home up to date
If you want to keep your house up-to-date, you need to do the following.
Paint once every seven years and have an inspection every year and repair it immediately if bad paintwork is found.
It is also very important to clean your woodwork twice a year, in the spring and autumn.
With this you extend maintenance on your home!
Then clean your house with an all-purpose cleaner.
Read the article about all-purpose cleaner here.
Have you ever painted yourself?
What are your experiences?
Did you encounter any problems while painting?
Painting tips
Painting Tips: If you're planning to paint indoors or out, there are a few practical tips that can help you get the job done right. Don't have the time or experience with painting? Then you would do well to look at the options for outsourcing the painting. We will inform you of a number of important aspects, so that you know how the fork is in the stem.
Outsource
Are you planning to outsource the job? Then you would do well to compare a number of painters. This way you can compare the hourly rate of a painter, the working method of a painter and the jobs in the past. Do you have a painter in your own circles? Then we advise you to ask about his services, because when you know him personally, communication will run a lot smoother and a discount could possibly be made.
Primer
When painting indoors, in most cases you will need to apply a primer. This is because acrylic paint adheres more difficult to the surface and with this primer, which does adhere well to the surface, the paint will come into its own a lot better. Is there already acrylic paint on the wall? Then you must first remove this layer, otherwise the new layer will not adhere and this will cause an unprofessional and ugly result. Outdoors you can sometimes just paint over the old layer, but this must be done in a professional manner.
To maintain
When painting outside, it is wise to clean the painted surface once every 2 to 3 months. As a result, no dirt will adhere to the layer and it will always remain a beautifully painted surface. Indoors, you can only ensure that it does not get damaged by, for example, not placing objects against a painted wall.
TOP TEN PAINTING TIPS
Always degrease first and then sand and never the other way around!
Always use a primer on a powdery wall.
Prevent yellowing of the paint layer by using acrylic paint.
Mold is best treated with an insulating paint.
You prevent sagging in your painting by spreading enough.
The ideal time to paint outdoors is May and June. The RH is then low.
Always paint after the sun has been. Wait at least 2 hours.
Apply at least 3 coats of paint on bare wood. 1 x ground and 2 x topcoat.
A smooth, sanded surface is a precondition for tight paintwork.
Always stir the paint well before painting.
Provide an empty and clean work environment.
In addition to avoiding dust particles in your paint, a clean working environment has many advantages. In addition to eg safety, you will be in a neat and clean room; Work faster, work neater and experience more painting fun!
Always degrease first.
Even if you have already cleaned the paintwork, you will first have to degrease. Before sanding as well as after sanding, wipe off well with a damp cloth with diluted ammonia or degreaser.
More haste less speed.
If you spend just a little more time and attention on your painting, your result will be a lot better! So allow extra time for, for example: filling holes in woodwork-wall-ceiling with filler, sanding well, caulking seams-edges of, among other things, window frames. Spending an hour in details is reflected twice in the end result!
Remove masking tape immediately after painting!
Nothing is more annoying than when you're done painting you have to spend hours the next day (when the paint is dry) to remove masking tape residue. When you leave painter's tape on, it hardens together with the paint and it becomes hard. Subsequently, the tape will tear very quickly and removal is an irritating job due to the good adhesion. In addition, there is a good chance that you will also peel off the new coat of paint!
Or click on one of the tips below for interior painting:
How much paint per m2
Acrylic paint for indoors
paint wood
Painting window frames
A beautiful finish with Chalk Paint
Quote request interior painting
Painting tips outside
Just like with your living room, you want to create a certain atmosphere in the garden. A different color on the fence or tiles quickly works wonders. On Schilderpret you will find a lot of paint and painting tips for outdoor painting.
I'm Joost Nusselder, the founder of Tools Doctor, content marketer, and dad. I love trying out new equipment, and together with my team I've been creating in-depth blog articles since 2016 to help loyal readers with tools & crafting tips.