I love creating free content full of tips for my readers, you. I don't accept paid sponsorships, my opinion is my own, but if you find my recommendations helpful and you end up buying something you like through one of my links, I could earn a commission at no extra cost to you.

Learn more

Probably, the toughest decision of a carpenter or woodworker is to choose a particular saw for any job among a variety of different saws. It becomes more confusing and difficult for beginners who are unfamiliar with this variety.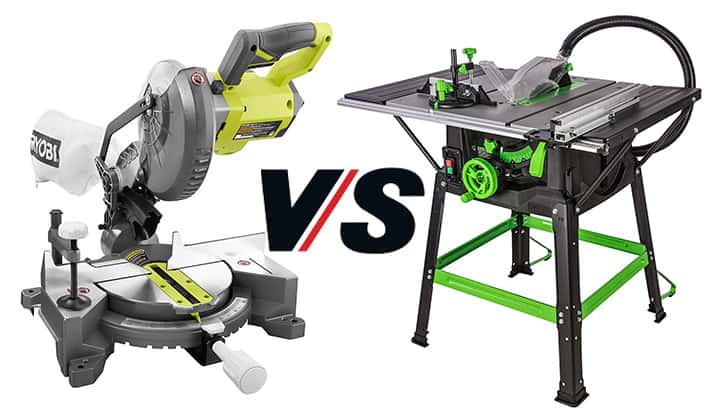 Miter saws and table saws both are fundamental tools of any workshop or factory. Artisans use them for various cuts along with shaping and ripping workpieces. Which one will you go for if you are asked to choose between miter saw vs table saw? You need a clear knowledge of these tools for choosing the right one. That's exactly why we're here. In this article, all the differences, along with some noteworthy features of miter saws and table saws, are discussed as a complete guide so that you can find the best one for yourself.
Miter Saws

A miter saw is a power tool with a circular blade attached to a blade holder. The holder acts as an arm, and you can adjust it to different levels according to the thickness of your target material. Besides, this arm sets different angles for accurate angled cuts and cross-cuts. It doesn't come with a stand or base. While working, you can keep it on a table to provide the necessary support to the workpiece. Generally, you will find three types of miter saws: standard, compound, and sliding compound.
Table Saws

You will notice a table saw used regularly for different cuts on various materials in almost every workshop. Table saws include a circular blade that is attached to a flat table. Often the table has wheels for convenient moving. Usually, you will find five types of table saws: benchtop, jobsite, contractor, hybrid, and cabinet. Almost every table saw has a kind of bag or bin attached to it, which collects dust while working with it.
Differences Between Miter Saws and Table Saws

Do you want to master both miter saws and table saws or just need to choose one for a specific task? In both cases, it is necessary to know about all the differences and the pros and cons for each. Let us start with some noticeable differences between them.
1. Working Principle

After you fix a miter saw on a table, turning on the power will rotate the circular blade, and you must start the cutting process when it reaches the maximum speed. The arm is movable, and it is pulled down close to the workpiece while cutting. In a table saw, the blade is built-in, and it can be adjusted while cutting any material. After powering up, the blade rotates at a controlled motion and cuts the workpiece when lowered down. For angled cuts, you can also adjust the angle of the blade easily.
2. Versatility of Cuts

Though a miter saw can be used for almost every type of cut, it is mainly specialized for cutting bevels and angles. They are popular among workers because of their accuracy and perfection in every cut, even while cutting angles. But they are not suitable for ripping and resawing. That is where a table saw stands out as it is specialized for rip cuts and cross-cuts. Unlike miter saws, longer and wider workpieces will never be a problem for table saws as they cut down pretty easily irrespective of the thickness and width of any material.
3. Portability

When it comes to the point of portability, miter saws are preferable for any craftsman. As there is no attached stand or table, you can easily carry a miter saw to your workplace. But in case you want to set it up as a stationary tool, that is also possible by attaching it with a table. Table saws are tough to move from one place to another as they are more likely stationary power saws. Though some of them have wheels for convenient movement, they just help for sliding over, not for carrying to other places.
4.Using Purposes

Using a miter saw might be the best decision for the woodworkers and craftsmen who work in distant places from time to time. This saw is a perfect choice for large-scale cutting with repetitive cuts of the same measurements. But it is limited to be used for small to medium pieces of materials. Table saws can also be used for cutting hundred to thousands of pieces, but the accuracy would not be the same as miter saws. But for cutting large pieces of materials, a table saw is better. Constructing rabbet joints and cutting dado are some critical and unique cuts that a table saw can perform.
5. Safety Issues

By maintaining some general safety rules, you can prevent unwanted situations, including saw accidents and injuries. While working on both miter saws and table saws, you need to remember to use hand gloves and safety glasses. Most miter-saw accidents take place while adjusting the blade-arm with one hand and holding the workpiece with another. Mostly, this happens due to unconsciousness about your hand near the blade. In the case of table saws, your hand might get into the blade and cause severe injuries if you push the workpiece with your hand without maintaining a safe distance from the blade. Using a push stick is necessary for preventing such a situation.
Pros and Cons of a Miter Saw
A miter saw is something that almost every carpenter uses for flawless and precise cutting. There are both benefits and drawbacks of using a miter saw. Some pros and cons are briefly stated here. Pros
Adjustable blade-arm can be set up to different angles and heights
Ensures the highest accuracy for every cut that it can perform
It can be used for a wide range of different cuts, including straight, curved, angled, and repetitive cuts
Specialized for trimming, framing, and crown molding tasks
Great for small and medium projects and jobs
Ensures precise cuts even while cutting a large number of workpieces
Can be flexible whether as a portable power saw or a stationary cutting machine
The circular blade can be replaced with specific blades for certain tasks
Cons
It doesn't work well for large workpieces
Not suitable for rip cuts
Pros and Cons of a Table Saw

As a professional and reliable power saw, table saws are widely popular among woodworkers and metalworkers. The following pros and cons will help you out to have a clear understanding of this cutting saw. Pros
Works great while cutting large and wide blocks of wood and other materials
Specialized for ripping and cross-cutting
Can cut thin workpieces without breaking them
The blade can be adjusted for angled cuts
Versatile power tool for straight cuts and different types of curve-cutting and shaping
Often, a dust bag is attached for a convenient dust management system
Wheels underneath the table help for sliding
It can be used for large-scale cutting
Cons
It doesn't work well for precise cutting
Difficult to move from one place to another
Final Words

The best power saw will be the one that fulfills your requirement of a specific task along with having convenient usability according to your needs. So, who is your winner in the battle between miter saw vs table saw? I think you already have the answer.
I'm Joost Nusselder, the founder of Tools Doctor, content marketer, and dad. I love trying out new equipment, and together with my team I've been creating in-depth blog articles since 2016 to help loyal readers with tools & crafting tips.