I love creating free content full of tips for my readers, you. I don't accept paid sponsorships, my opinion is my own, but if you find my recommendations helpful and you end up buying something you like through one of my links, I could earn a commission at no extra cost to you.
Learn more
Painting a concrete floor is not that difficult and painting a concrete floor is done according to a procedure.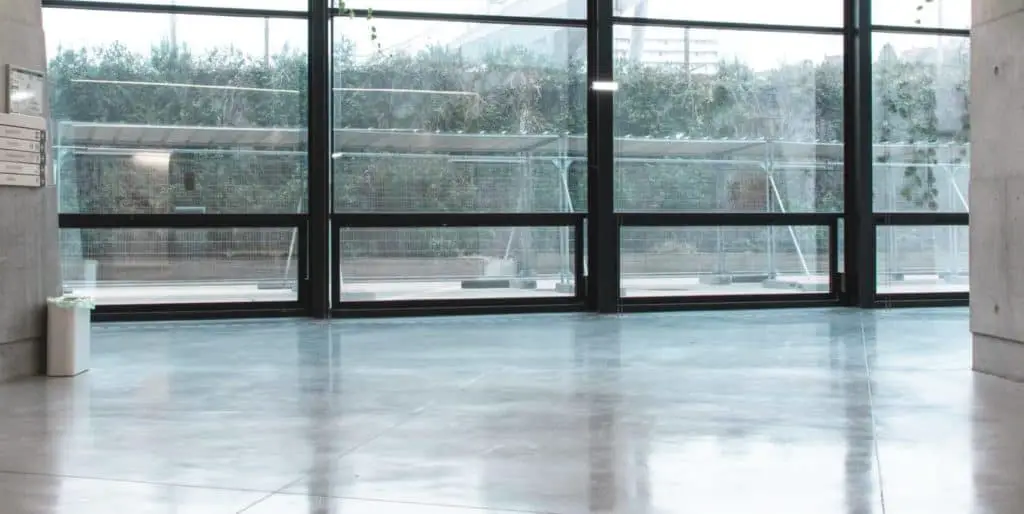 I will explain to you why you should paint a concrete floor and how to do this.
Why paint a concrete floor?
You often see a concrete floor in basements and garages. But you also see these more and more in other rooms in the house.
It is a trend, for example, to also have a concrete floor in the living room.
You can do different things with it, you can lay tiles on it or apply laminate.
But you can also paint the concrete floor. This is really not a difficult job.
Painting existing concrete floor
If the concrete floor has already been painted before, you can paint over it again with a concrete paint.
Of course, degrease and sand well in advance and make it completely dust-free. But that makes sense.
Paint new concrete floor
When you have a new concrete floor, you have to act differently.
You must first know in advance whether the moisture has already left the concrete.
You can easily test this yourself by sticking foil on a piece of concrete floor and securing it with tape.
Use a duct tape for this. This one stays put.
Let the piece of tape sit for 24 hours and then check for condensation underneath.
If this is the case, then you have to wait a little longer before painting a concrete floor.
If you know how thick your floor is, you can calculate how many weeks that concrete floor needs to dry.
The drying time is 1 centimeter per week.
For example, if the floor is twelve centimeters thick, you have to wait twelve weeks until it is completely dry.
Then you can paint it.
Painting a concrete floor: this is how you work
Floor cleaning and sanding
Before you paint a new concrete floor, you must first clean or clean it.
After that, you need to roughen the floor. This is for the adhesion of the primer.
Take it easy with 40 grit sandpaper.
If it turns out that you can't sand it by hand, you have to sand it by machine. You can do this by using a diamond sander.
If you want to do this yourself, you have to be careful. It's quite a powerful machine.
You have to remove the cement veils from the floor, as it were.
Apply primer
When the floor is completely clean and flat, you can start painting a concrete floor.
The first thing to do is apply a primer. And that must be a two epoxy primer.
By applying this you get a good adhesion. It removes the suction effect for the concrete paint.
Apply concrete paint
When this primer has worked out and is hard, you can apply the first layer of concrete paint.
To do this, take a wide roller and brush.
Read the instructions of the product you choose beforehand.
And by that I mean whether it can be painted over and how long it takes. Usually this is after 24 hours.
First, sand lightly again and make everything dust-free and then apply a second coat of concrete paint.
Then wait at least 2 days before walking on it again.
I would prefer seven days. Because the layer is then completely cured.
This can of course vary per product. Therefore, read the description carefully first.
If your floor wants to be a bit rough, you can add some anti-slip agent to the second layer of paint. So that it doesn't get too slippery.
Finishing a concrete floor with floor coating
Which paint do you choose for the finish of your concrete floor?
You have several options for finishing your existing or new floor. The choice is always personal.
You can choose wood, carpet, linoleum, laminate, concrete paint or a coating.
I will only discuss the last of these, namely the coating, because I have experience with this and it is a nice and sleek solution.
Finishing a concrete floor with a floor coating (coating) such as Aquaplan is a perfect solution.
I am excited about this because it is easy to apply yourself.
In addition to your floor, you can also cover the walls with it so that you have a whole.
It fits seamlessly everywhere against your finish such as skirting boards. In principle, kitten is unnecessary here.
Benefits of a floor coating
The first property that Aquaplan possesses is that it is water-dilutable.
This means you can add water to it and simply clean your brush and rollers with water.
A second property is that it has good wear resistance. After all, you walk on your floor every day and it must be durable.
In addition to simple processing, this coating is easy to clean.
The coating is for both indoor and outdoor use, so another property comes into play here: weather-resistant.
The great thing about this coating is that you can also apply it to your walls and even to MDF.
So it is also impact resistant.
Preparation for coating paint
Of course you have to make some preparations before applying this to your walls.
The coating can be applied to new floors as well as floors that have already been painted.
Painting floors with this coating does require some preparation beforehand.
If it concerns a new home, you can make your skirting boards beforehand and paint them immediately.
The advantage of this is that you can still slightly spill with the paint.
You also do not have to seal the seams with acrylic sealant.
By this I mean the seams between the floor and skirting boards.
After all, the coating will fill that in later so that you get a sleek result.
If you also have rooms where, for example, you also want to treat these walls with Aquaplan, you will have to plaster these walls in advance.
Bathroom walls are often treated with this.
After all, the coating is weather-resistant and can withstand moisture.
You can actually paint a concrete floor with this coating yourself.
I will come back to this in the following paragraphs.
Pre-treatment
Painting a concrete floor with floor coat Aquaplan sometimes needs a pre-treatment.
When you have new floors, you must first clean them well.
This is also called degreasing. Read here how you can degrease exactly.
New floors will first have to be sanded by machine. Do this with carborundum sanding discs.
If the floor has been coated before, you can sand with a Scotch Brite. Read the article about Scotch Brite here.
You will have to check beforehand whether your surface is suitable.
This means that the harder the floor, the better the result.
Sometimes a floor is finished with a leveling compound. This is then somewhat more vulnerable to point loading or mechanical damage.
When you have plastered a wall, you will have to apply a fixer. This is to prevent the suction effect.
When you're done sanding, make sure everything is dust-free before you start.
But that seems logical to me.
Apply coating paint to concrete floor
With a concrete floor that you are going to paint with floor coat Aquaplan, you must apply at least 3 layers.
This applies to new floors as well as floors that have already been painted.
For new floors: the first layer must be diluted with 5% water. Apply the second and third coat undiluted.
For floors that have already been painted, you should apply three undiluted coats.
Because the coating is water-based, it dries quickly. Make sure that you distribute the coating well and work quickly.
The ambient temperature is very important here.
Between 15 and 20 degrees is ideal for applying the coating. If it is warmer, you can quickly get deposits.
You can apply the coating with a roller and a synthetic pointed brush. You should take a roller with a 2-component nylon coat.
You don't have to sand between coats. Wait at least 8 hours before applying the next coat.
Do not forget to tape the skirting boards beforehand so that you can work quickly.
It is also easy to remove all doors so that you can easily access all rooms.
It is important that you work wet in wet so that you do not get a job.
If you follow this exactly, you can do this yourself.
Paint concrete floor with coating checklist
Here is a checklist for applying the Aquaplan coating:
New floors: Dilute the first coat 5% with water.
Apply second and third coat undiluted.
Existing floors: Apply all three coats undiluted.
Temperature: Between 15 and 20 degrees Celsius
Relative humidity: 65%
Dust dry: after 1 hour
Can be painted over: after 8 hours
Conclusion
As with any painting project, proper preparation and good quality paint is crucial.
Work systematically and you will soon be able to enjoy your own painted concrete floor for years to come.
Do you have underfloor heating? This is what you should take into account when painting a floor with underfloor heating
I'm Joost Nusselder, the founder of Tools Doctor, content marketer, and dad. I love trying out new equipment, and together with my team I've been creating in-depth blog articles since 2016 to help loyal readers with tools & crafting tips.