I love creating free content full of tips for my readers, you. I don't accept paid sponsorships, my opinion is my own, but if you find my recommendations helpful and you end up buying something you like through one of my links, I could earn a commission at no extra cost to you.
Learn more
"Painting wet in wet" the meaning and painting wet in wet with multiple techniques.
Wet in wet painting/painting is very important when painting the wood parts of your home.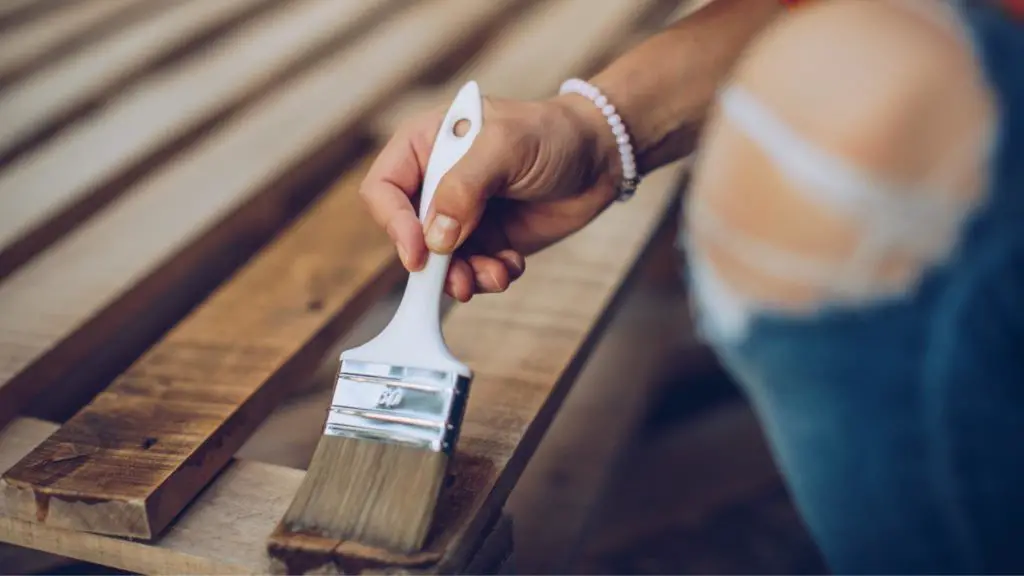 It is not only important for your wood parts, but also when applying latex to your ceiling and walls.
If you do not perform this technique properly, you can get deposits on your ceiling and walls.
I can also say it another way: you are bound to get incitements.
It's good handling a roller.
Often there is too much pressure with a roller, which causes deposits.
Or they are in a hurry and want to finish the job too quickly.
Actually, there is no need for that.
I always say just keep calm and calm.
In addition, you have a chance to win an orange effect in your oil-based paint or water-based paint
This is actually exactly the same.
You should let the roller do the work and not you.
That may sound arrogant, but it is true.
It's a matter of handling.
It's a technique you have to learn.
And if you really want to, you can do that too.
Patience is then a virtue.
Fortunately, there are tools to help you do that to make wet-on-wet painting easier.
In the following paragraphs I discuss its meaning, how you can paint wet in wet with latex, oil and acrylic paint.
I close with a checklist.
Wet in wet painting and its meaning
Wet in wet painting what does this actually mean.
Literally translated, this means that you are going to add a new coat of paint to the previously wet paint.
So you start painting in a certain spot and take a second dot of paint with your brush and brush this paint through that previous layer.
By applying this you get a nice and smooth end result.
If you would not do this and you wait too long, you will get a streaky effect.
You are then going to stir with your wet paint on a layer of paint that is already somewhat drying.
Or when you roll with a roller through a paint that is already drying somewhat, you get the so-called orange effect.
Painting in wet with oil paint and acrylic paint
Painting in wet with oil paint and acrylic paint both require a separate technique.
First, when painting, you need to consider temperature and relative humidity.
The temperature should be between 15 and 20 degrees and the RH should be about 65%.
With that knowledge you start painting objects.
It's about hand drying time.
This is the time between the application of the paint and the beginning of the drying process.
With some paints, this time is a bit shorter and then you have to make sure that you work a little faster.
This is sometimes quite difficult.
Fortunately, there are tools to slow down hand drying time.
One of those tools I sometimes work with is Owatrol oil.
With this owatrol the hand drying time is slightly delayed leaving enough time to allow wet on wet painting.
This prevents brush strokes and the orange effect.
You can only apply this addition to alkyd paints.
A special acrylic retarder is available for acrylic paint.
Its function is to delay the open time in order to prevent incrustation.
Wet painting with latex
Wet painting with latex also requires a special technique.
Especially when whitewashing a ceiling, it is important that you do not get deposits.
If a ceiling consists of so-called sandwiches, it is still doable.
These are strips of concrete that have a width of 120 centimeters.
If the ceiling is 1 complete, you will have to work quickly.
This also applies to the open time.
That's the time from when you apply the latex to when the drying process begins.
Fortunately, there are also retarders in circulation for this.
The retardant that I have had good experience with is floetrol.
This floetrol increases your open time enormously without getting any incrustations.
If you add ten percent is already enough.
Do you want to know exactly how to whiten a ceiling?
Click here for information.
Wet in wet painting and a checklist.
Wet in wet painting and a summary:
is always a must
meaning: you add a coat of paint to a wet coat
add alkyd paint: owatrol
add acrylic paint: acrylic retarder
add latex: floetrol
avoid additives; brush bars and orange effect
Do you have any questions about this article?
Or do you have a nice suggestion or experience on this subject?
Then leave a comment below this article.
I would really love this!
We can all share this so that everyone can benefit from it.
This is also the reason why I set up Schilderpret!
You can comment under this blog or ask Piet directly
Thank you very much.
Pete deVries.
@Schilderpret-Stadskanaal.
I'm Joost Nusselder, the founder of Tools Doctor, content marketer, and dad. I love trying out new equipment, and together with my team I've been creating in-depth blog articles since 2016 to help loyal readers with tools & crafting tips.