I love creating free content full of tips for my readers, you. I don't accept paid sponsorships, my opinion is my own, but if you find my recommendations helpful and you end up buying something you like through one of my links, I could earn a commission at no extra cost to you.
Learn more
You can make pergola yourself and you can also give pergola a color.
Before I give you some tips on how to fabricate and paint a pergola yourself, I will first explain what a pergola is.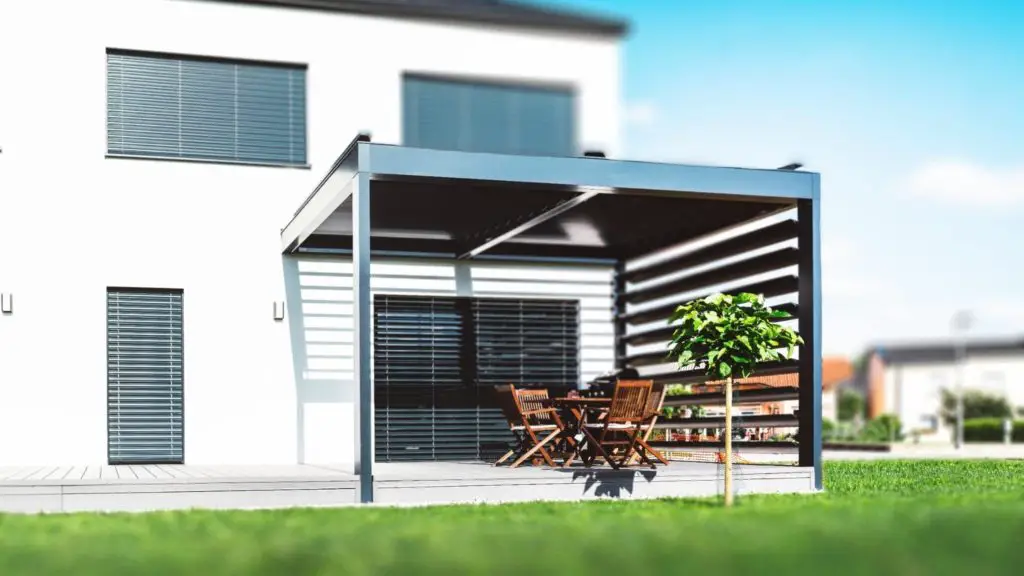 Actually it is very simple.
Slats made on poles.
And that is usually in a garden.
Or should I say a construction of several slats mounted on high poles.
The advantage of a canopy is that it gives your garden an embellishment and you can hang beautiful flower boxes or grow plants around it.
The main thing is that you choose a plant that grows quickly.
A pergola has a function.
In addition to the embellishments mentioned above, it also has another function.
You can make it between two walls and then let it grow full of plants.
With this you create shade above your terrace.
It then functions as a kind of roof where you can relax in warm weather.
In addition, you have nature right above your head and you see the flowers and plants with their fresh colors.
What is also widely used is a canvas of linen that is hung between the posts.
With this you also create a shade above your terrace.
It also serves as a connection between two walls.
Often see a grape plant growing around it, which can also create a shadow effect.
What wood should you use.
You are now wondering which type of wood you should use to realize this.
I always say it depends on your wallet.
It also depends on what quality you want of course.
And that comes with a price.
In other words, the better the quality, the more expensive it becomes.
A wood with a better quality is of course always advantageous.
After all, you need less maintenance.
Just think of banking.
This is a very hard type of wood and you hardly need to maintain it.
The wood that is often used is often pine or wood from a chestnut tree.
These are of course impregnated against mold and wood rot.
Then they get a kind of wax treatment.
This prevents cracks in your wood.
However, you must then treat the woodwork with a stain or lacquer.
A canopy   you can make yourself.
If you are a bit handy you can assemble a gazebo yourself.
You will have to make a plan or drawing beforehand where you want it.
This means that you have to measure what space you have available to realize the pergola.
This does not have to be a professional drawing.
A sketch is enough.
Then you will see how much material you need to make it.
Of course you can go shopping on the internet, but I think it is wise to go to a do it yourself store.
You then know what to buy and you have it immediately at home.
If you are not that handy yourself, there is always a neighbor or family member who can help you with that.
You can also outsource it, but that can become expensive.
There are plenty of sites on the internet that explain in great detail how to make a pergola.
Among other things, chore has an online explanation about how to do this.
Or you go to Google and type in: make your own pergola.
You will then have plenty of choices.
How should you treat a trellis?
Of course you also have to treat a trellis.
Of course it depends on the type of wood and the quality.
This wood is often impregnated and can be used for a year for the time being.
You have to wait at least a year because only then the substances have worked out.
Read the article about painting impregnated wood here.
If you want to pay a little more, there is a paint that I only just knew existed.
This paint is called Moose farg.
You can use this right away.
Read the article about Moose farg here.
The maintenance.
You should definitely keep an eye on the pergola.
You have to think about what you want beforehand.
If you want to continue to see the structure of the pergola, you will have to use a transparent paint.
The best thing to use for this is a stain.
A stain is moisture regulating.
This means that the moisture can get out but not get in.
You can then choose a colorless, semi-transparent or opaque stain.
You will then have to perform maintenance every two to three years.
When you do this, your canopy will remain in top condition!
Do you have any questions about this article?
Or do you have a nice suggestion or experience on this subject?
You can also post a comment.
Then leave a comment below this article.
I would really love this!
We can share this with everyone so that everyone can benefit from it.
This is also the reason why I set up Schilderpret!
Share knowledge for free!
Comment here under this blog.
Thank you very much.
Pete deVries.
P.s Do you also want an extra 20 % discount on all paint products from Koopmans paint?
Visit the paint store here to receive that benefit for FREE!
@Schilderpret-Stadskanaal.
I'm Joost Nusselder, the founder of Tools Doctor, content marketer, and dad. I love trying out new equipment, and together with my team I've been creating in-depth blog articles since 2016 to help loyal readers with tools & crafting tips.