I love creating free content full of tips for my readers, you. I don't accept paid sponsorships, my opinion is my own, but if you find my recommendations helpful and you end up buying something you like through one of my links, I could earn a commission at no extra cost to you.
Learn more
With multiple names and multiple functions, wet/dry vacuum cleaners are one of the major machines for cleaning. It is not every day you purchase a vacuum cleaner, but if you have finally decided to own one, you have come to the right place to obtain an exceptional model.
As for this Ridgid VAC4010 Review, you will able to garner information about your desired option in detail. Most importantly, you acquire both convenience and reliability with this product. Unlike many other options, not only does this wet/dry vacuum cleaner provide a soundless execution, but it also exhibits a rigorous suction power.
Heck, if you are worried about the dirt and debris accumulating in your carpet or car, this beast is ready to take care of it all, and in turn, offer you a relaxed and cozy area. There is no compromise in any aspect of this machine whatsoever.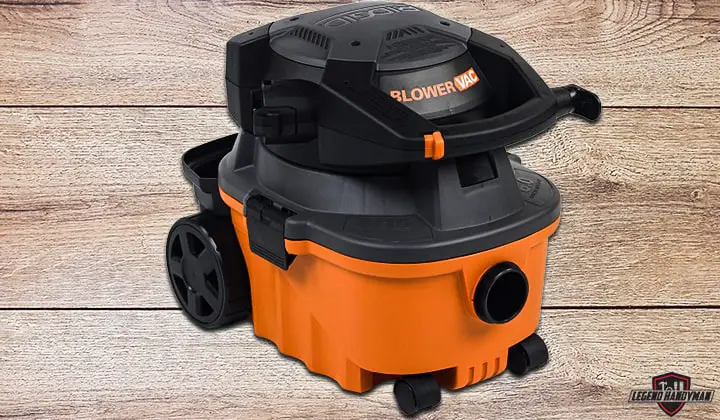 RIDGID Wet Dry Vacuums VAC4010 Review
There comes a time in everyone's life when you make a hasty decision, and sometimes, if you are in luck, the decision works in your favor. However, it is ideal to have minimum caution before purchasing something anew.
Regarding the wet/dry vacuum cleaner in question, many people can vouch for it that you are walking on the right path to make an ideal decision. After going through substantial research and reviews, this article is here to help you with the purchase.
Without any further delay, let us skim through the most vital features that set this product apart from the rest of the model.
Maneuverability
Before getting into the technical details, you must understand the importance of mobility in a vacuum cleaner. In order to demonstrate optimal functionality, this wet/dry vacuum has been made compact but mighty. This results in increased portability along with the rise of inconvenience.
Have you ever been an unfortunate owner of a vacuum without wheels to navigate it around? Well, let us just say you are not the only one. It is quite hard to operate a vacuum cleaner without the inclusion of wheels, and as for this model, you procure wheels that ensure further maneuverability.
Moreover, for your utter satisfaction, the vacuum cleaner also includes a long and lengthy cord, which helps you reach tight and confined places without any effort. The cord is approximately 8 feet in length, and the diameter is 1-7/8 inch. Not only does the hose ensure superior mobility, but it also displays a strong and durable façade compared to a regular hose.
Suction Power
While you may already be impressed with the qualities of this machine, but the endless features do not end here. With an engine of 6 peak horsepower, you cannot possibly assume the power of the suction strength.
Therefore, when it comes to getting rid of the dirt and debris out of your carpet or floor, the machine swoops all in and right out of your visible sight. If you are welcoming guests anytime soon, not only will you have a clean and spotless home, but you can also clean effortlessly afterward.
Capacity
When it comes to capacity, what most customers need is a large and spacious tank that allows you to do your job in one go. Sometimes even the high-end, unreasonably expensive vacuum cleaner does not consist of moderate capacity. And that folks, is such a deal-breaker.
In regard to this particular wet/dry vacuum cleaner, you have the capacity of 4-gallon worth of dirt, debris, and liquid spillage. That suggests, you no longer have to worry about emptying your tank anytime soon. If you are too lazy, you can go for days without unloading it, which is not highly recommended.
Blower
Are you a proud owner of a vacuum cleaner that can transform itself into a blower? Do you want to be? Then here is your chance, because this specific model in question does this incredibly handy conversion for you.
Since you are already aware of the power, the machine holds. Then by simply turning it into a handheld blower, you can get rid of all the fallen leaves in your patio, which has been accumulating for over days. Clean and tidy is the motto for this product. Furthermore, the transformation is made easier by the ergonomic design of the machine.
Further Advantages
Before you make the decision to buy a wet/dry vacuum cleaner, remember it requires plenty of additional accessories. With that being said, you also need an ideal place to store these accessories. This particular product offers a storage caddy that allows you to securely hold onto your stuff.
The vacuum also incorporates Patented Qwik-Lock filter, which allows you to make quick and easy filter changes at your convenience. For instance, you immediately need to change the filter to a foam sleeve due to liquid spillage, fret not, it will take you just a moment before you take down your enemy.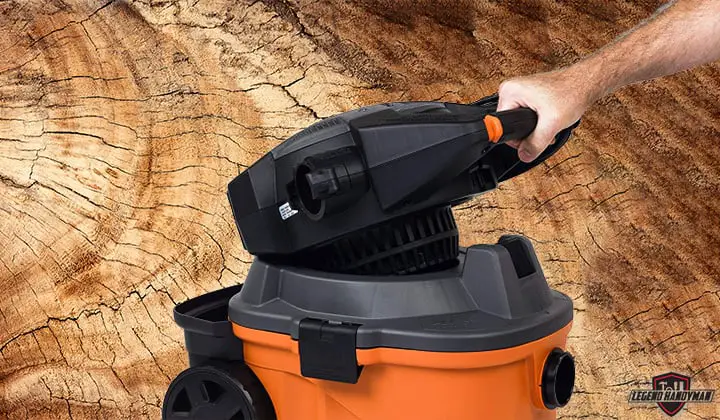 Pros
Less pricey and affordable
Increased mobility
Patented Qwik-Lock filter
Generates rigorous power
Cons
The hose is too long
Leaves a mess behind
Frequently Asked Questions
To enlighten you with further knowledge, let us indulge in a few of the frequently asked questions by many.
Q: How do I use my shop vacuum as a wet vacuum?
Ans: Follow three very simple steps; the first one is empty your tank, the second step is a replacement of the filter to a filter associated with a wet vacuum, and the final step is connecting the water removal accessory.
Q: What happens if you use a wet/dry vacuum without a filter?
Ans: It will result in a short lifespan, which means using the vacuum without filter hampers the motor's performance.
Q: How much water can a wet/dry vacuum handle?
Ans: As much as you want, however, if the capacity of the vacuum is filled, remove the content inside and then go ahead with the machine again.
Q: Can I vacuum drywall dust?
Ans: Yes, absolutely, however, you should remain cautious with the power since if you apply too much power, the fine drywall dust will scatter everywhere.
Q: Do Ridgid wet/dry vacuum have a lifetime warranty?
Ans: Yes, Ridgid does, they offer you a lifetime warranty. That is the amount of faith they have on their product.
Final Words
After all, is said and done, you should have enough knowledge by now about this particular wet/dry vacuum cleaner. In this exclusive Ridgid VAC4010 Review, you will get to know about the superior quality and robust performance the vacuum cleaner offers. Let us hope; you have finalized your decision.
Related Posts Dewalt DCV581H Review
I'm Joost Nusselder, the founder of Tools Doctor, content marketer, and dad. I love trying out new equipment, and together with my team I've been creating in-depth blog articles since 2016 to help loyal readers with tools & crafting tips.