I love creating free content full of tips for my readers, you. I don't accept paid sponsorships, my opinion is my own, but if you find my recommendations helpful and you end up buying something you like through one of my links, I could earn a commission at no extra cost to you.
Learn more
How do you determine the power of a shop vac? Do you look at the performance? Durability? Or value? Now, in this Shop-vac 90107 vs. 90137 article we are not going to go over the actual units themselves.
Instead, we are going to compare two popular vacuums filters and compare them head to head and see which one sucks. Get it? Sucks?
There are a couple of different shop vac filter models on the market, some costing more than the other. However, these two by far are the most popular sellers out there.
The Shop-Vac 9010700 and the Shop-Vac 90137 are both reusable dry filters that are ideal for dry pick up only. They both come in a set of 3 filters, and only one of them will last you a lifetime.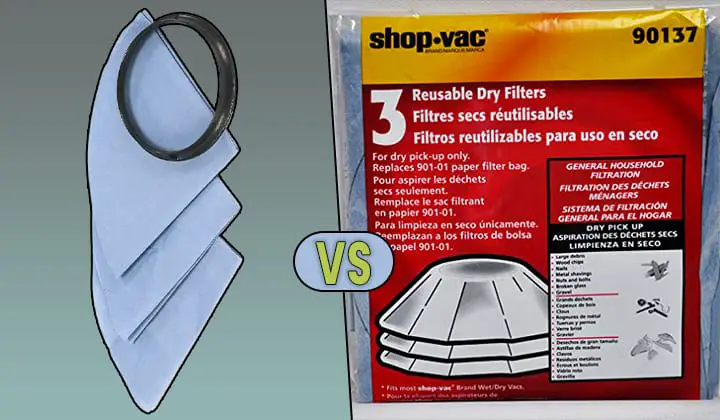 Before I compare them, let me tell you a cool story first. There is this person called Shirley Morris, who owns a wet/dry vac. She got it from her two children back in 1992 as a Christmas gift.
After 24 years of use, the filter inside her shop vac wore out. Fast forward to 2016, she googled the part number, and to her surprise, the filters are still in the market.
That goes to show you how great these filters are. Manufacturers are still using the same filter in their current models. When vacuuming fine materials like sawdust, it is absolutely necessary that you use these filters.
They prevent the dust from getting out through the exhaust pipe and into your lungs (which is really bad for your health).
Shop-Vac 90107 Vs. 90137 | Battle Of The Filters
While both of them might look the same and have the same function, there are some slight differences. Before you buy any of these, check your part number, your owner's manual, and see if they are compatible.
Now, long story short, both of these filters are identical in terms of their performance. At least it seems like the filters are the same, but there is one thing that you should keep in mind.
The 9013700 (T) doesn't come with a retaining ring, while the 9010700 (S) does. With that out of the way, let us have a look at both of these shop vac filters.
Shop-vac 9010700 Reusable Dry Filter Review

First of all, if you are buying this online, you will need to enter the model number of your shop vac to ensure this filter will fit. Now, as for the filter itself, this one is a reusable dry filter that you can use over and over again.
Ensure that you have a 90585-foam sleeve, or else you won't be able to use it. Since it comes with its own mounting ring, you won't have to buy one separately. With purchase, you will get three of these reusable disc filters.
This means you will saving money and won't have to worry about buying new filters for another decade. The mounting ring for this filter makes it easy to pick larger dry material and debris. It also makes for easy installation and usage.
With these economical shop vac filters at your disposal, you won't have to make frequent trips to your local store every now and then. These filters are made to last.
If your wet dry 5 gallon and above, these will fit. They are designed to fit most shop-vac brands out there. You can even cut it or trim it down to fit the smaller shop vacs.
Now, if you have a smaller shop vac like a 1-gallon model, you won't be able to use these filters. The plastic ring that it comes with is too big to fit in a one-gallon micro shop-vac. However, thanks to the simplistic design of the filters, you can use them with some ingenuity.
Shop-Vac 3 Reusable Dry Filters 90137 Review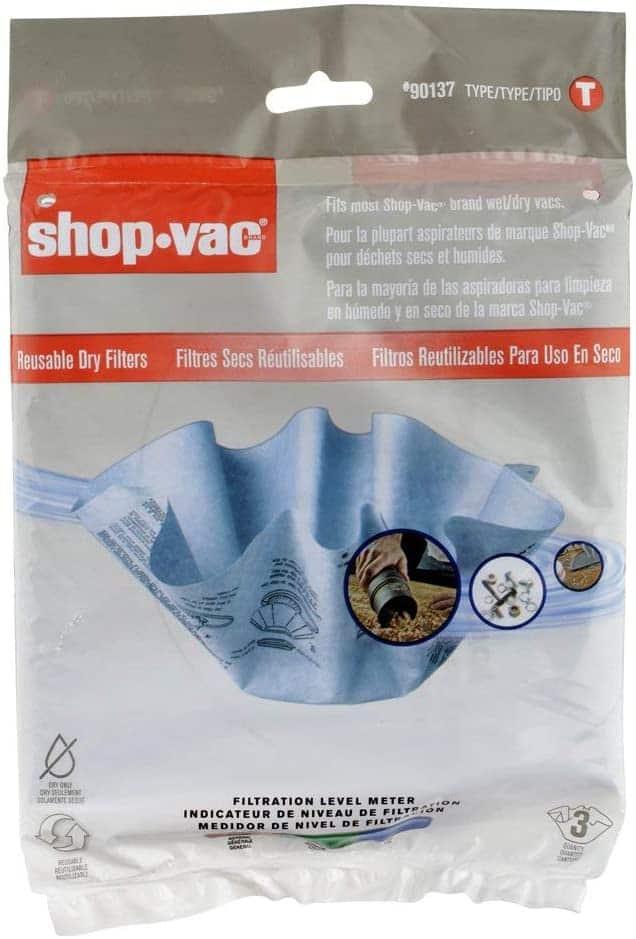 This, too, is a reusable dry filter designed to fit most shop vacs. However, this one doesn't come with the elastic retainer—the purpose, or should I say the intended purpose of these filters in general household dust. Don't go thinking that these will be suitable for sucking up fine wood dust.
It is for dry pick up only, and if you want to pick up nails, wood chips, metal shavings, gravel, broken glass, or nuts and bolts, this will be perfect for those applications. If you have a 901-01 paper filter bag, this is the perfect replacement filter for your wet dry shop vac.
Now, one thing to note is that the Shop-vac 9010700 filter has a hard time fitting inside a small shop vacuum. However, this one is perfect for a small shop vac. It's a good filter at a great low price. If the model you have is compatible with this filter, you won't have to worry about fitting.
The quality is similar to the OEM filters and fits perfectly. If you are in desperate need of a new filter for your shop vac, look no further than the Shop-Vac 3 Reusable Dry Filters 90137.
Another thing you should keep in mind is that you can use these filters with or without filter bags. Because, for medium to larger sized debris, you are not required to use a collection bag. A reusable paper filter will do.
On the other hand, if you use your shop vac to pick fine debris, you will a HEPA collection bag and filter that is designed to work with a high-efficiency filter bag.
For the best vacuuming results, make sure you have a filter bag installed and use a reusable dry filter over the vac's foam sleeve. This way, there won't be any visible dust getting exhausted into the air.
Final Thoughts
Between the Shop-Vac 90107 & the Shop-Vac 90137, there isn't that much of a difference. Simply ensure that the filter is compatible with your model, and you are good to go.
Just make sure you have a retainer ring. And if you don't have one, go with the 90107 as it comes with its own retainer ring. Since these shop vacs filters are reusable you can clean the filters and use again if it gets clogged. So, these are economical products too.
I'm Joost Nusselder, the founder of Tools Doctor, content marketer, and dad. I love trying out new equipment, and together with my team I've been creating in-depth blog articles since 2016 to help loyal readers with tools & crafting tips.