I love creating free content full of tips for my readers, you. I don't accept paid sponsorships, my opinion is my own, but if you find my recommendations helpful and you end up buying something you like through one of my links, I could earn a commission at no extra cost to you.
Learn more
I used to want nothing to do with Action paint.
But then more and more friends and family started working with Action paint. And I have to say that their projects looked really good.
So I went to get a can of paint of Spectrum myself, right here online!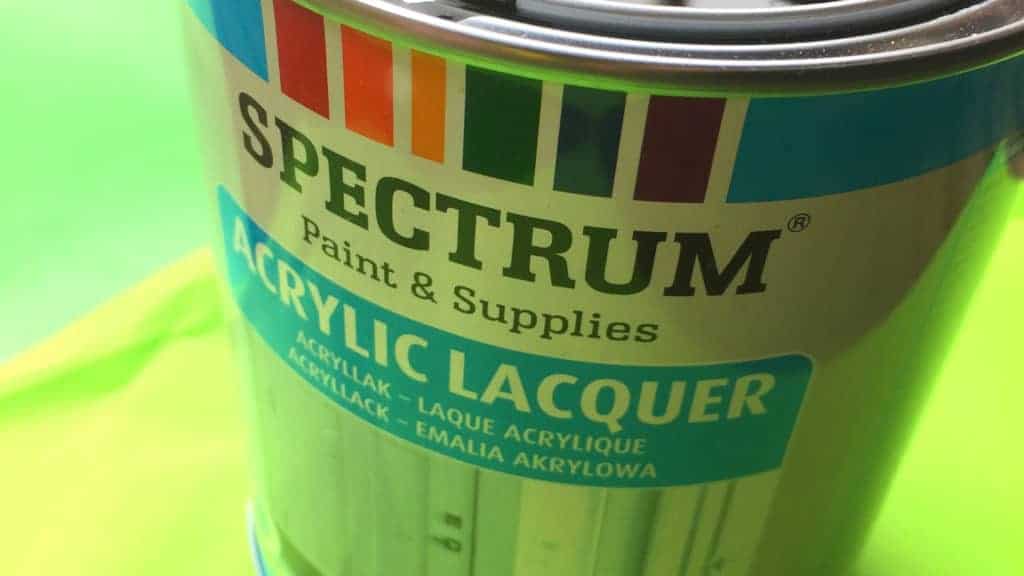 It sure is cheap! But is it also good paint?
All in all, Action paint is fine to use. The big plus, of course, is that it's so cheap. If you don't have much to spend on paint and you start working with it indoors, it's doable. However, if you want to paint outside, it is better to buy a quality brand.
Today I'll go over the Action's paint in detail, explain why you should or shouldn't buy it, and share my final verdict with you.
Action paint and the price differences
Action paint is known as cheap paint.
Indeed, there is a big price difference compared to the well-known quality paint brands.
Even cheaper than the hardware stores paint brands such as Gamma paint or Praxis paint.
The price is not always an indicator of the quality of the paint. A manufacturer determines the price based on how much paint it thinks it will sell at a given price.
If the composition remains the same for years and the quality does not deteriorate, you can ask higher prices.
The range of Action's Spectrum paint consists of a select number of solid colours. If you want to mix a specific color, you cannot go to Action.
There are many regular hardware stores where you can go for this.
Also with an Action paint you need to make good preparations before you start with the lacquer paint.
The order you have to follow is;
degrease with an all-purpose cleaner
to sand
dust free
topcoat
Also read: How many liters of paint per m2 do you need to paint?
Action paint and the range (Spectrum paint)
Action paint is from the Spectrum brand, as is the range here if you want to buy online.
Assortment Action paint
Different types of paint are available:
wall paint
spray paint
acrylic lacquer
alkyd lacquer
primer
Concrete floor paint
Multi-primer
blackboard paint
chalk paint
Varnish
multi-varnish
metallic paint
wood lacquer
furniture varnish
Anti-rust and primer
So a whole selection! In addition, you can also get all the paint accessories you need at the Action, such as rollers, brushes, paint trays, paint cleaner and white spirit.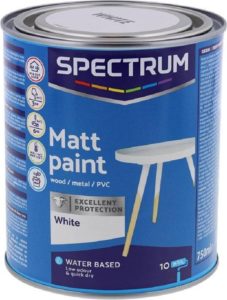 Also read: Storing brushes for a short and longer period of time: This is how you do it
Cheap and of reasonable quality
Foroften a very low price, you have everything you need for a painting project.
When I started working with it, I had to admit that the paint flows well and also covers well.
The end result looked so fine at first glance, nothing to complain about.
And yes, the price is of course great, almost no other brand can compete with that.
All in all, Spectrum is an inexpensive paint brand that paints fairly well.
I must say that when you open the can, the Spectrum paint smells a lot stronger than other brands I paint with.
Time will also tell whether the quality will remain good in the long term.
Well-known brands, such as my favorite Koopmans paint, have long proven themselves and you know what you are getting.
A better alternative to Action paint
Action paint is therefore of reasonable quality, but a better alternative to Action paint is Koopmans paint.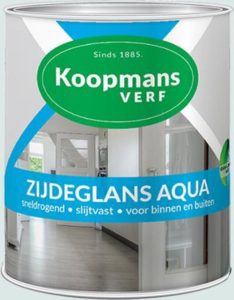 Click here for the range of Koopmans paint
Koopmans paint has an excellent price-quality ratio and is recommended by many painters.
Quality paint will last longer, especially if you paint outdoors. Due to the UV filters in more expensive paint, the layer will be more resistant to the elements.
Other good paint brands that I like to work with and that I also recommend are:

Sikkens paint
Sigma paint
History paint
Drost paint
Conclusion
With all due respect for Spectrum paint, I will continue to paint for my own customers with my own well-known brands.
This is based on years of experience and good service. I like to do my job right the first time.
But if you are not that wide, I can imagine that Spectrum paint is a solution.
I would like to know who else has painted with Action paint and what your experience is with paint from the Spectrum brand that is available at the Action.
Let me know by leaving a comment below this article so we can all share!
You can also save on your painting projects by buying paint on sale
I'm Joost Nusselder, the founder of Tools Doctor, content marketer, and dad. I love trying out new equipment, and together with my team I've been creating in-depth blog articles since 2016 to help loyal readers with tools & crafting tips.