I love creating free content full of tips for my readers, you. I don't accept paid sponsorships, my opinion is my own, but if you find my recommendations helpful and you end up buying something you like through one of my links, I could earn a commission at no extra cost to you.
Learn more
Are you having trouble operating the vacuum cleaner at your home? Does it seem too rusty and incapable of handling all the dirt lying around? Do you refuse to clean up after yourself and leave the job to your vacuum cleaner? Well, you are not alone, and you are in the right place.
Since you already decided to get rid of that junk in your basement, you need something better and superior. For one, in this Armor All AA255 Shop Vacuum Review, you will get to know a compact yet phenomenal machine that significantly takes care of all your dust and debris.
Moreover, the rigorous engine generates enough power without contributing to noise pollution. Not only that, the wet/dry vacuum cleaner can be turned into a blower, which helps plenty while cleaning up your driveway. Being small with vigorous power is not the only characteristic of this vacuum.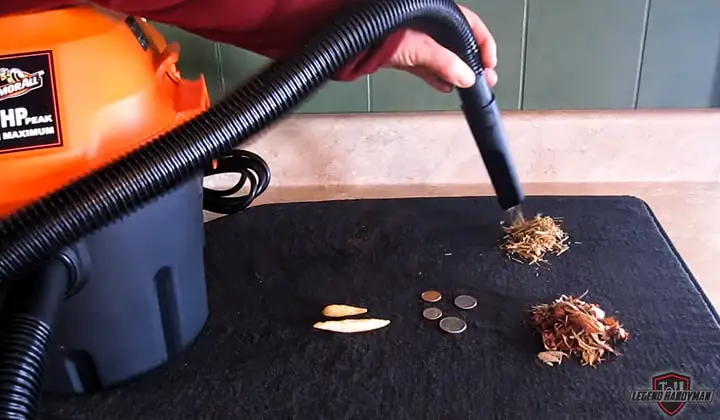 Features & Benefits
Who does not want their house or workspace spotless and clean? Would you rather sleep in a dirty place? No, if you are unable to clean your area yourself, you direly need the help of a vacuum cleaner.
Before you jump to make a quick purchase, you need to get familiar with the features that give the machine its unique tag. However, to spare you the trouble of going through several untrustworthy reviews and garnering unprecedented knowledge, this article is here to help you.
Spacious Tank
You cannot say no to a spacious tank when it comes to a vacuum cleaner. Regarding the particular vacuum in question, it offers 2.5 gallons of tank space, which can collect all your dirt and debris properly without having to worry about constantly emptying the tank.
Furthermore, the tank is constructed with polypropylene material that ensures resistance to chemicals. Besides, it is the perfect vessel for holding onto liquid spillage. Also, the wet/dry vacuum cleaner incorporates strong latches that firmly eliminate any spillage of contents from the tank.
Filter
As you are well aware of the importance of filters in a vacuum, it is quite necessary to remain extra cautious concerning filters. Although, in regards to your specific choice in vacuums, you have two options when it comes to the filters, which will satisfy you.
To pick up all the debris, dirt, and hair from your floor, you will need the cloth filter, which assists you greatly while you suction away the particles. The cloth filter works remarkably well when it comes to dry particles. As for the liquid spillage, you will need the foam sleeve that is included with the vacuum cleaner.
Power
Some great author once said, "Your great power lies not on the surface, but deep within your being." With that being said, you must indulge in the motor of this particular vacuum cleaner, which generates all power.
The motor of the wet/dry vacuum cleaner holds six amperages of power with a peak horsepower of 2. This factor concludes that despite having a small and compact appearance, the vacuum is capable of accumulating strong performance.
The airflow of the vacuum is considered an exceptional case since it generates 53 cubic feet per minute. It is powerful enough to cleanse away hard-to-get-rid-off particles. Even though the suction force is substantial, but due to the addition of a diffuser, virtually the vacuum is soundless.
Compact & Lightweight
As far as storing the vacuum cleaner is concerned, you simply do not have to worry about it, since at just 7 pounds, it can be easily moved around places. When mobility is concerned, the machine does not fall short in exhibiting its true potential.
Additionally, the size of the product is comparatively smaller than the rest of the models available in the market. The length of the vacuum is about 14 inches, while the width is just 10 inches.
Six Tools
The manufacturer is all about flattering you with several beneficial aspects, and one most important detail is the six attachments that come along with the vacuum, perhaps you should denote it as six important aspects.
The six tools ensure satisfactory as well as greater convenience. Most significantly, the dual function method gives you the liberty to clean more efficiently. To clean the fine parts, the vacuum includes a detailing brush.
Subsequently, to make sure you reach the cramped places and clean thoroughly, the product also includes a crevice wand. Moreover, three different nozzles come with this model, the first one being the utility nozzle, the second converts the vacuum into the blower, and the third nozzle is made just for vehicles.
Also, the wet/dry vacuum cleaner provides a hose, which has a length of 6 feet and a diameter of 1.25 inches. This factor suggests that you can easily reach tight spaces and clean meticulously.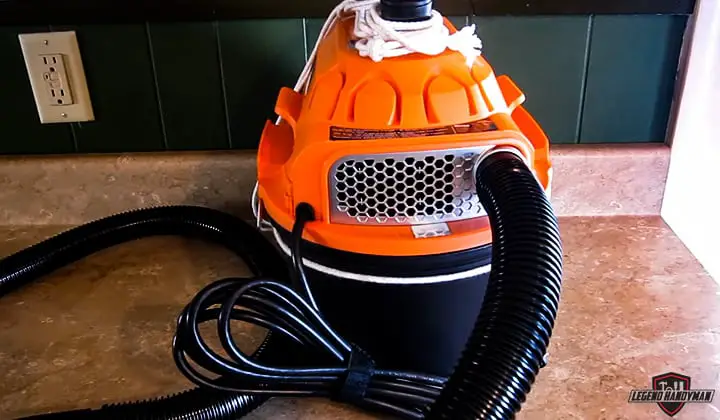 Pros
Small but mighty
A large tank with secure latches
Strong airflow
Dual filters
Powerful & robust performance
Cons
Not enough suction power
The filter is of cheap material
Frequently Asked Questions
Before you make the purchase, make sure to find the answers to all your questions, including the most asked ones. Let us look at a few of the frequently asked questions.
Q; How well does it pick up dog hair?
Ans: Well, this vacuum is simply made for picking up dog hair. It is capable of taking care of the fine dog hair lying all over your floor and carpet.
Q: Does it work with 220V or only 120V?
Ans: Unfortunately, it only works with 120 volts. You cannot work it with any other voltage apart from its designated one.
Q: Can I get a HEPA filter for this?
Ans: No, you cannot, you can use a cloth filter for dry dust and dirt or a foam sleeve for wet areas, but it does not allow you to use HEPA filter.
Q: Would this vac do a good job of cleaning up leaves from the patio?
Ans: This is where the blower segment comes into action. You can blow away all the fallen leaves from your patio by simply converting the machine from vacuum to blower.
Q: How loud is it?
Ans: Considering the number of features this wet/dry vacuum cleaner holds, it is not loud at all.
Final Words
We have arrived at the end of our journey. This Armor All AA255 Shop Vacuum Review is destined to come in your path so that you can finally obtain a remarkable yet exceptional vacuum cleaner. Not only does it provide you with optimal power for cleansing, but it also comes at an affordable price. 
Related Posts Dewalt DCV581H Review
I'm Joost Nusselder, the founder of Tools Doctor, content marketer, and dad. I love trying out new equipment, and together with my team I've been creating in-depth blog articles since 2016 to help loyal readers with tools & crafting tips.