I love creating free content full of tips for my readers, you. I don't accept paid sponsorships, my opinion is my own, but if you find my recommendations helpful and you end up buying something you like through one of my links, I could earn a commission at no extra cost to you.
Learn more
As someone who owns a pet, you likely love your pet unconditionally. What makes pets so infuriating, though, is the trail of mess and debris that they deliver on a near-daily basis.
Even the most hawk-eyed home cleaner can find themselves chasing after pets tidying up hair time and time again.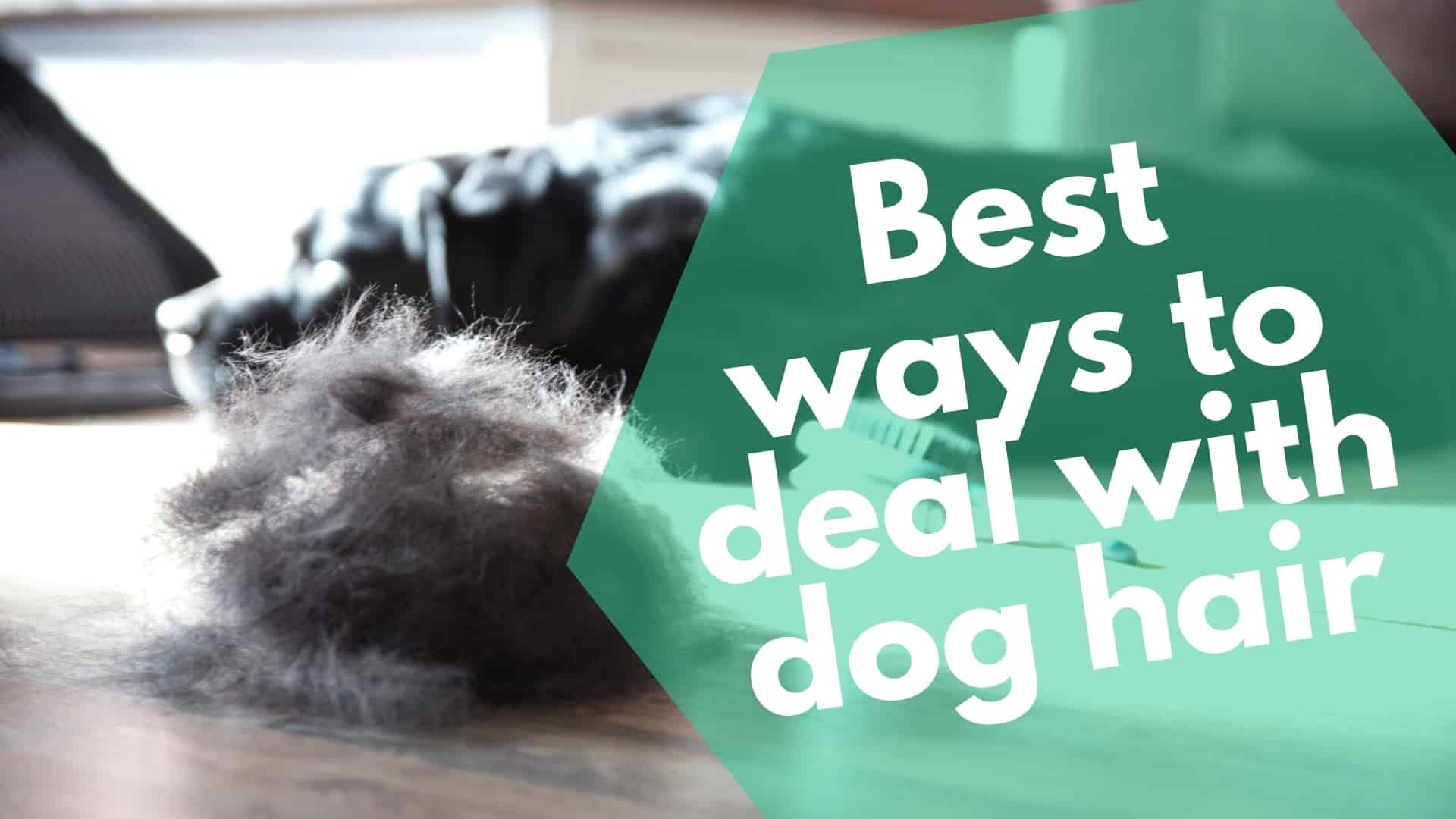 While you can easily vacuum up hair, we wanted to help you get a better idea of how to best go about dealing with pet hair in a simple and stress-free manner.
Cleaning up pet hair means dealing with it everywhere; the floor, furniture, clothing, bedding, etc.
While it's not as big a deal in your car, it still pays to get rid of the problem. Your best option is to furiously vacuum each hair until it finally comes off.
But, what other solutions make sense when you want to get rid of pet hair without any of the usual irritations?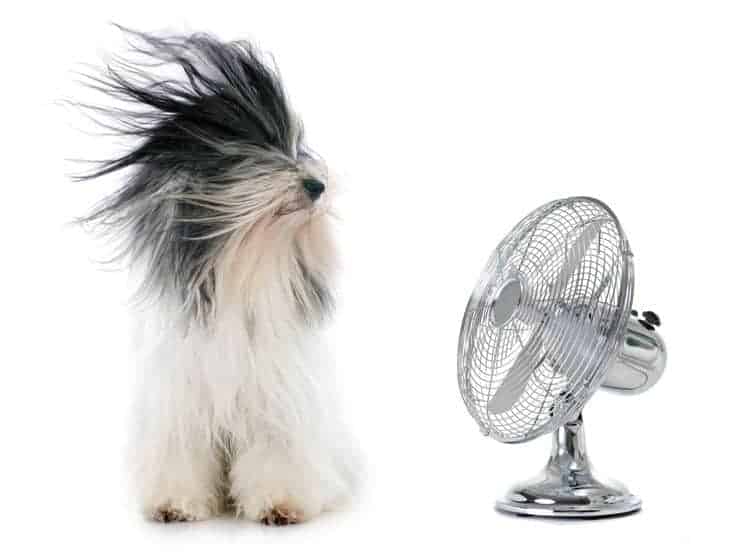 Let's take a look at all your best options, after that I'll get into a little more detail about each of these solutions:
Why it's good to clean up pet hair
Pet hair can cause all kinds of allergic reactions if it accumulates in your home. Many people are allergic to pet fur and this causes all sorts of symptoms. Pet hair can "precipitate respiratory allergy from allergic rhinitis to bronchial asthma". As well, pet hair can carry certain types of bacteria that cause infections in humans.
For those reasons, it's a good idea to keep your home clean and remove pet hair from clothing, furniture, and floors regularly. And as hard as it sounds, it's actually not, because there are so many tools that make cleaning easy.
How to Get Rid of Pet Hair
One of the best ways to handle pet hair is to get the vacuum and also a brush. You can use the brush to forcibly knockdown to the floor any pet hair that won't lift with the vacuum. Between both items, you can usually do the majority of the heavy cleaning. Sometimes, though, you can find that this is not quite enough to get rid of all that excess pet hair.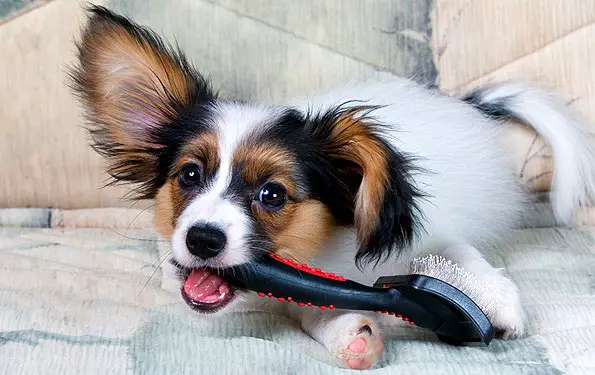 Instead, we recommend that you consider dealing with pet hair by using a brush on the pet itself. Regularly brushing the hair of your pet is far more likely to get rid of lots of the excess, meaning that when they lie around the place it is not getting so messy. Taking your pet for regular grooming is a good choice, too, as it can easily lift up all the debris that they leave behind. If you lack the time to manage to brush on your own, then hire a groomer to do it for you.
If your pet has got onto the upholstery and has left it too hard to brush down or vacuum, then invest in a tape roller. You simply roll this up and down the item, making sure that you can easily lift as much of the mess from the upholstery as soon as possible. It works well for clothing, too.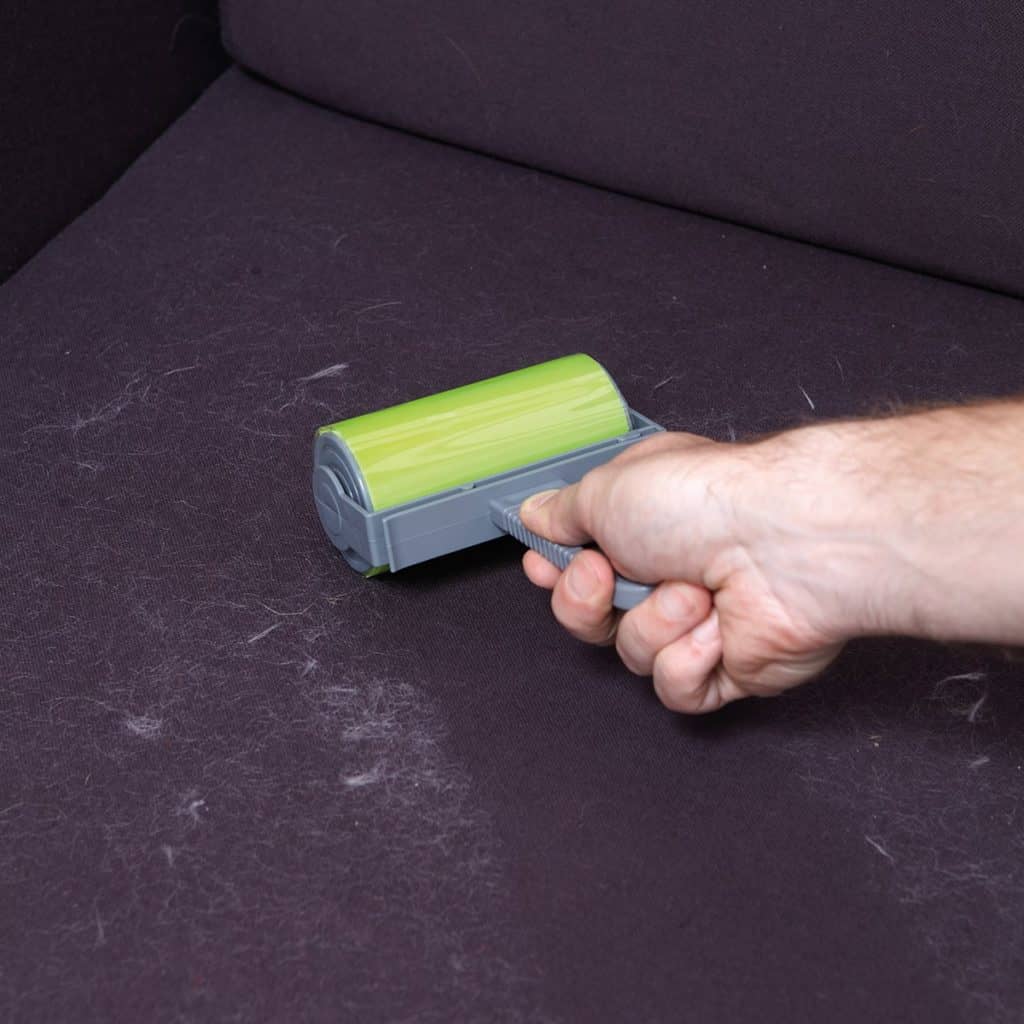 Change the Bedding Often
In terms of dealing with pet hair, another good choice for handling the issue is to invest in some 'spare' bedding. Then, lay this on top of the areas where your pet seems to lie around the most. This acts as a blanket and a shield to help collect all that hair, then just wash it once-twice per week to keep it hair-free.
Using the ideas above, you should hopefully be able to turn around the problematic feature of handling pet hair being all over the place. In time, these ideas should help to limit the mess and frustration caused.
Groom Your Pet
If you groom your pet regularly, it doesn't shed as much. The best way to stop excessive shedding is through frequent grooming, including washing and brushing. Did you know that "combining daily brushing (especially recommended outside) with monthly grooming can be very beneficial? Brushing on a regular basis makes a big difference."
It's easy to groom your pet. Use pet gloves, pet brushes, and durable combs outdoors and remove any loose fur and excess hair. Your pet will thank you for it because it feels like a massage and helps stop itching.
What's the easiest way to remove pet hair?
Our best solution for removing pet hair is a good vacuum cleaner, specifically designed to remove all the pet hair on all surfaces. The BISSELL Cleanview Swivel Pet Upright Bagless Vacuum Cleaner is an affordable vacuum cleaner you can use all over the home for all the vacuuming tasks. But, this specific cleaner is designed to be extra tough on pet messes and pet hair, therefore it's the perfect vacuum for your home. 
Since it has a triple action brush roll, it can remove all those small hairs that seem to stay stuck in the carpet and upholstery fibers. The vacuum cleaner also comes with a special pet hair corner tool for those hard to reach areas.
In this article, we are going to share many pet hair removal solutions, and if you don't want to invest in a new vacuum cleaner, we've got many other options for you. After all, you need a vacuum cleaner that's good with pet hair, but also doesn't cost a fortune.
Cleaning Up After Pets Using a Vacuum Cleaner
Pets such as cats and dogs are remarkable to have around, however, it has to be admitted that some breeds shed lots of hairs.
Not just this, but pet hair makes your home messy and dirty, and it could also result in various kinds of illnesses as well as allergies. If you find yourself sniffling and sneezing all the time, it's time to take care of one of the primary causes; pet hair!
This doesn't necessarily mean that you need to live without your beloved pets, you can deal with the issue through investing in the best hair pet vacuum cleaners on hand in the market today.
There's a growing awareness of the health and hygiene issues caused by pet hair. As a result, there are lots of specialized vacuum cleaners on hand on the market at this point in time. These are relatively different from conventional vacuum cleaners in a variety of ways. Let's take a look at why using a pet-inspired vacuum cleaner can make so much sense, and save so much time.
The Power of Pet Vacuum Cleaners
When you have quite a few pets at home, or when you or any members of the family are specifically bothered by the dander produced, then you certainly must spend the money on one of these home appliances.
It's better to cope with the problem now before it gets any worse and adversely affects the quality of life you have or makes you resent your pet because of the mess it creates.
There are lots of things to look for when choosing the best and more reliable pet hair vacuum cleaner for home use.
How to choose a great vacuum cleaner for pet hair
Powerful
For beginners, it must be extremely powerful. Power will help to strip all of that irritating hair and mess up and make the place a whole lot easier to tread through. Pet hairs have the capability to get entangled in the fibers of your rugs or carpets, too, but will be dislodged when enough force is put forth. For that reason, power matters.
Shape
You also must check the shape and length of the vacuum tubing. Once it is short it will not have enough power. When it has lots of curves then there's a possibility that the pet hair and grime will get stuck inside it. Make sure it's the right size and is relatively straight.
Brush roll
When buying the best pet hair vacuum cleaner, you must also look at the brush roll, as it must have very specific properties. It requires having stiff bristles so as to be able to pick up all the pet hair. Without that, it's going to lack the strength needed to get the job done.
Bag Size / Dirt Cup
You need to ensure that the vacuum cleaner must also have an adequately huge bag in order that you don't need to empty it from time to time. As it is, the bag will fill up soon depending on the hairiness of your dog or cat. Once the appliance works with less noise, then that's an additional benefit and advantage.
Brand
You also need to ensure that you always purchase a brand that is known to last long, even when it costs you a little bit more. The price is worth paying as the best pet hair vacuum cleaners tend to cost a little more; you are paying for quality, though, which is very much worth the price.
This is, after all, an extremely essential home appliance and you need it to be in good working shape for a very long time. You will surely love the way your home looks and feels when you could keep it free from pet hair, right? It's something that is worth investing a bit more of your hard-earned on.
Why it's important
So, make your selection with an amazing deal of care. So long as you ensure it has the right power and shape, then the price should be secondary. If your pet dander causes enough problems to you in terms of the mess it makes or the effect it has, you'll know yourself the investment is worth it.
You need to find out what you want to consider when selecting the best pet hair vacuum cleaner. You will need it in order to keep your home allergy-free and clean. There are many types of pet hair vacuum cleaner available, so it really pays a lot when you take time researching and comparing each product!
It might feel like you are spending a lot of time digging into this subject, but the benefits of doing so are massive. Not only will you get a much cleaner and healthier household from doing so, but it will also ensure you have a tool that saves you from getting annoyed at the mess your pet indirectly creates!
The Best Pet Hair Vacuum Cleaners
For pet owners, one of the most challenging problems you likely have is chasing up and cleaning after them. While we accept we need to deal with things like toilet breaks and accidents, as uncomfortable as it is, the hair side of a pet is something we don't take into account often enough.
Typically, for any pet owner who wants to save looking like they are turning into an animal due to their upholstery being covered in hair, getting a pet hair vacuum cleaner makes sense. These extra-strong solutions will whip up that hair in no time at all, and make the place so much easier to manage.
Overall Best for Pet Hair: BISSELL Cleanview Swivel 2252

This vacuum cleaner is designed specifically for pet owners. It is affordable and highly effective at removing all the stubborn pet hair and dander from all surfaces. It makes my life much easier because I don't need to invest in other vacuum accessories. This one comes complete with all the pet tools you need around the house.
My favorite part about this vacuum is how easy it is to rotate and swivel, which makes it easy to access those hard to reach places, like under the couch. It seems dog hair just loves to gather underneath furniture and it triggers sneezing fits.
Since this device is lightweight, you can maneuver it around your home hassle-free. As well, it has a great washable filter that is extremely effective at trapping dirt. I think you can relate to those moments when you bring the dog home from a walk and it starts to shake all the dirt off its fur and paws. in those moments, you really need a Bissell by your side to help you clean it up before the mess spreads.
Features
This vacuum cleaner has all the features you need for everyday cleaning around the home. It's multifunctional so you can use it everywhere, not just for picking up pet hair.
Triple Action Brush Roll
The brush roll rotates very quickly and traps hair and dirt. It loosens, lifts, and removes any trapped dirt particles and those stubborn hairs that are embedded in the carpet. Therefore, you can be sure you're getting a clean surface.
Scatter Free Technology
When pet hair is on the hardwood floor, it tends to scatter all over the place when in contact with the vacuum cleaner air. But, this vacuum has special scatter-free technology so debris stays in place until it is sucked up.
Edge-to-edge Cleaning
What's great about this vacuum's brush is that the brush roll extends from edge to edge, therefore it picks up all of the pet hair. So, it doesn't leave any hair on the edges of the brush in a streak-like pattern.
Multi-Cyclonic Suction System
You know that when you vacuum pet hair, you need extra powerful suction. This device delivers just that. It has a multi-cyclonic suction system so you never lose suction power as you clean. This is true even if you are vacuuming for longer periods.
Washable Filter
A washable filter is very handy to have because you don't need to keep spending money to replace the filter. Since it's washable it's easy to maintain and to clean.
The filtration system is multi-level so it traps more dust, debris, and hair.
Above Floor Cleaning
The Bissell comes with a stretch hose and specialty tools that allow you to clean above ground. This way it's easy to clean ceilings, corners, and hard to reach spots around the house. Think about tall lamps that become full of dust. With the stretchy hose, you can clean them in one step.
Lightweight 
Upright vacuums are known to be heavy. But this pet-friendly device weighs 17.7 pounds, which is quite light considering it has a 1-liter dirt cup.
Interested? Check out the prices on Amazon
Best Robot Vacuum for pet hair:

iRobot Roomba 675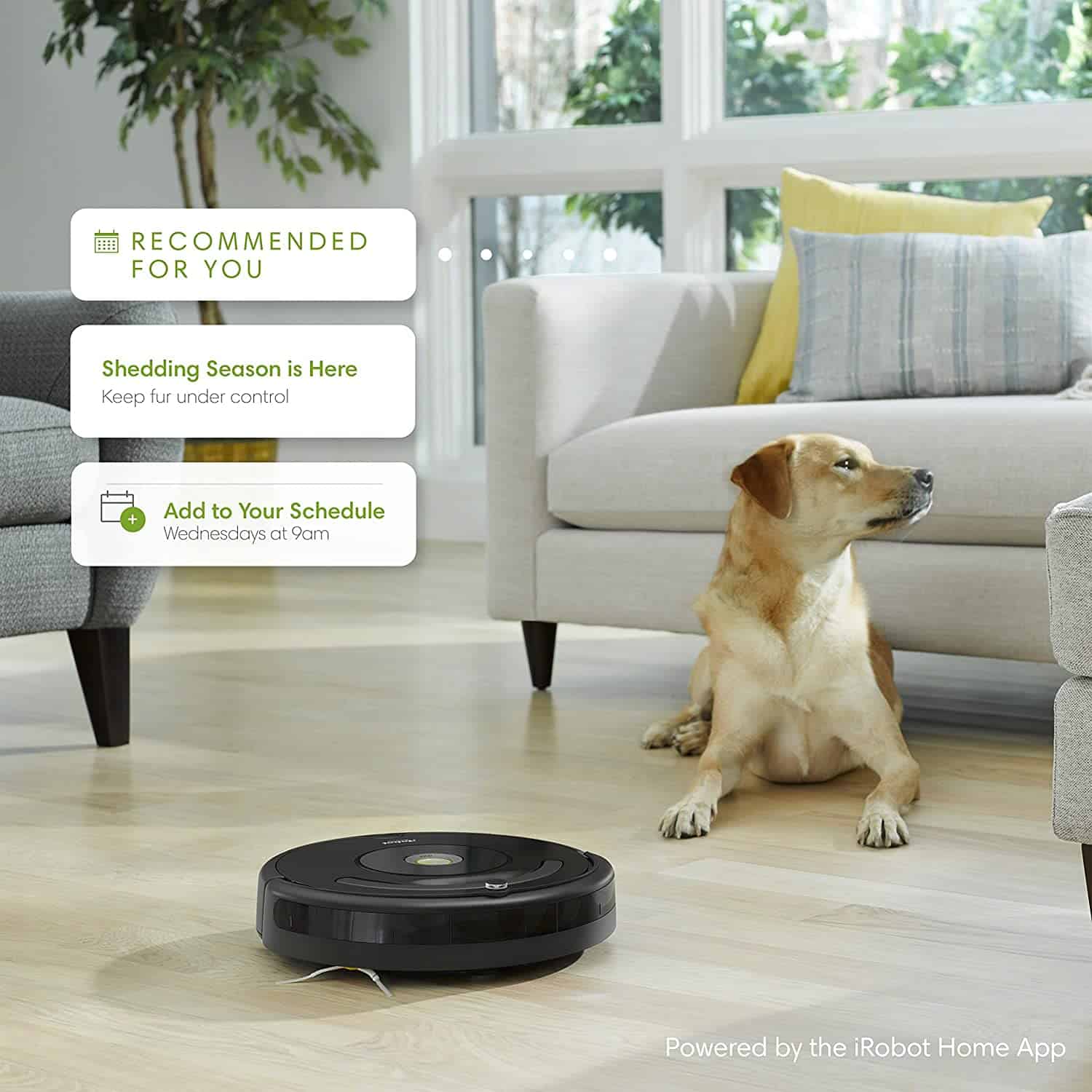 When pet hair is of main concern, a handy robot vacuum keeps the entire home pet hair-free without any effort on your part. Even when your pet sheds, you don't have to allow the hair to accumulate. Instead, set the timer for this vacuum cleaner and it cleans up everything. It has a voice assistant feature, so you can tell the Roomba to start cleaning whenever you want.
If your cats love to play on the carpet, chances are the fibers are full of hair. But the Roomba can spot clean any area and even has a feature where it does a more thorough clean in heavy traffic areas. So, all you have to do is empty the dust bin because the robot does all the work for you. Best of all, you can set it from your phone so it works even when you're not at home.
Features
Cleans Carpets and Hardwood
This model of Roomba cleans both carpets and hard surfaces like hardwood and laminate flooring, or tiles. Therefore, it's versatile and ideal for pet hair, because you know that pet hair sticks to everything. It works just as efficiently on the carpet as it does on hardwood and it even deep cleans.
3-Stage Cleaning System
The robot has a multi-surface cleaning method, as mentioned above. Thus, it grabs the dirt from the carpets and hard floors, and then its edge-sweeping brush goes over to the edges and corners, so you get an effective clean.
Dirt Detect Sensors
The vacuum is equipped with dirt detect sensors that alert the robot about dirt, dust, and pet hair. Once the device senses dirt, it deep cleans and goes to high-traffic areas to ensure it's fully clean. This feature is very useful because there tends to be more pet hair in areas near the pet beds and places the animals like to hang out.
Adaptive Navigation
Unlike some cheaper models, this robot doesn't get stuck in random places. It has adaptive navigation technology, which means that it's equipped with a full suite of sensors. These ensure that the Roomba can navigate on all surfaces, including under the furniture, around it, and along edges. The cliff detect sensors also help it stay away from stairs, so it doesn't fall down.
Long Run Time & Fast Charge
What I love about this robot is that it runs continuously for 90 minutes. Then, it automatically docks and recharges itself. It's the epitome of convenience because you don't have to worry about it too much. In 90 minutes, it has enough time to do lots of cleaning around the home.
Intelligent Features
This robot vacuum cleaner has intelligent features that are catered to pet owners. The robot suggests extra cleaning during pet shedding season and pollen season, to make your home allergen-free. Pet owners will appreciate how smart the programs are. You can always customize settings to get the most out of the device.
So, if your pets shed a lot and you need a hand with pet hair cleanup, then the iRobot is the best vacuum to have. We love it because it does all the work and lets us feel confident that our home is pet hair-free.
Best Pet Hair Handheld Vacuum:

Bissell Pet Hair Eraser 33A1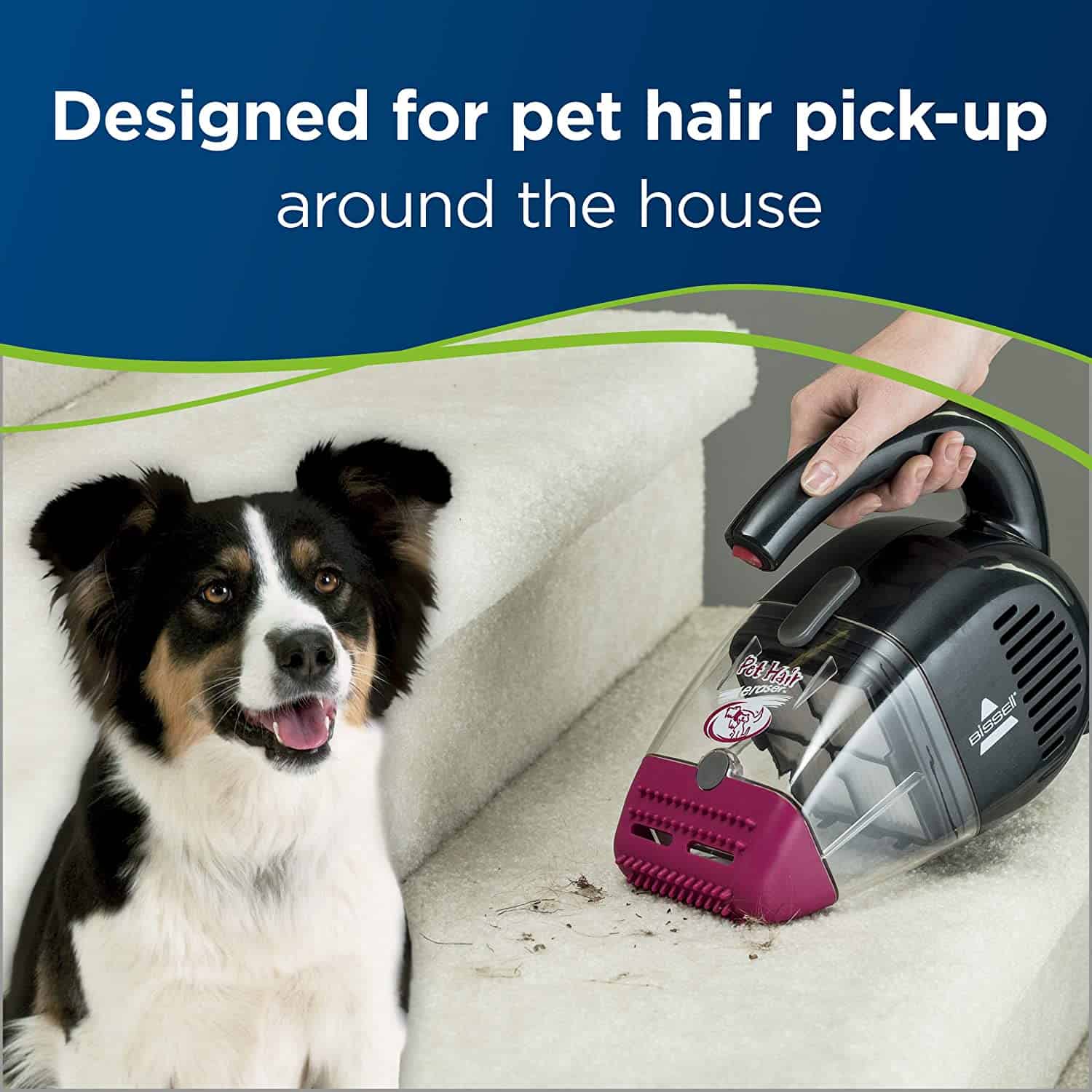 When it comes to small handheld vacuum cleaners, the Bissell pet hair eraser is hard to beat. It's so affordable and efficient, you don't need other devices. I'm not surprised this is a constant Amazon bestseller. Pet owners appreciate how small, lightweight, and powerful this handheld vacuum is.
You can use it on the carpet, upholstery, stairs, and even in the car to remove any pet hair and dander very easily. Since it's a corded device, you don't need to worry about charging it. As soon as you see pet air, plug in the vacuum, and clean it up. Its great suction power means it doesn't leave hairs behind so the surfaces are always clean. As well, the vacuum comes with a special rubber nozzle that attracts hair and pulls out dirt from small spaces and crevices. It's also good at picking up crumbs and other debris.
Features
Works on Multiple Surface Types
The vacuum cleaner works on multiple surface types, including carpets, upholstery, hard floors, fabrics, and car interiors. This way you can use it to clean more than just pet hair, you can pick up any kind of dust, dirt, and debris in your household and car. You can remove pet fur from even those hard-to-reach places you don't even attempt to otherwise.
Convenient to Use
The vacuum has a 16-foot power cord so it's long enough to clean comfortable without the constant need to unplug. As well, it has a dirt cup capacity of 0.78 liters, which is quite a lot of pet hair if you ask me. 
Powerful Suction
What's great about this small vacuum cleaner is that it's specifically designed to pick up pet hair. That's why it has very powerful suction because we all know how sticky pet fur is. Once it sticks to the couch or carpet, it's nearly impossible to remove without powerful suction.
Two Nozzles
This vacuum comes with two separate nozzles. The specialized rubber nozzle is ideal for use on upholstery because it attracts the hair and dirt and sucks it up. On the other hand, there is the suction nozzle which is best for picking up dry debris such as cat and dog food off the floor. So, the next time your pet spills dry food on the floor, you can clean it in seconds.
Small and Compact
It's so small and compact, you can literally store it anywhere because it doesn't take up space like a regular vacuum. It has a size of 10 x 5 x 8 inches and weighs only 4.2 pounds, so you don't need to exert lots of energy to use it. And even better, you aren't going to get an achy and sore arm after holding it for a long period of time.
If a handheld small-sized vacuum cleaner sounds like the solution to your daily pet hair problem, don't hesitate to invest in it.
Best Cordless Vacuum for Pet Hair:

BLACK+DECKER POWERSERIES Extreme
Since pets walk all over the house, we need a good cordless vacuum cleaner that we can use everywhere. A cordless device is handy, especially if you have a multi-level house because you no longer need to worry about the cord being too short. Since you can easily recharge this type of vacuum cleaner, it's way more convenient than using a regular corded cleaner.
The reason we love this Black & Decker vacuum cleaner is that it has anti-tangle brushes which make it ideal for picking up tons of pet hair. Let's face it, pets make a lot of mess and shed a lot of fur, so a powerful vacuum is a must-have in any household with an animal. With the special rubber bristles, you can pick up more fur in one swipe. Cordless devices are known for their added convenience because you just pick up the vacuum and clean up the mess on all types of surfaces.
Since this device has 55 minutes of continuous run time it gives you the flexibility to vacuum on all floors and clean the entire house.
Features
3x Cleaning System
This vacuum cleaner is great for a multi-surface cleanup task because it has an angled brush that can get into corners and hard to reach places. It also has v-shaped bristles for multi-debris pickup. So in one swipe, it can pick up pet hair and crumbs. And the feature that makes this perfect for pet owners is the anti-tangle brush bar. It maximizes suction power and sucks up a larger volume of dust and dirt.
Excellent for Carpets
The vacuum cleaner is excellent for carpets. You know that pet hair really sticks deep in the fibers and it's such a hassle to remove. But this vacuum is 75% more effective at cleaning carpets than other Black & Decker models.
Long Run-Time
This model has a very long run time, compared to other similar types of vacuum cleaners. It can clean for up to 55 minutes continually. Therefore, you can clean up the whole house during this time without needing to put it on the charging station.
3-Speed Control
There are 3-speed levels on this vacuum cleaner. If you only need to pick up light dust, you can use it on low. For heavy debris and large messes, you can use it at a higher speed. Therefore, this device works on carpets, hardwood floors, and large area rugs.
Rubber Bristles
When cleaning pet hair, you've probably noticed that rubber bristles work much better because the hair doesn't get stuck in the bristles. So, the innovative rubber bristle design is what makes this vacuum cleaner the best cordless device at a great price.
Washable Filter
This is a clean vacuum cleaner because it comes with a washable filter. The filter itself is easy to clean and doesn't require much effort on your part. Simply wash the filter to get rid of nasty odors and bacteria buildup.
Best Pet Hair Removers (Non-Vacuum)
There are many pet hair removers on the market, but not all are actually effective. If you want a fur-free home, check out our latest recommendations.
Best Pet Hair Removal Sponge:

Gonzo Pet Hair Lifter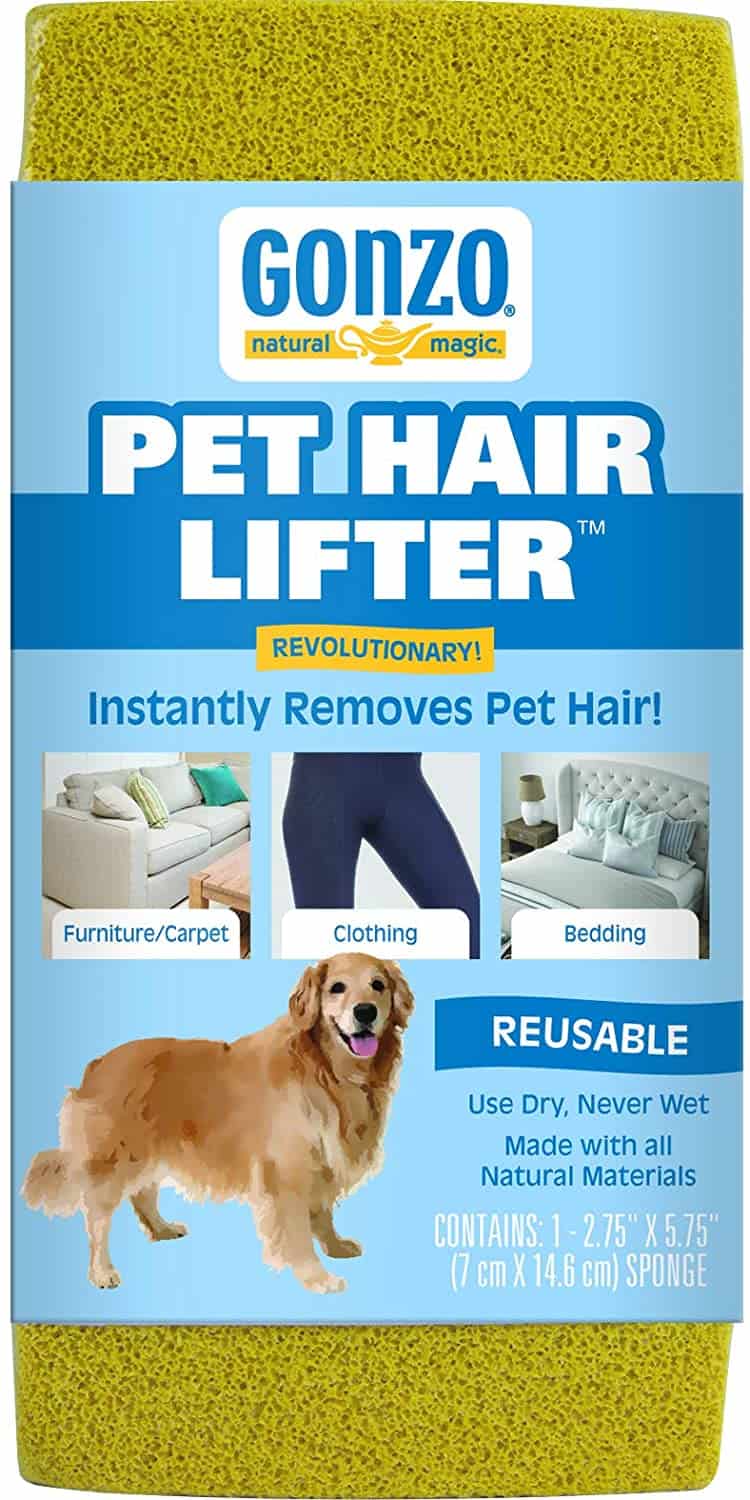 A natural pet-hair removal sponge is an easy way to save money while keeping your home fur-free. It's a reusable natural sponge that traps and attracts all the pet hair on a surface and effectively removes it for good. You can use it on furniture, carpets, clothing, bedding, and even your pet's bed. Imagine being able to quickly run over the hair to remove it in less time than it takes to set up the vacuum cleaner.
This kind of sponge is great for last-minute hair removal when an unexpected guest is about to arrive. You can clean the couch without using any water, and best of all, the sponge doesn't leave any residue behind. It's honestly the best way to clean pet hair without using any chemical products.
Features
Versatile
This sponge is so versatile, it's hard to believe. You can use it to clean practically anything. It works well on couches, furniture, upholstery, bedding, carpets, floors, vents, boats, drapes, clothing, car interiors, baseboards, window screens, blinds, and more. So there's no reason to complain about pet hair anymore.
No Residue & Chemicals
The sponge is a natural product and it doesn't contain any harsh chemicals that are bad for human and animal health. It is phosphate-free and when you use it, you simply use it dry, never with water or cleaning solutions.
Powerful
Gonzo is a powerful pet hair remover, and it can even get rid of pet stains. You simply scrub on the dirty surface and watch all the hair and dirt come off almost instantly. It's even more effective than a lint roller or special lint brush.
Affordable
This sponge costs less than $10, and since it's reusable, you can keep on using it over and over again. It's a cheap way to keep the house pet-hair free.
So, if you want to keep your home odor-free and pet-hair free, this natural product is worth a try.
Best Pet Hair Remover Lint Brush:

WELLTED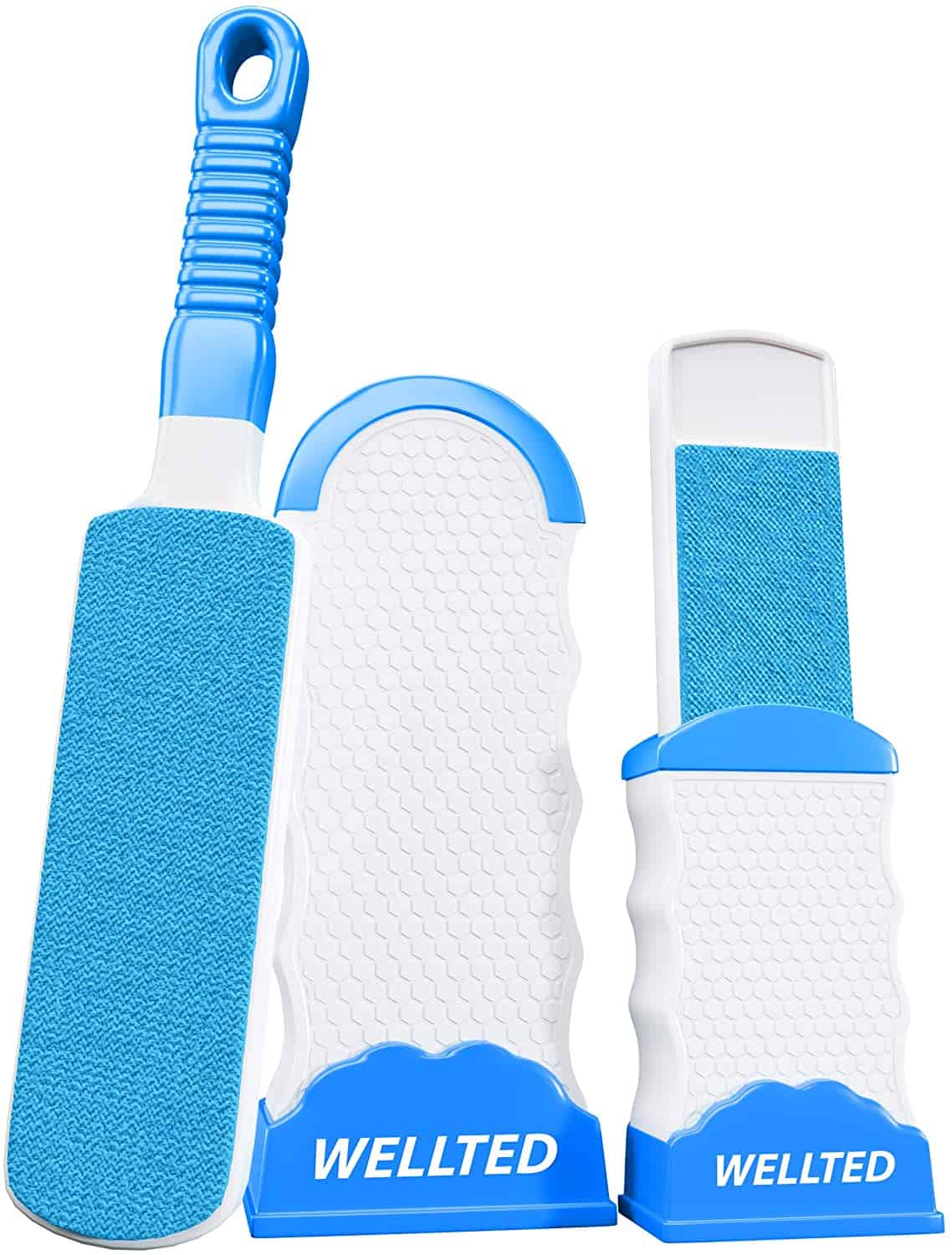 Lint rollers are a great way to get rid of pet hair, especially on furniture and clothing. They are inexpensive and easy to use for quick fur removal. This particular model is double-sided, so you can do more cleaning. As well, you don't need to buy refills and it's not messy like sticky tape hair removers. So, this is the best small tool to get rid of cat and dog hair hassle-free.
The lint roller has a small compartment at the bottom where it collects the fur, so you need to clean it out occasionally. But luckily, you don't need batteries or any extra accessories. We recommend a lint brush when you're looking for a quick clean, instead of a deep clean. But, it's still an effective method of pet hair removal. Plus, the bonus feature is that this lint roller cleans itself so you don't need to get your hands dirty.
Features
Double-sided
The lint brush removes fur and lint twice as fast as a one-sided lint brush because you can use both sides. As soon as one side is full of fur, flip it over and use the other side.
Reusable
It is made of durable material, including a sturdy handle so you can use it for years. Since it's a reusable cleaning tool, you can keep using it on a daily basis. It's also inexpensive, so it's a great bargain tool.
Self-cleaning base
The lint roller has a self-cleaning base that expels fur and hair from the lint brush. Dip the roller into the tray and it cleans itself in an instant. This means that you don't need to wash it or clean it all the time. Simply open the tray and throw out the fur without touching any of it. 
Works on multiple surfaces
You can use the lint roller on multiple soft surfaces. It works best on couches, sofas, fabrics, clothing, curtains, drapes, and car seats.
Since it's such an affordable way of removing pet hair, there's no reason not to pick up a handy WELLTED.
Best Pumice Stone:

Fur-Zoff Pet Hair Remover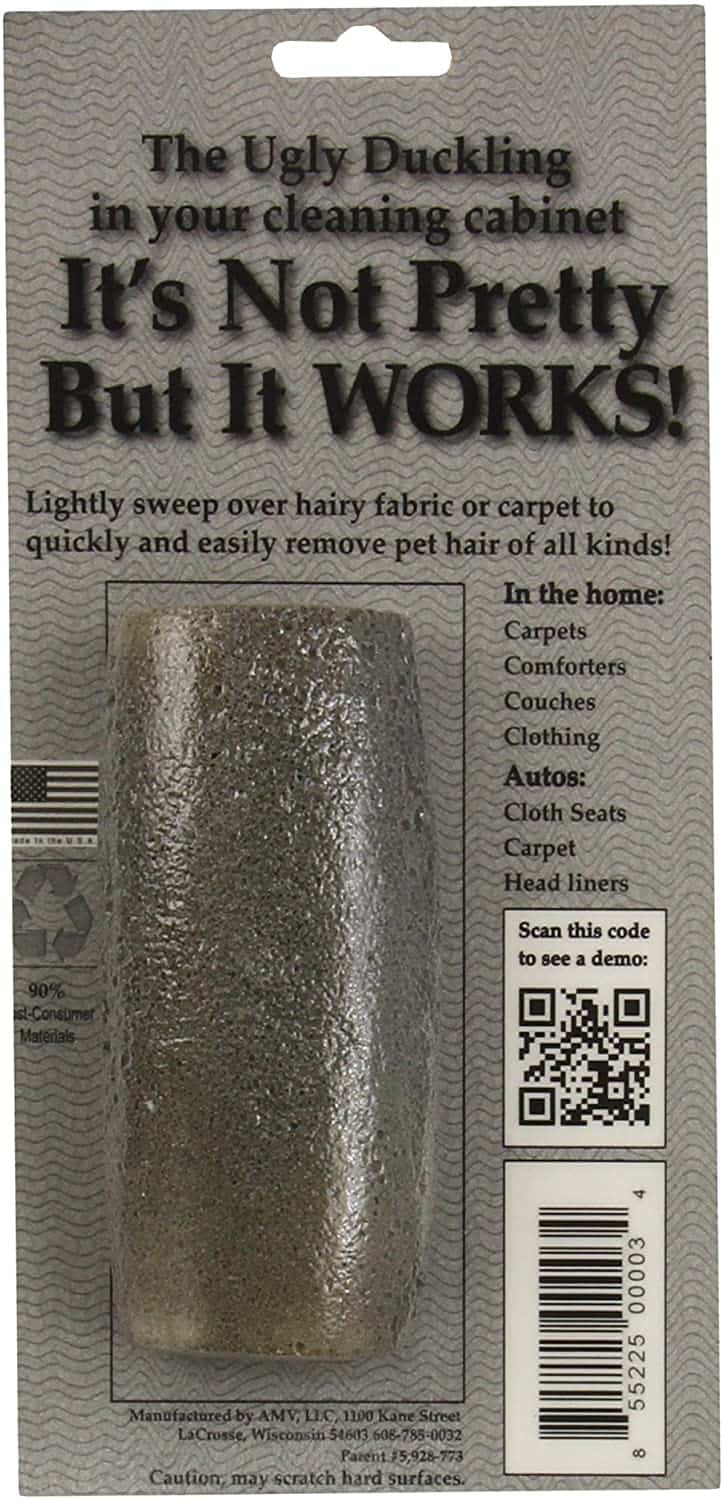 A pumice stone is a handy pet remover tool that's cheap and effective. Before I heard of the Fur-Zoff, I had no idea you can use a pumice stone to remove pet fur. But this is not the regular pumice stone you use for pedicures. It's specially designed to work on fabrics, sofas, and upholstery and remove fur. If your pets love to sit on the sofa all day, it can get full of tiny hairs and even hairballs. Simply take the pumice stone and roll it on the sofa and it sticks to the stone.
The reason why pet owners rave about this product is that you only need to swipe lightly and the hair comes off.
Features
The main feature of this pumice stone is its multifunctionality. It works on all kinds of soft surfaces, including:
carpets
comforters
couches
small sofas
pet beds
car cloth seats
car head liners
auto carpets
seats
clothing
Best Pet Hair Magnet:

JW GripSoft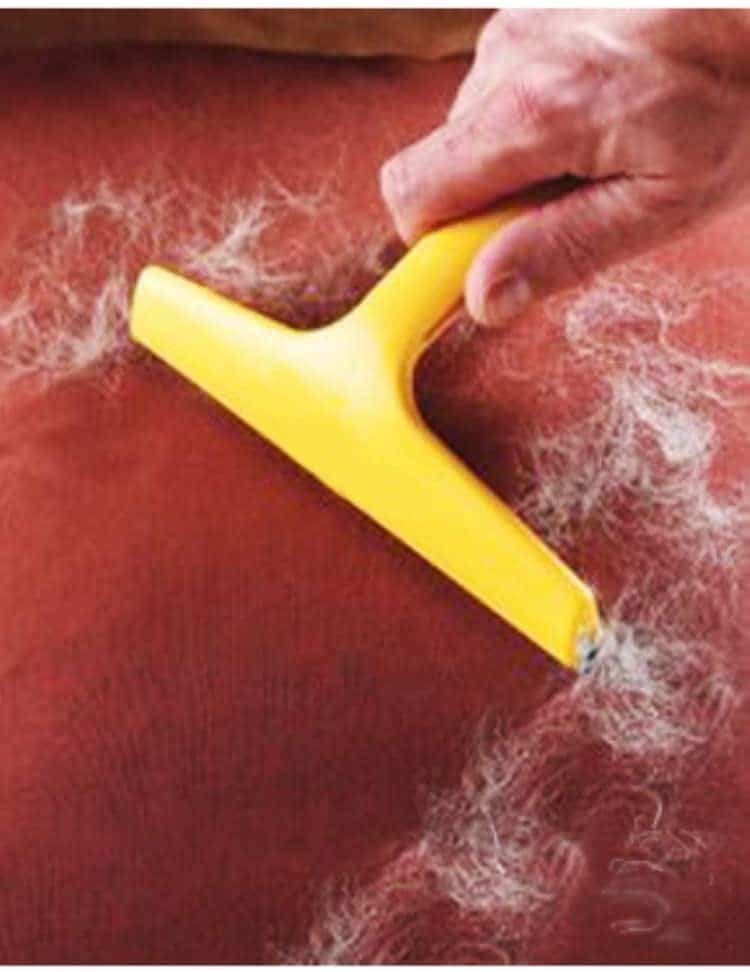 When I think of a magnet, I think of a metal, not rubber. But this handy tool is made of a durable rubber that catches pet hairs. So, this is not a real magnet, but it's a rubber blade that acts as a magnet because it traps and locks dust and pet hair. It's a 7-inch rubber blade and it collects all the hair on soft surfaces. This small tool works best on clothes, upholstery, and couches.
The "magnet" comes in handy when you want to do a quick wipe down on the sofa, the bed, or your clothing. You simply catch and lock the pet hairs and wash the rubber wiper tool and you're done!
It has a curved plastic handle that's easy to hold and use so it takes less than a couple of minutes to get rid of the unwanted dog or cat hair.
Pet owners love this product because it's very good at removing the short stubborn hair that gets stuck in the fibers. Some say you don't even need to vacuum as often anymore.
Best Pet Hair Glove:

Cheermaker Gentle Deshedding Brush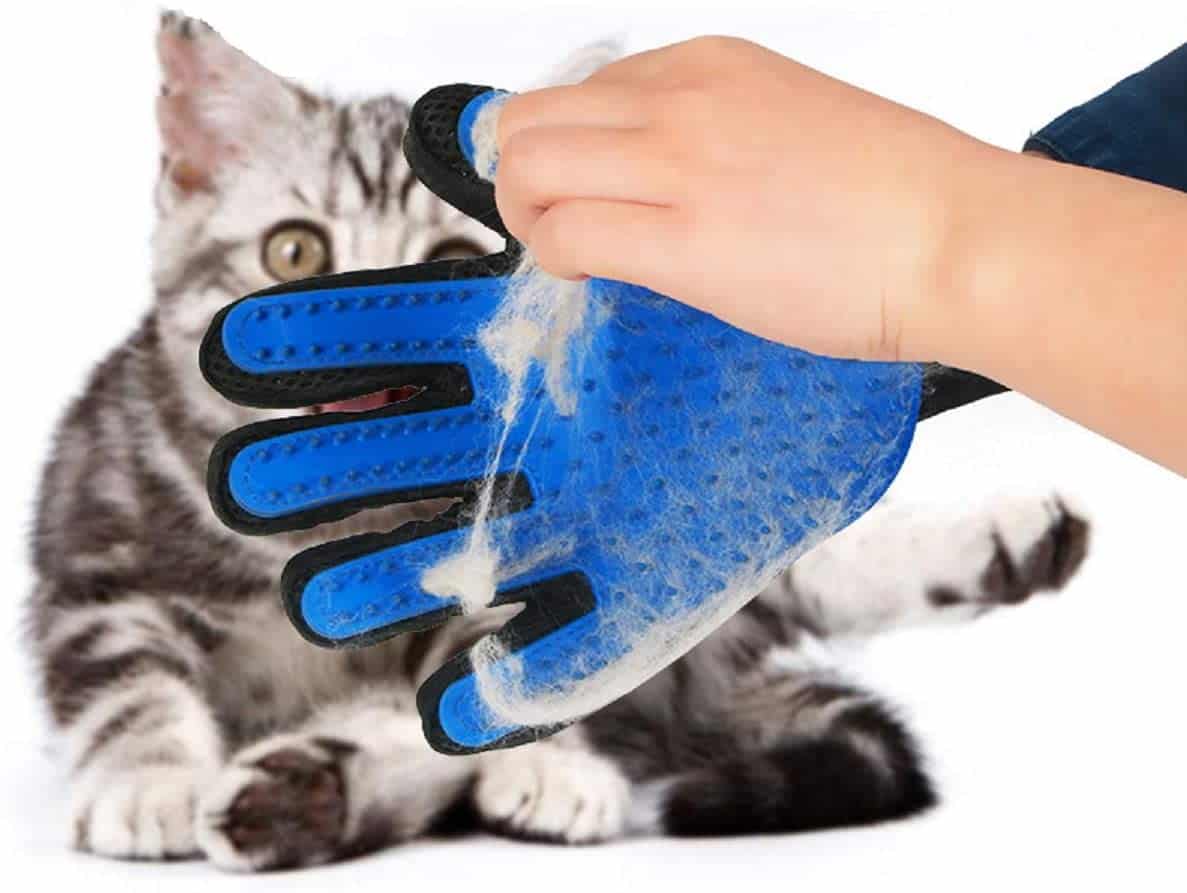 A great way to prevent excessive shedding is regular brushing. With a pet glove, you can brush off the excess fur on your pet's body. The gloves have small eco rubber bristles that don't injure your pet at all. Instead, it's just like petting and massaging your animal, but the brush attracts and traps the fur. The glove itself is made of silicone material and has many tiny bristles that work effectively on the cat, dog, and even horsehair.
So, why not prevent all the excess shedding before it happens? This is a great preventive measure you can take to ensure your home is not full of pet hair. Best of all, a pet glove is cheap and effective so you can use it all the time.
Features
Enhanced Design
The pet glove is well designed to feel comfortable for both the pet owner or groomer and the animal. It is made of soft eco-friendly silicone and 259 small rubber bristles. They don't scratch or injure your pet so the pet will love the feeling of getting their fur petted.
As well, the glove has adjustable wrist straps so it fits all hand sizes.
Durable and Reusable
The glove is long-lasting because it's made out of durable materials (Grade-A silicone and polyester) that are also eco-friendly. It is reusable and washable so you can have it for many years. When the glove becomes dirty, simply throw it into the washing machine to clean it.
You Can Use them Wet or Dry
This glove is very multifunctional. You can use it wet or dry, depending on your needs. If you want to simply brush off loose hair, use it dry. If you want to massage your pet in the bath, use it wet, and watch all the excess fur and dirt come off easily.
Therefore, you can use the gloves to massage, comb, brush, and wash your cat or dog.
Best Broom for Pet Hair:

LandHope Push Broom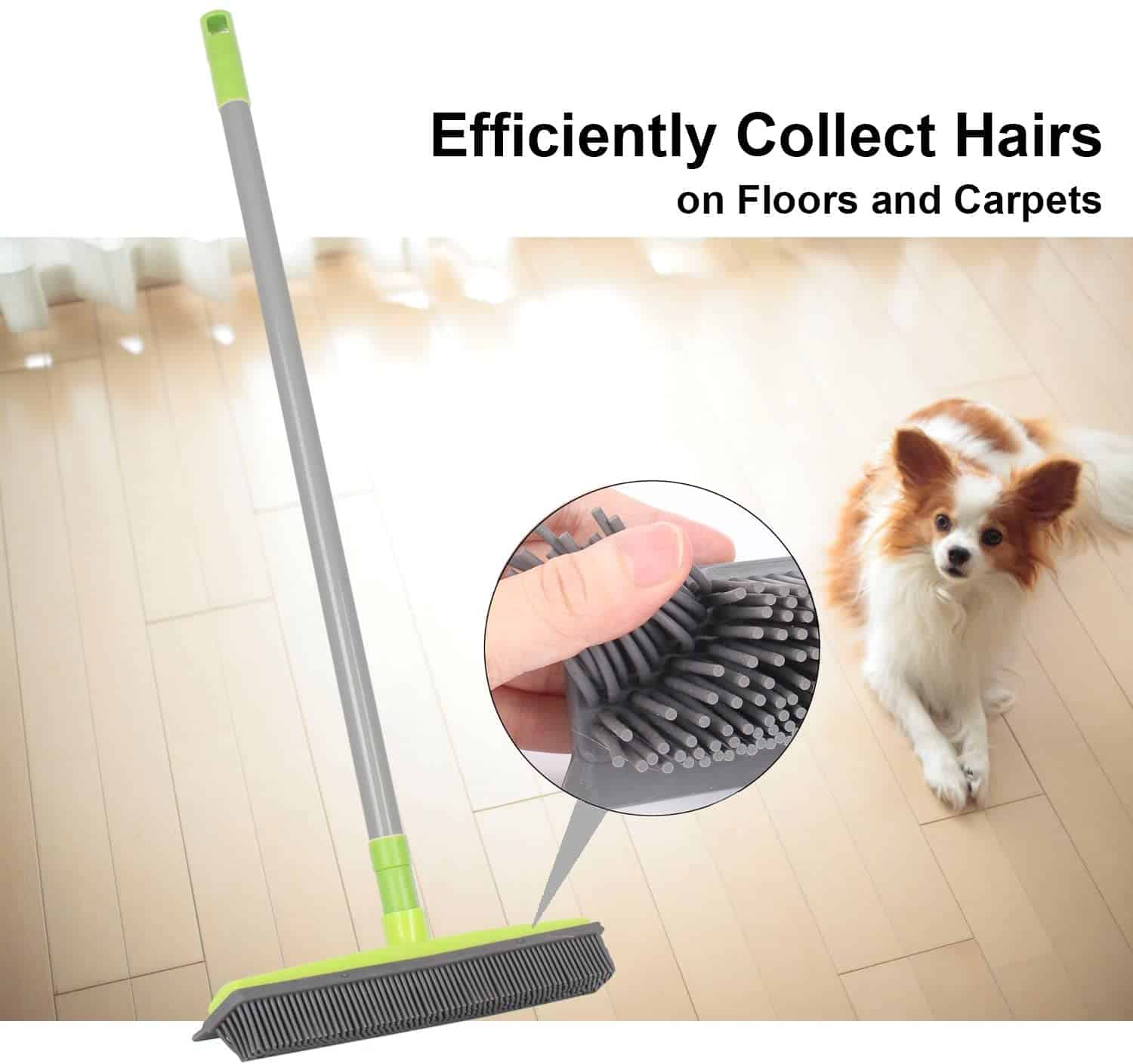 Who says an old school broom can't do the job well when it comes to pet hair? Whether you have a cat or dog, a good old broom and dustpan can help you clean up quickly. The secret to a great broom lies in its bristles. Most experts recommend a broom with rubber bristles because it's way better at picking up pet hair.
Features
Rubber Bristles
This broom has high-quality rubber bristles that gather up all the dust, hair, paper, and debris from your floors and carpets. It is 50 % more efficient than a regular broom with plastic bristles. When you sweep with it, there won't be any pet hair or dust flying up into the air. Therefore, the sweeping process is virtually effortless.
Soft Bristles
The bristles are very soft, which is ideal for sweeping pet hair. It works best to remove pet hair from fabric and rugs. The soft bristles scrape down and ball the hair from carpets gently with minimal effort on your part. Therefore, the broom easily gathers hair you can't reach with the vacuum cleaner.
Adjustable Handle
This broom has an updated extra-long and adjustable handle for extra convenience. It extends from 31.5 inches to 54 inches. Therefore, this adjustable length suits people of all heights. It's long enough for tall adults to sweep without bending down, but you can also shorten it so the kids can use it.
Handy
What more can I say other than this is an affordable everyday broom for pet hair owners. It's ideal for those days when you can't be bothered to vacuum but you want to remove the pet fur from the floor. The broom is made of good sturdy materials so it doesn't break easily and you can use it for years. It's also water-resistant so you can clean up messes outside in no time.
Swiffer Sweeper for Pets:

Swiffer Heavy Duty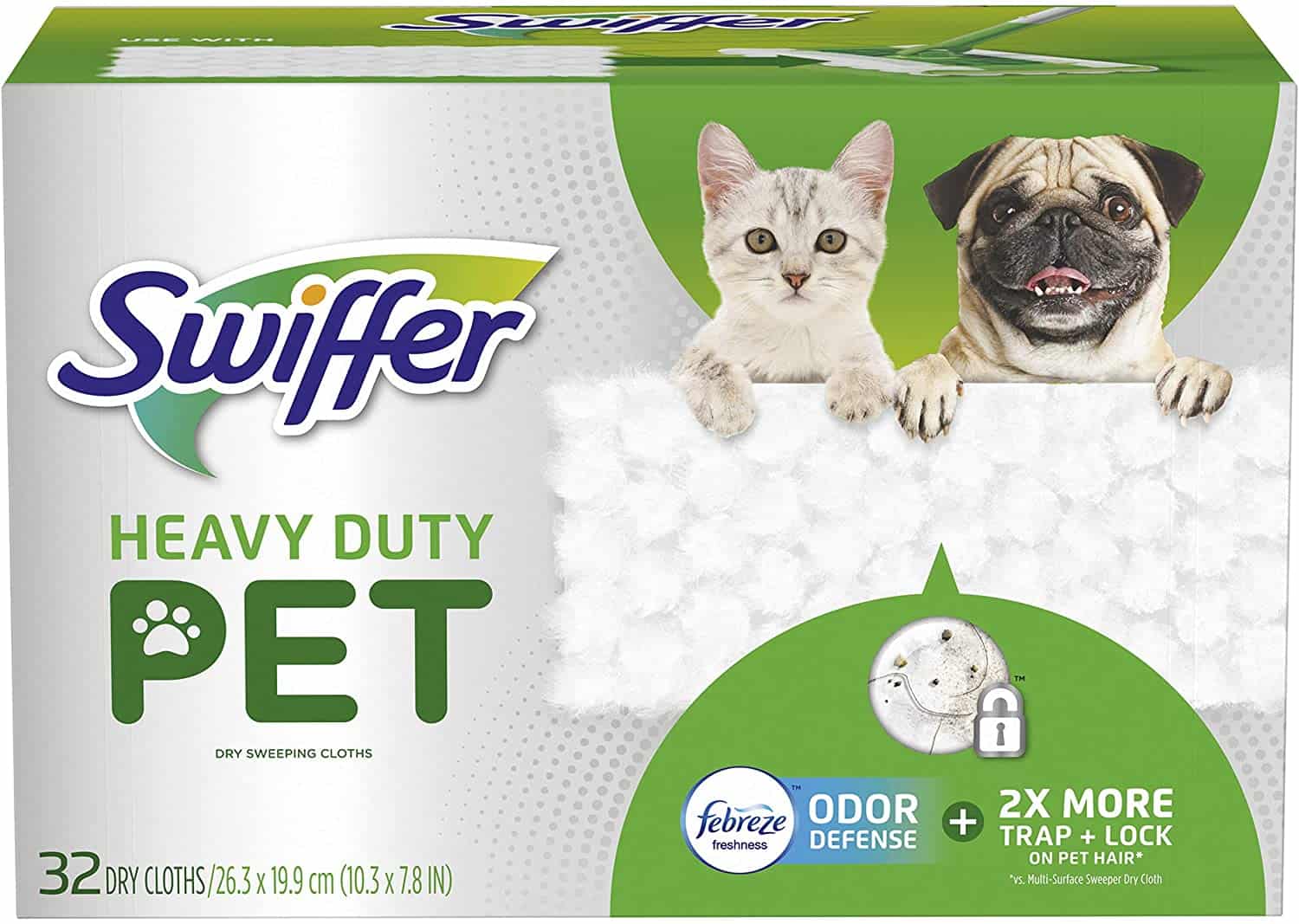 If you already own a Swiffer, then you can buy the pet refills and clean much better. The heavy-duty pet wipes are great at picking up and locking pet hair. These dry cloths trap twice as much pet hair, dirt, and debris than the regular Swiffer Sweeper Dry Cloth. Therefore, it's much easier to keep your floors cleaner and odor-free.
The Swiffer has over 30,000 3D fibers that brush up and attract the pet hairs so you can eliminate them in one swipe without excessive brushing and scrubbing. If your tiles are full of grout and grime, the Swiffer cleans them too. So, it's not just for pet hair, it's designed to clean all hard surfaces quickly. So, if your dogs like to scratch in the kitchen, you no longer need to worry about hair flying up into the food area. Simply use the Swiffer wipes and trap all loose fur.
Features
Odor-Defense
These Swiffer Sweepers have a lovely fresh scent because they are infused with Febreeze Freshness Odor Defense. Therefore it's like using a broom, mop, and air freshener at the same time.
Works on all Hard Floors
You can use them on all hard surfaces such as hardwood floors, laminate floors, tiles, marble, and other hard areas.
Ultrathick Pad
The ultrathick pad is more efficient because it picks up 2x the pet hair and dirt than other Swiffer dry cloths. As well, it locks in the dirt, fur, and debris deep into the 3D fibers so they don't fall back out when you lift the mop.
Hygienic
These are one-time use cloths, so once you finish cleaning, dispose of them without even touching the dirt. Since you use a clean pad every time, you're not spreading any bacteria around.
How to Remove Pet Hair from Laundry & the Washing Machine
One of the biggest concerns pet owners have is the fact that pet hair stays stuck in the washing machine and it's almost impossible to clean. In this section, I'll be discussing how to keep your washing machine clean and how to remove pet hair from the laundry. After all, you don't want your clothing to be covered in pet hair all the time.
How to remove pet hair naturally from the laundry
You can remove pet hair naturally, without using harsh chemicals. When you wash a load of clothing, add in 1/2 a cup of white vinegar to the machine's rinse cycle. The vinegar successfully removes the pet hair that's stuck to clothes and bedding.
Best Pet Hair Remover for the Washer and Dryer: FurZapper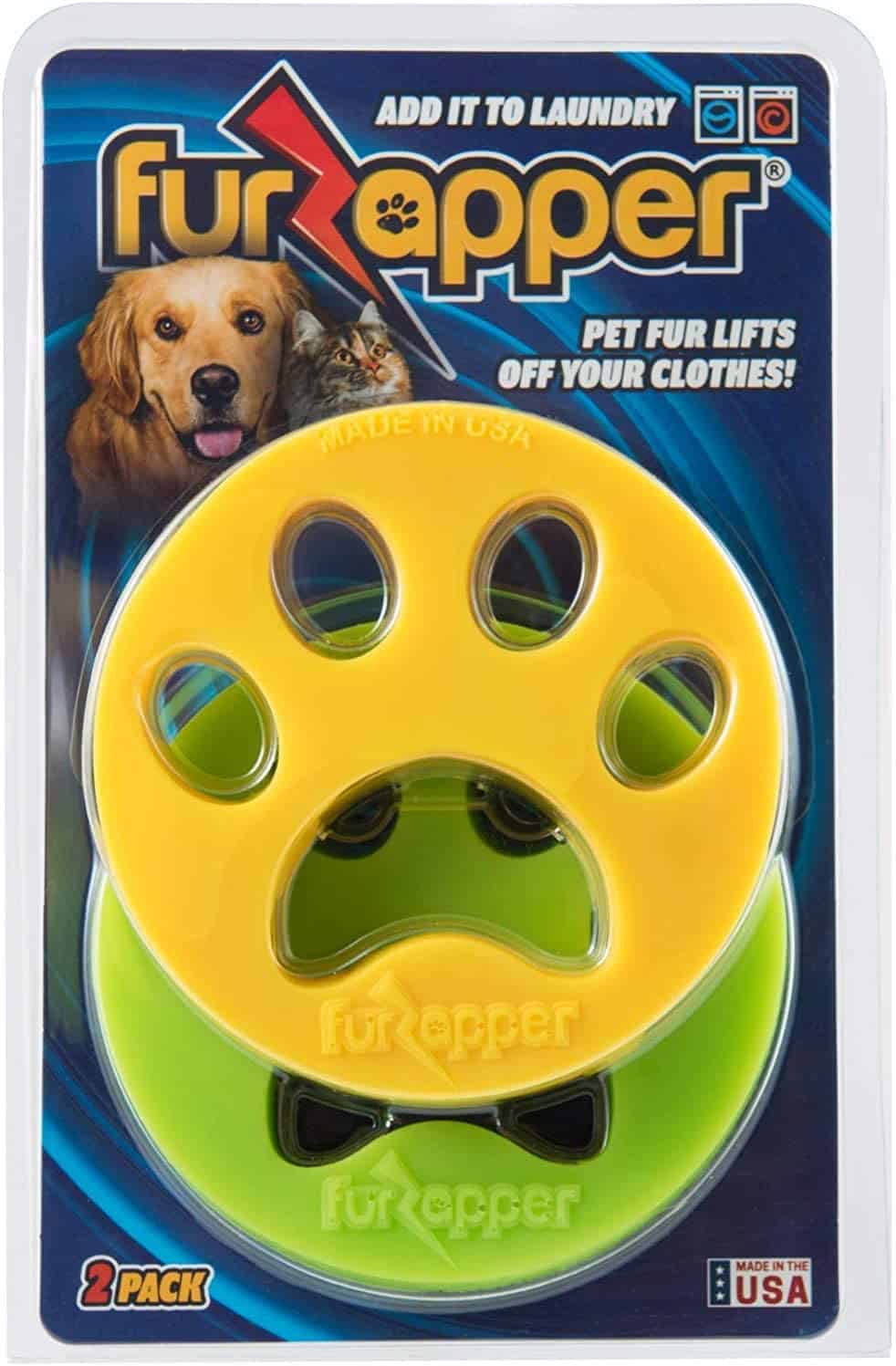 Imagine if you could just throw a pet-hair grabbing tool into the washing machine. Well, with the FurZapper, you can stop worrying about pet fur.
This innovative product removes pet hair from fabric while it's in the washer or dryer. It's a flexible little device that is made out of a flexible gummy-like material. It grabs and removes fur, hair, lint, and dander from fabric. You can use these furzappers to clean pet beds, blankets, clothing, and all kinds of materials you put into the wash.
The FurZapper is very sticky so you don't need to use any fabric softener or dryer sheets to allow it to work effectively. The tool cleans itself in the wash cycle but you can also wash it with a bit of dish detergent and hot water to ensure it's squeaky clean.
The best part of this type of pet hair remover is that it's safe to use and reusable for hundreds of washes. Therefore, it saves you money and time because it eliminates the need for lint rolling your clothing.
Check prices and availability here
Pet Hair Washing Machine Balls:

Baycheers dryer balls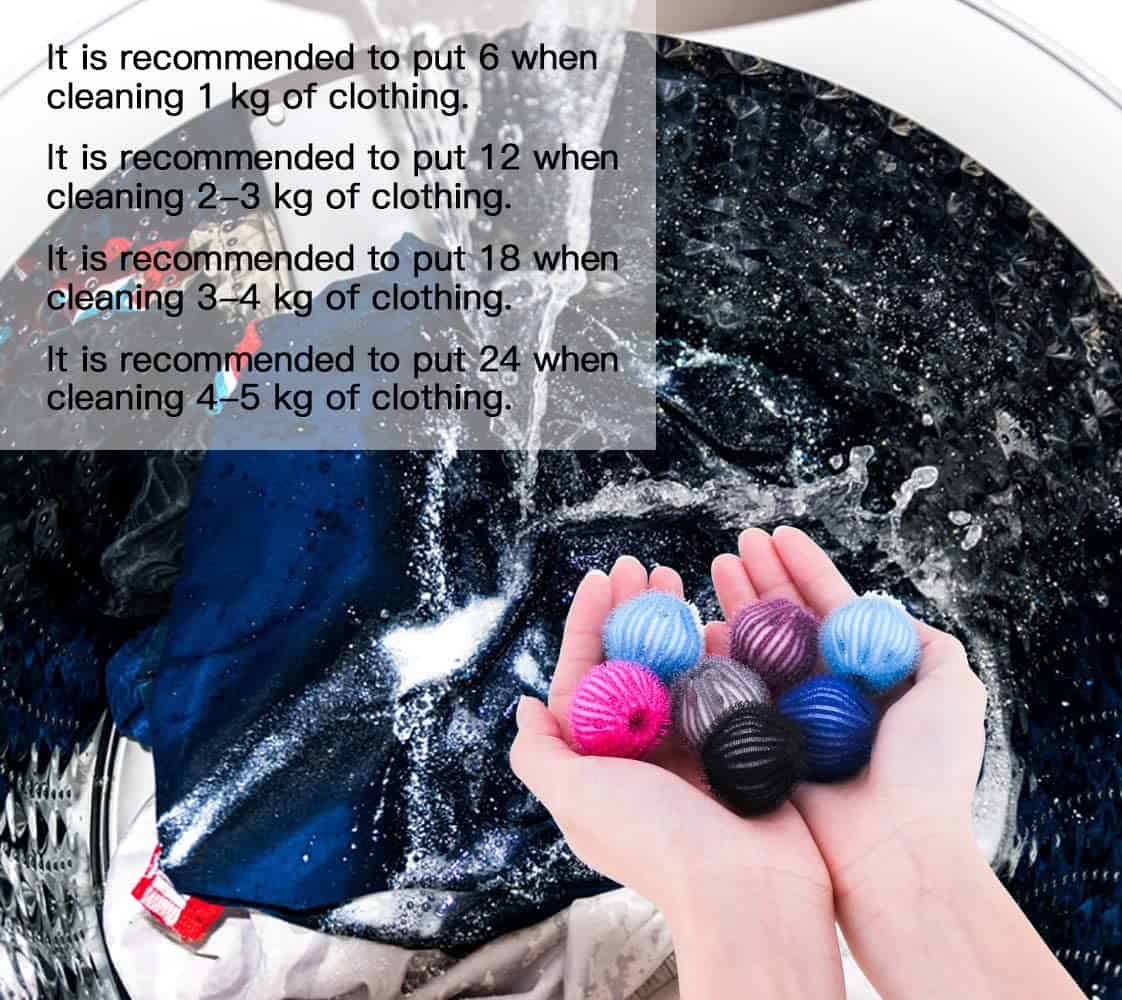 I start to cringe when I see how much pet hair builds up in my washing machine. So, I kept searching for easy solutions to trap it in the washer and dryer. The pet hair lint balls are the best way to attract the fur and remove it from your clothing and washing machine.
These balls are very multifunctional and they do a lot more than just trap pet hair.
These practical baycheers laundry balls reduce scale, rust, and lime build-up in washing machines and pipes. They also eliminate dust and odor so your machine always smells fresh and clean.
As well, the lint balls eliminate the need for chemically loaded fabric softeners.  Additionally, you can use them in dryers because they reduce drying time and wrinkles.
Simply throw in 6-12 lint balls per load of laundry to get all the benefits.
The balls are great at cleaning stains, hair, wool bits, and more.
Check out their price on Amazon
Pet Hair Dryer Sheets: B

ounce Lint Guard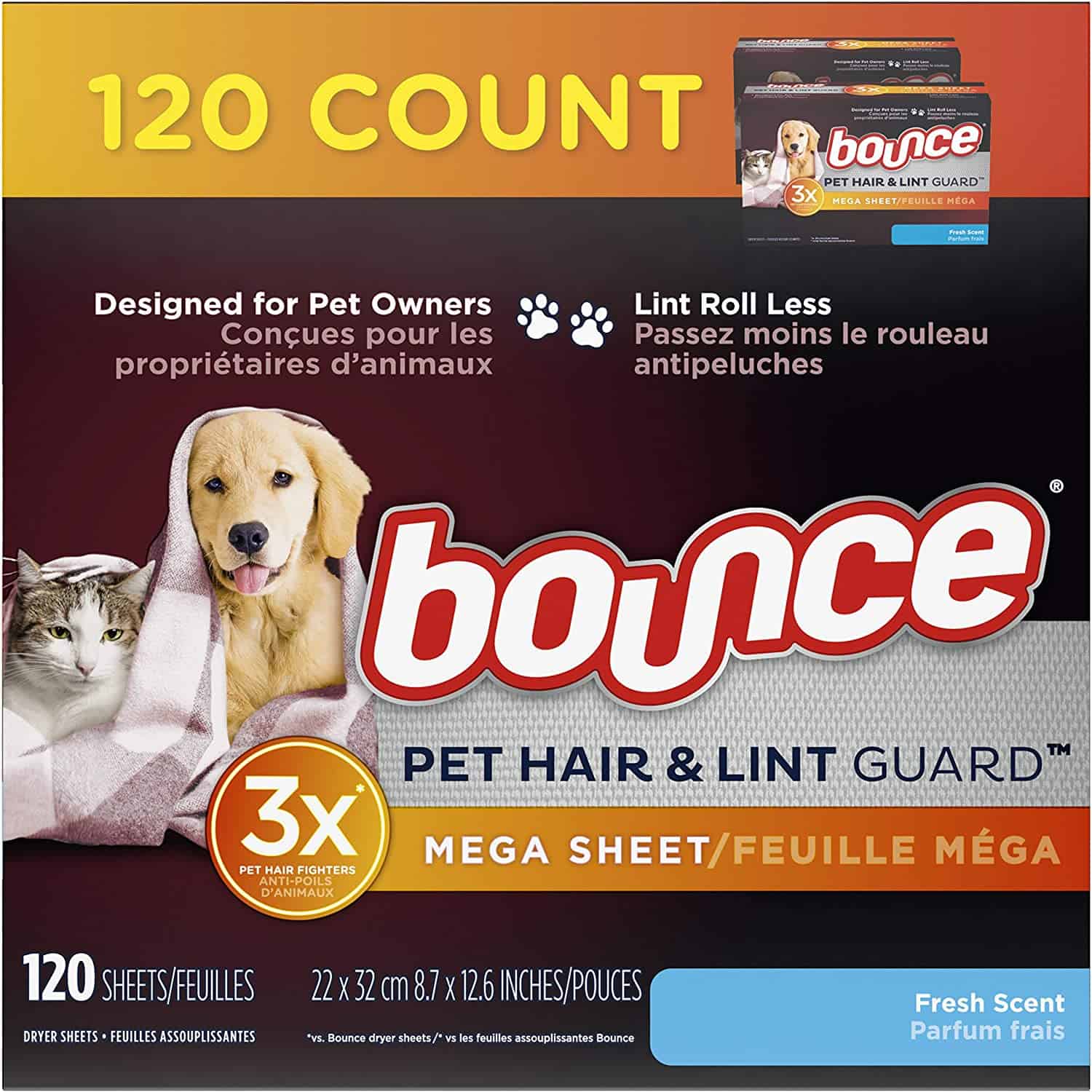 Dryer sheets come in all kinds of scents but you need to buy the ones specially designed for pet hair removal. When you have pets, you need extra odor and pet hair protection as well as a lint guard. These bounce sheets are extra large and very effective. They have a fresh scent so your clothes smell amazing after you take them out of the dryer.
The dryer sheets have 3x more hair repelling power than other bounce dryer sheets. They add softness to your clothes but also have the expected benefits like wrinkle reduction and static reduction. When you use these dryer sheets you don't have to lint roll as often and your clothing looks and feels softer.
Pet Hair Air Purifier
When your home is full of pet hair, it can smell, the air can feel stuffy, and it's hard to breathe. If someone in the family suffers from pet-related allergies, it's essential that you purify the air. Pet allergies are caused by pet dander. Therefore, you need an air purifier that can effectively eliminate pet dander from the home.
Best Pet Hair Air Purifier:

Germ Guardian True HEPA Filter AC4300BPTCA

Pet dander sensitivity can develop over time. It is very hard to live with pet-related allergies and irritations. You end up coughing, sneezing, and you find yourself teary-eyed from itchiness. But, a good air purifier like the affordable Germ Guardian is the solution.
This air purifier has a HEPA air filter that eliminated 99.97 of pet hair and dander, so it's highly effective. It's going to make the air clean and breathable. It also has a UV filter that kills germs and airborne viruses so it keeps your rooms safe. In addition, it also removes odors and mold so the house smells fresh, even with several pets inside.
Features
5-in-1 air purifier
This device is more than your average air purifier. It's amazing at removing pet hair and dander but it also kills germs, including viruses, bacteria, and mold so your home is safe and clean. lt has an ectrostatic HEPA media air filter. This filter reduces up to 99.97% of harmful germs, dust, pollen, pet dander, mold spores, and other allergens as small as .3 microns from the air.
Pet Pure Filter
This air purifier is designed with pet owners in mind. Once the device comes in contact with lots of fur and dander it can start to smell. But, the pet pure filter contains an antimicrobial agent that inhibits the growth of odor-causing bacteria. This includes the nasty mold and mildew that likes to grow on the filter's surface.
UV Light Kills Germs
The UV light is effective and kills germs and airborne viruses such as staphylococcus, influenza (flu virus), and rhinovirus. That's because the UV-C light and titanium dioxide reduce volatile organic compounds. Unfortunately, pets can pick up germs on their paws and bring them into the home, so this air purifier can help eliminate the risks.
Odor Reduction
The device has an activated charcoal filter which reduces odors. It's so effective that it removes pet odors, cigarette smoke odors, and cooking fumes.
Ultra-Quiet
If you've been avoiding air purifiers because you're concerned about their high noise level, there's no need to worry about this one. It has an ultra-quiet mode which means it's so noiseless that you can get a good night's sleep when it runs in the room. You can barely hear it, so you can get the benefits of clean air without being disturbed by a noisy machine.
Therefore, if you think your home would benefit from improved air quality and you have pets, then this is the air purifier for you.
FAQs
What's the best way to remove pet hair from carpets?
The best and easiest way to remove pet hair from the carpet is with a vacuum cleaner. We mentioned the best corded and cordless pet hair vacuum cleaners and they truly are the most efficient. Since carpets are full of fibers, the hairs get stuck in them. A vacuum cleaner with powerful suction is the number one option to remove pet fur.
How do you remove pet hair from the car?
When the upholstery in the car is full of hair, it looks bad and smells bad. For a quick fix, try these 2 solutions.
First, mix 3 teaspoons of a scented fabric softener with some water in a spray bottle. Spray the mixture all over the car to make it smell great. Then use a dry paper towel to clean it off. The hair sticks to the towel and it's easy to remove. For a deep clean, use a handheld vacuum to pick up the remaining fur.
The second option is just as easy. Blow up a rubber balloon and rub it against the upholstery. It makes the hair stick to it and it's also fun to clean this way. It reminds me of my childhood when I would rub a balloon against my hair to see the static effect.
How can I remove pet hair from clothing?
The best way to remove pet hair from clothes is with a classic lint roller. These lint rollers are cheap and effective because you can really focus on those areas with a large concentration of pet hair. You can also use some scotch tape or duct tape and stick it on the clothing. It picks up pet fur very well.
If you want to remove the pet hair before you throw clothes in the washing machine, follow this trick:
Put dry clothing in a short 10-minute cycle in the dryer. This loosens any hair and leaves clothing clean.
How to remove pet hair from the couch
The best way to remove pet hair from the couch is with rubber. Put on a pair of rubber gloves and wipe the couches. Rubber attracts animal fur so it's simple to do.
As well, you can use the pet hair remover attachments of your vacuum cleaner to get into the tight spots and crevices.
Are Roombas good for pet hair?
The Roombas pick up more pet hair than other similar vacuum cleaners. They are effective because their technology helps the robot locate and pick up pet hairs. So, it can sense where the bulk of the pet hair is and goes straight towards it and sucks it up. As well, the filtration system captures up to 99% of dog and cat hair, dander, pollen, dust, mold, and germs.
What dissolves pet hair in the washing machine?
This might sound repetitive, but vinegar is the best solution for dissolving pet hair in the washing machine. Plus, it's a natural product so you're not using harsh chemicals to clean. Add 1/2 cup of white vinegar to the rinse cycle and it's going to break up those pet hairs.
After the wash cycle is done, clean the inside of the machine with a wet cloth to remove any remaining fur.
How do I get rid of dog hair in the house?
The most efficient way to have a dog hair-free home is to clean often.
Cover the furniture with blankets or special covers and wash them often.
Dampen a dryer sheet – but only slightly, and wipe down all the surfaces covered in dog hair.
Use duct tape to pick up pet hair – this is effective for small areas.
Use rubber gloves and wipe down surfaces. Rubber attracts pet hair.
Swiffer the floors. Or use a damp mop.
Use the pet hair magnet or a window squeegee on the carpet.
Use a broom with rubber bristles.
Conclusion
When pet hair becomes a primary concern, you need to use all the tools at your disposal to ensure your home stays clean and safe. Pets are such a source of joy but they love to make messes, especially when we're not paying attention. But, there's no need to worry because, with all the pet hair removal solutions we've mentioned, you'll find cleaning easy and less time-consuming.
I'm Joost Nusselder, the founder of Tools Doctor, content marketer, and dad. I love trying out new equipment, and together with my team I've been creating in-depth blog articles since 2016 to help loyal readers with tools & crafting tips.