I love creating free content full of tips for my readers, you. I don't accept paid sponsorships, my opinion is my own, but if you find my recommendations helpful and you end up buying something you like through one of my links, I could earn a commission at no extra cost to you.
Learn more
Are you thinking about investing in a new vacuum cleaner? Then it is time to learn a bit about what dust busters can do the job that you need.
With so many vacuum cleaners available on the market today, it is so hard to pick the right one. On the other hand, all considerations about bells and whistles aside, your choices nowadays will generally come down to one thing.
Will it be bagged or bagless?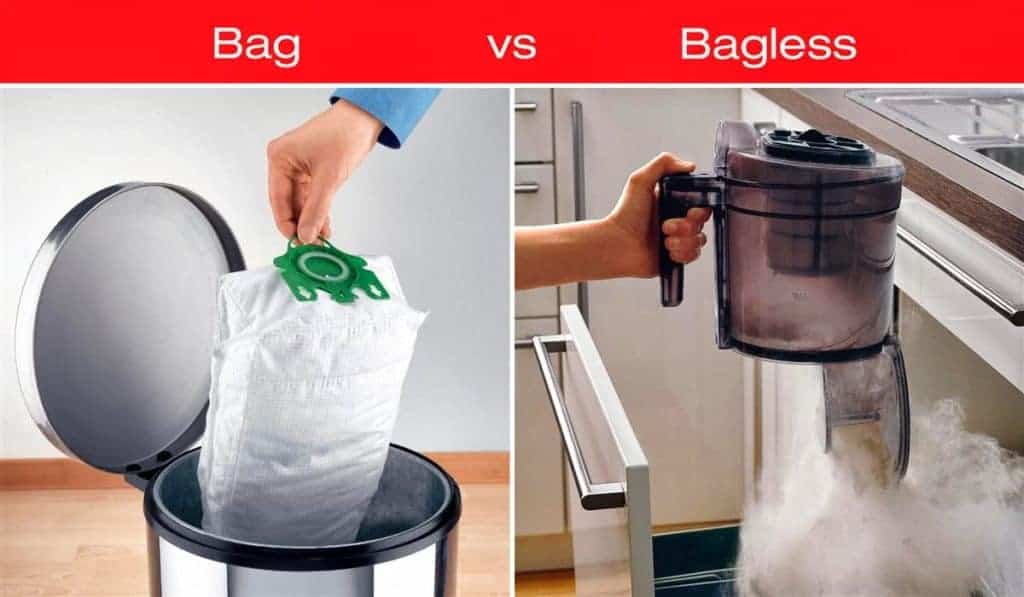 Which is the best? Read on to know their differences. It is actually quite an important distinction to make if you are looking to really make the best purchase that you can. Both are great at removing all kinds of dirt and dust on all surfaces, so you're making a good decision regardless of which one you choose.
I will review 4 of the best bagged and bagless models on the market. Keep reading to find out about all the features and why I am so keen on those particular ones.
Bagged vs Bagless: What's the Difference?
In case you're not familiar with a bagged and bagless vacuum cleaner, I'll go over the main difference between the two.
The bagged model is that traditional vacuum cleaner you've probably grown up with. It has a replaceable bag that acts as a filter. It traps the dust and dirt but allows the air to flow through the bag.
The bagless model has a plastic chamber where all the dirt is collected. It uses filters to trap the dust and dirt particles into the dirt cup/chamber. The chamber is easy to empty and you don't need to change the bags.
Which is better?
They are both great when it comes to cleaning performance. If a vacuum cleaner has powerful suction and a large dirt bin or bag, it cleans effectively. Therefore, it comes down to personal preference.
A bagless vacuum cleaner is more environmentally friendly. The bagged model requires the use of hundreds of bags in its lifetime. As far as convenience, the bagless model is super easy to use. Simply empty the plastic dirt cup and you are ready to go. You need to wash it occasionally, but it's easy to empty.
Did you know that the difference just comes down to how you'll be throwing your dirt away? Otherwise, both models are excellent.
Best Bagged Vacuum Cleaners
Best Bagged Vacuum Cleaner: Hoover WindTunnel T-Series UH30301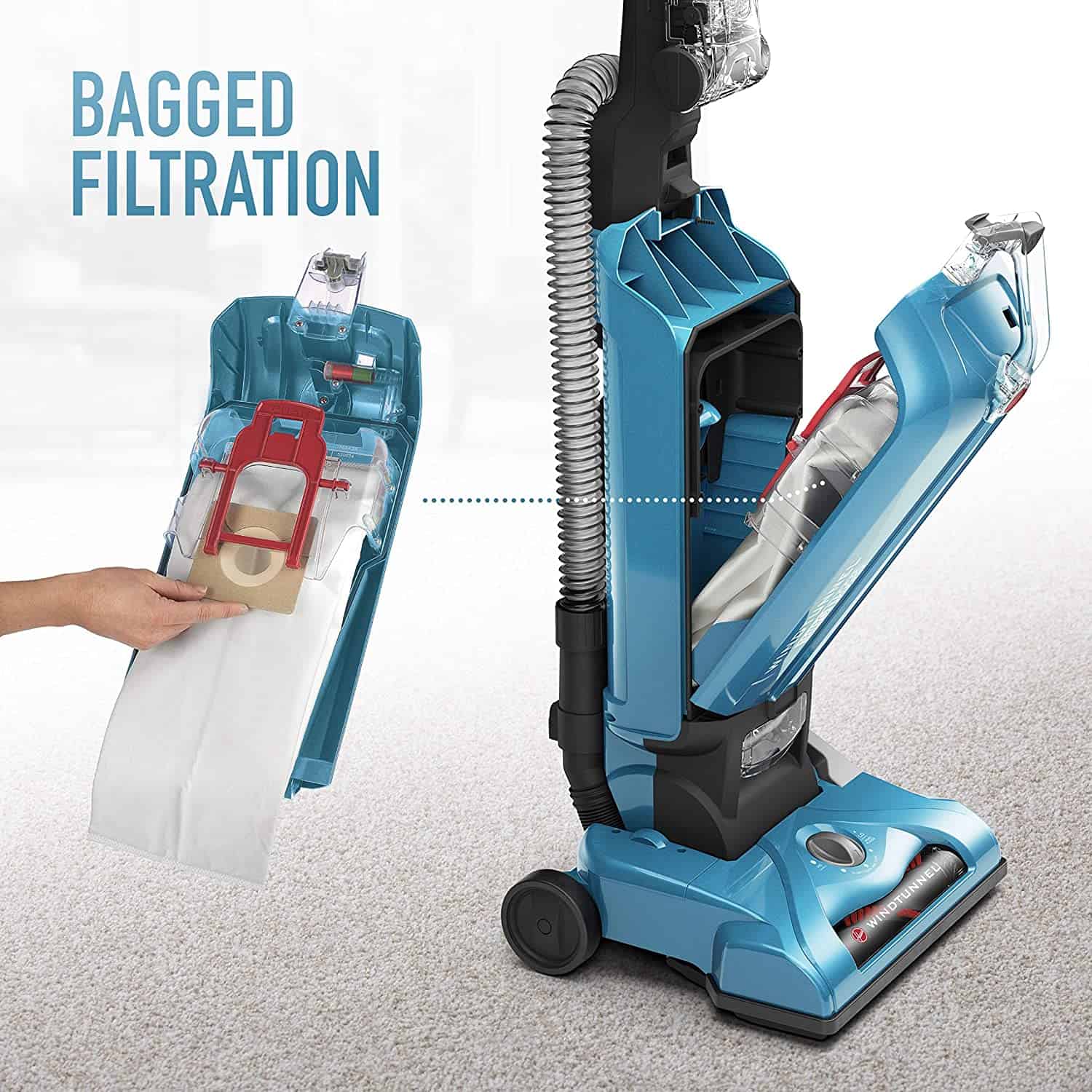 (view morhttps://amzn.to/2PhWHr9e images)
Have you ever experienced that moment when you finish vacuuming only to realize some dirt is left behind? I know how disappointing and frustrating that feeling is. Vacuuming should be easy and efficient, but that's only possible with a dual-action model like this upright Hoover. Some models work well on hardwood surfaces but can't remove most of the dirt in carpet fibers. This one does it all – it cleans all surfaces, picks up all kinds of debris, and it comes with handy attachments to help you deep clean.
Whether you have a large home or a small apartment, an upright vacuum cleaner is very handy because it's easy to maneuver and has amazing cleaning capabilities. If you're concerned about allergens, dust particles, and germs, then this Hoover bagged model is the machine that makes your home spotlessly clean. It has a HEPA filter that traps 99.7 % of dust, dirt, and dander so, it significantly reduces allergens in the air. I recommend this model for all germaphobes because it has a non-contact dirt removal feature. You don't need to worry about touching the dirtbag and you also don't need to worry about any dust escaping into the air.
Features
This vacuum cleaner uses WindTunnel technology which just means there are several suction channels. Therefore, the powerful suction removes all the dirt and debris on any surface, even the dirt that's embedded deep in the carpet.
The HEPA filter is an essential feature of this vacuum cleaner. People assume that bagged vacuums are efficient without a HEPA filter but this feature is extremely efficient at trapping dirt and dust. It traps about 99.7% of all dirt, therefore your home is much cleaner. It evens traps pollen and other allergens, so if you suffer from allergens, this vacuum is going to make life easier.
My favorite feature is the 5-floor height adjustment setting. The multi-floor adjustments allow you to clean carpets of varying heights. It also makes transitioning between hard surfaces and carpets easy.
This vacuum cleaner has a 30ft cord length so that you can easily move around between rooms. You don't need to keep unplugging the machine every time you move a little farther with your cleaning task.
There are several attachments and accessories for multi-task cleaning. The kit comes with an air-powered hand tool that lets you get into tight spaces. There is also an extension wand that lets you reach up onto lamps and blinds. The small crevice tool is great for tiny areas and cracks where debris tends to accumulate. But, my personal favorite attachment is the upholstery tool because I can remove the messes on my furniture, as my sofa tends to get full of pet hair.
The roller brush picks up all the dirt and hair very effectively on all surfaces.
Final Verdict
If you're one of those people who wants a touchless bagged vacuum cleaner, you'll be pleased with this model. It allows you to clean any surface in your home in minutes. Since the bag is airtight, you never have to deal with debris and dirt flying out of the vacuum cleaner and sneaking back into your room. It's the ultimate "do it all" type of vacuum cleaner, and best of all, it's under $150 but does the work of similar models that costs thrice as much!
Best Budget Vacuum Cleaner:

BISSELL Zing Lightweight Bagged Canister Vacuum
Not all vacuum cleaners are big bulky expensive machines. Some of the most efficient models are lightweight and affordable! This Bissell canister bagged vacuum has an easy to remove dust bag. Best of all, it doesn't make any mess and traps more dirt than your average bagless model. I've always been vary of bulky and heavy vacuum cleaners because I get tired easily and the last thing I want to do is lug around a giant vacuum. It gets stuck in the carpet and the cord gets tangled. But, that's not the case with this small simple vacuum cleaner. It works very effectively on hardwood floors and low-pile carpets.
Since this model has a lightweight handle, it's easy to carry up and down the stairs. So, you can move around in a jiffy without struggling to carry this vacuum around. Another great feature of this Bissell is the powerful suction. It works just as well as those expensive models but costs only a fraction of the price. Bissell is constantly improving their vacuums and this model proves that. It has a pre-motor and post-motor filter and they are both washable and reusable. So, you the only thing you're spending money on are the bags, but they are large enough to trap a LOT of dust!
This vacuum cleaner is best for multi-level homes and people who can't lift heavy machines, so I recommend it if you want quick and effortless cleaning.
Features
This vacuum cleaner has variable suction. That means you can clean low pile carpets as well as hard surfaces like hardwood, laminate, and tile. It even works on puffy rugs because the powerful suction removes those small particles trapped inside the carpet fibers.
You don't need to switch attachments when you switch cleaning surfaces. Simply press a switch and go from carpet to hardwood instantly.
Say goodbye to tangled cords. This vacuum is easy to put away and store. It has the automatic cord rewind feature which pulls the cord back into the machine. Also, the vacuum is small enough to fit almost anywhere because it's not bulky.
The dust bag is very easy to remove without creating a mess. The airtight bag comes out easily and no dust is released into the air, so you don't have to get your hands dirty and the air stays clean.
2 filters: one pre-motor and one post-motor filter ensure that all the dirt and fine dust particles stay trapped in the filters and bag for a cleaner home. Also, the filters are reusable and washable so you don't need to spend money on them.
6-foot hose length is long enough for reaching up onto furniture and upholstery.
Final Verdict
If you want to stay on budget and don't see the point of investing in expensive vacuum cleaners, you'll be pleased with this Bissell model. It's not only very affordable, but it also does a great job of picking up dirt and dust particles. The double filters ensure a deep and allergen-free atmosphere. But the main reason this vacuum cleaner is a great buy is that it is lightweight and easy to move around. Even people who can't lift heavy machines will walk up and down the stairs carrying this vacuum without any problems.
Advantages and Disadvantages of Bagged Vacuum Cleaners
In this section, I will discuss the pros and cons of the bagged vacuum cleaner in comparison to the bagless model. The bagged models are great because the dirtbag goes perfectly into a cloth section that zips up. When it fills up, it's easy to remove it and replace it.
Pros
It's hygienic because the dirt is contained in a zipped bag. Thanks to numerous technological advancements, the allergens, dirt, and dust remain tightly secured in the bag. Therefore, dirt doesn't escape the bag while you vacuum, and even while you empty the bag.
The bagged vacuum cleaners generally require less maintenance. A bag holds about 2 lbs of dirt and debris so it needs changing less often.
The bag doesn't require any cleaning. Simply change it. The filter is built into the bag and also doesn't require cleaning.
This model is best for people who suffer from allergies. The reason is that the bag itself is hygienic. The filter successfully traps all dirt, dust, and debris particles inside the bag. The bags are airtight so it's very unlikely that any particles escape the bag. Therefore, even allergy sufferers can vacuum and change the bags without triggering an allergic reaction.
While HEPA filtration is not exclusive to bagged models, but the best vacuum cleaners have this type of filtration system. A HEPA filter traps over 99% of all dirt and dust particles.
Cons
The bags need to replaced quite often. This means you need to spend money to buy new filters and that cost adds up over time.
As the bag fills up, the performance of the vacuum cleaner decreases. The suction becomes less powerful and when the bag is full, it stops working properly. So, you must change the bag quite often which is time-consuming.
Best Bagless Vacuum Cleaner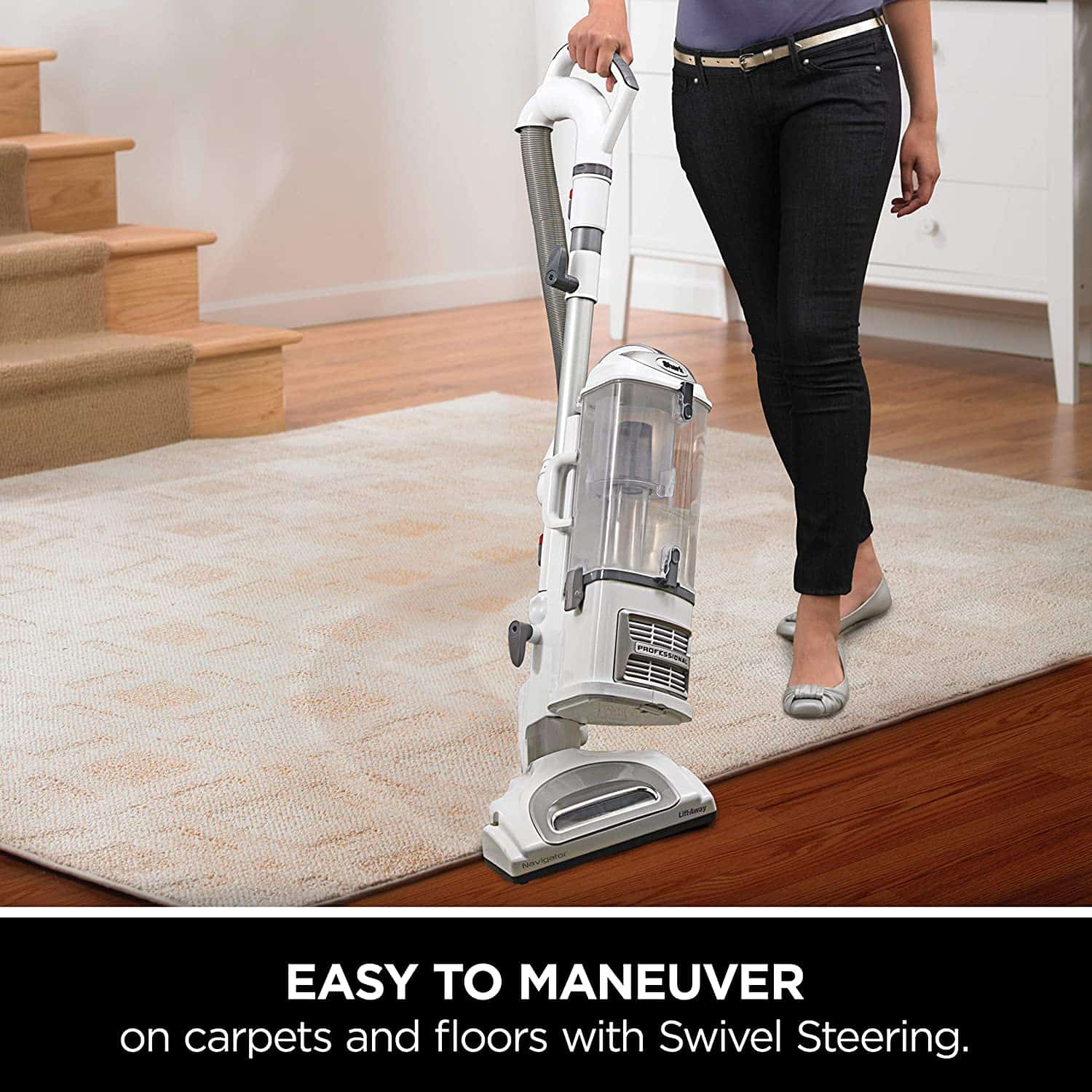 One thing that concerns most people is all that dust that escapes the dust cup when you empty a bagless vacuum. But, with an innovative model like the Shark Navigator, you can forego that issue and dispose of all the mess without releasing allergens.
Imagine being able to use an upright bagless vacuum exactly how you want without the hassle of dustbags. Whether you need to clean carpets, floors, upholstery, or blinds, you can do it all with a click of a button. This particular SHARK model is an excellent upright vacuum cleaner with a HEPA filter and complete seal technology. It cleans up more dust and dirt than other similar models but without breaking the bank. What I love about this machine is that you can turn off the brush rolls. This feature is extremely useful if you want a smooth transition between soft and hard surfaces.
It's such a lightweight vacuum cleaner (13.7 pounds) so you can maneuver it any way you like. You can even pick it up to clean ceilings or blinds. It's not one of those bulky heavy machines that seem to just drag on the floor. But, when it comes to suction power, it's powerful enough to grab any kind of dirt and dust, leaving your home clean and germ-free. Since it's a bagless model, clean-up is very easy; simply empty the plastic canister and you're ready to continue. It's just the best overall versatile vacuum cleaner that doesn't make a mess when you empty it.
Features
The vacuum cleaner has a large dust cup capacity of 2.2 quarts so you don't need to empty it as often. As a result, you spend more time hoovering and less time going to the garbage can.
This vacuum is designed with anti-allergen complete seal technology. That's just a fancy way of saying that the dust doesn't escape the dust cup when you empty it. It is sealed into the cup tightly so you don't release those harmful germs and allergens back into your home. It allows you to keep the air fresh and dust-free.
You won't believe how lightweight this machine is. Although it's an upright model with all the components of other vacuum cleaners, it only weighs 13.7 pounds. Even your kids can lift this vacuum cleaner. Therefore, you can move up and down the stairs and across the room without breaking a sweat. Also, your hands won't be hurting if you pick it up.
If you vacuum a hard surface, you can turn the brush roll OFF, for a more efficient clean. So, when you clean the carpet you can benefit from the deep-cleaning power of the brush rolls, but you can also shut them off if they're not needed.
The sealed HEPA filter removes 99.0% of dust and allergens – you can't get much cleaner than that!
If you struggle to get under the furniture and around bulky pieces, you can use the advanced swivel steering system. It allows the head to move and rotate, which lets you get into tight spaces.
Final Verdict
This is the perfect vacuum cleaner for anyone who likes lightweight devices with powerful suction. It works well on all surfaces because it has a swivel head and the brush roll is easy to turn on and off. Although it's a bagless model, it is still hygienic to clean because the dust cup has allergen seal technology so none of the dirt particles go back into the air. So, if you are after convenience and maneuverability, this Shark vacuum is an excellent choice.
Best Budget Bagless Vacuum Cleaner:

BISSELL Cleanview 2486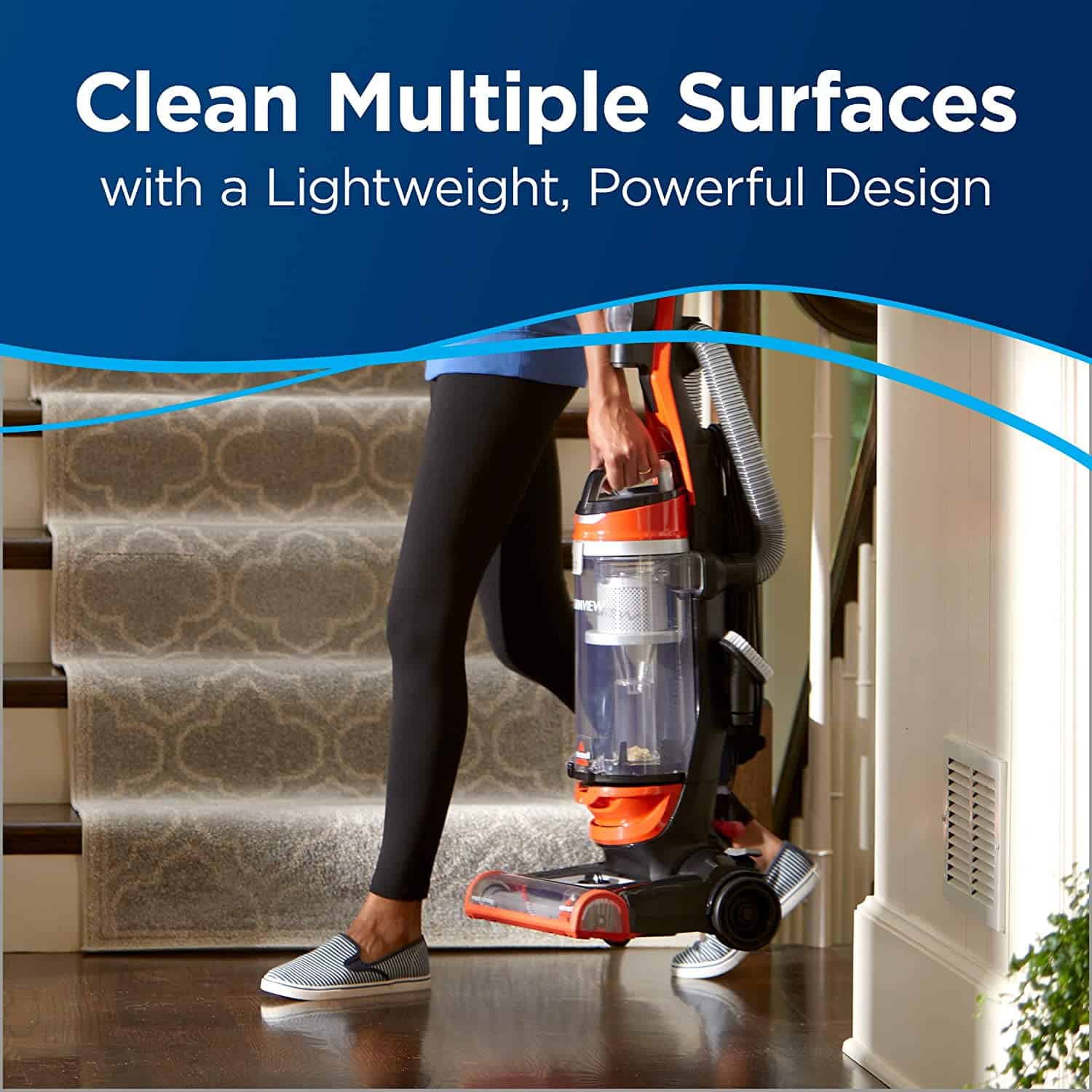 Affordability and efficiency go hand in hand with this Bissell bagless vacuum cleaner. It's capable of picking up all the mess in one go thanks to the OnePass technology. Therefore, you don't need to keep going over the same spot over and over again. It significantly reduces the cleaning time so you can get back to doing things you actually like. Vacuuming used to be so time-consuming and boring but with this handy machine, you can suck up all the dirt on all types of surfaces in one go. Therefore, you're not left with any scattering after you vacuum. The turbo brush tool lets you suck out all those small debris and fine particles that get stuck in carpets and upholstery.
I'm surprised at how affordable this vacuum cleaner is because it has all the main features of its most expensive competitors. It's also extremely hygienic because the dust doesn't scatter out as you empty the dust cup. If you're concerned about its tank capacity, then let me assure you that this model has a very large dust tank, so you don't need to empty it out very often. The filter is washable so you can keep using it for years. In terms of design, it's top-notch because it's lightweight and portable. You can move it around the house in one hand easily.
Features
This vacuum cleaner is great for households with pets because it's very effective and picks up all the pet hair, dander, and other messes your furry friends bring home.
Stubborn messes are no match for this vacuum cleaner because it has OnePass technology which means that it picks up dirt the first time you go over it. The combination of the powerful suction and brush design makes this cleaner very easy to use and you don't need to insist on the same spot more than once.
It's a great machine because when you use it on hard floors, it doesn't scatter any of the dirt and debris around. Instead, it sucks up everything and collects it in the dirt cup.
The machine has onboard storage so all the attachments are always accessible and on hand. This makes it easy to switch them as you clean without having to go look for them.
The suction power doesn't slow down as you vacuum, it stays constant so you can get the job done quickly.
It has a 1-liter dirt tank capacity which is a decent amount of storage until you have to empty the bin.
The cord is 25 ft long and the hose is 6 ft long so you can even reach up to clean blinds and lampshades. Therefore, it's a very versatile vacuum cleaner.
Final Verdict
It's hard to find a better value when it comes to bagless vacuum cleaners. Not only are Bissel vacuums some of the best performers in the world, but this particular model is also extremely cheap and accessible for all budgets. I recommend it for those of you looking to save rather than splurge yet not willing to sacrifice cleaning performance. Overall, it does a great job of cleaning multiple surfaces, especially hard floors. Also, the dirt bin is super easy to remove and empty so you don't need to get your hands dirty.
Advantages and Disadvantages of Bagless Vacuum Cleaners
Consumers get a lot more excited about bagless vacuum cleaners these days. That's probably because they are so easy to use. The dirt is sucked into a plastic cup or tank and you can see when it's full and needs to be emptied. You can't see when the bag is full, but you can see the dirt cup. So, it comes down to personal convenience. The most popular bagless vacuum cleaners come in a canister and upright version and many of them are very lightweight and easy to use.
Pros
The bagless vacuums are generally cheaper compared to the bagged models. Also, this type of vacuum is cheaper to operate and requires less maintenance. And since you don't need to buy the bags, you save money in the long run. The plastic chamber can be emptied as many times as you need and it rarely breaks or needs replacement.
Convenience: as I mentioned above, the see-thru chamber allows you to see when it's full, so you always know when to empty it. Therefore, no guessing is required. Also, there is that sense of satisfaction because you see the vacuum as it picks up the dirt and you can see all the debris accumulating.
This type of vacuum is eco-friendly because you don't need to use hundreds of dirtbags. Therefore, you aren't wasting as many resources. When using a bagless vacuum, you aren't throwing out more than just the dirt, so there is far less waste.
Another reason people prefer bagless models is that you can see what you pick up. If you accidentally pick up an object you can easily see it and remove it from the dirt cup. With a bagged model, you might not even realize you've picked up something. Just imagine accidentally picking up precious jewelry.
Cons
The main disadvantage is that this type of cleaning is a bit less hygienic, as you have to get more hands-on. First of all, you need to go outside to empty the dirt chamber if possible to avoid any allergens and dust getting into the air. A lot of dust can escape the dirt chamber and it can end up on the floor again!
You must touch the dirt chamber and you can possibly touch the dirt and potential germs.
There is also increased exposure to allergens. The dirt doesn't go into an airtight bag, thus it floats around in the air and can cause allergies. If you suffer from allergies, it might be better to use a bagged vacuum cleaner.
Considering Costs
Price is without a doubt the first concern in the shoppers' mind and, honestly, bagged vacuum cleaners are usually cheaper. If you are buying a bagged vacuum cleaner that is more expensive than a bagless one of similar size, it's probably got more features and extra bells and whistles attached.
You can buy bagged vacuum cleaners for around $49.99 brand new, off the shelf. A bagless one, as you will see below, is much more expensive even at average levels.
These types of vacuum cleaners utilize bags that are normally attached to the back of the handle to store dirt, dust as well as debris. The bags range in price from $2-4; it all depends on which vacuum you have. Once the bag is full, you just detach it and throw it out. However, as anyone with any experience will know, changing a vacuum cleaner bag could be a dirty and grimy affair!
Bagless dust busters, then, avoid such a mess. On the other hand, they are a bit more expensive to purchase at the start which naturally slows down your chances of picking one up.
Base models of bagless vacuums could be bought for approximately $80.00 and don't need the use and changing of a bag. They are not maintenance free either, so don't be surprised if it stops working quickly if you fail to take care of it.
A lot of bagless vacuums available come with a filter, or filter system, which needs occasional cleaning and eventually changing. This isn't something that you should ignore, as losing your filtration takes away one of the most important reasons for using a tool like this in the first place.
Cost Efficiency
On the other hand, the main issue of bagless is the cost. Filters are available from $19.99 to $39.99; it depends on the model. Luckily, most filters will last in many fills of the canister and might just need to be changed once a year, if even that frequently. The more you take care of your vacuum cleaner, the less likely it is that such breaks will take place.
Other Critical Considerations
Of course, there are other essential considerations, which come into play when selecting between a bagged or bagless system.
For instance, convenience. Emptying the canister of bagless systems is far and away simpler, as well as more convenient compared to detaching a bag.
Bags can be messy affairs, and if opened the wrong way can leave you with a whole vacuuming job to do once again.
For asthmatics and members of the family suffering allergies, a bagless vacuum cleaner is the safest option – it's far less likely to re-introduce allergens and dust into the air.
As stated above, the changing of a bag could release a fair amount of dirt and dust into the atmosphere, which is a big no-no for people have respiratory issues.
How efficient and safe is a bagless vacuum cleaner? This is apparently a selling point as many bagless vacuum cleaners will get rid of 99% of allergens and dust from the air.
Make sure any cleaner that you can buy ensures this is the case. The main benefit of bagless systems is the lack of mess in the air; so make the most of that.
Which kind of vacuum cleaner must you purchase?
So, now you know what to look out for, it might be worthwhile paying attention to the decision that you are going to be making.
Perhaps it will boil down to personal preference and convenience – we all have our own preferences when it comes to tidying up. Do you prefer raw power? Or mobility?
For a lot of people, the $30 jump in cost from a bagged vacuum cleaner to bagless vacuum cleaners might seem more reasonable, once you consider the benefits which come with bagless vacuum cleaners. There is no bag to change, and the most important thing is that you will have fresh and clean air at all times.
On the other hand, when budget concerns are top in your considerations, the conventional bag vacuum cleaner might just be the most excellent option. Be sure to take all of the above into consideration, though, so that you can feel at peace with your choice each time.
It's better to be 100% certain than investing quickly and having regrets, so take your time, look around, and make the decision based on the factors above.
What to Consider When Buying a Vacuum Cleaner
Vacuum cleaners make up a very important piece of equipment to keep your home environment dirt-free and healthy. However, not all vacuum cleaners are of good quality – despite what their official description claims.
Some will just give you more of a headache than the allergens they are (supposed to be) removing!
With so many different models, designs, and types of vacuum cleaners out there, finding the best one may not be easy for you. By considering a few specific parameters before buying a vacuum cleaner, though, you can make your buying experience far more enjoyable and successful.
When you are planning to purchase a vacuum cleaner, always consider it a great investment for your health. Choosing a quality vacuum cleaner can help you maintain a clean indoor environment and ensure it looks fantastic. From trying to improve the visual appeal to helping reduce allergens, what benefits exist from using a vacuum cleaner?
When buying a vacuum cleaner, there are a lot of important parameters you should consider and some of those are as follows:
The Type
The kind of vacuum cleaner you can buy usually can be divided into two categories; cordless and wall-mounted/charged. Both have their pros and cons, as you can imagine.
Wall-mounted units provide high suction power. However, it is limited in size. This can mean spending a lot of time unplugging and re-plugging and tripping on wires. Not ideal for some jobs.
A cordless unit is smaller and usually run with rechargeable batteries. Knowing what type of vacuum cleaner, you will buy can help you to easily find the one that you are trying to look for.
Decide what you would prefer; the extra kick and power, or the mobility and ease of usage?
Power and Performance
Having a powerful vacuum is useless if it's not easy to use. When you're looking for a vacuum cleaner, make sure that you choose one that is not difficult to maneuver. Using a powerful and high-performance vacuum makes your cleaning process more efficient.
If it feels like it's akin to rolling around the place with a piano in tow, though, look for something a little easier on the arms. Make sure that the cleaner you invest in can be used in the right manner, and that it's got the power without limiting your ease of usage.
You'll get more done with something more mobile and less powerful if you find it too hard to maneuver something stronger.
Weight and Bulk
Another significant parameter to consider when buying a vacuum cleaner is the weight. It plays a very important role in choosing a vacuum. A small or medium-sized vacuum cleaner is most recommended for many level houses. For houses with a single floor, we recommended you choose a heavy-duty one.
So, do some research to get the one that you can store easily and carry around. The kind of weight should be one that you can manipulate with one hand; or one that you can easily lift up and downstairs, for example.
Suction Strength
Everybody wants to have the most efficient and powerful vacuum. Power is one of the biggest marketing play of vacuum manufacturers. However, the suction strength is just as important – power is one thing, but if it lacks suction power you will struggle regardless of how loud or ferocious it sounds.
Most vacuum specifications offer power ratings and that can be one of the most confusing parts when comparing the performance of vacuums since manufacturers don't quote measurement of similar units.
Certification
This is another important parameter to consider when buying a vacuum cleaner. The green label that you will see in most vacuums means that it is certified by the Carpet & Rug Institute. Without certification, you cannot guarantee that what you are buying does the job it is supposed to.
It also means that the vacuum will meet high-performance standards. Apart from that, when the vacuum that you shop is certified, it also means that it has lower emissions, which can help in maintaining good and quality air inside your home.
Air Flow
Before buying a vacuum cleaner, make sure to check its airflow. This is being measured in centimeters or cubic feet per minute. Don't think of this as an afterthought, especially if you are buying this for professional cleaning use.
It is better to opt for one with further or extra airflow because it is responsible for carrying the soil into the container/bag. After all better airflow means more powerful suction.
Motor Size
Motor size is another important parameter to consider when buying a vacuum cleaner. This is being measured in amps. When you choose one with a larger number, the more you will have a powerful vacuum cleaner.
When buying a high-quality vacuum cleaner, make sure to consider these parameters to ensure that you invest in the right product that will meet your cleaning requirements.
All of these points should make sure that your purchase is going to meet your personal and professional needs. Don't disregard this; the right choice will last for many years. The wrong one will be back at the store within a week.
FAQs
In this section, we are answering your top questions about bagged and bagless vacuum cleaners to help you make informed choices.
Are bagless or bagged vacuums better for allergies?
Bagless vacuums have HEPA filters that are excellent at trapping all the dust and allergens. However, bagged vacuums are even better because they have an airtight sealed bag. Therefore, none of the dust particles and allergens escape the bag when you remove and replace it. This means fewer allergens in your home and fewer symptoms. The HEPA filters and newer vacuum bags trap up to 99.9% of dust, mites, allergens, pollen, ragweed spores, and germs.
Which vacuum lasts the longest?
As far as brands are concerned, Hoover and Miele are some of the top vacuum cleaner brands and their products last for many years. But both bagged and bagless vacuum cleaners last long if you care for them properly.
How much should you spend on your new vacuum cleaner?
In general, a more expensive vacuum cleaner means it's better quality and has many more innovative features. It also means it can clean better and last longer. However, the best budget vacuums are also very good and if you're on a budget you can find great deals and excellent products. Experts recommend you spend at least $15o on a new vacuum if you want superior performance.
Which is better for pet hair: a bagged or bagless vacuum cleaner?
A bagged vacuum cleaner is more efficient if you have pets and your home is full of pet hair and dander. The bagless vacuum has a simpler functioning mechanism and it lasts longer. The hair is sealed tight in the bag, so it doesn't float around or fall out of the vacuum cleaner. On the other hand, bagless vacuum cleaners are prone to clogging. The dirt cups and filter can clog which reduces the performances and makes the vacuum less efficient.
Are filters for bagless vacuums expensive?
Depending on the brand and features, filters can cost anywhere from 30 to 60+ dollars per filter. In the long run, this is quite costly and can add up quickly. If you clean professionally or you clean very often, you need to change filters frequently. Therefore, you are spending a lot of money on just the filters.
Conclusion
As far as cleaning efficiency and ease, both bagged and bagless vacuum cleaners are great for keeping your home clean. Vacuuming is a weekly, if not daily necessity. But, if you choose a model that's easy to move around and empty, and has powerful suction, you don't have to spend too much time on vacuuming. Both these types of vacuums are constantly evolving. The filtration techniques are getting better and better, so they offer a deeper clean. Make sure to weigh the pros and cons of each model so you can choose the best vacuum cleaner for your lifestyle and cleaning needs.
I'm Joost Nusselder, the founder of Tools Doctor, content marketer, and dad. I love trying out new equipment, and together with my team I've been creating in-depth blog articles since 2016 to help loyal readers with tools & crafting tips.