Are you thinking about investing in a new vacuum cleaner? Then it is time to learn a bit about what dust busters can do the job that you need.
With so many vacuum cleaners available on the market today, it is so hard to pick the right one. On the other hand, all considerations about bells and whistles aside, your choices nowadays will generally come down to one thing.
Will it be bagged or bagless?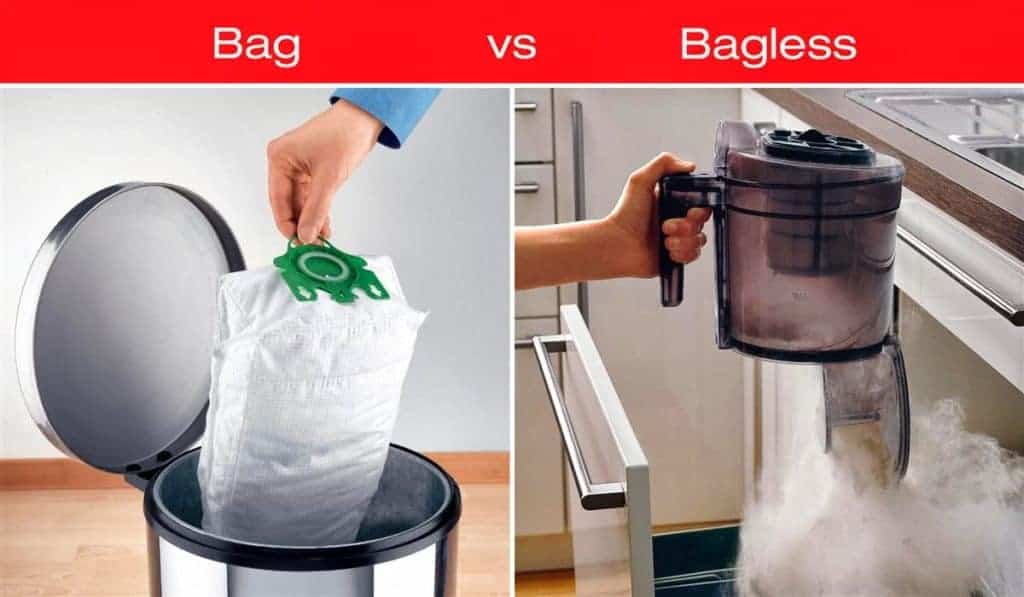 Which is the best? Read on to know their differences. It is actually quite an important distinction to make if you are looking to really make the best purchase that you can.
The Cost Counts
Price is without a doubt the first concern in the shoppers' mind and, honestly, bagged vacuum cleaners are usually cheaper. If you are buying a bagged vacuum cleaner that is more expensive than a bagless one of similar size, it's probably got more features and extra bells and whistles attached.
You can buy bagged vacuum cleaners for around $49.99 brand new, off the shelf. A bagless one, as you will see below, is much more expensive even at average levels.
These types of vacuum cleaners utilize bags that are normally attached to the back of the handle to store dirt, dust as well as debris. The bags range in price from $2-4; it all depends on which vacuum you have. Once the bag is full, you just detach it and throw it out. However, as anyone with any experience will know, changing a vacuum cleaner bag could be a dirty and grimy affair!
Bagless dust busters, then, avoid such mess. On the other hand, they are a bit more expensive to purchase in the start which naturally slows down your chances of picking one up.
Base models of bagless vacuums could be bought for approximately $80.00 and don't need the use and changing of a bag. They are not maintenance free either, so don't be surprised if it stops working quickly if you fail to take care of it.
A lot of bagless vacuums available come with a filter, or filter system, which needs occasional cleaning and eventually changing. This isn't something that you should ignore, as losing your filtration takes away one of the most important reasons for using a tool like this in the first place.
Cost Efficiency
On the other hand, the main issue of bagless is the cost. Filters are available from $19.99 to $39.99; it depends on the model. Luckily, most filters will last in many fills of the canister and might just need to be changed once a year, if even that frequently. The more you take care of your vacuum cleaner, the less likely it is that such breaks will take place.
Other Critical Considerations
Of course, there are other essential considerations, which come into play when selecting between a bagged or bagless system.
For instance, convenience. Emptying the canister of bagless systems is far and away simpler, as well as more convenient compared to detaching a bag.
Bags can be messy affairs, and if opened the wrong way can leave you with a whole vacuuming job to do once again.
For asthmatics and members of the family suffering allergies, a bagless vacuum cleaner is the safest option – it's far less likely to re-introduce allergens and dust into the air.
As stated above, the changing of a bag could release a fair amount of dirt and dust into the atmosphere, which is a big no-no for people have respiratory issues.
How efficient and safe is a bagless vacuum cleaner? This is apparently a selling point as many bagless vacuum cleaners will get rid of 99% of allergens and dust from the air.
Make sure any cleaner that you can buy ensures this is the case. The main benefit of bagless systems is the lack of mess in the air; so make the most of that.
Which kind of vacuum cleaner must you purchase?
So, now you know what to look out for, it might be worthwhile paying attention to the decision that you are going to be making.
Perhaps it will boil down to personal preference and convenience – we all have our own preferences when it comes to tidying up. Do you prefer raw power? Or mobility?
For a lot of people, the $30 jump in cost from a bagged vacuum cleaner to bagless vacuum cleaners might seem more reasonable, once you consider the benefits which come with bagless vacuum cleaners. There is no bag to change, and the most important thing is that you will have fresh and clean air at all times.
On the other hand, when budget concerns are top in your considerations, the conventional bag vacuum cleaner might just be the most excellent option. Be sure to take all of the above into consideration, though, so that you can feel at peace with your choice each time.
It's better to be 100% certain than investing quickly and having regrets, so take your time, look around, and make the decision based on the factors above.
What to Consider When Buying a Vacuum Cleaner
Vacuum cleaners make up a very important piece of equipment to keep your home environment dirt-free and healthy. However, not all vacuum cleaners are of a good quality – despite what their official description claims.
Some will just give you more of a headache than the allergens they are (supposed to be) removing!
With so many different models, designs and types of vacuum cleaners out there, finding the best one may not be easy for you. By considering a few specific parameters before buying a vacuum cleaner, though, you can make your buying experience far more enjoyable and successful.
When you are planning to purchase a vacuum cleaner, always consider it as a great investment for your health. Choosing a quality vacuum cleaner can help you maintain a clean indoor environment and ensure it looks fantastic. From trying to improve the visual appeal to helping reduce allergens, what benefits exist from using a vacuum cleaner?
When buying a vacuum cleaner, there are a lot of important parameters you should consider and some of those are as follows:
The Type
The kind of vacuum cleaner you can buy usually can be divided into two categories; cordless and wall-mounted/charged. Both have their pros and cons, as you can imagine.
Wall-mounted units provide high suction power. However, it is limited in size. This can mean spending a lot of time unplugging and re-plugging, and tripping on wires. Not ideal for some jobs.
A cordless unit is smaller and usually run with rechargeable batteries. Knowing what type of vacuum cleaner, you will buy can help you to easily find the one that you are trying to look for.
Decide what you would prefer; the extra kick and power, or the mobility and ease of usage?
Power and Performance
Having a powerful vacuum is useless if it's not easy to use. When you're looking for a vacuum cleaner, make sure that you choose one that is not difficult to maneuver. Using powerful and with high-performance vacuum your cleaning process more efficient.
If it feels like it's akin to rolling around the place with a piano in tow, though, look for something a little easier on the arms. Make sure that the cleaner you invest in can be used in the right manner, and that it's got the power without limiting your ease of usage.
You'll get more done with something more mobile and less powerful if you find it too hard to maneuver something stronger.
Weight and Bulk
Another significant parameter to consider when buying a vacuum cleaner is the weight. It plays a very important role in choosing a vacuum. Small sizes to medium are best recommended for many level houses while for houses with a single floor, it is best recommended to choose heavy-duty.
So, do some research to get the one that you can store easily and carry around. The kind of weight should be one that you can manipulate with one hand; or one that you can easily lift up and down stairs, for example.
Suction Strength
Everybody wants to have the most efficient and powerful vacuum. Power is one of the biggest marketing play of vacuum manufacturers. However, the suction strength is just as important – power is one thing, but if it lacks suction power you will struggle regardless of how loud or ferocious it sounds.
Most vacuum specifications offer power ratings and that can be one of the most confusing part when comparing the performance of vacuums, since manufacturers don't quote measurement of similar units.
Certification
This is another important parameter to consider when buying a vacuum cleaner. The green label that you will see in most vacuums means that it is certified by Carpet & Rug Institute. Without certification, you cannot guarantee that what you are buying does the job it is supposed to.
It also means that the vacuum will meet high-performance standards. Apart from that, when the vacuum that you shop is certified, it also means that it has lower emissions, which can help in maintaining good and quality air inside your home.
Air Flow
Before buying a vacuum cleaner, make sure to check its air flow. This is being measured in centimeters or cubic feet per minute. Don't think of this as an afterthought, especially if you are buying this for professional cleaning use.
It is better to opt for one with further or extra air flow, because it is responsible for carrying the soil into the container/bag.
Motor Size
Motor size is another important parameter to consider when buying a vacuum cleaner. This is being measured in amps. When you choose one with a larger number, the more you will have a powerful vacuum cleaner.
When buying a high-quality vacuum cleaner, make sure to consider these parameters to ensure that you invest on the right product that will meet your cleaning requirements.
All of these points should make sure that your purchase is going to meet your personal and professional needs. Don't disregard this; the right choice will last for many years. The wrong one will be back at the store within a week.