I love creating free content full of tips for my readers, you. I don't accept paid sponsorships, my opinion is my own, but if you find my recommendations helpful and you end up buying something you like through one of my links, I could earn a commission at no extra cost to you.
Learn more
Perhaps it's time to pick up a new upright vacuum. Look for one that is better quality and more efficient, because then you can spend less time cleaning and more time relaxing.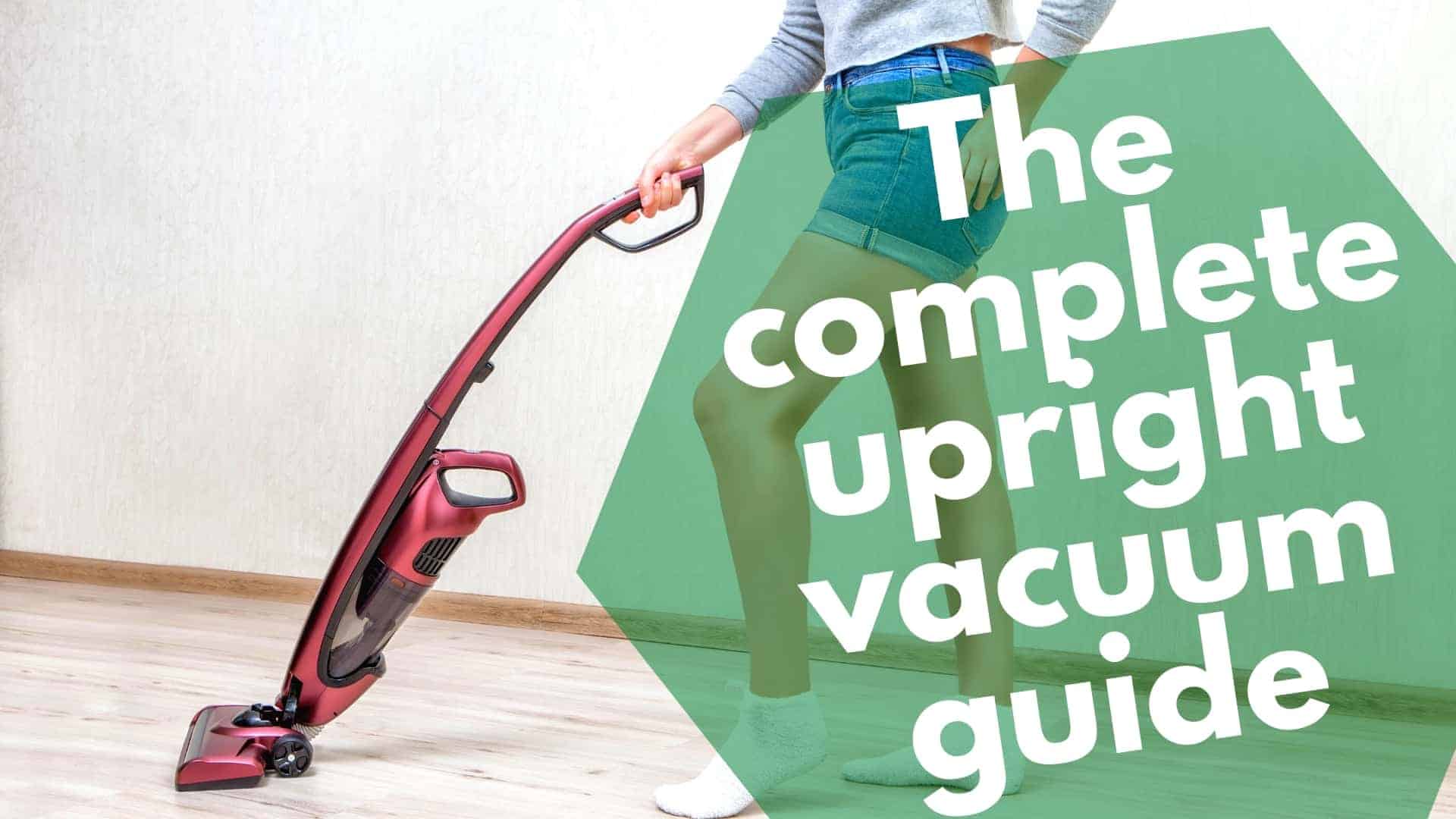 What is the best upright vacuum cleaner? Sometimes, more expensive is not at all what you need since this Bissell 9595A OnePass delivers enough power for most home uses. Unless you have heavy stains, a lot of pet hair or lots of dirt from your children running around you will be pleased with the 9595A. Of course, for some heavier uses you might want to look into some other vacuums and we've got you covered. Check out our full list of the best upright vacuum cleaners on the market.
Buyer's Guide
There are several aspects to consider as you choose your new vacuum cleaner. Here is what to look for before committing to one, to ensure that you get all the features you need.
Features
Here's what to consider when purchasing a vacuum cleaner.
Cordless – whether or not the device is cordless. A cordless vacuum is a battery-powered device that requires no cord and outlet.
Telescopic Wand – does the stick part extend or not. This influences how far you can reach with your vacuum.
Self-propelled – some of the latest models have self-propel technology which means the vacuum moves and the motor picks up dirt at the same time with less effort required of the user. If the user makes less effort, the vacuuming process is more comfortable.
Filtration system – does the vacuum cleaner use a bag filter, HEPA filter, or water filtration system. HEPA filters are a great option because they clean and purify more efficiently than classic bag filters.
Wet/dry function – does your cleaner pick up dry dirt and debris or can it also suck up liquid? If you have a pet that leaves messes in the house, you need a vacuum cleaner that cleans up liquid.
Amperage – refers to how much power the vacuum's motor can put out
Dirt Capture Method – this refers to how the cleaner picks up the dirt and where it goes. There are 5 kinds:
bagged
steam
bagless
wet
wet / dry
Best upright vacuums reviewed
Best upright vacuum under $100: Bissell 9595A OnePass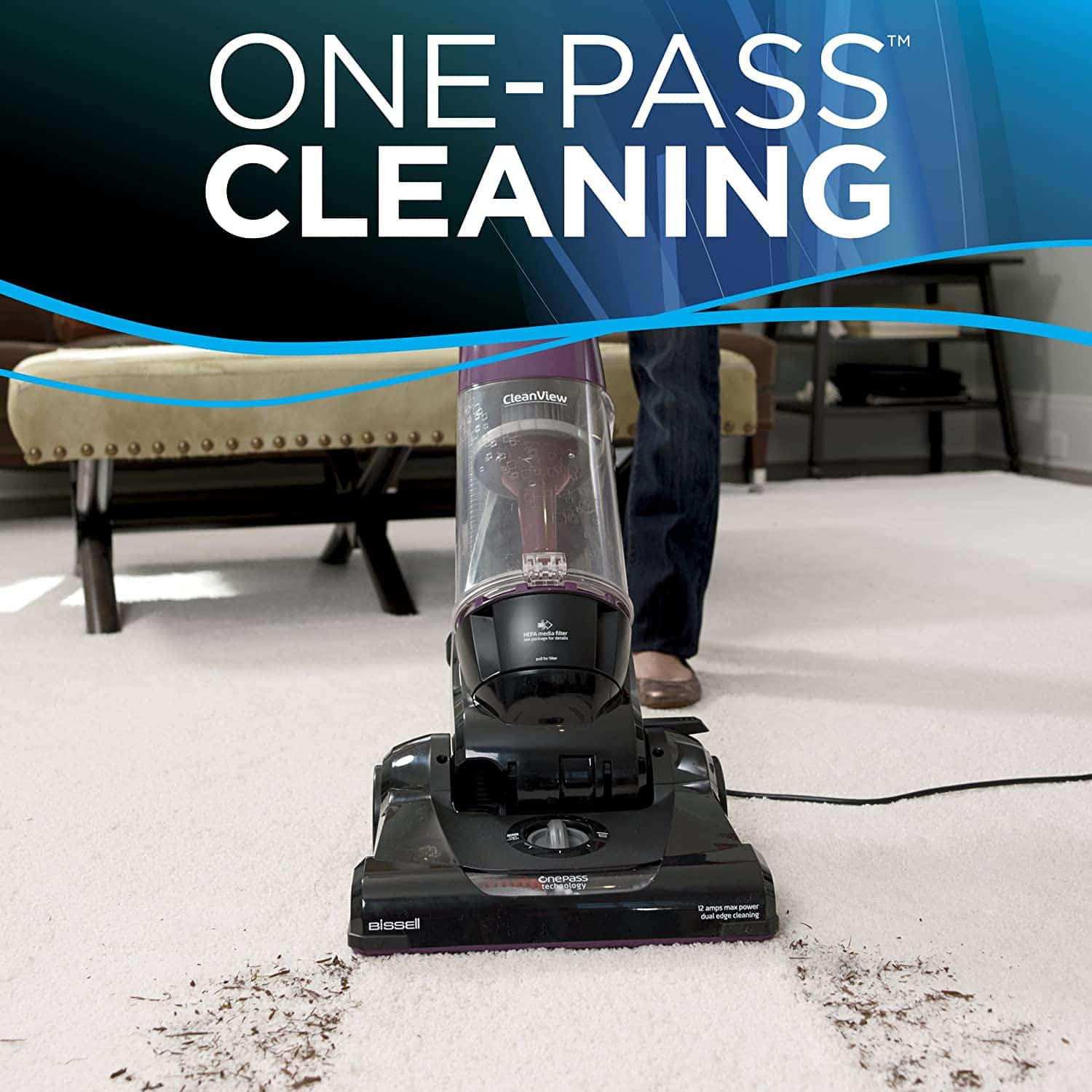 To boost optimal comfort and maximum convenience in your residential property, proper cleaning should not be overlooked. It really plays an essential role in having a safe home.
Cleaning is a hard chore if you don't have the right equipment. Moreover, old vacuum cleaners just don't have good suction and that's a problem because dirt builds-up fast. Now is the best time to take advantage of Bissell 9595A Vacuum with OnePass-Corded. So, even if you have a hectic schedule, the Bissell helps save you valuable time and money as well because it is inexpensive. PROS
Powerful Suction & Innovative Brush
Like other available vacuums in the market, Bissell 9595A Vacuum with OnePass-Corded has powerful suction and innovative brush. When you have been using an inefficient or poor product for a long time, you don't even recognize the advantages of a good vacuum cleaner.
Moreover, you've been leaving dirt behind on surfaces, and this can make you sick.
Make the vacuum your number one choice. It can really make a huge difference every time you clean your home. In no time, you can finish cleaning your entire residential property without any hassle. 100% clean rooms will be guaranteed at the end of the day.
Easy and Fast Cleaning
Cleaning your home is a bit daunting, overwhelming, and time-consuming. Even you are not finished yet, you may already experience fatigue. A bad vacuum consumes your valuable time. Instead of doing something productive, you spend your whole day cleaning your entire home, only to realize the carpet is still dirty.
This is why Bissell 9595A Vacuum with OnePass-Corded is specially created to ensure easy and fast cleaning. By using it, cleaning your property will never be burdensome. It is an easy, fun, and efficient task thanks to this cheap device. It picks up all the dirt with one swipe over the rug.
Advanced or Modern Brush Design
The vacuum has an advanced brush design that rotates down into your carpet. What this means is that it offers a deep clean. This means it goes deep into the fiber and sucks up dirt. There is no need to get stuck on cleaning a single carpet. In just a few hours, you can clean all your carpets without a burden. Moreover, cleaning is convenient on your part and there won't be any more mess left behind.
Aside from that, the design of Bissell 9595A Vacuum with OnePass-Corded is something you will be proud of. It is magnificent and has stunning design features. Moreover, you can consider it a great home cleaning investment. You will never feel ashamed of using it as it looks awesome and wonderful. You will never regret making a purchase at the end of the day.
CONS
The noise level is a bit high. It would not be an ideal option if you do not like too much noise inside your home.
VERDICT
Bissell CleanView Upright Vacuum with OnePass 9595
is one of the most affordable and the best vacuum choices you can ever have these days. It is loaded with a ton of great features. For example, it has cyclonic suction power and other benefits you will love to have in your home for sure. You will be amazed at how this machine maintains the power without hitches or hassles.
FEATURES
Cyclonic System
Like other quality and efficient vacuums, it has a cyclonic system, which is responsible for a long-lasting and powerful suction. It is an excellent alternative to a low-quality product. When you use it, you will be quite amazed at how well it functions. Considering the price, it is very functional and effective so it offers peace of mind. Every stubborn dirt and dust will be vanished away for sure.
TurboBrush Tool
Apart from that, Bissell 9595A Vacuum with OnePass-Corded has a TurboBrush tool. This brush is tailored for stairs, upholstery, furniture, and a lot more. As a result, you don't have to buy other accessories for your cleaner. You can use this tool to clean other parts of your house because the product is versatile and multifunctional.
WARRANTY AND SUPPORT
Bissell 9595A Vacuum with OnePass-Corded comes with 2-years limited warranty. This is great considering most affordable vacuum cleaners normally come with 1-year warranty only. You can also directly call Bissell customer care for support. Don't like waiting and talking on the phone? You can email Bissell, and they promise to reply to your email within 1 day.
FINAL WORDS
This Bissell CleanView Upright Vacuum with OnePass 9595 is packed with excellent features and an affordable price for everybody to have it. Its cyclonic technology is what sets it apart from other vacuum cleaners in its class with powerful suction to suck even the most stubborn dirt from the most remote areas in your house. This vacuum is also a stylish and sleek vacuum cleaner that is very easy to handle and store. So have you decided to change your vacuum with this product? If that is the case, your decision will be great. It can really go above your expectations.
Check prices and availability here
Best industrial upright vacuum cleaner: Shark NV501 Rotator Professional Lift-Away

PROS
Shark NV501 Rotator Professional Lift-Away is the perfect solution for all your needs. This type of vacuum cleaner will never disappoint you because it comes with plenty of attachments as well as accessories that effectively guarantee smooth cleaning operations.
Shark NV501 Rotator Professional Lift-Away is the ideal 3-in-1 vacuum that you can effortlessly switch between the powerful upright, the convenient canister, and the portable vacuum. Thus, it amazingly cleans all types of floor surfaces such as a rug, carpet tile, and hardwood.
Together with its sound balance metal and plastic, this vacuum cleaner is fairly portable and lightweight making it easier for you to operate the machine even when you are cleaning inaccessible areas. There is a little chance for dirt and dust particles and allows the vacuum cleaner to convert from upright to the canister vacuum.
CONS
Flexible hose seems a bit stiff, LED lights aren't very bright enough and the air is possibly be lodged into the brushes are the main issues about this product.
VERDICT
Shark NV501 Rotator Professional Lift-Away is quite ideal for everyone who requires for the versatile cleaning process and outstanding results due to its solid construction and modern yet intuitive design. There are lots of vacuum cleaners that are available in the market, yet none of them can beat the affordability and efficiency of Shark Rotator Professional Lift-Away NV501.
FEATURES
Everyone knows that cleaning carpets, floors, and hard to reach areas is a tough job and requires extra effort and time to achieve your desired appearance. In fact, it is quite hard for you to find vacuum cleaners combining effectiveness to lift away dirt and pet hair removal from the carpet. Fortunately, Shark Rotator Professional Lift-Away NV501 comes your way.
3-in-1 Vacuum Cleaner – you have the freedom whether you wanted Shark Rotator Professional Lift-Away NV501 as a canister, portable vacuum or canister. This means that it is easier for you to clean less accessible spots like your car even without electricity.
HEPA Filter – being built according to North American Standard
Swivel Steering – you can simply turn this vacuum cleaner at convenient angles for easy moving around the corners.
Premium Pet Tools – its brushes are ideal for lifting all the stubborn pet hair
Lift-Away Technology – perfectly allows you to lift more amount of dirt off your floors and carpets. Thus, its strong suction allows you to clear stubborn dust particles and dirt.
Anti-Allergen Complete Seal Technology – this is an advantage to those who are prone to develop allergic reactions from dust molecules.
Rotator Technology – through rotator technology, you have the best chance to navigate hard to reach areas helping you to have an ideally maneuverable cleaner. Also, this is perfect for cleaning stubborn stairs and edges.
Here you can see BestKitchenReviews with their unit:
WARRANTY AND SUPPORT
Shark NV501 Rotator Professional Lift-Away comes with 5-years limited warranty.
FINAL WORDS
Shark NV501 Rotator Professional Lift-Away has a powerful unit allowing you to effectively lift all the dirt from carpets. Thus, it has features and designs making it possible to be used on the delicate hardwood. So, there is no doubt that this vacuum cleaner is ideal for your home!
Best upright vacuum for pet hair: Bissell 2252 Swivel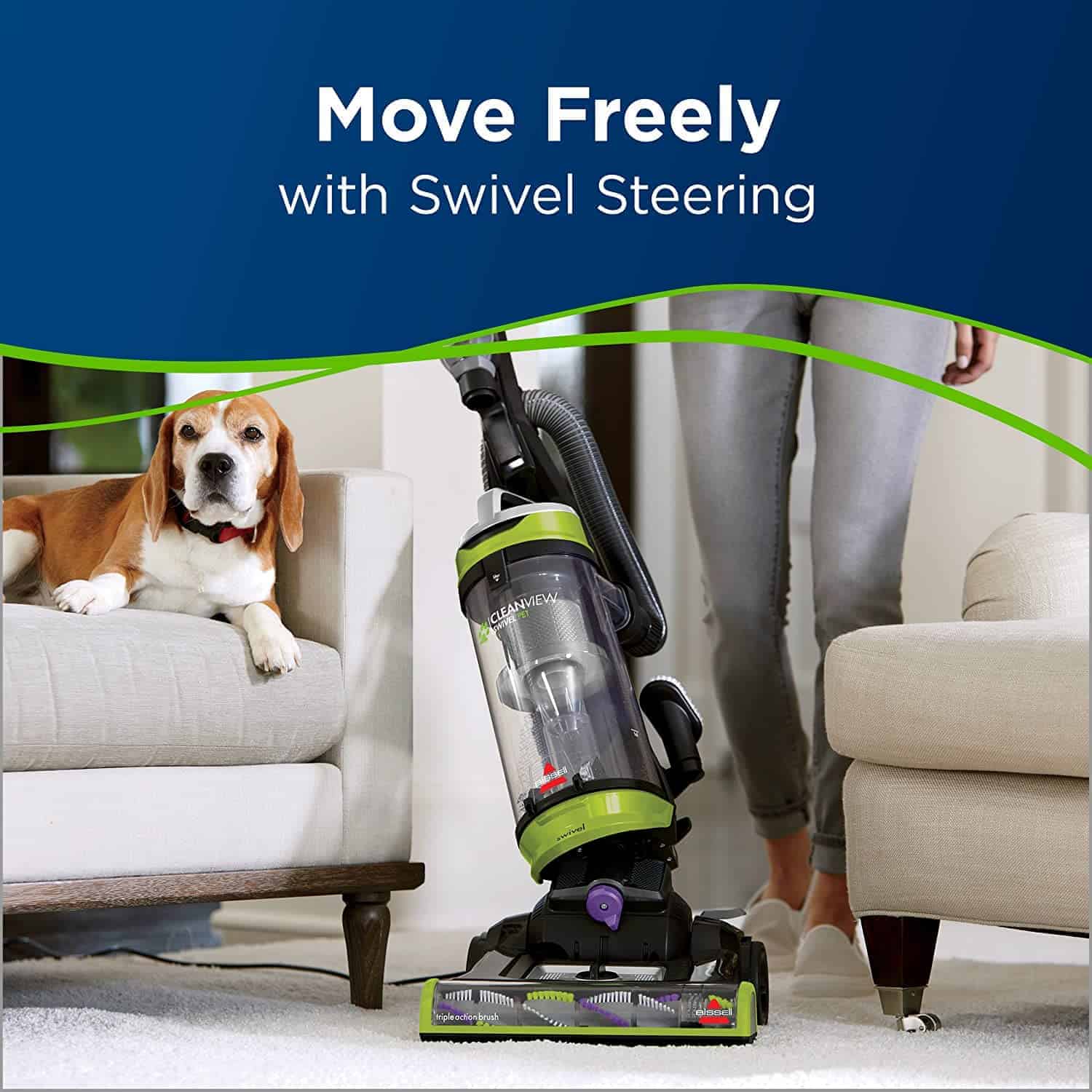 Planning to buy a new vacuum but do not know how to get started? Bissell 2252 CleanView Bagless Upright Vacuum with OnePass Technology Corded is the product you should take into consideration. It has a good quality, is long-lasting, and has sturdy features. Like other trusted vacuums available online, it is also functional and wonderful.
PROS
OnePass Technology
Bissell CleanView Bagless Upright Vacuum with OnePass Technology, 2252-Corded has an OnePass Technology that provides non-stop and powerful suction. Every stubborn dirt, dust, or even large debris will no longer be a dilemma on your part thru this product. When it is about time to clean your home, you will feel excited to do it because of this excellent vacuum.
Apart from that, it has an innovative and modern brush design that can help you clean your residential property during an initial pass. Cleaning a carpet, stair, upholstery over and over again will not happen. Thus, it makes the process more stress-free to ensure 100% satisfaction.
Includes a Wide Variety of Tools
The Bissell 2252-Corded has a TurboBrush Tool, Washable Foam Tank Filter, Bottom Easy Empty Dirt Tank, and much more. It is really a complete purchase or investment on your part. Furthermore, buying other equipment is not important.
Even though the vacuum has enough tools you need in cleaning, it is not that expensive. In fact, it is available at a reasonable price you can completely afford. Making it as your number one option does not require you to break your bank because it is cost-effective. Also, get ready to acquire huge savings along the way.
CONS
When cleaning your bare floors, some of the dirt might scatter. Not only that, it tips over when you extend the hose too far from it.
VERDICT
Bissell 2252 CleanView upright vacuum is powered by the famous 'OnePass Technology', which provides strong and continuous suction with a new innovative brush design (as compared to similar Bissell's model 9595A) to effectively clean various surfaces on the first pass. Bissell 2252's Air filtration is based on cyclonic filtration system that provides constant suction, even though the dirt tank is full. Whether you are looking for a high-quality or affordable vacuum, Bissell CleanView Bagless Upright Vacuum with OnePass Technology, 2252-Corded is surely a good investment for your home.
FEATURES 
Cyclonic System
Like any other trusted vacuums out there, Bissell 2252 CleanView Bagless (check the differences with bagged vacuums here) Upright Vacuum with OnePass Technology Corded has a cyclonic system that is responsible for powerful and long-lasting suction. This is why replacement and repair costs will not be an issue. It also has a lightweight design for better and more portable cleaning.
Multi-Level Filtration
Not only that, but it also has a multi-level filtration that helps eliminate household allergens. It performs in a manner like a vacuum with anti-allergen complete seal technology perform. So, the manufacturer tried its best to integrate multi-level filtration into its products for those people who are allergic to dust and dirt.
25 Foot Power Cord
This vacuum has a 25-foot power cord that can facilitate your cleaning. You can do cleaning from one place to another because of its long power cord. Here's Smart Family Money looking at how this one handles pet hair:
WARRANTY AND SUPPORT
Bissell 2252 CleanView Bagless Upright Vacuum comes with 2-years warranty. Whether it gets damaged or not functional, you can return it to the manufacturer. But, make sure it does not exceed 2-years. That way, you can have another vacuum of your choice. However, the manufacturer really takes pride that every vacuum it produces has the highest quality or is made from the finest and the most innovative materials.
FINAL WORDS
Have you been using an unreliable vacuum all these years? Then, purchase Bissell CleanView Bagless Upright Vacuum with OnePass Technology, 2252-Corded. Keep your cleaning simple and effective with OnePass Technology from Bissell.
Do you always have a hard time cleaning your home? Have you been spending most of your valuable time in order to clean your entire residential property? There is nothing to worry about as Shark NV356E Navigator Lift-Away Professional with Dust-Away & 2 Microfiber Pads comes to your rescue. From the start to finish, your problem will no longer make you worried. As a matter of fact, cleaning will be easy, simple, and full of fun.
PROS
Powerful
With a number of vacuums available in the market, a few of them are not functional and ineffective. But, there are also some with good or long-lasting quality like Shark Navigator Lift-Away Professional with Dust-Away & 2 Microfiber Pads (NV356E). It has one of the most powerful suction that can clean dirty carpet and another dusty part of your house. When using a vacuum that does not work well, this time is a good chance for you to grab the product.
Lightweight
Most of the vacuums of today have powerful suctions; however, they are complicated to maneuver. It really takes time before a homeowner can carry or use them. With Shark Navigator Lift-Away Professional with Dust-Away & 2 Microfiber Pads (NV356E), worry no more as it is lightweight. You can even go upstairs while carrying it. You can move from one place to another because of this awesome vacuum as well.
Anti-Allergen Complete Seal Technology
Shark Navigator Lift-Away Professional with Dust-Away & 2 Microfiber Pads (NV356E) is catered enough for people who are allergic to dust and dirt. It has an anti-allergen complete seal technology that traps 99.9% of allergens, as well as dust. It also has a HEPA filter that can eliminate potential health issues in the near future.
If you hire a company that specializes in home cleaning because of your allergy, using the vacuum can help you clean your house and save money. You will never feel worried whether your allergy will come out or not. Plus, high expenditure will become a big saving.
CONS
Unlike other options available in the market, it is a bit expensive. But it is money-saving because it is packed with features of high-quality.
VERDICT
The Shark Navigator Lift-Away Professional NV356E
has one of the strongest suction power compared with any vacuum. Its self-adjusting cleaner head automatically adjusts between carpets and hard floors, thus sealing its suction. Shorter bristles on the brush bar also provide superior performance on hardwood floors. Say goodbye to your existing vacuum and hello to Shark Navigator Lift-Away Professional with Dust-Away & 2 Microfiber Pads (NV356E). It is one of the most extraordinary products you should integrate into your cleaning resources. Here's Klaudia Byrd and the stay at home dad looking at this model:
FEATURES 
Dust-Away hard floor attachment
Either fine dust or large debris can be picked up by this vacuum. You do not need to pick them up yourself as Shark Navigator Lift-Away Professional with Dust-Away & 2 Microfiber Pads (NV356E) is created for your comfort. There are also available 2 microfiber pads you can wash after using them. If the two pads are not in good condition, just contact its manufacturer to know the right thing to do.
2-in-1 Vacuum
Shark Navigator Lift-Away Professional with Dust-Away & 2 Microfiber Pads (NV356E) is considered a 2-in-1 vacuum such as upright and lift-away for responsive, stress-free, and portable cleaning. Having this tool at home, you will realize that you have a magnificent and stunning investment.
WARRANTY AND SUPPORT
Shark Navigator Lift-Away Professional with Dust-Away & 2 Microfiber Pads (NV356E) comes with 1-year material defects and workmanship warranty. If you have questions, comments, or concerns regarding your product, Shark expert is always ready to help you.
FINAL WORDS
Shark Navigator Lift-Away Professional with Dust-Away & 2 Microfiber Pads (NV3556E) is a vacuum you cannot afford to miss because it offers a wide array of features and attachment that will never give you any disappointment. HEPA filter and Anti-allergen complete seal technology trap 99.9% of allergens, as well as dust. You definitely should consider this vacuum if you have asthma or allergy to dust.
Best cheap upright vacuum: Dirt Devil Simpli-Stik Vacuum Cleaner SD20000RED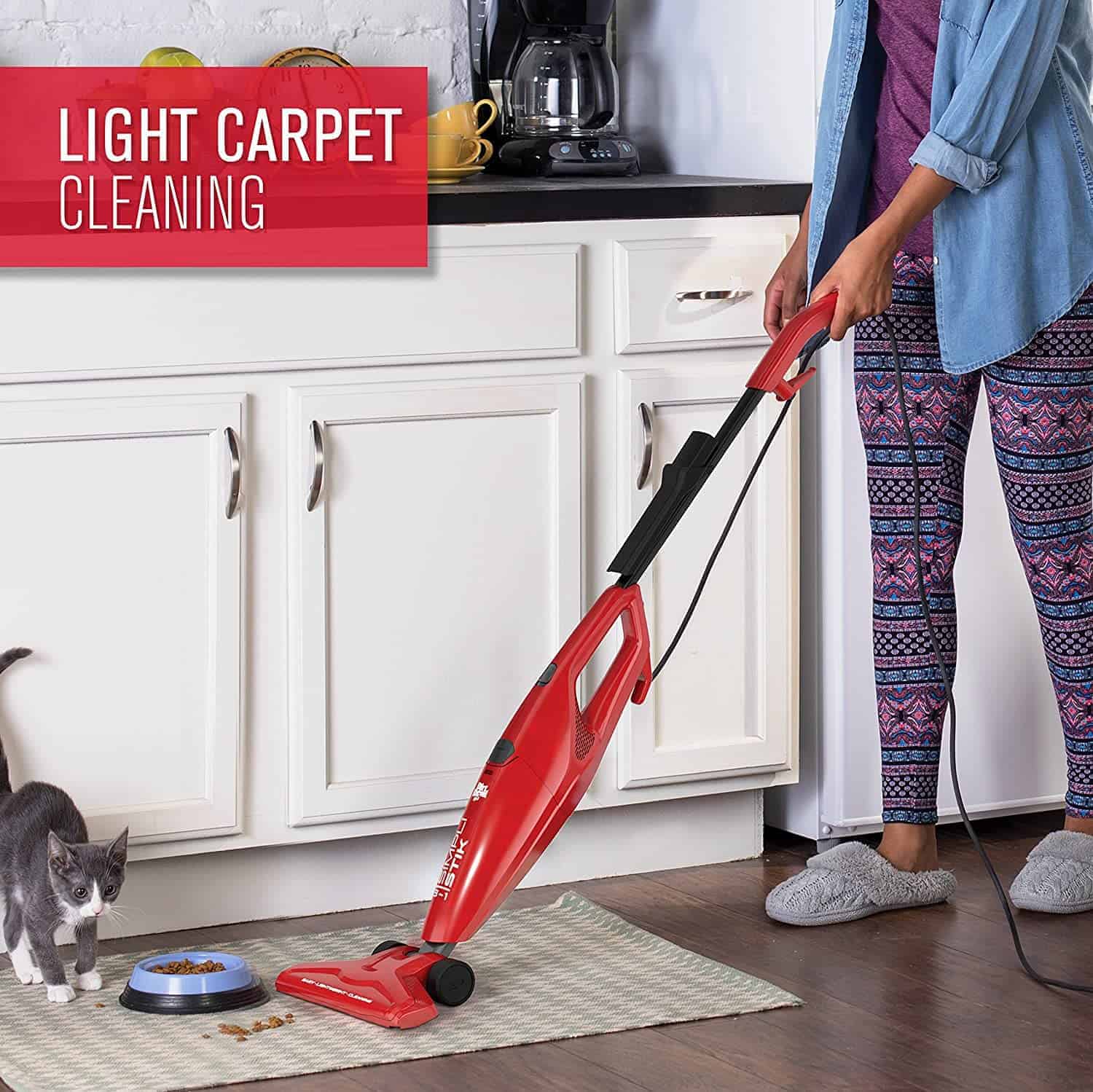 PROS
Easy set-up, effective and user-friendly application 
With the help of Dirt Devil Vacuum Simpli-Stick, busy people will now be able to maintain cleanliness within their space, save more time and effort with all the cleaning activities. It's really easy to set up, just a few quick snaps and a screw and that's it.
Powerful suction
The Dirt Devil can successfully suck up about 3 canisters even on the very first use. For this reason, even if you have a medium-sized house with plenty of carpets, you will be surprised that this vacuum cleaner can pick up all the dirt and dust.
Affordable price 
Apart from its amazing features and outstanding cleaning results, you have Dirt Devil Vacuum Cleaner at a very affordable price. Since this vacuum is equipped with a small head, it can fit into tight spaces and vacuum even smaller areas of your home that need attention. This is great for smaller spaces like between the furniture.
CONS
Short 20 ft. power cord
Although 20 ft. the power cord will help you reach particular areas, still, you have to exert effort in moving plugs for you to clean your entire living rooms.
VERDICT
With Dirt Devil, you get no worry about cleaning your space even during your busy schedules for it offers you lots of benefits. From efficient result to low maintenance, you have the best decision to have this kind of vacuum cleaner.
This amazing vacuum cleaner is already released on the market to fulfill people's cleaning requirements. The Dirt Devil Vacuum Cleaner serves to be a powerful tool for everyone to have a convenient, easy, and fast cleaning process. Here's Princeton Supply with a full review:
FEATURES
Cyclonic Technology
The Dirt Devil Vacuum Cleaner is a type of vacuum that is lightweight yet powerful in cleaning your entire space. It is an ideal vacuum for you to have this because it is effective in cleaning a wider surface a shorter period of time compared to other vacuum cleaners in the market.
Premium Stretch Hose, Lightweight, and Compact
Dirt Devil Simpli-Stick is equipped with an 8" premium stretch hose, meaning it enables you to extend the vacuuming reach making it quite flexible to clean areas that are hard to reach. Dirt Devil is famous for its compact size and lightweight about 9 lbs, so it is really convenient to use in case you need a quick dirt clean up or even daily cleaning.
Revolving Brush and HEPA Filtration Filter
This vacuum cleaner is effective in cleaning carpets and bare floors, especially an ideal one for studio/1 bedroom apartments or even small homes. It has a revolving brush that is used to lift dirt more completely compared to the suction process alone. It features a 20 ft power cord, 7-amp motor, dust brush, HEPA filtration, and crevice tool.
WARRANTY AND SUPPORT
The Dirt Devil vacuum cleaner is covered with 1-year parts and motor warranty for your guaranteed satisfaction.
FINAL WORDS
Dirt Devil Simpli-Stick is a great advantage for those people having smaller spaces for they can effectively clean even the hard to reach spots. So, if you think this vacuum cleaner can meet your requirements, you need to grab one to maintain the cleanliness within your area.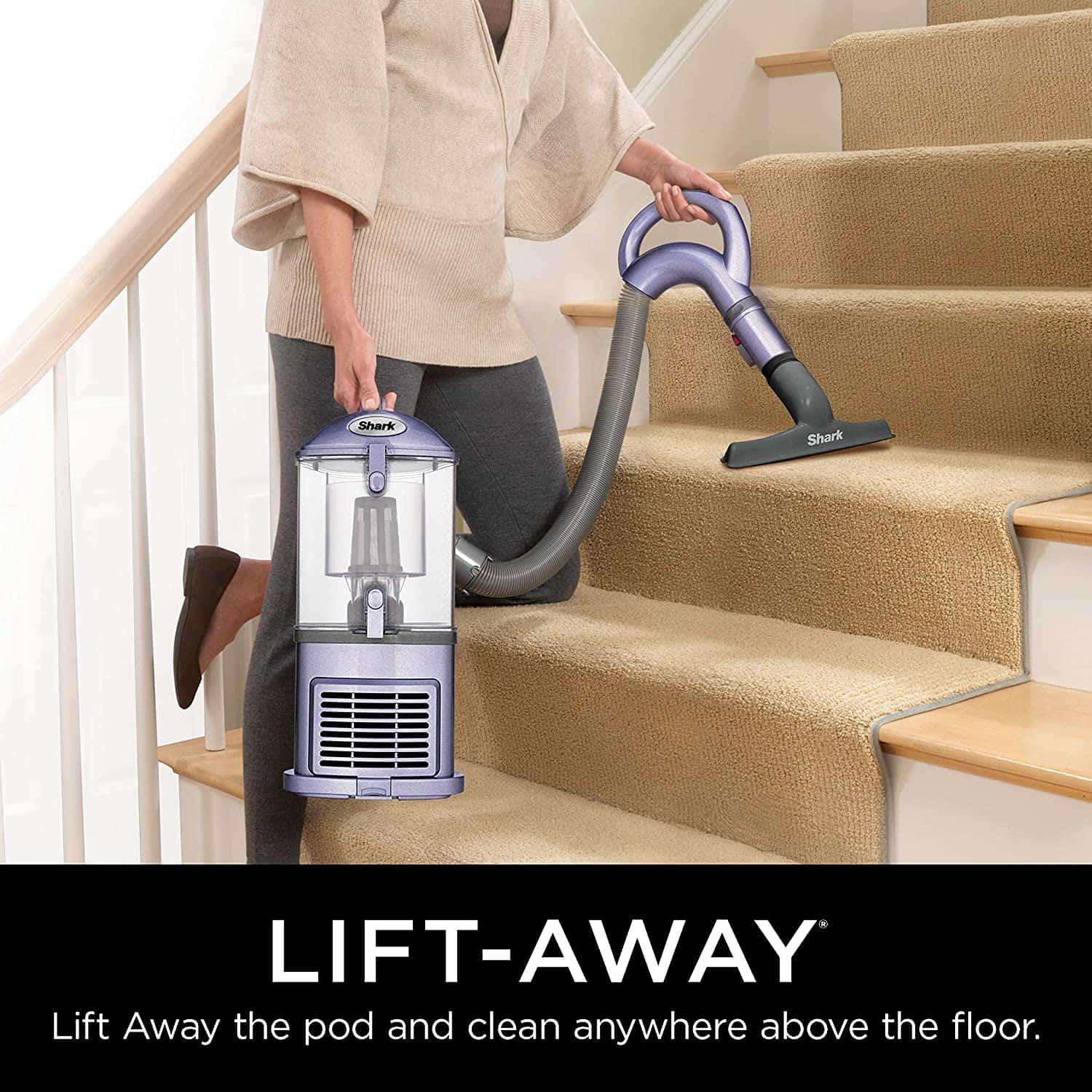 Weighing at only 12.5 pounds, the NV352 is the lightest vacuum in our list, the only one that comes close is the Hoover Windtunnel at 13.05 lbs.
PROS
You can choose between traditional upright mode and horizontal by simply removing the canister sitting at the top of the vacuum head. This upright vacuum cleaner offers an adjustable option for suction power, meaning you have the control of which power you wanted to use in performing your cleaning operation.
Since Shark NV352 Navigator Lift-Away NV352 is lightweight, it will be easier for you to carry the vacuum cleaner to which area you will be cleaning. Thus, its lightweight notion makes it easy to lift, push, and pull. It allows for altering the cleaning setting according to the operable surface delicacy such as hardwood floors and soft carpets.
CONS
The main issues about this product are instability, short power cord, and may overheat.
VERDICT
Great things about upright vacuum cleaners are that they will allow you to easily and conveniently maintain cleanliness and make your space even more organized even during your busiest schedules. When selecting for a powerful and appropriate vacuum cleaner that will definitely meet your requirements, you can never go wrong with Shark Navigator Lift-Away NV352. This is not just an ordinary vacuum cleaner, it offers you a revolutionary approach for a home cleaning system that is specifically designed to meet everyone's needs.
FEATURES
Shark Navigator Lift-Away NV352 is known to be lightweight making it useful and effective as well as very functional. It offers you a smooth operation resulting in satisfying results without over-stretching your pockets.
Compared to other upright vacuum cleaners, this is much cheaper yet offers a powerful cleaning solution. It is characterized by cutting edge technology that delivers great results and amazingly comes with swivel steering and swivel steering for easier operation.
Shark Navigator Lift-Away NV352 effectively works under the idea to fit many sizes of home and perfect for surfaces that require tricky effort just to dust away. With the help of this upright vacuum cleaner, you can now effortlessly clean areas that are commonly hard to reach by simply lifting off the canister and then sliding the vacuum head under the isolated places.
As Shark Navigator Lift-Away NV352
offers you great convenience and less effort cleaning process, you will also enjoy other benefits.
Powerful and lightweight – versatile and portable upright vacuum cleaner at only 12.5 lbs.
Lift Away – By simply pressing a particular button to lift away the canister, you can easily clean areas that are hard to reach.
2-in-1 Vacuum – offers you Lift Away and Upright features for a portable cleaning.
Anti-Allergen Complete Seal Technology and HEPA filter – effectively trap 99.9% of allergens and dust inside the vacuum.
Brush roll Shutoff – ideal for gentle bare floor and deep carpet cleaning.
Never Lose Suction Technology
Portable, Lightweight Canister with Premium Pet Tools
WARRANTY AND SUPPORT
Shark Navigator Lift-Away NV352 comes with 5-year warranty.
FINAL WORDS
Shark Navigator Lift-Away NV352 comes with light, easy to operate and portable features, so it can make all your operations easier. This type of upright vacuum cleaner is ideal for your home if you wanted to maintain cleanliness within your area.
Best upright vacuum for hardwood floors: Hoover FloorMate Deluxe FH40160PC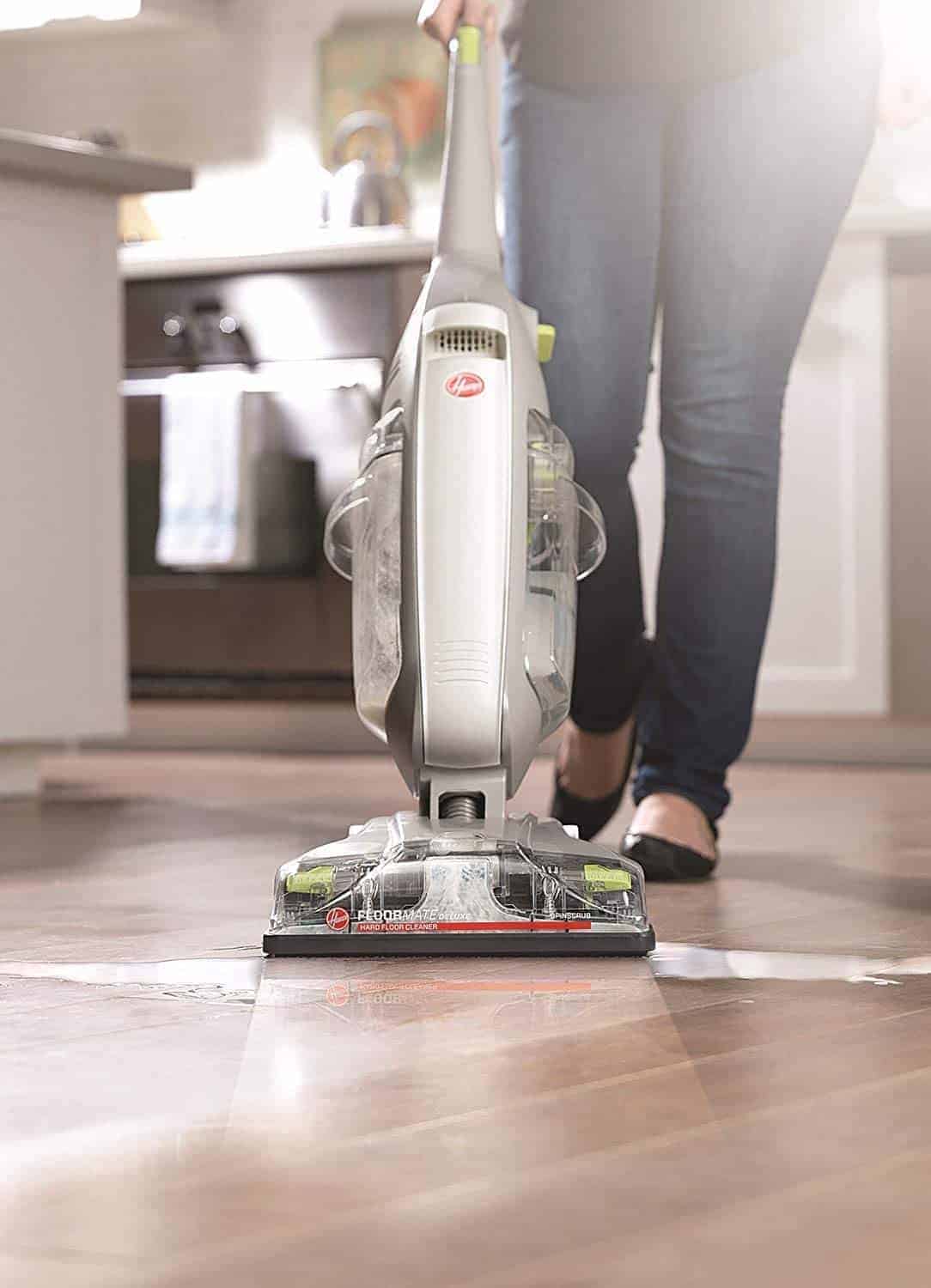 Maintaining the cleanliness of the house is a difficult task particularly if you have places in the house that require an upright vacuum cleaner to clean it. However, choosing a vacuum also requires some effective decision making.
Every homeowner wants to have the best vacuum cleaner not only to make every niche of the home clean but also to ensure that all the dust and dirt would be out of the house. If you are in search of an efficient vacuum cleaner, here is the Hoover FloorMate Deluxe Hard Floor Cleaner that guarantees the vacuum results you would be satisfied to have.
PROS:
– Comes with 2 different brushes – Delicate surfaces like hardwood and coarser brush for tile – High-quality tank with a separate tank for clean and dirty water – Excellent cleaning capacity up to 5 quarts – A wet / dry mode – Turn on / off brushes and only use the suction for faster drying time
CONS:
– Doesn't clean large areas for a longer period of time – Short 20 feet power cord – No swivel steering – Might be difficult to operate for some consumers
FEATURES
Scrub it all off
Sometimes small and hard to remove dirt from tiles, woods, and floors might result in a hassle or even delay in the entire cleaning process. However, with the Spin Scrub Brushes of the Hoover FloorMate Deluxe Hard Floor Cleaner, you would have a fast and easy way of removing the dirt from vinyl, tile, or wood.
Dual Water Tanks
It would be a big problem if both the clean and dirty water got mixed up inside the vacuum or worse – dirty water might be back on the floor. There is a big solution to this. With the dual tank technology, the separate water tanks of the Hoover FloorMate Deluxe Hard Floor Cleaner would be excellent in cleaning the floor without any problem of a dirty spill.
Select Over Wash or Dry      
With the dual selection of wash or dry mode, you could expect an easy cleanup of the tile, wood, or floor. The wash mode makes a brushing procedure through the process of suctioning excess water. On the other hand, the dry mode would stop the brushes to make sure the excess water is suctioned in a fast process to ensure the drying process would be made effective.
Boost with Clean Control
If you want a vacuum cleaner that offers an extra detergent, you can count on Hoover FloorMate Deluxe Hard Floor Cleaner to do the work for you and solve your problem. With the added detergent, there is a 100% guarantee of an effective wash out of the stains. Hence, this would provide you a great cleaning result.
Easy to Carry
A light upright vacuum cleaner that is easy to carry would speed up the cleaning process inside the house. Equipped with a lightweight feature, the Hoover FloorMate Deluxe Hard Floor Cleaner would surely make the right and effective cleaning process. Here, you are assured that the vacuum would be reliable at all times. Here is VacBin with a test of this model:
WARRANTY AND SUPPORT
Enjoy the 2-year warranty of Hoover FloorMate Deluxe vacuum and be amazed at the things it can do to your household. Rest assured you would not regret it. The Hoover FloorMate Deluxe Hard Floor Cleaner is one of the best purchases you could have.
FINAL WORDS
Hoover FloorMate Deluxe vacuum is designed to clean hard floor surfaces like tile, hardwood, linoleum and grout. Please note that this machine doesn't clean your carpet. Cleaning the tiles or floors of your house should be made in a successful manner. The 4 brush system does the hard work for you drying the floor surface. In doing so, you have a full guarantee of a great way of seeing your house in top shape. The Hoover FloorMate Deluxe Hard Floor Cleaner makes it possible for every homeowner. Come now and try the effectiveness of this vacuum.
Best Hepa filter: Dyson Ball Animal 2 Upright Vacuum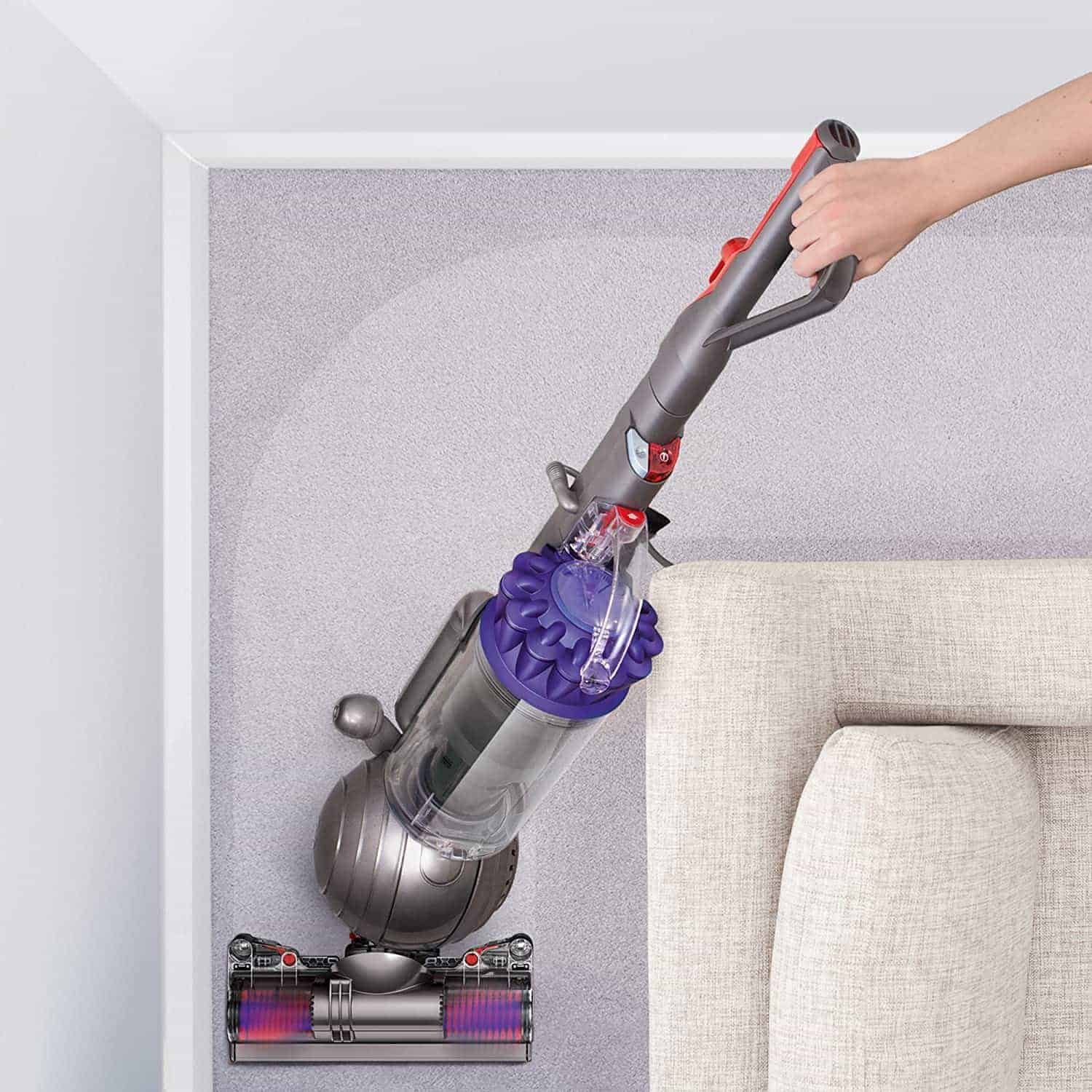 The Dyson Ball Animal 2 is a very impressive piece of kit, having grown in stature and importance within the cleaning community since it was first released. How, though, does it live up to expectation when looking at the best vacuum cleaners on the market at the moment?
PROS
Very wide cleaning range means that you can do more with less, a very powerful and effective vacuum cleaner that offers great efficiency.
Made for handling large areas of carpet and rug that would take you much longer with other forms of vacuum.
Strong, sturdy and effective despite not being too heavy to move around; it's a lot more powerful and durable than it might seem at first.
CONS
The inability to adjust the suction is a bit of a let-down, but other than that it would be hard to pick out too many negatives with the Dyson Ball Animal 2.
FEATURES
Dyson Ball Animal 2 Comes with an extremely strong suction style; one of the strongest out there on the market at the time of writing, in fact. The self-adjusting cleaning head also makes sure that it can move across the floor with absolute ease, avoid jarring and mechanical damage.
Easy to use wand allows for simple and easy reach into sticky areas and hard to reach parts of the home. Great for getting under upholstery and working round annoying furnishings.
Makes use of a smart radical root cyclone that allows it to capture more dust than usual. If you are looking to help reduce the microscopic dirt levels floating around in the air around then, then this will give you all the help that you could need for that.
Very easy to empty, too just hit a button and it will release all of that dirt and debris into the bin for you without any messing around or opportunities for dirt to wind up all over your face!
Great for asthmatic, and is fully certified for asthmatic usage. Great for getting rid of particles in the air and making the house clearer, as it's great for micro dust and for dealing with pet debris and dander.
Why Choose HEPA Vacuum Cleaner
For most people, one of the most challenging parts of keeping properties clean is the dust factor. You spend hours brushing and dusting, and come back the next day to find it all coming back. It's infuriating, right?
It's not only infuriating, though; it's bad for your health. This is why investing in a High-Efficiency Particulate Air (HEPA) vacuum cleaner makes such clear and obvious sense from a health and efficiency point of view.
The HEPA vacuum cleaner contains a high-efficiency particle filter that very effectively cleans the air flowing in the vacuum cleaner itself. This helps to clear the environment of irritants and allergens, making sure you can feel far more comfortable in your property after cleaning up.
This type of vacuum cleaner has many benefits, of course. However, you should first know about HEPA, so that you can totally comprehend what it represents. The HEPA vacuum cleaner provides lots of advantages for your business or home; what does it offer in total, then?
What is HEPA Vacuum Cleaner?
The HEPA filter is really what makes this vacuum cleaner work efficiently. In short, it's the difference between just cleaning up dust and cleaning up the air around you.
The HEPA filter is assured to get rid of 99.97% of tiny particles from a specific part. The HEPA filter makes smart use of a mat which makes this possible, collecting all the irritants and making the air much cleaner in general.
The mat has randomly ranged fibers, which prevent the small and large particles from coming in the air. The HEPA vacuum cleaner will not work well if it didn't contain the HEPA filter; it would just be the same old, same old.
The bigger granules are detained on the outside and never allowed to enter the filter at all. Basically, there are diverse methods which capture the smaller granules.
The first method that is utilized to capture these smaller granules is by means of interception. The small particles rotating within the HEPA filter fibers and get stuck to the fibers and removed from the air. This is one effective way that vacuum cleaner will work efficiently.
The second technique utilized to capture bigger particles which work their way around the upper layers of HEPA filter fiber is impacting. The bigger particles can't escape the fibers entirely and get embedded in the HEPA filter fibers, making sure all of that nasty dirty and debris gets dealt with appropriately.
With firm HEPA filters which provide a powerful airflow, this method is more efficient and permits the HEPA vacuum cleaner to carry out the job as needed.
The third method which is utilized to capture both small and big particles from re-entering the air is diffusion. Diffusion is an extremely complicated method which most people can't comprehend. Diffusion doesn't capture the granules or particles and keep them away from entering the air but enhances the reliability of the interception as well as impaction techniques.
This method depends on the small and big granules colliding together along with the air molecules as well as altering the particle's trajectory. In turn, this allows the other two methods to take place. This method allows the HEPA vacuum cleaner to work efficiently as well as effectively.
Interception, impaction as well as diffusion methodology makes this HEPA filter very efficient. This also allows you to utilize your HEPA vacuum cleaner, keeping the air inside your home or workplace clean and fresh. This makes life much cleaner and safer than beforehand, especially when compared to the typical vacuum cleaning machine available out there!
This state of the art HEPA vacuum cleaner is on hand in a local department store or specialty store, as well as online stores for your convenience. It's better to budget a bit of extra money into vacuum cleaning your home with the very efficient vacuum cleaner.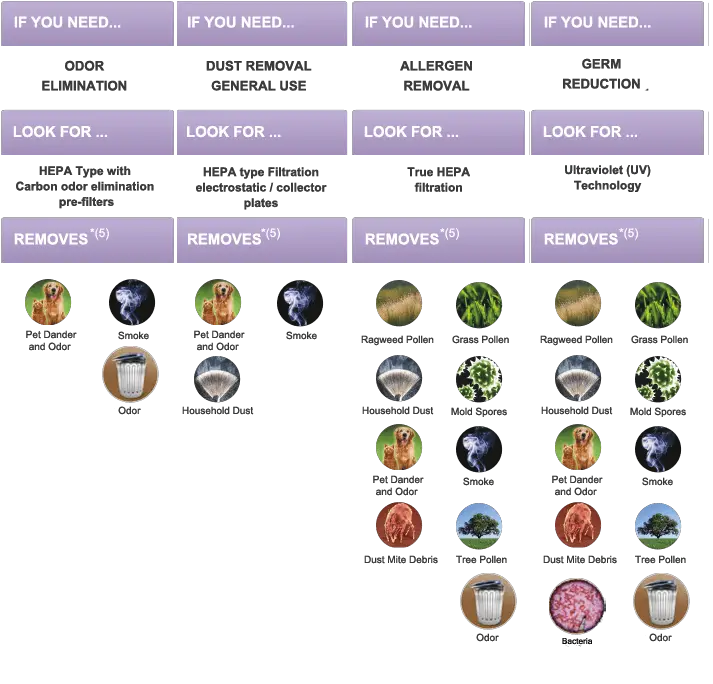 Before you go out and buy a HEPA vacuum cleaner, though, be sure to read into what determines the best purchase of a vacuum cleaner. If you know what to look for when you are out shopping, you'll be more likely to bring home something extra-reliable!
SUPPORT & WARRANTY
This comes with a rather impressive 5 years warranty from the date of purchase, covering for all domestic uses. As ever, you should look to make clear proof of purchase and register your warranty with Dyson via their support team.
VERDICT
The Dyson Ball Animal 2 is a very impressive piece of kit, one well worth investing your time and money into if you are looking for a high-quality upright vacuum. While it has does have some faults, as listed above, they are nowhere near enough to put you off making an investment in this. Here is Modern Castle with a review:
FINAL WORDS
Overall? This is a very impressive vacuum cleaner, and one we would definitely recommend you consider investing in should you need something new. It's a topic of the range upright vacuum and comes with such a strong reputation with good reason.
Check prices and availability here
Best upright vacuum for carpets: Hoover UH70120 T-Series WindTunnel Rewind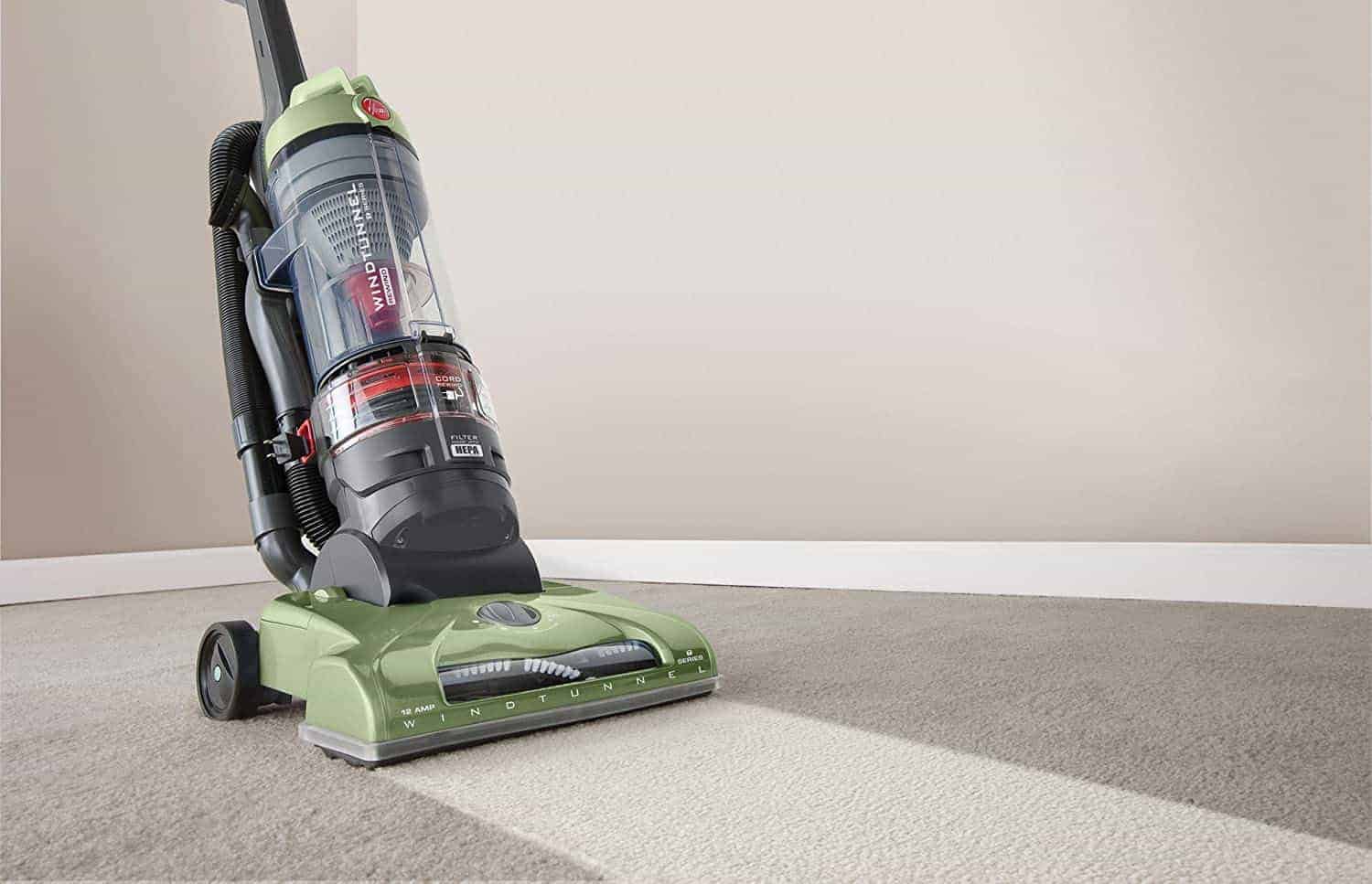 If you are hunting for a vacuum cleaner, which does well at cleaning floors and carpets, the Hoover UH70120 T-Series WindTunnel might be a better option for you, particularly at its price point.
PROS
HEPA Filtration System
No suction loss
Superb at cleaning carpets
27-foot cord with automatic rewind
Handy air-powered hand tool
CONS
Not easy to use on stairs
Not efficient at cleaning hard floors
Debris and dust get stuck in the bagless dustbin
Hose is short and does not stretch
Poor at cleaning edges
VERDICT
There's no doubt that the Hoover UH70120 T-Series WindTunnel is an attractive home appliance, which features 5-position height settings for different carpet types. It provides a rinse-clean filter, which means there's no need to clean it regularly. The good thing about this Hoover vacuum cleaner is that its use of technology boosts vacuum efficiency. Dust and dirt will not be spread back on the carpet or floor. With the help of its continuous suction power, particles are drawn straight into the dirt cup.
FEATURES
Maintenance
The Hoover UH70120 T-Series WindTunnel includes a foam filter, which is washable together with a HEPA filter that isn't. You can rinse the foam in your sink by hand, then allow it to dry and put it back again in the machine. Further, the HEPA filter must be tapped over your trash to remove the dust.
Ease Of Use
For regular or weekly use, its Rewind is both easy to maintain and easy to use, and it has some excellent features to offer value and make the cleanup a lot easier.
The Hoover UH70120 T-Series WindTunnel has 5 height settings, which means you can utilize it just as easily on bare floor or hardwood to deep pile shag carpeting without feeling like you are fighting with the vacuum cleaner to get your floor clean. Although it's not a self-propelled product, as long as you have the right height set properly for the kind of floor you are vacuuming, it's not complex to pull and push. The big wheels help it to move along.
Pet Hair Pick Up
While the T series vacuum is not made for pet hair, the vac will still pick it up. Nevertheless, longer hair does likely to get scrambled up in the brush roll bristles, at the same time you might need to pull or cut it out. This occurs with the majority of vacuums, thus the ideal thing you can do is to purchase one wherein the roller is easily accessible so this maintenance work can be done if needed. Let's take a closer look at this model:
WARRANTY AND SUPPORT
The Hoover UH70120 T-Series is covered for a period of 2-years limited warranty from the time of purchase as well as lifetime support from the company.
FINAL WORDS
There's no doubt that Hoover UH70120 T-Series WindTunnel is an awesome product available for anyone looking for a practical and affordable vacuum cleaner in the market today. It offers many features and convenience to anyone using it. With an air-powered hand tool, HEPA Filtration system, and more, this vacuum is a must-have for your home.
Best retractable cord: Shark DuoClean NV803 Upright Vacuum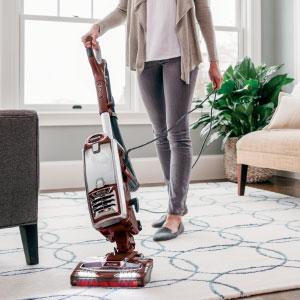 The Shark DuoClean NV803 Lift-Away is a rather popular upright vacuum that has been gathering a lot of attention over the last few months. A very impressive design by Shark, this delivers a very impressive and consistent level of performance that, for the most part, should be just what you are looking for.
It's great for larger spaces or for if you don't have a lot of available outlets to plug it into because it's 30ft retractable cord can get you almost anywhere.
How good, though, is the Shark DuoClean? Does it live up to expectation?
FEATURES
Makes use of the DuoClean tech; ensuring that it uses dual brushrolls to make cleaning carpet and hard floors as easy as one another. Use this to help make a huge difference to how easy you can clean up both kinds of floor at once.
The bristle brush gets deep into carpets, ensuring that it can lift up the muck and the mire locked into the carpet, ensuring that it can look better than ever.
Smart HEPA filter and anti-allergen complete seal tech make this a good one for those who suffer from reactions and want a cleaner home. The manufacturer claims that the Shark DuoClean can trap 99.9% of all dust allergens inside the vacuum with ease.
LED headlights on the nozzle makes it easy to see even the most hidden and specific debris locked into the floor. This makes it easy to get that deep clean without missing anything along the way, vastly improving the quality of the cleaning job being done.
The Under-appliance wand is provided to help make sure you can get under all of your utilities and clean out underneath in places where other systems could not reach without putting the system under duress.
Let's hear what Vacuum Advisor has to say:
Support & Warranty
One of the most impressive parts of using the Shark DuoClean NV803 Lift-Away is the whopping 7-year warranty provided by the manufacturer. This is only for domestic use, and does have some rather specific exclusions and exceptions. As ever, check the warranty package offered when you purchase your Shark DuoClean to see how it performs.
Pros
30ft chord makes this suitable for handling even the largest of indoor domestic cleaning solutions.
No-clog bagless feature ensures you can easily empty this out and keep the place nice and tidy.
Strong, sturdy system ensures that you can get in nice and deep and clean out even the most irritating of carpet messes and stains without any issues.
Detachable canister vacuum ensures that you are always in total control.
Cons
A little ungainly at times and can sometimes a bit awkward to move around the lace due to its size.
Verdict
So long as you have relative height and strength, moving this around the place should be a piece of cake. A fine choice of a vacuum cleaner, delivering on just about every typical feature that you might expect. We're big fans of the Shark DuoClean NV803 Lift-Away, and think you would be too.
Final Words
Definitely one to add to the list of potential options to buy. The Shark DuoClean might be a bit challenging for those who aren't particularly tall, but it shouldn't be a major issue. The good far outweighs the bad.
Best maneuvering: Hoover UH72400 Windtunnel Air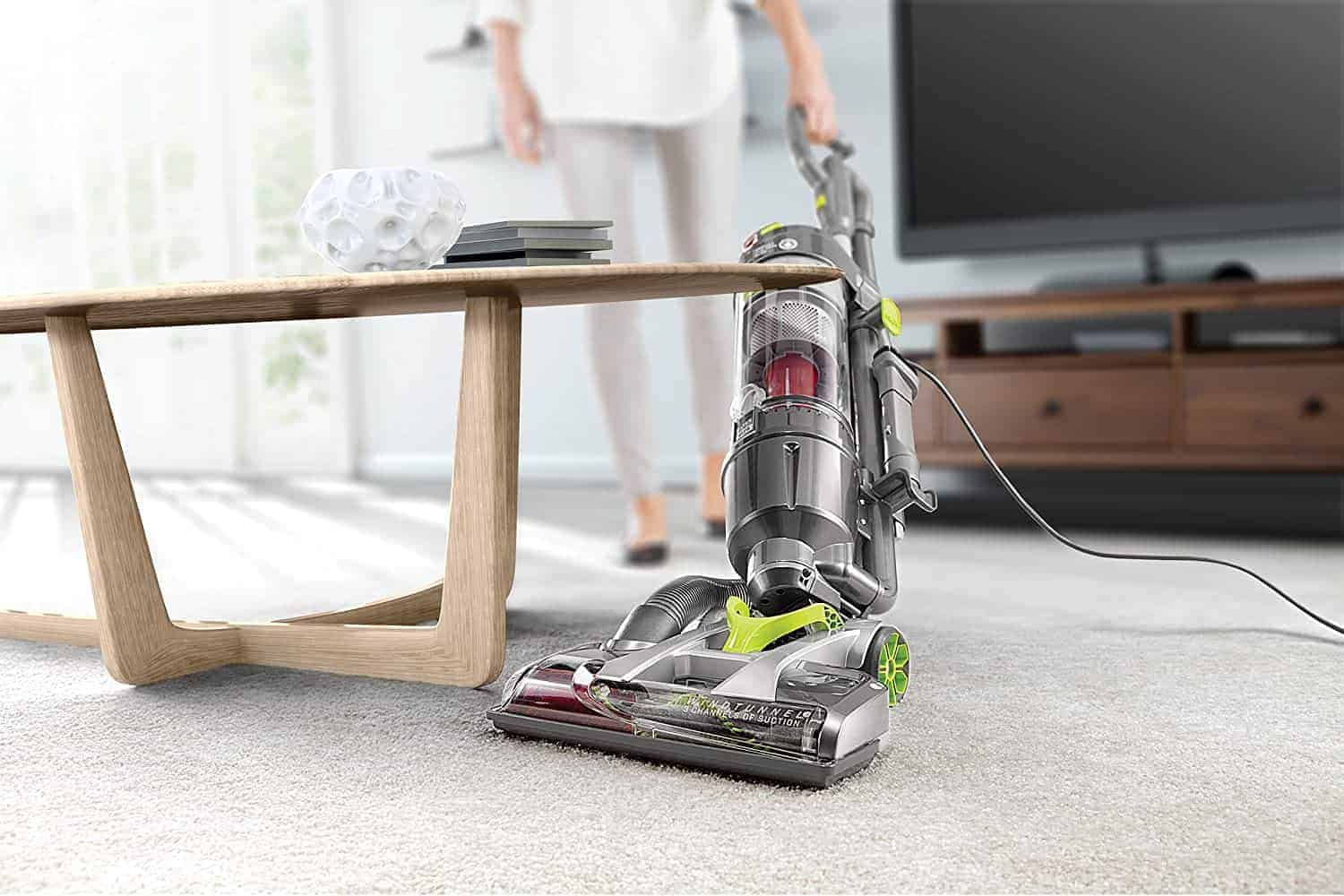 Hoover is one of those of vacuum cleaner brands that carry a wide selection of upright vacuums. Most of their products like T-SeriesTunnel and WindTunnel have acquired many positive reviews. Another product from the company, which you might want to consider is the Hoover Windtunnel Air
. It's lightweight and small design makes it ideal for a one-door bedroom apartment. This review will help you determine if it's a good fit for you as well.
PROS
– Long 23-foot power cord – Affordable for an upright – Versatile as it comes with a brush tool and wand plus crevice to clean crannies and nooks – Wide 12.5 inches cleaning path – The main filter is washable. Cost-efficient when it comes to running experiences – Includes HEPA filtration system, which stops microscopic dust and debris from coming back out – Weighs 12.5 pounds, lightweight for an upright vacuum cleaner
CONS
– No cord rewind – Small dirt capacity – requires being emptied often – Noisy
FEATURES
3 POSITION HEIGHT ADJUSTMENT
Are you one of those people who have several kinds of a floor at home? You don't need to buy different vacuum cleaners if you have this unit, as it comes with an adjustable nozzle for cleaning different kinds of a floor in spite of the surface. This is a nice vacuum cleaner, which you should need to keep inside your home to stay clean.
MULTI-CYCLONIC TECHNOLOGY
The Hoover Windtunnel
is an innovative technology, which sets apart sufficient particles of dirt from reaching the filter. This denotes that you need to clean the filter less often. It also improves the performance of your machine so it will work well every time lifting debris, dirt, and other particles from the carpet or floor.
CREVICE TOOL
Not every unit will do a good job when it comes to cleaning. Reaching these surfaces is complicated, and so the majority of people leave them untidy. Through the crevice tool covered in the vacuum cleaner, this becomes a hassle-free job to get the tight spots for careful cleaning.
PERFORMANCE CHECK INDICATOR
There were cases that it becomes more difficult to identify when the right time to clean your filter. In some vacuum cleaners, you are obliged to take out your filter so you can determine whether it needs washing or not. Stuff is easy on Hoover Windtunnel, as there's a performance indicator, which informs you if you need to change the filter. Further, once you see the light goes green, then you need to eliminate the main filter for rinsing. It has great filters and here is how you can easily clean them:
WARRANTY AND SUPPORT
Hoover Windtunnel Vacuum Cleaner comes with a 1-year warranty from the time of purchase as well as lifetime support from the company.
FINAL WORDS
People searching for a budget fast pick up the vacuum to use in their small houses, Hoover Windtunnel is the perfect vacuum cleaner. In spite of being upright, this product is light enough to lug around up and down stairs while keeping strong enough suction to clean the messes around the house.
The extension and hose want are good add-on features even though a few feet short for some people. This will be best used as a cleaner for those high-traffic areas in the home such as the dining or living room in your home if it has wall to wall carpeting.
Best Upright Water Filter Vacuum: Quantum X

This vacuum cleaner has no filter, it uses innovative water technology to clean your floors. It is ideal if you use it in homes with pets and kids. It picks up liquid spills from any surface. You'll love this upright vacuum because it has a beautiful rose gold color, is also available in deep-blue, and it looks much more premium than its price.
With this product, you don't need to worry about changing dirty bags, washing filters, or nasty smells. As well, since the product does not use filters, it never loses suction.
Features
Telescopic Body
Mobility is a top feature of this stick vacuum. It has a telescopic head that is easy to maneuver on all surfaces. It can under anything with a 4″ clearance, which means it picks up dirt you can't even see.
Auto-Adjust
One of the coolest features of this product is the auto-adjust technology. It automatically detects the type of surface you use it on, which ensures near-perfect results. It can detect between carpet, hardwood floor, tile, and small rugs.
Wet & Dry Pick Up Technology
This vacuum is excellent because it picks up wet or dry messes. So, of course, it sucks up dust, dirt, hair, and pet dander. But, it is also effective at picking up wet spills, including pet messes. This means you can stop using paper towels and wet cloths and clean up quickly.
Micro Silver Technology
Vacuums that use paper, foam, and even HEPA filters are actually breeding grounds for harmful and dangerous bacteria. Even when you clean them, these filters still release harmful toxins, which can make you sick. The micro silver technology means that this vacuum cleaner has antimicrobial silver particles inside, which can destroy many bacteria and viruses upon contact.
PROS
No Filters
There are no filters inside this vacuum cleaner. It filters dust and dirt with water. Since there are no filters, there is nothing that gets clogged. As well, you don't need to touch dirty filters or do any washing. The water picks up all dirt and bacteria. Can you imagine you don't need to clean filters and replace bags?!
Won't Lose Suction
The most common reason why vacuum cleaners lose suction is that the filters get clogged. Since this device doesn't use filters, it doesn't get clogged, meaning it never loses suction. The airflow is maintained at a maximum to ensure your vacuum is picking up all the tiny dust particles. So, prepare to achieve a deep clean.
Cleaner
Since the vacuum contains micro silver particles, it is safer and cleaner to use than a traditional device. It effectively reduces the amount of bacteria and viruses you come into contact with when handling the vacuum cleaner.
Removes Allergens
This vacuum cleaner is better at removing allergens than others because it uses a water filtration system. The airborne particles are removed by the water. Did you know that water filtration effectively removes bacteria, mold, dander, germs, and even pollen? Therefore, your home will have fewer allergens floating around.
Cons
No Change Signal
This vacuum does not have an indicator to tell you when to change the water. Usually, you can tell the water is dirty by its color. But, it would be more helpful to have an indicator. Here is Jason Roberts with his take on this amazing piece of machinery:
Warranty
This product comes with a 3-year protection plan, which means your vacuum will get replaced if it breaks down during those 3 years.
Verdict
If you want a mid-priced upright vacuum with no filters and a water system, this one from Quantum is a good option. It can remove stains, dirt, and harmful bacteria to make your home clean and allergen-free. But, you'll need to change the water often, so it's not completely hassle-free. Check the latest prices here on Amazon
Best Upright Vacuum With Bag: Oreck LW1500RS
As far as bag filters go, HEPA is your best option because this type of filter removes impurities and dust particles so that your home is clean. We recommend this bagged vacuum because it is lightweight and easy to maneuver around the home.
Carrying a heavy bag vacuum cleaner up a flight of stairs is downright exhausting but this one weighs less than 8 pounds and it works well to pick up dirt.
FEATURES
Slim Design
This cleaner has a very slim swivel design which allows you to move around easily. It's not a hassle to turn corners or turn around with this device because it has a swivel head. It can get into tight or hard to reach places, such as under couches or beds.
HEPA Filter
The benefit of this vacuum cleaner is that even though it is a bag cleaner, it has a 5 layer HEPA filter. This means that when you vacuum around the house, the filter picks up and attracts 99.7% of the dust particles. When you throw the filter away, it locks in the dust so that you don't spread it around the house.
Automatic Shut Off
In case the cord gets caught and strangulated, the vacuum cleaner shuts off automatically. It has a belt that protects the motor by preventing any jamming caused by the brush roll. This feature is great because you don't have to rush to unplug the device in case of a jam.
Auto-Adjust to Surface
The vacuum cleaner automatically adjusts to the surface type is it used on. It adjusts to the highest carpet pile and there is no need for any manual adjustments on the user's part. This means you can use this device to clean any floor surface around your home.
PROS
Lightweight
This is such a lightweight vacuum cleaner, that you can carry it up a flight of stairs easily. Imagine that it only weighs 8 lb. which means you can carry it one arm. Therefore, you can say goodbye to bulky heavy cleaners that take up lots of space and make hoovering a nightmare.
Note that this is one of the lightest upright stick vacuums on the market.
Easy to Maneuver
It is quick and easy to push this device around because it is light and it has a swivel head. Therefore, it can fit under tight spaces and even picks up dust under the bed in a flash. As the head swivels, the brushes pick up hair, dirt, and dust efficiently.
Durable
This vacuum is durable and strong, so it will last you for years. The handle is made of magnesium and comes with a 7-year warranty. A good handle is important because it means you can maneuver the device confidently, knowing it resists breakage.
Cleans Well
You'll be pleased with the suction and power of this lightweight vacuum cleaner. It picks up almost all the dirt, dust, hair, and even pet dander quickly. You don't need to keep going over the same area multiple times, thus it saves time.
CONS
Bad Head Lamp
The head of the device comes equipped with a headlamp that's supposed to make it easier to see the area you are vacuuming. Unfortunately, customers complain that this light is no good and barely illuminates anything. Therefore, you need to vacuum with proper lighting.
Warranty
The magnesium handle comes with a 7 years warranty. The whole product has a 7 year LIMITED warranty and 5 free annual-tune ups.
Amazon is an authorized retail dealer for this product, so you can buy from there confidently and still benefit from the perks of the warranty. Keep your copy of the Amazon invoice in case you need to send the vacuum cleaner for service and repairs. Check it out in this unboxing video:
VERDICT
The reason you should purchase this model of bag vacuum cleaner is that it is lightweight. This feature basically outshines its competition in the bag upright cleaners category. You'll enjoy that this device is easy to move around and it picks up dirt and dust very precisely.
Best Cordless Upright Vacuum: Dyson V7 Slim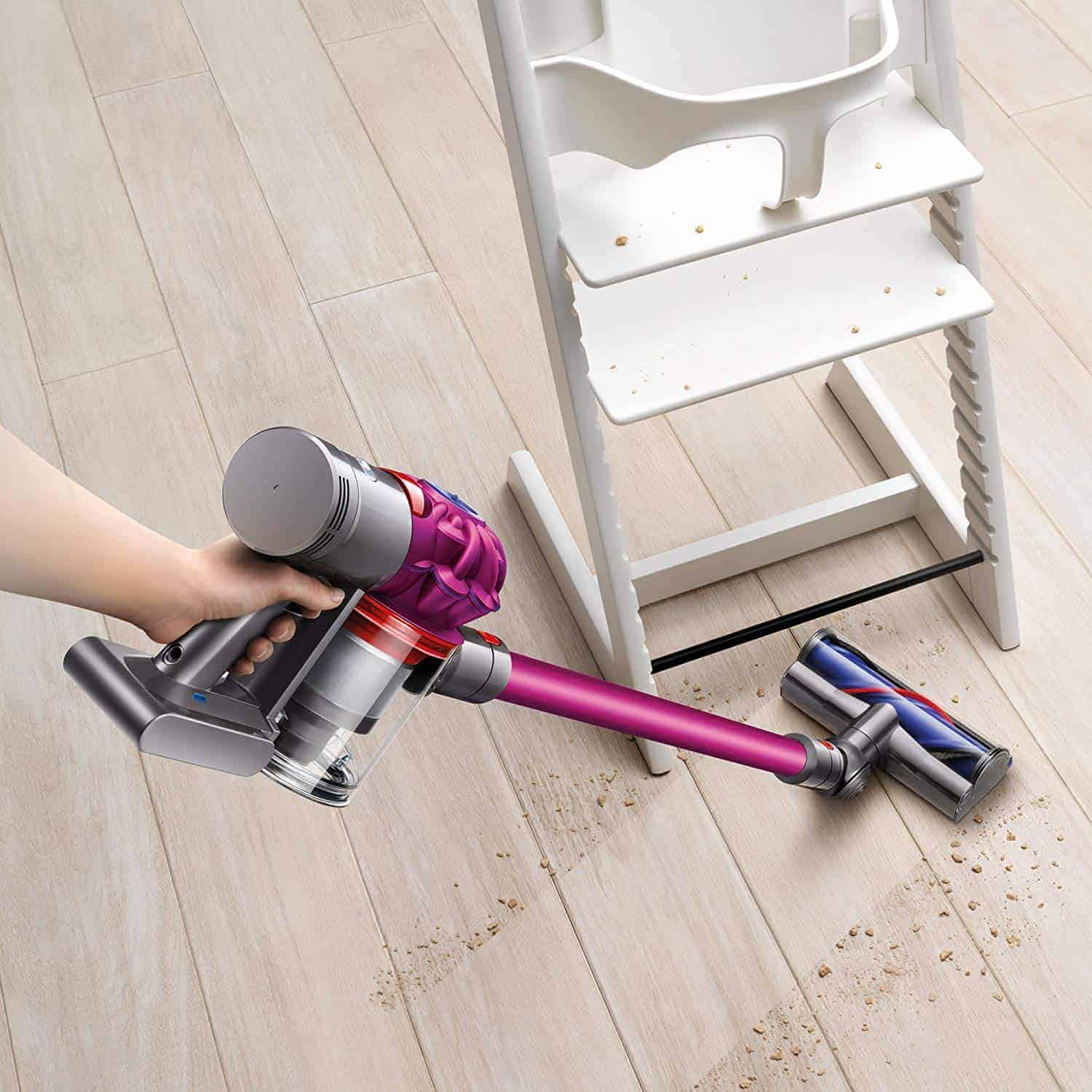 There's a reason why people love cordless vacuum cleaners – they are so easy to use! Once you go cordless, it's hard to go back to those corded cleaners that always get stuck around the table or chairs. Dyson's Slim Cordless vacuums are the best type of cleaning device. They have strong suction, they are easy to maneuvers, and have a decent run-time per charge.
FEATURES
Cordless
By far the best feature of this Dyson model is the fact that it's completely cordless. There is no need to pull those annoying cords behind you. This means you can reach any part of your home in an instant and vacuum anywhere, even on the ceiling.
2 Tier Radical Cyclones
This vacuum cleaner is very powerful because it has 15 cyclones to ensure excellent suction. They are arranged in two tiers and work in parallel as they increase airflow. This in turn captures more dust particles than other vacuum cleaners.
Balanced Weight Design
Unlike other devices that are bottom-heavy, this vacuum cleaner's weight is balanced across the body. As a result, this means it is light enough to lift up and clean ceilings and corners without getting a muscle cramp. Therefore, you can clean the floors, up to, and in-between all the objects and furniture in your home. Let's consider that for instance, you can reach those tight areas in the kitchen.
Hygienic Bin Emptying
You simply lift the bin cover and hold it over the trash can. The dust and dirt fall out automatically in a single move. Clearing out the bin is a hygienic process because the dirt does not touch hands and disperse in the air. Furthermore, the advantage is that the user enjoys a no-touch disposal process.
Low Profile Heads
The Dyson's heads have a low profile which means they are compact enough to fit into tight spaces. They make cleaning under furniture easy. Since the heads are flexible, you are not damaging the device and consequently extending its life.
Docking Station
This Dyson model comes with its own docking station you can install anywhere. Such a handy feature makes it is easy to store the vacuum cleaner in an upright position when it is not in use. Moreover, this station stores and charges the cleaner in 3.5 hours. Considering other chargers, this is a pretty good charge time.
PROS
30 Minute Run Time
One full charge provides 30 minutes of nonstop run time. What's great is that as time goes by, the vacuum cleaner does NOT lose suction power, it stays constant.
Powerful Suction
The regular suction power of this device is excellent and customers rave about its fade-free suction. But it also has a MAX power mode which is even more powerful for very dirty areas of hard to clean carpet dust. For example, you can use the MAX power suction for a good 5 minutes and deep clean your floor.
The suction power is up to 100AW
6 minutes of run time at max mode
Easy to Use
We love how easy it is to use this vacuum cleaner. It is versatile and you can use it as a handheld device for cleaning things like stairs. As well, it can be used to clean ceiling and high-up places that are hard to reach. And for those days of quick clean up, it works just like any other upright model.
Pretty Good Run Time
Some newer models have a longer autonomy or run time, but all things considered, this one is good because it works for 30 minutes on a full charge. That's enough time to vacuum your entire home considering you are not getting stuck with cords.
CONS
Works Better on Hard Floors
Many homes have a lot of carpets scattered throughout, yet this cordless device works best on hard floors such as hardwood or tile. For that reason, it isn't as efficient as it should be on thick carpets and you can see some debris left behind. Here's Canadian Tire showing how it works:
WARRANTY
Some customers complain that Dyson's customer service is sub-par. This vacuum cleaner comes with a 5-year limited warranty. This covers original manufacturing defects for a 2 year period after purchase.
VERDICT
If you want a light cordless vacuum cleaner from a trusted brand, this is a good option. It has a decent run time, max power mode, and it can be used in all kinds of places. This model stands out from other models because it can reach those hard to reach places like ceilings and corners which is a huge advantage for consumers. To sum up, it is best for compact and hard to reach places and therefore has an advantage over classic upright models. Check the latest prices here
FAQ around upright vacuums
What is the best type of filter for upright vacuum cleaners?
The general consensus is that the HEPA filter is the most efficient and traps dirt particles best. If you choose a vacuum cleaner with this type of filter, it will do a good job of picking up dirt.
What is a HEPA filter?
HEPA stands for High-Efficiency Particulate Air. This type of filtration system traps even the tiniest particles of dust and debris. It is capable of trapping 99.7% of micron-sized particles. This is considered excellent for a vacuum cleaner and it leaves your surfaces clean.
Why buy an upright vacuum cleaner?
Since upright vacuum sales are increasing, it's safe to say that many consumers prefer upright vacuum cleaners because they are efficient and also easy to use during the cleanup process. Did you know that the average upright model costs less than a canister vacuum cleaner? which is an advantage if you are on a budget. As an example, the Dirt Devil and Bissell model costs around $100, which is an excellent price for a cleaner.
These types of cleaners have a wider swath or in other words, they clean a larger surface area. For example, they do an excellent job cleaning carpets, as they can pull out small dirt particles from the fabric.
Don't forget that since they are upright, they are less bulky and therefore easy to store.
What are the disadvantages of upright models?
Many of these vacuum cleaners are very heavy. Some of them weigh about 20 pounds, which is a lot to move and carry around. As we mentioned, there are some models like the Dyson V7 that weigh around 6lb. At the end of the day, it's up to the consumer to decide how much weight is ideal to maneuver because each person can carry different weights.
In the same vein, many consumers complain about another problem with upright devices and that is the noise factor. Generally, upright vacuum cleaners make more noise than canister models because their motors have a loud decibel output.
I want to conclude this section and tell you that most of these models are more expensive than canister models and the reason for that is their intricate design.
Conclusion
When it comes to choosing an upright vacuum cleaner, the features are the make or break factor. The bottom line is that before making a purchase, it's best to consider the surfaces you have in your home. Do you need a wet or dry vacuum?
As well, think about your budget, and your specific needs, in order to select the right device. If you live in a small apartment a cordless Dyson is your best option. If you own a large home, a study bag device might be more practical. Consider things like filters, maintenance, and ease of use, then choose one of our recommended picks.
I'm Joost Nusselder, the founder of Tools Doctor, content marketer, and dad. I love trying out new equipment, and together with my team I've been creating in-depth blog articles since 2016 to help loyal readers with tools & crafting tips.