I love creating free content full of tips for my readers, you. I don't accept paid sponsorships, my opinion is my own, but if you find my recommendations helpful and you end up buying something you like through one of my links, I could earn a commission at no extra cost to you.
Learn more
50cc is the peak of monstrosity when it comes to the chainsaw. There are indeed some that are even 80cc but they're just a bit over the board for any application.
Even when you're felling a tree, a 50cc can go through like a knife through butter. These have enough muscle to grind through any task, especially the ones that a homeowner might need.
So whether you want to de-clutter your yard, prepare firewood for winter, or cut for a living, having the best 50cc chainsaw will prove to be a reliable and powerful tool for the purpose.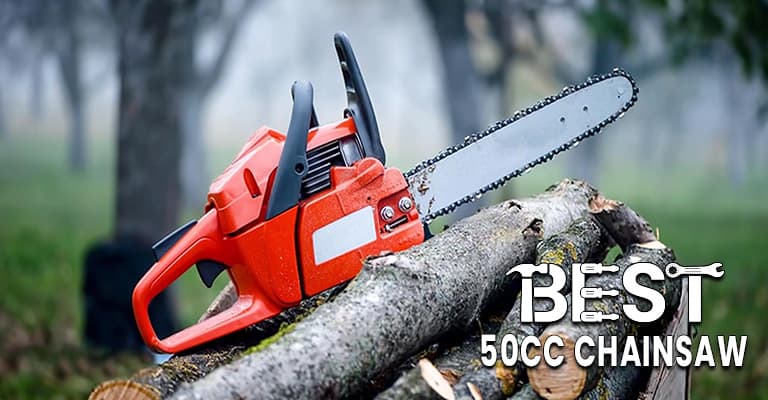 However, since there are a plethora of options to consider because of multiple brands of 50cc chainsaw in the market, it gets a bit difficult to make a choice.
I understand your pain and that's the reason I've jotted down the best 50cc chainsaws on the market. These are the ones that feature robust engines, sturdy casings, the best safety features, and long-chain bars.
My absolute top choice is the Husqvarna 450, a reputable brand and perfect for home and commercial applications.
Before we review all the products individually, have a quick look at the top choices for 50cc chainsaws.
How to choose the right 50cc chainsaw?
I know how stressful it can be to find a top-notch chainsaw without a professional's help. From power to maintenance, this felling rig may give you a hard time choosing.
Therefore, I heavily recommend you go through my list of all the possible aspects to take into consideration when choosing a 50cc chainsaw.
Cutting power (the engine power)
More power means you can handle more difficult jobs such as cutting thick wood and rigid trees.
Since you want to settle with a 50cc chainsaw, you're certainly looking for one with some serious power to do your job. The horsepower rating on the engine indicates the power of the chainsaw.
A power rating of 3HP is enough to do the job. A solid transmission ensures a reliable torque or speed to cut any dense or irregular patterns precisely.
The engine capacity rating is given in cubic centimeters which indicates the overall engine power.
Chainsaws with engines between 40 and 80 cubic centimeters are good enough. We are reviewing 50cc chainsaws in this post as they are ideal for all types of cutting tasks.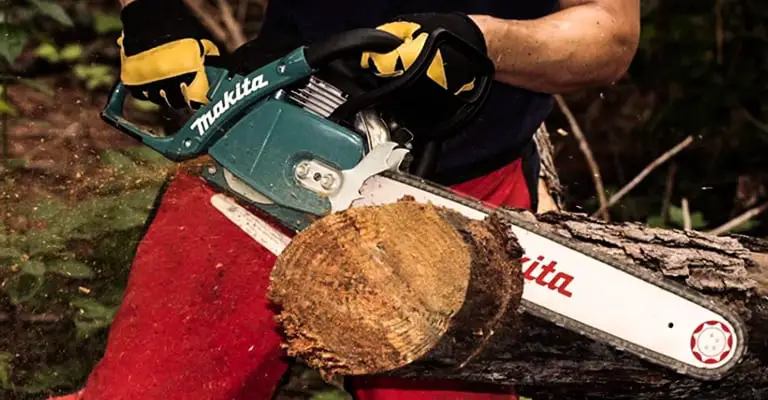 Bar length
A well-built chainsaw of more or less 50cc should come with an 18 to 20-inch bar.
If you wanna go with saws of near about 40cc, a 16 to 18-inch bar should be ideal. So 18" is a versatile choice to hit to cover a wider range of thickness and softness.
Even with a high-powered and fast engine, if you use a saw with a short bar, it will take more time than longer ones. A quick tip is, keep the bar about 2 inches longer than the highest width of the wood you are gonna encounter.
Starting mechanism
You need a chainsaw that can start without using the throttle too much to save both time and energy.
Most top-notch chainsaws in the market today offer an easy starting mechanism by involving pull start technology. Besides the combination of choke and stop control allows an effortless start to your felling task.
Safety features
High speed rotating chains are indispensable for heavy felling and cutting works.
But to prevent any possible accident chainsaw manufactures have integrated the following safety features and special design.
Anti-kickback
The anti-kickback feature will minimize the risk of the chain flying off and harming you.
Kickback is one of the prime reasons for a chainsaw accident. To counter it, the most top-quality chainsaw has never missed out on this feature.
Chain brake
Fundamentally any chainsaw you pick comes up with at least one of the two brakes. One is the manual brake and the other one is the inertial brake.
When the manual brake is pushed, the chain will stop immediately. And, the inertial brake only works against kickback.
Between these, inertial brakes stop quicker.
Anti-vibration
To lessen the vibration and fatigue caused by the engine, the anti-vibration function is installed in most top 50cc chainsaws.
Vibration can easily damper your work, making you tired at the same time. But this feature will keep your muscles and the nervous system stable while working for long periods.
Additional features
Other features like chain catcher, chain stopper, and lock-out switch work significantly to avoid future mishaps as well.
The chain catcher and chain stopper both prevent the broken rotating chain from hitting you. On the other hand, a lock-out switch is useful in halting accidental activation.
Ease of chain adjustment
Nowadays, some chainsaws require additional tools to adjust the tension of your saw chain. Try to stay away from these as much as possible.
Search for the tool-free options as it uses a smart chain-tension technology to easily adjust while upping its usability.
Side tensioning
To allow easy maintenance, tensioning of the bar's chain of your saw should be done from one side. This is accomplished by a single or double nut.
But whatever the case is, never opt for front chain tensioning since that's an older technology. That will really give you a hard time with your wrench.
Full review of the best 50cc chainsaws available
By now you're all equipped with the information on how to choose the best 50cc chainsaw. Let's move on to the detailed reviews of the top picks along with their pros and cons.
Overall best 50cc chainsaw & best ergonomic design: Husqvarna 450 II E Series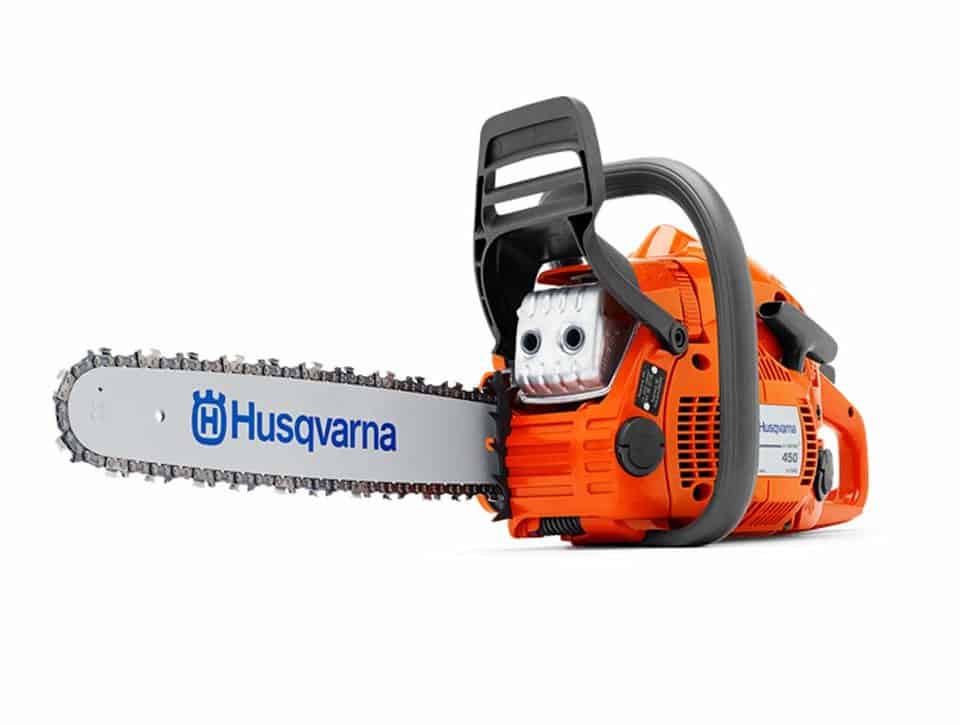 Starting off this list, we have an all-around powerful yet advanced chainsaw with 3.2HP and an 18″ bar from a well-reputed brand like Husqvarna.
This high-end chainsaw is capable of producing high power with stable operation makes it perfect for all home and commercial applications.
It has a sturdy design with a high torque engine and a vibration-dampening feature that prevents fatigue.
The chainsaw is equipped with choke and stroke control too and a centrifugal air-cleaning system that improves the air filter performance and reduces outrush.
Through Smart Start technology and an easy-pull recoil, getting this chainsaw fired up is a breeze.
The saw comes with a powerbox for easy and safe transportation and storage of the tool. The two-cycle engine is highly efficient as it keeps the fuel consumption low.
Overall, the Husqvarna chainsaw is lightweight and durable enough to last long.
Pros
Minimal vibration makes it easy to use.
It has an ergonomic design.
It is environmentally friendly.
The smart start feature makes it easier to start when the temperature is low.
Cons
It has a leaky chain and bar.
It is not suitable for commercial use.
Readjusting the chain is a bit of a hassle
Check prices and availability here
Best heavy-duty 50cc chainsaw: Poulan Pro 20 inch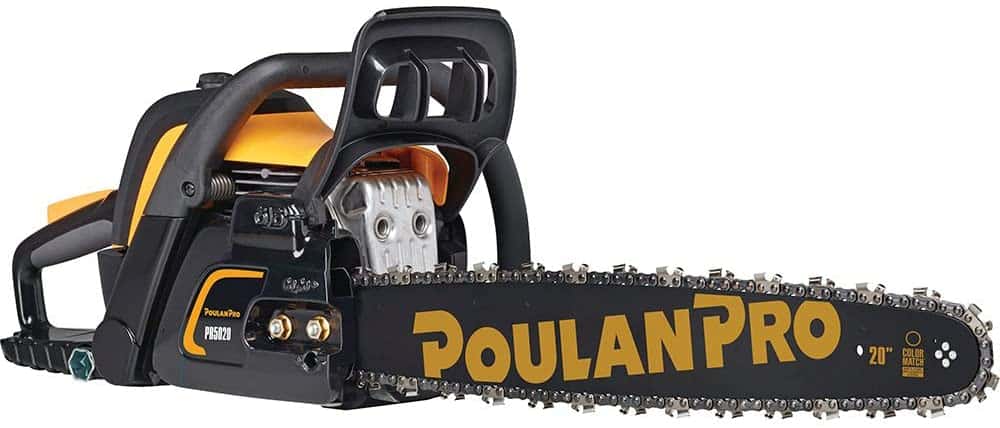 Our next top pick is Poulan Pro PR5020 Chainsaw which features a perfect balance of power and flexibility.
This is a commercial-grade chainsaw that is perfect for doing tough jobs like logging, milling, and bucking with minimum effort. An easy-to-use combi tool is included in the back for handling quick maintenance issues.
Not only is it light enough to carry all day, but also heavy enough to cut anything without much force.
It uses OxyPower engine technology that ensures less fuel consumption and fewer emissions to meet the world's environmental regulations.
At the same time, the engine will provide you more power for every situation.
Furthermore, this chainsaw includes a purge bulb for quick and easier starting without flooding the engine. It will keep the engine protected, and away from damage too.
The comfortable handle ensures excellent maneuverability. Plus, it has easy access to safety features like a low kickback bar and chain brake.
Pros
It cuts smoothly and is very powerful.
It is suitable for heavy-duty tasks.
It features OxyPower engine technology for effortless chopping and cutting.
There are combined choke/stop controls.
Cons
It is heavy.
It is not suitable for home use.
Best lightweight 50cc chainsaw & best for cold-weather: Makita EA5000PREG 18-inch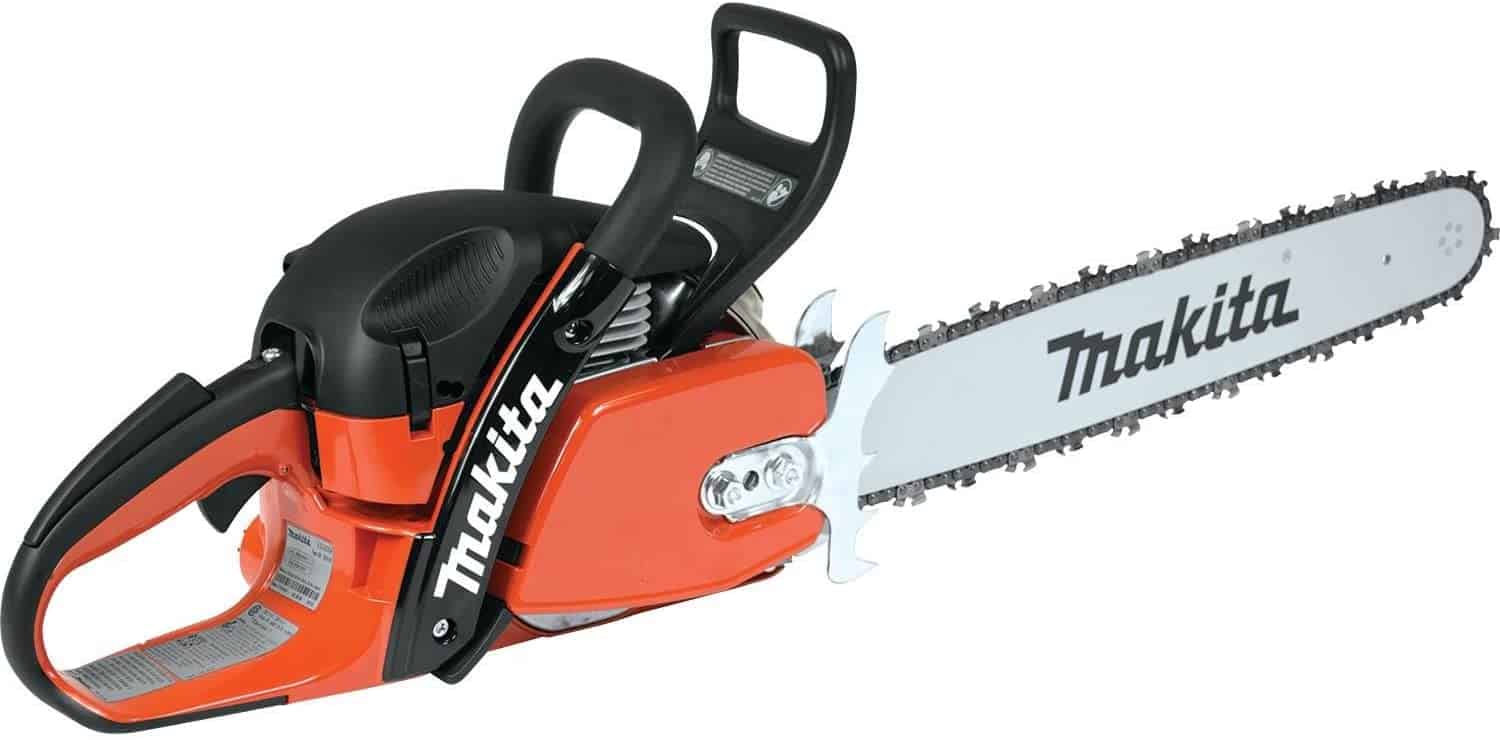 The Makita EA5000 is another high-end 50cc chainsaw that features magnesium housing. This housing makes it lightweight and durable, thus improving its overall efficiency.
It features an easy spring-assisted start mechanism and an optimized highly efficient engine. The powerful engine makes it easier to start the machine with less force.
The chainsaw has a compact design and can be cleaned easily. The floating rim sprocket improves the chain life and provides easy maintenance too.
The touch and stop single lever control allows you to shut the engine with a single touch.
Pros
It starts very easily.
It is good for working in cold weather.
It features an easy-to-clean chain compartment.
There is a side-mounted tensioner that allows quick operator access.
Cons
It is expensive.
It is not CARB-compliant.
Best environment-friendly 50cc chainsaw: Tanaka TCS51EAP

Tanaka TCS51EAP ChainSaw is designed to handle both commercial and heavy-duty home use.
With the onboard 50 cc engine, you will be able to combine power and weight to handle the toughest jobs precisely.
Apart from that, the commercial-grade purifier engine assures clean but powerful performance with less fuel consumption, making it somewhat environment-friendly.
Due to the decompression valve, staring is quick and easy. Its throttle chokes trigger function also for fast starting and warm-up.
Bumper spikes and sprocket nose bar are in place to offer sufficient control over your cutting. For more added control, this chainsaw features an automatic oiler which is adjustable as well.
Both the automatic oiling system and side-mounted chain tensioner offer easy and fast adjustment of the chain tension.
Besides, the anti-vibration system is designed to keep the vibration down and lessens any kickback. This function also minimizes your fatigue while working long hours, making the cutting process less tiring.
Pros
It features an adjustable and automatic oiler.
It is rigorously tested for durability and efficiency.
The half throttle choke with trigger release allows easy start.
The powerful engine provides a clean performance with less fuel consumption.
Cons
It gets heated up after extended use.
There are some reports of oil leakage.
It is a bit expensive.
Check prices and availability here
Most durable & silent 50cc chainsaw: Husqvarna 20-inch 450 Rancher II

I have another high-quality gas chainsaw from Husqvarna on my list. This chainsaw has the ability to produce raw cutting power which makes it one of the top choices for both commercial and home use.
This well-assembled chainsaw relies on a 2 cycle 50cc motor that can generate almost full horsepower and allows clean cuts as well.
At the same time, the engine runs silently, has exceedingly low vibration, can generate fairly swift chain speed, and is enduring enough to last long.
The use of X-Torq technology maintains less fuel consumption while upping its performance. This makes the chainsaw extremely reliable and also environment-friendly.
The bar chain length is 20 inches ensuring precise cutting without having to do it in sections. With spring-loaded features, this chainsaw starts quickly and effortlessly.
On top of all, maintenance is easier with the air filtration design as it saves you from pilling up too much dust and cleaning regularly.
Pros
It is easy to start and offers a smart start feature too.
The snap-lock cylinder cover saves effort and time when cleaning and spark plugs change.
The air-cleaning system prevents dust and debris from reaching the air filter.
It is environment-friendly.
Cons
It is expensive.
The auto-oiler often leaks.
Check prices and availability here
Best budget 50cc chainsaw for home use: Garwinner 52cc Gas Chainsaw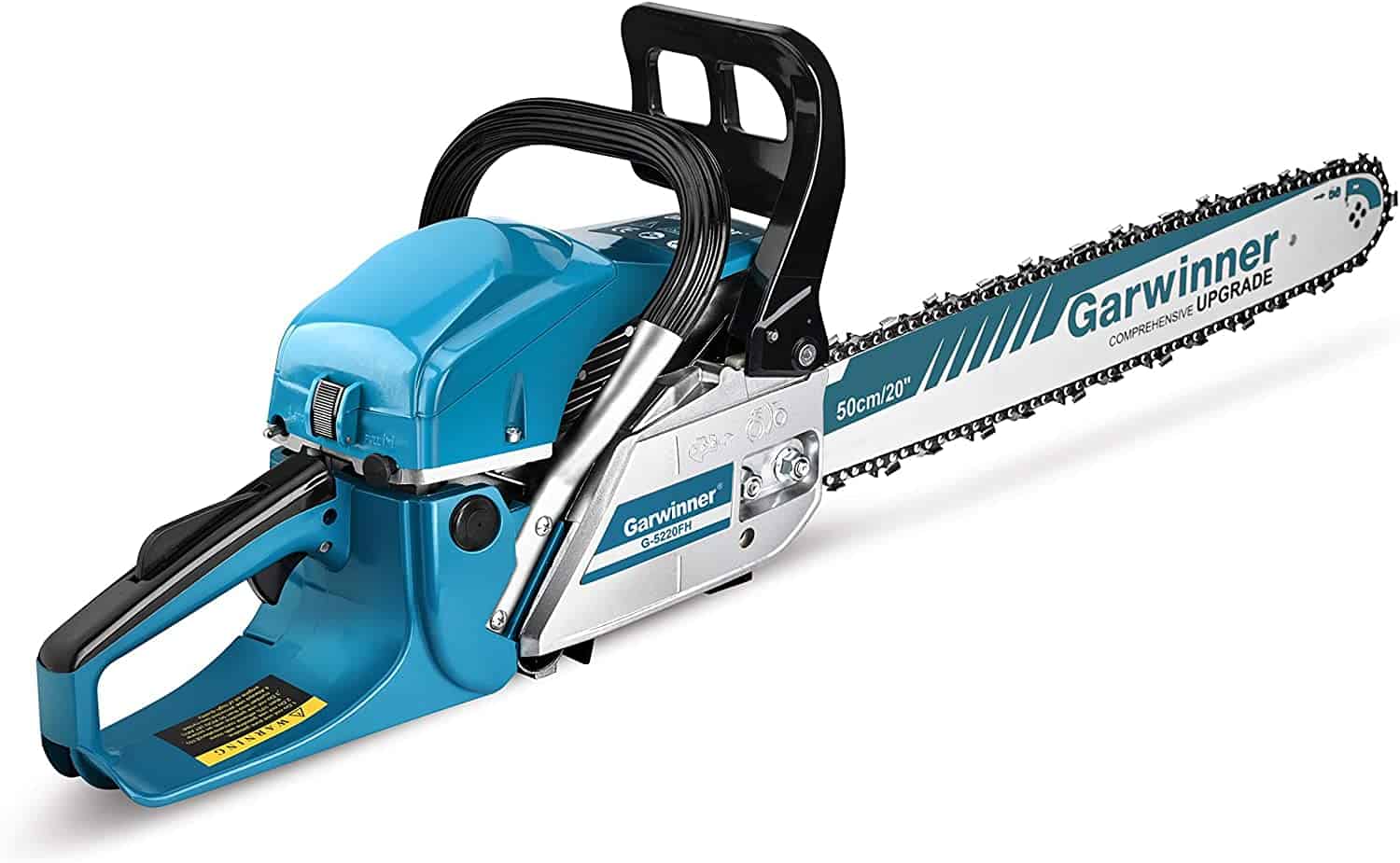 If you are looking for a more budget-friendly 50cc chainsaw for the odd jobs around the house, then the Garwinner 52cc would be your best choice.
Still quite powerful, this 2 cycle engine chaisaw with a 20 inch bar will get the job done. It starts easily owing to its smart starting mechanism.
It is user-friendly, light enough to maneuver easily and the chain can be adjusted without a hitch. The sturdy and durable body guarantees years of continuous service at such a low price.
Equipped with an anti-vibration system, it immediately eliminates vibration to provide you utter comfort. Moreover, the handle has been cushioned to reduce excess stress on your shoulder and ensure an easy grip.
The saw comes with a bar protector, an instruction manual and installation tools, a 2L fuel mixing bottle, a tool kit and two chainsaw chains.
Pros
It offers easy maintenance and comfortable operation.
The quickstart technology is very handy.
The automatic oiler keeps the chain well lubricated.
Cons
It is a bit heavy.
Bar oil leakage is there.
The casing seems a bit cheap
Chainsaw FAQ
Which is better, a gas-powered or an electric chainsaw?
The gas-powered chainsaws are better at handling larger bar lengths as compared to electric chainsaws.
The gas-powered chainsaws are also more suitable for commercial and heavy-duty tasks.
What is the appropriate safety clothing while using a chainsaw?
Avoid wearing clothes that have anything hanging from it. The best option is snug-fitting clothes.
Wearing this, you can easily move around and do your job efficiently.
How to maintain your chainsaw?
Getting the most out of your chainsaw requires some routine maintenance practices. Generally, most manufacturers include maintenance items or routines in the manual.
This is why, after purchasing, the first thing you need to do is read the manual.
Apart from this, it is equally important to properly lubricate the bar and chain, sharpen the chain, clean air filter, and keep your chainsaw clean all the time.
To carry out these, you will need a few things like clean clothes, tools, round file, file gauge, flat file, and depth gauge. Make sure you have these all the time.
How to sharpen your chainsaw?
To sharpen the chainsaw, firstly wear protective gloves. Then secure the bar in a vice and turn on the chain brake lock.
Position a gauge with arrows towards the nose of the bar and use a round file to file every single tooth at every angle. Next, use a flat-file to file the gauges.
Conclusion
I assume our comprehensive guide with reviews of the chainsaws has helped you enough to find out the best 50cc chainsaw for your job.
However, in terms of power, work-ability, features, we think Poulan Pro PR5020, and Husqvarna 20 Inch 450 Rancher II chainsaw stand out the most.
If you are strained budget-wise, the Garwinner 52cc Gas Chainsaw is a quality option for you. This gas-powered chainsaw provides both durability and functionality.
On the other hand, when it comes to a chainsaw for both commercial and home use, Husqvarna 20 Inch 450 Rancher II chainsaw is hard to miss. I mostly loved it for its powerful engine, 20-inch long bar for easy cuts.
I'm Joost Nusselder, the founder of Tools Doctor, content marketer, and dad. I love trying out new equipment, and together with my team I've been creating in-depth blog articles since 2016 to help loyal readers with tools & crafting tips.