An air purifier is a small to medium-sized home appliance that improves the air quality in your house. It is especially useful if you suffer from allergies, asthma, or other health problems because it makes it easier to breathe.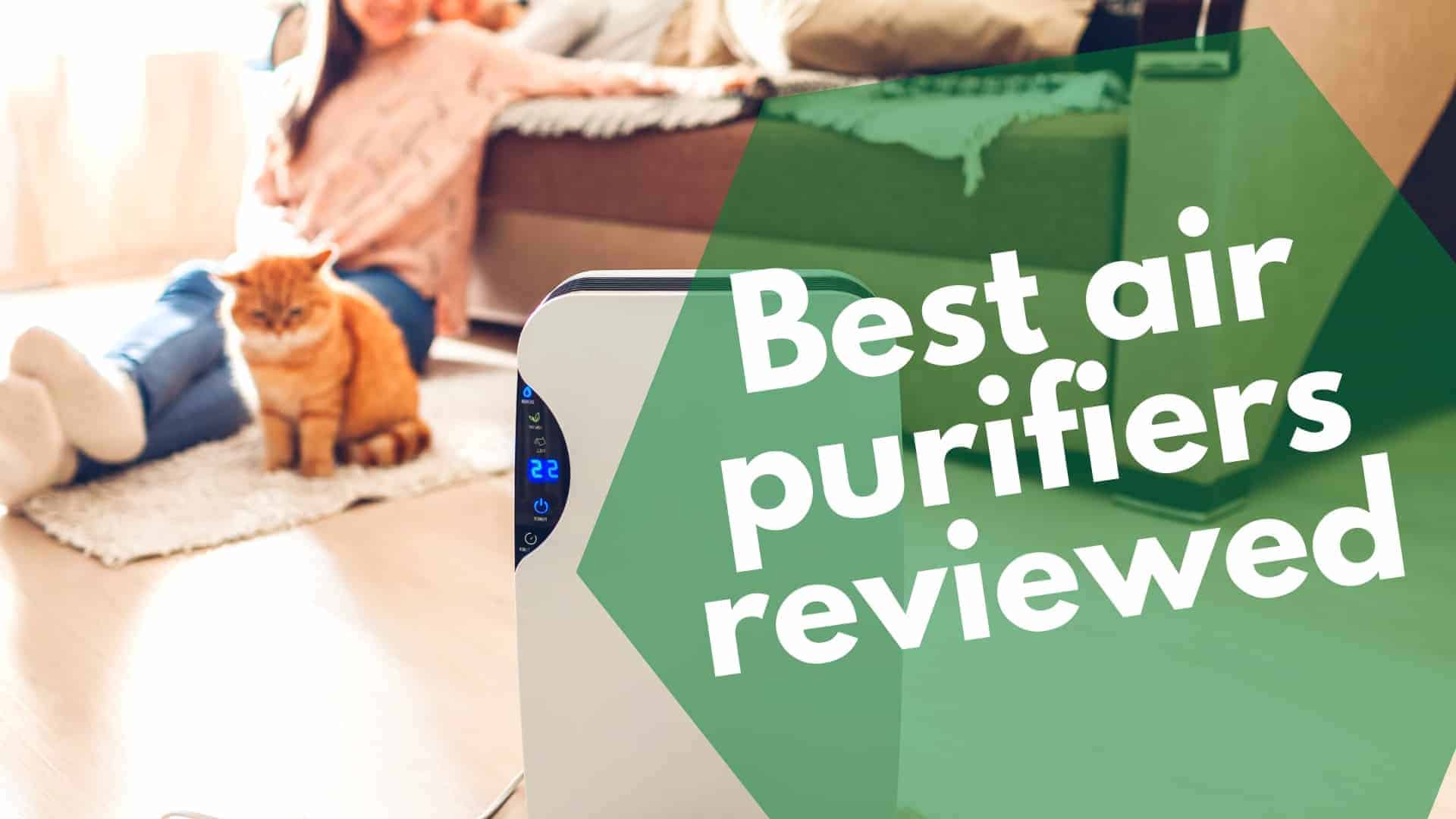 In this blog post, we will list all of the best air purifiers you can buy on Amazon for all budgets and needs. So, keep reading to see our top picks!
Buyer's Guide to getting the right Air Purifier
When you're on the market for an air purifier, you need to consider many aspects. Most of these air-purifying machines do more than just clean the air. In fact, most of the devices on our list are multifunctional, which means that you can do more with them. In this section, we will share our tips for finding the best air purifiers and answer some of the most popular questions about these devices.
Is an air purifier necessary?
To determine if you need an air purifier in your home, let's take a look at what air purifiers can do. If you are looking to improve the indoor air quality in a specific area of your house, you can do that with an air purifier. Keep in mind that air purifying devices do not replace and HVAC system in the whole house. Instead, they filter the air in ONE single room at a time. Their main purpose is to remove indoor pollutants and make the air more breathable. This is especially beneficial for people suffering from certain diseases such as asthma. But in the context of pandemics and fires, it is a useful device that helps you breathe easier. Are air purifiers any good? So, you're probably wondering what air purifiers can remove and if they are effective. Well, all kinds of lab tests in the past decades have shown that most air purifiers can filter out dust, smoke, and pollen particles from your home. If the purifier has a HEPA filter it can cut the number of bad particles floating in your room in half. That's quite a good result, considering these devices are quite small.
Types of Air Purifiers
There are multiple kinds of air purifiers. Let's explore the different technologies and see which one works best. It all comes down to the type of filter in the machine.
Mechanical Filters
These types of air purifiers have pleated filters, usually HEPA which capture upwards of 99% of impurities. A fan forces air through a dense web of the filter's fine particles which trap the particles. A mechanical filter cannot trap gases or odors.
Activated Carbon Filters
These don't catch particles like the mechanical filters. Sorbent filters are used, which use activated carbon to absorb the odor-causing molecules that are floating around in the air. They can also absorb some forms of gases. Since activated carbon filters don't trap the impurities, they are mostly used to remove odors. They are combined with mechanical filters to effectively trap dust and impurities AND remove smells.
Ozone Generator
An ozone generator is considered the worst kind of air purifier. Although products are deemed safe, many can contain high ozone levels which are bad and actually makes indoor air quality WORSE. This type of generator produces ozone molecules that alter the chemical composition of some types of pollutants.
Electronic Air Purifiers
This type of purifier works with electrostatic precipitators and ionizers. What these do, is they charge the particles floating in the air and attract them to a metal plate with magnetic attraction. These machines may produce low levels of ozone, but they are efficient at attracting pollutants.
UVGI (Ultraviolet germicidal irradiation)
Devices that use UVGI function with UV lamps. These lamps apparently kill or neutralize dangerous bacteria, viruses, and fungal spores. However, there are some types of viruses that are immune to UV light, so it's not always the most effective type of air purification system.
PCO (Photocatalytic oxidation)
This system is a combination of ultraviolet radiation and some type of photocatalyst which oxidizes pollutants (especially gaseous ones). During the oxidization process, some harmful chemicals are produced. Once again, ozone is a dangerous byproduct of this filtration system.
What to consider before buying an air purifier
Noise
One of the most important things to consider when choosing an air purifier is how much noise it makes. Keep in mind that this device will run most of the time, sometimes even while you sleep, so it's essential that it doesn't disturb you and cause annoying background noise. Noise level is measured in decibels, so opt for a machine with low noise output. The quieter, the better. Anything above 50 decibels is potentially too loud for sleep. Always test how noisy the device is by running it on high mode and comparing it to low mode.
Size of the Room
Think about where you'll be using your machine. The manufacturer will specify what area the device can purify (usually in sq. ft.). If you're using the device in a large room, make sure that the purifier can handle it, otherwise, it is ineffective and pointless to use. The air purifier should have a AHAM VERIFIDE seal, which means it purifies spaces as large or small as the manufacturer claims.
Cost of Replacing the Filters
Most filters need to be replaced at least once a year, so consider the cost of filter replacement. Pleated filters like HEPA, should be replaced every 6 to 12 months for the cleanest air. But keep in mind that activated carbon filters must be replaced every 3 months or else they are not effective, and this is costly. The price of filters varies greatly and can cost up to $200. So, it really does matter how often you need to change it.
Certifications
When you choose a filter, you need to make sure it is energy efficient and certified. This ensures it is safe and effective and not expensive to run. Look for the Energy Star logo which confirms that the machine is at least 40% more energy efficient than other similar products. This means lower electricity bills in the long run. CADR ratings are also important to note because they show you how effectively each air purifier filters different types of pollutants.
Features
Look at multifunctional devices like the ones on our list. Some are simple air purifiers but there are many devices that act as dehumidifiers, humidifiers, cooling fans, heaters, and more. So, it depends on what you home needs.
How do I choose the best air purifier?
Always look for an air purifier that removes the type of pollutants you want to get rid of in your room. So, if you have pets, consider a machine that removes pet dander. Also, consider your health needs. If you are allergic to dust, a HEPA filter will capture more fine dust particles than other filters. Some purifiers are especially good at removing cigarette smoke and odors, so if that's a problem in your house, check the specifications of the machine.
Best air purifiers reviewed
Affordable UV-Light Air purifier that kills viruses: GermGuardian AC4825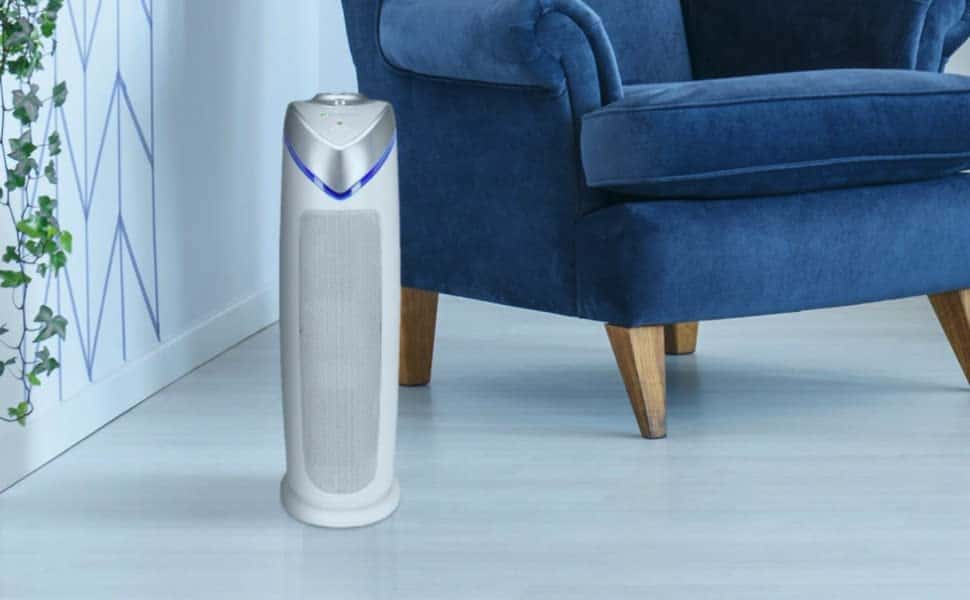 PROS                                        
The Germ Guardian AC4825 3-in-1 Air Cleaning System with True HEPA Filter, UV-C Sanitizer, Allergen, and Odor Reduction is effective and professional. This product is definitely effective and truly amazing. We used it at home and we made the right choice to choose it among some air purifier products in the market.
Aside from this Germ Guardian AC4825 is very useful at home, the good benefits really satisfy us well. We also like its functions for cleaning and purifying air so that's why we are safe from any air contaminants. It also has a quiet operation, so you will never be bothered by its noise.
CONS
This product is not advisable to use for large rooms. Its cleaning effectiveness is lower compared to those who are used in large rooms.
Another, it also has a plastic smell that can hinder you to breathe fresh air.
VERDICT
If you are a budget-conscious person with high standards, then it is best to avail the Germ Guardian AC4825 Air Purifier. With a budget under $100, you can experience a high-performance air cleaning tool in your house.
FEATURES
The Best Air Purifier in the Market
The really satisfying fact about this Germ Guardian AC4825 is the description of the product is all truth and working. We keep on finding the best air purifier until we found this extraordinary product. It is very helpful that it cleans the air in our home because my child has severe dust allergies. We're so glad that we finally found the best. The best air purifier at an affordable price.
Perfect for Asthmatic Person
The best air purifier to use at your home is the Germ Guardian AC4825
. We have our asthmatic sister and this product really helps her to live and breathe comfortably. Not only my sister but also for us. The very excellent product that is made and for its low cost is definitely worth it.
Satisfied with its Very Effective Results
If you have any issues about the smell in your house or if you wanted to relax and breathe comfortably, Germ Guardian AC4825 is the best air purifier for you. The 3 air cleaning system with Odor Reduction, True HEPA, and UV-C Power are very effective so you don't need to worry because we actually try it at home and the result is very satisfying. Here is A Fresher Home looking at this particular model:
WARRANTY AND SUPPORT
This product comes with 3-years limited warranty that you will surely be grateful for.
FINAL WORDS
There's no place like home and your home living will change because of this product. If you have any problems breathing, you don't need an inhaler because Germ Guardian AC4825 is the right thing for you. We don't want any dust in our house that may cause any illnesses, this product is a great help for you because it cleanses the air and filters the dust and any airborne viruses. For how many months that we have this product in our house, it never complicates thus, it changes our life.
We consistently use Germ Guardian AC4825 because its features are extremely effective. Every home needs this at least once. This is important to your home so you should have this product to eliminate the bacteria and viruses in the air and purifies and cleans it. Choosing it is the best choice among the other brands.
Best ionizer-free air purifier: PureZone 3-in-1 True HEPA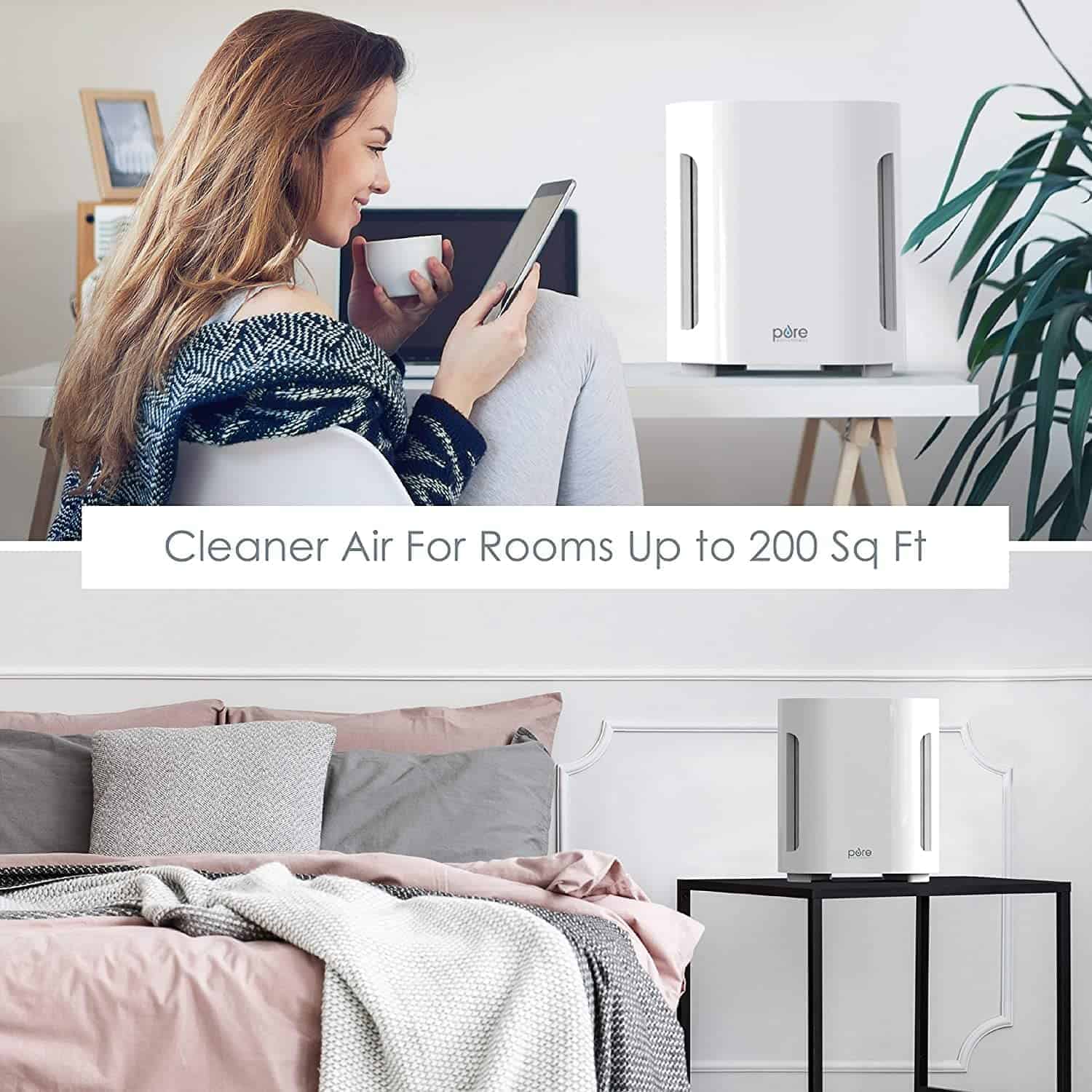 It is natural that we need excellent quality air purifier to have a comfortable and more convenient way of living. Well, one of the greatest products that we have seen in the market is the PureZone 3-in-1 True HEPA Air Purifier-3 Speeds Plus UV-C Air Sanitizer.
PROS
Why We Choose PureZone 3-in-1 True HEPA Air Purifier-3 Speeds Plus UV-C Air Sanitizer?
Helps to purify the air. What makes us satisfied about this product is that we really observed that it is useful and can capture about 99.97% of pollen, dust, smoke, household odors, pet dander as well as mold spores.
Effective in destroying bacteria and germs. We are very happy with the product's efficiency thus it really helps to eliminate germs and bacteria that can harm your health. It comes with UV-C light that destroys micro-organisms including viruses, germs, fungi, and bacteria. In addition to this, we attain peace of mind in using this brand because it is easy to use and can really provide you with the best efficiency that you are actually looking for.
CONS
When the UV light was on, it was a little too bright. In addition to this, it also has a plastic smell upon its first use.
VERDICT
If you want to buy a wallet-friendly cost air purifier, then it is really advisable for you to choose PureZone 3-in-1 True HEPA Air Purifier – 3 Speeds Plus UV-C Air. Wanna Buy It checks out this purifier on their channel here:
FEATURES
– Energy-efficient. Upon the availing of this product, we are very glad since it is helpful to save more energy. We are amazed by its perfect usefulness since we have the chance to receive a great amount of savings. We are also very happy with the result of availing it since it comes with an automatic optional timer shuts off that can be used for about 2, 4, or even 8 hours.
– Provides an easy as well as safe operation. We highly suggest you to buy the PureZone 3-in-1 True HEPA Air Purifier -3 Speeds Plus UV-C Air, thus it is really very easy to operate and will never bring you any harm upon its use.
– Whisper-Quiet Operation. You will never be bothered when you use this air purifier since it can operate in a quiet manner. As a result, you will never suffer from its noise especially if you already resting or sleeping. We are very impressed with this air purifier brand since it can have the capability to purify the air to provide you with easy breathing and satisfying as well as relaxing sleep.
WARRANTY AND SUPPORT
This comes with a 5-year warranty that can give you the highest satisfaction upon its use.
FINAL WORDS
We are quite surprised by the benefits that we get from the PureZone 3-in-1 True HEPA Air Purifier -3 Speeds Plus UV-C Air. We are happy and receive the highest satisfaction when it comes to availing an air purifier just like it. With this product, we are confident enough that our hard-earned money, time as well as effort will never be put into waste.
We are very strict when it comes to availing an air purifier, fortunately, we finally found the right brand that perfectly suits the needs of our family. We are happy to have this product to support our comfortable home living. Get yours now!
Best air purifier under $100: Levoit LV-H132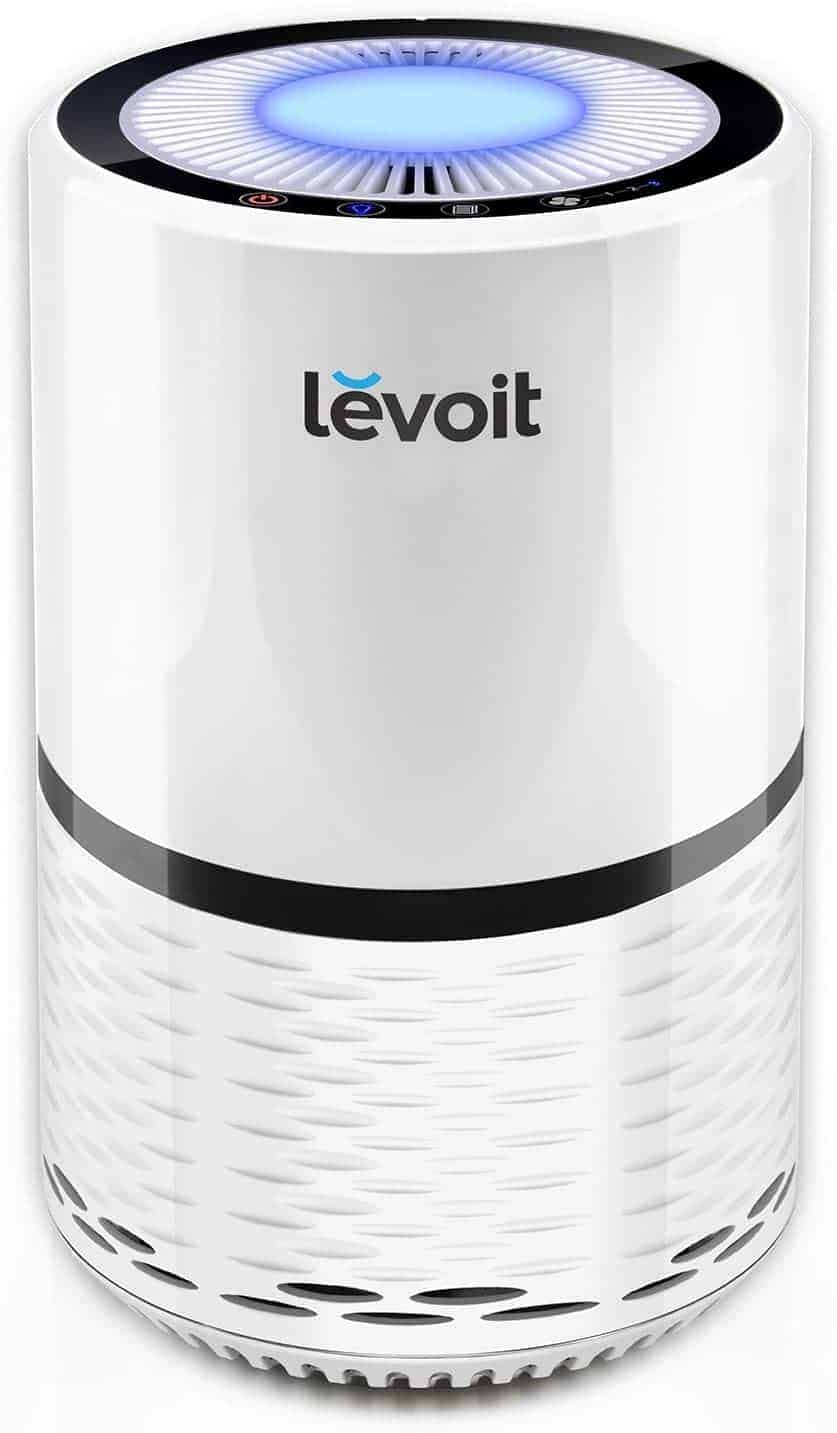 PROS 
Levoit 3 in 1 Air Purifier System looks expensive on the outside but it's cheap compared to other products.
When you buy the product, we can assure that you are investing for the best and reasonable price
The setting of the Levoit Air Purifier Filtration is great and there are 3 fans setting that we can set easily
We don't need to worry that it might be loud when we sleep because it proved to be quite as it operates.
The light of the Levoit Air Purifier Filtration can be turned on or off when you prefer it.
CONS
No UV or Ions
The air filters aren't reusable/washable
VERDICT
Do you need an air purifier in your room or any place in your house? The Levoit 3 in 1 Air Purifier system with true HEPA is a product that you can use and gives you the convenience to serve you for so long. The Levoit Air Purifier Filtration is one of the best Air Purifier that is available on the market. It has True HEPA filters and can eliminate the odor that causes allergy such as the odor of the pets and smoke. Let's take a look at a performance test for this cheap brand:
FEATURES
– True HEPA Technology
Levoit 3 in 1 Air Purifier System can filter 99.97% of the air that has contaminants such as dust, smoke, odor, pollen, and other contaminants. Filtering the air can prevent us from having allergies and other diseases and can improve our health. It can filter even the smallest particle you cannot see in the air, which leads you to sneeze.
– 3 Filtration Stages
Levoit Air Purifier Filtration is an ideal gift for your friends who have allergies and nasal stuffiness. Before it releases the filtered air, it first passes through 3 stages of filtration – the Fine Preliminary, HEPA, and Active Carbon Filters. These three are the agent that reduces the odor and dust, which is present in the air before we breathe it.
– Convenience
It has three features, which made it more appealing in the sense of buyers. Levoit Air Purifier Filtration can be set easily that we can use it as we like it with the high or slowness in the performance that it can deliver to us.
– Powerful and compact
Levoit Air Purifier System is small enough so it can be placed on the top of your desk and other small interior spaces. We can assure you that when we buy the product, it includes a 2-year warranty and free from the entire harmful chemical that the other product may have. Levoit Air Purifier Filtration does not use UV that is the source of harmful pollution in the air. We are purchasing Levoit Air Purifier Filtration to clean the air for us and not to pollute it.
WARRANTY AND SUPPORT
It covers a period of 2-years from the time of purchase as well as lifetime support from the company.
FINAL WORDS
Levoit 3 in 1 Air Purifier System is one of the best air filters that we can get in the market that will give you the convenience and the fresh air with less cost. It's easy to operate as well and there are so many features available, which you can't see with other air filter products.
Check prices and availability here
Best air purifier for the extra-large room: Honeywell HPA300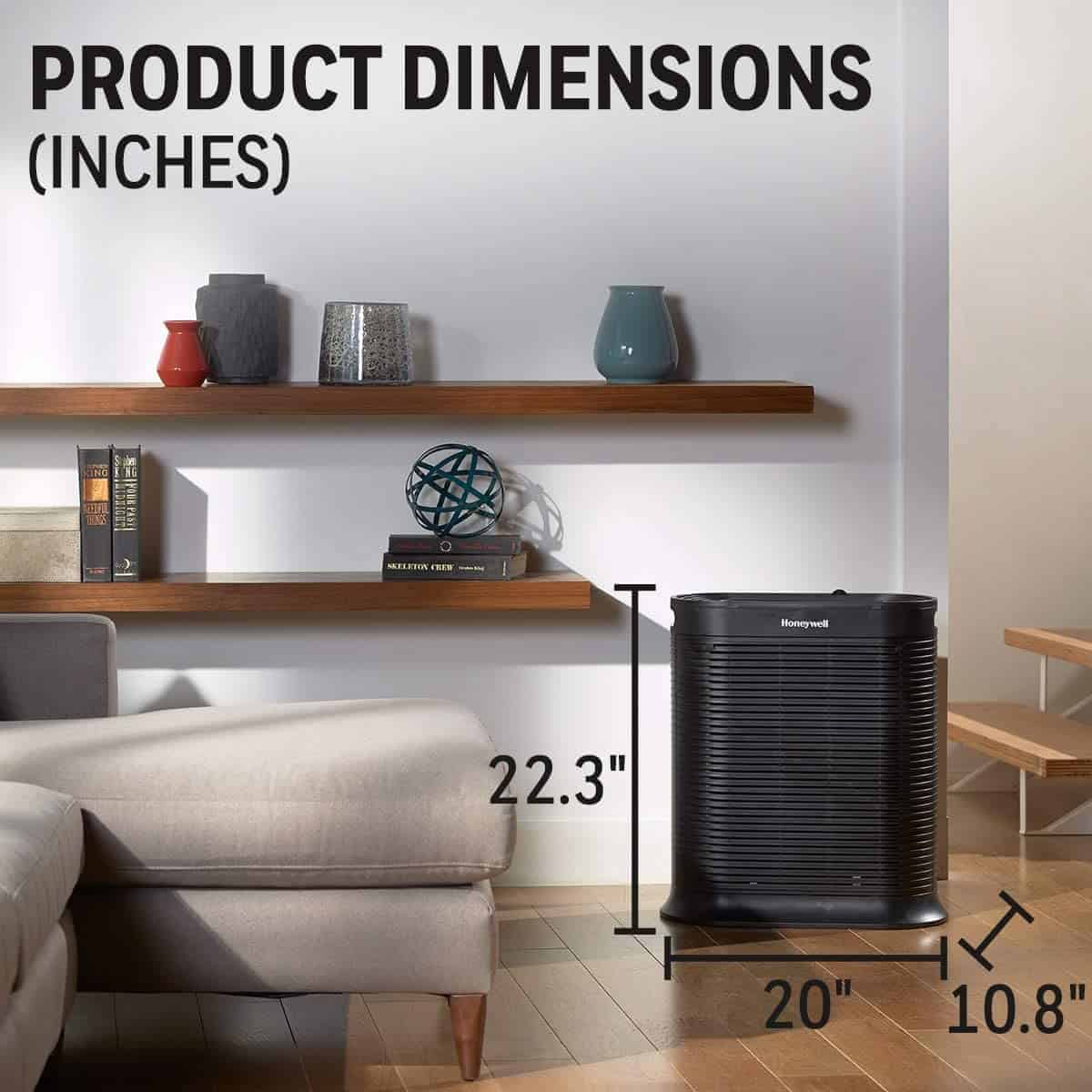 Currently, only a few of the best air purifiers are available in the market and Honeywell HPA300 is one of them. This Allergen Remover is suitable for homeowners who have a medium to large rooms.
PROS
The first option is the Germ option with its germ capturing ability during the flu and cold season. The general clean setting, on the other hand, is for general and everyday air cleaning. The third one is the Allergen setting which is perfect for the allergen season. Lastly, is the Turbo setting, which is useful for cleaning the unit air quickly which at the highest speed.
It does a great job in purifying the room
The Honeywell True HEPA Allergen Remover has the power to purify a room of 465 sq. ft. or 21′ X 22′ by giving 5 air exchanges per hour. The portable air purifier has a Clean Air Delivery Rate or CADR of 200 for smoke, 180 for pollen, and 190 for dust.
It has a 2-stage cleaning system
This model of allergen remover comes with a 2-stage cleaning system. The first step is in the filtration process, which involves the pre-filtering of odor reducing with the activated carbon. It will help deodorize the air and trap dust, fibers, lint, pet fur, and other larger particles. In the second stage, there is a True HEPA filter that can capture up to 99.97% of airborne particles as small as 0.3 microns or as large as mold spores, pollen, dust, and bacteria. This unit has no ozone emitted.
Another great future of this air purifier is the 2, 4 and 8-hour timer which allows you to select a time on how long the air purifier would be running before it automatically shuts off at the time set. Another great thing about this air cleaner is the dimmer option which allows you to adjust the brightness of LED displays. You can choose to lower or shut off the LED display if it creates an annoying brightness in your room.
CONS
There is a need to replace the allergen remover and odor pre-filter every 12 months
The Honeywell True HEPA Allergen remover should be replaced every 12 months and the odor pre-filter every 3 months, depending on its operating conditions.
The HRF-AP1 and the True HEPA filter HRF-R3 are not washable
The Honeywell HPA300 uses the pre-filter HRF-AP1 and the True HEPA filter HRF-R3, which are not washable. The carbon pre-filter costs around $8 while the Honeywell True HEPA replacement filter of 2 packs costs around $40.
VERDICT
The Honeywell HPA300 is a powerful home air purifier that is produced on the true HEPA filtration mechanism. This product is optimized to remove almost all of the airborne debris before they reach your respiratory system. The exceptional effectiveness of this allergen remover makes it an excellent choice for allergic people. You can hear it when it's on as you can clearly hear in this video:
FEATURES 
2, 4 & 8-hour timer
Turbo Clean setting
Electronic filter replacement reminders
WARRANTY AND SUPPORT
This product comes with a 5-years limited warranty that just makes it even a better choice for an air purifier.
FINAL WORDS
The Honeywell HPA300 is a powerful system that delivers an outstanding performance. This air purifier ensures that airborne particles, allergens, bad smells, and germs are eliminated from the air that goes through it. The Honeywell True HEPA Allergen remover may not fit everyone's needs but if you are looking for a dust and allergen remover for your room, then this product can be considered a good choice for the price.
Best air purifier with UV-Light: GermGuardian AC4100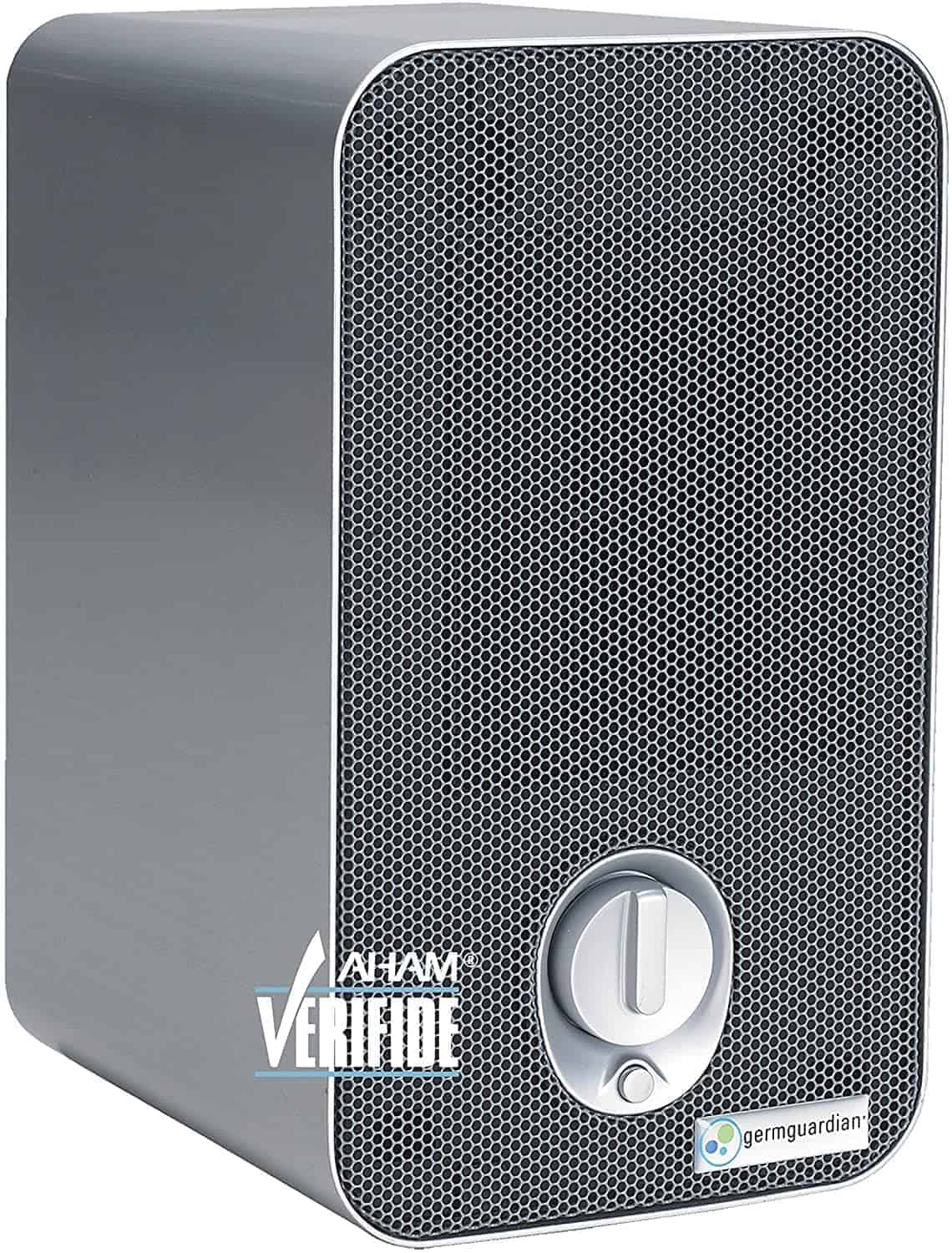 PROS
It has a tight footprint in which you can move from a room to another.
It is available at an affordable price.
It is a lightweight device.
Works best in small spaces such as bedrooms, dens, offices, and small living areas.
CONS
It is not good for chemical sensitives.
The GermGuardian AC1400 is not recommended for larger places or areas.
The air purifier involves ongoing expenses.
VERDICT
GermGuardian AC4100 is a tabletop air purifier. It is designed to clean air just enough. The air purifier has no automation modes and sensors but it doesn't mean that it's not worth buying. The GermGuardian doesn't always look like a purifier that can be proved by the GermGuardian AC4100 Air Cleaning System. It looks like a modern speaker that can blend into your room, purifying the air while your guests enjoy the less odor of your home. It has a filter that can remove dust particles, germs, and household odors that create clean air at all times.
FEATURES
CADR is 64 for pollen that is responsible for purifying the air in small spaces. It would be good to install the GermGuardian AC4100 on the safe side where the rooms are 70-80 sq. feet large. Its weight is 4.85 lbs. with the dimension of 7.5″ X 6.5″ X11″, which can easily fit on a desktop or other small spaces. It is small enough that you can move it from one place to another.
It comes with two types of filters – charcoal pre-filter, and HEPA filter. The HEPA filter is recommended to be replaced every 6-8 months, months of contamination. FLT4100 is the replacement filter for GermGuradian. This air purifier filter is responsible for capturing 99.97% of airborne particles as small of 0.7 microns.
The air purifier is designed for odor reduction. If the HEPA filters are for small dust particles, the charcoal layers are the pre-filter for getting the large dust particles. The activated carbon is the one responsible for absorbing household and pet odors. The GermGuardian AC4100
is an air purifier that you can put in the kitchen to absorb the smell of foods or what you are cooking. It has the ability to eliminate bad odors in the household.
The two filtration system which is the HEPA and charcoal has a UV-C light that will work with titanium dioxide to fight bacteria and airborne germs. The titanium dioxide is a photocatalyst, which is often found in sunscreen and paint. This activated solid material reacts with sunlight and has an ability to kill bacteria when spotted by ultraviolet light. The UV-C is located on the front in the form of a button to turn on or off this feature. The GermGuardian AC4100 has no ionizer as well.
The air purifier has a two-prong AC plug that can fit into a 120V plug outlet. This GermGuardian AC4100 has three fan speed settings. It will create noise if it's on its highest setting but it's normal. The noise coming from this machine will not bother you. Here's David with Tek:
WARRANTY AND SUPPORT
GermGuardian AC4100 Air Cleaning system comes with a 1-year limited warranty.
FINAL WORDS
GermGuardian AC4100 is alow-budget air cleaner system that does a good job in purifying the air and minimizing light odors in a small space. This product has an indicator to help you keep track of when you need to change the filter. If you are in the market for a compact air purifying system that works excellent in purifying the air in a bedroom or bathroom, then the GermGuardian AC4100 is worth considering.
Best air purifier under $200: Winix 5300-2 Carbon Filter and PlasmaWave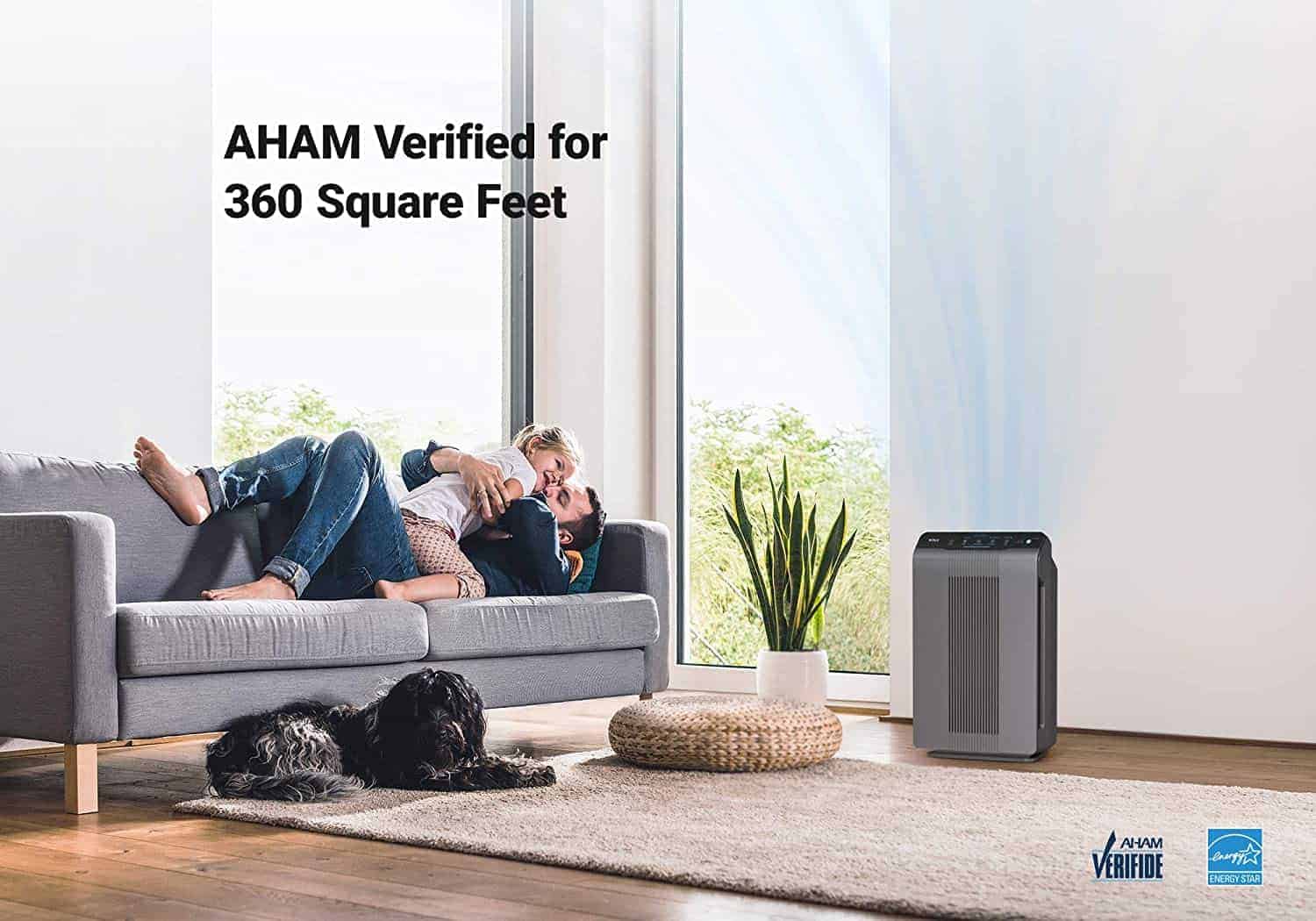 Having been praised for some time on the market for its industry and quality, the Winix 5300-2 Air Purifier has become a very popular choice of air purifier for so many reasons. That being said, it's not perfect – what makes it such a stand-out piece of kit? What concerns should one have before they invest in a Winix 5300-2 Air Purifier?
FEATURES
The Winix 5300-2 Air Purifier comes with a very impressive 3-stage filtration system offering the first taste of their awesome PlasmaWave™ tech; a hugely impressive feature for so many reasons.
True-HEPA filters are used to help make this as powerful as possible to give you a very distinctive and clear level of performance.
Great for managing odors and giving you a great carbon pre-filter that is all that you might have expected from something like this. It's a very impressive solution for helping rooms look, smell and feel better to breathe in.
High-quality air quality sensor will make sure that the room is checked to ensure it is safe enough to actually breathe in; great for those who suffer from allergens and other problems.
Timers for 1/4/8 hour platforms to help make sure you can enjoy a very impressive solution overall.
A wide range of fan speeds allows for the machine to deliver the best level of filtration that you need along with a clear and easy to appreciate sound; keeps sound minimal when possible, though dependent on power settings.
Here is Smart Family Money looking at this budget model:
SUPPORT & WARRANTY
WINIX offers a 1-to-2-year warranty with this, though it is quite limited in what it can actually cover. It covers defects only in material and workmanship; wear and tear, normal use, service to maintain the product, or inability to follow the instructions provided can make it hard for you to claim your warranty with the Winix 5300-2 Air Purifier, so keep that in mind.
PROS
Great quality of power with a variety of fan speeds alongside automatic and sleep modes that makes it easy to be efficient with usage and keeping the air nice and clean.
Outstandingly effective true-HEPA filter delivers a very impressive feature for getting even the most microscopic of bacteria and allergens in the air before they become an issue.
3-stage filtration is very powerful indeed, giving you a cost-effective and reliable solution for keeping everything as purified as you possibly can.
CONS
The odor carbon pre-filter isn't as good as a normal standalone pre-filter with a carbon filter, so don't expect it to do the same quality of job as something more dedicated.
The filter has to be changed on a regular basis which can be a tiresome process, especially as it's not the easiest filter to change that we've come across.
VERDICT
The Winix 5300-2 Air Purifier is a very good air purifier, but if you need something that requires less operation and maintenance then this might not be for you!
FINAL WORDS
Overall, we'd recommend the Winix 5300-2 Air Purifier to anyone who wants a strong, versatile, and wide-ranging purifier but we would not recommend it to those who are not around to change filters on a regular basis.
Best air purifier for smokers: GermGuardian AC5250PT smoke and odor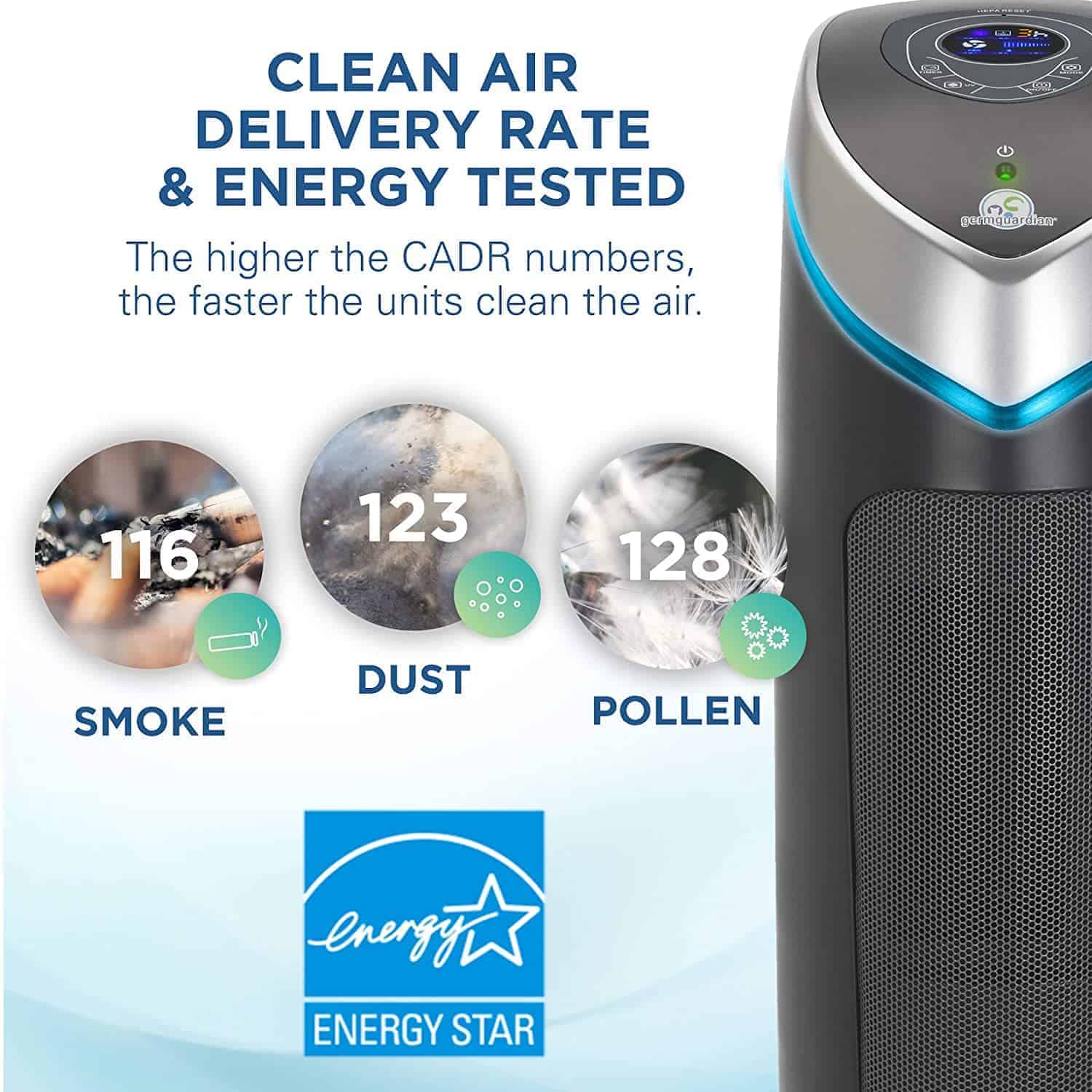 Can you just imagine the number of dust and pollutants entering your body every single day as you breathe? Well, this might just be the reason why you get sick often and so, you can consider investing in an air purifier. However, with all the purifiers in the market, does the GermGuardian AC5250PT do a great job in filtering air? You'll find out through this review.
PROS
Captures 99.97% of the allergens
Not only does this air purifier captures dust mites and pollen but it also captures pet dander. In addition to that, the Pet Pure serves as an antimicrobial agent that prevents the growth of mold and mildew. As we all know, these two are the common causes of unwanted odor at homes.
By using this air purifier, there is no need for you to handle the common odors that you have at home or you can just let this purifier do its job. The common odors that we are talking about here include the odor from pets, cooking, and even smoking.
This purifier also does a great job of killing airborne bacteria and germs. This has become possible because it has a UV-C light technology that works together with Titanium Dioxide. This only means that the air inside your home would be cleaner and safer, keeping you and your loved ones healthy. After all, a home should be a place of comfort and safety.
Perfect for people with allergies and asthma
The triggers of allergies and asthma are not only found outdoors but they exist indoors as well and with the fact that it has a HEPA air filtration system, the exposure to the triggers of allergies and asthma is reduced. In addition to that, it can work well for medium to large rooms. So, people with allergies and asthma need not suffer from their condition every day.
Work for 8 hours with 5 speeds
As compared to other air purifiers out there, GermGuardian AC5250PT 3-in-1 Air Purifier 
can work for 8 hours straight and that means 8 relief from asthma, allergy, and unwanted odor. In addition to that, it also comes with 5-speed options. So, you can choose high-speed allergen control or sleeping mode, depending on what you prefer.
CONS
It can sometimes get noisy
If you are looking for an air purifier that you can use even at night or while you are sleeping, then this one might not be what you need for it can sometimes get noisy. To be more specific, when it is in use, it sounds like a fan turned on medium.
The filter change operates based on a timer
The filter change is not actually accurate for it operates based on a timer. So, there is a chance that it may inform you to change the filter even though it doesn't actually need to be replaced. Here's the Germ Guardian's commercial video on the model:
FEATURES
True HEPA
Pet Pure
Charcoal Filters
UV-C Sanitizer
WARRANTY AND SUPPORT
This comes with a 5-year limited warranty.
FINAL WORDS
The GermGuardian AC5250PT Air Purifier is advertised as being well suited for large rooms, but we find it is more effective in small or medium-sized rooms. The 3-in-1 filtration system is the GermGuardian AC5250PT's greatest asset because it ensures that the purifier removes 99. 97% of airborne contaminants as per USDE regulations as well as odors from mold and bacteria via the antimicrobial-treated Pet Pure filtration. This product can be a great investment for people who have allergies and asthma as long as it is properly cleaned and maintained.
Best cheap air purifier: Hamilton Beach TrueAir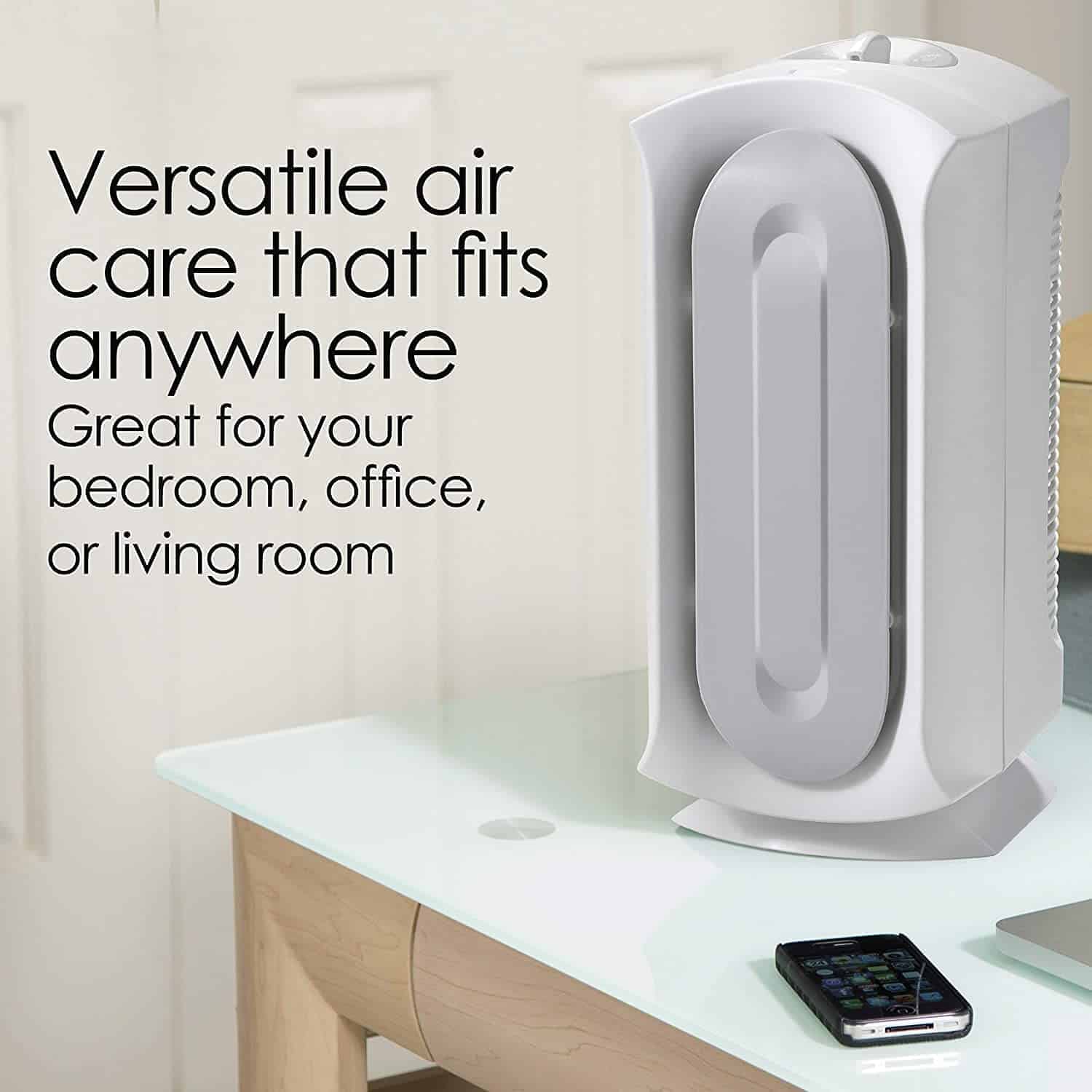 Your pets will always be a part of your family. It may be just a simple animal, but the love and happiness it brings will never be compared. However, there are times when pets will leave an odor inside your property which is unhealthy and also an inconvenience. It is never easy to clean your home on your own just to remove the odor. You need equipment that will successfully help you purify the air inside your home.
There are lots of air purifiers that can be found today but nothing beats Hamilton Beach 04384 TrueAir Allergen-Reducing Ultra Quiet Air Cleaner Purifier. This is the air cleaner purifier which will help you have a healthy and odor-free home.
PROS
The air cleaner purifier can effectively clean your home and can reduce the pet odors in your property which will leave you a happy and healthy home.
This product is inexpensive to own. In addition, it is built-in with a permanent HEPA filter that never needs a replacement. Not only this product cleans the air at your home, but it also saves you money and time.
CONS
The affordable price sacrifice the size of the air purifier, thus it works best only for a small space up to 160 sq. feet. We advise putting this air purifier in your bedrooms.
VERDICT
The Hamilton Beach 04384 TrueAir Allergen-Reducing Ultra Quiet Air Cleaner Purifier
is the newest technology that you can rely on when you want to achieve a clean and purified air which is good for you and your family.
The air cleaner purifier is made by Hamilton Beach, a trusted company that is known for their innovative creations. The Hamilton Beach TrueAir Allergen-Reducing Ultra Quiet Air Cleaner Purifier 04384 is the purifier that you would want to have for your home because of its ability to clean and purify your air not just for the day, but for months! Let's hear Dave talk about why he bought this model for his hobby room:
FEATURES
The Hamilton Beach TrueAir Allergen-Reducing Ultra Quiet Air Cleaner Purifier 04384 is equipped with features that you don't normally see from other air cleaner purifiers.
The filters found in this air cleaner purifier are high performing since it can catch even the hair and the dander of your pets no matter how big or small it can be. The filters will help in eliminating the dander and hair of pets which will give you a friendly and clean home.
The Hamilton Beach TrueAir Allergen-Reducing Ultra Quiet Air Cleaner Purifier 04384 is a high performing air purifier that works best for pet owners. With this, you don't have to suffer from any pet odor or pet hair inside your home.
Replaceable carbon zeolite filters
The air cleaner purifier does not only have high performing filters but the filters are also replaceable. The carbon zeolite filters will help in eradicating the pet odors inside your home. Whether it is an odor from your pet's urine or poop, Hamilton Beach 04384 TrueAir Allergen-Reducing Ultra Quiet Air Cleaner Purifier can effectively remove the odor.
The Hamilton Beach TrueAir Allergen-Reducing Ultra Quiet Air Cleaner Purifier 04384 is an air cleaner purifier that works in a silent way. It may be quiet when operating but it can completely clean your home from pet odors.
WARRANTY AND SUPPORT
Hamilton Beach TrueAir Purifier comes with a 1-year limited warranty.
FINAL WORDS
It is never easy to achieve a clean home when you have pets but with Hamilton Beach TrueAir Allergen-Reducing Ultra Quiet Air Cleaner Purifier 04384, you can successfully acquire a home that is pet odor, hair, and dander free. The purifier is best since it can thoroughly clean the air and will ensure that your home will never suffer from any pet-related issue.
Best air purifier for allergies: Blue Pure 211+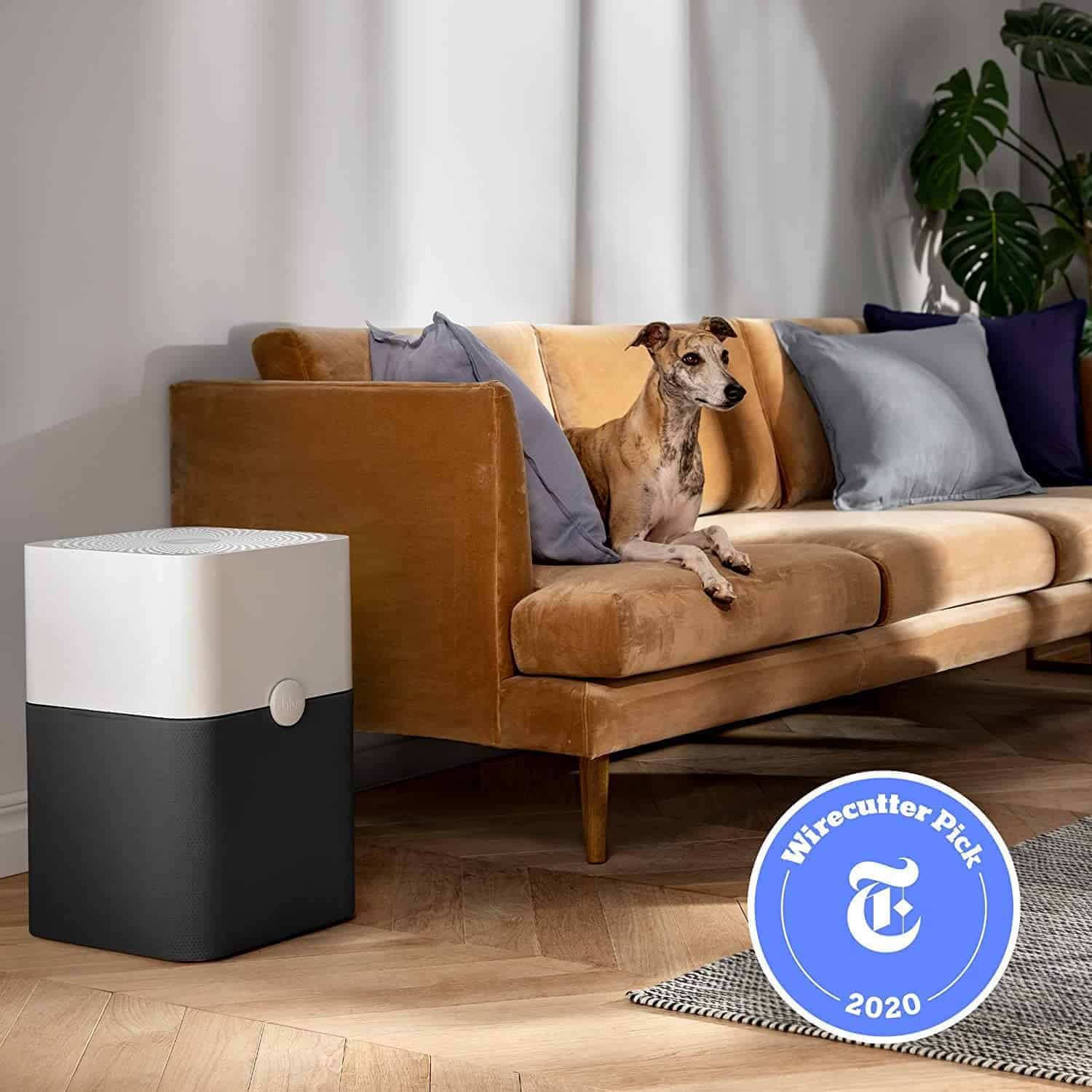 The Blue Pure 211+ Air Purifier is a very regularly purchased piece of equipment and has grown very popular in a short space of time for those who are looking for an air purifier that can reduce allergens in the air, manage odors, and manage carbon and particle filtration better than before. How good, though, is this system? Does the Blue Pure 211+ Air Purifier live up to expectation?
FEATURES
Simple and easy one-button activation makes sure that you can get your room purified as soon as possible. Easy and effective to use but also comes with one of the highest levels of filtration for any filters in this particular class range.
360-degree air intake makes it very powerful for all manner of reasons, offering you one of the most effective and efficient forms of air filtration on the market as and when you are looking for it.
Great at removing smog, smoke, dust, pollen, and other irritating air particles which can improve breathing quality.
Removes odor and can make even the stalest of rooms smell a whole lot fresher for all manner of reasons.
Various color schemes available, too, which is good for those who want their filtration system to fit in with the theme of the room!
A fully recyclable component ensures that it can be used again in the future when it finally dies out.
SUPPORT & WARRANTY
Blue Pure 211+ Air Purifier by Blue Air comes with a very impressive warranty of 1 year from the date or purchase from all verified retailers. As ever, we recommend that you contact the support team at Blueair if you are not sure of anything to do with the warranty platform; they are quite specific on what will and will not be accepted, so be sure to read more into warranty specs.
PROS
Great for those who are looking to get a more energy-efficient purifier, giving you all the help that you could need to keep the place super safe and simple.
Made from entire eco-friendly and recyclable components, making it totally safe for usage in the long-term.
Designed to handle all medium and large rooms, ensuring you can use this cost-effective solution for larger rooms.
360-degree air intake makes sure it is as effective and as efficient as you could need it to be.
CONS
A little cumbersome to get set up and to move around due to its relative bulk.
A lot louder than some might be prepared to put up with; if you are used to a quieter filer, this might not be for you.
VERDICT
Powerful and effective yet loud and cumbersome, the Blue Pure 211+ Air Purifier is a very good purifier with some very old faults. While it might not be perfect, though, the Blue Pure 211+ Air Purifier is still a very interesting piece of kit. Check out its unboxing here:
FINAL WORDS
Great for anyone who needs a purifier for larger rooms, not great for the bedrooms of those who need very specific conditions to sleep within due to the noise.
Best HEPA filter wall mount air purifier: Rabbit Air MinusA2 SPA 700A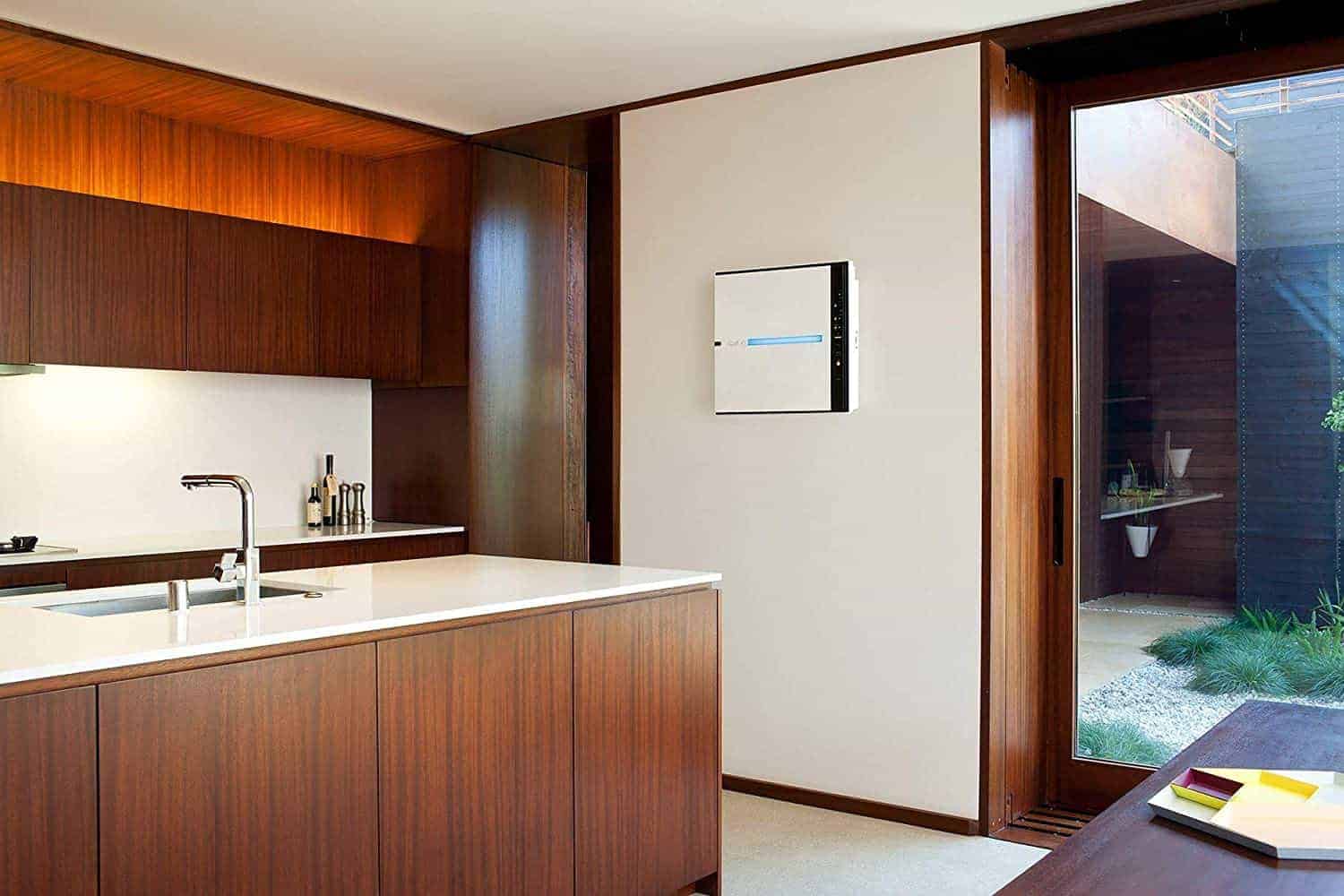 For a long time you have been using a less stylish air purifier, now is the perfect time for you to take advantage of an aesthetically appealing one. Rabbit Air MinusA2 SPA-700A Air Purifier
will give you an amazing option for softer mood lights and is amazingly flexible since you can mount it on your wall. So, instead of staying with your less aesthetic air purifier, why not go for a stylish and extremely efficient air purifier.
With its amazing beautiful design, purifying radius, and quiet operation, you can never go wrong with Rabbit Air MinusA2 Air Purifier. It is quite effective in clearing allergens such as smoke, pet dander, and pollen as well as you can customize the filter based on your needs.
VERDICT
There are plenty of incredible things about Rabbit Air MinusA2 Asthma and Allergy Friendly Air Purifier. It is specifically designed to effectively adapt and complement your space. You can get amazed by its stunning color and stylish overall design. Thus, you can save a lot of space since you can hang it on your wall. You can freely customize the filter option making it a flexible and convenient air purifier option.
PROS
The Rabbit Air MinusA2 SPA-700A HEPA Air Purifier is a Certified asthma & allergy friendly™ by the Asthma and Allergy Foundation of America because it is scientifically proven to considerably reduce your exposure to allergens.
With Rabbit Air MinusA2 SPA-700A HEPA Air Purifier you can experience very quiet operation. Also, it includes sleep mode so that you can run it quieter once the lights became dim.
Rabbit Air MinusA2 SPA-700A HEPA Air Purifier is considered as one of the most aesthetically beautiful air purifiers in the market. It features soft mood lights that come in multiple colors.
There is nothing to worry about maintenance since this air purifier requires minimal cleaning. Its filters last up to 2-years with 12-hour daily operation.
CONS
If you are on a strict budget, Rabbit Air MinusA2 SPA-700A HEPA Air Purifier is not very ideal for you. Like any other product, an excellent air purifier quality comes with a premium price. Rabbit Air MinusA2 will not disappoint you because it gives you more style and quality with customizable filter options.
FEATURES
With its germ defense filter, you can effectively trap and reduce airborne bacteria, particles, and mold spores that can carry viruses.
If you wanted to reduce toxins within your home, Rabbit Air MinusA2 SPA-700A HEPA Air Purifier is your best choice. Thus, it helps you trap and eliminate volatile organic compounds and any other chemicals.
This air purifier is ideal when you have pets at home. It is effective in trapping and reducing pet allergens and pet dander.
Foul odors from cigarettes, mildew, pets, or cooking can now be easily removed with the help of an air purifier's odor remover filter. It is just so incredibly stylish, just check out this cherry blossom option:
WARRANTY AND SUPPORT
Rabbit Air MinusA2 Ultra Quiet HEPA, Asthma and Allergy Friendly Air Purifier comes with 5 years warranty against all defects in workmanship and materials. In addition, Rabbit Air also provides 24/7 customer service to ensure that you get all the technical support for your product.
FINAL WORDS
If you are looking for an excellent air purifier quality that can complement your home decor and do not mind the price tag, we would recommend you to buy Rabbit Air MinusA2 Ultra Quiet HEPA, Asthma and Allergy Friendly Air Purifier. It gives you customized filters that are all easy to use. You can feel worry-free since it is low maintenance while helping you purifying your room up to 700 square feet. Air purification with Rabbit Air MinusA2 SPA-700A is scientifically proven by Asthma and Allergy Friendly Certification. Lastly, Rabbit Air also has one of the best warranty and support within the industry that guarantee your satisfaction.
Best Air Purifier and Cooling Fan: Dyson Pure Hot + Cool

There's nothing better than a multifunctional air purifier to help you keep your home safe and fresh. This product is a multifunctional and versatile 3-in-1 appliance. It purifies the air with HEPA filters but also acts as a heater in the winter and a cooling fan in the summer. While we know that Dyson products are pricey, this one is worth the money because it reduces the need for 3 separate home appliances. Instead, all you need is this air purifier year-round. You'll be impressed by the sleek bladeless design. Best of all, it can be used on any surface like a desk or on the floor beside your bed. Since it's lightweight and portable, you can move it around the home very easily. PROS
If you like appliances with smart technology, you'll like this Dyson air purifier. It integrates with Amazon's Alexa so you can use it that way. As well, you can use the Alexa app to change the temperature and set the fan mode through voice command. This makes it super convenient to use. From the Dyson app, you can toggle the run-time and make the purifier diffuse air when you need it most. It's also possible to set schedules and monitor the air quality in your home at all times.
Dyson is well known for its high-quality appliances and products. This model of their air purifier has a HEPA filter. Each filter lasts for about one year and it picks up almost every single particle (99.7%), dust mites, allergen, gas, pollen, and pollutant in your home. It even purifies smoke infested air, which is a bonus if you live near wildfires or very smoggy cities.
Customers rave about the cooling fan mode on this air purifier. It distributes the air evenly across the room in gentle oscillating movements. Therefore, it is not like the noisy fans you're used to hearing. To use the cool mode, you need to press the blue button. From there, you can then control the fan speed and intensity, so you'll get the perfect amount of cool air.
Nobody likes those loud fans that create a constant buzzing noise. It can be distracting and downright annoying. That's why the Dyson is a better option – it is super quiet as it runs. The intensity of the appliance as it runs on minimum mode is only 39 decibels. That's quite low and sounds like distant background noise. On maximum mode, it goes up to approximately 57-58 decibels which is not an irritating noise level.
If you want a comfortable and constant airflow, this device delivers just that. On cooling mode, there is much less buffering than usual. The airflow is constant because it projects 53 gallons of air into the room per second. So, this means the room will heat up and cool down very quickly.
The reverse airflow means that if you only want to use the air-purifying function without the heat or cooling fan mode, you can. When the purifying mode is turned on, you can let it do the work without any hot or cold air being spewed across the room. The air goes into reverse mode and is blown out the back of the device. Here's Tech Man Pat stepping out of his comfort zone and reviewing this air purifier unit:
CONS
The only real con about this air purifier is the price. It costs over $400 but considering it's a 3-in-1 product, that's not too high of a price to pay. FEATURES
Air Multiplier Technology: this means you get an uninterrupted and steady flow of air at all times. The machine projects 53 gallons of air per second, which is one of the best airflows am air purifier of this size can project.
Jet Focus & Diffused Air Modes: The Dyson can be used in two ways to heat and cool any room. Use the jet focus to concentrate all the air into one stream for long-range personal heating. In diffused mode, the airflow is diffused fast, providing even heat.
Oscillation: This device oscillates as it diffuses and purifies the air. On 'oscillate' mode, the purifier gently rotates to provide even airflow, infusing the room with clean, breathable air.
Remote Control: the appliance comes with remote control from which you can select all the settings and modes you want. The device actually does most of the work for you and the sensors will know when to turn on and off, providing optimal temperature and fresh air.
HEPA Filter: This kind of filter removes 99.7% of pollutants, debris, dust, allergens, gases, pollens, smoke, and so on. Therefore, it is the most efficient type of air purifier filter. It only needs to be replaced once a year.
WARRANTY This product comes with a 2-year manufacturer's warranty. FINAL WORDS Our verdict is that this multi-use device is one of the best air purifiers on the market. It can clean the air, provide heat, and cool the air very quickly. This device is smart and using an app or the remote control, you can easily adjust settings. For year-round pure air, it's a great option and works well in any season or temperature. As an air purifier, it provides very clean air, so it gets a thumbs up! Check it out here on Amazon
Best Purifier and Humidifier Combo: BONECO H300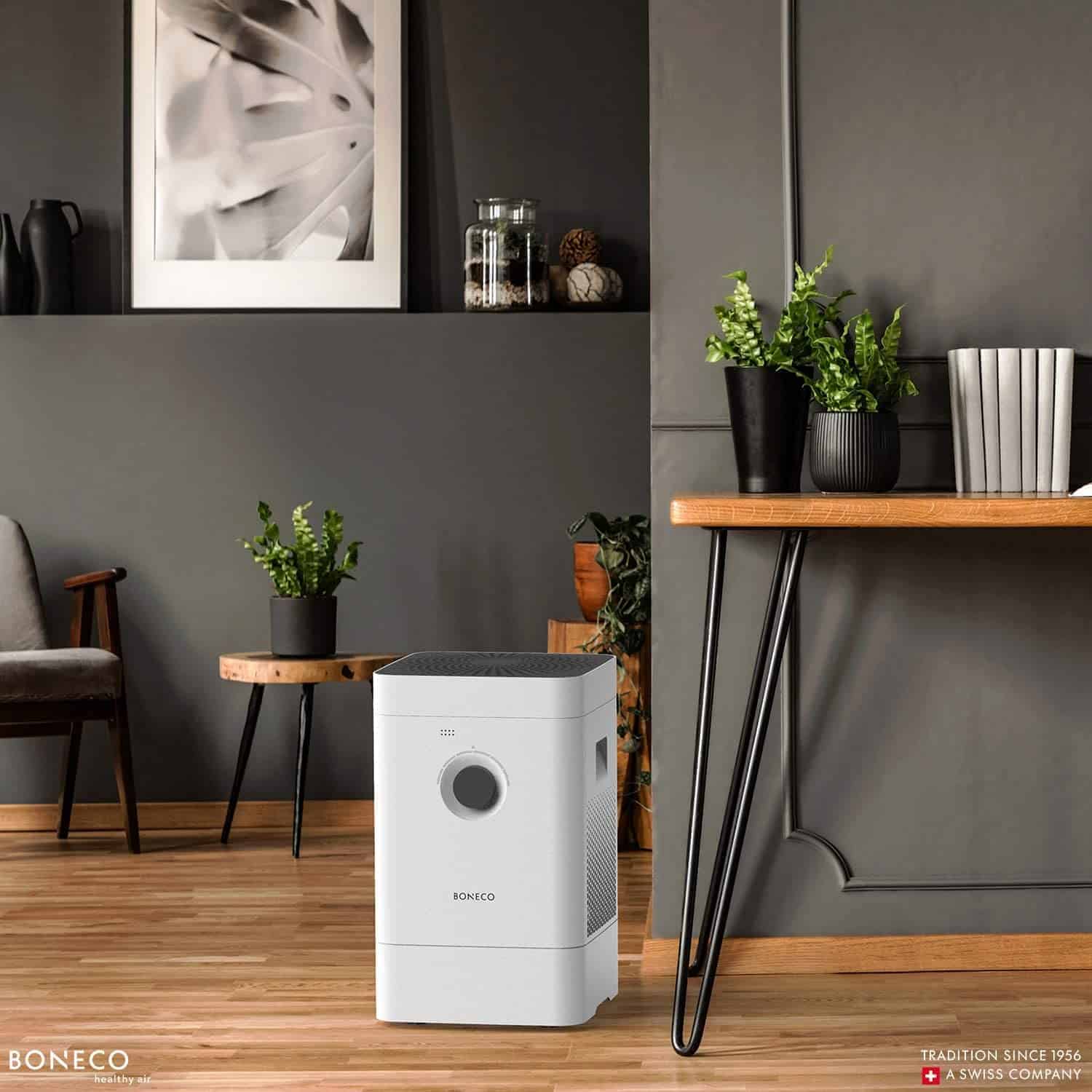 The BONECO purifier and humidifier combo is basically an air washing device. What this machine does is that it humidified and washes the air in your room. It's great to own such an appliance because it will save you energy in the long run since it tackles two tasks at once. This combo appliance will maintain the optimal moisture level in your home by enriching the air with water particles when needed. As well, the air-purifying function removes all the allergens, dust, pollen, and other impurities in the atmosphere. But best of all, you can clean this device by handwashing or clean the components separately in the dishwasher. PROS
This air purifier has two function modes. It has a day mode and a night mode. At night, the device can help you get better sleep. During the day, you can set the purifier to continually clean the air and remove dust particles.
What makes this device unique is that it has a compartment for diffusing aromatherapy oils and all of your favorite essential oils. This way, the purifier can be used as an oil diffuser which can infuse the home with a pleasant scent and help you relax. The integrated fragrance container makes the purified air even more effective and potent because it allows the use of healthy aromatherapy oils.
This appliance doesn't require any deep cleaning. It is manufactured using dishwasher and washing machine safe components so you don't have to do any manual scrubbing. Simply remove the components, clean them, and place them back.
There is no need to worry about high electricity bills as a result of using this air purifier. The machine has low energy consumption. It's very easy to control the settings with the control knob so that the appliance is not running when it's not necessary.
BONECO has many smart integrated settings that are controllable via Bluetooth, app, and with the control knob. There are 6 performance levels and pre-sets. This way, you can run it on auto, or customize the airflow for a baby, nighttime, daytime, or sleep. CONS
The problem with this air purifier is that the tank is quite small so you constantly have to fill it up with water and it's quite inconvenient. A small tank means it can't hold too much water. But if you are using it in a small room, you should be fine for many hours.
Some customers complain that this device is very noisy and creates an annoying type of background noise. Here is Boneco talking about their purifier:
FEATURES
Bluetooth: The H300 is Bluetooth compatible which means you can control it from your smartphone. As well, it includes integration with the BONECO app. Therefore, the user can control the unit from a mobile device. In addition, the user can also customize settings and review air quality right straight from the phone.
Hybrid: This is a hybrid device that can do three things at once. First, it can be used as an air purifier. Or, it can be used as a humidifier to bring moisture back into the air. And finally, it can diffuse essential oils so it can be used as an aromatherapy tool.
High-capacity filter: This device has a large filter that can effectively remove allergy-causing pollens, contaminants, and odors from your home. There are two filters: the first pre-filter traps larger dust, hair, and dirt particles. The second is a pollen filter which reduces the allergens and pollen levels in the air.
Real-time control: The real-time humidity measurement and control allows you to see what the moisture levels are in your room. It works well, even in large areas. Once the tank is empty, the purifier turns off automatically, giving you peace of mind.
WARRANTY This device has one of the best warranties on our list. It comes with a manufacturer's warranty of 5 years after the initial purchase date. This is valid for any manufacturer defects or problems. FINAL WORDS At 14 pounds, this 2-in-1 product is excellent to use as a portable purifier and humidifier. Since it is small, compact, and sleek, you can move it around your home as needed. During the day, you can use it on maximum mode for the best air quality. At night, when you need some peace and quiet, set it to night mode and enjoy a deep sleep with minimal noise. At a cost of approximately $350, it is a great value buy. Check the latest prices here
Best Air Purifier and Dehumidifier Combo:

Ivation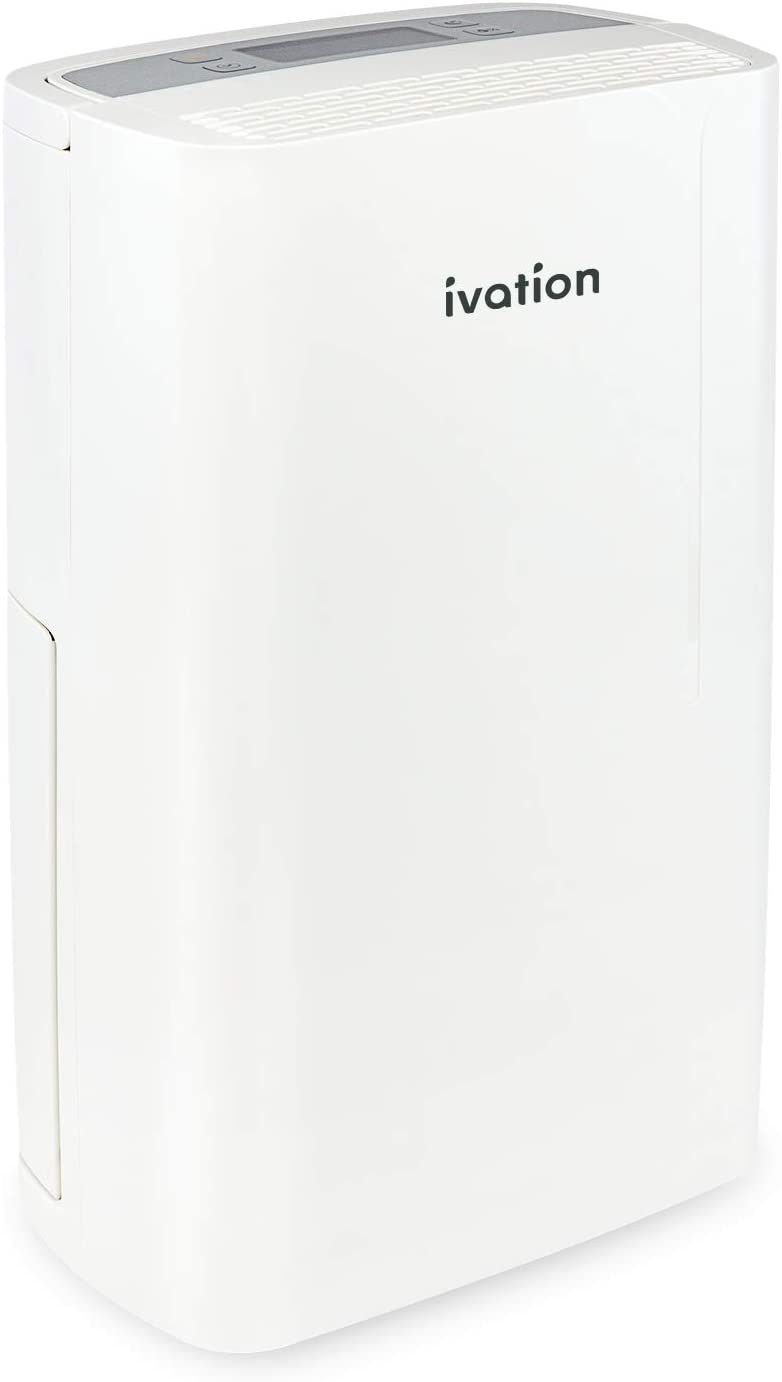 If you live in a humid and wet climate, you must have a dehumidifier. It prevents mold in your home and stops any foul smells before they become an issue. A good air purifier and dehumidifier combination is the best option. This is the best type of product to use if you want to remove and prevent mold and mildew in your home. The appliance carefully cleans the air you breathe and gets rid of excess moisture, making the air comfortable to breathe in. Ivation is a small, compact air purifier. It is best for small spaces of up to 320 sq. ft, such as bathrooms, attics, dens, basements, RVs, boats, and laundry rooms. It's so compact that it can even fit in small closets and crawlspace. Thus, it's our top recommendation for a mold and mildew remover. PROS
Most dehumidifiers prevent the build-up of mold and mildew. But, since this is an air purifier, it also removes the nasty odors associated with wet and humid spaces. We all know how bad a moldy bathroom smells. If you suffer from mold allergies, this device will greatly improve your air quality all over the home.
There are two drainage options for this appliance. First, the tank can hold up to 1/2 a gallon of water before it needs to be emptied. But, if you want continuous drainage, use the connection hose. This gives you the option to run the dehumidifier all day long without worrying about emptying the tank.
Using this device is very easy and anyone can do it. It is built with a user-friendly LCD display so you can see all the information and settings. The LCD display allows you to turn the machine on and off. As well, you can adjust Humidity, Timer and Sleep Mode, Vent Swing, and Screen Brightness at the touch of a button.
Quick and Simple Cleaning
There's no need to fret about the clean-up of this machine. All you have to do is remove the back panel and take out the filter. It is easy to clean the filter by either washing it under running water or sucking up the dirt with a vacuum cleaner. Either way, make sure the filter is completely dry before putting it back.
This is a small air purifier compared to some of the others. Its dimensions are 18.3″ high, 10.9″ wide, and 7.1″ thick. It weighs 21.8 pounds, which is a bit on the heavy side. But considering that it can hold up to 1.8 liters of water, it is still portable around the house. CONS
If your room is larger than 320 sq. ft, this device is not ideal. It is specially designed for small areas such as crawlspace and bathrooms.
Not the best quality hose
The water evacuation hose is not made of the best quality material and the water takes a while to start running. FEATURES
Continuous draining feature: this allows you to keep the machine running all day. The water runs through the hose into a collection outlet or drain. Therefore, during the hot summer months, the house can feel nice and cool because the device keeps the moisture level at a minimum by running continuously.
Portability: you can carry this dehumidifier easily as it has a built-in carry handle. The water tank is removable, so the device is not heavy when it's empty. As well, it weighs around 21 pounds which is still portable and moveable around the home.
Self-Regulating technology: you can set the desired humidity level in 5% increments anywhere between 40 to 65%. The machine will maintain the exact level you set it to, thus offering constant comfort. The device starts and stops automatically depending on the humidity settings and temperature.
Powerful: This compressor dehumidifier has the same power as a large one twice its size. It has a lightweight construction and uses less power than other similar machines. Ivation removes 14.7 pints of moisture per day.
4 button controls: you can manage all the device settings on the screen. You can also set the desired humidity levels.
WARRANTY Ivation offers 30-day returns and refunds if you are not satisfied with your product. Contact Ivation for warranty information. FINAL WORDS This is the machine for those looking for something small, with minimal design, and energy-efficient. If your home is prone to cracks, humidity, mold, and mildew, this type of device is perfect. The Ivation is affordable at $190 and does an excellent job of removing the humidity and purifying the air. Since this machine is so quiet and small, it doesn't get in the way of your daily tasks around the home. It's practically unnoticeable, yet it is able to remove so much humidity you'll be surprised at how quickly the air quality improves in your home. Check the availability here
Best Air Purifier for the Car:

FRiEQ for car or RV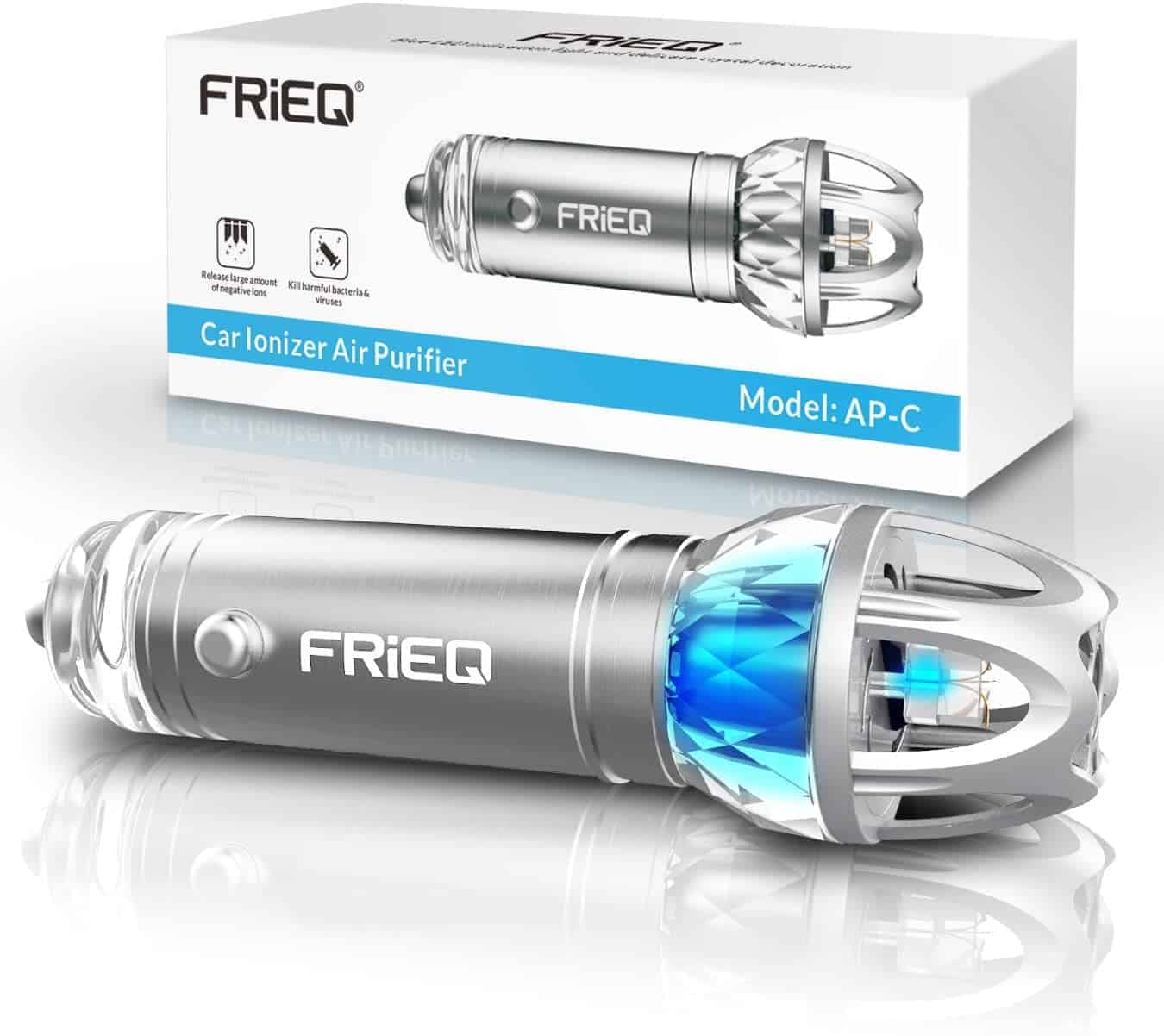 Air purifiers for the car double up as air fresheners. These types of small portable machines are cheap and easy to use. While they don't clean the air like full-size air purifiers, they're still a good way to get rid of unpleasant odors and any exhaust fumes and that awful fuel scent. If you are a smoker, then it's a great way to remove the smoke and smell. It helps to keep the car smelling fresh when you need it to. This device looks like a small lantern or microphone and you can place it anywhere you want in the car. How does it work? Well, this purifier uses negatively-charged ions to interact with positively-charged particles. This process neutralizes the particles and makes them dense, so they can no longer float in the air freely. PROS
This is a small, compact, and lightweight portable air purifier. It plugs into the cigarette lighter socket of your vehicle. You can just plug it in and out as you need it.
The FRiEQ releases 4.8 million negative ions per cm³ in your car for massive odor-fighting power.
Very cheap and budget-friendly as it costs less than $20.
It improves the air quality in your car, and unlike a car air freshener which only masks the odors with perfume, this device keeps the harmful particles away from your nose and mouth.
This device can also be used in small offices, rooms, and in an RV.
CONS
Doesn't have a USB outlet, so it is not versatile.
It can't remove lots of dust at one so if you drive on a dusty road, keep the windows up.
Here it is in use in a BMW:
FEATURES
 It releases 4.8 million negative ions per cm³.
Attractive and sleek design with decorative blue LED lighting.
Uses 12V power from your car's cigarette outlet.
Very light and weighs 1.44 oz
FINAL WORDS This is a great budget-friendly small car air purifier. It does a good job and keeps the air clean and odor-free in the car (or other small spaces). This product is appreciated by many customers because of its small size, it works well and does the job. So, if you need to remove any smoke, dust, and other unpleasant car odors, we recommend this device. You can buy it here on Amazon
FAQ around air purifiers
Are HEPA air purifiers worth it?
A HEPA filter captures 99.7 percent of the particles that enter the air purifier. However, an air purifier can only remove allergens as they float in the air. If they are on the floor, they do not get trapped in the HEPA filter. But, ultimately, yes, a HEPA filter is a better filtration system than other pleated filters.
Should I sleep with the air purifier on?
If your home has more indoor pollutants than usual, it's a good idea to sleep with the air purifier on. It will make it easier to breathe while sleep. Some indoor pollutants can build up – new furniture or your flooring can emit formaldehyde which is not good for your health. If you use an activated carbon filter air purifier, you can get rid of it and sleep safely. In the end, it depends on your personal health and preferences. But there is nothing wrong with sleeping with the machine while it's ON.
Do I need an air purifier if I have AC?
Air conditioning does not purify the air. So, if you want to clean the air, you need an air purifier. AC just regulates the air temperature but it does NOT remove pollutants.
Conclusion
The role of an air purifier is to clean the air in your home which makes breathing easier and more comfortable, especially for people with sensitivities, allergies, and asthma. But, given the current world events, having an air purifier is more important than it's ever been. You've read through our list, so you can pick a product that fits your family's needs and budget. Remember that there are so many multi-functional types of air purifiers, so it's probably better to choose one of those and get more value for your money.
Also read: these upright vacuums have the best HEPA filters for a cleaner home