I love creating free content full of tips for my readers, you. I don't accept paid sponsorships, my opinion is my own, but if you find my recommendations helpful and you end up buying something you like through one of my links, I could earn a commission at no extra cost to you.
Learn more
Working with electricity and its components has been a daily job for us. If you are a professional automotive worker or a technician or a home guy, you need to take care of your wire connectivity, battery alignment and maybe something big as well.
The best automotive multimeter is an assistant of yours that just simply increases your work efficiency just by resulting in the most accurate outcomes. To have a perfect connection in the circuits or any electrical gadgets you need to be too precise. And so we suggest you let this precision work get done by the multi-meters.
Electric connections are on the basis of voltage, current flow, and resistance measurement mainly. So being a little aloof from these measurements might let you end up being in a painful situation. So let's just skip the disturbing occurrences and follow some helping hands.
Automotive Multi-Meter buying guide
Not all multi-meter available in the stores are fair and fine. Some might have fame but unfortunately, that might not be something you'll be needing. In this sort of case, you will be in the middle of the ocean, where you'll be terrified of choosing the one for you. So we are summarizing the traits and what you might need to look for.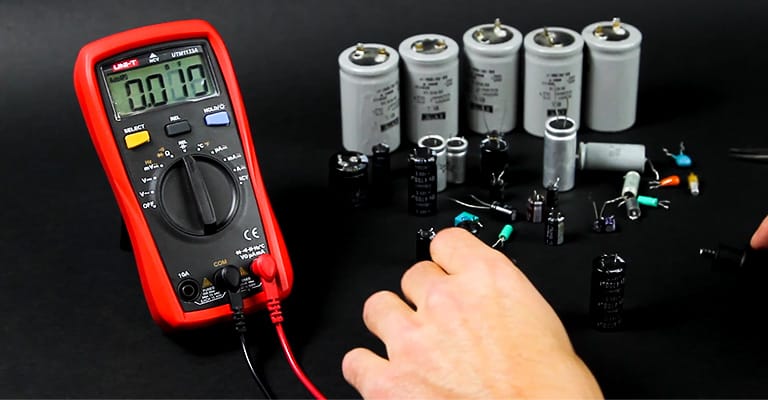 AC or DC
One of the very important electrical measurements is the voltage and current flow. And precisely most multi-meters can calculate in DC. Some measures voltage in DC and AC but the current only in DC. And the choice-worth one will have both AC DC facilities.
An automotive purpose needs both AC and DC results because we need to work here for both mechanical and electrical energy. At best 1000volt and 200mA-10A is covered commonly. So the multi-meter with most coverage is a good one.
PARAMETERIZED
A MULTI-meter means it can have multi-purpose. So it covers the resistance calculations, capacitance measurements, diode connections, transistors, continuity check, RPM rate receiver, temperature management, etc. Some might have additional features but these are the most eligible ones to be specified.
Function Board
The device has a circular arrangement for switching the parameters. And the range can be set automatically in some devices or manually in some other devices. The hold button happens to store instant results until you note it down. And a reset button to start a new.
There is often a GO-NOGO option for many designs. That means if your connection of the probes is poor or average or ready to go. You are basically notified of this by LED beeps.
Safety Rubbers
The device body is basically a plastic one and the internal circuits are quite sensitive. So if one makes it fall from the hand or workbench or any automotive environment there is a high possibility that your device might end up malfunctioning.
So most of the multi-meter manufacturers ensure an outer layer rubber protection so that the damage is minimized as much as possible. The hanging material is also added for versatile usage and some use kickstand mechanism and other use magnet holders.
The hanging systems give a "third hand" facility so you get your results in more accuracy.
Display Screen
The most display screen is LED viewed and others are LCDs with backlit flares. Some even beep and flares when you cross the limiting value of volt and current and fuses as soon as possible to minimize damage.
Some display systems also allow having bar-graphs for easy assumptions. These additives are just what you need from a proper arrangement of devices.
Best Automotive Multi-Meters reviewed
The tool stores always have fascinating gadgets to mesmerize you. So basically you are supposed to get confused very easily. Emphasizing on the core needs and satisfying your work requirements, the selective products are spotted here. Have a look!
1. INNOVA 3320 Auto-Ranging Digital Multimeter
Revising features
The spectacular multi-meter from the INNOVA is a constant company for any professional worker or regular user. The core features include the parameters of measurement on different ranges. For having high efficiency while calculating and presenting the accurate result the INNOVA is a great choice.
The workpiece is a 2x10x5 inches dimensioned rectangular displayed meter. Weighs very low about 8 ounces. The visual figure has a four-side covered by rubber pads so it turns out to drop safe. The measure maintaining body includes the LED signal system that defines if the connection or response is perfect or average or poor accordingly glowing green yellow and red light.
The whole meter is a plastic body and has an easy grip. The 10 megaohm circuitry ensures a safer electric measure without any complications. The instrument can measure current up to 200mA. The single setting resistance system is quite handy. The voltage and current can be measured and displayed both in AC and DC. In this case, the resistance is, therefore, is set up in a single way.
The function board has a circular pathway for choosing your measure parameters. And the two probes has a holder to be secured when not in function. There are 3 jacks available on the board and the overall setup is just what you are looking for. Assures a year's warranty. Displays your result in a wider screen for better accuracy of work.
Constraints
The LED beep system seems to be a weakling feature by many users. And only the DC measures are seemingly more authentic than that of AC. So the integrity doesn't satisfy you fully.
2. Etekcity MSR-R500 Digital Multi-meter, Amp Volt Ohm Voltage Tester Meter
 Revising features
The Etekcity digital multi-meter comes with an easy-grip configuration and friendly of use for any job purpose. The whole rubber sleeve that covers the multi-meter assures extra protection so any kind of loose grip of your hand doesn't make it lose its continuity. Measures, continuity, resistance, AC & DC voltage, DC current and similar.
The range switch segment is total to be handled manually. If you are to measure a certain ranged voltage or current, you first need to set up the preferable range. However, you can only calculate up to 500 Volts by this specified machine. Voltage over 500 Volts will damage the instrument and you might end up having a complex situation.
The voltage for the measurement can be of both AC and DC, but the current calculations are only displayed in DC. The red and black probes are needed to be placed evenly in the correct jacks for expecting results. The wider screen is laminated with LED flares for better views and the digit that is displayed on the screen is also large enough to be easily noticed.
There is a pause and reset button altogether for storing the instant values and clear after the second press. One single battery trial without any complications can provide you one year's warranty. You can easily use it on a daily basis professional work or any kind of wiring or battery check or resistance check etc. The sampling speed is counted to be 3 seconds.
Constraints
One of the tiring and troublesome work is when you go to switch batteries. You need to deal with unscrewing and screwing back in the process. And another is you cannot measure the resistance of higher ohms like 250k or 500k ohms.
3. AstroAI Digital Multimeter, TRMS 6000 Counts Volt Meter Manual Auto Ranging; Measures Voltage Tester
 Revising features
The AstroAI has one of the coolest designs having a safety measure from any kind of drop-down incident. The measurement range is quite convenient and the segments are the AC, DC voltage, AC, DC current, resistance, continuity, temperature, capacitance, transistors, diodes, frequency, etc.
The machine being weighed only 1.28 pounds allow you to have a smart visual appearance with less button visibility. The functional dial is maintained in such a way so you can easily take either auto or manual ranged measures. There is a good number of jacks or sockets for even results. The sampling speed is 2 seconds.
The 7.5×1.2×5.6 inches configuration is an "easy to carry" stuff and you can easily in a troubleshooting area. The instrument has a hanging magnet system so that it can be mounted anyplace you want it to be placed. Often a kickstand is included. The device can shot 6000 counts without a headache and the display is flared with an LED-backlit system.
Minimizing the errors the range up to it can measure voltage is around 600 volts and the current measure is also meant to be similar. The data hold facility and reset segment also handy stuff to be work with. You get the most versatile range of parameters with a satisfactory limit and assurance of a 3-year warranty.
Constraints
However, the display system needs to be monitored with a little bit more care and the data holding system is seemingly fine. The problem might arise when you try to reset. Often the previous calculations are not cleared properly.
4. Amprobe AM-510 Commercial/Residential Multimeter
Revising features
The Amprobe multimeter device is a real lightweight (0.160 ounces) component and has a vast range of measurements. The display system offers an LCD view and the updated version of the AM-510 has a bar graph representation as well. This has a considering warranty that is promised.
The device is a multifunctional one and can give a prompt consequence on volt, current, temperature, etc. The inclusive tilted back-stand is a great idea that basically gives you a third-hand facility while measuring. Multi jacks and probe holders assist you well as well.
The limit range for the device to deal with voltage is 600volt both in the case of AC and DC. The current at best can be viewed is 10A, resistance up to 40 megaohms, 10 megahertz frequency check and 100 microfarad capacitance, duty cycle up to 99% is secured and micro-current is calculated 4000 microamps. The range is so preferable.
Amprobe emphasizes the usage of an ample range of users. So basically the household needs can easily be satisfied and along with that non-residential purposes can also be handled. The professionals like architects, automotive technician's works on troubleshoot area and the wiring jobs can easily be dependable on this specified one.
Constraints
The probes collect some complaining characteristics and have no additional hanging material for the convenience of mounting the device anywhere. Being both a residential and commercial expertise, the wider hanging material could have been made it invincible.
5. KAIWEETS Digital Multimeter TRMS 6000 Counts Ohmmeter Voltmeter Auto-Ranging
  Revising features
The KAIWEETS device shows true RMS values for AC supplies and that too accurately up to even 600 volts. The stretchy ranged device has multiple parameters to work with and guess what almost covers all the value you need while you're an industrial worker or a daily basis technician.
The 1.2-pound remote shaped workpiece is black in color and there are 4 different jacks for the plug-in. however, the probes ending is to be connected to those jacks that are flared in LED. The display screen is 2.9" lengthen and works with LCD visualization. In a dimmed light environment there is this backlit system and is illuminated with orange color when the voltage is over 80 volts and current over 10 A.
Checking the counting parameters we see almost all segment is covered by the KAIWEETS tool. The voltage can be set in AC and DC both also the current as well. The resistance, capacitance, temperature, diodes, continuity, duty cycles, frequency, etc. are easily valued. The bar graph segment is also a helping hand.
The overall material is plastic and another plus point is that you can easily convert to be in manual and or auto. The auto power-off facilities happen to save battery life and data hold is also enabled. There are kickstands to hold the device while working. And a year's warranty is also directed.
Constraints
The fuses used here are a little painful sometimes and the device's resulting measure is often negotiable.
6. Actron CP7677 AutoTroubleShooter – Digital Multimeter and Engine Analyzer for Automotive
Revising features
The 1.3 pounds Actron digital multi-meter is a great helper for automotive purposes and also in other fields. The full plastic body is pigmented bright in blue and orange and the display system is on the LCD screen. Ensures an impedance of 10ohm and cylinder modes of 4, 6, 8.
The most significant quality it holds is its professional-level meter that works promptly in both professional case and automotive segments. The measuring capacity is quite remarkable and shows expertise in a lot of parameter handler. You can easily work with the Voltage drop receiver, current flow analyzer, resistance, continuity, diode, and dwell and tach management many more.
The functional board dial is sectioned in voltage, current, resistance. So all you do is spin the spinner manually to choose your parameter to lockdown. And there is this hold data save mode that for instance stores data and keeps showing in screen till you reset that.
The battery low indication and the overpower indication keeps your device safe from deteriorating. There are a good number of jacks. Two for the probe to be placed for measurement purpose and the other two is also for better performance. The high range of voltage to be calculated is 500 volt. And it needs to be monitored sincerely that the current rate is in between 200mA to 10A else it will turn to be fused.
Constraints
The device body is a plastic material and better rubber coverage is not ensured. So if it is dropped or fallen by chance from the car or your workbench you'll be at loss. The reading can be disrupted.
7. Fluke 88 V/A KIT Automotive Multimeter Combo Kit
Revising features
Fluke has introduced its products to the market as a tough competition. The device of Fluke can successively rate the AC-DC voltage regulation as well as AC-DC electricity flow. The high range is up to 1000 volts and you can also have facilities of calculating resistance in a single go.
The temperature measurements, the capacitance, the frequencies are often a common thing to be noted and the Fluke covers that along with measuring the RPM rate. That is really a plus-point having a device that can make coverage for all of your core necessities.
The compacted design is surrounded by a dropdown safety measure. The yellow back end seems to be a good add up. The functional dial and the range switch view are quietly smart and the holding, reset, on-off buttons are decorated neatly. The device as such has a fresh appearance.
The display system follows the LCD view. Enables milliseconds pulse width assumption for fuel injectors also the RPM can be calculated from the pickup stage. Weighs a little more than the usual ones about 5.20 pounds and worth it. It comes with multiple tools, silicone test leads, large jaw alligator clips, additional probe for inductive RPM pickup, hanging kit, temperature probe, and 9-volt battery installed and many more.
Constraints  
Fluke is indeed a super combo and the first visual impression might dishearten you. Other than that there is basically a rare reason for you to not choose it.
FAQs
Here are some frequently asked questions and their answers.
Can you use any multimeter on a car?
But, again, most of automotive electronic troubleshooting involves verifying the presence or absence of voltage and the presence or absence of continuity, and any multimeter is accurate enough to do this. It really doesn't matter if the meter reads 12.6 volts or 12.5; what matter is whether it reads 12.6 volts or zero.
Should I buy a Fluke Multimeter?
A brand-name multimeter is absolutely worth it. Fluke multimeters are some of the most reliable out there. They respond faster than most cheap DMMs, and most of them have a analog bar-graph that tries to bridge the graph between analog and digital meters, and is better than a pure digital readout.
What setting should a multimeter for car?
Set the multimeter to 15-20 volts. Turn the lights off. Connect the multimeter to the positive and negative battery terminals. If you don't have a voltage of around 12.6 volts, you may have a bad battery.
Are cars AC or DC?
Cars use DC, Direct Current. That's the type of electricity produced by batteries, and it flows in one constant direction. It's also the type of electricity produced by a generator, which was used in automobiles from the early 1900s up until the 1960s.
How do I know if my car has a good ground?
What is a DVOM?
A multimeter or multitester is a measuring instrument that can measure multiple electrical properties. … Digital multimeters (DMM, DVOM) have numeric displays and have made analog multimeters obsolete as they are cheaper, more precise, and more physically robust than analog multimeters.
How much should I spend on a multimeter?
Step 2: How Much Should You Spend on a Multimeter? My recommendation is to spend anywhere around $40~$50 or if you can maximum $80 not more than that. … Now some Multimeter cost as low as $2 which you can find on Amazon.
How accurate are cheap multimeters?
Of course, if you don't have a few hundred volts running through your meter, it probably doesn't matter. The cheap meters are certainly good enough, even though you do get what you pay for, as you might expect. As long as you have a meter open, you might as well hack it to have WiFi. Or, if you prefer, a serial port.
Which is better analog or digital multimeter?
Since digital multimeters are generally more accurate than analogue counterparts, this has led to the popularity of digital multimeters rising, while the demand for an analogue multimeter has declined. On the other hand, digital multimeters are generally much more expensive than their analogue friends.
What is the easiest multimeter to use?
Our top pick, the Fluke 115 Compact True-RMS Digital Multimeter, has the features of a pro model, but it's easy to use, even for beginners. A multimeter is the primary tool for checking when something electrical isn't working properly. It measures voltage, resistance, or current in wiring circuits.
Q: Is it necessary to have a rubber material safety?
Ans: To be precise it is. You see the multi-meter is made up of many delicate circuits and one drop from your hand might hit it bad. Rubber protection nullifies the drop-down problem and so your device is good to go.
Q: Does the beep function works well?
Ans: Not every specification allows the beep facility. But it's not too much of a necessity here. However, beeping for alerting that you are crossing the limit range might be a good decision. And yes, in this case, it works fine.
Q: Does the multi-meter actually result in so many parameters at a time?
Ans: Yes, of course, it can. In fact, some updated ones can calculate the RPM rates even. The device has no long storing facility so it reduces complexity. Even the multimeters under 50 bear these features. So if you are tensed that the parameters will collide, don't be.
Conclusion
There is basically no necessity for reassuring about a product that you do not need. What you need is what you need and you'll find it on your own one way or the other. All we can do is give you a little push in this way, and that is all we are about.
The choice-worthy companions are nicely featured here, still, we emphasize the best automotive multi-meter which has multiple problem coverage and is a common need reducer. The first we recommend is the Flukes multi-meter. It's really the user's favorite for ensuring loyalty with good work capability. Next, we will recommend the AstroAI and the Amprobe digital multi-meter for their acceptance in the automotive world.
There will always be tools that won't suffice you but the manufacturers try to maintain maximum problem reducing mechanisms. That selected recommendations are just some most preferable ones and hopefully, you will not be disappointed.
I'm Joost Nusselder, the founder of Tools Doctor, content marketer, and dad. I love trying out new equipment, and together with my team I've been creating in-depth blog articles since 2016 to help loyal readers with tools & crafting tips.