I love creating free content full of tips for my readers, you. I don't accept paid sponsorships, my opinion is my own, but if you find my recommendations helpful and you end up buying something you like through one of my links, I could earn a commission at no extra cost to you.
Learn more
Are you tired of your band saw blades snapping quickly? Saw blades, in general, require frequent replacements. But nobody wants to deal with saw blades that break off too easily.
That is why this best band saw blades for wood review roundup contains five amazing blades that come with excellent durability and cutting performance.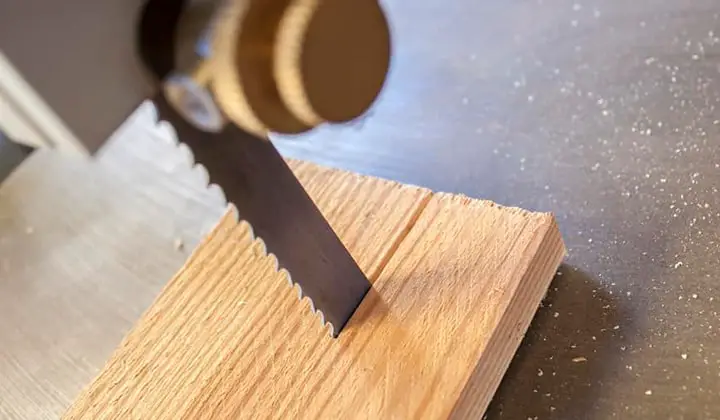 With any of these, you can create excellent and long-lasting cuts without having to go through the tiresome replacement process that often.
5 Best Band Saw Blades for Wood
It can be difficult to pick a quality band saw. This review of the 5 bands saw blades would help you choose the correct blade without any problems.
1. POWERTEC 13132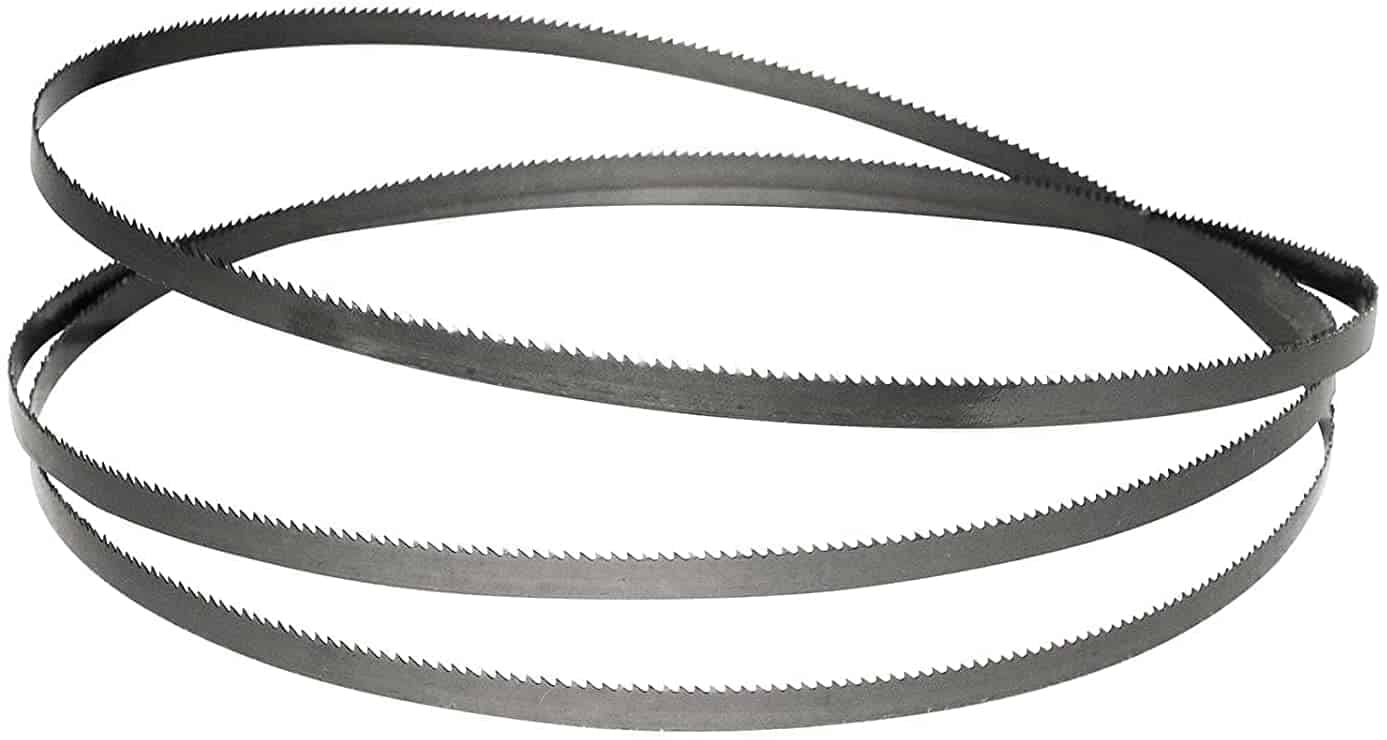 Are you looking for a band saw blade that offers reliable cutting results? Then, the POWERTEC 13132 Band Saw Blade will come in handy.
This high-performance blade device delivers reliable cutting action on plastic, wood, and non-ferrous components. It is a 62-inch blade with 0.025 thickness that creates efficient cuts.
Its high-grade carbon steel core material offers superior quality and durability. This carbon steel component comes with heat-resistant properties. Hence, even if you use this saw blade for a longer period, it can withstand the heat. Plus, the blade can also withstand a force, so the tips will remain sharp for longer.
The ergonomic design of this precision cutting tool is fascinating. It comes with an excellent optimal geometric tooth arrangement. Each of the welds is for appropriate tooth spacing and proper finishing.
Plus, the manufacturers have hardened the metal teeth of this blade to RC 64-66. Therefore, this saw blade will offer seamless cutting results.
It is a versatile saw blade that can cut through various materials effortlessly. This blade will be your best option, whether you want to deal with non-ferrous metals, plastic, or wood. Moreover, you can cut both hardwood and softwood thanks to the flexible carbon hard edge of the blade.
With this saw blade, you can achieve consistent cuts. Since the tip of the blade remains sharp for longer, the blade will function optimally for an extended period.
This ⅛ inch x 14 TPI blade provides smooth cuts and can follow a guiding line properly. Overall, this band saw blade would provide delicate and fine cuts efficiently.
Pros
Contains an RC 64-66 hardened blade
Core material is high carbon steel
Versatile and durable
62 inch 14 TPI blade
Cons
Verdict
The POWERTEC saw blade offers durable and clean cuts on wood, plastic, and non-ferrous metals. Check prices here
2. BOSCH BS80-6H

There are many band saw blades in the market that cuts through thin materials like plywood and plastic without any issues. But not many blades can offer heavy-duty reliability. Fortunately, the BOSCH BS80-6H Stationary Band Saw Blade offers exactly that; a heavy-duty blade that can cut wood materials properly.
The precision sharpened teeth of this device make it easier for you to create finer and smoother cuts. No more worries about creating jagged lines — as this saw blade can create intricate shapes without any problems. The alloy steel component of this blade ensures longevity.
Plus, this excellent component allows the blade to resist heat whenever you use it. Plus, it contains a raker tooth pattern and 6 teeth per inch. Hence, you can get smooth and fine cuts from this blade in a quick manner. It also contains an optimized tooth geometry that enhances its overall performance significantly.
The dimension of this blade is 1 x 9.88 x 10.88 inches, and the length of this blade fits into the most common band saw sizes. The higher compatibility of this saw blade makes it one of the top-notch ones.
When it comes to cutting a variety of material types, the BOSCH band saw blade takes the top spot. Choosing this saw blade for your project will be excellent. Starting from its higher compatibility to its optimized tooth geometry, it all works to help you achieve clean and accurate cuts.
Pros
Comes with an alloy steel component
Optimized tooth geometry offers clean cuts
This raker tooth blade contains 6 TPI
Heat-resistant feature available
Highly compatible with most common band saws
Cons
Blade may wobble when you use it
Not appropriate for cutting tough materials
Verdict
If you want a highly compatible band saw blade that offers smooth cuts, the BOSCH item will be your best bet. Check prices here
3. BOSCH BS80-6W

Companies matter when it comes to choosing a quality saw blade for your machine. BOSCH is a well-known brand for creating quality saw blades of various kinds.
So if you are looking for a premium saw blade, BOSCH will be your go-to option. Especially the BOSCH BS80-6W Wood Band Saw Blade product, as it comes with superior and excellent features.
It contains premium-grade steel core material that offers longevity. This material also allows the blade to resist heat whenever you use it. Less heat build-up means the blade tips remain sharp for a more extended period. So, you will not have to replace the blade so often.
Aside from a reduction in heat build-up, the blade also contains an optimized tooth geometry. This optimized geometry aligns the blade tips in a proper manner so that the blade can provide you with clean cuts. Therefore, you will receive the best performance from this blade.
Compatibility is a major issue for most saw blades. Not many blades can fit into several band saw sizes. However, this BOSCH product is an exception as its superior compatibility allows it to fit into most of the common band saw sizes.
Many of the saw blades cannot cut both wood and metal components. You will see blades that can cut non-ferrous elements; however, some band saw blade products cannot cut through metals properly. This BOSCH product eliminates that issue as it can cut through both wood and metal components.
Pros
Resists heat build-up
Comes with a unique, optimized tooth geometry
Provides quick and clean cuts
Has a better compatibility
Cuts both wood and metal materials
This 6 TPI blade is highly durable
Cons
Cuts too slow at times
Cutting a true line may be problematic with this blade
Verdict
This saw blade is an overall excellent choice if you want to cut through both wood and metal elements. Check prices here
4. Olson FB23370DB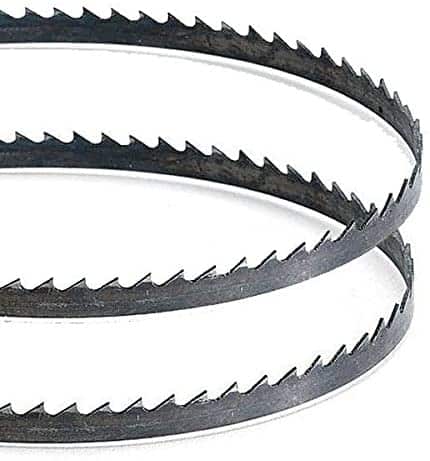 Finding an affordable band saw blade that comes with proper features is difficult. Especially a heavy-duty saw blade that cuts various materials. That is why the Olson FB23370DB 4 TPI Hook Saw Blade product will be the perfect choice for you. It is not only affordable, but this blade also comes with better performance.
This 4 TPI blade contains four teeth per inch. Each of the hook teeth can offer smooth cuts. Its core material is carbon steel.
The carbon steel construction, along with the hardened teeth, makes this saw blade perfect for industrial woodworking or professional artisans. Plus, it is a premium band saw blade with tooth hardness of 62-63 RC and back hardness of 28-32 RC.
Furthermore, this saw blade fits the 10-inch Sears Craftsman 21400 and Rykon 10305 without any problems. Therefore, if you have any of these two saw machines, the Olson saw blade can be a better choice for you.
Moreover, this is a heavy-duty saw blade that provides efficient results at a quicker pace. Not only is it heavy-duty, but also this blade is highly durable. Frequent saw blade replacement will not be an issue if you pick this product.
The Olson blade will provide better results if you want to cut wood materials like oak and maple. And when it comes to softwood materials and plastic components, the blade provides even smoother and quicker cuts. The width and teeth of this band saw blade ensures that you can cut materials like a breeze.
Pros
Heavy-duty and durable product
Cuts softwood, hardwood, non-ferrous metal, plastic, etc.
 Offers better compatibility
Carbon steel is its core component
This 4 TPI blade contains 0.025-inch thickness
Not very expensive
Cons
Not the perfect blade for cutting metal elements
Verdict
The Olson Band Saw Blade offers higher durability and compatibility if you want to cut hardwood, plastic, etc. Check prices here
5. AYAO Wood Bandsaw Blades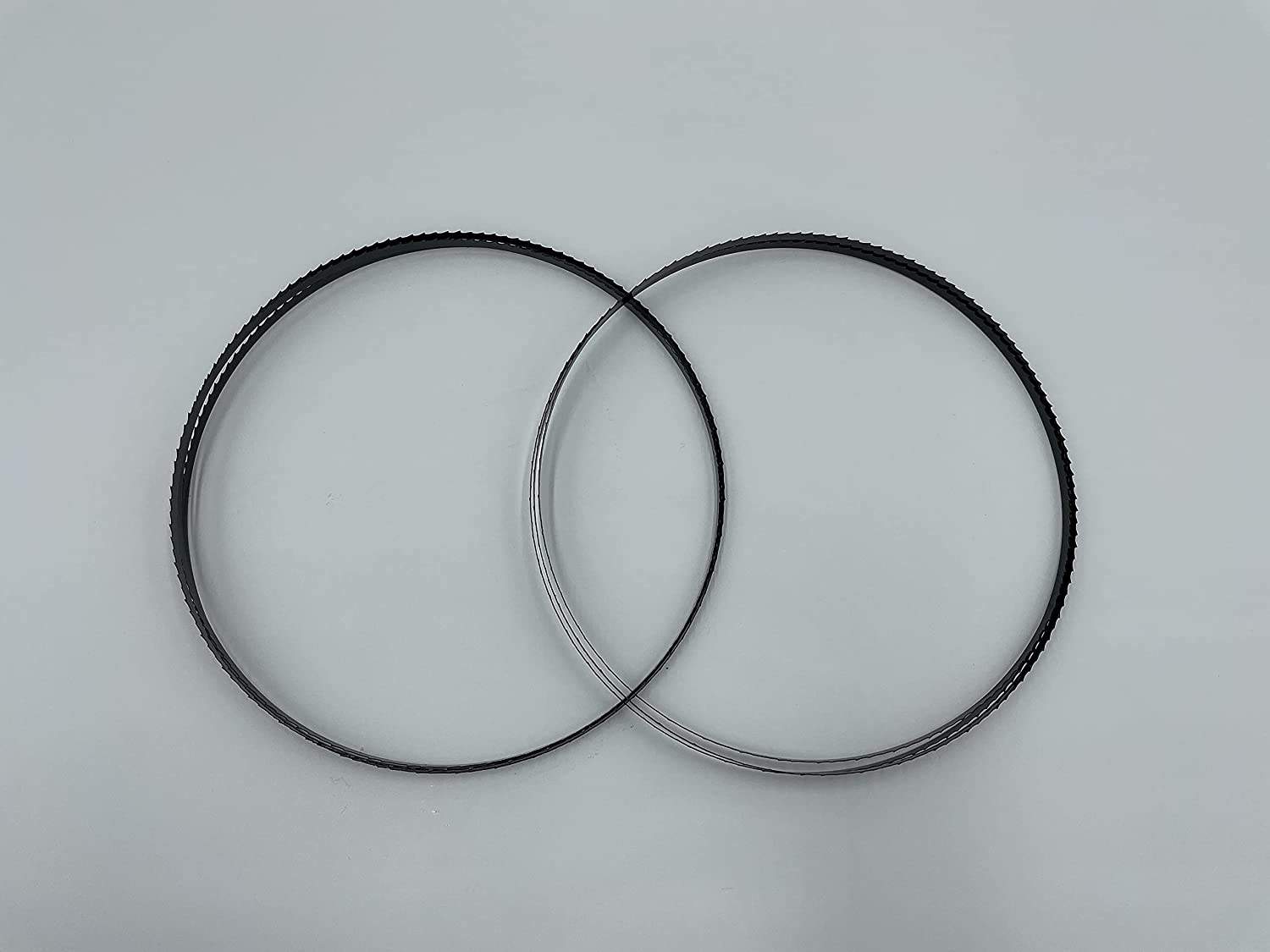 Are you tired of replacing your band saw blade after a short period? Why bother purchasing one saw blade if a brand offers the set of 2 at a similar price? The AYAO Wood Bandsaw Blades provide exactly this feature. You get a set of two blades with excellent features at an affordable price range.
This prime quality band saw contains a carbon steel core material. Such a carbon steel component allows the blade to cut wood materials appropriately. And it will fit a 12-inch craftsman band saw without any issues.
Hence, you not only get a quality band saw blade that cuts better but also fits the saw machine properly.
It is a 6 TPI blade that cuts wood components without any trouble. Furthermore, it comes with a unique welding technique. The welding technique provides a stronger and smoother welding point to get better results. Therefore, this blade is able to maximize its performance efficiently.
Unlike some saw blades in the market, the AYAO one comes with exceptional racker teeth set. All of the blade's teeth come with a proper and even arrangement. As a result, you can get quality and consistent cuts every time you use it.
One major issue with most saw blades is how quickly they become rusty. If you do not take care of the blade or use it too much, there is a chance that your saw blade tips will become very rusty and damaged. The manufacturers incorporate a bluing feature to protect the steel component from becoming rusty.
Pros
Comes with a unique welding feature
Contains a racker teeth set that provides better cuts
Blued blades prevent them from becoming rusty
Core component is high-quality carbon steel material
Cons
Blades are too thin and can bend easily
Verdict
If you want a durable saw blade that does not become rusty, the AYAO band saw blade is a perfect choice. Check prices here
What Type Of Bandsaw Blade Do I Need?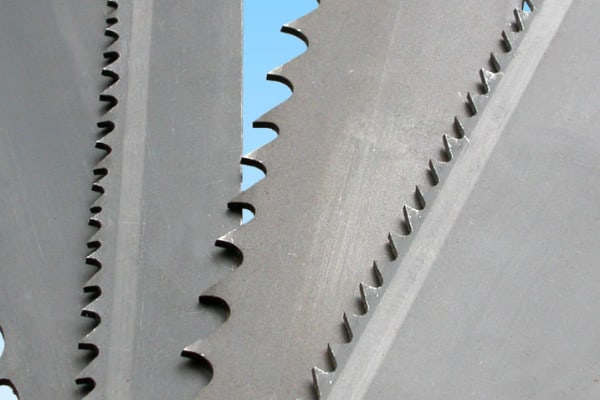 Aside from choosing the correct width, TPI, and length of the blade, you also have to check out the band saw blade types and their differences.
Regular
The most common band saw blades are the regular ones. These band saw blades come with straight tipped teeth that are more appropriate for general cutting purposes. You can easily cut wood, and metal components with the regular band saw blades.
Skip
Unlike the regular ones, the skip blades contain a shallow gullet. The 90 degrees tooth and 0 degrees rake position is common feature of this type. These skip-type saw blades are perfect for woodworking applications on plastic, non-ferrous, and wood components.
Hook
This blade type usually contains a positive rake angle of 10 degrees. You can cut plastic, wood, thick materials, etc., with this type efficiently. As the hook-type saw blades contain deeper gullets, these blades provide better cuts.
Frequently Asked Questions
How do I choose a quality band saw blade?
Depending on what you need, the band saw blades can also vary. However, features like TPI, width, length, compatibility, core material are essential in ensuring whether a blade is top-notch or not. For example, the BOSCH BS80-6W Wood Band Saw Blade comes with excellent features.
What does TPI refer to?
TPI basically means teeth per inch. The TPI of a blade can determine what type of material the blade can cut effectively. Lower TPI allows the blade to create faster and rougher cuts. So, if you want to get saw blades for rough cutting lumbers, a lower TPI will be the better choice.
Which band saw blade has better durability?
The POWERTEC 13132 Band Saw Blade comes with better durability than many blades in the market. It contains a high-quality carbon steel core component with heat-resistant features. This feature of the blade allows it to last a long time.
How can I clean up my band saw blade?
You can easily remove the gunk from your band saw blade at home. All you have to do is add whatever cleaning solution you have at home to some warm water. Then allow the blade to soak in this water for a short period before using a brush to remove the dirt manually. Finally, dry the saw blade properly.
What is the best band saw blade for wood?
If you want to cut both hardwood and softwood material efficiently, then the POWERTEC 13132 Band Saw Blade will be the best choice. Its 14 TPI hardened metal teeth cut through wood materials smoothly.
Final Words
From now on, choosing saw blades for cutting wood materials will not be a difficult issue. This best band saw blades for wood review can help you choose a quality blade that does not become rusty and provides superior cuts in the long run.
Also read: these are the best overall band saw blades to buy right now
I'm Joost Nusselder, the founder of Tools Doctor, content marketer, and dad. I love trying out new equipment, and together with my team I've been creating in-depth blog articles since 2016 to help loyal readers with tools & crafting tips.