I love creating free content full of tips for my readers, you. I don't accept paid sponsorships, my opinion is my own, but if you find my recommendations helpful and you end up buying something you like through one of my links, I could earn a commission at no extra cost to you.

Learn more

If you are familiar with cutting, probably, it's surfeit to describe the importance of a band saw in any fabrication shop. It's a handy tool that is an obvious blessing for all the people out there evolving in cutting metal sheets, wood, plastic, even meats! But the heart of a band saw is its blade. Choose the best band saw blades for your machine and that's not only words to say aloud; knowledge prior to that is what matters the most. A set of properly sized blades can accelerate the pace of the shop. But, be careful, a wrong selection can lead the shop almost towards a standstill.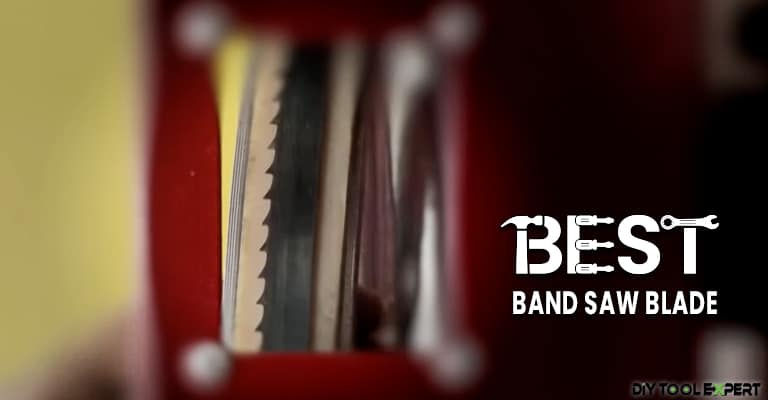 Curving your thoughts and dreams requires a properly guided buy. The band saw blades will be, thus, presented in front of you- your job is to pick and shop. Get to our suggested ones just on the other side of the elusive buying guide to follow!
Band Saw Blades buying guide

You should check for some features and facilities into the tool you intended to buy. These will increase the usefulness of the tool and you will find it easier to work with. So, let's check! Why you need this tool? As we all know, a metalworking shop deals with various types of metal. Can you use the same tool for all types of metal? Of course not! That's why it's a legit question to be answered properly. Nowadays, most of the blades being used are bi-metal. At least two metals are used to cast the blades. Now, blade teeth are bound heavy-duty carbon base. This process increases durability and performance. But this bi-metal technique makes the blades more vulnerable. These blades are supposed to decay, bend or torn apart during long term use. Joints are displaced during the cutting process of any high-density metal. That's why you need to determine which metal is being cut by these blades. If you are cutting high nickel alloy steel, a carbide-tipped blade or tungsten carbide should be used. But why only these blade can cut such alloy? There are some specific reasons behind it. The first aspect that has made the alloy unsuitable for other bi-metal blades is the strength of the alloy. Of course, cutting these hard materials requires a more shear break. It's a hard nut to crack! Carbide is recommended over high-speed steel for the resistance it offers against heat. Some other materials like INCONEL, MONEL, Hastelloy, titanium require carbide tipped or tungsten carbide to be cut. In short, knowing how a particular blade response to different metals is the key to the selection process. If you are unknown of the fact, you may go through the manual provided by the manufactures and know their recommendations regarding the best use of the blades. Blade Impact It is, probably, the most important term to understand. If you are a crackerjack of this business, you know how important it is to know the impact of blades on the metal sheet. The number one reason working behind the failure of blades in fab shops is the wrong method of cutting. Different blades response differently on a particular metal sheet. If you are up to buy a new blade, at first understand its impact on a metal sheet. If you are experienced enough, it's not a big deal for you to understand the requirement of the metal sheet. But if you are not so experienced, then take advice from someone who has the proper knowledge. Prior to understanding the requirements is highly recommended. Heed Tooth Type and Width A band saw serves a variety of purposes, needing different pitch angles, width, and strength. That's why we can see any difference in the tooth, especially. Let's learn some aspects of them!
Regular tooth: If you need to rake up chips, then it's the best option for you. It is used for cutting general metal with a straight (zero) rake.
Hook tooth: Suitable for cutting nonferrous alloys, non-metals, plastics, and wood. The difference is, it has deep gullets, widely speeded teeth that are glued with 10-degree undercut face. It's helpful for digging in and having a good cut.
Skip tooth: It's a straight right angle (90-degree) tooth set having a sharp angle at the junction of tooth and gullet. This type is best for soft, especially non-ferrous metal, wood and plastic.
Another important factor that plays a vital role is the width of teeth. Do you know, the width of a blade is measured from the tip of the teeth to the back edge of the blade? If you are not cutting contours or curved surfaces, it's better to use the widest teeth that your machine can accommodate.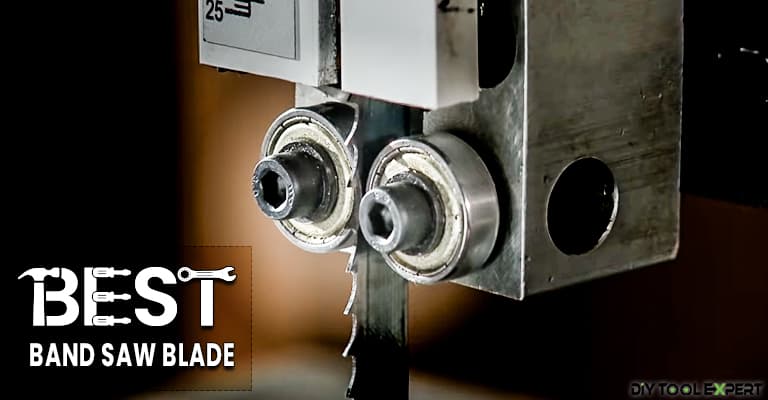 Blade Pitch It is, surely, another key player for fine cutting. Blade pitch is considered as the distance from the tip of a tooth to another one. Some precise cutting requires more teeth per inch (TPI), where thicker cutting demands fewer teeth. Having six to twelve teeth in a cut is optimal. But less than three teeth in a cut will be a boon. However, a variable pitch blade is a savior for us, at least for this scenario! Having more than ten and less than fourteen teeth in a cut is optimal. This configuration ensures precise cutting in less effort. This makes less vibration and noise and, of course, gives cutting delight! You may also like to read – the best scroll saw blades, the best chop saw blades
Best Band Saw Blades reviewed
It's a difficult task to figure out the best band saw blade from thousands of options. But our experts are assiduous! We've selected some products through rigorous inspection with experienced eyes. These products are compatible with different kinds of band saws. Go through the section and figure out the best fit for you!
1. Bosch BS6412-24M 64-1/2-Inch by 1/2-Inch by 24TPI Metal Bandsaw Blade

Sterling Aspects Bosh is a pioneer in all sorts of tools, needed in a machine shop. They also have blades for different band saws. As an experienced manufacturer, they know the requirement of the machine and the need of customers. Bosh BS6412-24M 64 Metal Band saw blades are fined finished blade set having some awesome aspects that will draw your attention. Firstly, the tooth per inch. It has 24 teeth within an inch. It has a teeth thickness of .020 inches and it is .5 inches wide.  This meets the need for fine cutting and enables you to cut thin corners. The blade has perfect dimensions for a premium cutting experience. The overall length of the blade is 64.5 inches and the blade is .02 inch wide. This dimension seems to be perfect for band saws of different kinds and for different usages. The blade is made from premium quality steel and optimized for resisting heat-ups during actions. The design is perfectly ergonomic. That's why you won't find any difficulties to set it into the band saw. The teeth are also geometrically optimized for the best performance. All the aspects indicate that this blade is predominately made to cut metals. Teething troubles Some users have difficulties during precise cutting. They have the objection that this blade led their workpieces to end up with unparalleled cutting. Some found it hard to maintain balance. But, above all, more bucks are required for this blade. Check on Amazon  
2. DEWALT DW3984C 24 TPI Portable Band Saw Blade, 3-Pack

Sterling Aspects DEWALT offers you high-quality blades for cordless (portable) band saw at a comparatively low price. They have a 3-pack in the basic configuration and another 3-pack in the extra-durable configuration. Both the packs are priced less than other blades. This is a bi-metal blade primarily crafted with steel. It has an 8% cobalt in it. This bi-metal design has made the blade unique in many aspects. This blade is resistant against over-heating during operation as it has Matrix II High-Speed edges. This feature also prevents the blade to break in parts and ensures durability. This blade is perfect for metal cutting. You can chop thick metal, medium metal by this. This blade is also perfect for thin-gauge metal cutting. As the blade also features fatigue resistance and gives you more opportunities to finish more projects. The blade has increased wear resistance. It has 24 teeth in one inch and for this, this blade is suitable for fine cutting. Teeth are perfectly designed and hard enough to prevent wear resistance. The dimension of the blade is perfect to go cordless. Teeth are .02 inches thick as the previous one. These thick teeth are Rc 65-67 teeth capable of enduring more fatigue. Teething troubles This band saw blade made some of its users unsatisfied because it has failed to prove itself enough strong during some applications, especially cutting hard metals. Check on Amazon  
3. SKIL 80151 59-1/2-Inch Band Saw Blade Assortment, 3-Pack

Sterling Aspects If you are looking for a perfect band saw blade that can efficiently cut the metal sheet, wood, plastic or anything else, then SKIL 80151 59-1/2-inch Band Saw Blade can be considerable. It has some exclusive features that have made it one of the best. Firstly, the blade is made from premium quality steel. Steel is a metal that has a less tendency to catch rust and so it's a good choice by the manufacturer to use steel. You can enjoy a longer service life by this blade as its built material is strong enough and built quality is awesome. Overheating of the blade during the operation is a curse for all of the craftsmen. But if a blade runs at a high speed, it's natural to build up much heat. So, a material that catches less heat should be used. Here's the point on which the manufacturer has done a great job! They designed the blade to catch less heat. The teeth are geometrically designed and the perfection in design has to lead the blade to be more useful. The blade comes in 3-pack. 3 different sized blades are integrated into the pack and so you can find one according to your need. Teething troubles About 15 to 20 percent of users reported that the blades are easily breakable and not enough sharp for their usages. Check on Amazon  
4. Timber Wolf Bandsaw Blade 3/4″ x 93-1/2″, 3 TPI

Sterling Aspects It is a heavy-duty blade which is made of High silicon, low carbide steel. The primary built material is a good choice by the manufacturer. That's why it can render heavy-duty service for a long period of time. The blades are ideal for a variety of usages. It can be used to cut kiln dry wood, hardwood, softwood, etc. It is good for resawing thick stock. It means you can cut fat boys into chips! The blade is designed to heat up less. The built material should be given the credit of keeping the surface cool. As it catches less heat, it runs for long and smooth. The topmost feature that has made the blade reign the market is, it has the thickest kerf. Only Timber Wolf gives such thick kerf to their blades. Another cool fact is, the blade runs in low tension and for this, your machine feels relief. Less horsepower is required for this process. So, it ensures durability also for the machine. The blade has many more! It has gullets that are round in shape. This design eliminates the chances of any hardening zones. Besides, it has a 6.5-degree rake, 5 teeth set pattern, .025 kerf blade. This bulky dimensions made the blade super useful to work with. Teething troubles You need to have a larger motor saw to handle this thick blade without issues. Unless you have that, you may experience back and forth movement of the blade. Check on Amazon  
5. Starrett Intenss Pro-Die Band Saw Blade, Bimetal, Intenss Tooth, Raker Set

Sterling Aspects It is a versatile set of blades ranging from 8 to 12 teeth per inch. The basic features are the same for all of the blades. Each blade in the set is made from steel as a primary construction material. Another metal is introduced to make it suitable for heavy-duty use. These blades are suitable for effective cutting. The set has different blades for serving a different purpose. If you are a professional and prefer to have all of your tools from the same brand, this set can meet your needs.  These blades have the same teeth, perfect for a good impact on the workpiece. The gullets are also noticeable. These blades are of a very useful size. Their dimensions are moderate and compatible with most band saws. They are, typically, 56.5 inches long and .025 inches thick. The width is .5 inches. This dimension is suitable for fine cutting of different materials. Teething troubles These blades are not suitable for all materials. You may face difficulties to cut hard metals with these blades. Check on Amazon  
6. Machinist S933414 Bi-metal Metal Cutting Band Saw Blades

Sterling Aspects It is designed to chop and fine cutting with great pleasure. Its smooth texture helps you to perform any cutting of low-density material, ranging from wood to soft metal. This blade has a proper grip and nice teeth to perform the cutting operation in minimal time. The overall built quality is awesome and two different materials are used to build the blade. The primary construction material is steel. That's why this blade is heavy-duty and durable. Bi-layer coating makes it less vulnerable to rust. It is suitable for all the band saws that use 93 inches long and 3/4 inches wide blades. The blade has a different variety. You can find 10 to 14 teeth to have the ultimate shopping experience. The gap between the two teeth is 1.8 mm to 2.54 mm. The gap depends on the number of teeth the blade has in one inch. Whatever the variant is, these blades are suitable for cutting soft materials smoothly. Teething troubles You can't cut hard or bulky materials by these blades. These blades have a tendency to bend or twist and thus are at continuous risk of breaking into parts. Check on Amazon  
7. Olson Saw FB14593DB HEFB Band 6-TPI Skip Saw Blade

Sterling Aspects The manufacturer gives you the opportunity to choose packs according to your need and budget. For this, you are getting good value for money. You can choose your desired product from one, two, three or four's pack. This blade is made for cutting soft materials ranging from wood to any non-ferrous material. Soft metal and wood are also be cut easily. No matter if you are a professional or a noob DIY worker, this blade is here to give you a fine cut. The design of the teeth set is unique. It was engineered to deliver the best output as the teeth are positioned properly. The geometrical shape is also helpful for fine cutting. It has a positive rake and deep gullet to work with. This blade is made to last. You won't experience any rusting issue if maintained properly. The breaking and bending tendency is low. It means you can have smooth and fine cutting for a long time. Teething troubles If you are looking for a blade that will cut hard ferrous metal, this blade will definitely let you down. You cannot chop hard materials using this. Check on Amazon
Types of Bandsaw Blades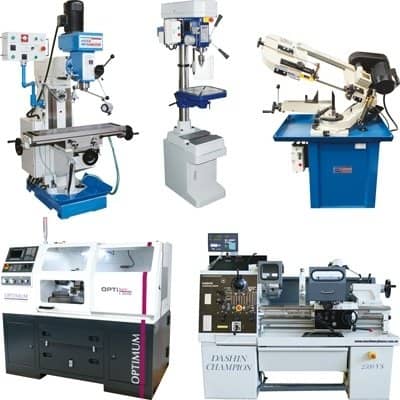 There are various band saw blade types that come with different useful features. It contains more spaces in between the teeth. The extra space helps to reduce unnecessary clogging that can damage the blade in the long run. You can cut non-ferrous components with the skip type. This type of band saw blade comes with a deeper gullet. The larger tooth feature of the hook type helps to provide more aggressive cuts. You can easily cut metal or hardwood materials with this blade type. The regular-type blades are perfect for cutting various materials in general. But it tends to cut thinner materials better. Compared to the other blade types, the wavy ones are different. The teeth design forms a wavy pattern where a few teeth are on the right side and a few on the left. You can easily cut thin sheets or tubes with wavy blades. As the name states, this blade type contains various sizes of teeth. This type of blade is more appropriate for achieving smoother cuts. Best Band Saw Brands Here are some of the most popular band saw brands that offer quality saw machines: The WEN band saw machines are reasonably less expensive. They offer excellent saw machines that come with bevel cut, dust collection, powerful motor, etc., features. The compact form of their saw machine is also helpful if you have a tight workspace. The WEN 3939T Benchtop product is one of them. The name Milwaukee is popular among woodworkers or carpenters. It is a band saw machine brand that offers quality features like LED work light, durable core components, and a powerful motor, to name a few. Jet saw machines have an excellent high-cutting capacity, proper safety features, enclosed stand, sturdy table, etc. It is a brand that creates excellent saw machines for better cutting performance. For example, their JET JWBS – 14SFX Steel Frame product has quality features.
FAQ

Here are some frequently asked questions and their answers.
Which saw blade makes the smoothest cut?

Blades with densely packed teeth make the smoothest cuts. Typically, these blades are limited to cutting hardwoods 1-1/2 inches thick or less. With so many teeth engaged in a cut, there is a lot of friction. In addition, the small gullets of such closely-spaced teeth eject sawdust slowly.
Is more teeth on a saw blade better?

The number of teeth on the blade helps determine the speed, type and finish of the cut. Blades with fewer teeth cut faster, but those with more teeth create a finer finish. Gullets between the teeth remove chips from the work pieces.
How long should a bandsaw blade last?

Some can last under six months, and some can last years! Some of the most important variables to consider are what you are cutting, the condition of the machine and blade, how long you are using the blade, and even how you are feeding the wood through your saw as well.
Why is my bandsaw burning the wood?

A majority of issues with wood burning is because of a dull saw blade. These blades may not be sharp enough to efficiently cut the wood, and thus create enough friction to heat and burn the wood. Dull blades make it more challenging to cut, which causes friction as you pass the wood through.
What kind of band saw should I buy?

The two main things to consider when choosing a band saw are the depth of cut and the throat. The saw's depth of cut is the distance from the table to the upper blade guides. Many band saws are marketed on this feature alone, which tells the prospective buyer how thick of stock can be cut using the band saw.
What is a positive claw bandsaw blade?

PC (Positive Claw): The PC design has sixty percent of the feed speed capabilities of a hook tooth, while at the same time giving you the great finish of a skip tooth. The depth and roundness of the gullet increases sawdust removal and cutting speed while the milled teeth help to reduce consumption of horsepower.
Which direction does a band saw blade go?

Which Direction Does a Band Saw Blade Go? The cutting teeth on a bandsaw blade should always point towards the direction of blade rotation. On a vertical bandsaw, the teeth of the blade should be pointing downward. For a horizontal bandsaw, the blade should be pointed towards the work as the blade is moving.
How do you break in a band saw blade?

Break-In Process While breaking-in a blade, have the machine running at the normal surface feet per minute. For softer materials, such as carbon steel and aluminum, adjust the feed pressure to 50 percent of the normal cutting rate for the first 50 to 100 square inches.
How tight should a bandsaw blade be?

Finding the right tension Most blade manufacturers recommend 15,000 psi to 20,000 psi for a common carbon-steel blade. However, bimetal, spring-steel, and carbide-tipped blades are much stronger than carbon-steel blades, so manufacturers recommend a much higher tension: 25,000 psi to 30,000 psi.
Are Diablo blades worth it?

The consensus is that Diablo saw blades balance great quality with excellent value, and are a good choice when replacing or upgrading the OEM blades that are often bundled with new saws. … These blades were used and tested with a Dewalt DW745 table saw, and a Makita LS1016L sliding compound miter saw.
How do I choose a hacksaw blade?

Which blade you choose should depend on which metal you will be cutting. For heavy-duty cutting jobs like steel reinforcing rod or pipe, an 18-teeth per inch blade would be the best choice. For a job that requires medium-duty cutting, like a thin wall electrical conduit, a 24-teeth per inch blade would do a better job.
Can you use any blade with SawStop?

Any standard steel blade with steel or carbide teeth can be used. You should not use non-conductive blades or blades with non-conductive hubs or teeth (example: diamond blades). They will prevent the SawStop safety system from applying the electrical signal on the blade that is required to sense skin contact.
How do you know when a bandsaw blade is dull?

If the blade wanders and will not cut on your line, it is dull. If you feel you have to push hard against the blade to get it to cut, it is dull. This can lead to you getting injured. If you are pushing your work and the blade comes out of a cut your hand will move forward near or into the blade. Q: Can a blade saw be over-tightened that it can break? Ans Yes! If you overtightened the blades, you may see broken blades. Each blade has a certain capacity to endure load. If the limit is crossed, the blades may prone to torn parts. Q:  Do the blades are prey to rust? Ans: Yes! The blades that are not made of bi-metal are always at risk of catching rust. But, fortunately, now most blades are made of bi-metal and have less risk to catch rust. You can apply lubricating oil on the blade to get rid of the problem to some extent. Q:  How can I use the blades for long? Ans: If you want to use the blades for a long time, just follow these simple tricks: 1. Don't force the blades. 2. Release the tension from the blade when your task is done. 3. Periodically clean all the pitch.
Final Words
Alternatives are there but all might not fit most perfect. You, at first, decide why you need these blades. Then check your machine requirements. Finally, proceed for a band saw blade. Thus, you can pick the best band saw blade. We can help you by suggesting some products that you may consider. These products are badged as 'Editor's choice' and selected from the best ones. Firstly, you may consider Bosch BS6412-24M 64-1/2-Inch by 1/2-Inch by 24TPI Metal Bandsaw Blade (here are some more reviewed) as a complete package for a premium experience. But if you want blades at a low rate, you can go with Imachinist S933414 Bi-metal Metal Cutting Band Saw Blades. However, DEWALT DW3984C 24 TPI Portable Band Saw Blade, 3-Pack can be another good choice.
I'm Joost Nusselder, the founder of Tools Doctor, content marketer, and dad. I love trying out new equipment, and together with my team I've been creating in-depth blog articles since 2016 to help loyal readers with tools & crafting tips.