I love creating free content full of tips for my readers, you. I don't accept paid sponsorships, my opinion is my own, but if you find my recommendations helpful and you end up buying something you like through one of my links, I could earn a commission at no extra cost to you.
Learn more
We know how important it is to get quick and safe cuts on wooden workpieces. For that reason, when it came to ripping, resawing, cross-cutting, and cutting curves into more manageable pieces, band saws are our go-to pick.
However, the good ones can indeed cost a good amount of money. And the ones that are usually in the affordable range do not offer that much good cutting performance. So, it was more challenging than we thought when we aimed to get the best band saw under 500, but have a lot more for you too!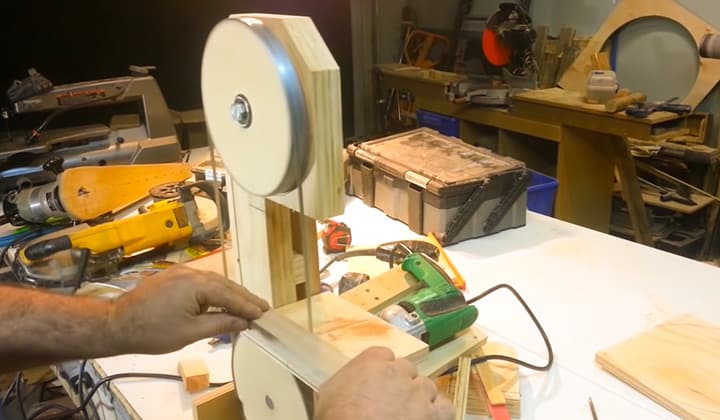 Eventually, after comparing the available models head to head, we did manage to find seven worthy ones. And we will talk precisely about them in this article. So, if you want the most bang for your buck, stick till the very end.
Low Price Doesn't Have to Mean Low Power
When it comes to any product, we usually think that it will offer less performance if it is low in price. Yes, the high-end ones with a hefty price tag do offer a stellar amount of power, but the good low price ones are pretty much up to par with them.
Furthermore, while testing the affordable saws, we did find many to offer poor power. However, that was not prevalent with all of them. The seven models that we will talk about in this article do cost considerably less than the high-end models. But the power that they offer does not align with their price.
Most of them offered higher performance than the models that had a higher price tag than them. So, in conclusion, the price does not tell the entire story, and you can undoubtedly get a good-performing saw at a lower price if you know what to look for in them.
Best bandsaws reviewed
After doing loads of testing, ripping, and cross-cutting, we have concluded that these models that are under 500 are the ones that you should be looking at:
Best budget bandsaw under 200: WEN 3959 2.5-Amp 9-Inch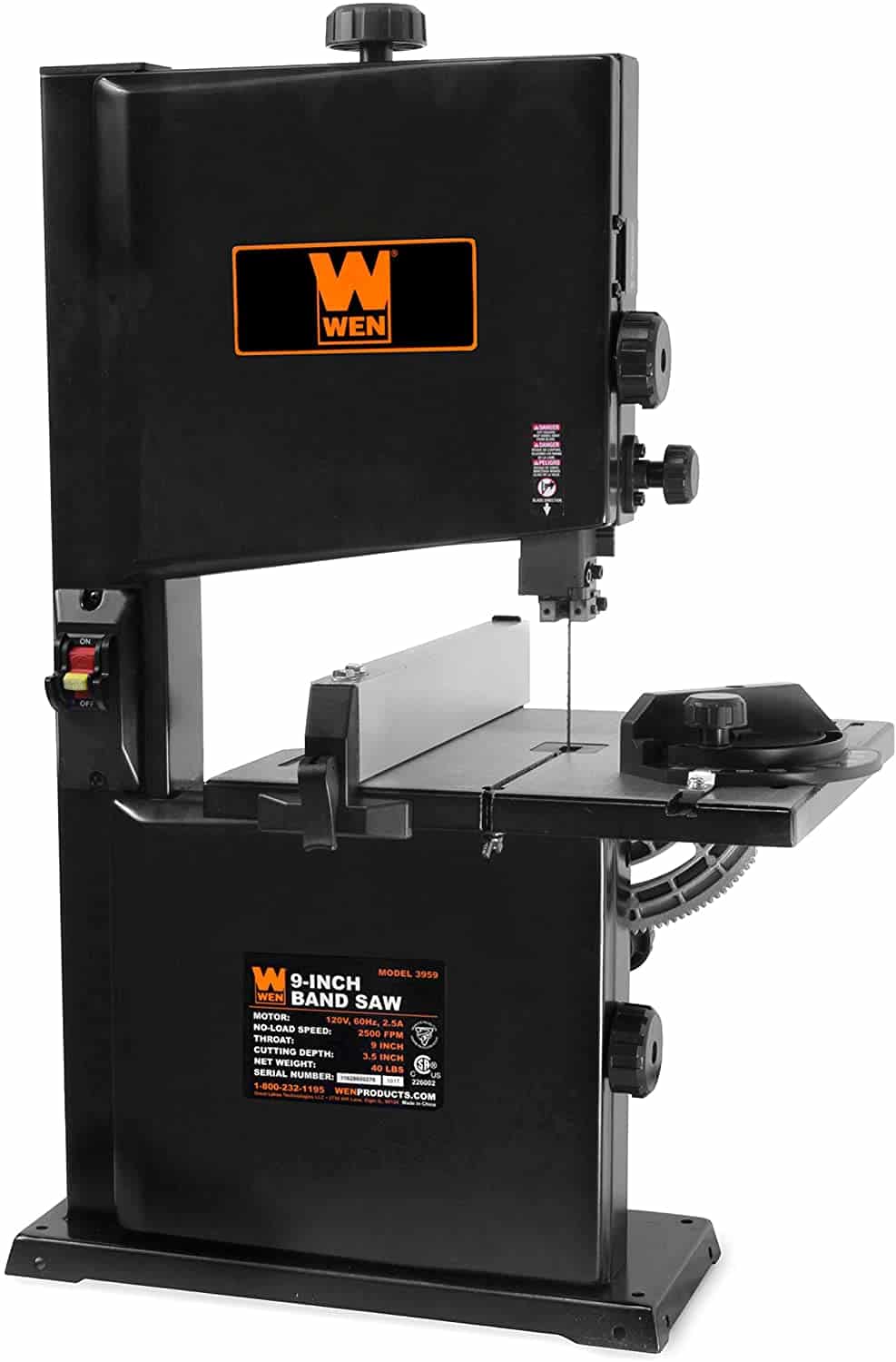 When it comes to band saws, one of the well-known manufacturers is WEN. And this offering can properly illustrate why they are so popular.
The benchtop integrates a 2.5-amp motor. As you might have guessed, 2.5 amp means a higher amount of power. And it does offer a rotation rate of 2500 feet per minute. That means you will not have to work that much to perfect your workpiece with this saw.
This one is also capable of making cuts that are up to 3-1/2 inches deep. It will be possible for you to make those cuts 9 inches wide as well. The blade that it utilizes is 59-1/2 inches. You can adjust the size from anywhere between 1/8 inches to 3/8 inches. Yes, it does offer a higher amount of flexibility.
Even the worktable is quite spacious. It is 12-1/4 x 11-7/8 inches. And it has a bevel that enables the whole thing to tilt up to 45 degrees. So, working on slanted and irregular cuts on this saw will be a piece of cake.
In the package, you will find an included blade that is ¼ inches wide, a rip fence, 2-1/2 inches dust port, and a meter gauge. These will help you get started right away. And the included items are high in quality as well. You will be able to use them for an extended amount of time.
Pros
Integrates 2.5-amp motor
Can make cuts that are up to 3-1/2 inches deep
Capable of making 9 inches width cuts
The worktable is spacious
It bevels up to 45 degrees
Cons
The base is not that sturdy
It might shake a little in the highest power
It comes with a relatively high-powered motor. The saw can also make impressively deep and wide cuts.
Best bandsaw under 300: POWERTEC BS900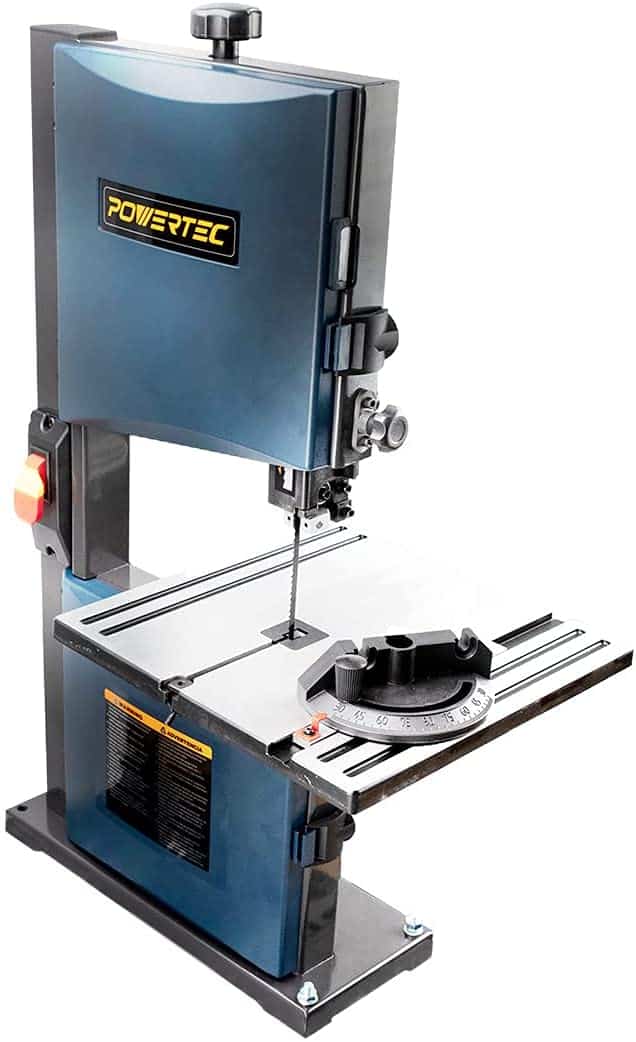 Having a proper miter gauge built onto the table can make getting accurate cuts on the projects easier. And you will get exactly that from this one.
Precision is the main focus of this band saw. The table has a built-in miter gauge, and the blade is tuned correctly for accuracy. For that reason, you can expect to get maximum accuracy while making both regular and irregular cuts. And thanks to the pinion and rack adjustments, making irregular cuts will be easy too.
The blade is capable of making cuts that are up to 3-5/8 inches deep. It can make cuts that are 9 inches wide. So, it will be pretty easy to carry out ripping and making thinner cuts on the table. The motor is 2.5 amp, and it has a power rating of ½ HP.
This band saw also features a patented blade guard. That will make the process of changing the blades simple. It even has a blade tracking window, which will allow you to make precise adjustments to the blade. You can tilt the table up to 45 degrees using that.
Furthermore, the table also has a 2 inches built-in dust port. It will do a proper job of keeping the working table clean.
Pros
It has a built-in miter gauge
Provides precision cuts
The table is highly adjustable
Can make up to 3-5/8 inches deep cuts
Features a patented blade guard
Cons
The working table is not that large in size
It has a flimsy base
This one excels at offering precise cuts. The table has different adjustment modes, and the motor is pretty powerful as well.
Best bandsaw under 500: RIKON 10-305 with Fence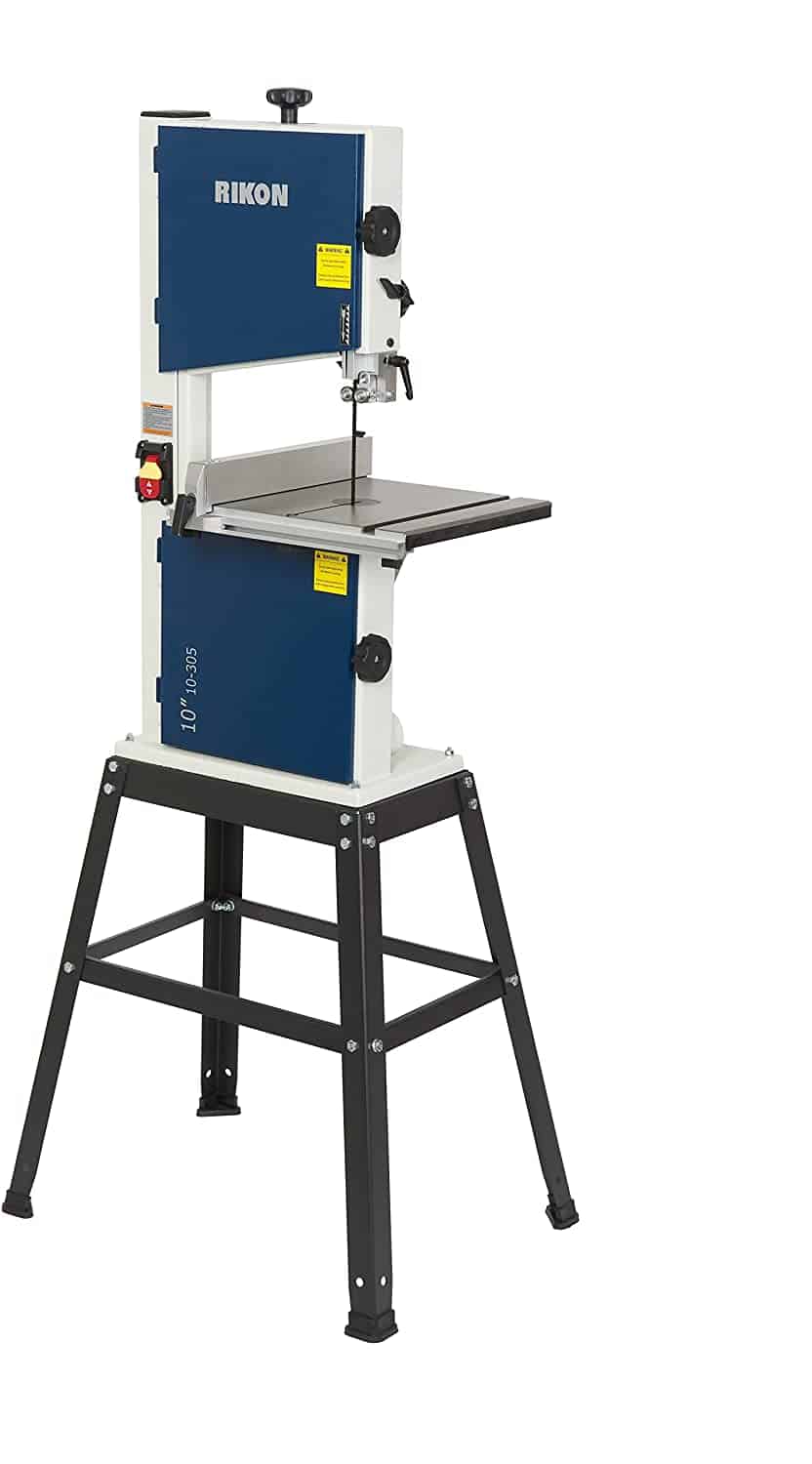 Are you looking for something that has a solid build quality? Well, you can stop your hunt right here because RIKON is offering something that checks that criteria.
The whole thing features a construction of solid steel. Due to the frame being of high-quality steel, the stability of the band saw will be exceptionally high. You can work with delicate workpieces without worrying one bit about instability. Even the working table is of cast iron and is highly durable.
Let us not forget to state that the working table is reasonably large. It is 13-3/4 inches long and 12-1/2 inches wide. You can work with reasonably heavy workpieces because of how sturdy the worktable is. The tool also bundles with a rip fence. That will make it easier to do free-hand modifications.
It utilizes a 1/3 HP motor. That will provide ample power to cut through pen and bowl planks easily. There is a safety paddle switch too. That will ensure that the motor operates optimally even in the highest loads.
Moreover, it has a micro-adjustable guidepost. Thanks to the ergonomic handle, you can quickly lower and raise the guidepost. And due to the compact size, transporting it around will not be an issue either.
Pros
Made of solid steel
Features a cast iron worktable
The worktable is relatively large in size
Compact and highly portable
Boasts a 1/3 HP motor
Cons
The guide does not have a locking mechanism
Some units might ship with damaged saw
It features a solid overall build. The stability is reasonably high, and it boasts a potent motor.
Best bandsaw with laser guide: Grizzly Industrial G0803Z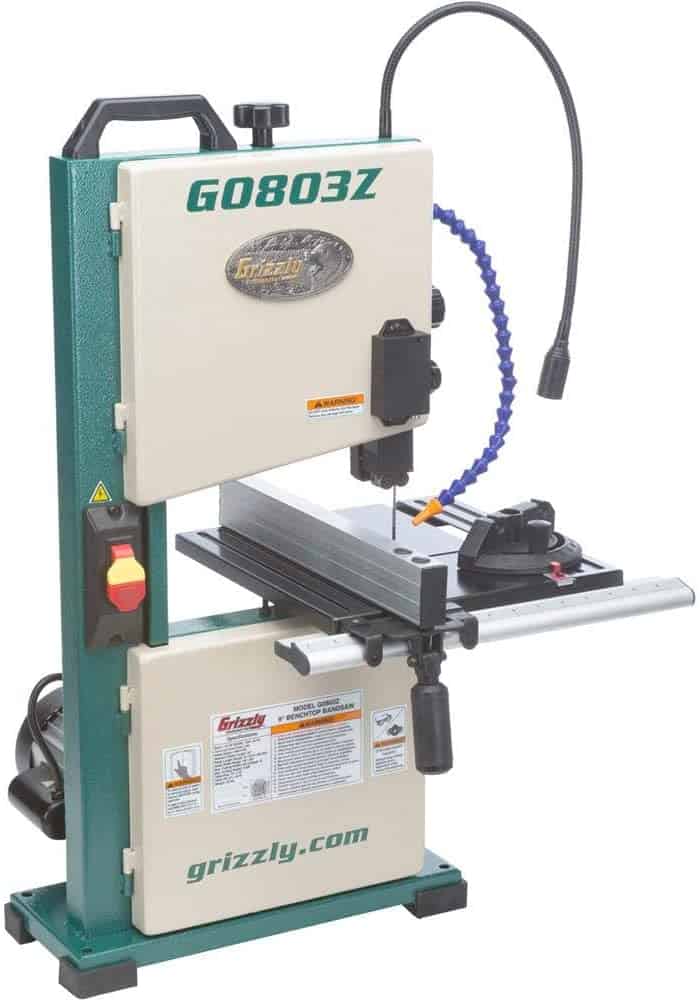 Did you know that you do not have to spend that much money to get exact cuts on your workpiece? Do not believe us? See what Grizzly has to offer here!
To start with, it has a laser sight. It will act like a guide, which will enable you to make precise cuts on your workpiece. And the best part is that the sight is adjustable. So, it will be possible to make accurate irregular cuts as well. There are lower and upper ball bearings too. Those will also act as a guide to the blade.
It utilizes a single-phase motor. The motor is 2.8 amps, and it has a power rating of 1/3 HP. That means you will be getting more than enough power to work with the most demanding workpieces. The depth of cut it can offer is 9 inches, and it can cut a maximum cutting height of 3-5/8 inches.
Even the table is adjustable. It has both pinion and rack tilting mechanisms. You will also find a paddle safety switch, which will ensure that the whole operation goes smoothly. Also, the quick-release blade tension will make it easier to replace and adjust the blade.
This tool also has a carrying handle. For that, it will be easier to carry it and transport it around. The table also has a large dust port. And the rip fence has a Camlock handle, making it easier to adjust the workpiece and get accurate cuts on your workpieces.
Pros
Sports a laser sight
Has upper and lower ball bearings
The motor has a 1/3 HP rating
Features an adjustable table
There is a carrying handle on the top
Cons
The blade wobbles a bit at high load
It has a plastic roller bearing base
It comes with a laser sight, which will increase the overall precision. Also, the motor's power is reasonably high, and it has a highly adjustable blade and worktable.
Is band saw better than regular saw?
Yes, the band saw is a flexible tool. It allows you to get precise cuts on your workpiece. And the number of safety features it has ensures that the whole cutting process goes smooth.
Are band saws under 500 worth it?
As we have mentioned before, cheap does not mean bad. There are plenty of excellent and well-performing band saws under the $500 mark. Also, there are many insanely bad options out there that are within this budget.
What makes a table saw different than a band saw?
The main thing that separates the band saw from the table saw is the operation procedure. It is pretty easy to use a band saw, while the table saws are not really for newbies or intermediates.
Is it possible to make rip cuts using band saws?
Yes, it is possible to make rip cuts using band cuts. You can even make different irregular cuts with it.
Final Words
It is pretty natural to be a bit skeptical when getting something that is in the budget range. But we can assure you that if you get the best band saw under 500, you will not miss out on that much compared to more pricy options. The options we have reviewed are all worthy of the price and offer a load for the money.
I'm Joost Nusselder, the founder of Tools Doctor, content marketer, and dad. I love trying out new equipment, and together with my team I've been creating in-depth blog articles since 2016 to help loyal readers with tools & crafting tips.