I love creating free content full of tips for my readers, you. I don't accept paid sponsorships, my opinion is my own, but if you find my recommendations helpful and you end up buying something you like through one of my links, I could earn a commission at no extra cost to you.
Learn more
Bandsaws are a fantastic piece of machinery. They allow exact cuts on different workpieces. And let us not forget that cutting challenging curves and thin veneer becomes an effortless task with these. However, sometimes the cuts might not come out as exact as you might have wanted.
It would be because of a low-quality blade or non-efficient cutting technique. But should you discard a workpiece just because the first cut was not precise?
Not really! Instead, you should work with the best bandsaw blade for resawing.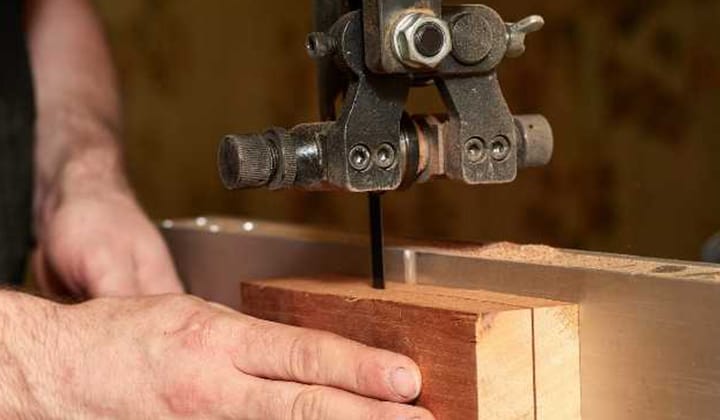 Now, how do you pick one of those blades?
Well, that is where our expertise and years of experience come into play. We will make the choosing process a piece of cake for you. So, continue reading!
Benefits of Bandsaw
An extremely versatile machine like a bandsaw comes with various benefits.
The bandsaw machines provide more accurate cuts than the other saw blades. It also cuts thicker hardwood material efficiently.
The bandsaw machines come with thinner blades that cut in a more narrow manner. Thus, the saw machine produces less waste.
Due to the thin blade of the bandsaw machine, the cuts are also small. Moreover, this saw machine also produces quicker cuts.
Bandsaw blades are cut to reduce the chance of kickback issues. Therefore, bandsaw machines are much safer to use.
7 Best Bandsaw Blade for Resawing
Choosing a quality bandsaw blade for resawing can be a bit confusing. So, I have selected these 7 blades that come with various features.
1. POWERTEC 13117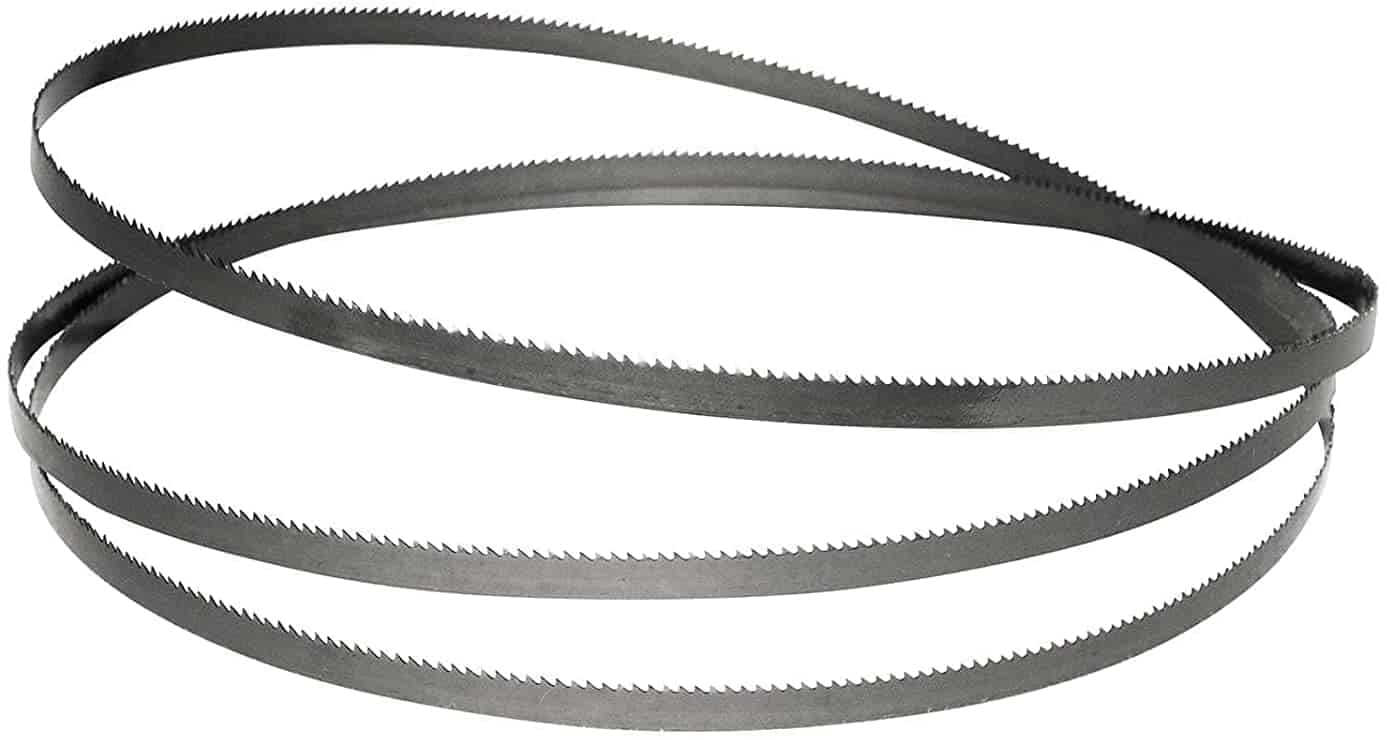 When choosing a high-performance bandsaw blade, you cannot go wrong with the POWERTEC 13117 10 TPI Bandsaw Blade product. This bandsaw blade comes with excellent features to cut various components without any issues. So, this saw blade can ensure higher durability and reliability.
This 93 ½ inch blade can cut a range of materials. Unlike some saw blades in the market that only cut either wood or metal, this blade cuts wood, plastic, and non-ferrous metal elements. As a result, you will not have to purchase several saw blades because the POWERTEC one will be more than enough.
It contains an excellent high carbon steel component that comes with heat-resistant properties. Even if you use this blade for an extended period, its core component will protect the tips from any damage. Additionally, this precision cutting tool comes with an ergonomic design.
Its optimal geometric tooth arrangement allows the blade to provide seamless cuts quickly. You will have no trouble cutting wooden materials efficiently. The 10 TPI blade with a raker set will allow you to get perfect resawing cuts consistently. No other saw blade can bring you such excellent results.
Moreover, its optimal geometric design contains hardened RC 64-66 material that allows the blade to cut more efficiently. Hence, the saw blade will remain sharp for an extended period and deliver straight cuts.
It is a perfect fit for various saw models like the Rikon 14 Bandsaw 10320, 10324, 10326 Delta, Bridgewood 14 Band Saw, etc.
Pros
Delivers straight cuts consistently
It comes with a flexible carbon hard edge
Highly compatible
The 10 TPI blade comes with a raker set
Cuts wood, plastic, etc.
Cons
Not appropriate for thicker materials
Verdict
The POWERTEC saw blade can be an excellent choice for resawing wood components. Check prices here
2. Olson Saw FB23393DB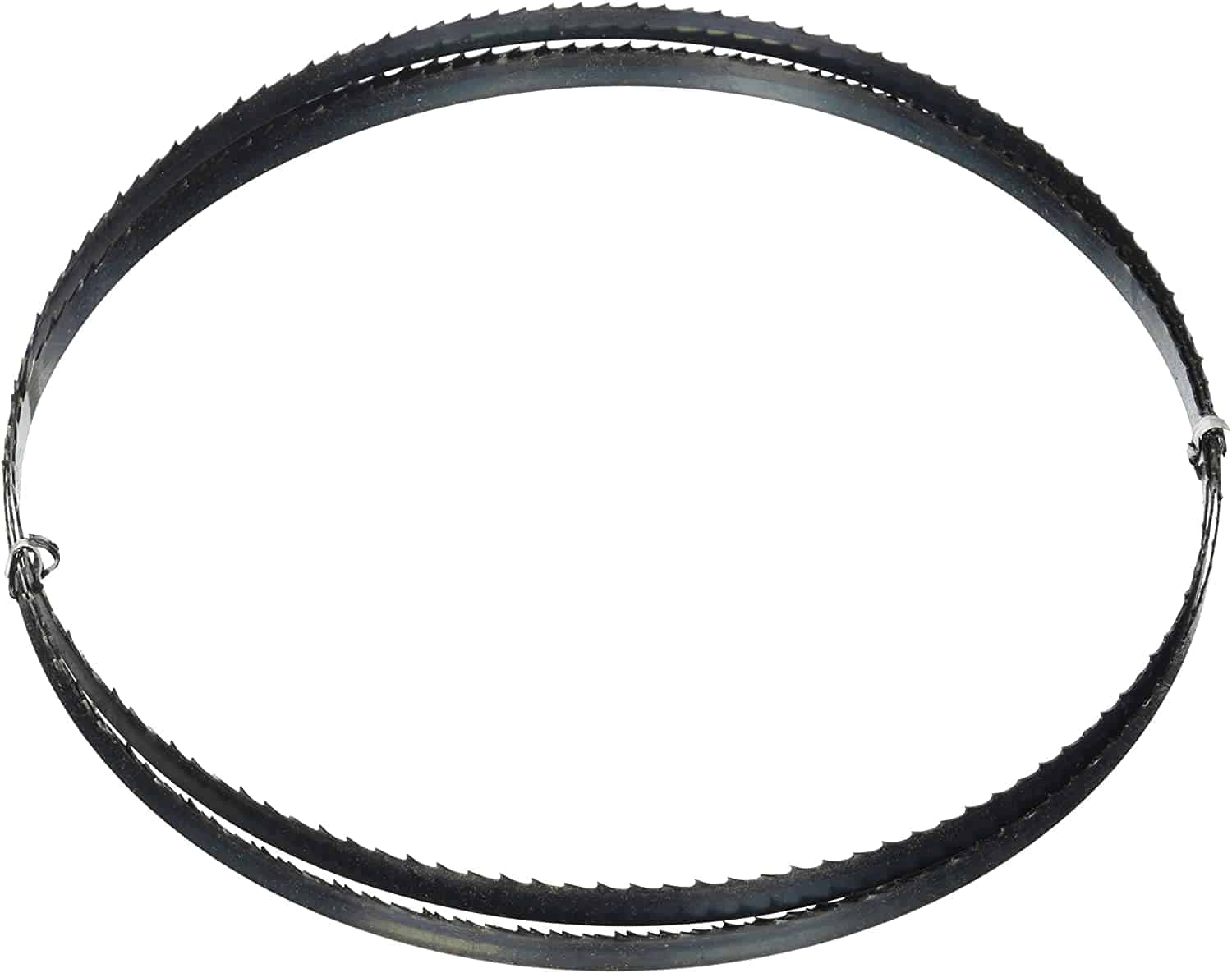 If you want a saw blade for resawing various components efficiently, the Olson Saw FB23393DB 4 TPI Hook Saw Blade may be perfect for you. If you wish to cut hardwood, softwood, plastic, non-ferrous metals, etc., this bandsaw blade will make your cutting experience much better.
This heavy-duty blade has a carbon steel core component with hardened teeth to provide superior performance. With a tooth hardness of 62-63 RC and a back hardness of 28-32 RC, the blade offers better cuts quicker. It is a commercial-grade saw blade that provides better durability.
Furthermore, this saw blade is highly compatible. It can fit 10-inch Rykon 10305 and Sears Craftsman 21400 without any issues. Blade tracking will not be an issue with this product, and it is perfect for resawing. You will have no trouble cutting oak, maple, and softwood.
A good balance is essential when it comes to bandsaw blades. Many blades wobble very easily and provide uneven cuts. However, the Olson blade does not wobble, and you can get clean straight cuts. Even with long time usage, the saw blade does not wear out quickly, and the tips remain sharp.
It isn't easy to find an affordable bandsaw blade for resawing. Especially blades that come with as excellent features as the Olson one. It is a blade with 10.25 x 10.88 x 1-inch dimensions that lasts longer and provides consistent results.
Pros
Cuts softwood, hardwood, plastic, non-ferrous metals perfectly
Compatible with two saw models
Has a tooth hardness of 62-63 RC
You can cut oak and maple with this blade
Affordable and durable
Does not wobble
Cons
It will not cut metal materials properly
Verdict
The Olson bandsaw blade is a reliable blade that lasts very long and provides excellent cuts. Check prices here
3. Timber Wolf ¾ inch x 93-½ inch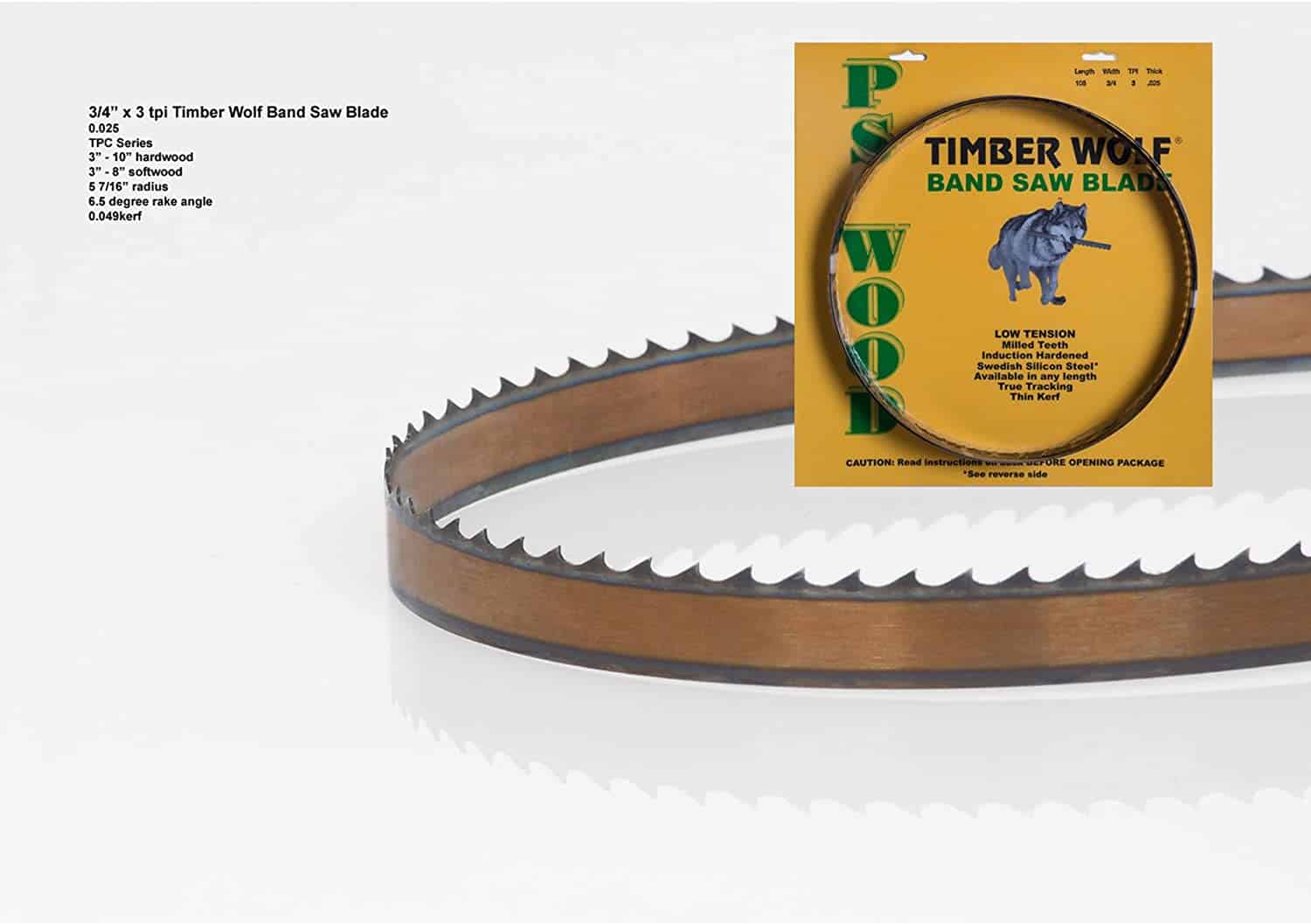 Not many saw blades in the market come with superior longevity. Some bandsaw blades will provide good initial cuts; however, these blades will not last very long. So, picking a resawing saw blade with sharp tips can be difficult. That is where the Timber Wolf ¾ inch x 93½ inch Bandsaw Blade comes in handy.
Its 93.5 inches long and ¾ inches wide blade comes with a positive claw tooth design. Resawing any dry kiln domestic wooden material will not be a problem because this saw blade can provide efficient cuts. This blade can give the finishing of a skip tooth blade.
If you work with wood-cutting blades for a while, you will notice that some blades produce too much sawdust. The shape of the blade can, to some extent, reduce the production of excessive sawdust. The Timber Wolf product's gullet shape alongside its depth helps increase sawdust components' removal.
We all want a saw blade that properly glides through the wood materials. The only way to achieve excellent finishing is by getting a saw blade that provides smooth cuts.
Furthermore, the Timber Wolf product comes with a unique 6.5 degrees rake angle and a special 5 tooth pattern. These features help the saw blade create smoother cuts.
The core component of this saw blade contains high-quality alloy and silicon steel. Plus, the finishing of the blade's teeth is also superb. Overall, you will be super satisfied with this saw blade in your collection.
Pros
It comes with a 6.5 degrees rake angle for fine cuts
The 3 TPI blade cuts wood and metal
Gullet shape helps remove sawdust
Can cut 3-12 inches thick kiln dry hardwood
Cons
It may wobble from time to time
Verdict
This Timber Wolf saw blade helps with removing unnecessary sawdust and provides smooth cuts. Check prices here
4. OLSON SAW APG72672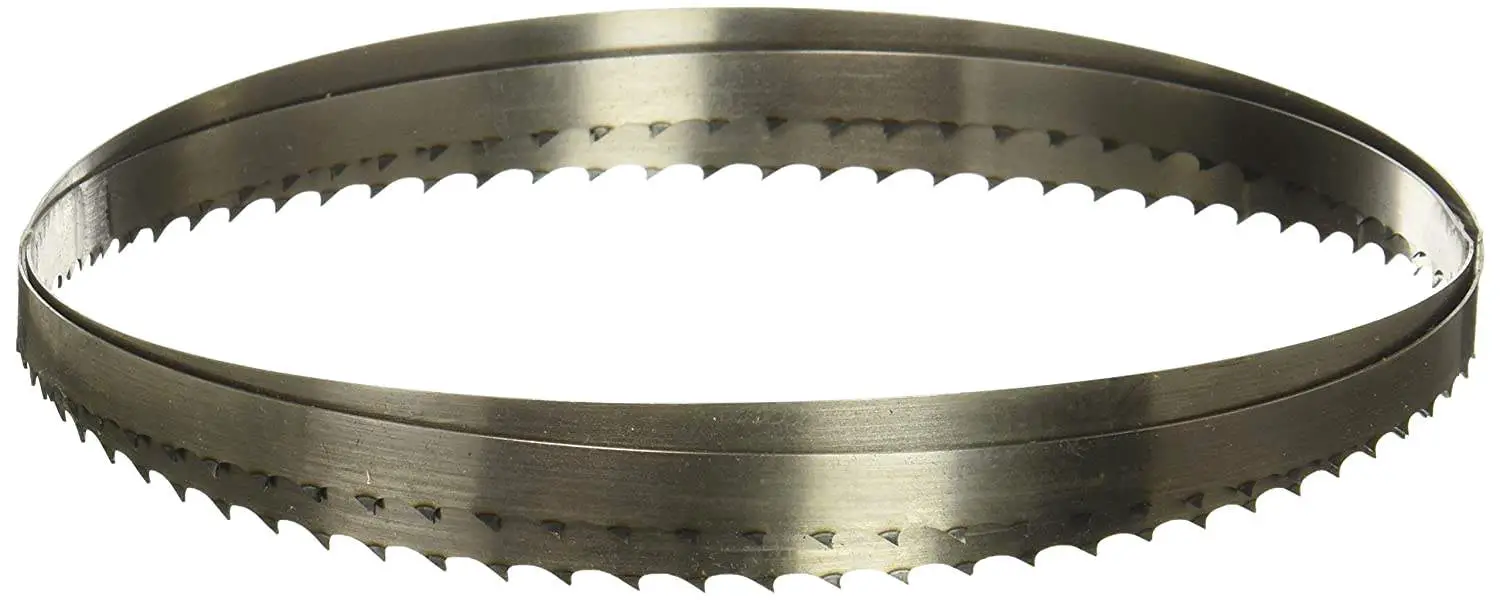 Everybody's first choice is a saw blade that provides a sharper, faster, and more efficient cut – however, not many saw blades offer all of these features. The OLSON SAW APG72672 3 TPI Hook Saw Blade is an exception because it provides excellent results.
This saw blade is perfect for resawing as it comes with a precision ground tooth or PGT feature. Meaning, the blade is strong enough for continuous usage, and it cuts sharply, quickly.
Its unique carbon-rich steel core component allows the blade to perform well even after an extended period. The tips of the blade will remain sharp in the long run.
Moreover, you know a saw blade is excellent with flexibility and strength. The OLSON blade contains a proper and optimum balance between strength and flexibility. For this reason, this blade can handle a certain amount of force without wobbling.
The secret behind a faster and stronger cutting saw blade is quality material. Hence, the manufacturers have hardened and tempered this blade properly to function optimally. So, you can use this blade to resaw materials as it will cut straight without any problems.
Additionally, this blade comes with equally spaced fine teeth. Cutting materials like wood, plastic, and non-ferrous metals will not be an issue since the equally spaced teeth ensure consistent cuts. Overall, this bandsaw blade might be an excellent choice for you.
Pros
Perfect for cutting wood and plastic
Fine teeth with equal spacing
Carbide core material 3 TPI blade
The carbon-rich steel provides strength and flexibility
An excellent choice for resawing
Extremely durable
It cuts smoothly and fast
Cons
The blade may give slower cuts if you use it for a long time
Verdict
The OLSON bandsaw blade provides quality cuts when you use it on wood and plastic materials. Check prices here
5. Timber Wolf 3423VPC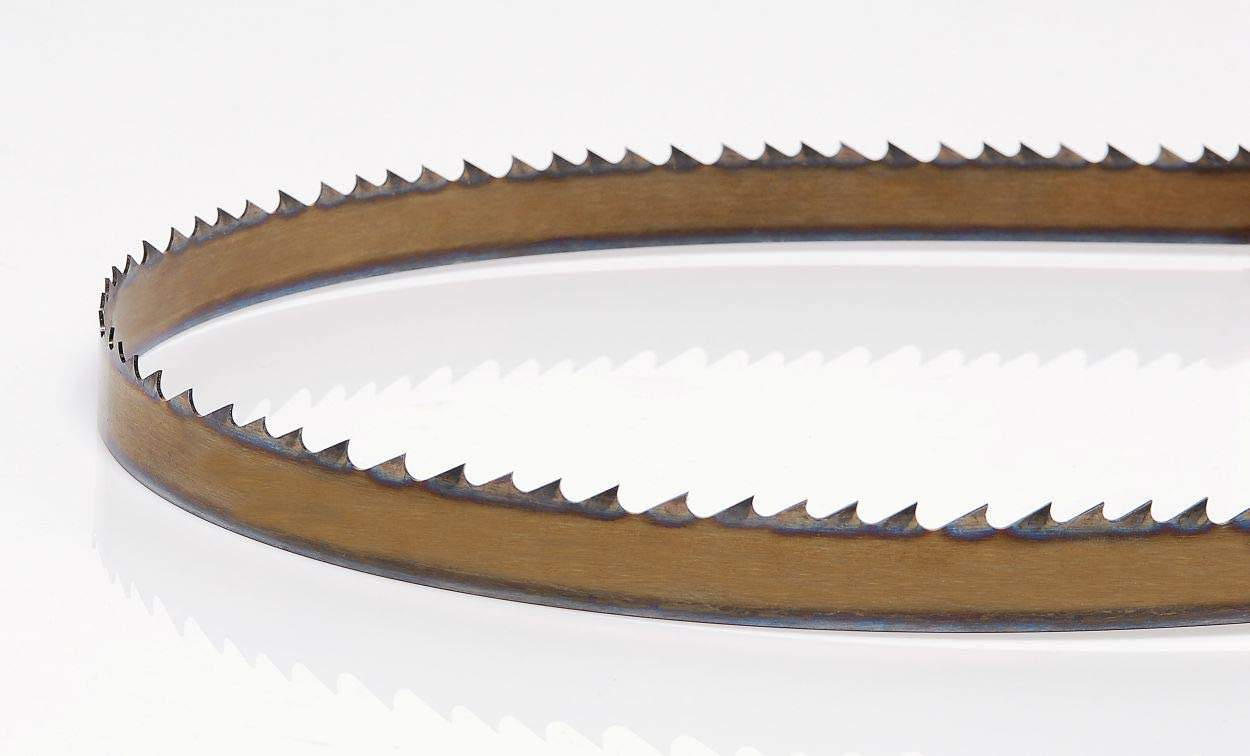 Not many woodworking blades in the market can provide an excellent cutting experience. It all comes down to the blade's ability to provide smooth cuts. That is not all; the edge must contain sturdy core material for better durability.
Fortunately, the Timber Wolf 3423VPC Low Tension Resaw Blade has quality features.
The manufacturers have used proprietary induction hardening mechanisms alongside an exclusive tooth milling process to create this blade. Both these features allow the saw blade to provide fine cutting ability. In most cases, saw blades require extra stamping or grinding for the blade tips to be sharp.
However, this saw blade's tooth milling process ensures sharpness without excessive grinding. While the milling process works more for the blade's edge, the induction hardening method improves overall sharpness. Hence, the saw blade contains an overall hardness that makes it more durable.
Moreover, this Variable Positive Claw or VPC blade allows you to resaw in straight lines. It can cut through 12 inches kiln/air dry small or large boards without wavering even a bit. The clean finishing you will get from this saw blade is unlike any other blade.
The variable pitch, tooth design of the blade, and positive claw feature all work together to cut wood material smoothly. Unlike the other edges, the Timber Wolf one comes with a variable TPI system where teeth count per inch varies.
Primarily, it alternates between 2 to 3 teeth per inch, which is enough for the saw blade to cut appropriately.
Pros
It comes with a 0.025 thin kerf feature
The core component is silicon steel
Contains precise induction hardening
20% harder tooth edge available
Remains sharp for an extended period
Cons
The weld at the joint connection may cause the blade to wobble
Verdict
The Timber Wolf one will be your favorite if you want a saw blade that will provide clean-cutting results. Check prices here
6. Timber Wolf Positive Claw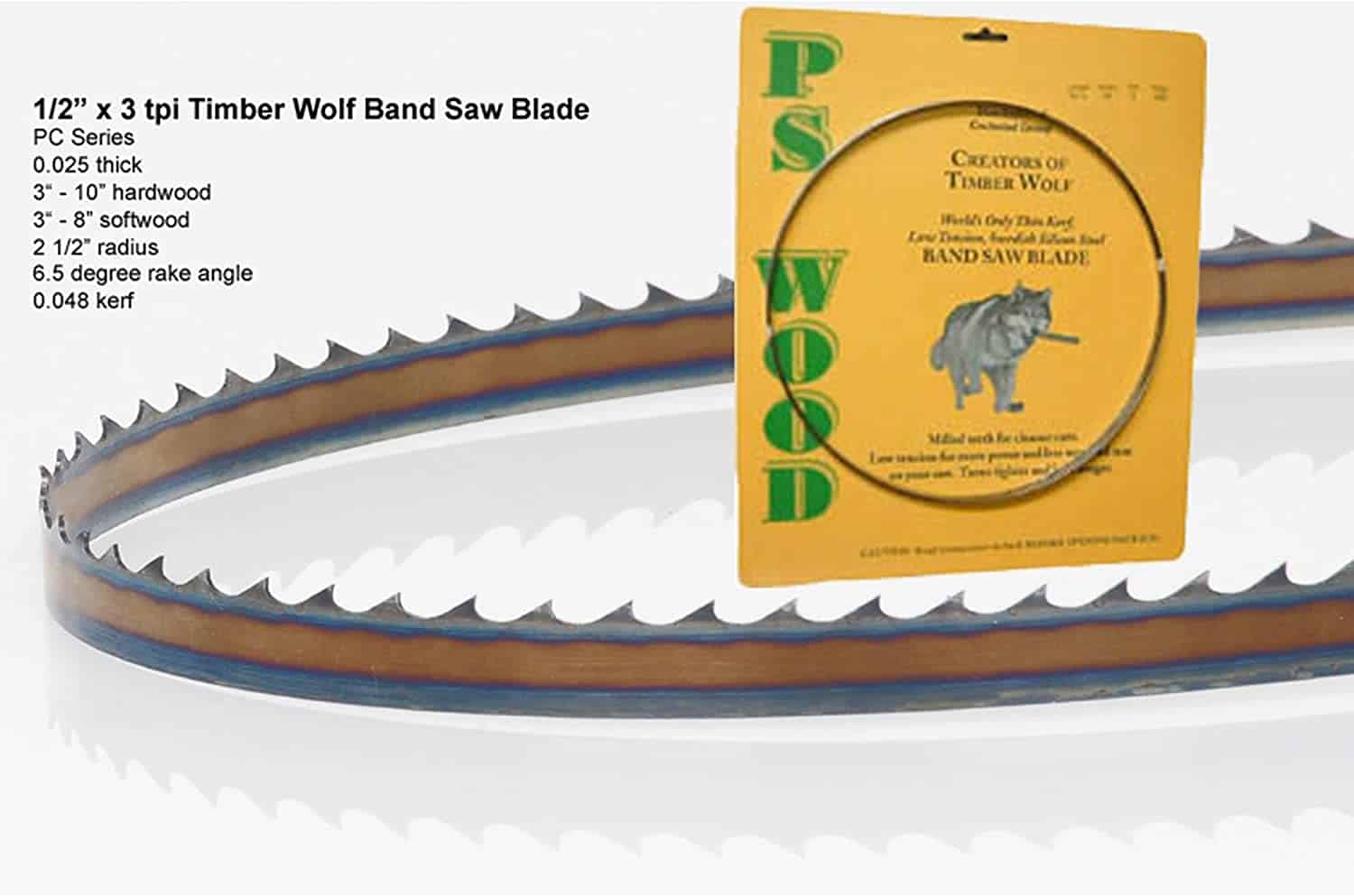 It is tough to find a saw blade that is affordable and excellent. Many cheap saw blades may provide clean cuts initially, but the tips of those blades can barely cut materials properly in the long run. Let me introduce the Timber Wolf Positive Claw Bandsaw Blade product.
This is a saw blade that will last a long time. It is a 9.9 ounces blade with ⅔ TPI. Meaning, the teeth count per inch of this blade is not the same. An uneven 2-3 teeth count allows this blade to consistently provide better and smoother cuts.
Whether you want to cut smaller boards or larger ones, the Timber Wolf blade has got your back. This blade's excellent variable tooth design does not allow too much resonance to occur. You can also cut 12 inches wide kiln and air-dried boards with this saw blade.
For straight-line resawing purposes, the Timber Wolf blade takes the top spot. Its overall teeth feature a very clean finishing. Especially if you cut wood with this saw blade, the smooth finishing will make the wood seem as if it is polished.
In addition to that, the Positive Claw feature of this brand makes the blade provide better results.
It has a thickness of 0.025 inches, and the thin kerf is 0.049 inches. The thickness and the thin kerf incorporate a different geometric feature to the blade's Positive Claw design. All in all, it is an affordable saw blade with excellent features.
Pros
It comes with a variable tooth design
Can cut 12 inches wide small and large boards
Not very expensive
Its Positive Claw feature makes it create clean cuts
Cons
The weld quality is not very good
Verdict
This Timber Wolf blade is an affordable choice if you want a cheap edge that offers clean cuts. Check prices here
7. JET WBSB – 116124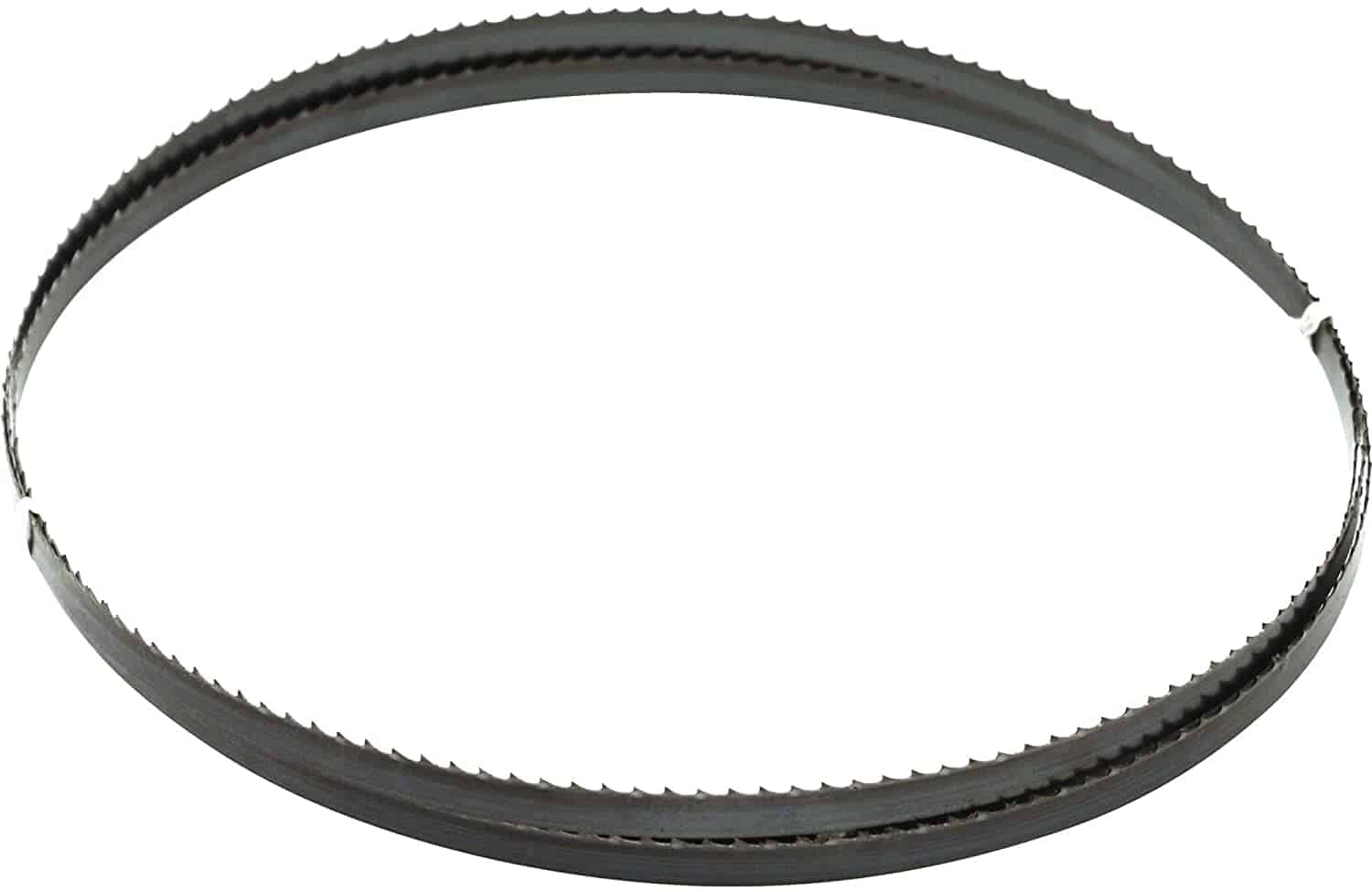 Who does not want a saw blade that will be durable and provide superior cuts? But finding one bandsaw blade that comes with both these features can be difficult. Thanks to the JET WBSB – 116124 Bandsaw Blade product, you will no longer have to look for other saw blades.
This bandsaw blade cuts softwood materials like a breeze. Softwood and hardwood materials are not any different for this blade. The overall cutting pattern is excellent, and the edge leaves just the right amount of marks on the wood to still provide a clean look.
The compatibility will not be an issue with this saw blade either. It perfectly fits the JWBS – 14SFX Jet Band Saws without any problems. And as you know, a perfect blade fit means excellent results. Now let us focus on the blade's superior sharpness. It contains a precision-milled teeth feature.
The precision-milled teeth allow the blade to cut more aggressively. Hence, thicker hardwood material cutting will not be a problem for this bandsaw blade. It also features a flexback construction.
Its excellent fatigue factor, alongside contour cutting stress absorption, makes the blade superior to any other blade.
Furthermore, the core component of this saw blade is high-quality carbon steel. The carbon steel material ensures better longevity and sharpness. It is essential for the blade's teeth to remain sharp for an extended period. Overall, this bandsaw blade will be excellent for resawing.
Pros
It fits the JWBS – 14SFX Jet bandsaw properly
Contour-cutting stress absorption feature available
Cuts both softwood and hardwood materials
Provides clean and smooth cuts
High carbon steel core material
Cons
It might leave rough marks on thicker materials
Verdict
The JET bandsaw blade can cut through softwood and hardwood materials without any problems.
Frequently Asked Questions
Which saw blade cut hardwood material properly?
If you want a bandsaw blade that cuts hardwood material thoroughly, the Olson Saw FB23370DB 4 TPI Hook Saw Blade would be an excellent choice. It comes with a 62-63 RC tooth hardness that allows it to cut hardwood materials properly.
Do cheap bandsaw blades provide clean cuts?
Not all cheap bandsaw blades come with excellent features. However, the Timber Wolf Positive Claw Bandsaw Blade is a perfect choice. This blade is less expensive, but it comes with a variable tooth design that will help you achieve better cuts.
How can I clean my bandsaw blade?
Cleaning bandsaw blades at home is super easy. You have to grab whatever cleaning solution you have and mix it with warm water. Then soak the edge in that solution for a while. Afterward, go on and scrub away the dirty bits from the blade and give it a final wash.
What is the best bandsaw blade for resawing?
There are many bandsaw blades available in the market with good features. However, the POWERTEC 13117 10 TPI Bandsaw Blade has superb features that give better cutting results.
Are carbon steel saw blades effective?
Yes, the carbon steel component increases the saw blade's longevity. For example, the JET WBSB – 116124 Bandsaw Blade comes with carbon steel, and it is more durable than most blades in the market.
Final Words
Overall, the saw blades are just as important as the other components of the saw machine. But this best bandsaw blade for resawing review will help you choose an excellent blade from seven different options.
I'm Joost Nusselder, the founder of Tools Doctor, content marketer, and dad. I love trying out new equipment, and together with my team I've been creating in-depth blog articles since 2016 to help loyal readers with tools & crafting tips.